(Last Updated On: June 1, 2019)
I'm super excited to introduce you to Amelia, the next person to be featured in my Expat Living Interview Series. Not only because she's a friend but also because like me, she left behind a life in Toronto and moved to Berlin.
There's a funny story about how Amelia and I came to know each other. It's all because of social media …
As I was readying for my move to Berlin, I posted a lot of tweets about it during my last days in Toronto. People noticed and told me that I wouldn't be the only Toronto girl in the German capital as it turned out that Sabrina Scott and Justine Abigail Yu were going to be there too!
Naturally, the three of us arranged to meet even though we were complete strangers meeting one another for the first time in a different country. We had a great afternoon hanging out together – at one point, Sabrina agreed to show us her friend's apartment because of their cool urban courtyard, rooftop patio and unique kitchen arrangement where the bathtub is in the kitchen! This is when I met Amelia and her boyfriend and we've been friends ever since.
About Amelia.
Born in Poland but raised in Canada, I've always had jet fuel in my veins. During my Bachelor, I got a job as a Flight Attendant but when that wasn't enough, I found myself working in Germany where I discovered and fell in love with Berlin. Then I made the scariest decision of my life, moved there and very luckily, met the love of my life. 🙂
Where are you from?
Toronto, Canada.
Where do you live now and how long have you been there?
Berlin for 2 years and 5 months.
Have You Lived Anywhere Else? Do You Plan to Stay in Your Current Location or Move Somewhere Else in the Future?
I've lived in Le Mans, France (3 months) and in another city in Germany (9 months) before making the big move to Berlin. When it comes to staying or not, I'm leaving that to fate because that's what brought me here in the first place! I'll be done my Masters in approximately 2 years and who knows where my life will be by then! I'm going with the flow …!
What's Your Story? What Made You Decide to Take the Big Leap and Leave Home?
During my 9 months in Germany, I visited Berlin numerous times, sometimes with others, sometimes alone and was mesmerized. After my plans to study in Geneva didn't pan out, I was confronted with the decision, what next?
Stay in Toronto or just go to BERLIN!? It was the oddest thing… although the idea terrified me, something was pulling me there. My gut was SCREAMING at me to go and I knew that I would regret it if I didn't do it. I couldn't ignore it.
I was preparing for it all summer applying for jobs, looking for apartments but none of that stuff can be done until you're really there. When I got on that plane, I thought to myself, "I can still get off, I can still get off, I can still get off.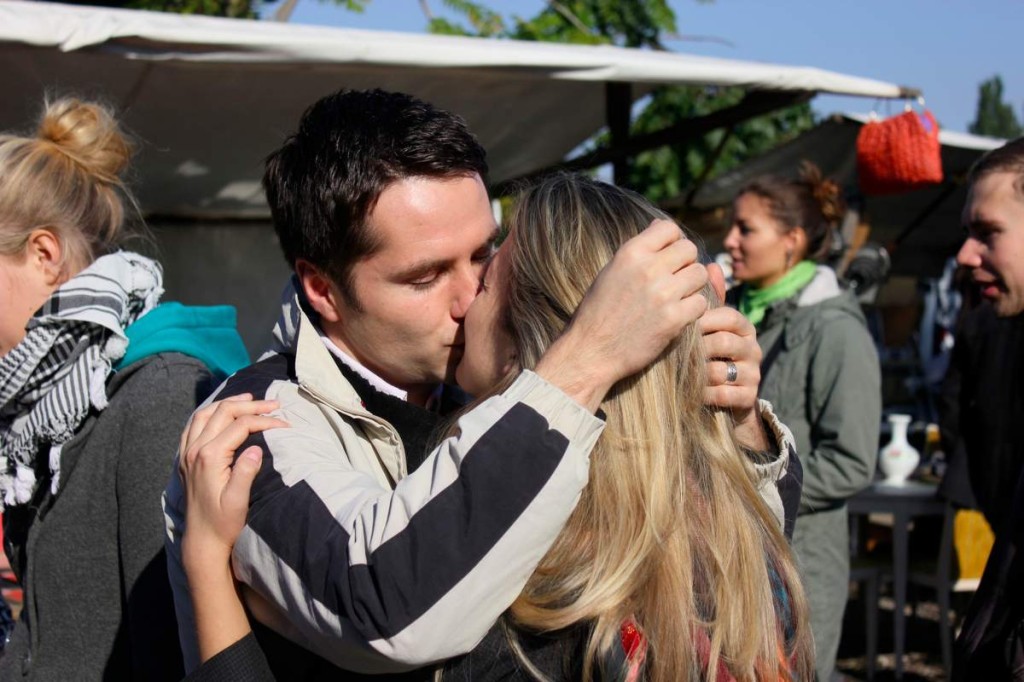 3 weeks later after landing in Berlin, I met the love of my life and then I had an "aha" moment! Now I know why my gut was screaming at me! I am now not only in love WITH Berlin but IN Berlin as well.
Do You Ever Miss Home? What Do You Do to Cope?
Of course! I'm a huge family-person and I treasure my friendships incessantly. It's tough because as much as I want my closest people right next to me, I know that what I am doing is right for me. Somehow you just know. I call home quite a bit and always send random little messages to my girl friend's reminding them that I'm "there." Secondly, you never realize how proud you are of where you're from, until you're not there anymore. Canada, I love you, eh!?
How Do You Blend in and Be Accepted by Locals?
LEARN THE LANGUAGE!
That is the best piece of advice I can give. Yes, I know, it's a huge time investment and can be frustrating but you don't realize just how much you're missing out. Your "expat-ness" is less noticeable if you put the locals in a situation where they don't have to resort to English and can communicate in their native language.
How Do You Stay in Contact with Loved Ones?
Facebook, iMessage, Skype, Face Time, Twitter.
Thank God for all these options!
Did You Have to Learn a New Language? If Yes, What? How Did You Go About Learning the Language and How Long Did it Take You to Become Fluent?
I was a language student before I ever moved to Europe and had at that time already spoken fluent Polish and French with a working knowledge of German. When I got to Germany, my skills were weak but I could get my point across.
I had a moment here where I thought, "German? Yes or no? Am I really doing this?" And decided yes, I'm going to learn this darn language.
So I read. Novels. 10 novels in one year. In German, of course. That helped me immensely! It is one of the best ways to learn a language although the toughest hurdle is getting past the frustration you feel at the beginning when you don't understand anything! I would say that I reached fluency 1.5 years after moving here aaand now I'm doing a Masters here where I study and write essays in German. 🙂
What Has Been the Most Shocking Thing You Learned About the Local Culture?
The Berliner Schnauze (translates to snout) which "true" Berliners are notorious for. They love to bite and you just have to be ready to either a) ignore it or b) bite back! It mostly comes in the form of a snarly comment or maybe a dirty look, but at some point, it just becomes funny. As a Canadian, this took some time getting used to because Canadians are stereotyped (and rightfully so) for being NICE!
Your Number One Tip About How to Live Life as an Ex-pat.
Just follow your gut! Sometimes your head and heart are telling you something but that butterfly/sick feeling in your stomach is telling you another. I've never regretted listening to it!
Keep yourself busy, try new things (especially those that take you out of your comfort zone!) meet new people and remember, when in doubt, your home country will always be there waiting for you with open arms.
What Do You Love Most About Living Abroad?
For one, I know that in the past 2.5 years that I've been here, I've grown up so much more than I would've living 5 years at home! Abroad you're faced with situations that you'd NEVER have to deal with in a home country: differing bureaucratic and insurance systems, language barriers, "outsider" insecurities, intercultural misunderstandings etc … it's a battlefield out there!
You never realize how easy everything was back home, simply because you spoke the same language! But you get up everyday and fight and now I've come to a point where I've gotten used to everything.
What I'm trying to say is, these experiences have added so much to my self-development and I know that I've grown up tremendously, just by being put in scary situations, time and time again.
Secondly, I live in Europe where, as a Canadian, the countries feel so compact and easily reachable by (once again, by Canadian standards) a short drive.
TRAVEL OPPORTUNITIES!
What Has Been Your Best Experience to Date in Your New Home?
1) Meeting Adam.
2) Getting into my Masters program
3) Just being able to walk the streets of Prenzlauer Berg everyday is already "the best experience."
Did You Make the Move Solo? Or Are You with a Spouse or Significant Other, Other Members of Your Family, or Friend(s)?
SOLO! It was the single most scary thing I've ever done. But, I'd do it again. Now I'm not solo and truly feel lucky that I have more than one "home" in this world. It's truly an interesting dynamic feeling so at home in more than one city.
What Do You Do Work Wise? Did You Have a Job Before You Arrived or Did You Look for Work When You Got There? If You Didn't Have a Job, How Did (Or Do) You Land Work?
Looking for a job before you even get there does not work, from my experience. I got a job once I got here and that was for the airlines (Air France KLM). Now I'm a student and looking for a part-time job in an NGO or development organization.
Expat Living Information
If you liked what Amelia in Berlin, Germany had to say, then read some other Berlin expat interviews including my interview with Internations and another with Kathleen Parker of Red Tape Translation.
If you like these interviews and want more expat advice on life in Berlin, consider some of my most popular articles like how to find a flat in Berlin using Facebook and how to make friends in Berlin.
Facebook Comments