Guys, it's been one year in Berlin! Yep, I recently celebrated my one-year Berlin anniversary, and my, how time has flown.
It's been quite the year, full of highs and lows: starting a new job as a scrum master for a local startup, moving into a new apartment, travelling through Europe and even Asia, bringing my cat to Berlin, changing careers entirely to take on writing for a living, starting a new book project about Berlin refugees, and well, so much more.
One Year in Berlin
One year ago I changed my life completely, again. I quit my job, sold everything I owned, bought a one-way ticket, bid farewell to my loved ones, and moved back to Berlin, once more resuming my expat life.
The Berlin Awakening
I still remember stepping off the plane, feeling this incredible sense of happiness. I couldn't stop smiling. After two years at home in Canada, doing the whole "expat turned repat" thing, I was finally back where I belonged, in Berlin. I hastily collected my luggage and hailed a taxi from Tegel, headed to Prenzlauer Berg, my forever kiez.
My taxi driver was an old woman. She didn't have any strength to load my luggage into the taxi. I put everything into the trunk: one large suitcase, a backpack, and my carry-on. Before I knew it, we were on our way. Unfortunately, we hit Berlin during rush hour, and it took longer than necessary to find our way to Hufelandstr.
It was a cold, grey, wet November day. Essentially, what Berlin would be like for several months. My soon-to-be roommate messaged me, asking where I was, as I was quite late in my arrival. With Murphy's Law dictating the moment, my phone naturally died. I then asked the taxi driver if I could borrow her phone to send him a message via Facebook over the web, old-school style.
Finally we got in touch, and I met him at what would be my new home for the next two weeks. I'd found this temporary accommodation through a friend. Did you know you can find a flat in Berlin using Facebook?
Entering my new room, I saw a lovely plant, along with a note from my friend Adam, welcoming me home to Berlin.
I quickly showered, recharged my phone, and went to the home of another friend. We drank a lot of wine and soon headed to my old local. I returned home drunk and slept easily. Basically, I was back to my old Berlin self within a couple of hours of arriving.
With a long weekend ahead before beginning work on the following Monday, I met up with the same friend from the previous night, and we headed to another bar. Before I knew it, it was 8:00 a.m, and I was drunkenly staggering around Kreuzberg, struggling to find a taxi to make my way home.
I was somewhat taken aback, bewildered and exhilarated, at the fact that I'd made one of those famous "Berlin nights" happen so fast.
Yeah, those all-nighters are really a thing here, and they're super hard to resist. It's often unplanned. You have plans to meet friends for just one drink, run into other friends, start bar hopping, and suddenly find yourself waking up at 3:00 p.m., not remembering much from the night before, and filled with regrets about wasting the precious daylight hours of a weekend. A very far cry from Toronto, where the bars do their last call at 2:00 a.m.!
So BOOM. That's how I kick-started my life back in Berlin.
Berlin Life
As I mentioned, my one year in Berlin has had its good parts and bad parts. For the sake of brevity, I'm going to skip over the more negative aspects of the past year and maintain a positive focus.
I know that you may want to know more about the downsides of living as an expat in Berlin, but the struggles I dealt with were purely of a personal nature and not something that I care to share on the blog.

So the past one year in Berlin was full of plenty of very fun and memorable experiences, most notably attending Myfest 2015 in Kreuzberg, having a blast during Berlin Pride, and experiencing a massive outdoor pillow fight at Treptower Park.
I got all hedonistic, not to mention naked, at Vabali Spa in Berlin and confirmed to the Internet public that Germans really do swim naked. Building on the general theme of nudity, I gathered up some courage to go to Naked Boys Reading.
What else? There was making it to the Berghain for the very first time, attending Christmas markets, drinking plenty of Gluhwein, and spending long days lakeside, complimented with even longer evenings at biergartens.
Other recent, fun things included seeing the Berlin Eisbären lose badly to the Nuremburg team, drunken underwear shopping (true story), and watching Lukas: A Musical.
Of course, there are tons of other fun things that happened over the past year, but these are the memories that stick out the most for me.
Giving Up That Scrum Master Life
When I first moved to Berlin, I worked for a startup as a scrum master, alongside the company's engineering team. My tenure there was short, as I decided to change my career entirely. After 15 years working as a project manager and scrum master, it was time for a change.
For the first time ever, my blog and writing I've done elsewhere was an asset, instead of a hindrance, when it came to the hiring process. All the years of hard work finally paid off, and I now work at another tech company, as a content writer, doing things like writing blog posts and white papers. The experience has been great so far; I've learned a lot and look forward to continuing my development in the coming year.
Are you looking to work in Berlin? Read my comprehensive guide about how to find a job in Berlin.
Travels Around Europe and Beyond
One of the reasons that I was excited about my move back to Berlin, was the opportunity to travel, both frequently and cheaply. And over this past one year in Berlin, travel I did!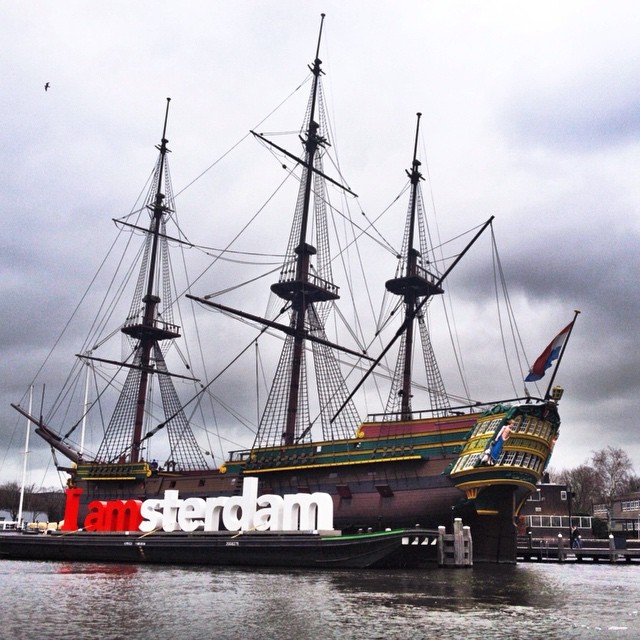 I spent a weekend in Amsterdam, another weekend in Sofia (where I also headed to the mountains to take a bunch of Rila Monastery photos), and went on a day trip to Szczecin. I also went to Hungary, where I hunted down cool places in Budapest and explored the street art in District 7.
I also set about getting to know Germany a little better, with a weekend in Leipzig, a day trip to Görlitz, and another day trip to Schwerin, where I spent the day beside a fairy-tale castle.
One of my year's highlights was visiting Thailand for the very first time. As one would expect, I fell in love with the country and its people. I even have tentative plans to return this winter for some quality beach time and cheap two-hour massages. Trip highlights included touring the Thonburi District in Bangkok, as well as Bangkok Chinatown, and a luxurious stay at the Continent Hotel. Touring the markets in Trang was also an interesting cultural experience.
I spent a weekend in Prague, where I hung out with some Canadian friends and experienced a beer bath for the very first time, and debated the tradition of love locks in Prague.
I made my annual visit back home to Toronto, spending time with family and friends, and hitting up some of my favourite locales. The trip home was an emotional one, as I realized how much I missed everyone, and it really made me question the concept of home for expats.
I just came back from a weekend in Riga, making Latvia the thirty-second country that I've visited.
A Canadian Cat in Berlin
Since I'm a typical, clichéd single woman without children, I naturally have a cat. I finally moved her to Berlin from Toronto back in September. The journey was a long one to take with a cat, and it took her more time to get settled than I had anticipated, but it's been absolutely delightful having her back with me. Our bedtime cuddles are my favourite time of the day!
Berlin Refugees
My work on the Berlin refugees book project came to a halt in early fall, due to stress and changing jobs. I picked up my work again recently, having met with a lawyer who'll support me through the process, and I started to do my first interviews and even spoke on a panel about refugees at Berlin Travel Massive.
Expat Updates About Living in Berlin
So that's a wrap! And what's next? I'm often asked if I plan on staying, and the answer is I don't really know. Naturally, I miss home. That can really wear you down, when all you want to do is hang out with your longtime friends or stay up all night talking with your sister. Other times, I'm so head over heels in love with Berlin that I never want to leave. Then again, there's my nomadic soul, who yearns for more and ponders living in some other city and some other country.
For now, Berlin is where it's at, folks!
If you found this update to be really interesting (I'm always appreciative that people actually read these posts) and want a glimpse into the day-to-day life of a Berlin expat, check out these other updates from the past year – One Month in Berlin, Two Months in Berlin, Six Months in Berlin, Seven Months in Berlin, and Eleven Months in Berlin.
If you're thinking about making the move to Berlin yourself, consider browsing through some helpful posts about making friends in Berlin and learning German in Berlin, and checking out my newly launched guide to Berlin.
If you like this post, share it on Pinterest.