Once upon a time, there was a girl named Cheryl Howard who used to spend a lot of money on travel. She abhorred the idea of staying in a hostel and couldn't bring herself to use her expensive back pack. She preferred luxury, sleeping only at four or five-star properties, spending her days at spas and hiring private drivers to take her sight-seeing as she'd never (ever) take public transit in a foreign city.
It was a real-life miracle the day when she was suddenly overcome by common sense and transformed from a princess into a hosteling back packer. And then she lived happily ever after when she moved to Berlin and started a career as a freelance travel writer happily accepting free hotel stays in exchange for a review and a break from her futon.
But before that happened, she used to shell out big bucks to stay at places like Hotel Yasmin, a design hotel in Prague, Czech Republic …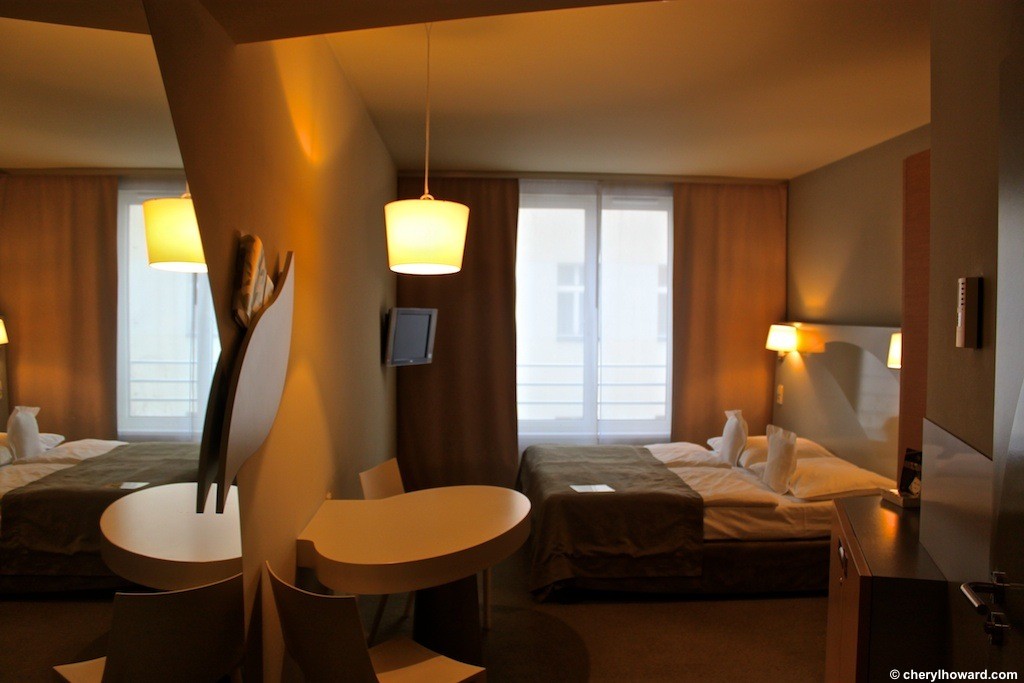 While touring Eastern Europe over Christmas on one of those packaged bus tours that leads you through an Amazing Race type of experience (in my case, five cities over ten days) – we ended up at Hotel Yasmin.
While the room was nice, it wasn't anything spectacular. The decor was simple, clean and minimalist while the color palette was warm and soothing.
This unfortunately did not extend to the design of the bathroom which was decorated with loud, angry, floor-to-ceiling black tile. I pondered whether the interior designer had spent too much time at the Museum of Medieval Torture, as entering the bathroom was truly akin to entering a darkened torture chamber favoured by characters like Christian Grey.
What really set this hotel apart for me was the design of the min floor and lobby areas. While everyone in our tour group rushed out to tour the Christmas market at Wenceslas Square, I was busy snapping photos. The design of Hotel Yasmin was an attraction in itself.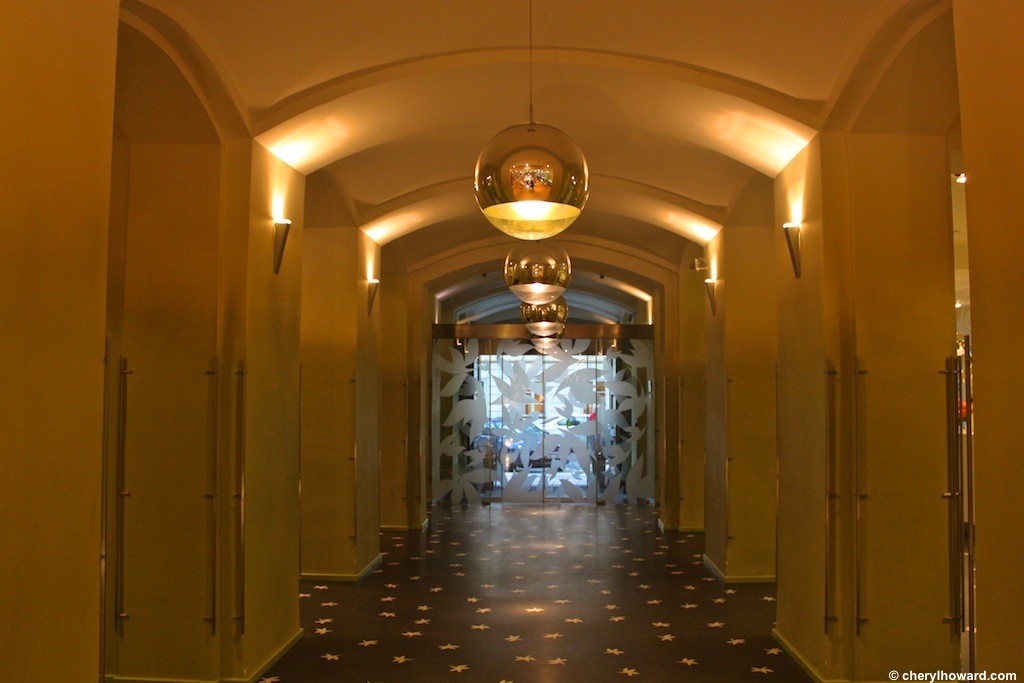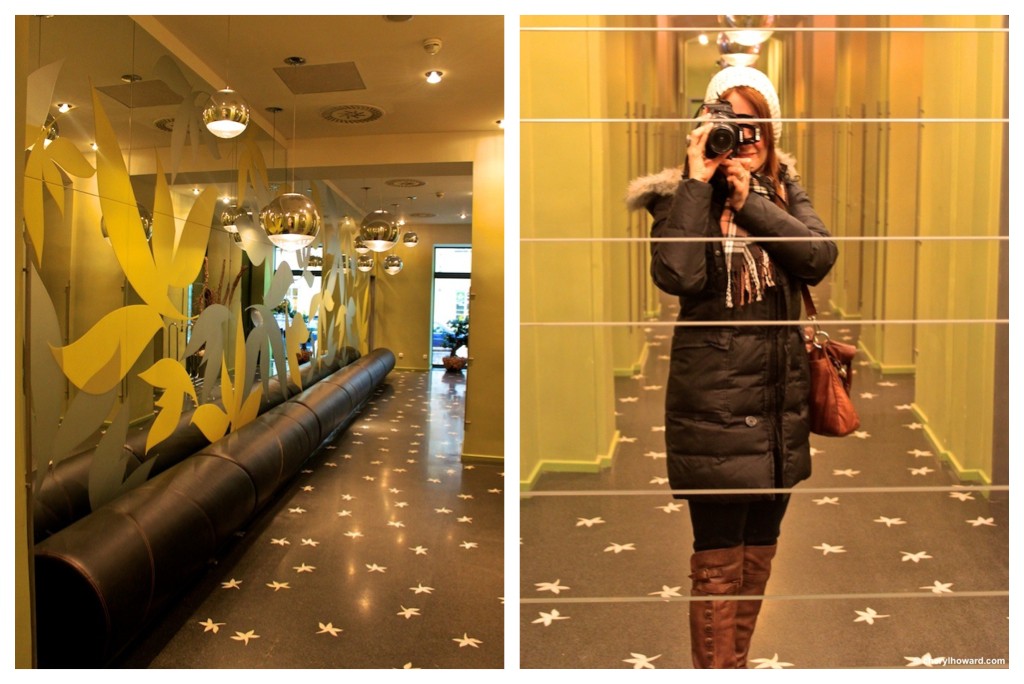 I could have hung out in the lobby all day but we were only in Prague for 2 days and I needed to experience the romance of it by night and walk in a winter wonderland as we toured the castle.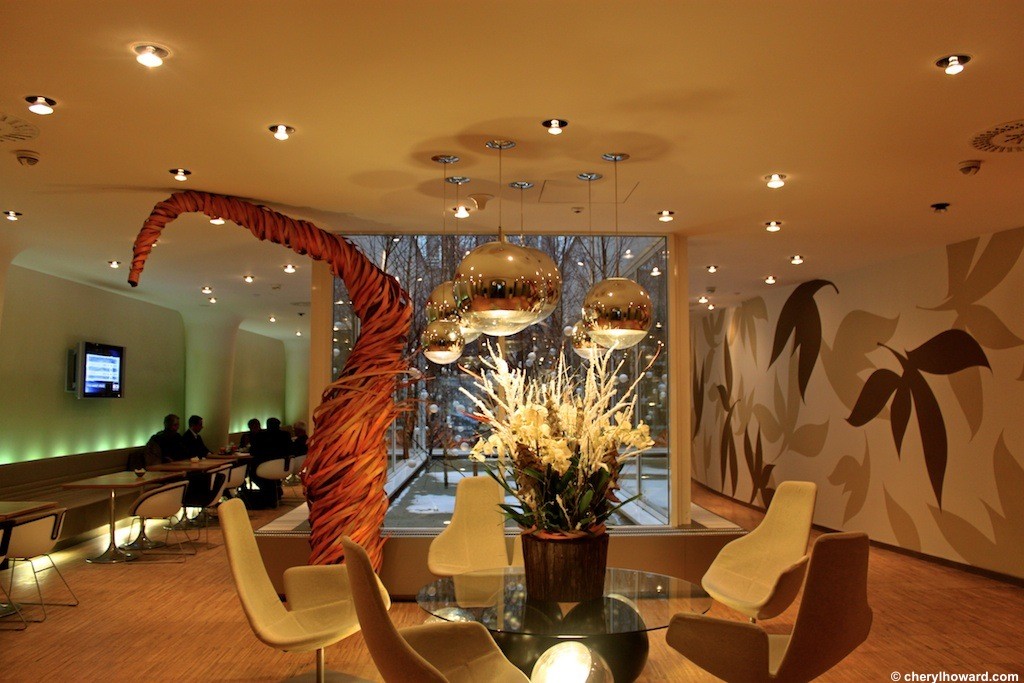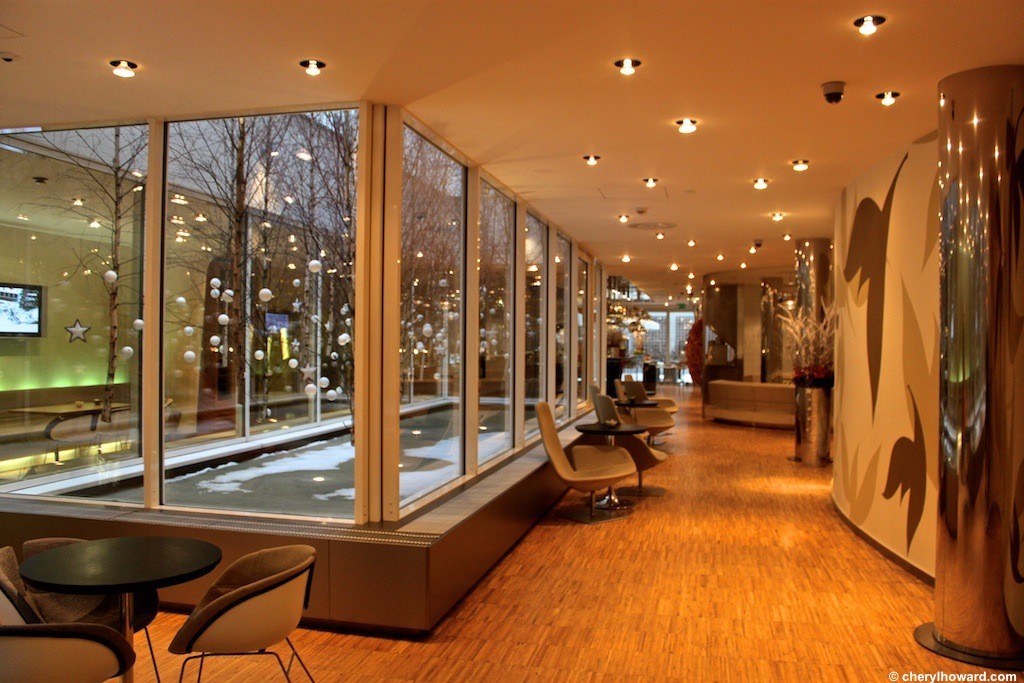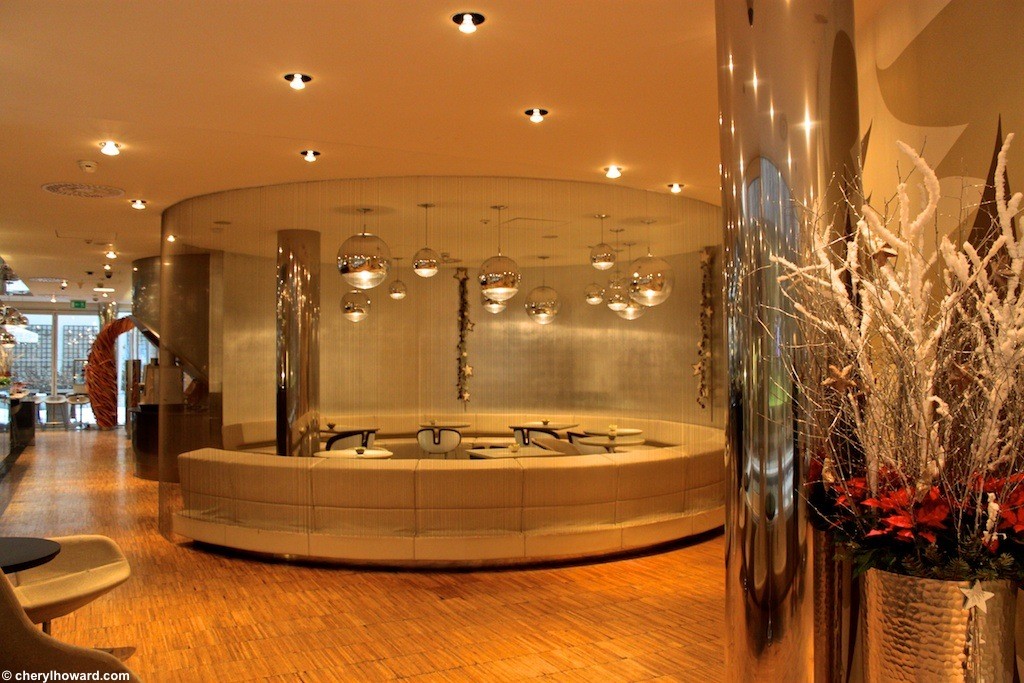 The bar and restaurant setting was perfect for when we took our meals together or ended the day with a nightcap. We did that a lot on this trip!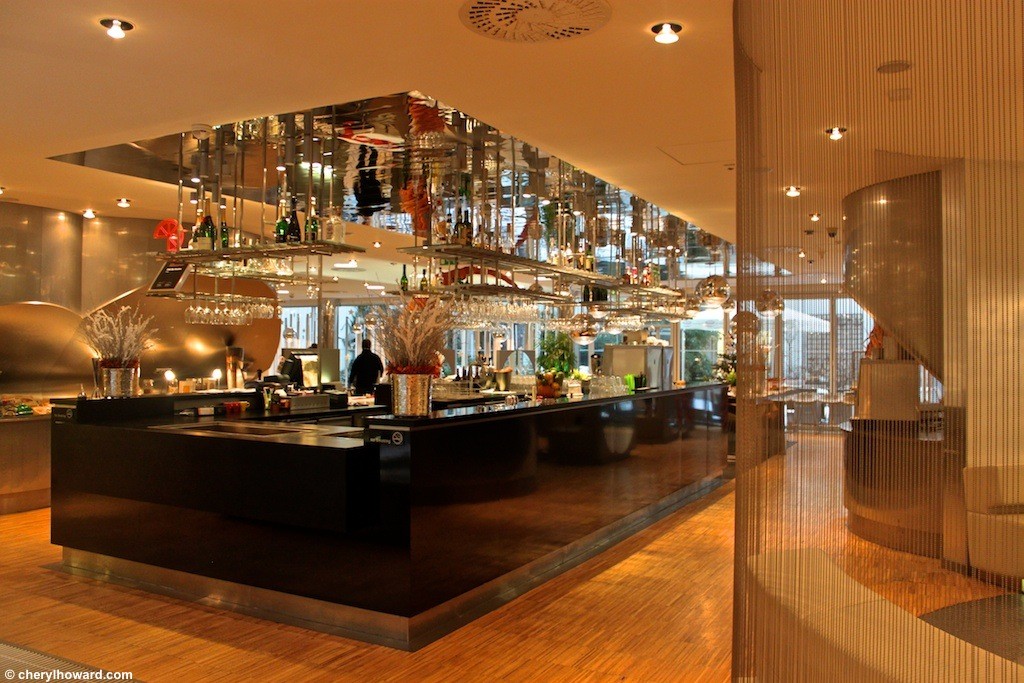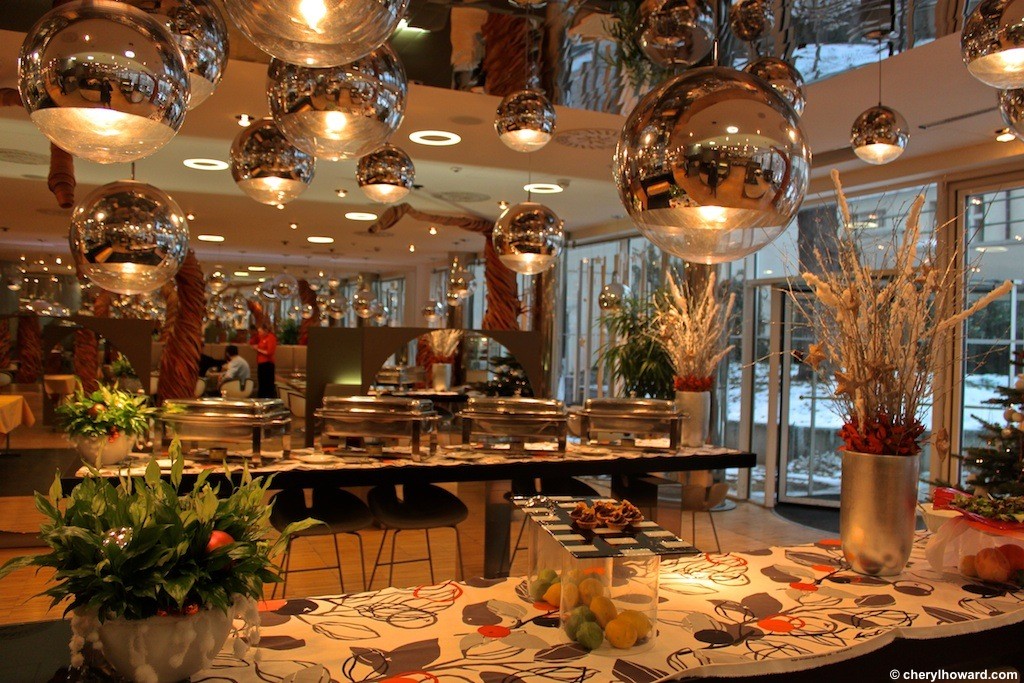 Some other great things about Hotel Yasmin include it's surprising affordability for such a property (rooms start at 100 euros a night) and proximity to notable areas like Wenceslas Square, Old Town Square and the Charles Bridge.
Through the course of my tour, we stayed at four different hotels. Hotel Yasmin stood out from the others as a unique design hotel that didn't settle for boring, stale, standard decor found in most large chain hotels. They were daring with their design choices of stars, strangely shaped objects, sphere lighting fixtures and although I hate to admit it … even in their guest room bathroom decor.
If you like this post, share it on Pinterest.