Almost two years ago, I spent a dreamy and romantic weekend in the Brescia area of Italy, getting to know various small towns bordering Lake Iseo and Lake Garda. My ongoing love affair with this country continues, as I've visited Italy more than any other country in the entire world!
If you're looking to spend time in this area, just check out my Instagram photos of Brescia below. You can even use this post as a mini-guide to plan out a perfect vacation in Brescia for yourself.
This particular post features the best of Lake Iseo – where to stay, where to eat and drink and what to do. Stay tuned for my post about the best of Lake Garda, coming soon.
Instagramming Brescia
My adventure began at Hotel Rivalago, one of my all-time favorite hotels. The view of Lake Sulzano and the surrounding mountains made me want to never leave.
That night, I dined at Trattoria Cacciatore, a small family-run restaurant where you can feast on some fantastic Italian cuisine.
In warmer weather, you can eat outside and be treated to views like this.
Another day, another sunset. It seems that I'm a sunset junkie! There was this sunset view at Hotel Rivalago just minutes earlier and more recently, I experienced a romantic sunset in Iceland.
The following morning, I jumped on a boat and headed to Monte Isola.
I spotted this privately owned home on Isola di Loreto along the way. While Monte Isola is the largest lake island in all of Europe, this tiny island is the smallest island in Lake Iseo.
I wondered if this was the home of George Clooney and was informed that although it wasn't, he had actually once shown interest in buying this neo-Gothic castle.
About 1800 people live on Monte Isola where no motorized vehicles are permitted, except for emergency services that require the police, an ambulance or a priest!
I adored this communal bookshelf where locals exchange books in the village of Peschiera Maraglio.
I also had the opportunity to tour a manufacturing facility that produces nets – fishing nets, soccer nets and even hammocks like these. I picked a hammock up for about 20 euros.
If you're interested in learning more about the history of net making and its importance to Monte Isola, there's also a small museum.
I then headed to Carzano, where I spied this quirky and cute duck topiary on someone's front lawn.
I also learned about the Festa Di Santa Croce, a festival held every five years when the town is decorated with thousands of beautifully detailed paper flowers. The next festival will be held in 2015. Can you believe these flowers are made from paper?
My time on the island was all too brief and I soon moved back inland to have a big seafood lunch in Clusane at Trattoria Al Porto.
Feeling stuffed from dinner, I decided to walk it off and stopped at this gorgeous, old church later on that afternoon. The peeling and fading frescoes made me a tiny bit sad as I wished more could be done to restore the church to its former glory – it was still beautiful nonetheless.
Next on the agenda was Solive Winery, located in Franciacorta. The grounds were stunning, decorated for a wedding that was taking place that night.
Of course, I drank my fill of the sparkling wine before moving on to the next stop which was a hotel in Gardone Riviera.
Living out my dreams of "la dolce vita", this was me ready for dinner that night.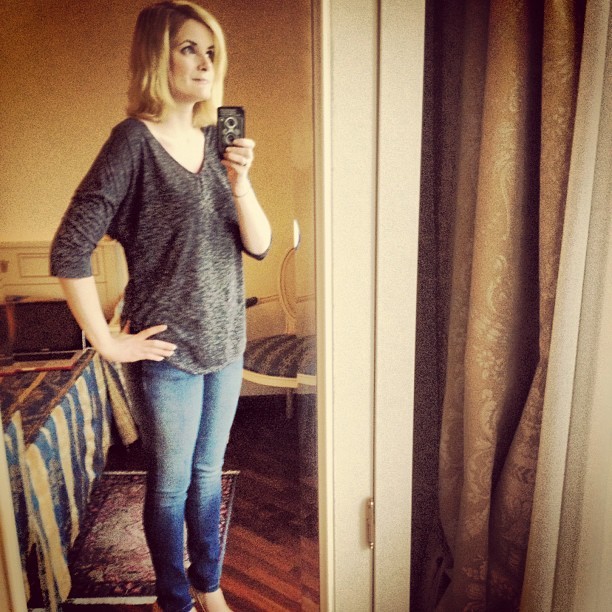 A Brescia Trip Itinerary
Follow this itinerary to experience Brescia the cherylhoward.com way! Highlights include:
1) Where to Stay – Hotel Rivalago (book a room with a view of the lake).
2) Where to Eat and Drink – Trattoria Cacciatore, Trattoria Al Porto (known for tasty seafood) and Solive Winery (sample sparkling wine, view the beautiful farm and estate).
3) What To Do – Visit Monte Isola (tour the net museum and buy a hammock, learn about the paper flower festival taking place in 2015, observe slow-paced island life) and take a boat ride along Lake Iseo (see Loreto Island and the privately owned castle).
Follow Me on Instagram
If you like my photos, follow me on Instagram (@cdngrrleh) to see updates from my life in Toronto and on the road.
* Disclosure – My time in Brescia was complimentary, courtesy of Brescia Tourism. Any opinions expressed about my love for gorgeous sunsets and sparkling wine are entirely my own.