A perk of being a travel writer is getting to rest my "pretty head" at fancy design hotels from time to time, forgoing my usual stay at a hostel.
The moment I walked into my duplex business suite at La Prima Fashion Hotel in Budapest and took in the beautiful space (not to mention the box of chocolates and sweet welcome note they left me), I squealed with delight.
All I could think was "I looooooveeeee my job!"
For this weekend, I wouldn't be sleeping on my futon at home in Berlin but a real bed, a king sized bed. This bed!
The suite was sexy. Smouldering hot actually.
La Prima Fashion Hotel pulls out all the stops when it comes to design – tastefully decorated in warm, welcoming colours with blue accents appearing on the wall paper, pillows, and even the art.
As if the two floors, king sized bed, spacious living room area complete with flat screen TV weren't enough, there was this – the "pièce de résistance" – the jacuzzi tub.
Pretty romantic right? You know me, the ever solo female traveller – I'm comfortable romancing myself alone around Europe.
Lucky for me, it just happened that I did not make my journey to Budapest alone that weekend. So the tub was enjoyed more than once for long bubble filled soaks complete with champagne and a cigar!
Normally, I prefer a room that offers up views of the sea or a pretty landscape but when this is your window view, how can you complain? Budapest is full of such stunning old world architecture.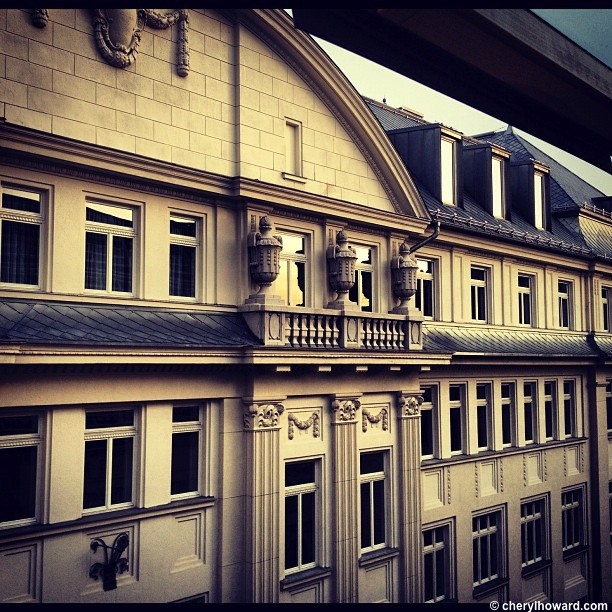 I highly recommend the 4-star La Prima Fashion Hotel – you even can say it's "cherylhoward.com approved." Not only are the rooms beautiful, they're also reasonably priced starting at about 90 euros per night. The hotel is centrally located with lots of shopping/eating options in the direct area and within a 5 minute walk down to the Danube.