I'm pretty sure that Lisbon has the most beautiful hostels in the entire world. When I was searching for a place to stay, it was actually hard to narrow down my choice. I ended up settling with Living Lounge Hostel where all 23 rooms are decorated by local artists, DJ's, and designers, with the intention of reflecting the diversity of the Portuguese culture.
Arriving late in Lisbon on a hot September night, I was tired from my day of travel, after flying from Berlin via Paris where I had an unusually long layover. I was further tired from dragging my heavy suitcase around as unfortunately, there are some lessons I'll never learn, with over-packing being one of them.
When I was greeted by this common area, I knew that I made the right choice in Lisbon hostels right away.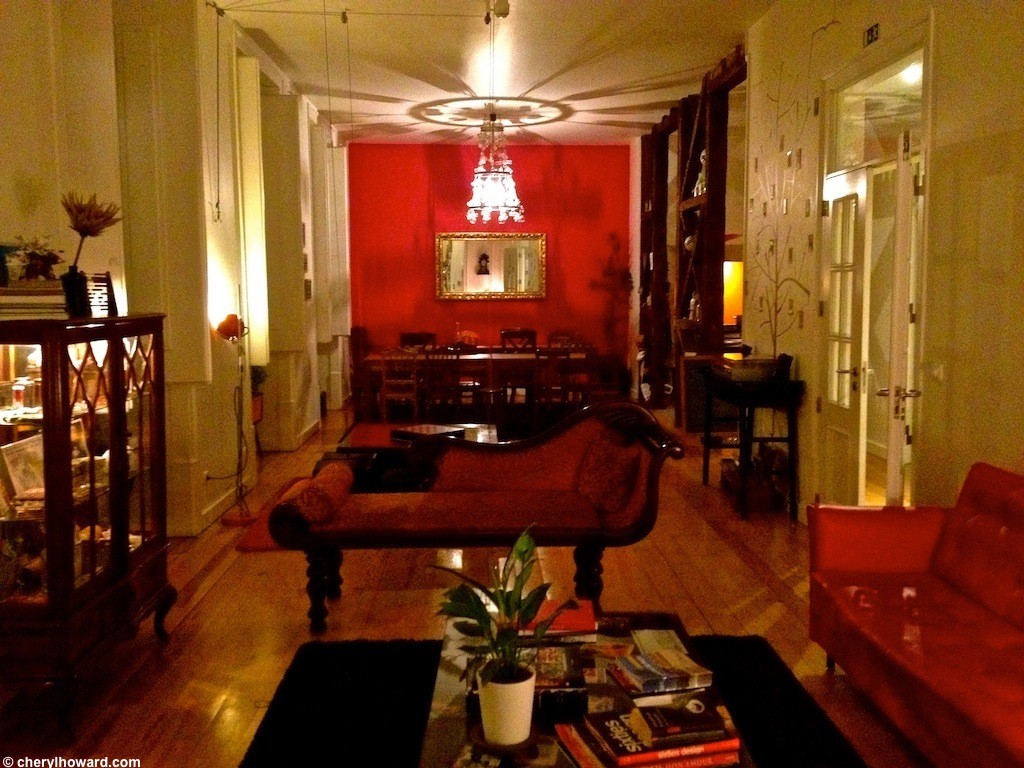 One of my favorite things about hostels is the opportunity to meet open minded people from all around the world, who are generally friendly and as interested in travel as I am. They also always seem to be up for a good party! I've fond memories of attending an intimate jazz performance in Montreal, partying on the rooftop of a club on Budapest, and even taking the Walk of Love in Cinque Terre – all with people I've met in hostels.
That being said, I'm still not entirely confortable sharing a dorm room. Especially after a hostel stay in Barcelona where I became "inspired" to write this snarky post called Five Things You Should Never Do While Staying at a Hostel.
As such, I booked a private room so I could get some "me time" and a good night's sleep. As expected, it did not disappoint. My retro inspired jazz room came complete with it's own record player and a great selection of tunes!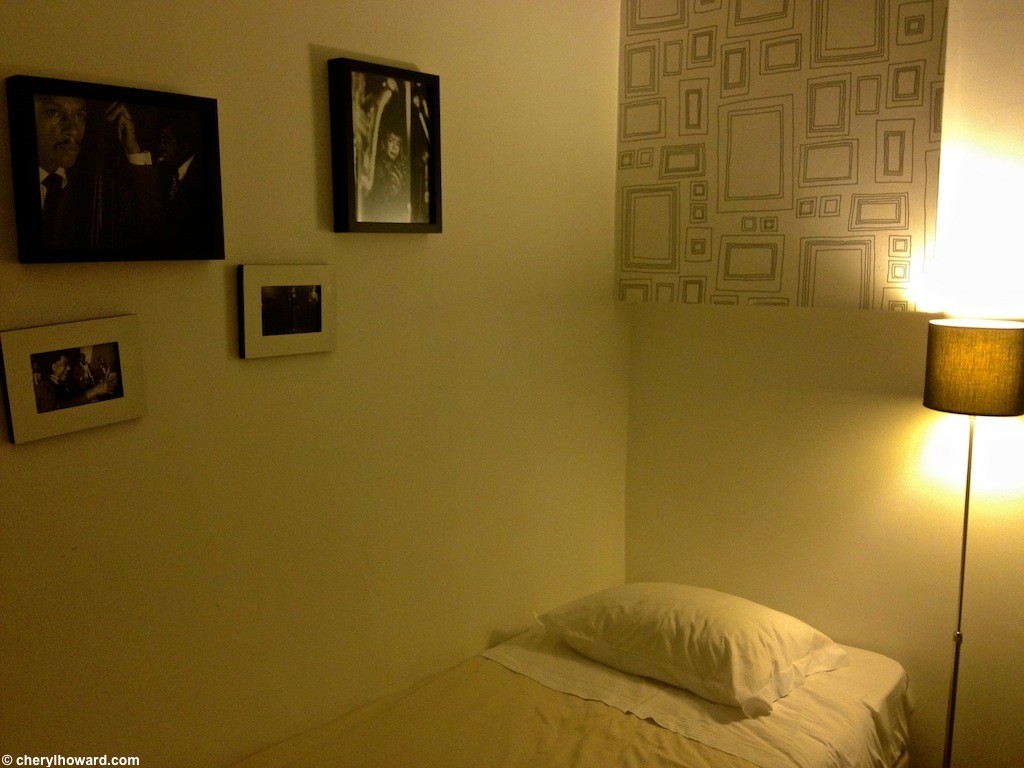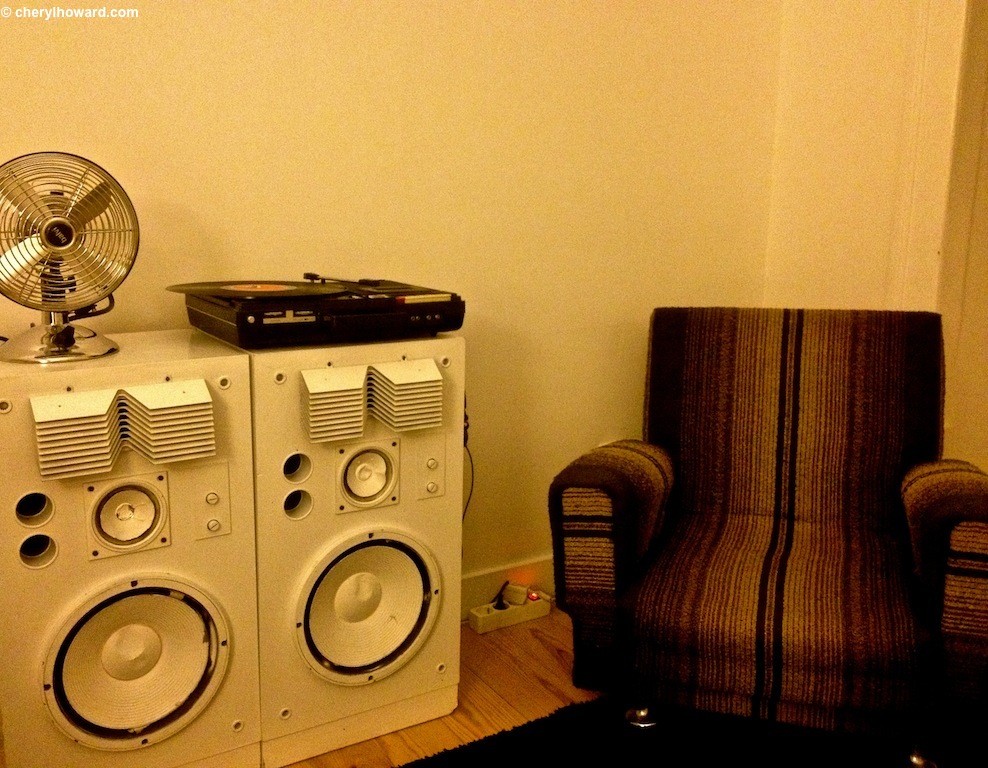 Some items to note – wi-fi worked in the room, there was a fan to keep cool (needed on those hot Lisbon nights), and it was perfectly clean.
Although it was hard to stop listening to music and go downstairs, I wanted to explore more of the hostel and have a night cap. And look at what I found! I could totally imagine myself curling up in this little alcove taking time to read a good book or write in my journal.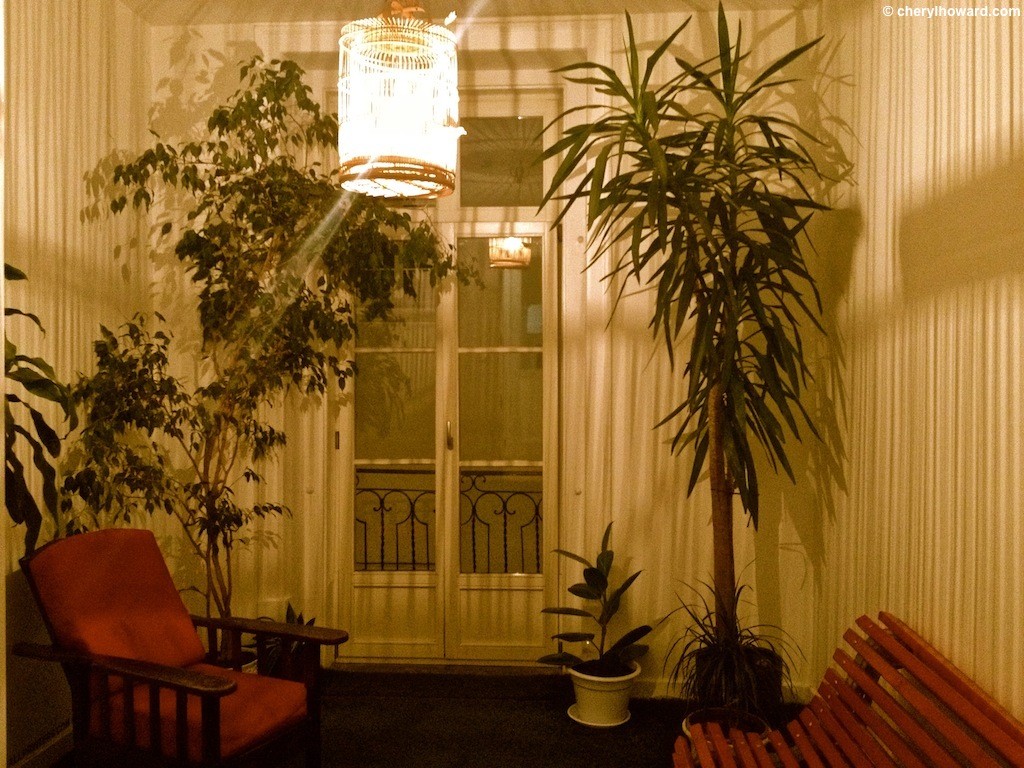 This bar area is where I had my first ever taste of Portuguese beer, Super Bock. Something which I had a lot of during my time in Portugal.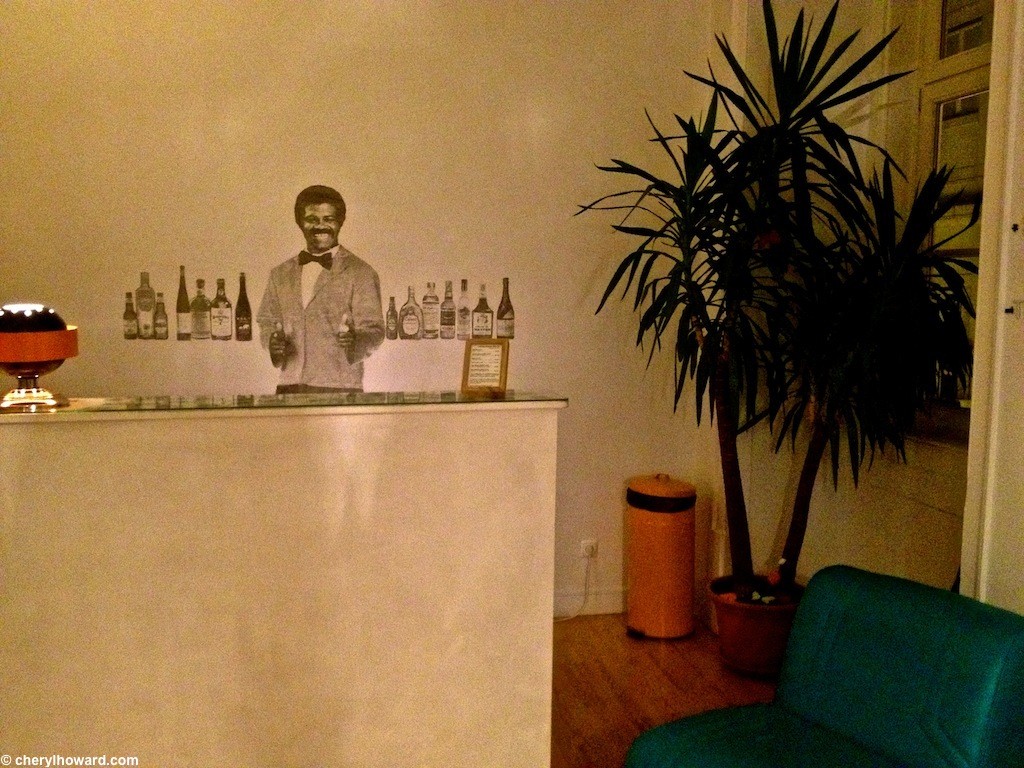 Living Lounge Hostel offers up a free breakfast with homemade pancakes, fruit, juice, and coffee. There's actually a lady who stands in the kitchen making pancakes all morning. Not only are the pancakes fresh, they're good.
They even serve a three course dinner each night (including wine) for the incredibly affordable price of €9.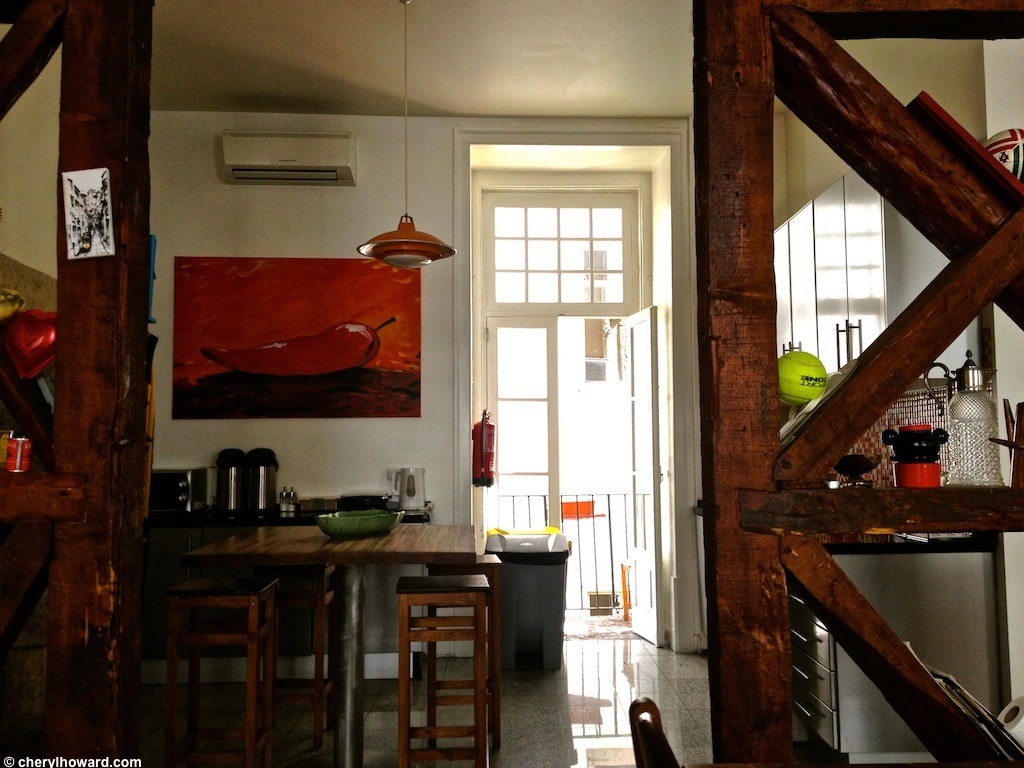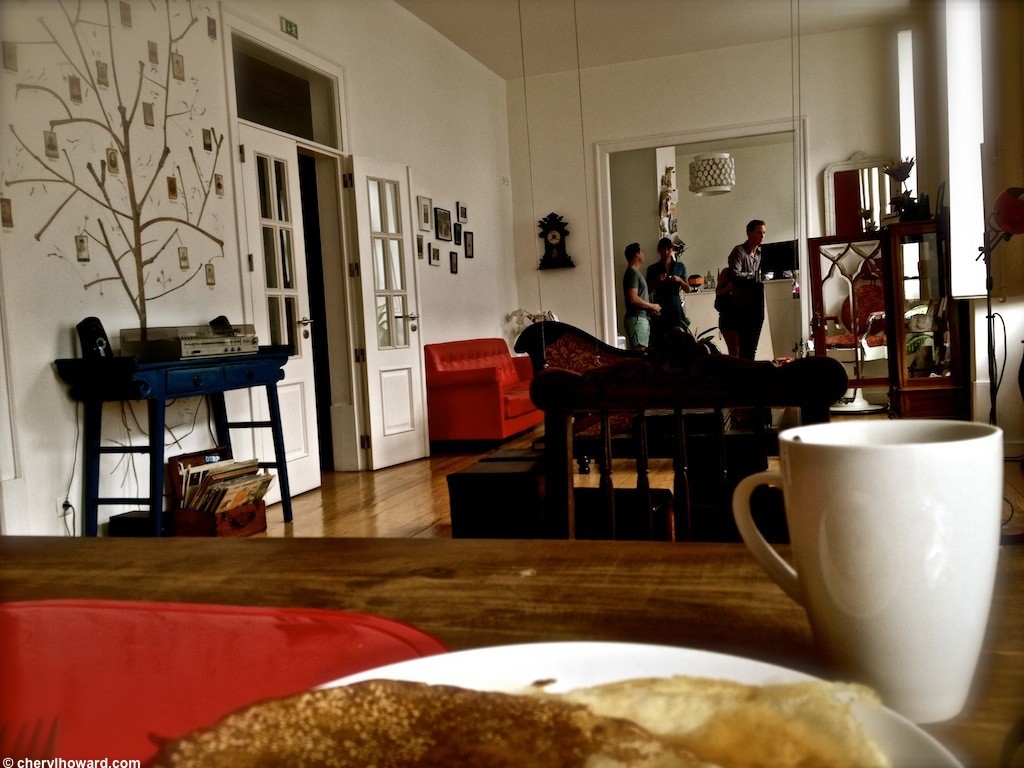 Although it was before noon, I grabbed another Super Bock and did some work in the common area, taking advantage of the free wi-fi and cozy setting before hitting the road again.
My glowing recommendation of Living Lounge Hostel is NOT the result of a sponsored stay. I paid money out-of-pocket and simply adored the hostel enough to want to share my experience with others who might like to stay here as well.
It's not only inexpensive (private rooms are about 30 euros a night), it's incredibly beautiful. Take a 360 virtual tour and see for yourself! The staff are welcoming, the breakfast delicious, and it's centrally located. You simply can't go wrong with this hostel.
And if you're looking to learn how to best experience Lisbon, watch this video and read all about it here.
Living Lounge Hostel
Rua do Crucifixo, 116 – 2nd floor
1100 Lisbon
00351 21 346 1078
http://www.livingloungehostel.com