What is This My Seven Links All About?
Tripbase started a project called My Seven Links, where travel (and other) bloggers complete a round-up re-capping some of their previous blog posts. HostelBookers was kind enough to nominate me to take part. Here are "My Seven Links" …
My Most Beautiful Post
Prague by Night is a Romantic Delight.
A photo essay about walking through Prague, Czech Republic on a snowy Christmas night. It doesn't get much more romantic than this folks!
I remember that night as if it were yesterday, as my love for Europe grew by leaps and bounds. I'd never felt so much happiness and it was during this walk that I decided I was going to move to Europe someday. I wasn't sure exactly when it would happen but 7 months later, I'm living in Berlin, Germany.
My Most Popular Post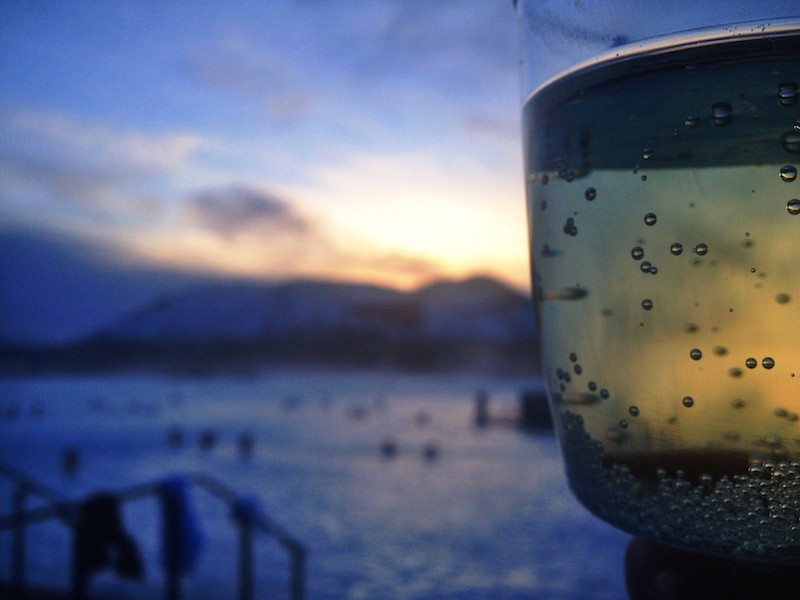 Getting Rubbed Down at the Blue Lagoon in Iceland
Picture yourself slipping into the healing warm sea waters of a giant outdoor pool that overlooks Iceland's rugged landscape. It's then easy to understand why this is on the travel bucket list of so many. Especially "cool" (pun totally intended), was recently being included on HostelBookers Travel Bucket List round-up. I'm number 10 on the list!
My Most Controversial Post
Why Torture Yourself When the Museum of Torture Will Do It For You.
Prague, Czech Republic isn't only home to beautiful architecture, it also contains alternative (aka weird) attractions like the Jewish golem who bears a striking resemblance to Darth Vador and the Museum of Torture. Set in an underground cave, the Museum of Torture features over 6o devices used to torture humans during Medieval times.
The write-up is not for the faint of heart and neither are my photos. As I mentioned, "They serve as a grim reminder of how poorly humans can treat one another". On a lighter note, if you search for "how to sexually torture yourself" in Google, a link to this post will be featured prominently on the first page of results.
My Most Helpful Post
The process for a Canadian to go about obtaining a tourist visa to visit Brazil is not only cumbersome but confusing. This post provides step-by-step instructions, helpful tips and answers to common questions.
* This post has since been removed from the blog because as of 2019, Canadians no longer require visas to visit Brazil when they are going for touristic reasons.
A Post Whose Success Surprised Me
A Foggy Day at Fisherman's Bastion in Budapest, Hungary.
Arriving in Budapest, Hungary I was a little disappointed it wasn't snowing like it had been in Prague, Czech Republic. While touring Fisherman's Bastion, I learned how the fog can really enhance a photo (and that it was just as romantic as snow).
I quickly polished off this blog post one afternoon before running out to take part in Toronto's Travel Massive monthly meetup. Returning home that night, I was amazed by the positive responses on Reddit and StumbleUpon. At the time of publishing this post, it has been liked on StumbleUpon 317 times (more than any of my other posts).

A Post I Feel Didn't Get The Attention It Deserved
Get Your Fill of Art and Rumba at Callejón de Hamel.
Go to a place that few tourists don't know about and hang out with locals in Havana to see locally produced artwork and live Afro Cuban rumba performances.
Seriously, why is no one reading this post? Of all of the things I did while in Havana, this was by far, the coolest experience. The artwork is stunning and the performances moving. And what a great way to pass a hot Sunday afternoon in Cuba! Read this post. Enjoy the beautiful photos. Finally, the next time you're in Havana, whatever you do, visit Callejón de Hamel.

A Post I Am The Most Proud Of
The Transformation of a Princess Into a Hostelling Backpacker.
It's rare that I get this honest in a blog post, but I chose to tell the world of my princess like ways and how I sought to change them. One of my goals was to spend less, experience more and travel longer. Since the time of publishing:
I'm still unable (yes, unable) to travel with a back-pack.
I'm still guilty of over packing. Ask my friend who helped me lug my suitcase through Milan's subway stations and the strangers in Cinque Terre who helped lift the beast into an overhead bin on a train. One man sternly lectured me, "Never pack more than you can carry." I know, I know!
I have gotten better at spending less on accommodation and have gotten to love hostels, especially for the social experience. I recently stayed at a beautiful boutique hotel in Prague which was only about 30 euros a night! I use public transit more and not only when traveling but even at home.
I shop less. I still shop but (usually) spend my money more wisely. It's hard, especially when you're looking for "date night" outfits … Ummm, it seems some of my goals are still a "work in progress".
Wrapping Up
So there you have it, my contribution to the My Seven Links project. Which is your favorite post? Tell me by leaving a comment below.