Day 8 marked my last day in Rio de Janiero, Brazil. There were still many things I wanted to see before I left the city. With that in mind, I hired a private tour guide through the hotel to take me around the city for a few hours. I wanted to see some art galleries, old churches, and other historic points around Santa Teresa and downtown Rio.
I was delighted with the tour guide! Stephan was wonderful. Originally from Paris, he has lived in Rio for over 20 years. He knew the city well, had an interesting life story, and was completely charming.
He took me to see some churches in the old colonial and baroque architectural styles. My favorite church was a baroque one – the entire interior was done up almost entirely in gold! Upon entering, I was in complete awe – it was beautiful.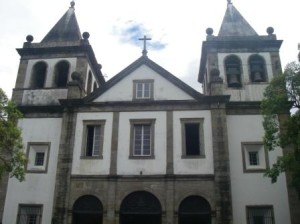 We drove around the downtown area – stopping at gallery spaces, some European looking streets in what is considered Rio's "financial district," the opera house, city hall etc.
We stopped by a few lookout points as well – which offered even more amazing views of Rio de Janiero and Christ the Redeemer in all it's scaffolding glory.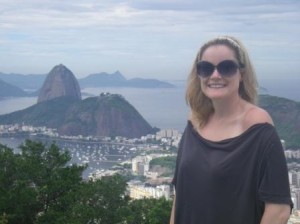 Also, went to a small museum that contained a private collection of several famous paintings.
When we driving through Santa Teresa, we were lucky enough to spy a large monkey stopped by the side of the road. Stephane stopped the car to allow me some time to snap some photos. He would not let me out of the car though, for fear I would be attacked. 🙂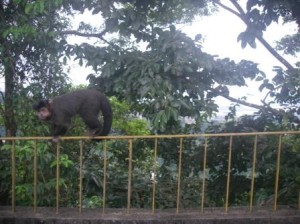 This is when I visited the Selaron stairs and met the quirky but quit Selaron. I blogged about this earlier – you view the entry here.
Came back to the hotel to eat a late lunch and inhale farewell cocktails before packing and catching my flight back home.
While I was having my lunch, I met a very nice American family (they reminded me of the Sopranos) who had been living in Rio for over 30 years. We had a great conversation and they made the life of an ex-pat living in Rio sound like a truly wonderful thing. How very tempting?! Perhaps I should study up on my Portuguese and move to Rio forever. Bye bye snow – hello beach and mountains.
I also discovered that slamming back a couple of mojitos when you need your wits about you is not the wisest thing to do. I forgot the password I had created for the hotel safe and my passport and wallet were being held hostage inside. I tried all sorts of different combinations and for the life of me I could not remember the password. I called the front desk and asked if they could send someone to unlock it for me. A man came with a device that is supposed to be able to do just that. Guess what? It failed and they could not get a hold of the support company. Time was ticking. I had to leave for the airport within an hour.  They even had the hotel handy man come with a drill so we could break into the safe. It was all very dramatic. Lucky for me – the device finally worked and I was able to retrieve my belongings in the nick of time.
The airport transfer I booked also failed to come through. The driver hired by Greyline tours didn't show up at the hotel. I had to incur further costs to book a taxi driver through the hotel. Again though, luck was on my side and I got to the airport in time to catch my flight.
The flight from Rio to Houston ended up being delayed by 2 hours due to heavy rainfall. This caused me to miss my connecting flight to Toronto. The good thing about the flight to Houston though – I had two seats to myself! I curled up and slept for most of the night. Woot woot.
Upon arrival in Houston, a Continental employee greeted us with new boarding passes. I would depart for Toronto just 3 hours later. Not fun to wait that long when you are already really tired, but it could have been worse. As a result, I love Continental Airlines. I am a sworn enemy of Delta, American, and United Airlines. They all suck in my opinion and I try to avoid them at all costs.
Had an uneventful flight back home and arrived home to an unseasonably warm day in the T Dot. Went to fetch my cat from the vet, ordered some take-out, caught with friends, and spent the rest of the day relaxing. I was extremely happy to be home again.
Verdict – all in all, a fantastic trip. This trip was exactly what I needed and can be considered a major highlight of my life. I ventured off to Brazil and Argentina on my own and had the opportunity to do some fantastic things. I feel very fortunate.
The trip has had a calming effect on my life, as before I left, I was stressed out with work and some other things. Since I have returned, I have been more relaxed, more happy. I have been getting more sleep, handling stress with more ease. I need to make sure I take time for myself more often – not just from work, but other things – even from family/friends. I think this will go a long way of ensuring I remain in my current state of bliss.
Also, I look forward to further adventures later this year. I am hoping for a visit to New York, Chicago and also somewhere hot  location yet to be determined.