What It's Like To Travel In Germany During COVID-19 – Estimated reading time: 17 minutes
2020 was one hell of a year, right? I never thought that anything would ever quell my insatiable desire to travel, but of course, COVID-19 squashed most travel plans any of us had. I'd booked a bunch of flights over the 2019 Christmas break, including a long weekend in Naples, five days in Yerevan, and five days in Marrakech. Obviously, all of those trips have since been cancelled or rescheduled for a later time.
I'd have never believed you if you'd told me that I come to value staying home and warmly welcome the break from my usual globetrotting adventures. While I didn't handle the beginning of the pandemic very well (that's a whole other story), after a wee spell I began to feel better. I stopped smoking and drinking alcohol. I'm in therapy. I turned my apartment into a cozy oasis that I never want to leave. I've gotten to know my neighbourhood better by taking long walks and bike rides. I started reading books again and listening to podcasts. And so many other really good things.
Most importantly, I've learned to appreciate and savor life at a slower place. So for the time being, I have zero aspirations to step into a plane. But this doesn't mean I won't indulge in some day trips from Berlin or other little weekend escapes around Germany. Recently, I travelled for the first time in six very long months, spending a weekend in Hamburg.
Before we go on, I'll love you forever if you signed up for my mailing list! Click on the banner above to join more than 42,000 other people who like following my travel and Berlin life adventures.
What is it like to travel in Germany during this time of Coronavirus?
Before we dive in, let me provide you with the lowdown on my trip:
I took an ICE train to and from Hamburg, travelling first class in a quiet car, in an open saloon. The bookings were made for off peak hours when there weren't as many people on the train, aka less crowding.
I stayed at a somewhat swanky hotel for two nights in Hafencity. It was important for me to stay somewhere that not only felt safe and clean, but also had a cool and fun vibe.
Modes of transportation used over the weekend included my own two feet (the best way to move!), taxis, public transit, and an e-scooter (because I wanted to feel like a kid again!).
Recommended reading: Read this article, Holiday in Germany during COVID-19: What travelers need to know from DW and this article, COVID-19 in Berlin and Germany: What you need to know from KCRW Berlin.
A couple of notes to keep in mind as you read through this:
This post is anecdotal in nature and a retelling of my personal experience. Others may experience travel in Germany during COVID-19 much differently.
You may also observe my not so

mild neurotic tendencies. I'm type A, a virgo to the core, at times obsessive, and this combined with a strong sense of apprehension about travelling again made me super paranoid about being exposed to Corona. It was a massive mental effort on my part to feel safe and comfortable about being on the open road again. So take my preferred and/or suggested hygiene practices as you will and travel how you see fit.
But do us all a favour, and wear a fucking mask! Thank you. Now let's get into what it's like to travel Germany during COVID-19.
Making A Hotel Booking With Booking.com
I booked a hotel through booking.com. Hotel prices were on the expensive side, surprising me as I'd thought they'd offer better deals to attract visitors back to their establishment. I imagine that as hotels cannot offer full occupancy and have added costs due to the new hygiene measures, that this is driving the costs to be the same or even higher than normal.
I made a reservation that did not require any money up front or have any cancellation fees, so long as you cancelled more than 24 hours beforehand. As things change fast in the COVID-19 era, I wanted my plans to be as flexible as possible without incurring any financial penalties. I'd suggest doing same thing.
While the booking process was no different than "BC" (before Coronavirus), I spent a lot of time on the hotel's website reviewing their coronavirus measures. I'd highly recommend doing this before making any firm bookings. It helps you know what to expect and be able to plan and adjust as needed prior to your trip. It also guided me on how to behave once I arrived at the hotel.
Making A Train Booking With Deutsche Bahn
As mentioned above, I booked a train to Hamburg as it's the most comfortable, safest, and environmentally friendly way to travel in Germany. I chose an ICE train with no transfers included, which helped to minimize any contact points along the way. I also booked a quiet car in an open saloon as the thought of sharing a closed compartment with strangers is not in any way appealing during this time.
One of the cool things when you book is that you can see an indicator of how busy the route is and book accordingly. I purposely chose a train that wasn't so crowded to further avoid any unnecessary contact with people. I also made a seat reservation and was able to select a seat that was not close to other people. As Deutsche Bahn is desperate for business right now, I was even able to book first class for only about €20 more! The cars are more spacious, you get free coffee, and the cars tend to be less crowded.
Taking Taxis In Berlin During COVID-19
To avoid exposure to too many people, as I was already nervous setting out on my journey, I took a taxi to Berlin Hauptbahnhof instead of venturing out on public transit. I booked a private car with a fixed price through FREE NOW, selecting a car that would come with a screen between the driver and I.
Taxi drivers keep telling me it's not mandatory, but actually it is for passengers and oddly, not drivers! Regardless, I always wear a mask when I'm in a taxi and try to avoid touching any surfaces as much as possible. Obviously, it's inevitable as you need to open and close the door, maybe wind down the window, and fasten your seatbelt. In any case, I always use hand sanitizer once I'm settled in the back seat and I wind down the window to get as much air streaming through the car as possible.
By booking through the app, it means you can pay by the app and avoid exchanging money or having the driver touch one of your dirty credit or debit cards. Leaving the taxi, I doused my hands in sanitizer once more.
What It's Like At Berlin Hauptbahnhof

Berlin Hauptbahnhof, the city's main train station was no more or less or less busy than usual; the only noticeable difference was that everyone was wearing a mask. Masks are mandatory not only inside trains but the stations as well.
The central train station has new hand sanitizing stations, and some of the shops have hand sanitizer dispensers that you can use before going in. There are also markers on the floor, lots of signage to remind you of Corona hygiene rules, as well as verbal recordings played from time to time. You'll see several officials out and about, ensuring that people are following the rules and when necessary doling out fines.
The Train Rides To And From Hamburg 
To travel Germany during COVID-19 is weird. Wearing a mask is required at all times when travelling on the Deutsche Bahn. I brought along some disinfectant spray and used it to wipe down my seat, arm rest, and tray before sitting. I saw several other people doing the same thing.
The car I occupied was largely empty on my ride to and from Hamburg. On my trip to the dining car for some water and a snack, I passed through several cars and some of them were jam packed full of people. There was almost no social distancing in place. While everyone was wearing masks, many people removed them to eat or drink.
If you feel anxious being around people right now, I'd suggest following the tips outlined above (book first class, a quiet car, choose a route that's less busy, make a seat reservation placing yourself further away from others) or failing that, take an unreserved seat in a less crowded car or hang out in the dining car.
Arriving And Leaving Hamburg Hauptbahnhof 
The central train station at Hamburg was unchanged except for some shops having plexiglass windows up and staff wearing mass. It was jam packed and crowded, with most but not all people wearing masks. I didn't see any hand sanitizing stations like in Berlin, though I may have missed them. I saw a lot of people who were not respecting social distancing rules as they were going about their business. It was honestly overwhelming and made me anxious so I exited as soon as possible.
Taxi Rides In Hamburg 
I hailed a taxi parked outside of Hamburg Hauptbahnhof to reach my hotel. I walked up to the queue of taxis and before getting in the car, asked if they took card. The first one refused – which is why I always ask this question before agreeing to ride. I respect the taxi driver's decision to do what's best for them but there was no way that I was paying with dirty cash. I was fortunate enough to luck out with the second taxi driver. Although there was no divider in the car, he did wear a mask. Of course, I had my mask and hand sanitizer and took the same measures as earlier that morning. 
When on my way back to Berlin, I also took a taxi, and used the FREE NOW app as they also work in Hamburg. The taxi came in less than five minutes and it was really convenient to pay through the app.
My Stay At The PIERDREI Hotel
More about what it's like to travel Germany during COVID-19?
PIERDREI is not only a fabulous and beautiful hotel, but they are taking Coronavirus seriously right now and I never once felt unsafe during my stay. When you enter the building, there's a hand sanitizing dispenser for you to use. The concierge staff are protected by plexiglass dividers. When you use pens to sign paperwork and are given your room card, they'll explain that the items have been disinfected after every use. All of the staff are wearing masks. They also walk you through all of their specific requirements – guests cannot ride in the elevator together unless you are from the same room, you are required to wear a mask when you are not in your room, there are no room cleanings during your stay, and more.
It seems like a lot, but it's not really that bad or much different from being in other public spaces, and their attention to detail made me feel at home in their hotel. PIERDREI made travel Germany during COVID-19 way easier. As such, I highly recommend staying at PIERDREI should you be paying a visit to Hamburg anytime soon.
Note, my hotel stay was not sponsored and I paid out of my own pocket.
Taking Public Transit In Hamburg
Like most public transit networks across Germany, HVV requires that you wear a mask when using the U-Bahn, S-Bahn, buses, or ferries. I found the trains and buses to not be too crowded and didn't ever feel too stressed or unsafe as I made my way about the city. Most people were wearing masks and I felt better taking public transit in Hamburg, than I do in Berlin.
However, my experience on the ferries was not very positive. While they are a fun way to travel and a great way to see another side of Hamburg, the boats were way too crowded. Even though people were wearing masks, all I wanted to do was get off the boat as soon as possible.
Using A Scooter To Get Around Hamburg
I'm a big fan of public transit, and also, shared mobility models like e-scooters. As an alternative to public transport, I used Lime scooters to get to and from different places. It's faster than walking, let's you unleash your inner child and have a lot of fun, as well as keeps you out of public transit and minimizes your contact with other people.
My decision to use a scooter was rather spontaneous – I'd always been really critical of them, but wow, I had such a great time. I downloaded the app, easily registered within a few minutes, and soon found myself zipping all around Hamburg. I love scooters so much now that I've since used them several times in Berlin.
From a health standpoint, I'd recommend using hand sanitizer before and after using the scooter. If you have disinfectant, you can also wipes down the handles, bell, and brake. All in all, my time on the scooter made travel Germany during COVID-19 way more jolly. 
What It's Like When You're Shopping In Hamburg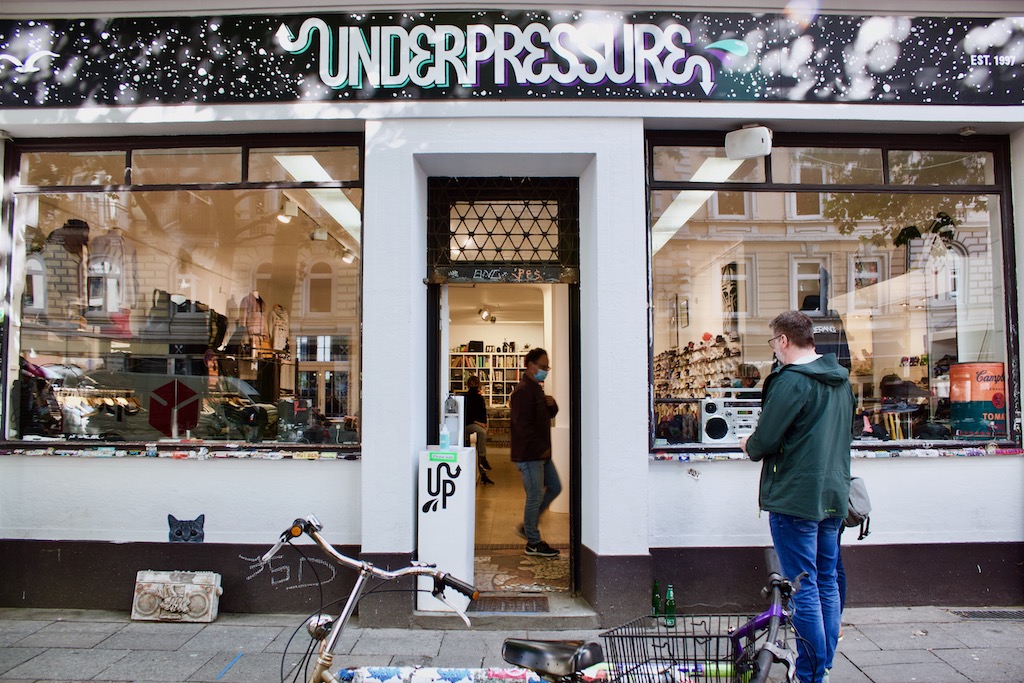 It's pretty much the same throughout the entire country – if you enter a place of business, you must always wear a mask. Shop owners were pretty insistent on this in Hamburg. Even better, most places offer hand sanitizer at the entrance, which is way better than what I've experienced when shopping in Berlin.
Eating Out At Restaurants In Hamburg
While in Hamburg, I ate every single meal in a restaurant. From casual dining establishments to more fancy ones, each place took great care to follow health regulations.
You're going to either show a recent negative test result, recovery from corona, or an official vaccination certificate. Recent measures no longer allow people to show papers (due to them easily being faked) and only permit you showing electronic certificates via apps like the Corona Warn app. Some venues are now also following the 2G rule.
In addition to this, all patrons of bars or restaurants are required to wear a mask when not at your table (including staff and tables tend be appropriately distanced apart. Some restaurants even have you scan a QR code to read a digital version of their menu and place orders from your phone. There are usually hand sanitizer available for guests as well.  
This was a refreshing change from Berlin where a lot of restaurants have been really lax with their corona measures.
Helpful COVID-19 Resources In Germany
Aside from a truckload of toilet paper, what are some helpful resources for travelling Germany during COVID-19?
1) If you'll travel Germany during COVID-19, I'd highly recommend installing the Corona Warn App. Contrary to what conspiracy theorists or other skeptics will have you believe, it doesn't track your personal data and nor does the German government have any nefarious plans by promoting the widespread use of the app. It will simply alert you if you've been close to someone who reports a positive corona infection through the app and more importantly, inform you about what you need to do. You can also show test results in the app, as well as vaccine certificates.
2) As the situation with corona and related restrictions changes so often, it's important to stay on top of things when planning your travel in Germany. For the latest COVID-19 developments in Germany, including risk assessment and number of cases across the country, see the Robert Koch Institute website. Note, this information is also now available in the Corona Warn App, as are the country's overall virus statistics.
3) Visit Germany's official government website for even more information.
4) Just to make planning your travel in Germany even more complicated, know that COVID-19 regulations can vary by state. Check out the relevant state website for up to date details.
5) Make sure you get good travel insurance that will cover costs should you face a cancelled flight or whatnot.
What do you think about my story of what it's like to travel Germany during COVID-19? Have you travelled the country and what has your experience been like? Are you still hesitant to travel right now? We'd love to hear your stories in the comments below.
Good To Know
1) Reserve a hotel with a flexible booking policy.
2) If you're looking to experience a tour when you're travelling through Germany, book one now. 
3) We also think you should check out some of the blog's more popular travel in Germany content:
If you like this post, share it on Pinterest.
Disclosure – This post contains some affiliate links. If you book a tour or hotel, I'll earn a tiny commission at no extra cost to you. Thanks for your support!