Belgium's port city of Antwerp should be a highlight for anyone planning to visit Belgium. From the old and new architecture, to the shopping opportunities, gastronomy scene, and other quirky sites, there's a little something for everyone.
Why You Should Visit Antwerp, Belgium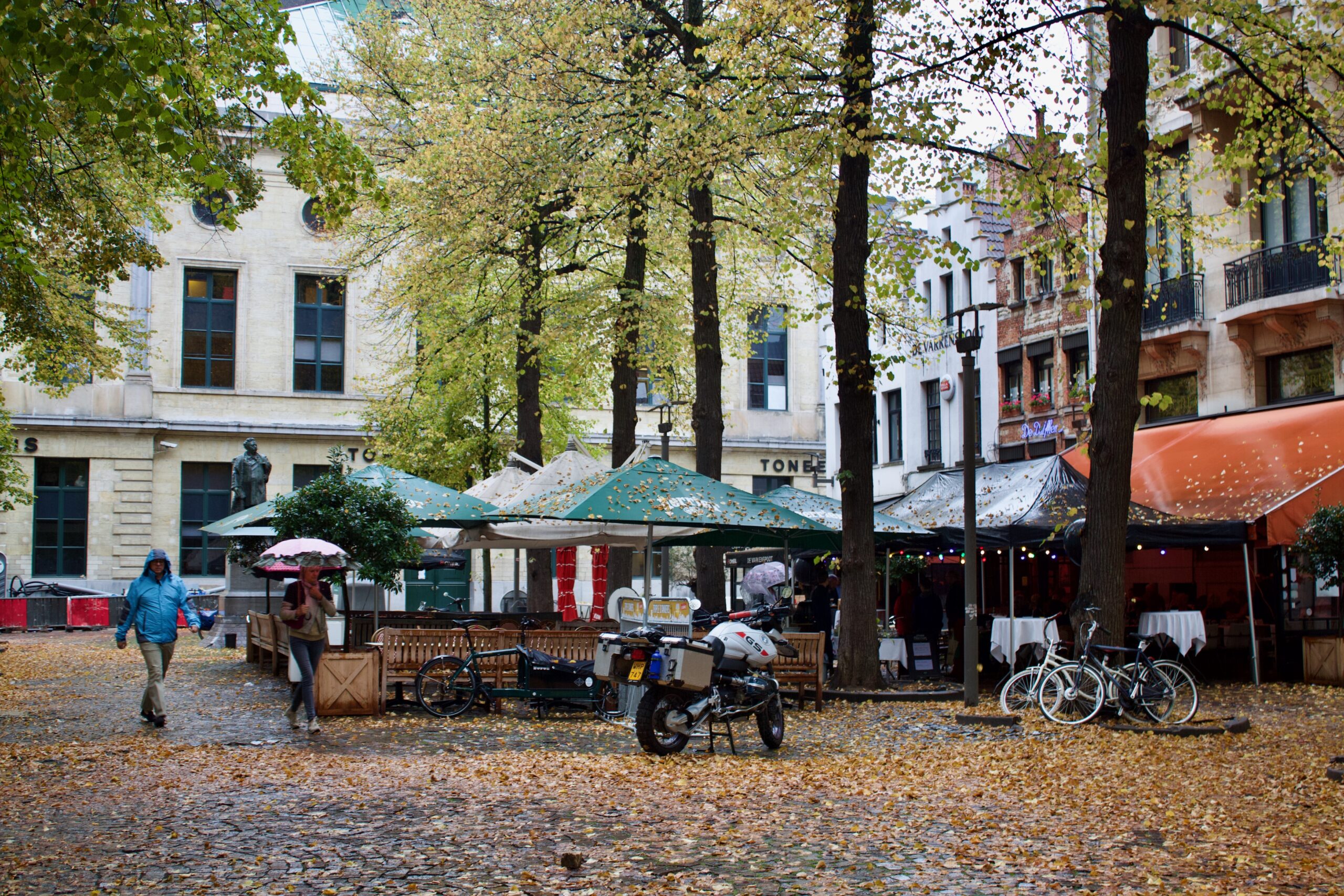 In this little mini-guide to Antwerp, I highlight different places to visit including popular tourist sites, some quirky statues, a museum with one heck of a view, a place with the best fries you'll have in your life, and more. While I haven't highlighted every single thing there is to do in Antwerp, consider this a curated list of my very favourite things to do in this Belgian city.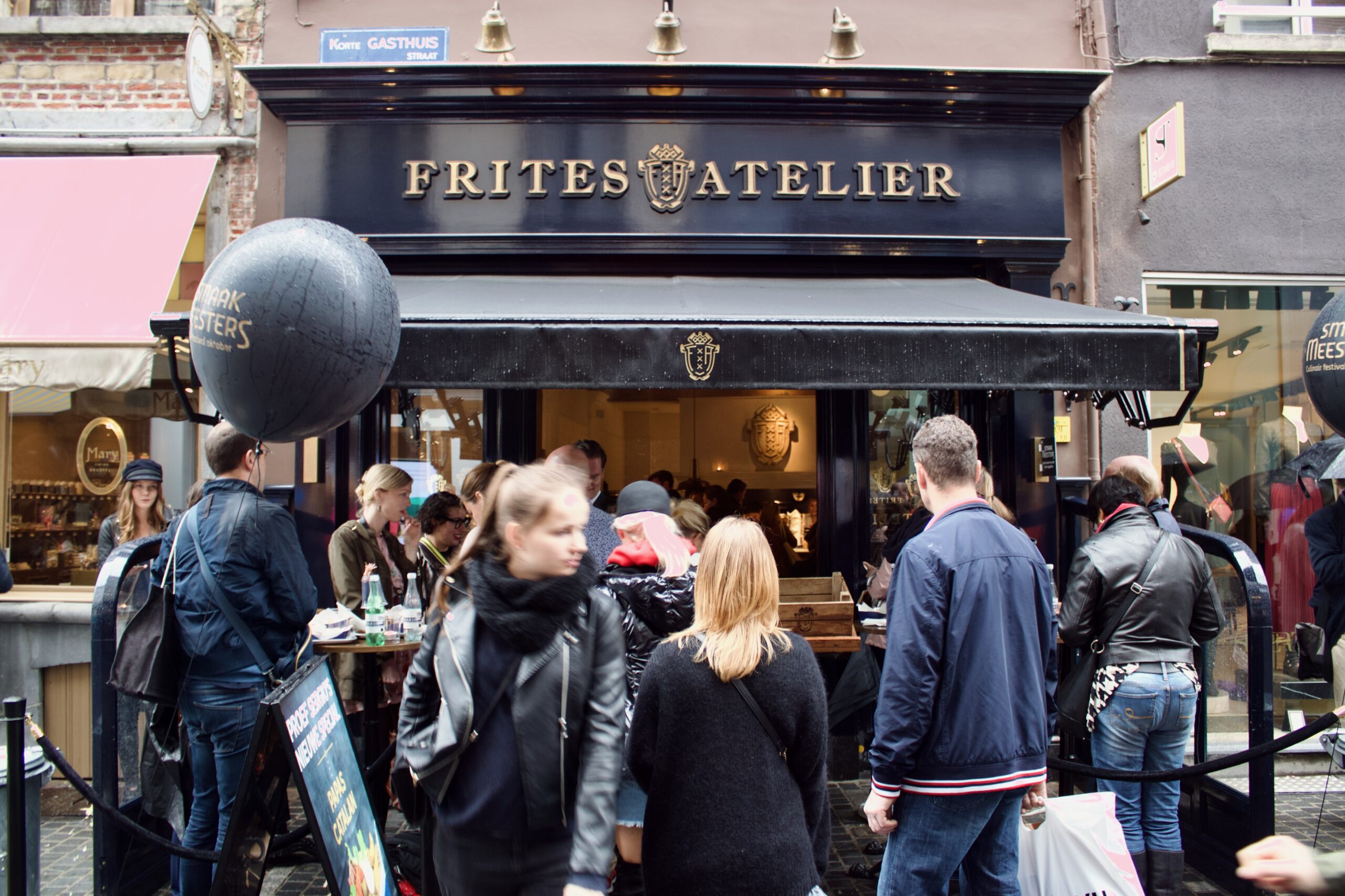 1) Frites Atelier – Frites Atelier attracts massive crowds who flock here for the star-rated chef's fries. Dutch chef Sergio Herman spent 18 months testing and experimenting with various types of potatoes, sourcing the perfect salt to use, and following a set cooking method that leaves your fries soft and creamy on the inside and crispy on the outside. The fries are served with a number of exquisite toppings like "Parmesan & Basil" with grated Parmesan cheese, tomato powder, basil cress, and basil mayonnaise. Or try the Flemish Beef Stew where the fries are topped with braised beef soaked in brown beer that's served with garden cress and pickled mustard seeds. Being Canadian, you'd think I'd be a loyal poutine fan, but this Belgium fries establishment puts Canada to shame. If you do anything when you visit Antwerp, grab some fries at Frites Atelier.
Address: Korte Gasthuisstraat 32, 2000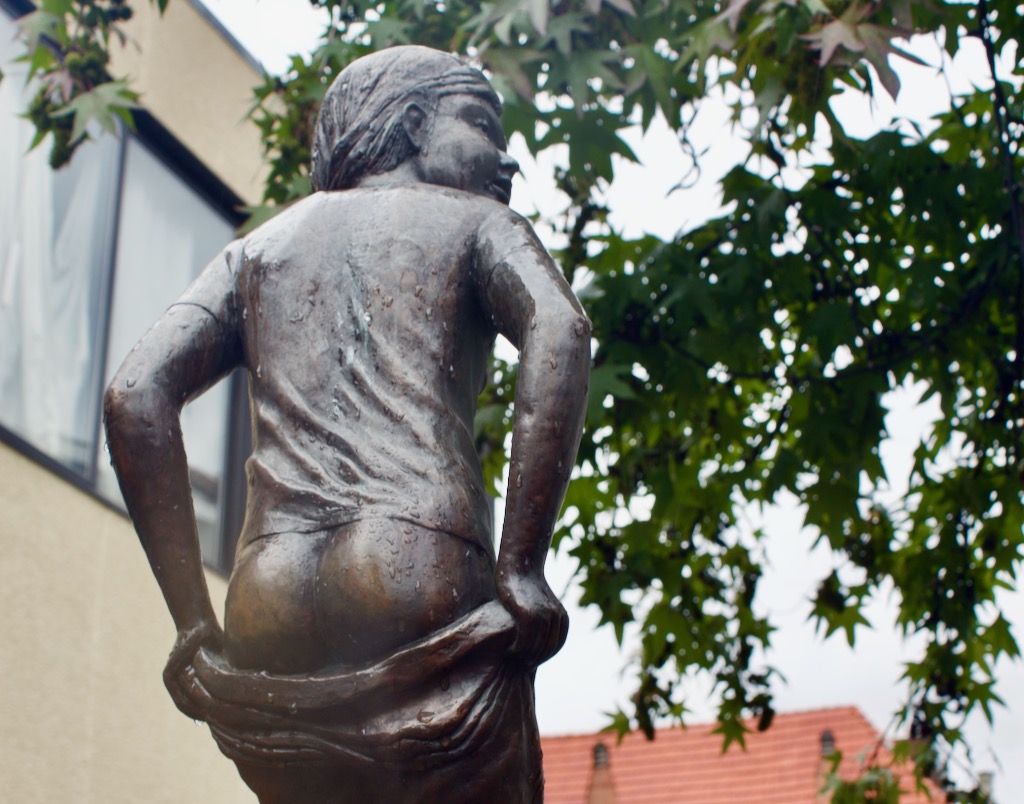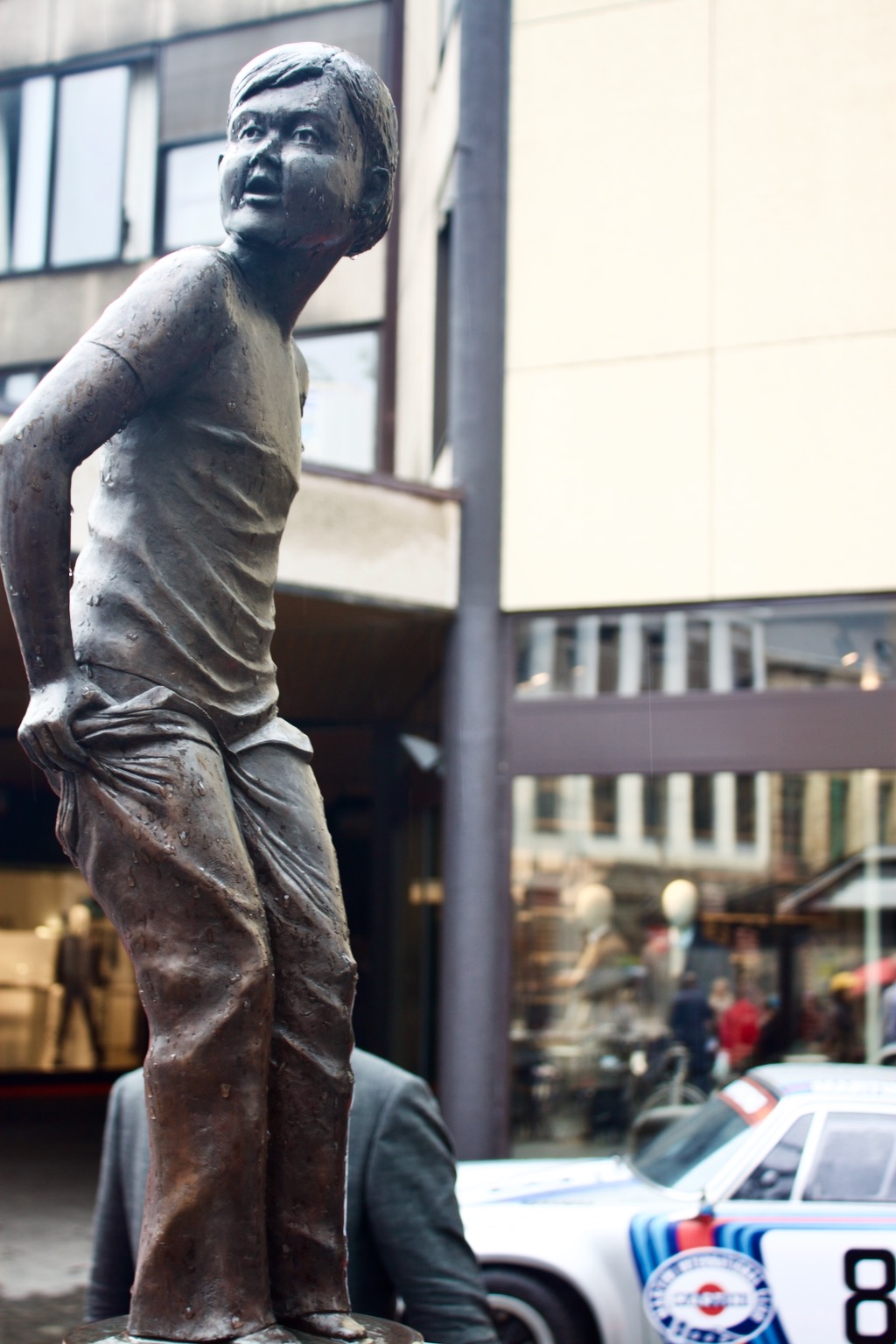 2) Den Deugniet – Brussels is notorious for its bizarrely numerous statutes of children, and even dogs, peeing. Antwerp has an equally strange, but no less humorous statue of a little boy with his pants down, showing off his bare bottom and giving the world a full moon. See this statue for a good laugh and some funny photos to share with family and friends.
Address: Korte Gasthuisstraat 36, 2000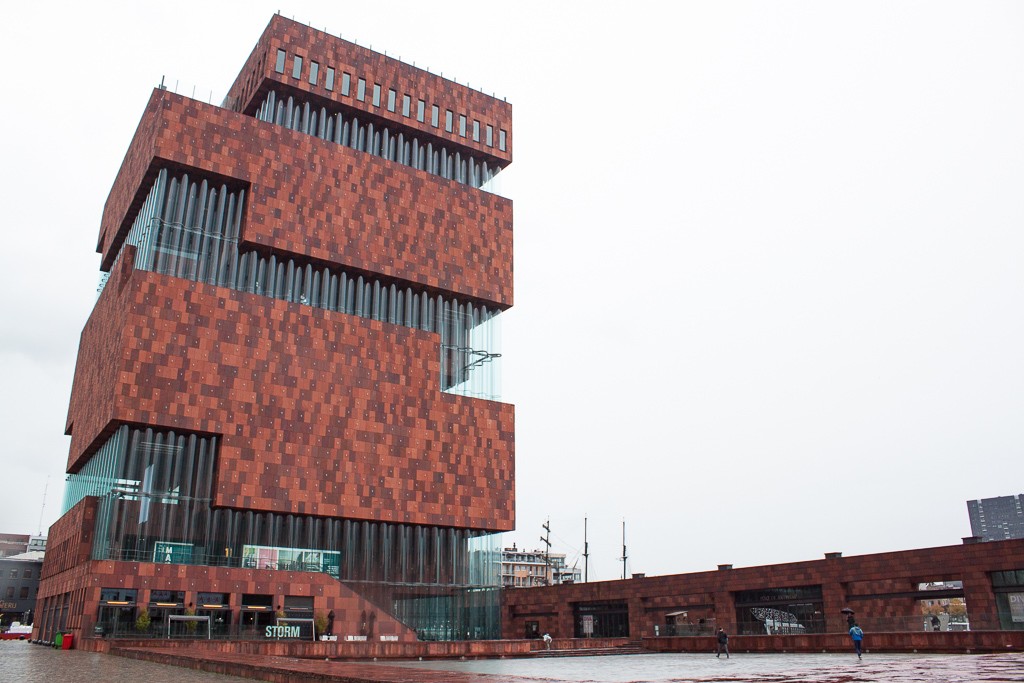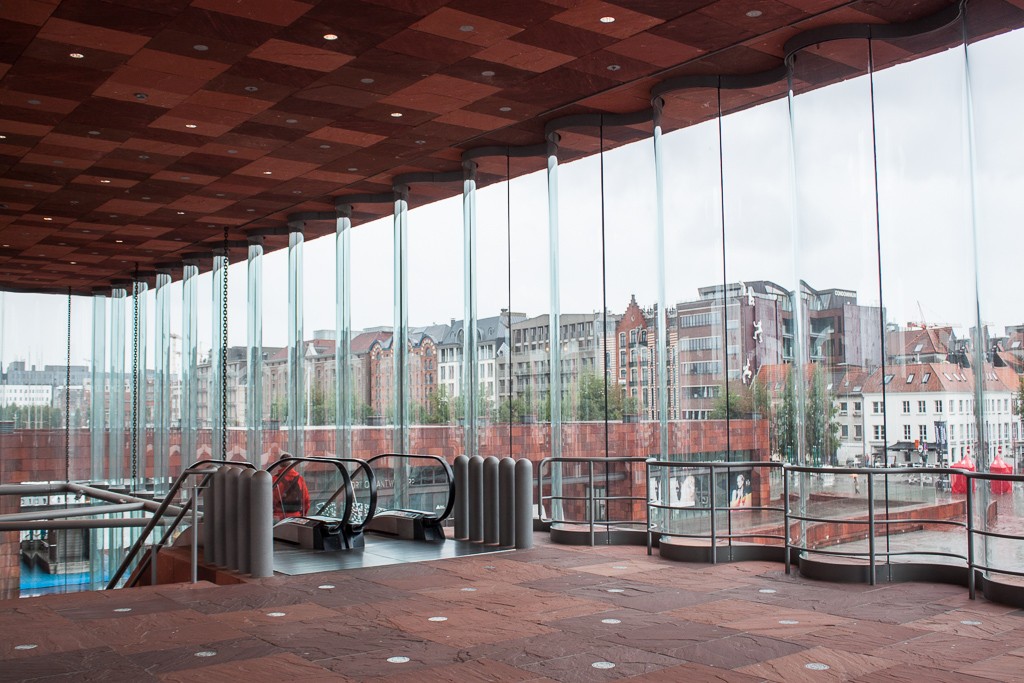 3) Museum aan de Stroom (MAS) – Antwerp's largest museum, along the Scheldt river, is a beautiful postmodern art deco style building featuring red sandside and curved glass panelling. At 60 meters high, the rooftop is the prize, as it's here you can find panoramic views over Antwerp. Stay there for a while to soak up the city views and snap some photos. Highly recommended is heading there for sunset. MAS hosts both permanent and temporary exhibitions focused on connecting local and global culture, art, and history.
Address: Hanzestedenplaats 1, 2000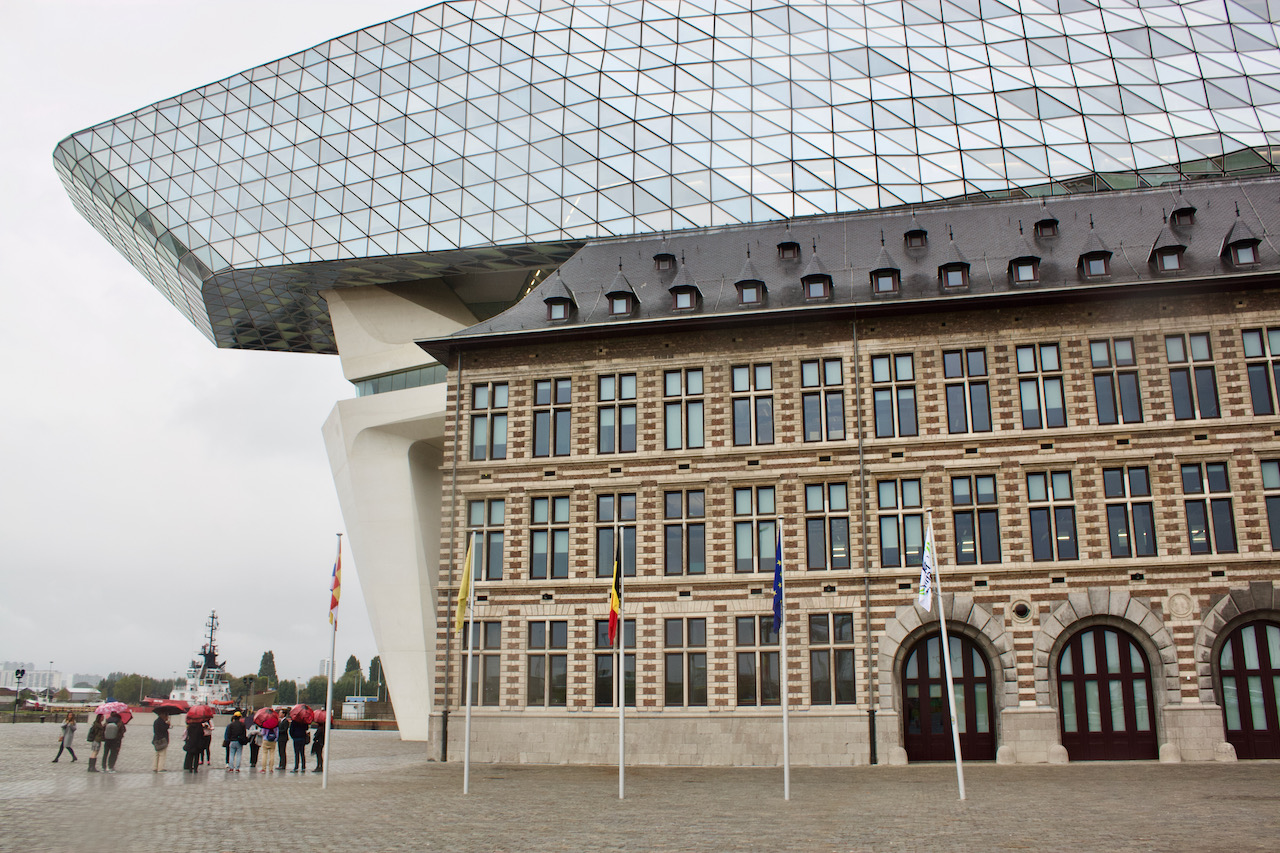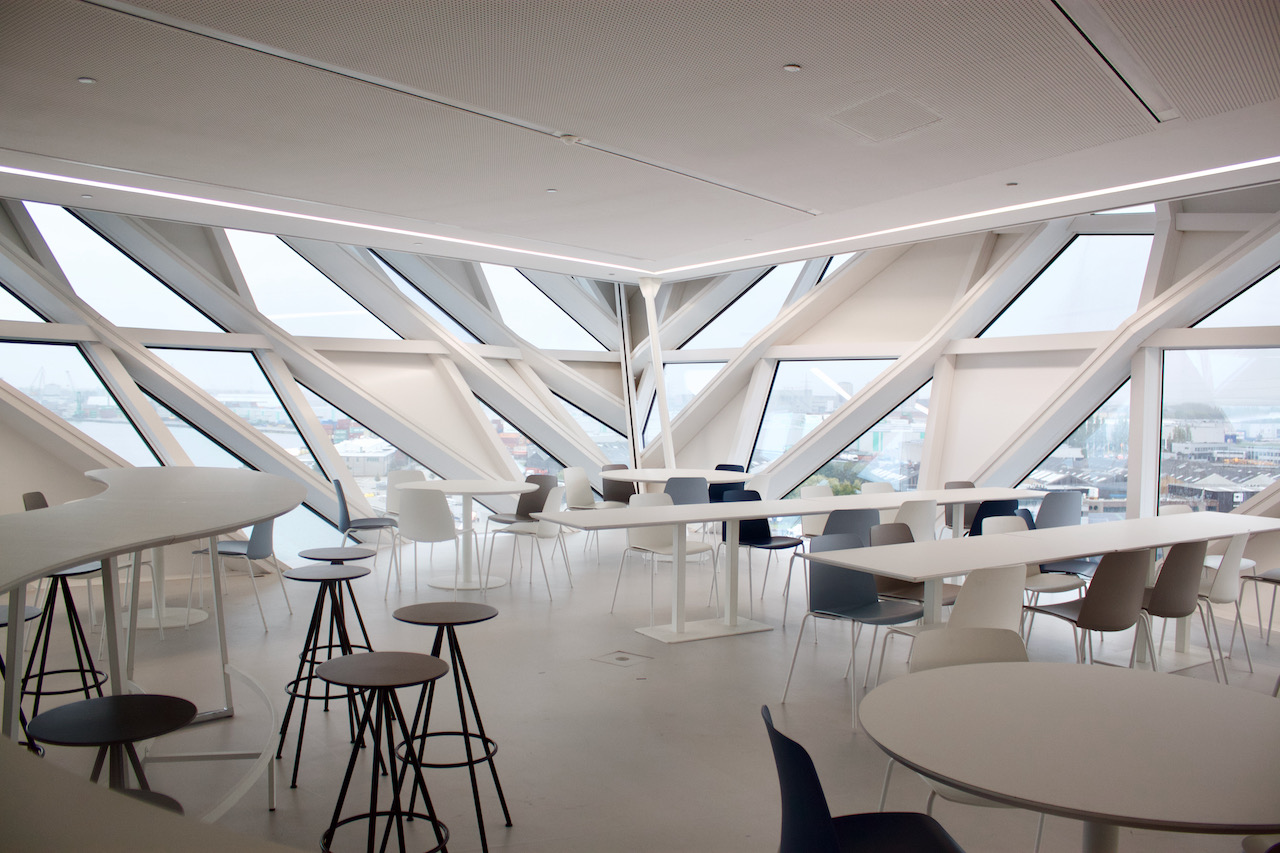 4) Port Authority Building – Fusing both new and old architecture, the Port Authority building in Antwerp is a wild Neo-furist design by the late architect, Zaha Hadi. The massive 12,800 square meter building serves as the headquarters for the local port authority's 500 employees. The lower part of the building is a restored fire station, while the four-floor glass and steel structure resting on top of it resembles the hull of a sailing ship. Visit the building to marvel at the incredible feat of architecture or take a tour with Experience Antwerp to learn even more about this fascinating building.
Address: Zaha Hadidplein 1, 2030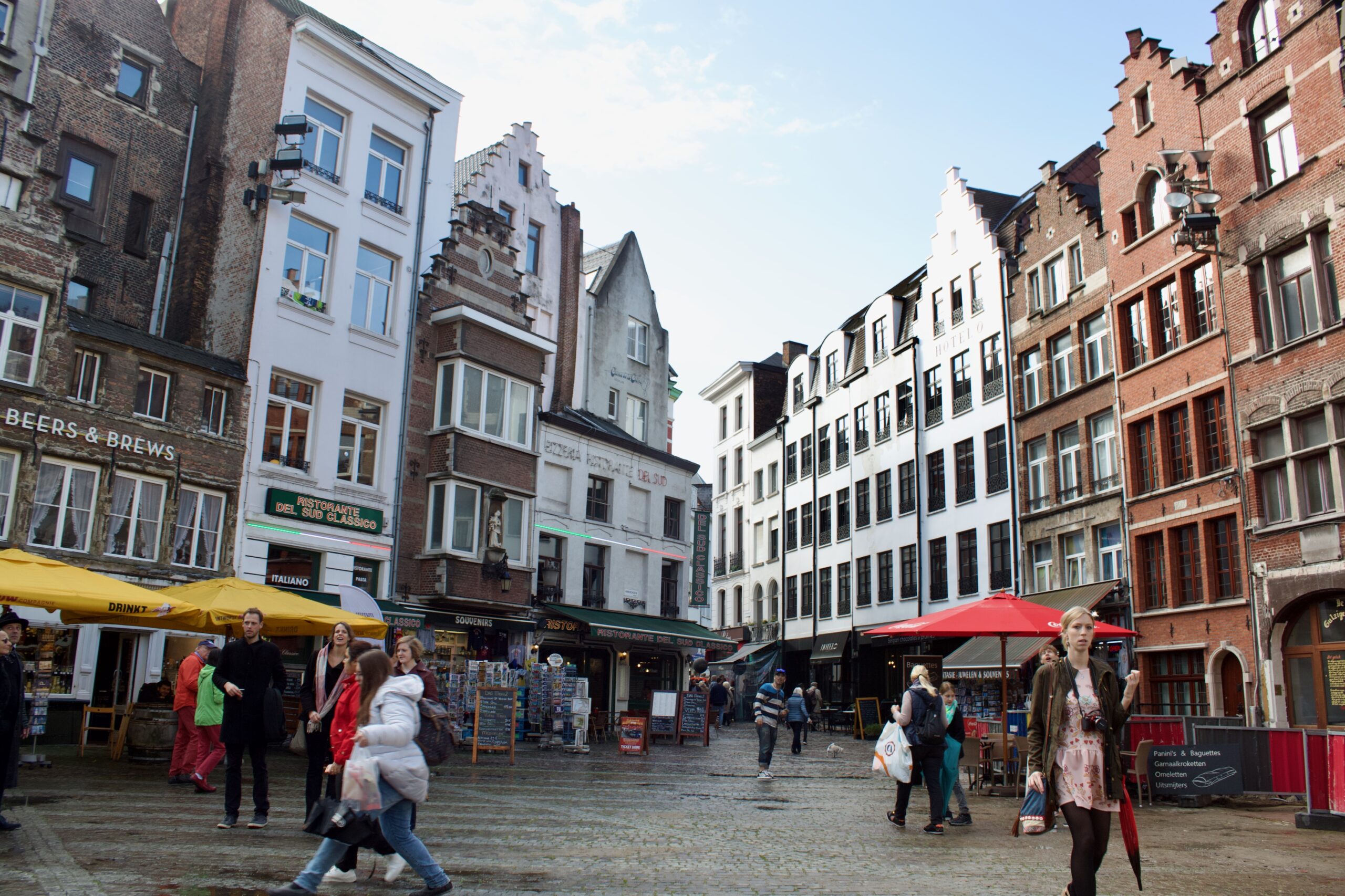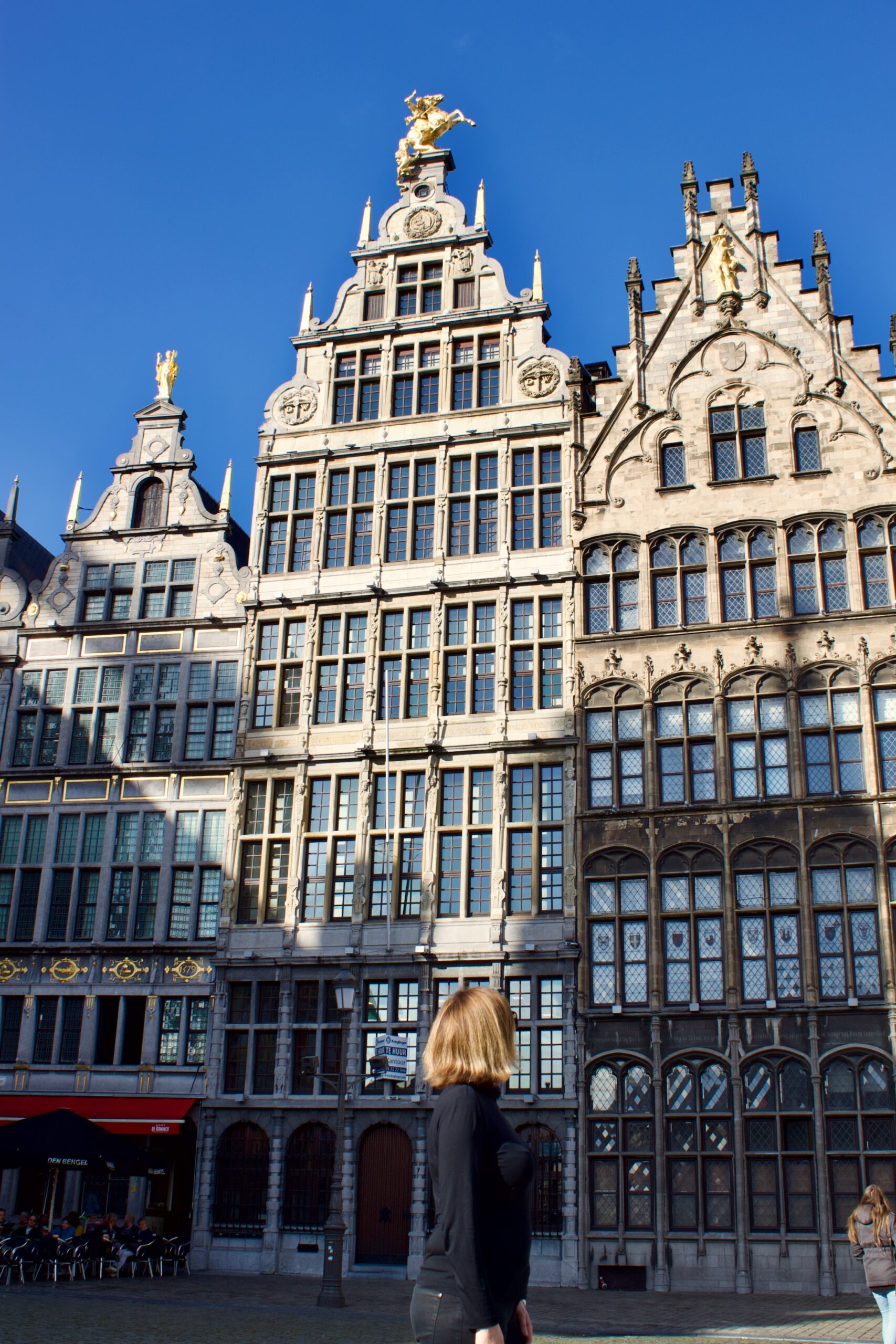 5) Grote Markt – If there is a pièce de résistance in Antwerp, then Grote Markt definitely fits the bill. Hordes of tourists head to this UNESCO site, situated in the old city quarter. The large town square is filled with 16th century Flemish Renaissance buildings, the Brabo Fountain, and a stunning city hall flanked by gilded houses that have been transformed into modern-day cafés and restaurants. Come here to admire the historical architecture, have a traditional Belgium meal (paired with beer of course!), and people watch. One of my favourite things to do when there was to watch aspiring social media stars posing for photos, with some even doing complete outfit changes right out in the open.
Address: 2000 Antwerpen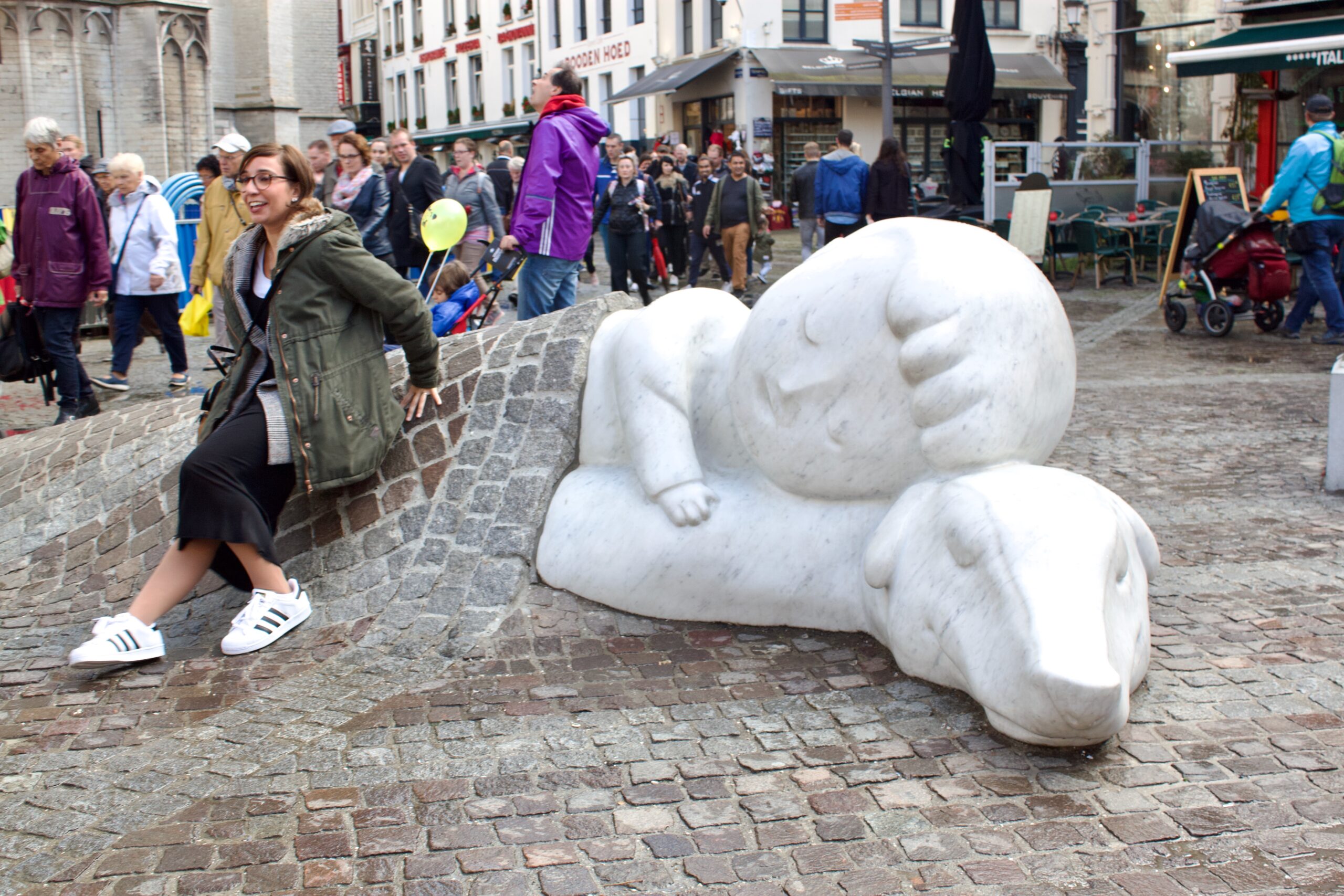 6) Nello and Pastrache Statue – While wandering around Grote Markt, you'll come across the statue of a young orphan boy, Nello and his dog Pastrache. These characters are from the fictional novella, A Dog of Flanders which takes place in Antwerp. The story actually became more famous abroad, in places like Korea and Japan, than at home. As fans started visiting Antwerp to see where their hero had lived, the city decided to add some statues to honour the beloved characters. You'll find a white marble statue of the duo lying under a cobblestone blanket, depicting a poignant moment in the book.
Address: 2000 Antwerpen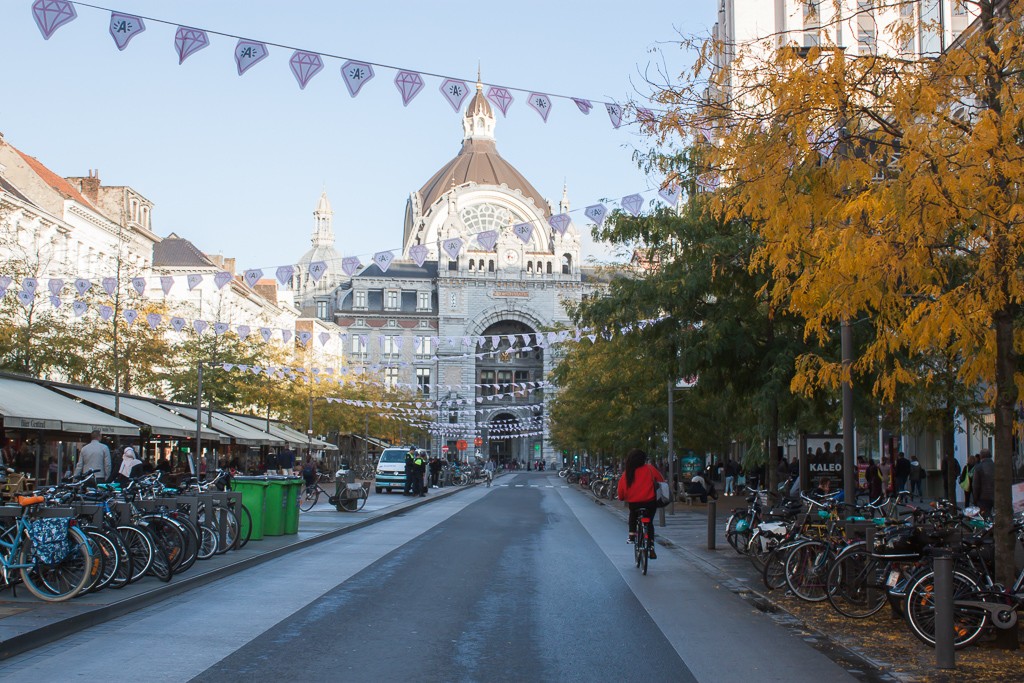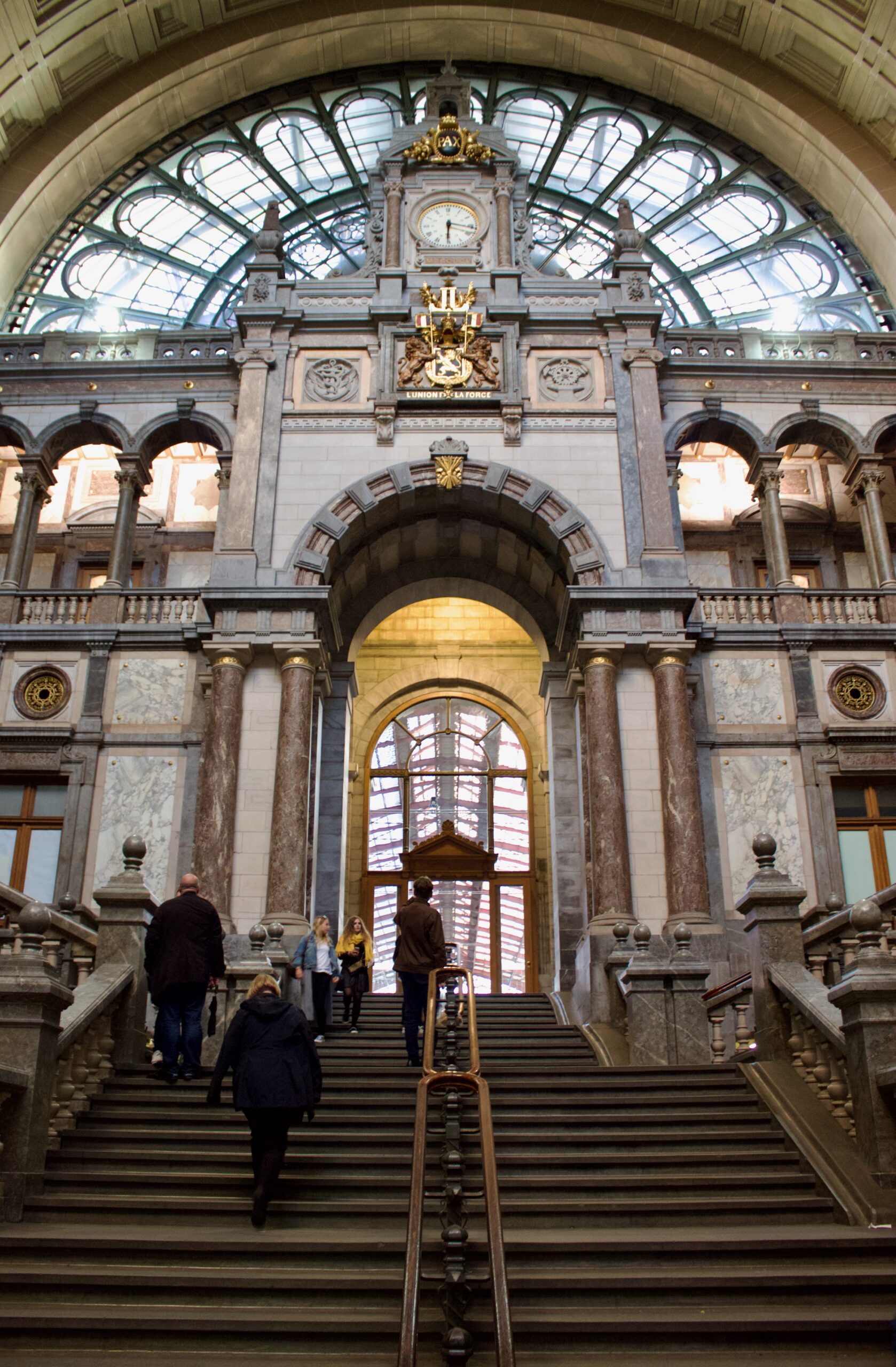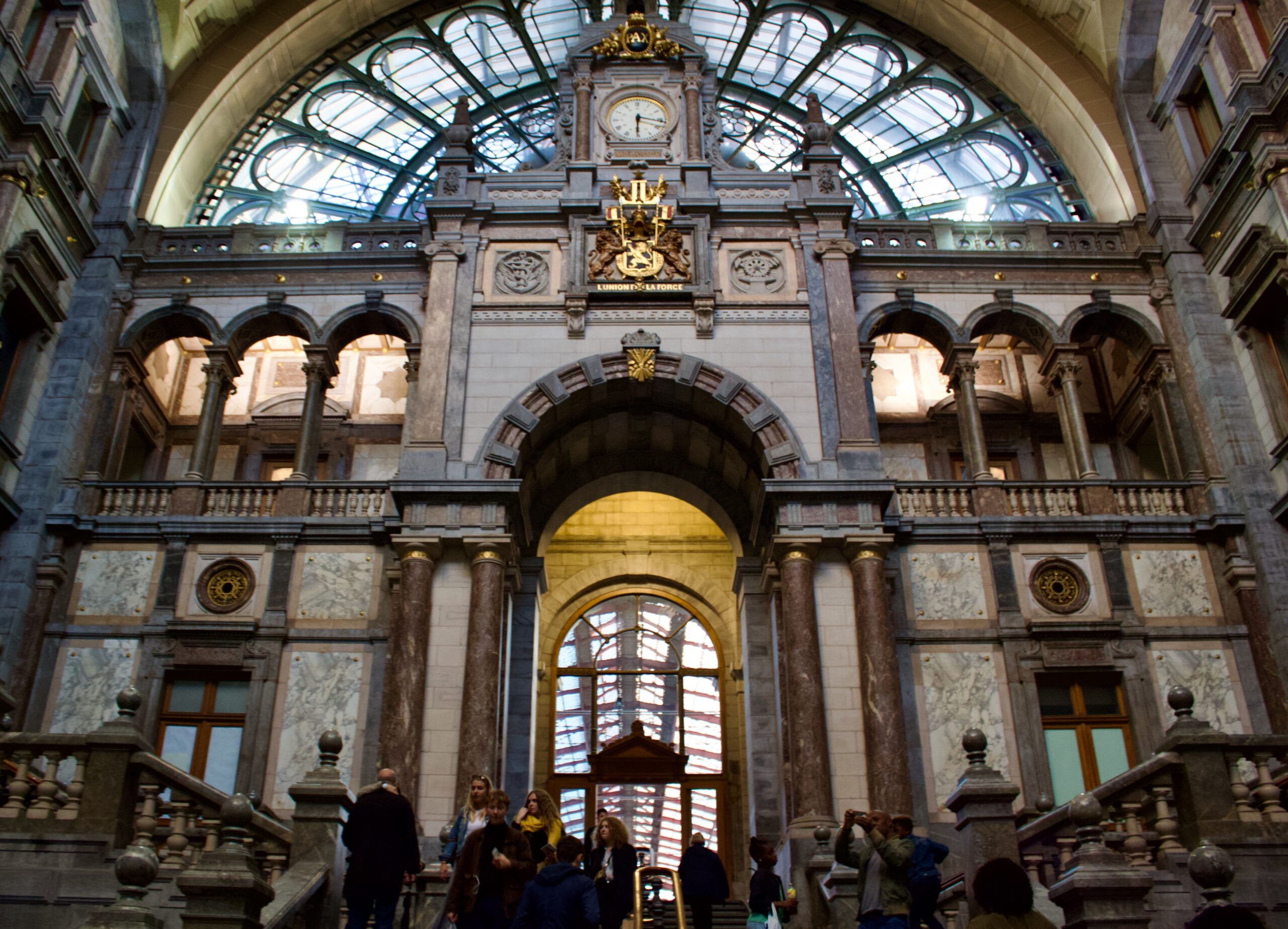 7) Antwerp-Central Railway Station – Frequently hailed as one of the most beautiful train stations in the world, Antwerp's central railway station is quite a thing to behold. Built between 1895 – 1905 by Belgian architect Louis Delacenserie, the highlight is the grandiose cathedral inspired dome in the waiting hall. The station was badly damaged during WW2 and was thankfully restored in the late 1980s. Even if you don't plan on taking a train to or from Antwerp, this station is a must-see.
Recommended reading: A profile of the main train station in Liège.
Address: Koningin Astridplein 27, 2018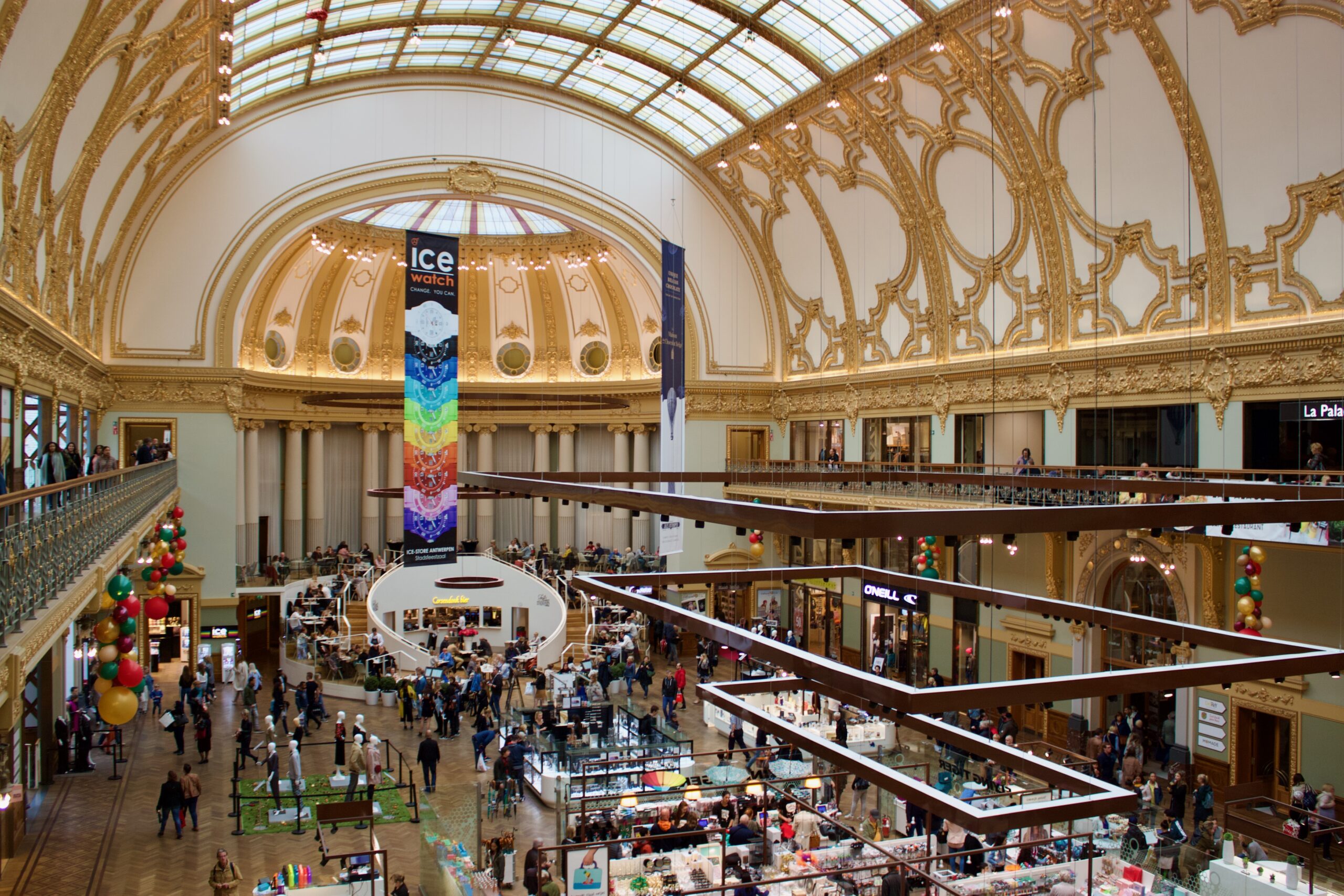 8) Shopping Stadsfeestzaal – Now a shopping center with upscale shops and eateries, this rather opulent heritage building was formerly an event and exhibition hall where elegant balls, trade fairs, and other festive celebrations took place. Back in 2000, the building was completely destroyed in a fire that left only the building's facade, sweeping staircases, and the roof intact. Through extensive and painstaking renovation efforts over the course of three years, the place was brought back to life with the painting of the gold leaf ornaments taking more than 18 months alone. Even if you can only window shop, the Shopping Stadsfeestzaal is worth checking out, as the building is just too pretty to miss.
Address: Meir 78, 2000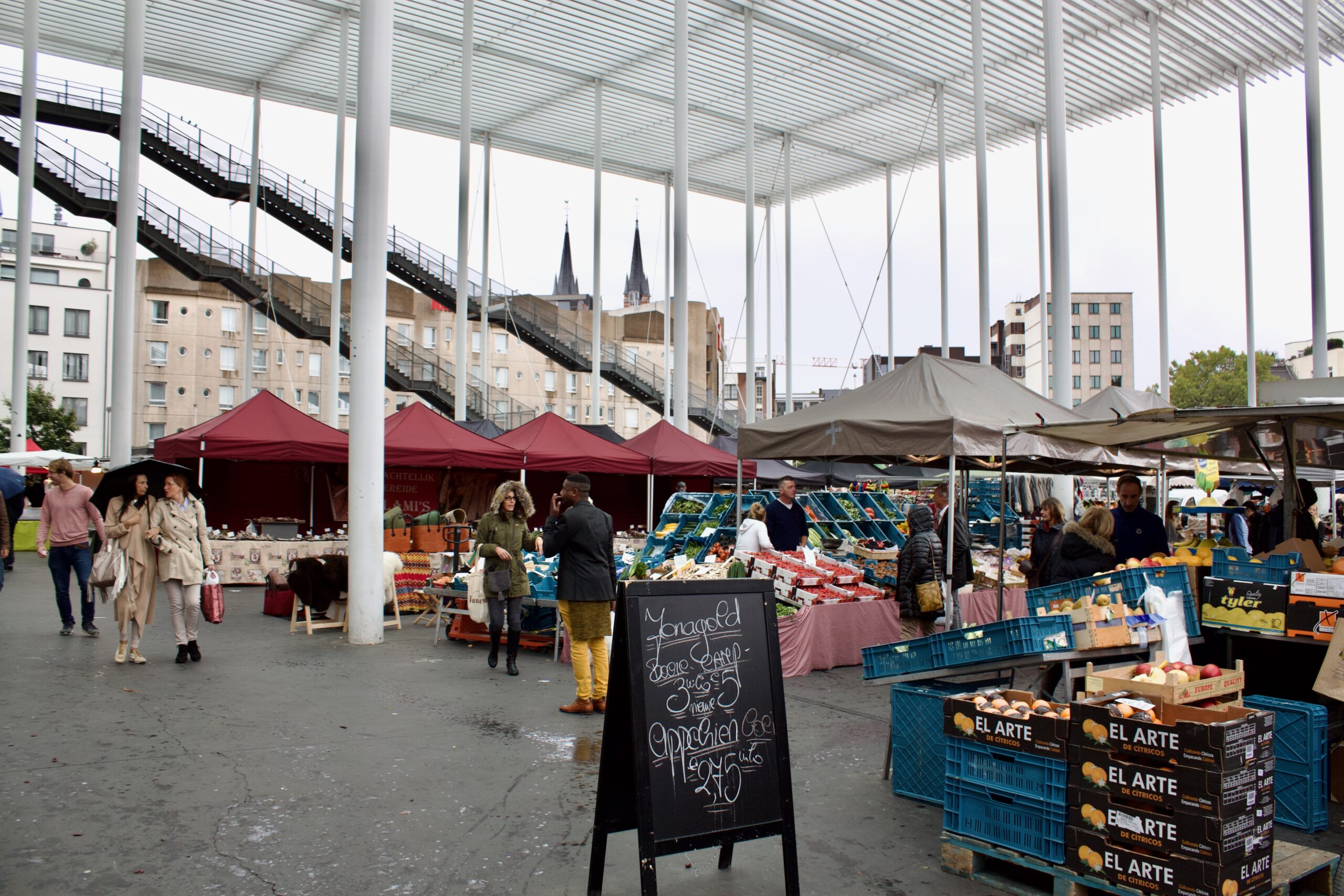 9) Exotische Markt – Another reason to visit Antwerp is the Exotische Markt, an open air food market held every Saturday from 8:00 – 16:00. Come to this market to buy high-end products from around the world like cheese from the Netherlands, homemade pasta from Italy, or nuts from Morocco. Stop by to grab a bite for lunch or breakfast, or stock up on food items to take home as a souvenir.
Address: Theaterbuurt 2000, 2000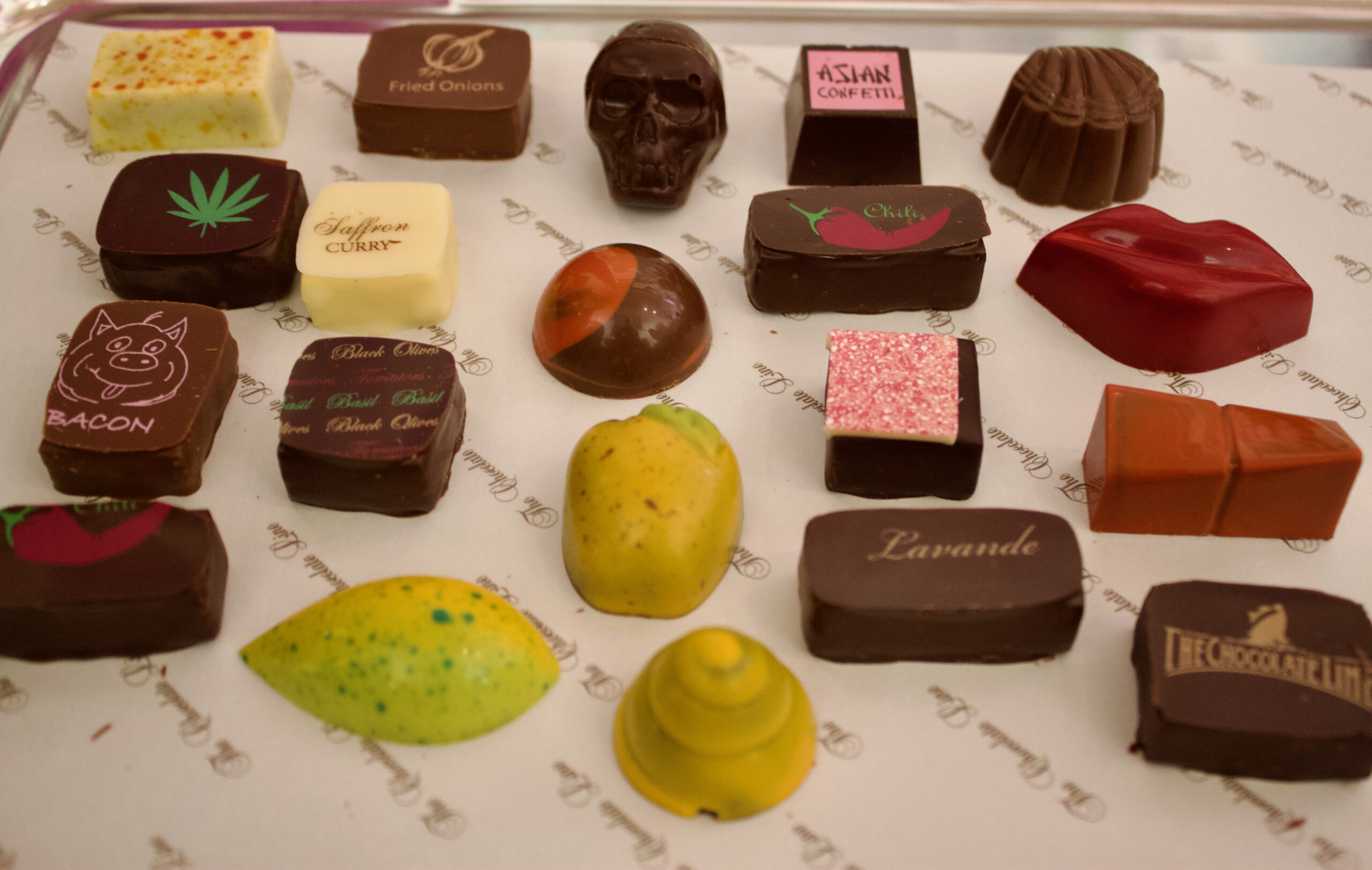 10) The Chocolate Line – You'd be remiss not to have world the renowned Belgium chocolate when you visit Antwerp. There's no better place than The Chocolate Line, an established business that's been around for more than 20 years that boasts a resplendent venue in the Palace on the Meir. Come here for a heady mix of both traditional and more innovative flavours of chocolate which are natural and ethically sourced. Browse their extensive product line to get an idea of what delectable bites are in store for you. Think bacon and hemp flavoured chocolate for example.
Address: Meir 50, 2000
Has our little guide convinced you to visit Antwerp, Belgium? While I recommend a longer stay to really get to know the city, it can also be done as a day trip from Brussels, with Liège making for another great day trip from Brussels as well.
What do you think about our reasons to visit Antwerp? Do you have any other hot tips for the city? Drop us your recommendations in the comments section.
Locations
Use this custom Google Map to find all of the places we suggest you visit when travelling to Antwerp.
Transportation Options In Antwerp
These are the main transportation options in Antwerp, Belgium:
1) To travel to Antwerp's city center, choices include going with a train, taxi, or bus:
From the airport

– Antwerp's airport (ANR) is about 5 kilometers from the city center. Buses run frequently from the airport, taking you to Berchem train station which connects you to multiple lines running into the city. The commute should take around 20-30 minutes, with a single fare ticket costing around €3. If you're driving from the airport, it should take you about 15 minutes to get into the city. A taxi will fetch you about €10.

From the main train station

– The city's main railway station, Antwerpen Centraal Station, is located in the middle of the city. Use public transit, walk, or take a taxi to get to arrive at your final destination.

From the main bus stops

– Eurolines has a location not far from the main train station at Van Stralenstraat 8 and Flixbus has two stops, Koningin Astridplein (also near Centraal Station) and Berchem. From any of these stops, use public transit, your own two feet, or a taxi.
2) Getting around Antwerp:
For more information about how to get around Antwerp, see Wikitravel.
Where To Stay In Antwerp
Find your accommodations in Antwerp with booking.com.
Paying For Things In Belgium
Important information to consider when handling payments while you're travelling around Belgium:
1) Belgium uses the Euro:
See xe.com to find out how your home currency compares to the Euro.
Most places accept bank or credit cards. There also are bank machines throughout the city in case you need cash.
When paying by card, you may be asked which currency you want to pay in – choose to pay in Euros (the local currency) to save money on the exchange rate.
2) Belgium is more expensive than some other European destinations, so you may find yourself needing to budget when it comes to accommodation, eating out, and more.
3) If you can avoid doing so, exchange your money in the city center and NOT the airport, as exchange rates at the airport tends to be on the high side.
Good To Know About Antwerp
Other essential things to know about Antwerp:
1) To experience Antwerp on a deeper level, tour the city with Get Your Guide:
2) Is the country safe for travellers? Generally speaking, Belgium is fairly safe and doesn't have high levels of crime. That said, pickpocketing and other forms of theft are all too commonplace. So keep your belongings close by at all times, especially in tourist hotspots. During dinner one night in Brussels, I actually stopped a thief when he tried to steal my companion's purse! Racism sadly exists everywhere, but if you're a person of colour or of the Muslim faith, it's also quite possible you'll experience incidents of racism.
3) If you love travelling around Belgium, read some of my other top posts about this beer loving country:
If you like this post, share it on Pinterest.
*Disclosure – This post contains some affiliate links. If you book a tour or hotel, I'll earn a tiny commission at no extra cost to you. Thanks for your support!