Just a few days after getting back from Turkey and discovering all the things to do in Edirne, I was off on yet another adventure. 2017 had been good in terms of travel, and this time, I had my sights set on my 36th country, Serbia. After falling in love with Bosnia and Herzegovina, Croatia, and Montenegro, I was eager to explore even more of the Balkans.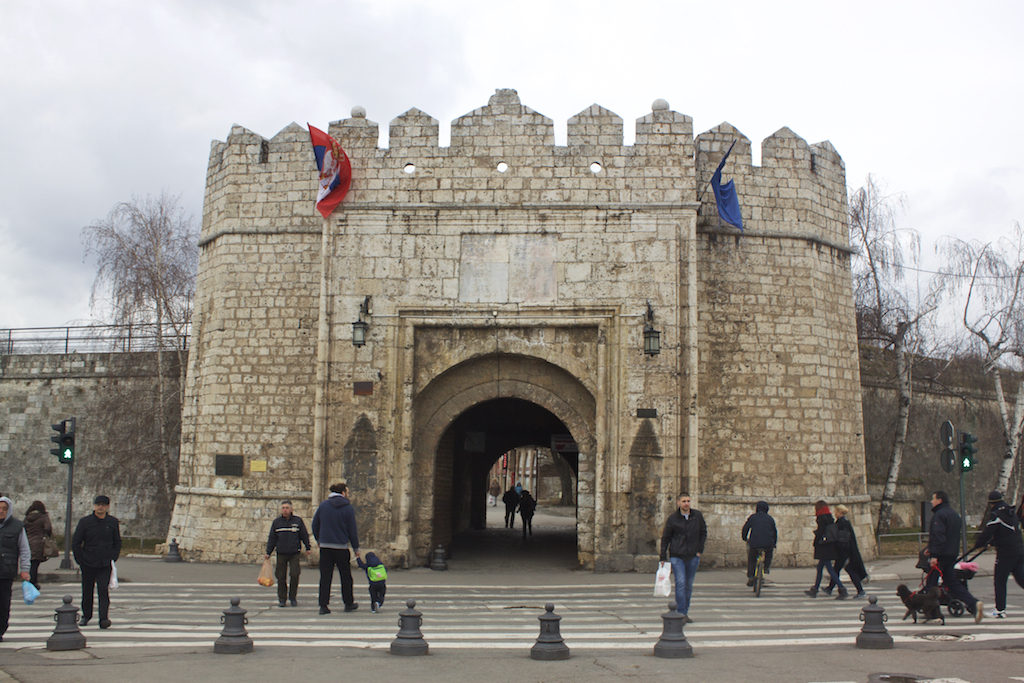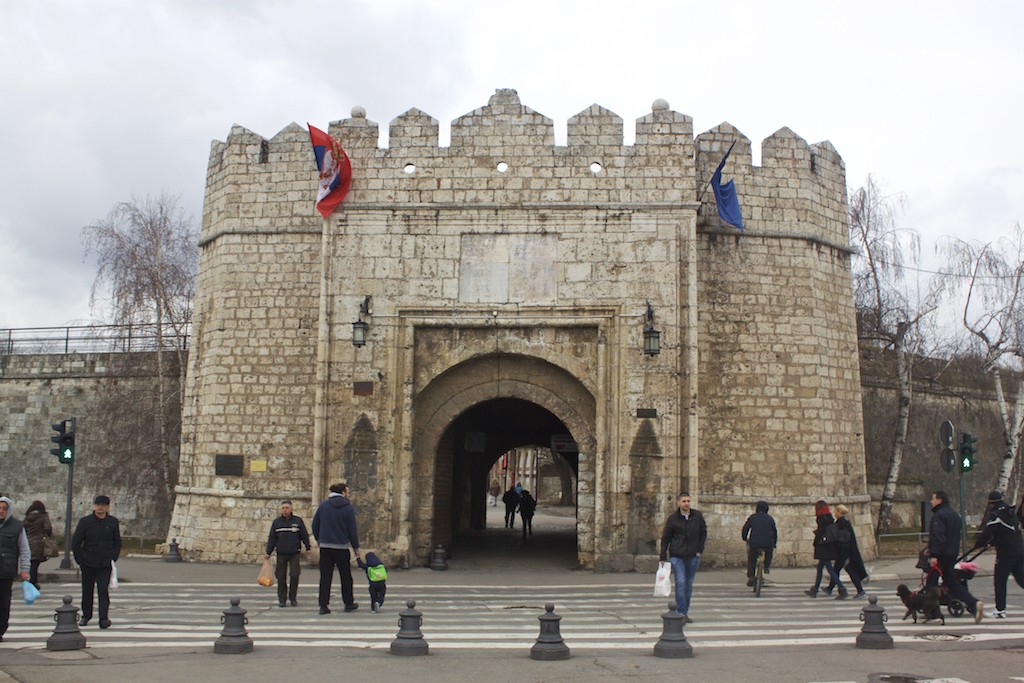 With around 183,000 residents, Nis is the third largest city in Serbia and one of the oldest cities in all of Europe. Founded in 279 BC, the city was occupied by the Romans and later on, the Ottomans. During WWII, Nis was ruled by the Germans, who wreaked havoc on the city, killing off many of its citizens. The dominion of all of these forces is just one of the things that makes Nis such a compelling place to visit, as traces of the city's history can be found everywhere, be it pieces of Roman ruins in the fortress, the Ottoman's menacing Skull Tower, or the remnants of a Nazi concentration camp.
Nowadays, Nis is a bustling, modern city with a youthful vibe, largely due to the thriving university population. From hipster cocktail bars stuffed full of (smoking and drinking) locals, posh shopping districts, and artsy hotels. While many skip over Nis entirely, opting to visit the Serbian party capital of Belgrade instead, I was determined to spend time exploring the city and all it had to offer.
Check out my top five reasons why you visit Nis Serbia. 
1) Holy Trinity Cathedral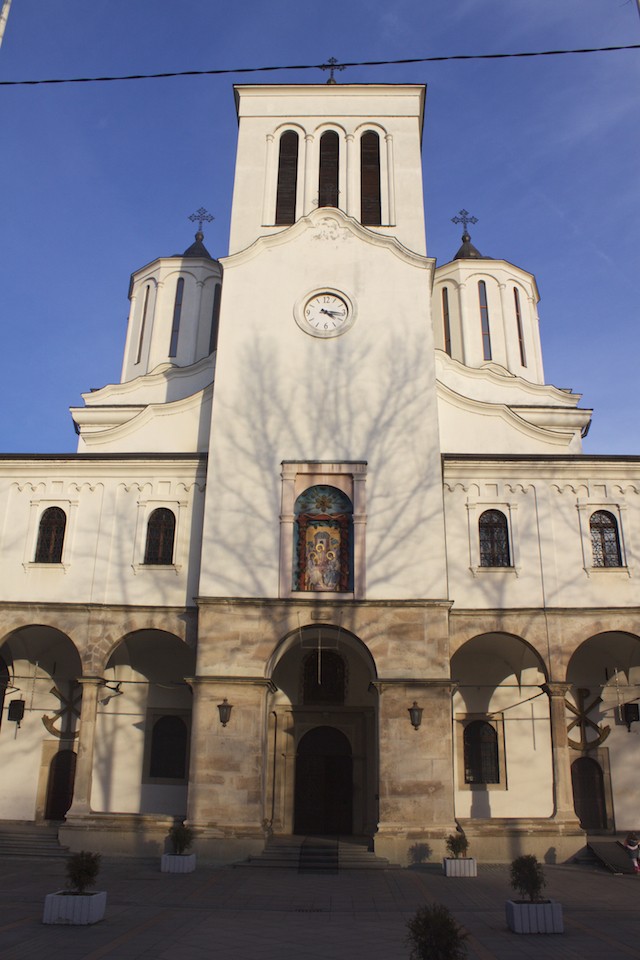 One of the top attractions in Nis is the Holy Trinity Cathedral, located in the city center. Construction on the cathedral began in 1856 and concluded in 1872. It was later consecrated in 1878 after being liberated from the Turks. As such, the site's considered to be an important part of Serbian history and a symbol of the country's freedom from Ottoman occupation. The cathedral's architecture is a peculiar combination of Byzantine, Islamic, Renaissance, and Baroque styles.
Recommended reading: My articles about other holy sites in Europe, including Exploring Bulgaria: Rila Monastery Photos and It's All in the Details – Our Lady of Mercy Church in Arouca.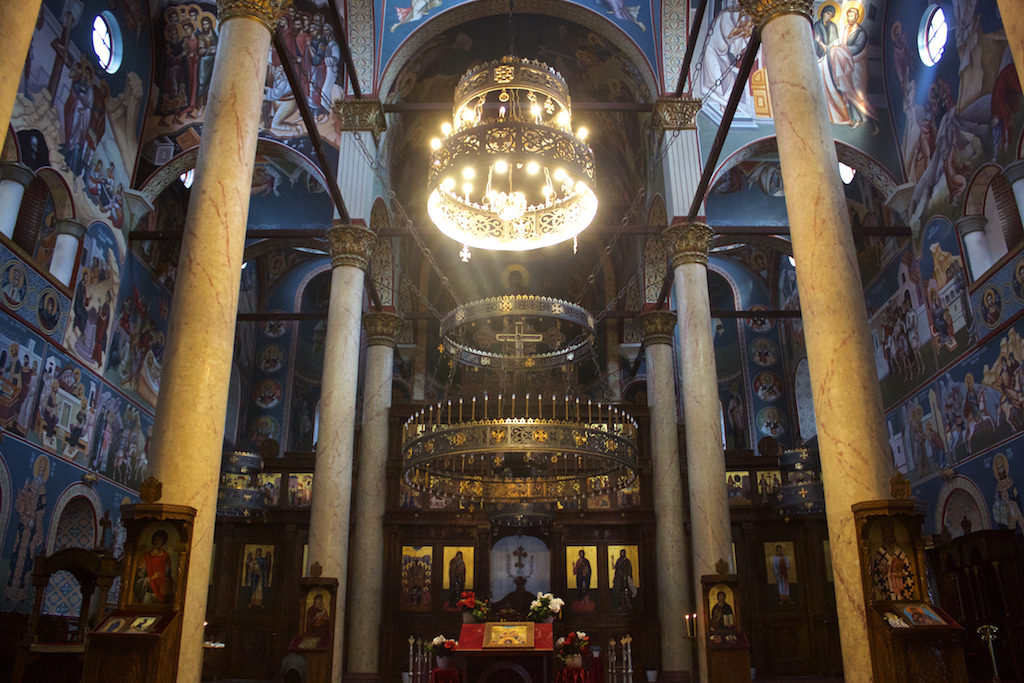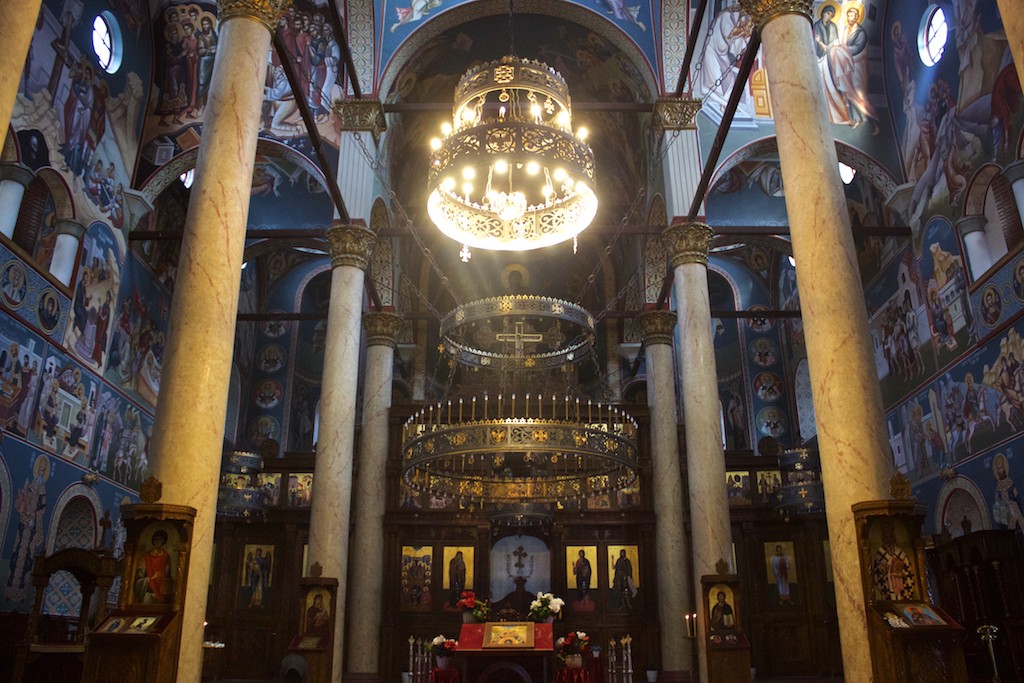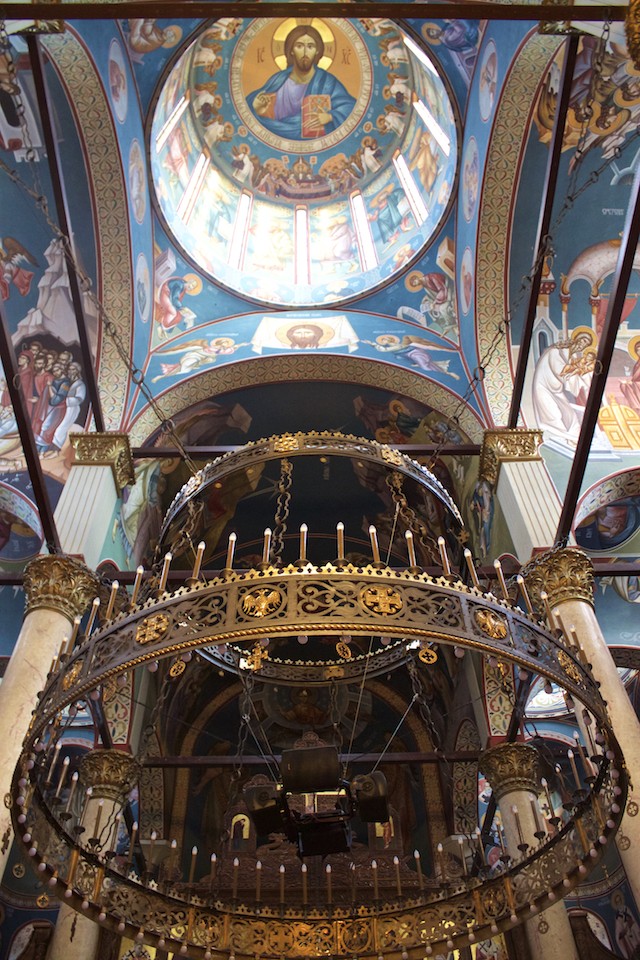 The interiors filled floor-to-ceiling with intricately painted frescoes will leave you staring at them in awe for a long period of time.  Holy Trinity Cathedral was severely damaged by fire back in 2001. However, generous donations and hard work from the local community eventually helped to restore its former beauty. 
Next to the small Orthodox church, Slavija III at Prijezdina 7, Niš, Serbia
2) Red Cross Concentration Camp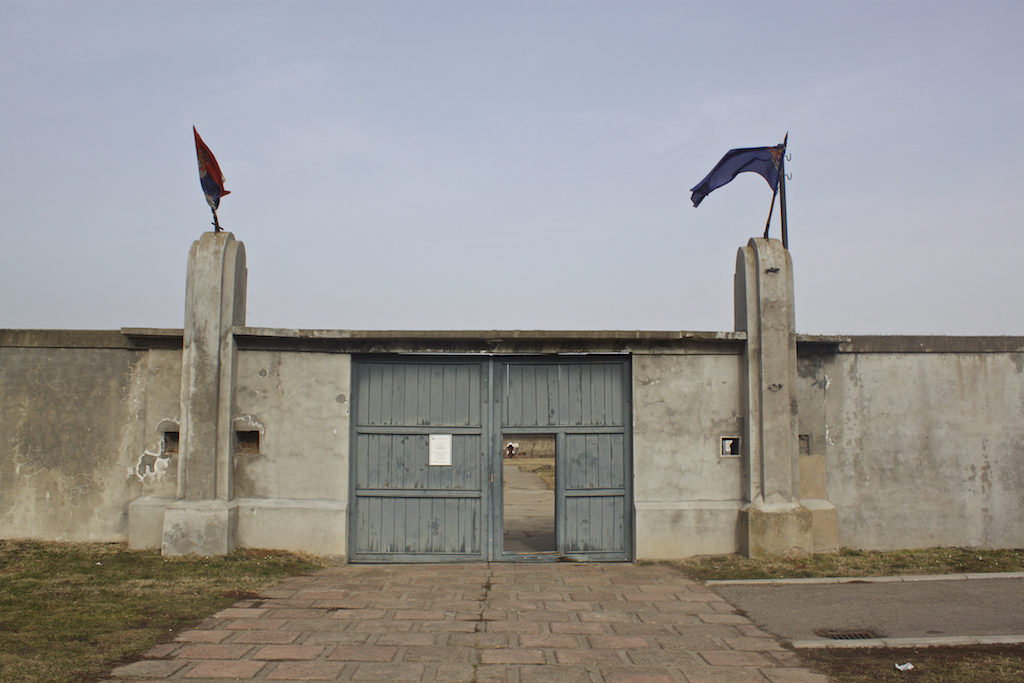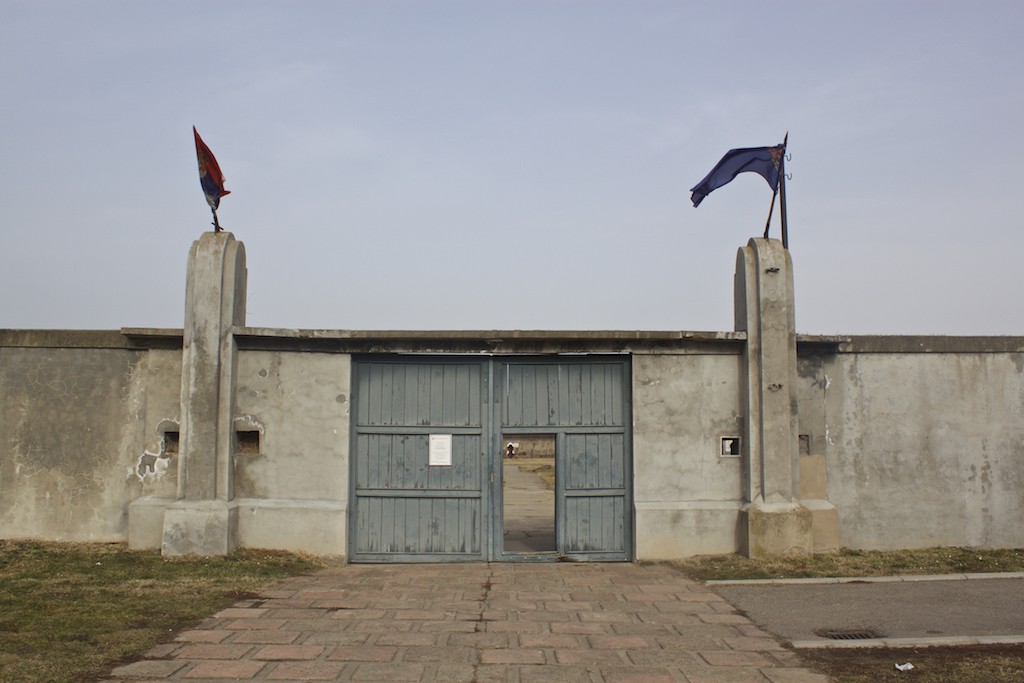 Another reason to visit Nis Serbia? To tour the Red Cross Concentration Camp (Crveni Krs) and become familiar with the dark history of the site. This is an experience that's done with a heavy heart but serves as an important reminder that what happened in the past should never be permitted to happen ever again.
Recommended reading: This post, Visiting the Crveni Krst (Red Cross) Concentration Camp and Bubanj Memorial Park in Nis, Serbia.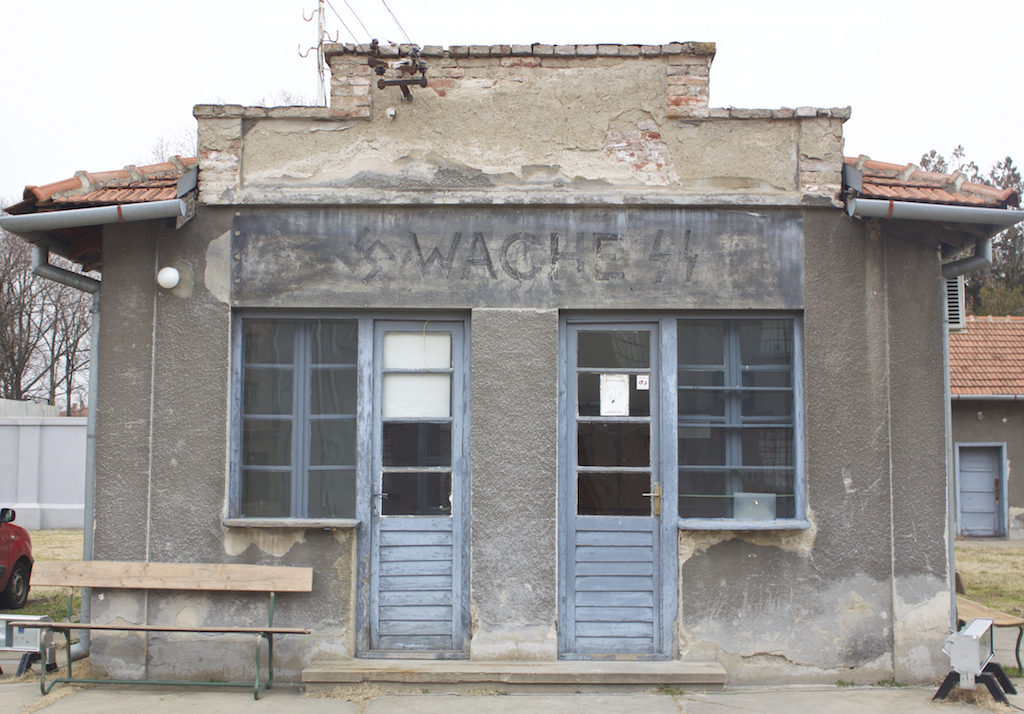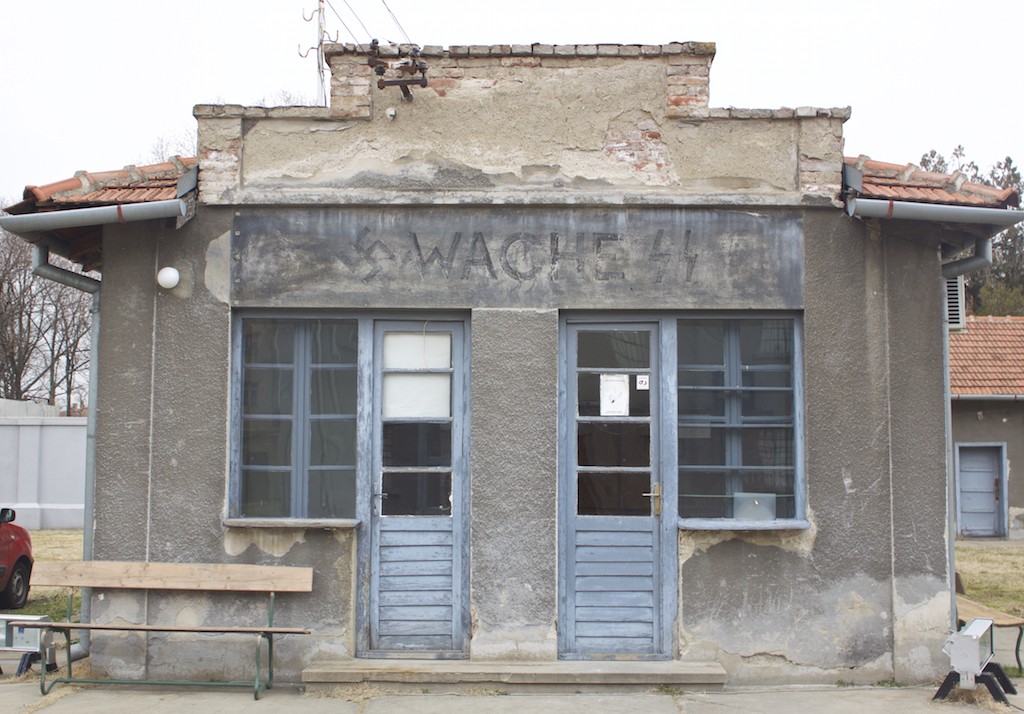 This German concentration camp was used to imprison Serbians, Romanians, and Jewish people during WWII. Opened in 1941, more than 35,000 people were held there until it closed in 1944 when it was liberated by Yugoslav Partisans. Spanning seven hectares, surrounded by barbed wire, guard towers, and other miscellaneous buildings, this is one of the few fully preserved concentration camps in Europe. Today, it's a museum and memorial site.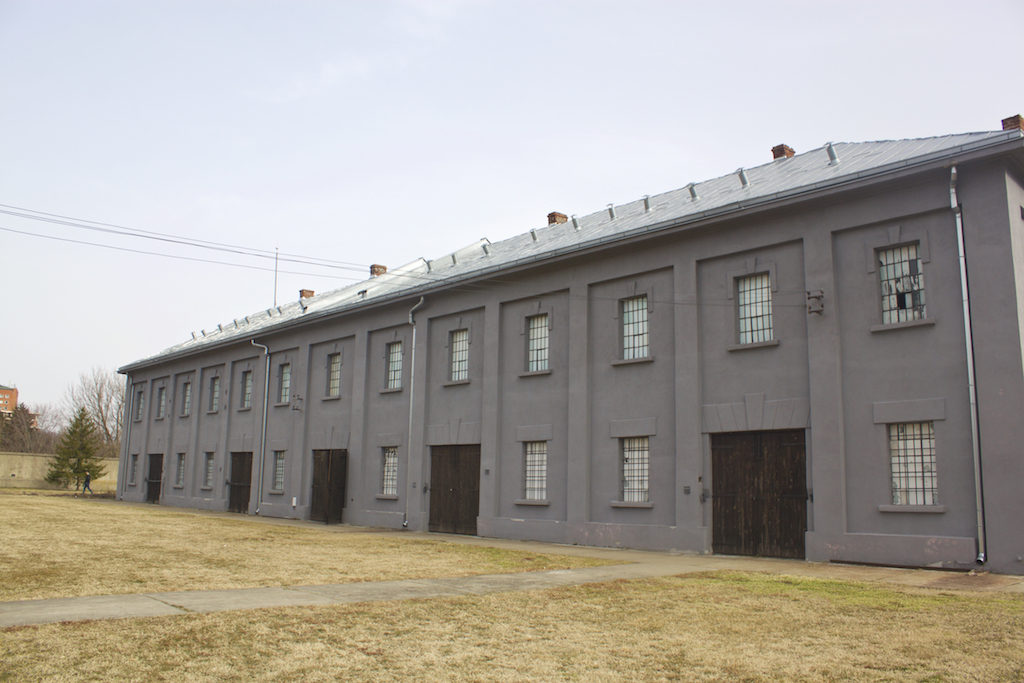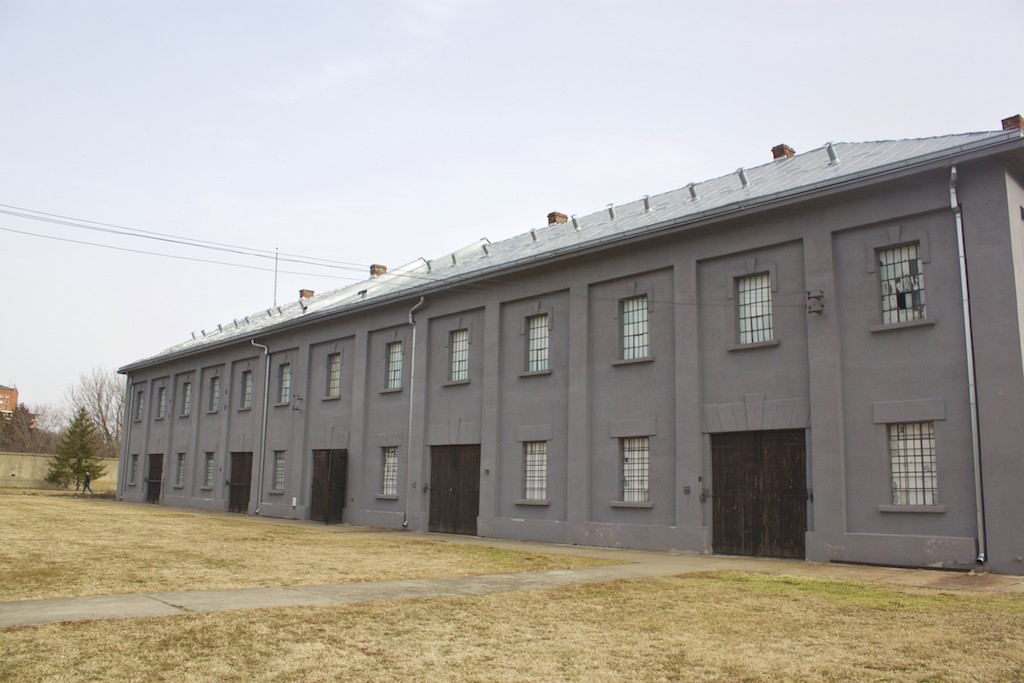 Inmates were held in the barracks pictured above. On the first floor is the museum. You can also tour the second floor, where important political prisoners were held. Some cells still have engravings etched onto the wall by inmates, while the floors of other cells are lined with the original barbed wire that inmates were forced to sleep on as a form of punishment.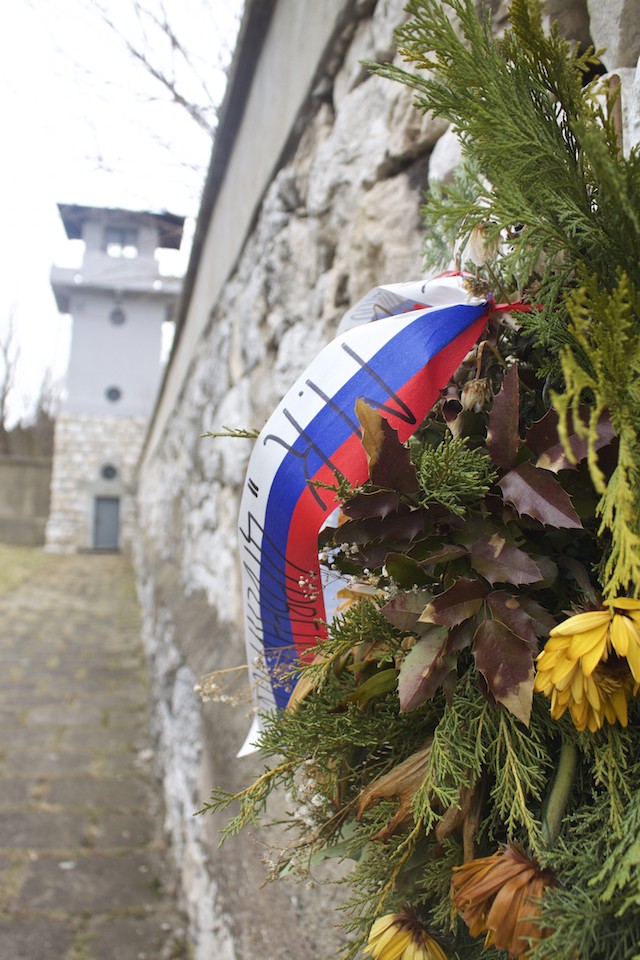 On the night of February 12, 1942, something extraordinary occurred at the Red Cross Concentration Camp. More than 105 prisoners escaped, marking the first ever successful inmate escape from a concentration camp. 11 German soldiers were killed during the escape and as such, the Nazis responded in a brutal fashion, executing more than 1,100 prisoners to not only exact revenge but drive a deep-seated fear into the remaining population.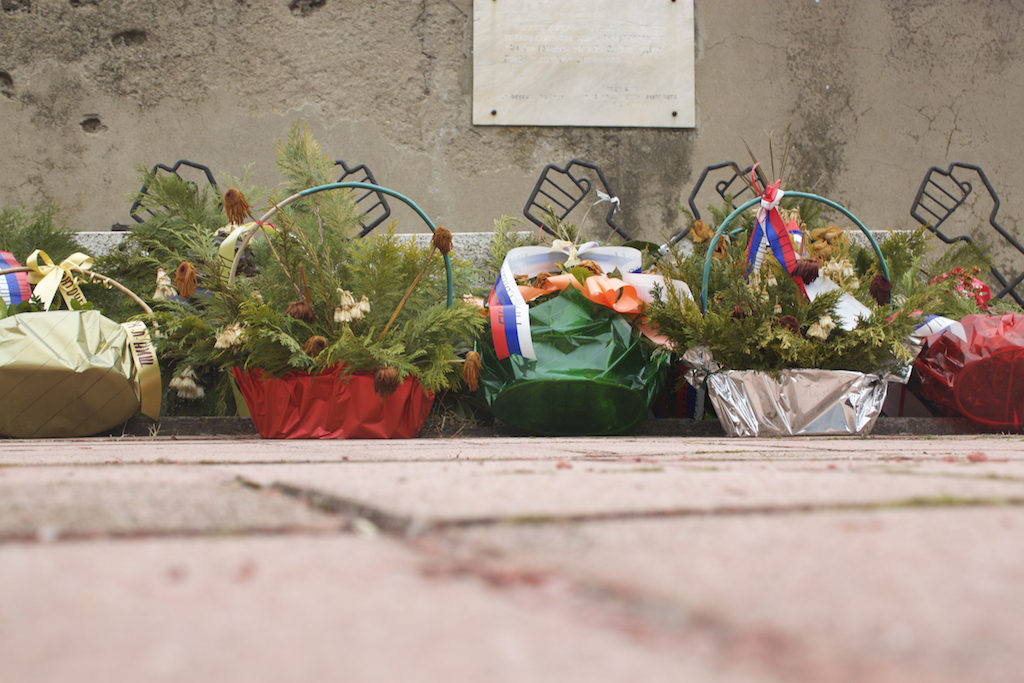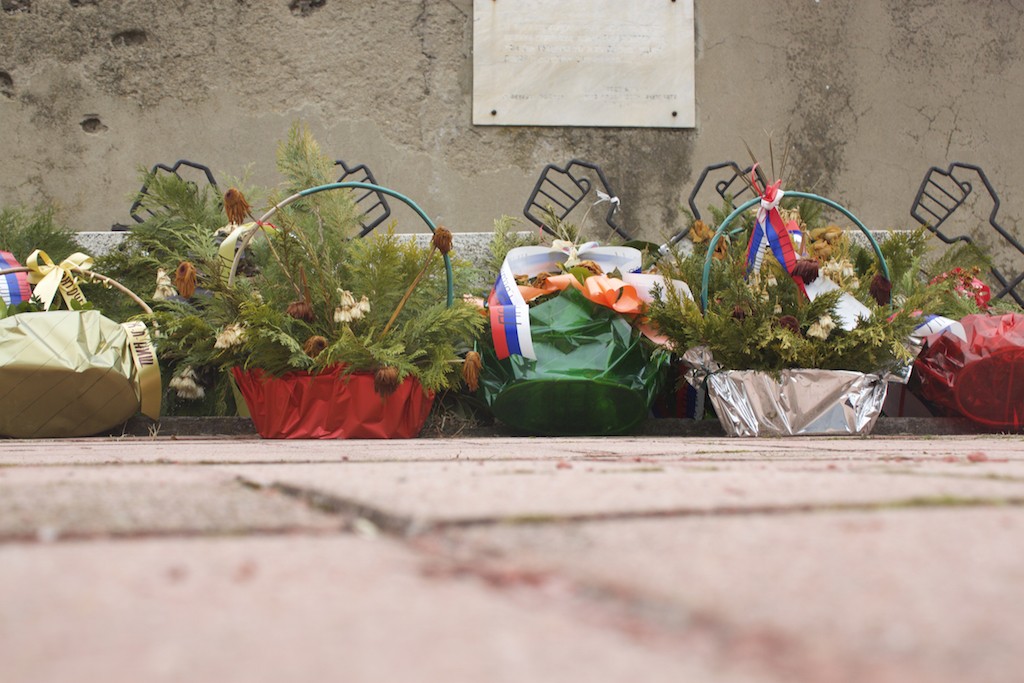 Flowers adorn a small memorial at the rear of the concentration, near the part where the inmates escaped. 
Address: Bulevar 12. februara bb, Niš, Serbia
3) Bubanj Memorial Park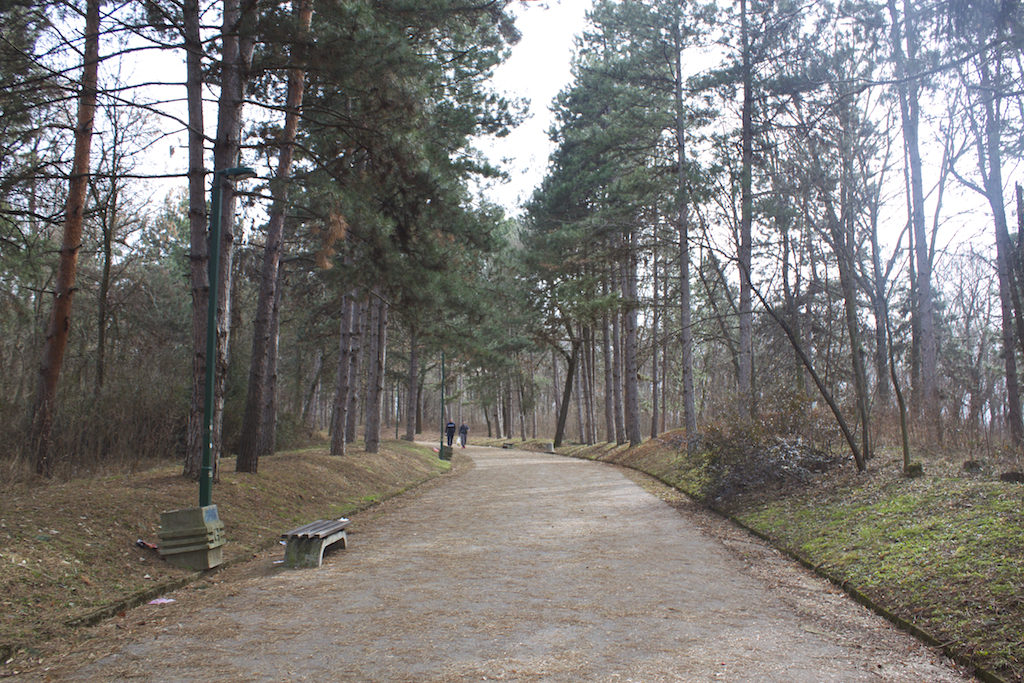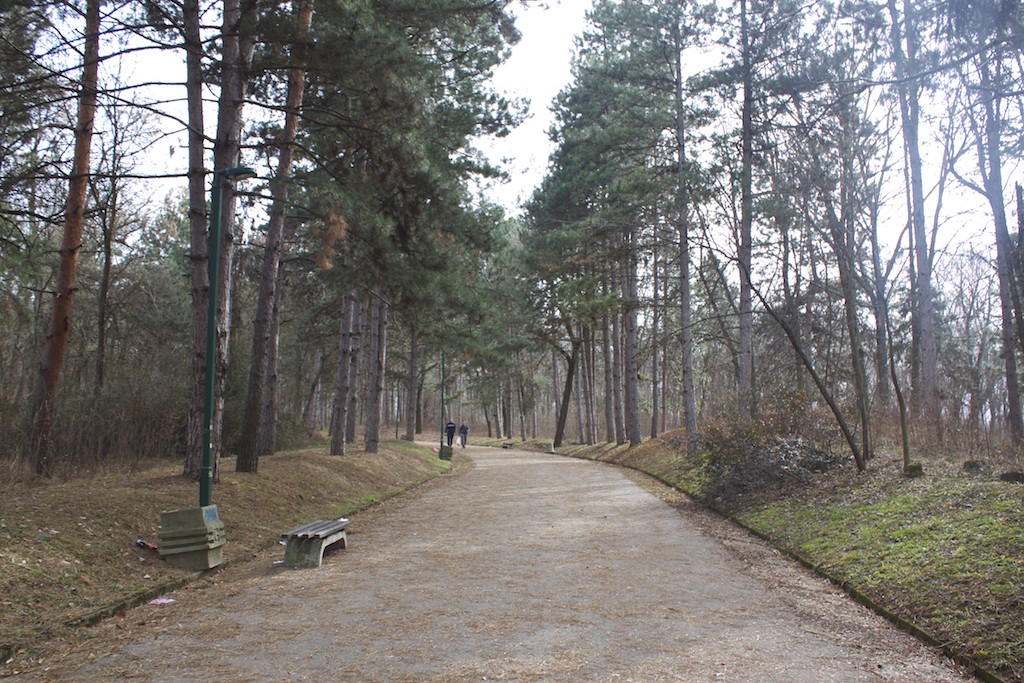 Bubanj Memorial Park is dedicated to all the people who were mass executed at this location by the Germans during the Second World War  Located just over two kilometers from the Red Cross Concentration Camp, the Germans brought and killed more than 10,000 people on the hill in Bubanj. After the big escape attempt in 1942, as many as 100 people were being shot and dumped into trenches each day and it even reached a point when 1,400 people were killed over a mere two days. As the war was winding down, Germans forced Italian prisoners to dig up the bodies and burn them to destroy evidence of their acts.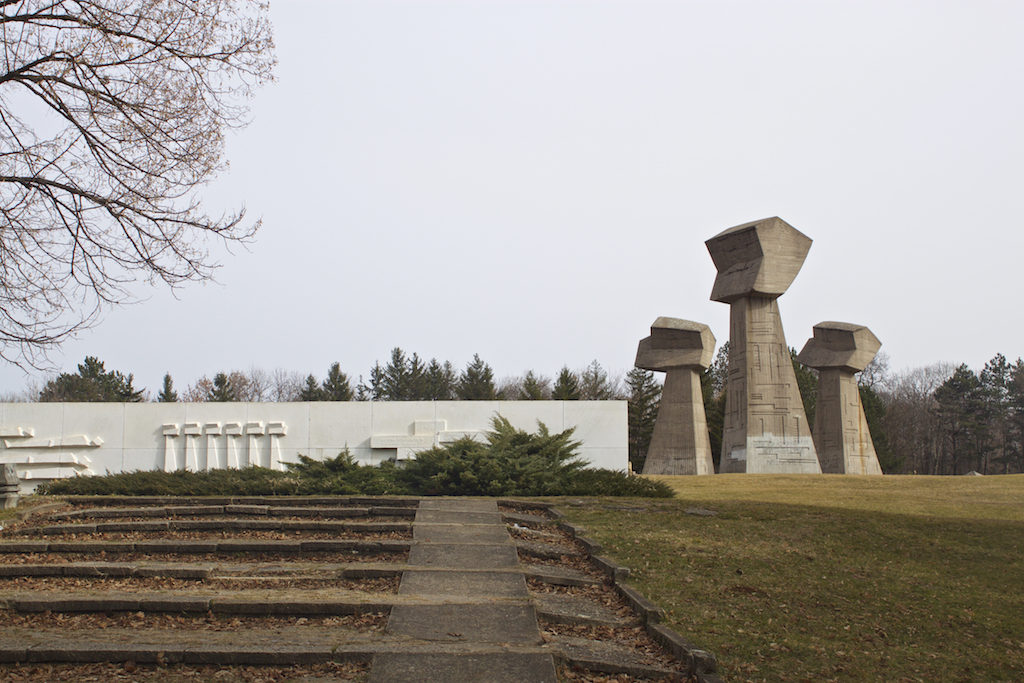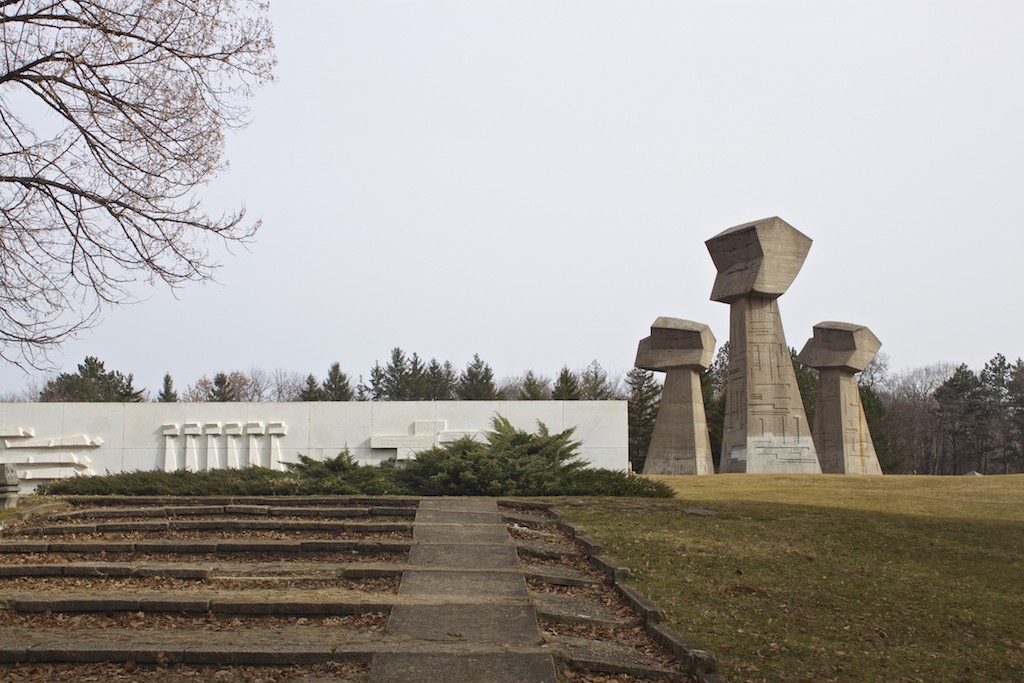 Entering the park, there's a short memorial trail leading to the park's monuments. At the park's center, there's a 23-meter-long white marble relief depicting the atrocities of what happened. The relief is also inscribed with a quote from Ivan Vuckovic which reads:
"From the blood of communists and patriots fists were born: fists of revolt and warning, fists of the revolution, fists of liberty. We were shot, but never killed, never subdued. We crushed the darkness and paved the way for the Sun."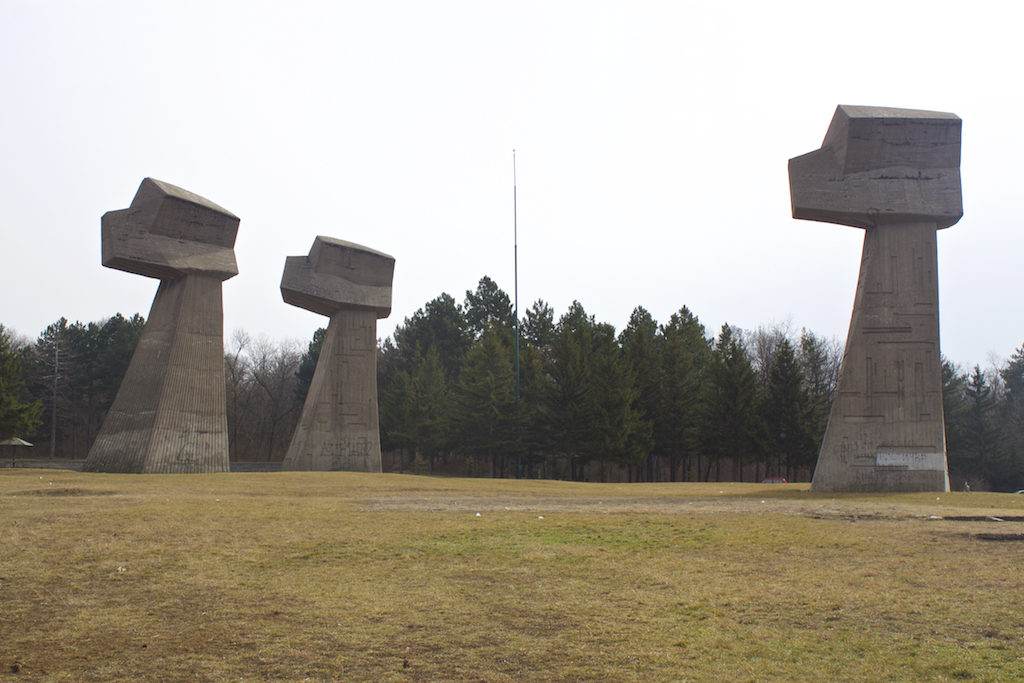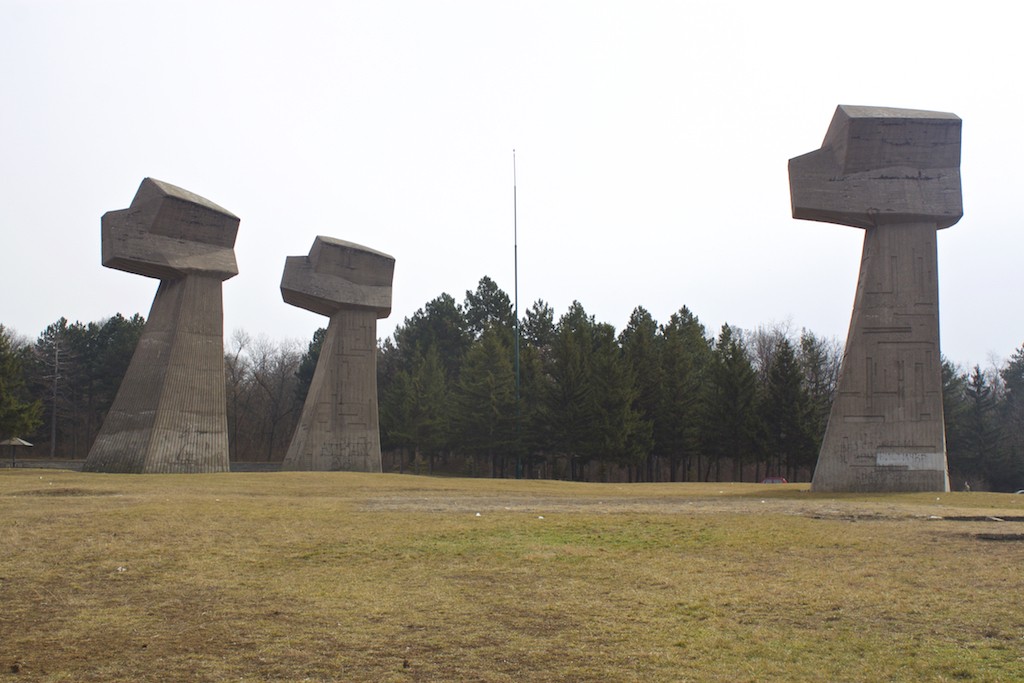 There are also three concrete obelisks designed by Croatian sculptor Ivan Sabolic; fists in varying sizes – a man's, a woman's, and a child's, raised in defiance of their oppressors and also symbolic that entire families were executed here. 
Address: Vojvode Putnika, Niš, Serbia
4) Skull Tower (Ćele Kula)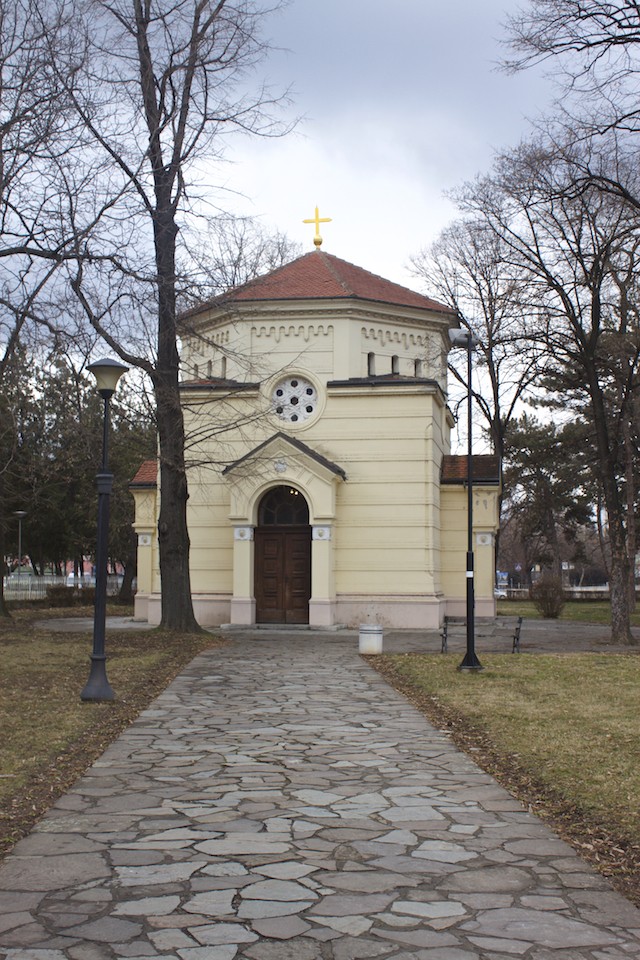 The Skull Tower or Ćele Kula is one of Nis' main tourist sites and sees anywhere from 30,000 – 50,000 visitors annually, many of them Serbians who come on a pilgrimage to experience this important monument of Serbian independence firsthand.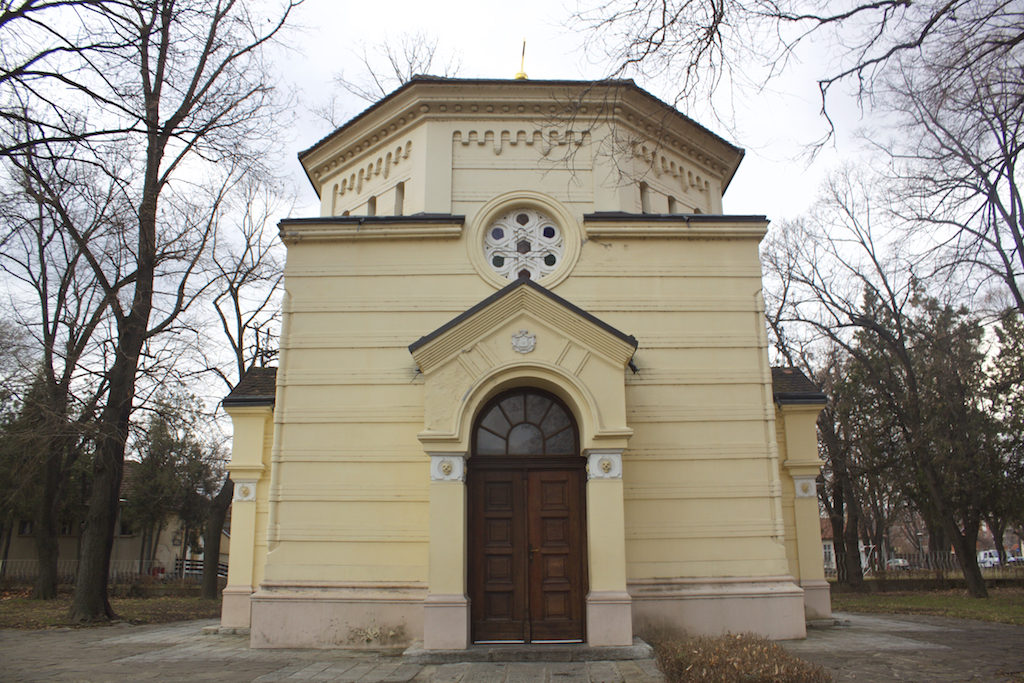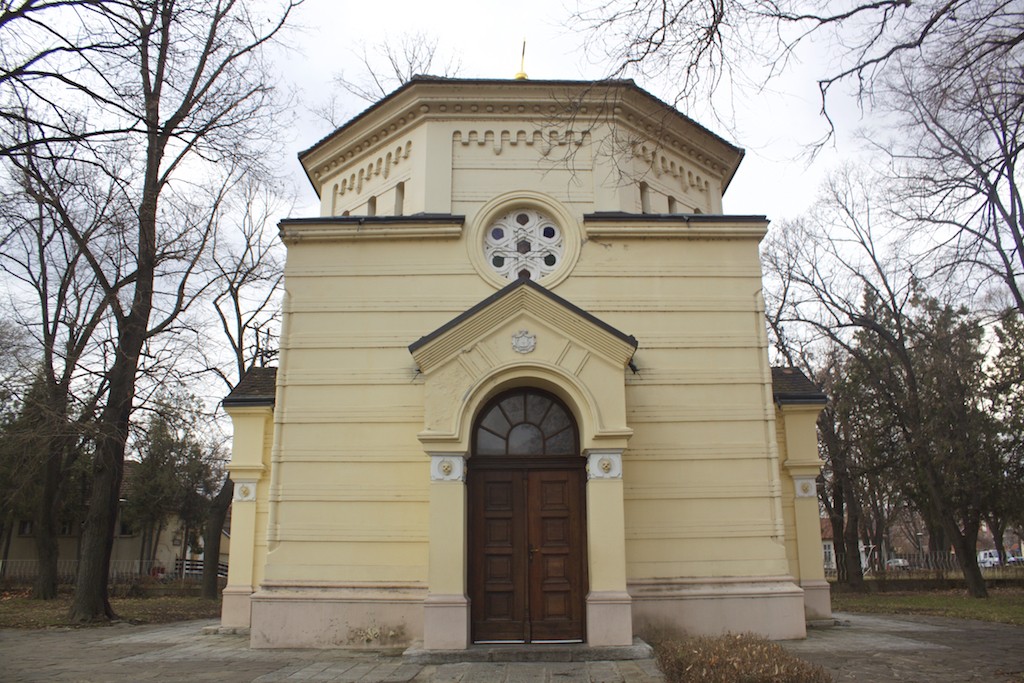 The Skull Tower was erected in May 1809, shortly after the Ottomans soundly defeated Serbian rebels in a battle that was part of a larger movement to gain independence from the Turkish empire. Under the command of Stevan Sinđelić, around 3,000 – 4,000, rebels came under attack from an advancing army that far outnumbered them. Knowing they were doomed and would face excruciating punishment should they be captured, Sinđelić was determined to fight until the end. He desperately fired a shot into his army's gunpowder magazine, triggering a massive explosion that killed him, his rebel army, as well as many Turks. Some records indicate that Sinđelić may have managed to take out as many as 6,000 of his enemies in the attack.
Although the Ottomans proved to be victorious, Turkish general Vizier Hurshid Pasha, wasn't thrilled with the rebels' fierce last stand. In a move to send a strong warning to any would-be rebels, he issued an order to construct a looming tower using their skulls, to be placed along the main road and entrance into the city. To add insult to injury, the bodies of the rebels were also brutally mutilated – their skin peeled, stuffed with straw, and sent back to Constantinople as proof of Turkish victory.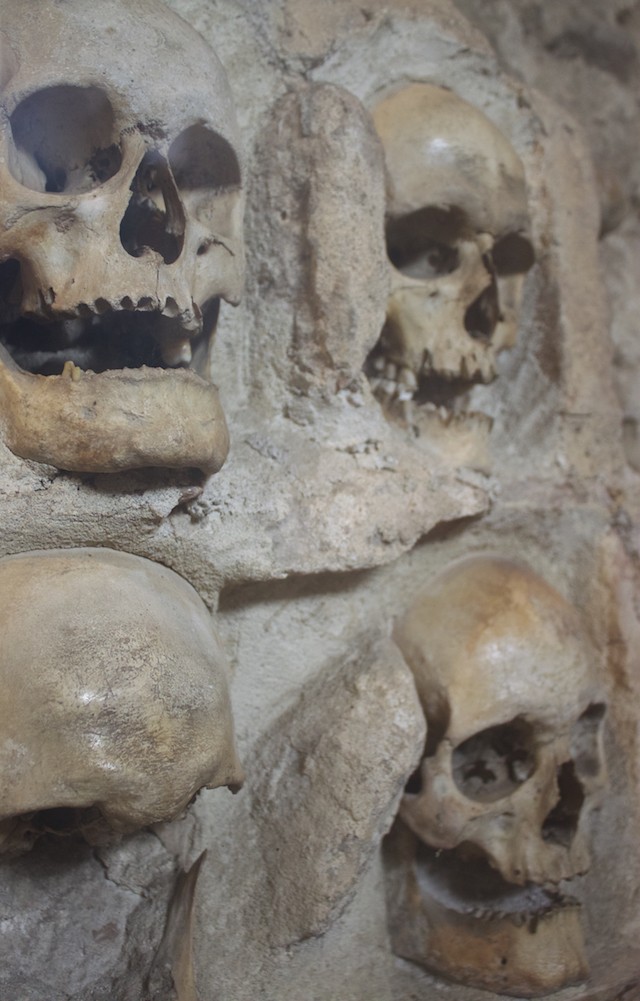 The resulting stone structure came in at 4.5 meters high and 4 meters wide, making use of over 950 skulls arranged in 56 rows. Sinđelić's skull was placed at the top as a sort of "crown".
The Ottomans finally left Nis in 1878 and not long after in 1892, a chapel was built around what remained of the tower in order to protect it from further decay. As the years went by, many of the skulls had fallen from the tower, others had been taken by families for proper Christian burials, and some had been stolen by so-called "souvenir hunters". Presently, there are just over 50 skulls left, including that of Sinđelić, which is prominently displayed in a glass enclosure.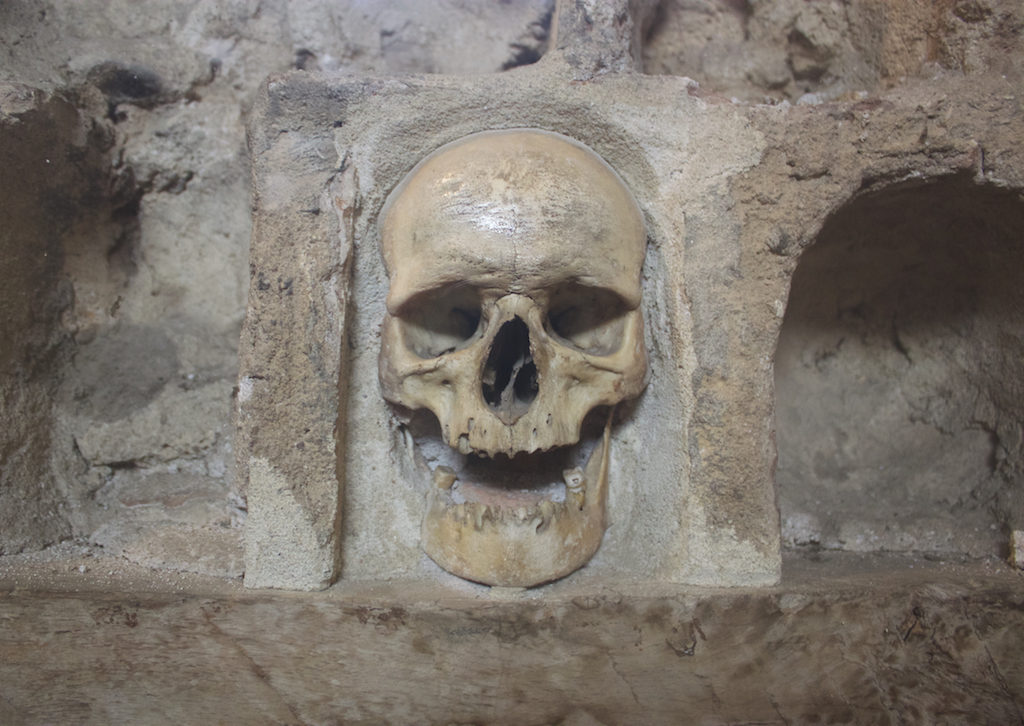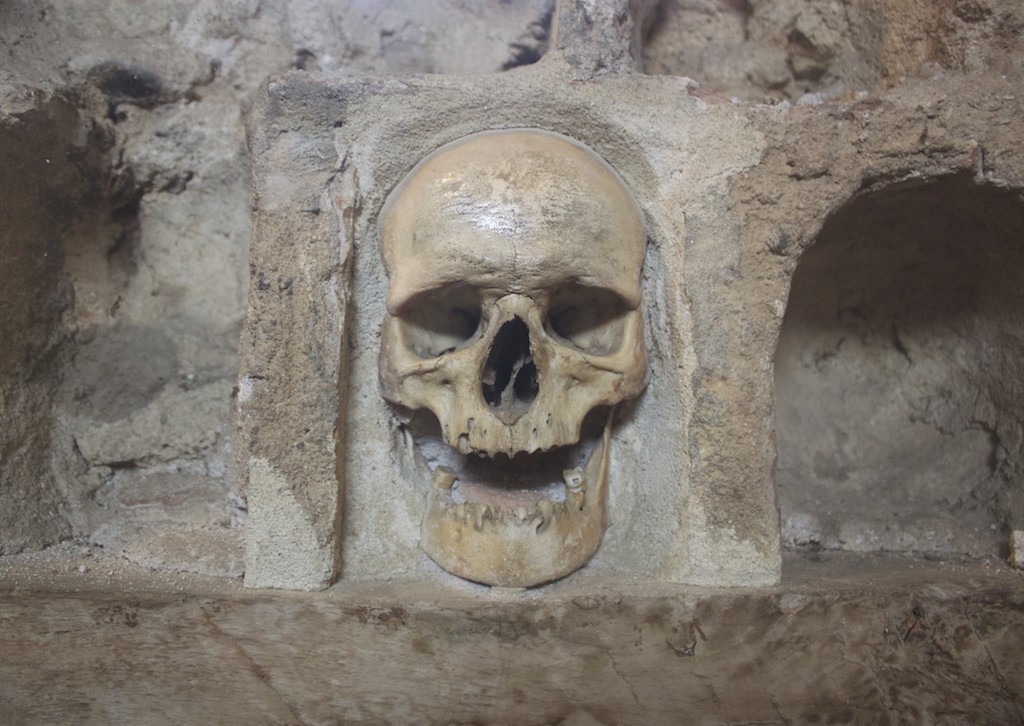 Recommended reading: This cathedral in Italy has been long considered one of the most frightening cathedrals in the world. Read all about it in this article, Weird and Offbeat Sites – The Skull Cathedral in Otranto.
In 1948, the Skull Tower was declared a "Cultural Monument of Exceptional Importance" in recognition of the rebels' bravery on the battlefield and their contribution to Serbian independence.
Bulevar Dr Zorana Đinđića bb, Niš, Serbia
5) Nis Fortress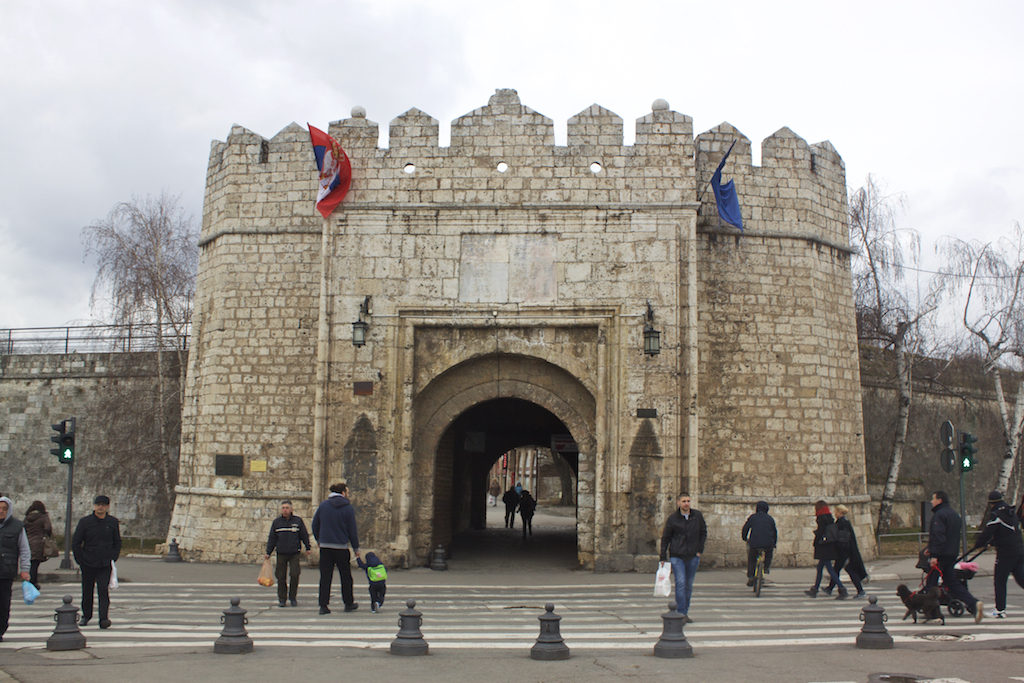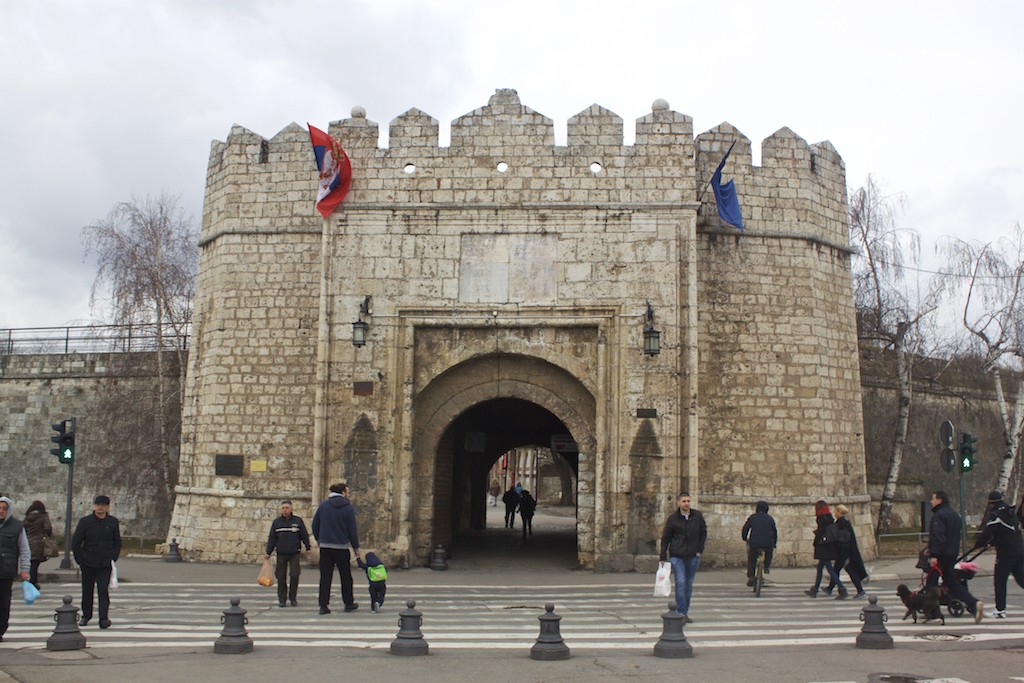 One final reason to visit Nis Serbia is to tour the vast fortress complex, built by the Ottomans during the 18th century. Although the Ottomans were the last ones to complete construction on the fortress, they built over the previous remains of Roman, Byzantine, and Medieval forts. Today, the fortress stands as one of the best-preserved fortifications in Serbia, even the Balkans. 
Situated on the banks of the Nisava River, the main entry is Stambol Gate, paying homage to the former Constantinople, what's known today as Istanbul. The fortress is shaped as a polygon, spans 22 hectares, and once featured four large gates and eight bastion terraces. The rampart walls ran 2,100 meters, were eight meters high, and three meters thick. It was also surrounded by a wide moat, filled with water from the nearby river. More than 40 stone cutters were brought from Istanbul to work on construction. 400 local bricklayers were also hired for the job.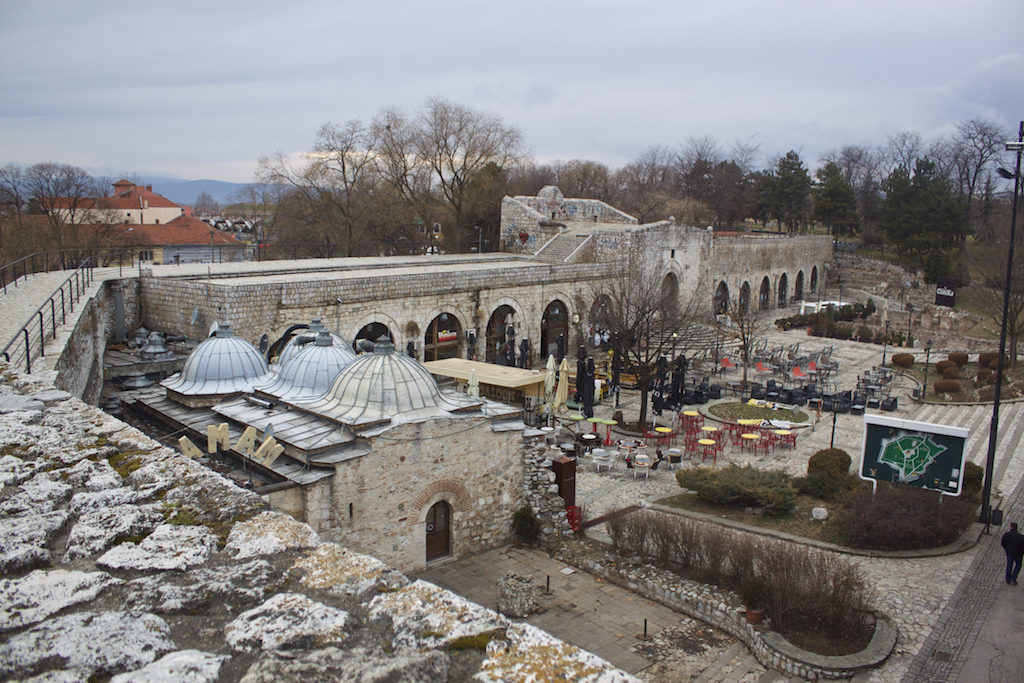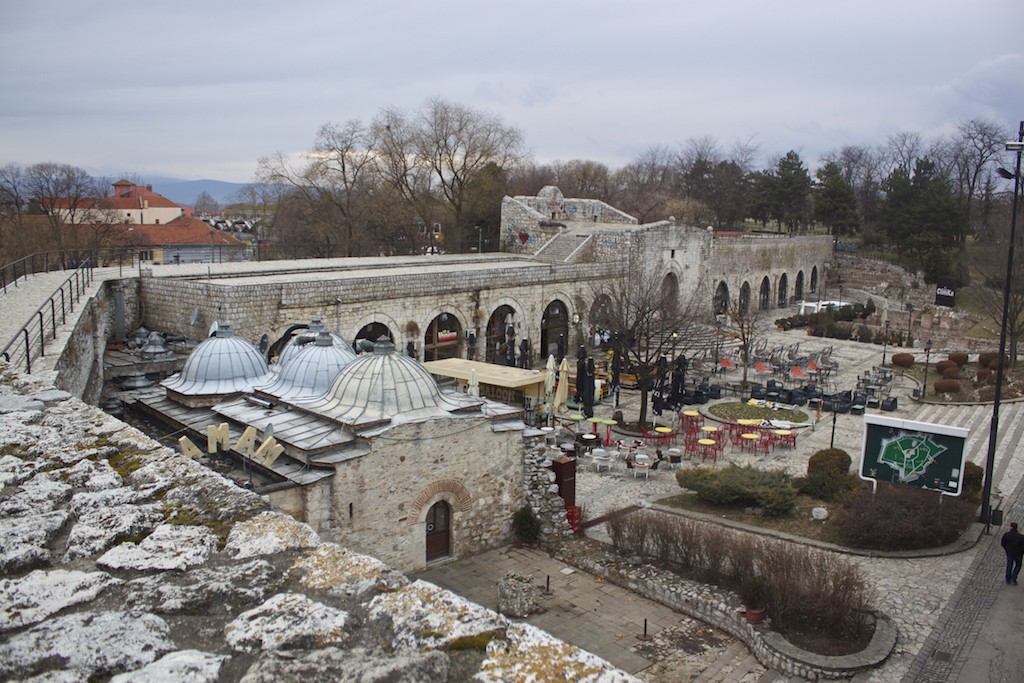 The fortress is now a park with several notable highlights including an ancient collection of tombstones, a Turkish hammam, a small mosque, Roman ruins, and more. The park is also filled with cafes, bars, and shops and is a hot spot for locals to hang out during the warmer months of the year. It even plays host to cultural events cush as the Nis Film and Jazz festivals.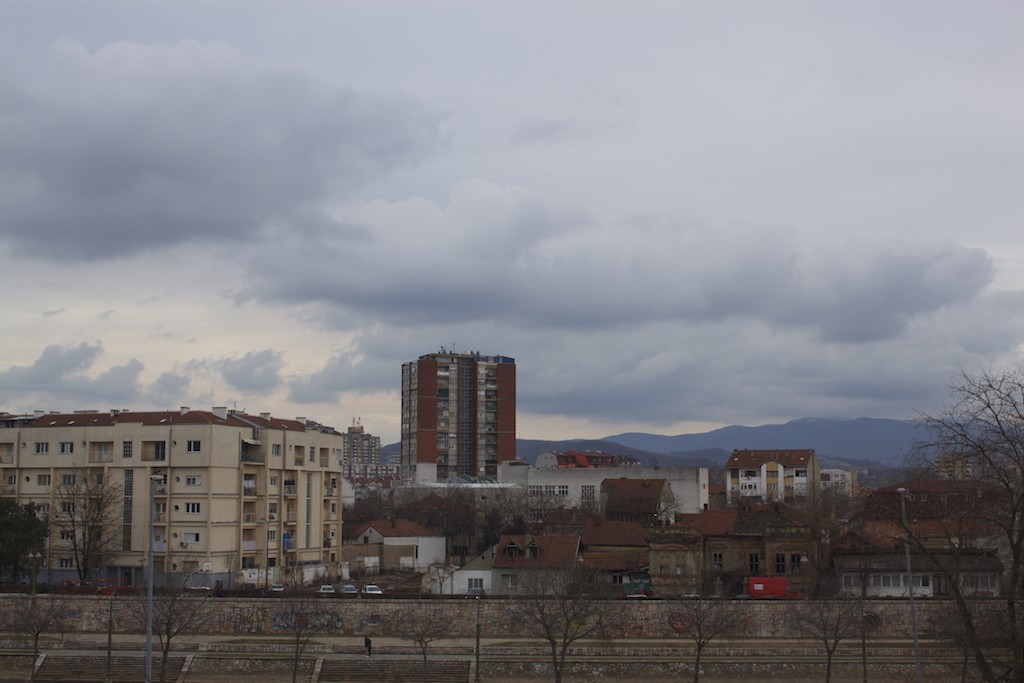 For a nice view over the park, walk along the fortress's rampart. You'll see the Hamam, built in the 15th century. Until recently, the building was used as a restaurant called Hamam, but it closed down sometime last year. While the restaurant is no longer open, there are a few bars and cafes there.  You also get some panoramic city views over Nis.  Unfortunately, the rampart walls are now decorated with useless graffiti.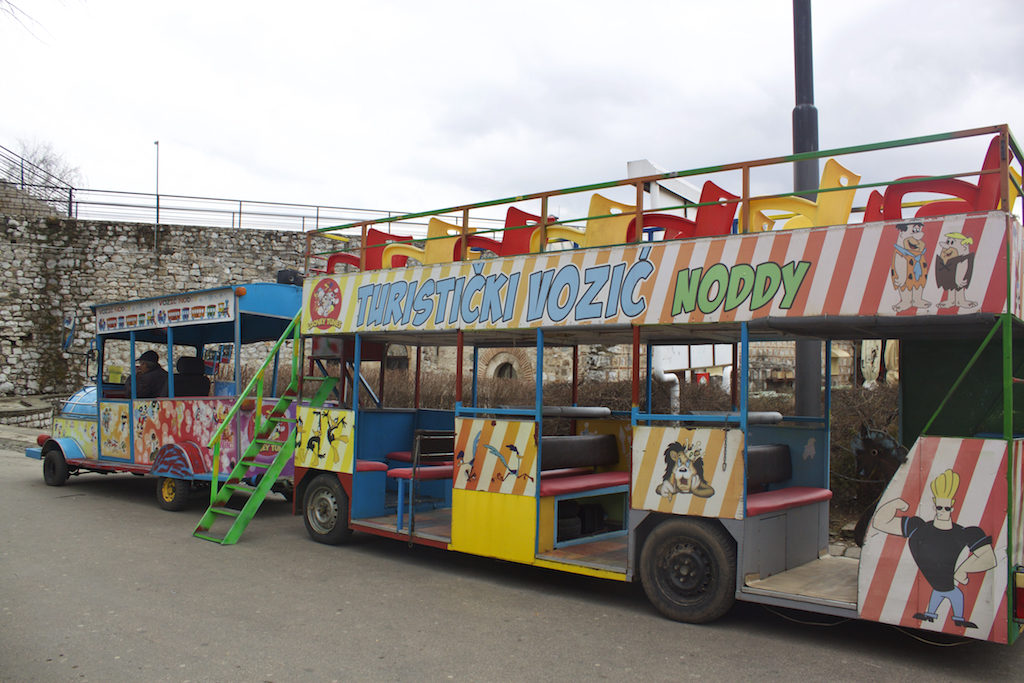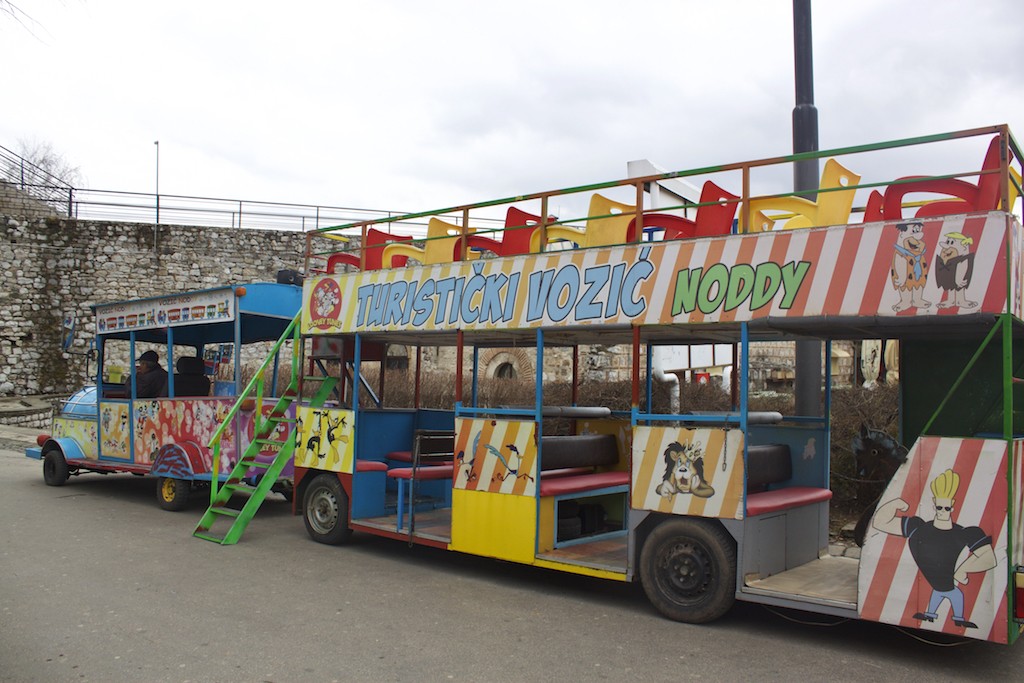 A little cheesy, but fun for the kids (or people like me who refuse to ever grow up), is this little bus that gives tours through the park.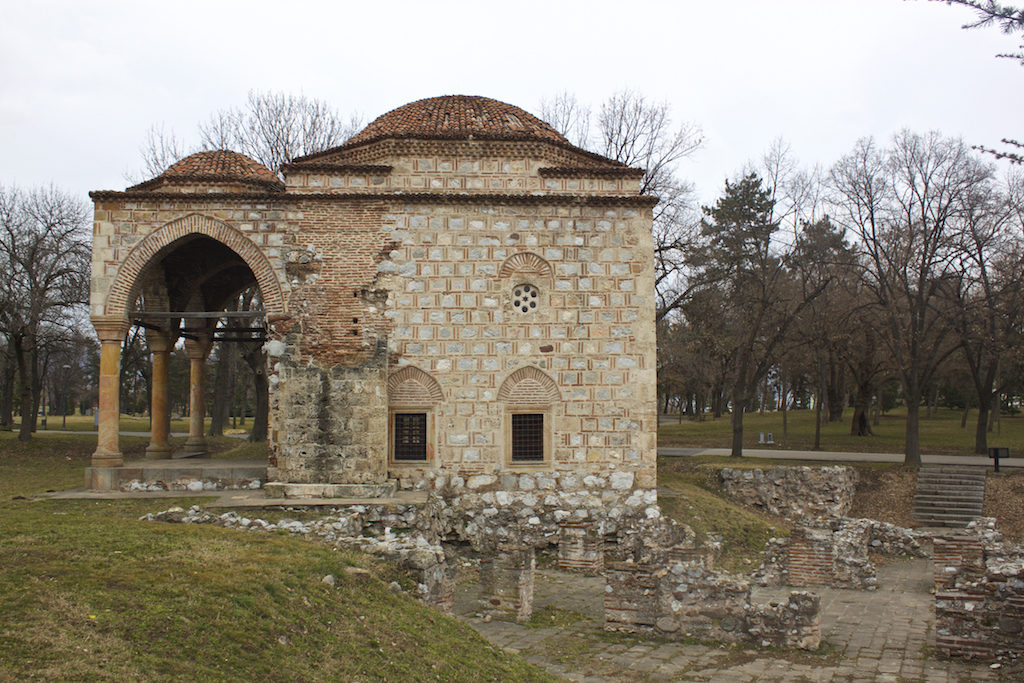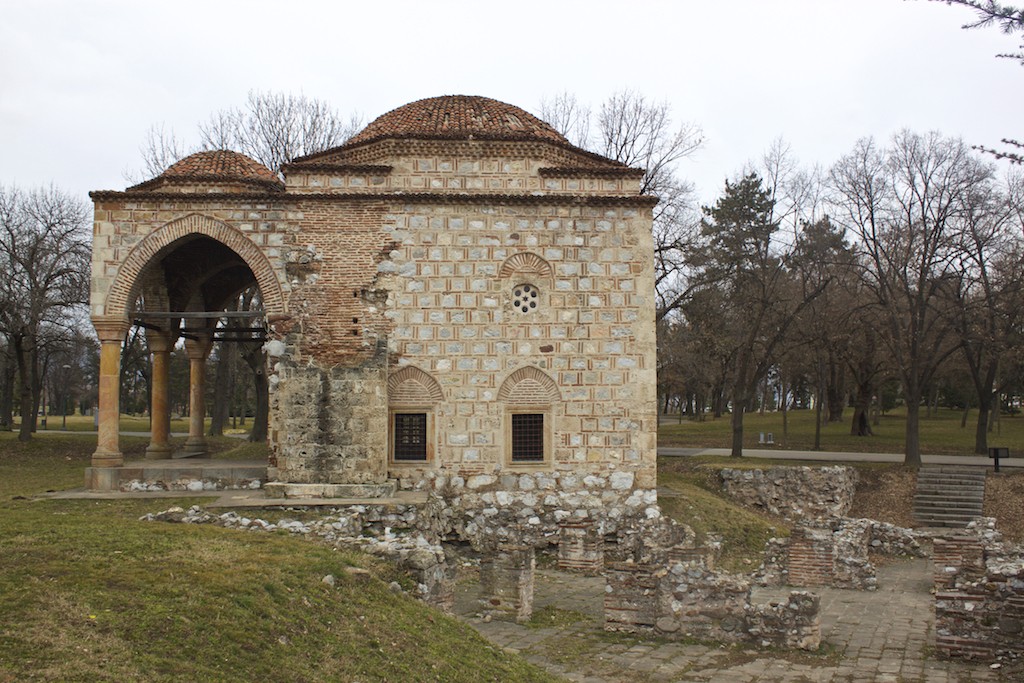 The 16th-century Bali-Bey Mosque or masjid (a mosque without a minaret) is now used as an art gallery.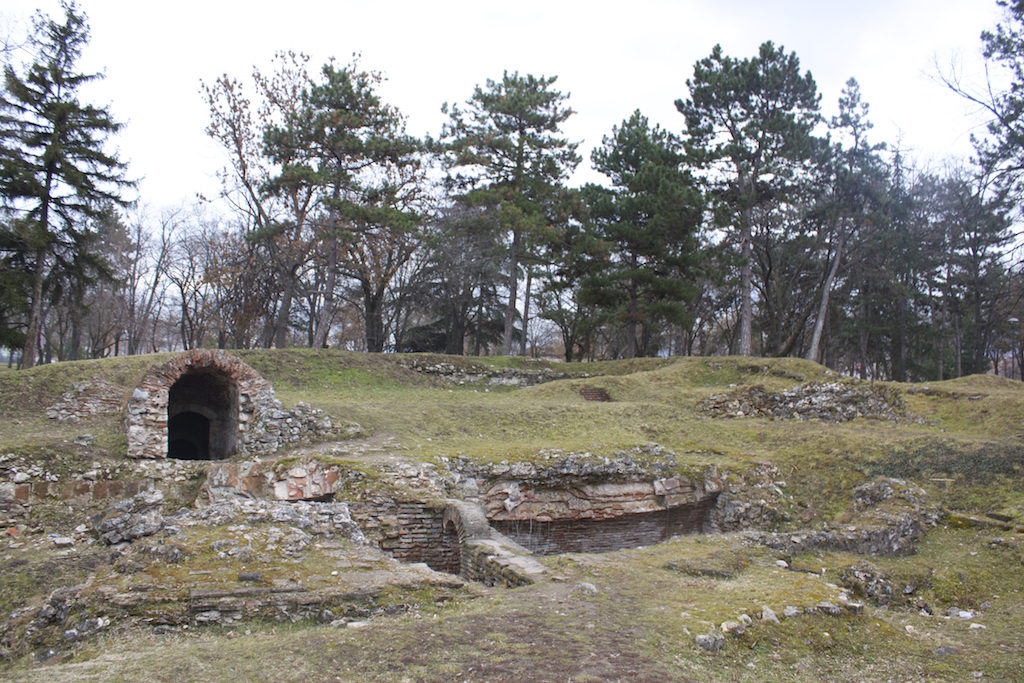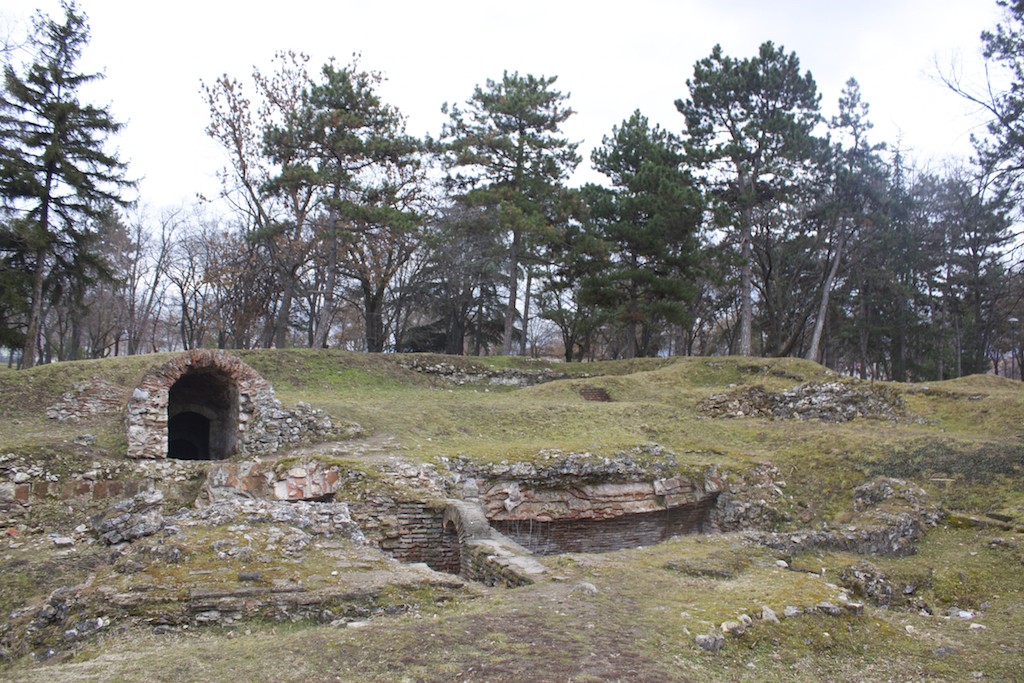 A peek at the Roman ruins.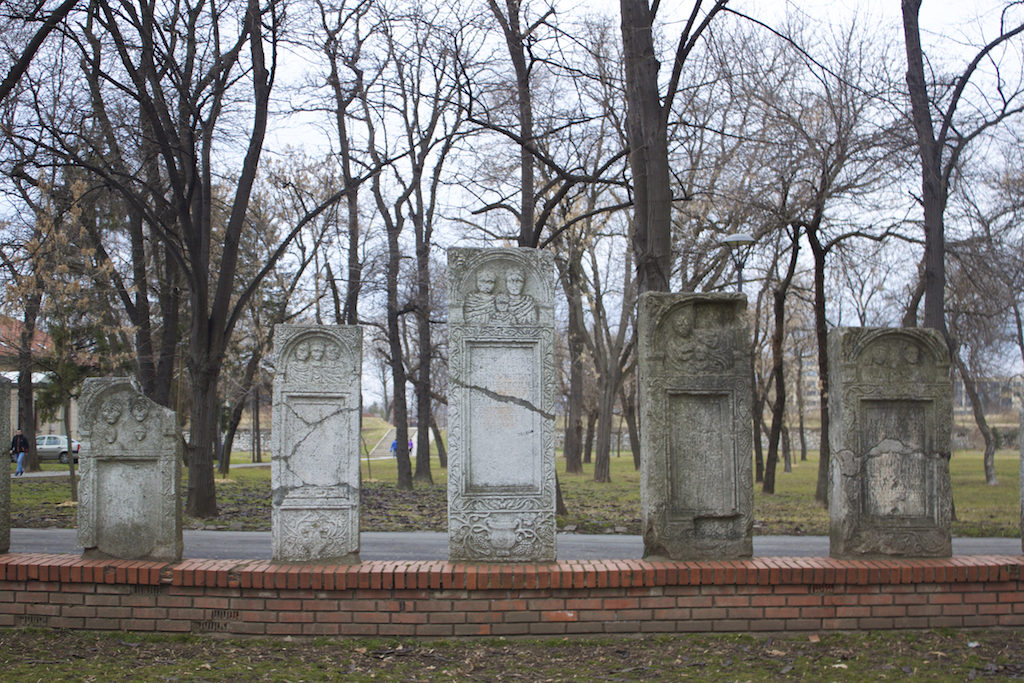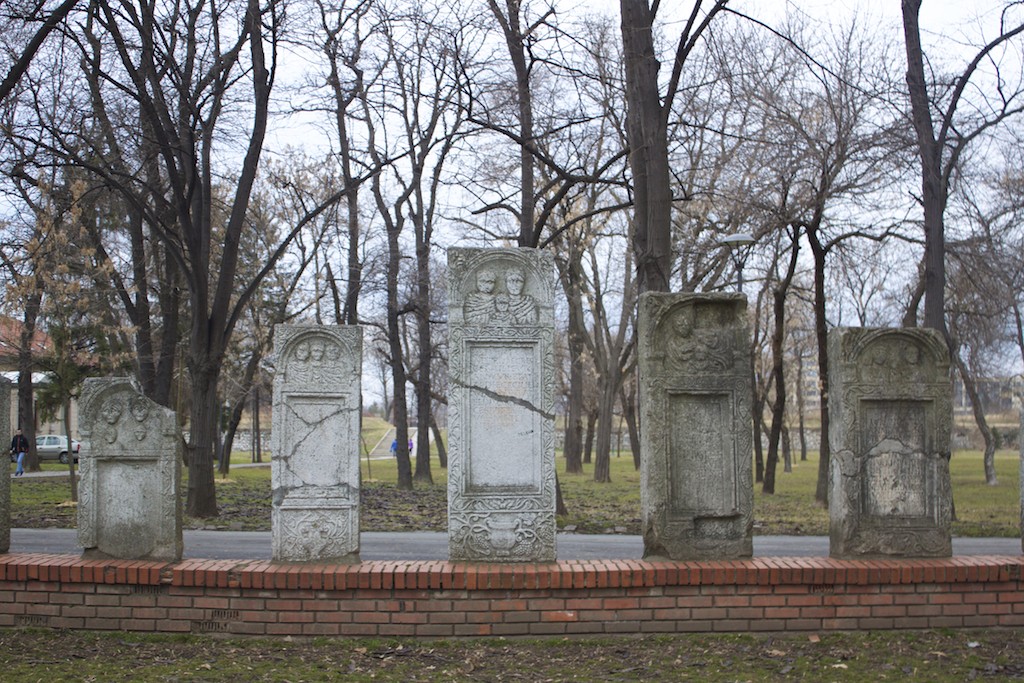 Just a handful of the remaining 41 tombstones, which date back to the first and fourth centuries. 
Address: Đuke Dinić, Niš, Serbia
What do you think? Are you up to visit Nis Serbia? Have you already been? Tell us more in the comments below.
Where to Eat and Drink In Nis Serbia
While this list barely scratches the surface of where you can eat and drink in Nis, I'd like to recommend a handful of places that visited and enjoyed during my limited time there:
1) Hedonist Cafe – This gastropub is lively, crowded, and staffed with super-friendly bartenders. Try their coffee, pasta, or one of their delicious sandwiches. Prvomajska 16, 18000 Nis, Serbia.
2) Saloon – A party establishment during warmer months, this is one of the bars near the entrance of Nis Fortress. Come to drink in a historical setting and have fun! Tvrđava Niša br. 1-2, 18000 Nis, Serbia.
3) Tesla Cafe – A small smoke-filled bar with music blaring and young locals chatting away. Sample one of their many specialty beers. Kopitareva 7, Nis, Serbia.
Note – It's not uncommon for people to smoke inside bars and restaurants in Serbia. As a foreigner, you need to accept this as they won't stop smoking because of you. Complaining to staff won't help. Weather permitting, sit outside or ask your hotel staff if they can recommend somewhere with a non-smoking environment. 
Where to Stay in Nis Serbia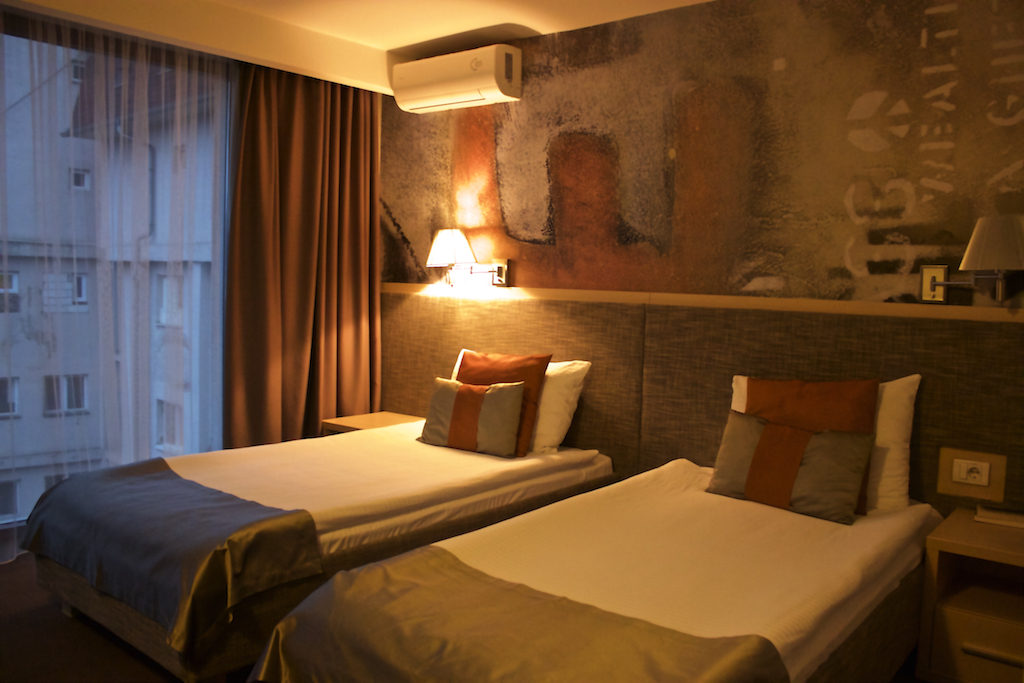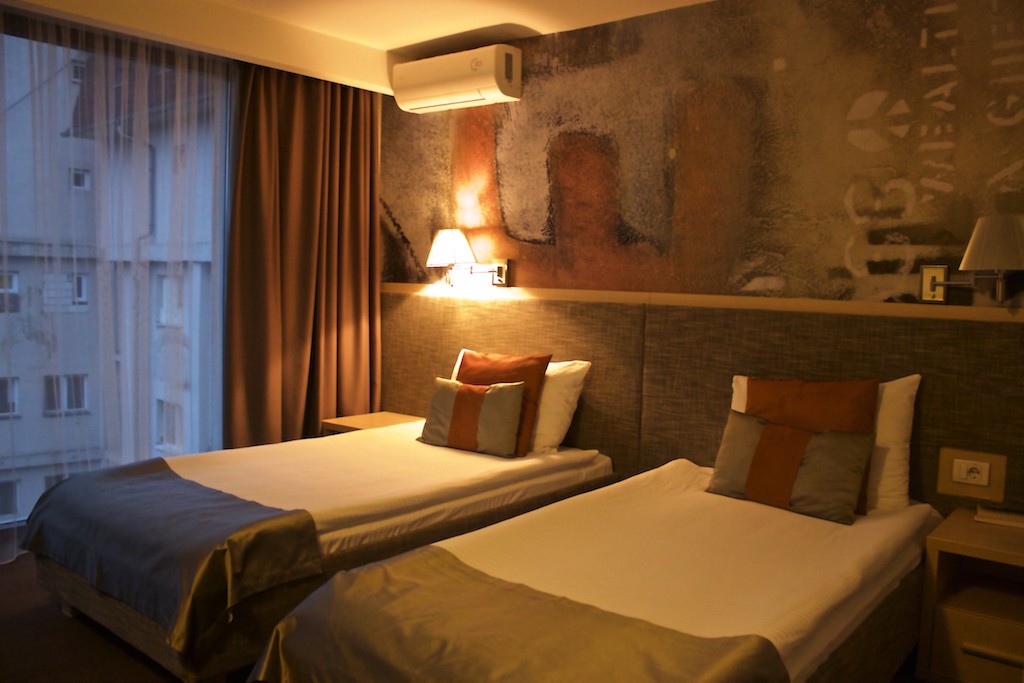 I opted to stay at the funky and modern ArtLoft Hotel in a Twin Room for three nights at a cost of €114. Breakfast was an extra €5 per day. I highly recommend the hotel – it's centrally located, the staff was friendly, and my room was spacious, clean, and bright.
Address: Oblačića Rada 8, Niš 18000, Serbia.
2) If you'd prefer a different place to stay while you're in Nis, take a look at booking.com.
Visit Nis Serbia: Good to Know
Some things you should know when you visit Nis Serbia:
1) Nis, Serbia makes for a perfect weekend trip away from Berlin. You can book a cheap fare there through Ryanair, and the flight's just over two hours.
2) Make your time in Nis more fun and book a guided tour.
3) The airport's located about 5 kilometers outside of Nis. Hail a taxi and pay about €5-7 to reach the city center. There are buses available too – they leave the airport every 15 minutes from early morning until midnight. If you're visiting other parts of Serbia, think about renting a car.
4) Many people fly into Nis and then leave directly for Belgrade, Serbia. Ryanair usually has a van waiting outside the airport. It takes 3-4 hours and will run you about €10. To get yourself excited about traveling there, check out this article – 6 Simple Reasons to Visit Belgrade, Serbia.
5) Unfortunately, Serbia doesn't use the Euro, but the Dinar. You need not worry, as you can easily withdraw cash from an ATM or use the exchange counter at the airport. It's also reasonable to expect prices for everything to be substantially lower in Serbia than in many other popular European destinations. You can use credit cards or Maestro at most shops, restaurants, hotels, etc. 
6) Want some Balkan travel inspiration? Check out some of my other blog posts:
*Disclosure – This post contains some affiliate links. If you book a tour or hotel through any of these links, I'll earn a tiny commission at no extra cost to you. Thanks for your support!