I went to Mdina Malta for five days over one March weeked. I'd been looking forward to it for months, mostly for the chance to leave the glum, cold Berlin weather behind me.
Yet the day I left, I was foolishly hungover and nursing a long-term cold and sinus infection that'd lasted the entire winter. I'd coughed so much in the week leading up to my trip that I'd pulled a muscle on my left side. It hurt to cough, to lift anything, and even lie down. At the time, I was still smoking like a chimney. In other words, I was in bad shape and the last thing I wanted to do was jump on a plane.
Off I went anyway. I did my best to push myself through the vacation. It was the first time I traveled anywhere and had to put in an effort to feel excited about my surroundings. I really didn't have the best time (mostly because of my condition), but there were some moments when I came alive. One of them was when I got a brief chance to see Mdina Malta. Something about historic places gets me excited, just like that time I explored Budva, Montenegro.
Let's fuel your wanderlust now, with these photos of Mdina.
25 Photos That Will Tempt You To Head to Mdina Malta Right Now

Mdina Malta is an ancient fortified city resting high on a hill overlooking the rest of the island. It's a city filled with grand Medieval, Norman, and Baroque architecture in the form of palaces, churches, and monasteries, narrow winding cobblestone streets, a moat-turned garden, large squares, and bastions offering panoramic views that stretch out to the sea. With a tiny population of 300 people within the city walls, Mdina has remained virtually unchanged. So beautiful and historic, Mdina's on a tentative list of UNESCO World Heritage sites. It even served as the backdrop for King's Landing in the first season of HBO's Game of Thrones.
Recommended reading: Posts from fellow travel bloggers – Mdina: The Silent City of Malta and Day Trip To Mdina, Malta: The Silent City.
For good reason, Mdina Malta is one of the island's top tourist attractions seeing up to 750,000 visitors annually. By day, massive crowds fill the streets and restaurants. By early evening they depart and Mdina becomes a quiet and serene place, romantically lit by traditional lamps. For this reason, it's become known as the "Silent City". The name Mdina is derived from the Arabic word, Medina meaning "the city".
The tiny village has been inhabited since 700 BC and served as the nation's capital from antiquity to medieval times. Capital status was removed in 1530 under the Order of St. John and the city fell into an unfortunate decline. The city eventually came into a period of revival during the 18th century and was bestowed with several Baroque architectural highlights. Mdina also became the home of Maltese nobility and several palaces filled the village, with many still being occupied by the same families today.
The City Gates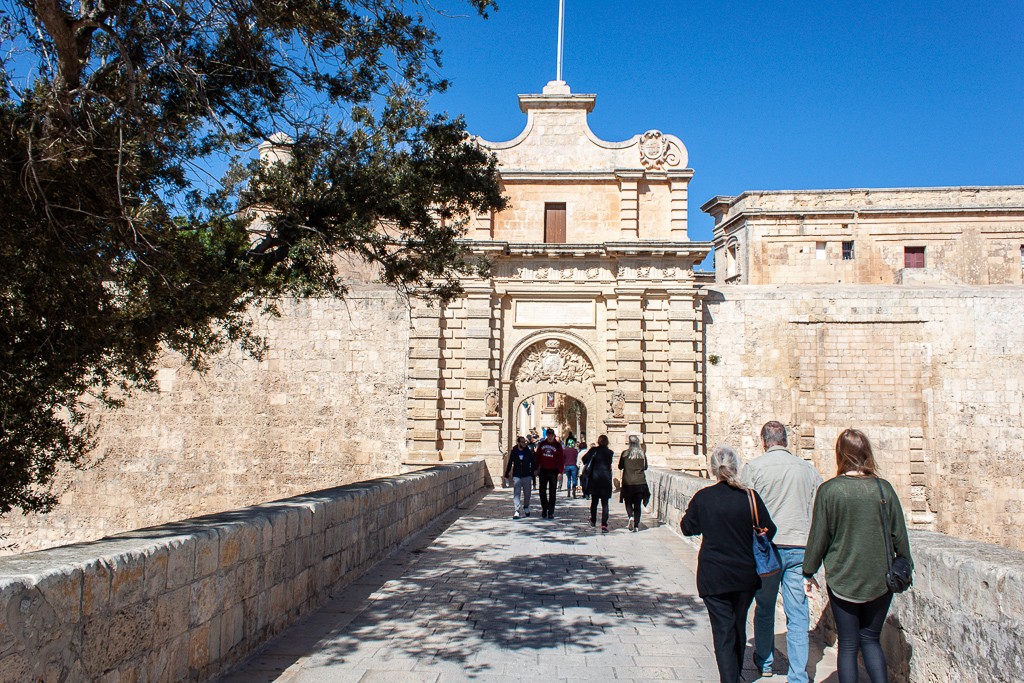 The show starts before you even walk into the city, as the gated entrance offers up a pretty impressive view. Gazing at and walking through this gate is just one of the first things to do in Mdina.
This Baroque Mdina Gate, built in 1724, serves as a gatehouse and as the main entryway into the city. It was more recently restored to its former glory in 2008. It displays a coat of arms from Grand Master António Manoel de Vilhena, the coat of arms for the city of Mdina, a trophy of arms, as well as a Latin inscription. The other side of the gate displays reliefs of the patron saints of Malta.
To reach the gate, you also cross a short arched stone bridge. Previously, there'd been a wooden drawbridge. If you look below at the old moat, you can see that it's been transformed into a lovely garden.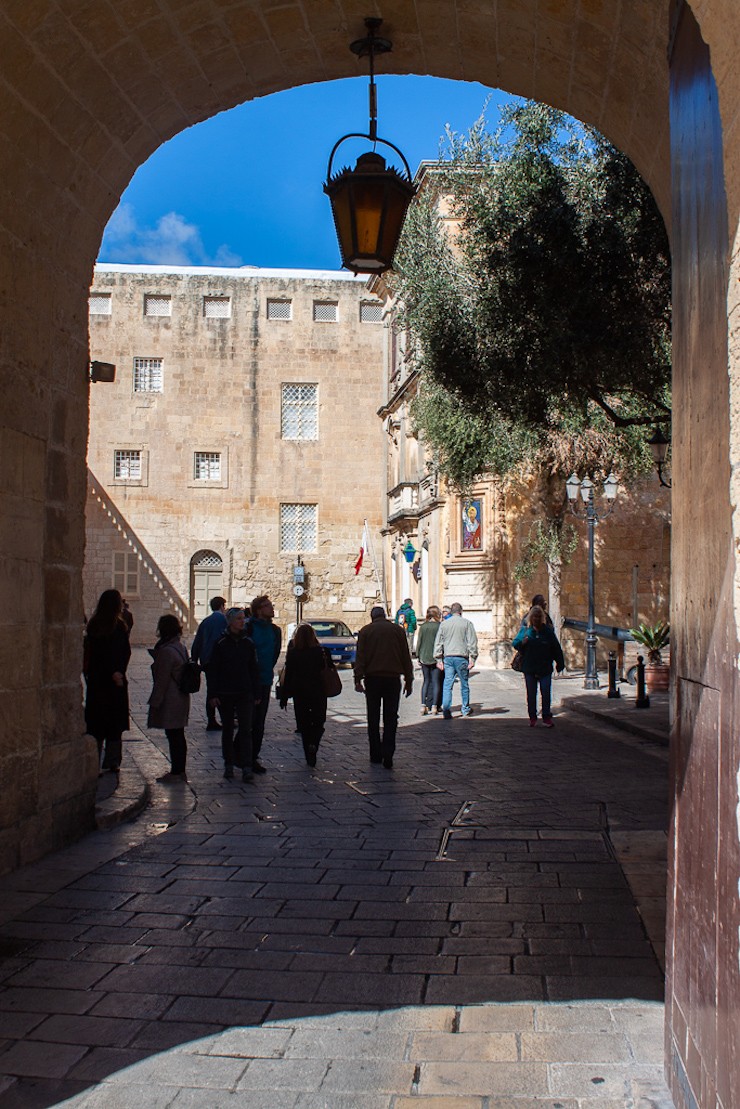 National Museum Of Natural History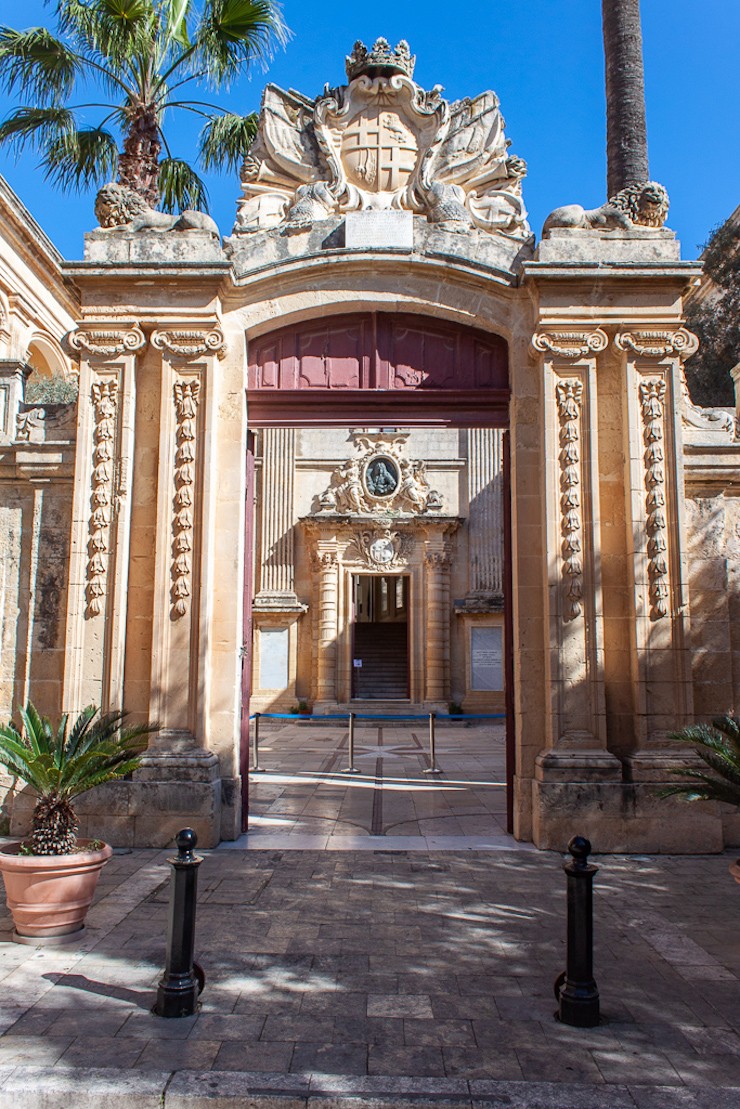 Once inside the city walls, one of the first things you'll see is Malta's National Museum of Natural History, which is situated in the French Baroque, Vilhena Palace. The palace's also known as the Magisterial Palace and Palazzo Pretrorio. Built between 126 and 1728, it was later used as a hospital during outbreaks of cholera and tuberculosis during the 19th and 20th centuries. Closed in 1956, it eventually reopened to house the museum.
The museum focuses on Maltese geology and paleontology and showcases exotic mammals, various flora and fauna, and more than 850 pieces of rocks and minerals. Oddly, there's also a sample of the largest squid ever taken from Maltese waters.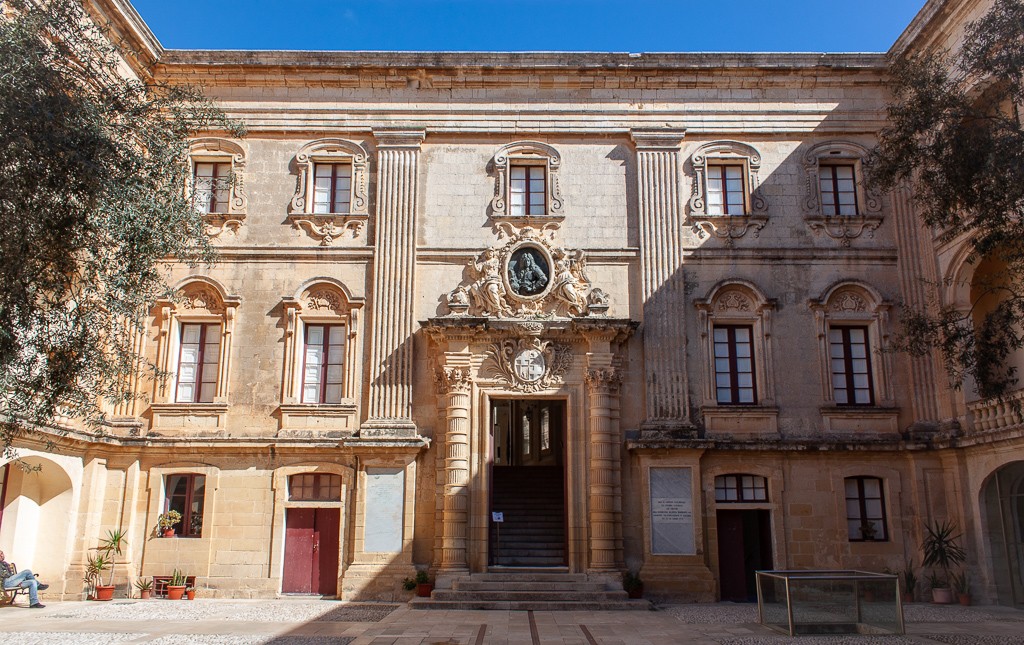 I was more interested in wandering through the streets than taking in a museum on a gorgeous sunny day, but this could be a good rainy day option for those looking for something else to do in Mdina.
The Streets of Mdina Malta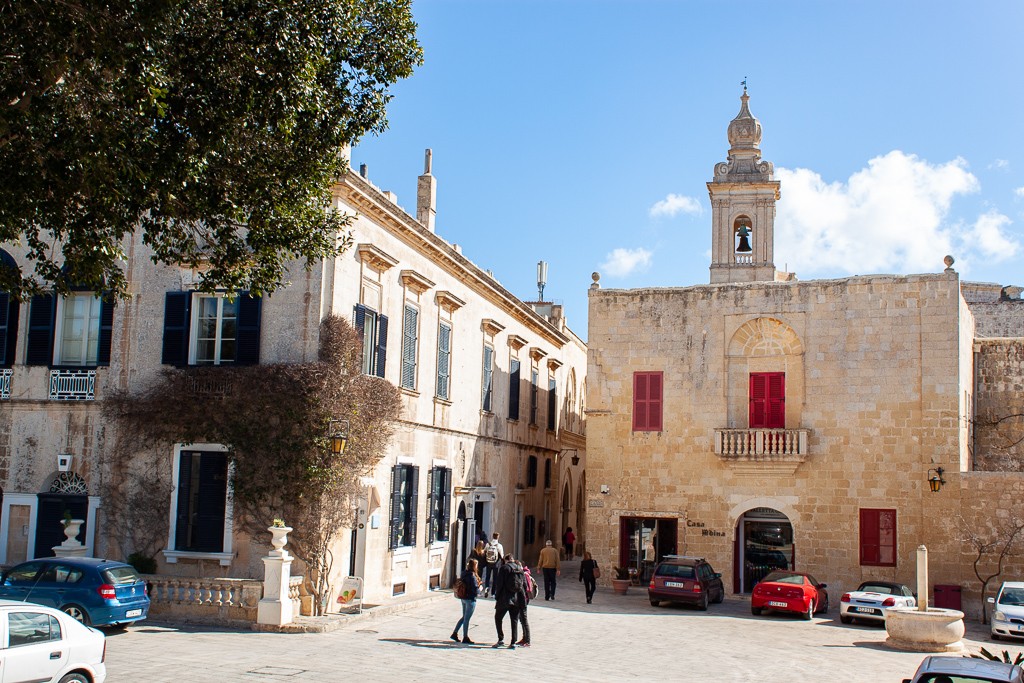 One of the best things you can do in Mdina is to get lost in the narrow, winding, cobblestoned streets. It's thrilling to leisurely wander and think about the city's long history and ponder what life's like there today for its few residents. You'll come across open squares, lots of churches, and the palatial villas of past nobles.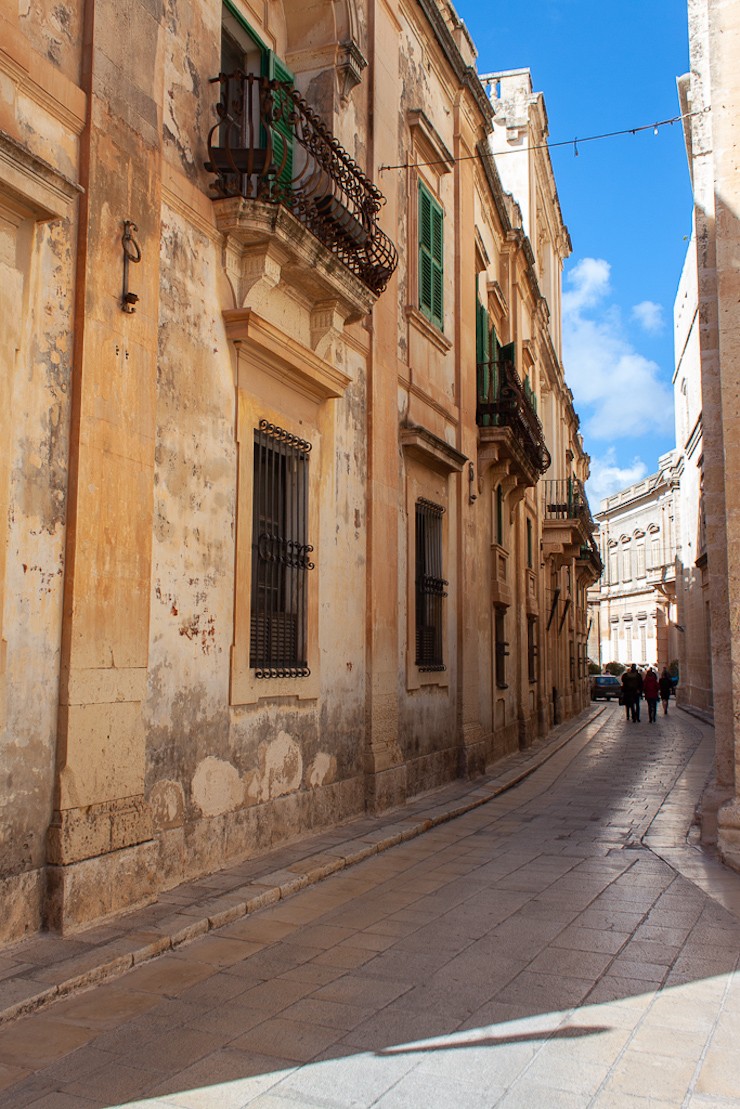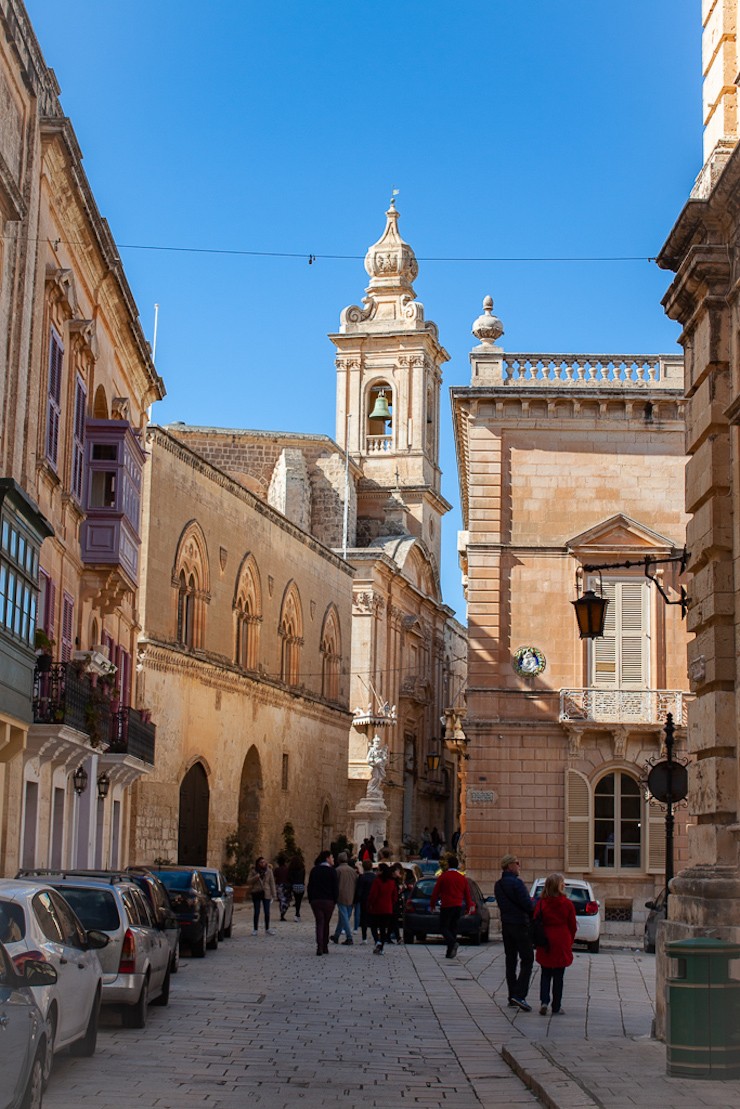 The Doors Of Mdina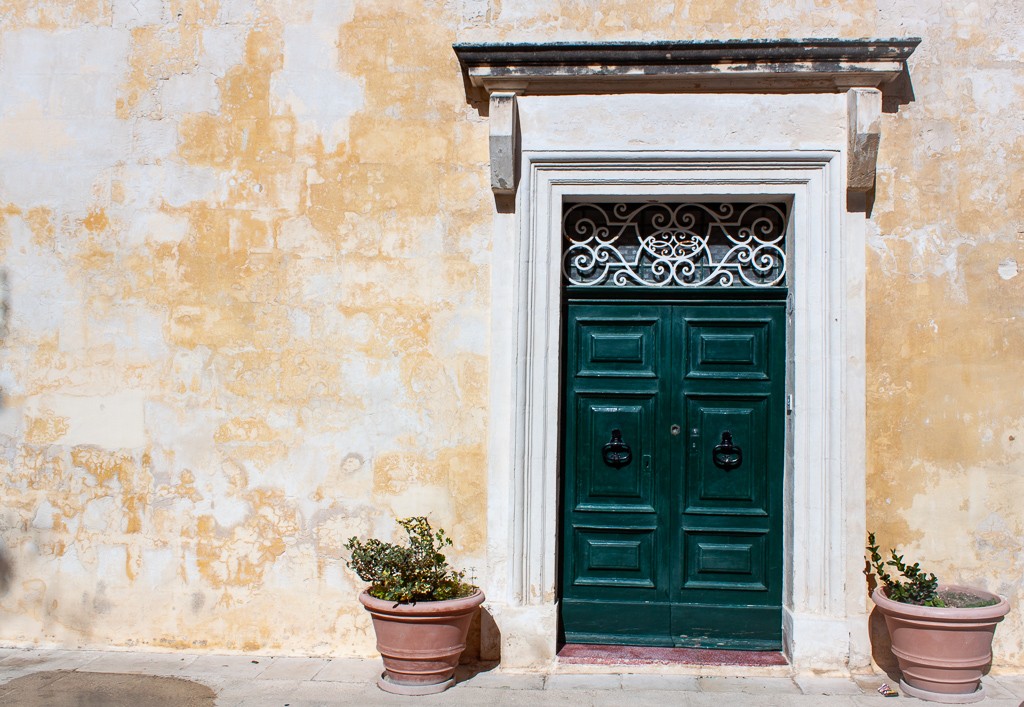 No matter where you travel through Malta, you'll notice how beautiful the doors look. Red, green, blue, doors big and small, quirky door knockers, and more, it's fun to notice and appreciate the small details. If you're looking to gain some popularity on Instagram, look no further than the doors of Malta to get started. Some of these doors in Mdina are especially "instaworthy".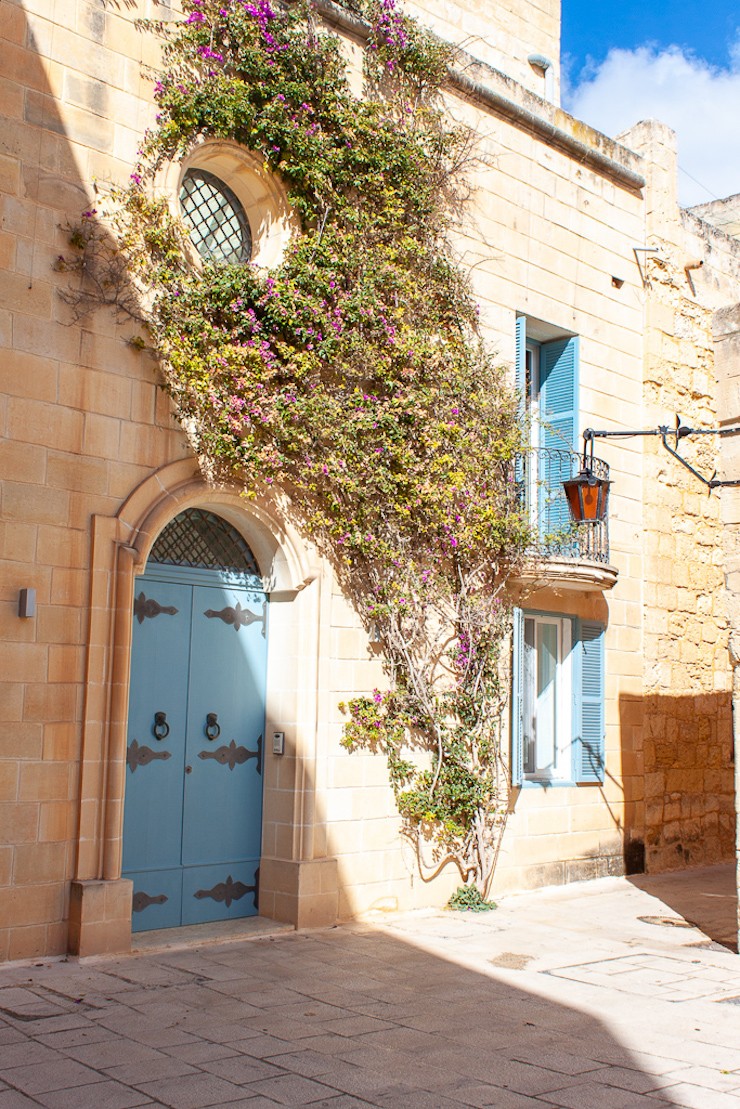 The Restaurants of Mdina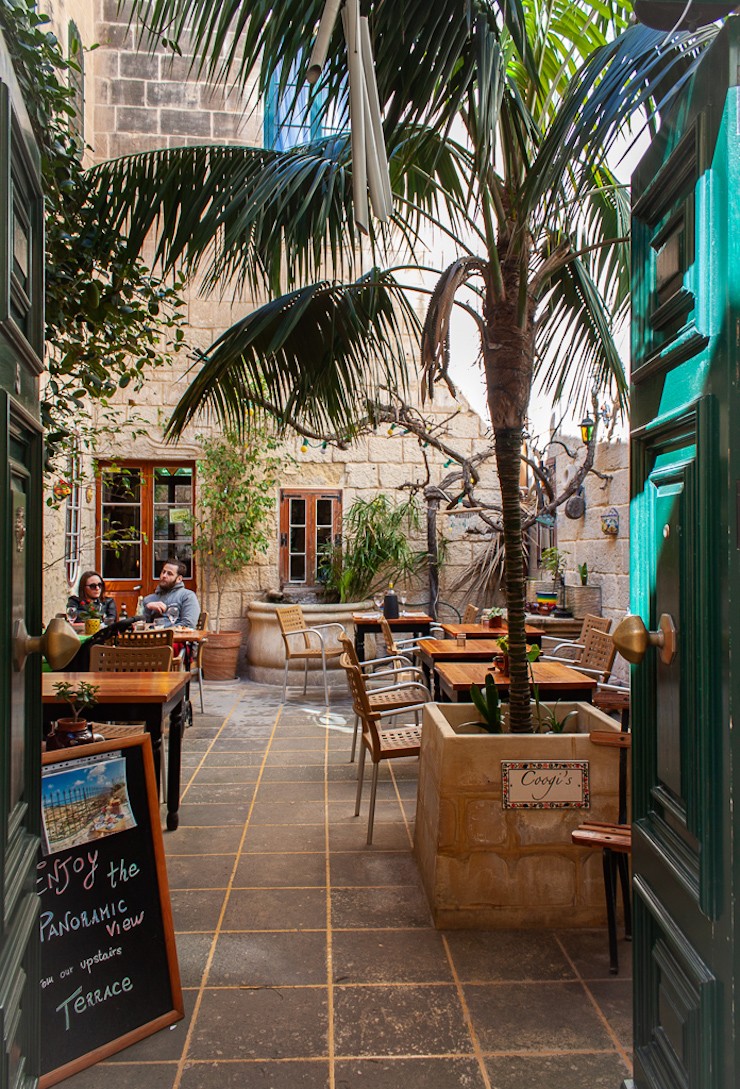 This inviting terrace at Fontanella Tea Garden may be enough to lure you inside the premises, but venture further inside and sit out on the bastions for stunning views over Malta. Known for their delicious homemade cakes, there are plenty of other options on the menu like baked lasagna, an assortment of sandwiches, and pies like chicken, mushroom, etc.
Other recommended restaurants in Mdina are Medina and Trattoria AD.
The Views From The Bastions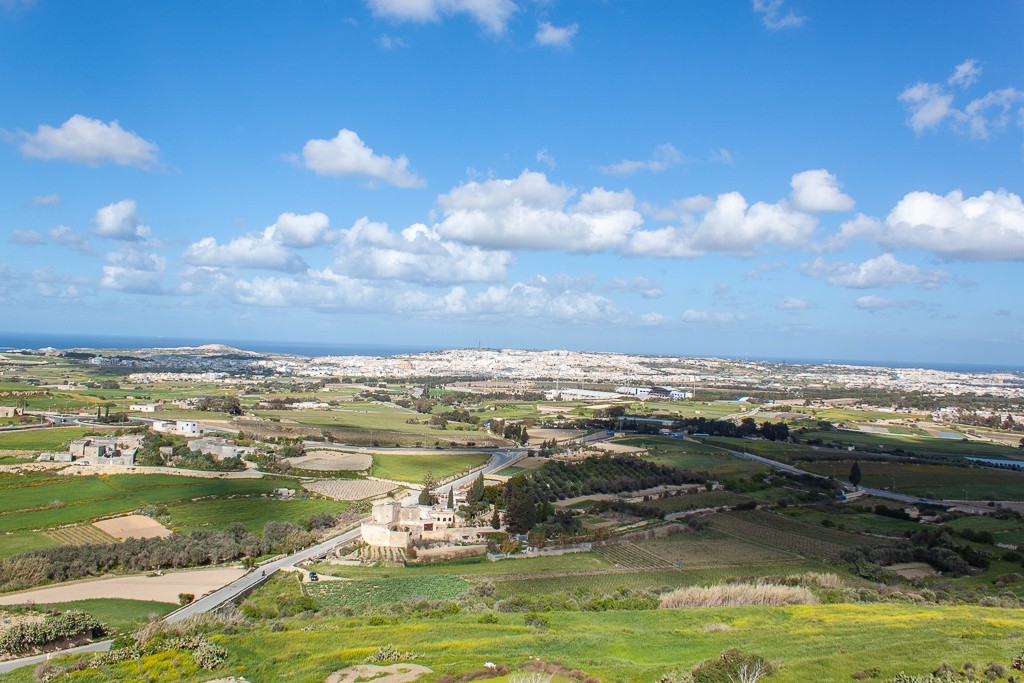 Another delightful thing to do in Mdina, Malta is to walk along the ancient bastions and take in more of these gorgeous views.
St. Paul's Cathedral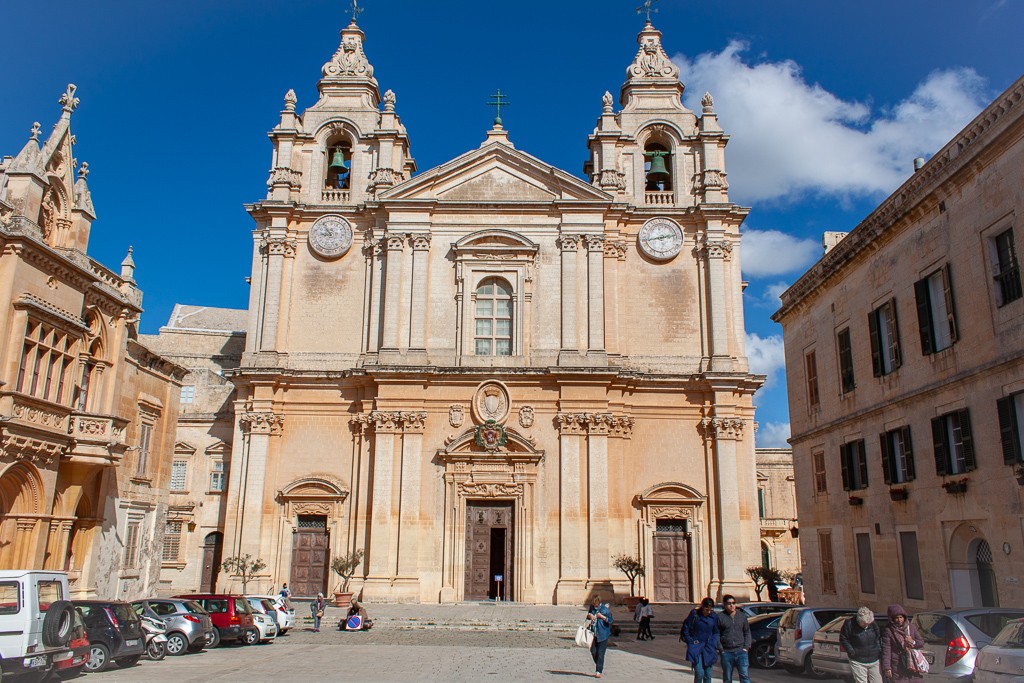 One of the top things to do in Mdina visits St. Paul's Cathedral. It's said that Apostle St Paul lived here in 60 AD after being shipwrecked. For that reason, Mdina has been home to religious orders like the Franciscans, Dominicans, and Augustinians over the years. The cathedral was first built with a Norman influence but the building was destroyed during the earthquake of 1693. When it was later reconstructed, it was done up in a Baroque style, much like the Mdina city gates. Interestingly enough, the cathedral floors are covered with the tombstones of Maltese nobility, and the vault's painted with scenes from the life of the saint. Also worth visiting is the cathedral museum.
On a side note – if you're a bit of a cathedral geek or an avid historian, consider reading this fascinating post about the world's scariest cathedral in Otranto, Italy.
The Souvenir Shops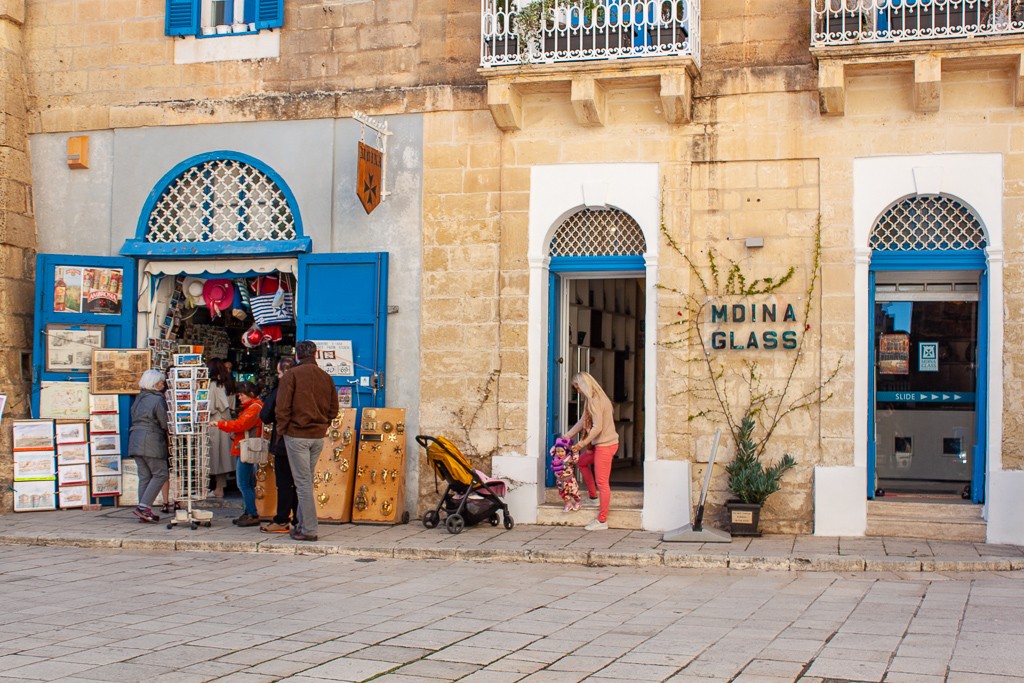 If you want a souvenir of your time in Mdina, stop by one of the souvenir shops to pick up the usual items like magnets and postcards. For something more unique, consider buying some handcrafted glass items.
Carriage Rides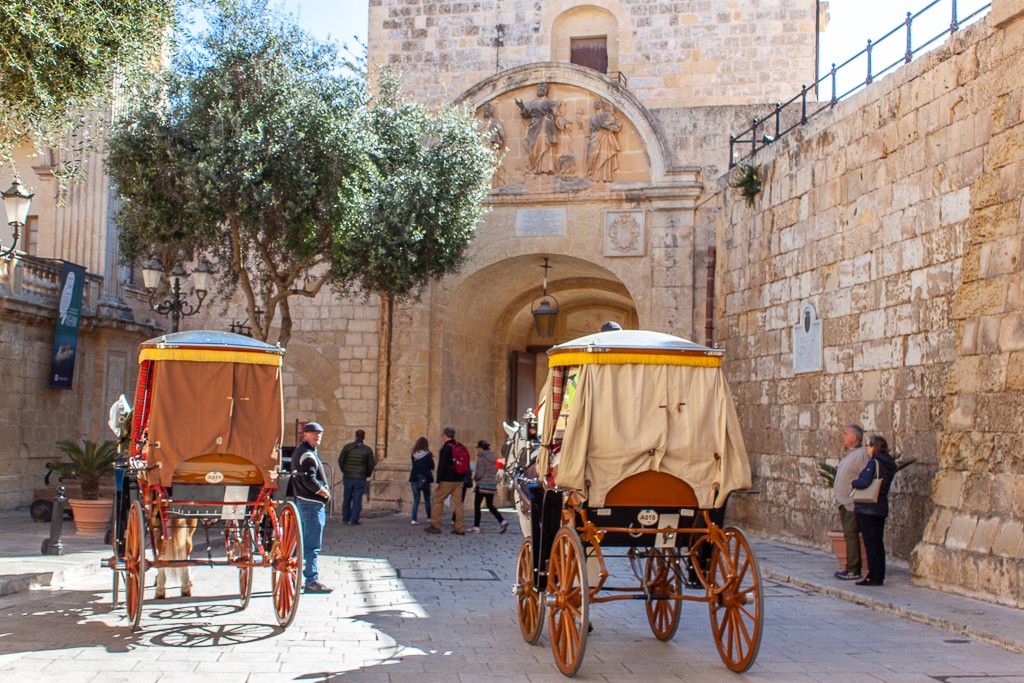 Another way to enjoy Mdina Malta is to take a romantic carriage ride through the city. Other notable things to experience in Mdina are visiting the Chapel of St. Roque, walking through the moat garden, taking in the Mdina experience, or touring the Dungeons Museum.
Have we missed anything about Mdina Malta? Tell us about it in the comments below!
Good to Know About Mdina Malta
1) Book one of these experiences while you're in Malta:
2) Only a three-hour flight from Berlin, Malta's a great weekend escape for locals tired of that infamous German weather and are in dire need of sunshine. With easyJet and Ryanair offering discounted flights, it's also budget-friendly.
3) Malta uses the Euro, so there's no need to worry about currency conversion. Most hotels, restaurants, and shops will accept European bank and international credit cards.
4) There are a few transit options from the airport to reach wherever you're staying on the island:
Bus:

For about €1,50, you can take one of several buses leaving the airport. Expect on average, about a one-hour transit time to Valletta and up to two hours to reach St. Julian during high-traffic conditions. The X4 bus is the fastest and should ideally have you in Valletta within 20 minutes.

Transfer:

Typically cheaper than taxis, you can easily book a transfer, be it a shuttle bus or a private car. Book well in advance of your stay and consider the official

airport shuttle service.

You can also book upon arrival as there are plenty of options available.
Book your Malta airport transfers with any.cab and get the best price around:
Taxis: More expensive than shuttle buses or private cars, you can easily hop into a taxi from the main terminal. It's advised that you purchase a prepaid ticketed TAXI at a fixed rate from a booth in the Welcome Hall. Note, car sharing services like Uber are not available in Malta.
Car Rental: If you want to travel around Malta, consider renting a car. Note that Malta follows British practices and drives on the left-hand side, not the road's right-hand side.
5) Malta's quite popular with tourists and it's a busy place year-round, even during low and shoulder seasons. Expect it to take a long time to get anywhere and for popular restaurants to be booked solid. Be patient (you're on vacation after all) and book dinner reservations if possible.
6) Transit options to reach Mdina:
Bus: From Valletta, your best bet is Route 53. Slower routes are 50, 51, 52, and 56. From Sliema and St. Julian's, take Route 202. From St. Paul's Bat, jump on Route 186. You can also get there on one of those hop-on/hop-off bus tours – I took this one.
Transfer: A private transfer will run you about €20 and a shuttle €15.
Car: If you're driving, there are public and paid parking lots outside of the city (only residents and emergency vehicles are allowed to enter the city itself). You can find parking lots near the entrance to the city beside a children's playground, drive through a tunnel into the moat of Mdina to find more spots, or go to nearby Rabat for a large parking area near the Roman Villa.
7) Book somewhere to stay when you're in Malta:
8) There are only a few hotels in Mdina as most people opt to stay in more populated places like Valletta, Sliema, and other areas. Consider a unique experience by staying at The Guard Tower or booking a luxurious stay at The Xara Palace Relais & Chateaux.
9) An ideal time to visit Mdina is in April for the annual Mdina Medieval Festival.
10) Looking for even more Malta travel inspiration? Then consider these places to visit in Malta.
Mdina Malta Locations
Download this Google Map to find a notable place to eat, where to sleep, and cool things to do as recommended by cherylhoward.com.