I've learned a lot during my years of travel. Some of my hardest lessons were learned in Italy. For someone coming from abroad and visiting Italy (not to mention Europe!) for the very first time, taking the train was really stressful and overwhelming. There were soooo many things that I didn't know about and were different from how things worked at home. Honestly, I wish I'd read a guide like this before I left on my trip.
Read our practical tips about how to make your train travel in Italy stress-free.
Some Tips for Stress-Free Train Travel In Italy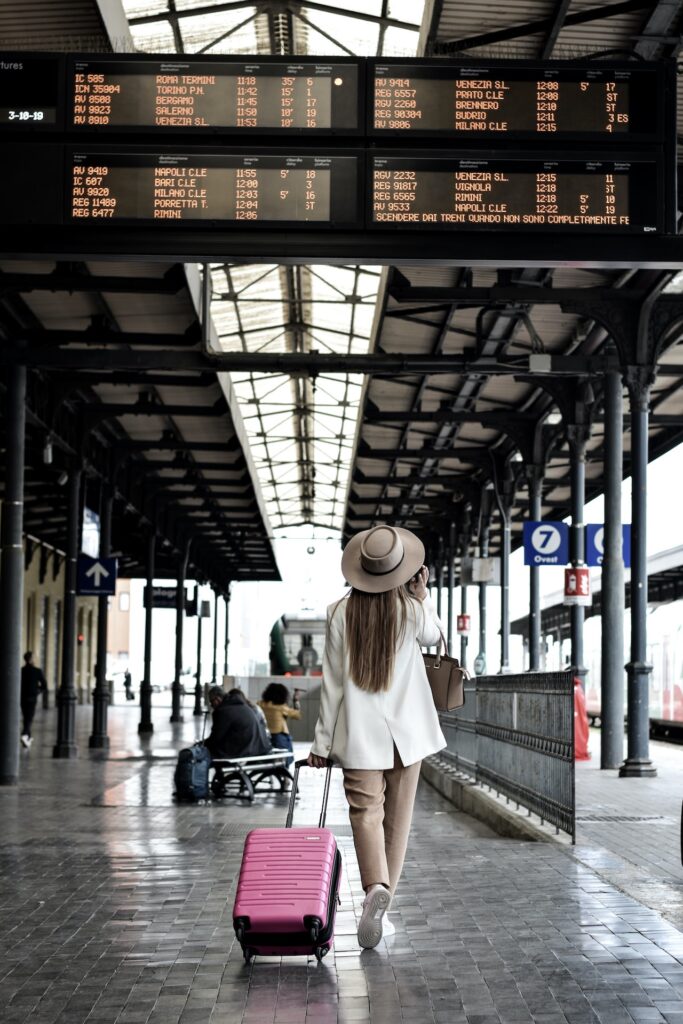 Our top tips for an easy-peasy train travel experience include:
1) Buy your ticket online at Trenitalia
Buying your tickets online saves time and reduces the potential hassle and confusion new travelers may experience at the train station. You can avoid a long queue to line up and talk to a real person, who may only speak Italian, doesn't speak English or another language well, or have the patience to answer your newbie questions.
Note, you shouldn't expect people to speak English when you're in Italy. And when people make an effort to speak English, appreciate that it's not their native language, and be kind and patient during your exchanges. At the same time, don't be afraid to double-check things to ensure there haven't been any miscommunications. You can double-check your platform number or your train's departure times.
Even if you buy a ticket from a machine, it can be tough to figure out, or there could be issues with the machine accepting your foreign card.
Another bonus is that tickets bought online don't have to be validated at a train station.
2) Learn some relevant phrases in Italian
Learn basic terms or phrases in Italian before arriving in the country. Know how to ask for help by asking specific questions such as "How much will this ticket cost?" or "When is the train arriving?" Lonely Planet has phrasebooks that can assist you in learning the language. I have the Spanish, Italian, and Portuguese ones and they have been invaluable during my travels.
In general, people will appreciate any attempts on your part to speak Italian (even poorly), and your interactions with locals will be that much more pleasant.
If all else fails, whip out your phone and bring up Google Translate. You can type in what you want to ask or say, translate it into Italian, and then show them your phone.
3) Validate your ticket
If you have a printed ticket, be sure to validate it at one of the machines prior to boarding. I kept forgetting to do this when I traveled in Italy and received a fine at least two times. It just wasn't something that I was used to doing back home in Toronto!
Don't make my rookie mistake. Always validate.
4) Be careful about who you let help you with your luggage
Don't let just anyone help you with your luggage. You may fall victim to schemes such as the one I encountered when I traveled from Rome to a small village in Tuscany.
A young girl who seemed totally cool offered to help me carry my luggage onto the train. As my luggage was quite heavy, I appreciated the help as I thought she was acting purely out of kindness. I would've done the same for anyone I saw struggling. Yet when we got into the car, she asked for cash! I didn't have anything on me and it was a very awkward encounter.
I consider myself lucky not to have been robbed!
5) Plan ahead
Find out your train's final destination and where your stop is along the line. You can count the stops along the way and be sure that you're getting off at the right one, as train station names are not always prominently displayed or visible from all cars.
6) Keep an eye on your belongings
When you board the train, if possible keep your luggage with you. If you need to store it at the end of the car, get up at every stop and wait with your luggage until all passengers get off and new ones finish coming on. Luggage theft is unfortunately quite common on some Italian train routes.
It may seem like overkill, but that girl I mentioned above? I watched her and another lady working together and they were totally running such a scam.
7) Get to the train station early
This is crucial, especially if you have to purchase and validate your tickets. It also gives you extra time to determine if the train is on schedule/canceled, which platform is yours etc. Some platforms (such as the one for the train that runs between Roma Termini and FCO) are quite far from the main entrance of the train station and require time to reach them.
It also gives you a chance to relax and maybe grab an espresso while you're waiting for your train to arrive.
8) Don't dress like an obvious tourist
Try to blend in a bit and dress nicely. It doesn't mean you need to put on a ballgown or tuxedo but avoid fanny packs, sports jerseys from North American teams, or loud Hawaiian shirts. Don't walk around with a camera strung around your neck or with a map in hand. You'll stick out like a sore thumb and will make you an easy target for thieves.
9) It's not about you
Generally speaking, Italian trains leave on time and will not wait for you. Seems like an obvious tip right? Well, I can't tell you how many times I witnessed people having a meltdown, yelling at train staff because they somehow missed their trains.
Sure, it sucks, but it's not the fault of train workers. Don't take your frustrations out of them. If you've missed your train, speak to an employee to figure out your options.
Even better, make sure you have travel insurance to cover you during such situations!
10) Give yourself time between connections
In addition to arriving early, try to give yourself time between connections. Sometimes trains run late and you may miss a connecting train. For example, I missed my train from Rome to the airport as my train from Naples left late. I literally got to the platform just as the train pulled away.
I was disappointed but didn't really stress about it much. I simply purchased a new ticket and caught the next one which left 30 minutes later. Because I had planned well, I had the needed buffer time to ensure that my missed train wasn't a "catastrophic" event.
11) Travel first class if you have the cash
In some cases, first class isn't that much more expensive than regular class. Be fancy and enjoy the perks like drinks, snacks, and more legroom. For women traveling solo, you may feel a tad safer in first class as well.
12) Make sure you have a seat reservation
You usually have to pay extra to select your seat, so make sure to buy a seat reservation when you're buying your ticket.
Later, don't be surprised if someone is sitting in your seat! If you have a reservation, you can just show them you bought the seat. Most people will be cool and move accordingly.
13) Travel with cash
Be sure to have some emergency Euros stored with you somewhere (like a money belt) for emergency purposes. You may miss a connection and be required to stay overnight somewhere. You may have your purse or luggage stolen. The extra cash will help tide you over during those tough moments.
What do you think about these tips for stress-free train travel in Italy? Do you have any other tips? Drop us a note in the comments below!
Good To Know
1) Need a hotel in Italy? Find one with booking.com.
2) Make your time in Italy memorable by going on a tour with Get Your Guide.
3) If you love Italy as much as I do, check out some of my favorite posts.
*Disclosure – This post contains some affiliate links. If you book a tour or hotel through any of these links, I'll earn a tiny commission at no extra cost to you. Thanks for your support!