After seeing Cărturești Carusel appear on my Instagram feed over and over again, I vowed that one day I'd see this iconic and famous bookstore for myself. So when I headed to Bucharest one warm autumnal weekend (my first time ever in Romania), I made sure it was one of my very first stops. 
From the outside, it doesn't look like much but once you enter the building, you can't help but gasp in delight and smile, as you take in the wonder that is Cărturești Carusel.
Cărturești Carusel In Bucharest, Romania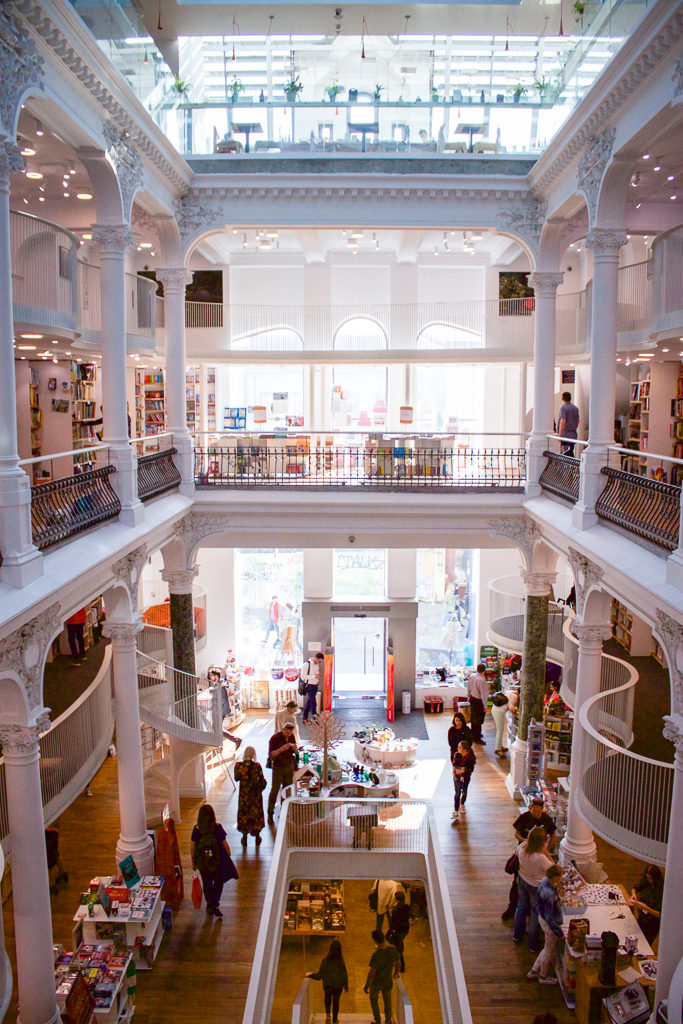 The 19th-century building, owned by the Chrissoveloni family, once served as a bank headquarters for about 30 years until it closed in 1948. Later on, it was used as a men's clothing store and then a general store during Communist times. After the collapse of the Communist regime, the building was abandoned and fell into disrepair until it was rescued by Jean Chrissoveloni, the great-grandson of the first owner, Nicolas Chrissoveloni. Investing around €1,000,000, he tasked the Romanian architectural firm, Square One to oversee the transformation of the historic building and then leased it Cărturești, Romania's largest bookshop chain.
Recommended reading: These posts about other bookstores we've found on our world travels – Weird & Offbeat: The Libreria Acqua Alta Bookstore in Venice and Detroit Bookstores: John K. King Used & Rare Books.
Cărturești Carusel Today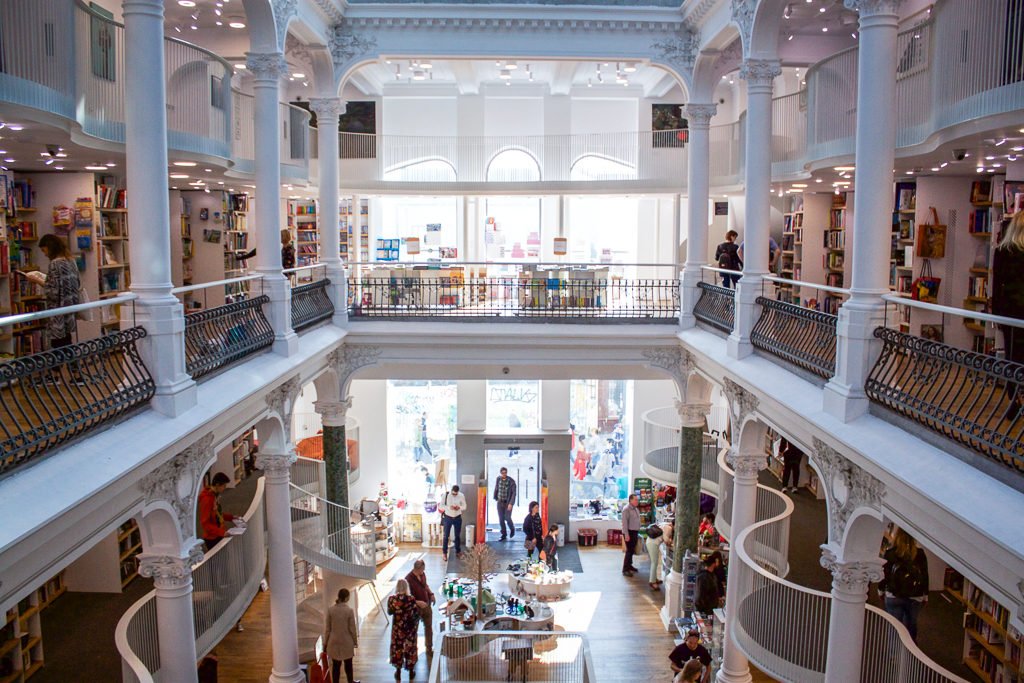 Considered to be Carteresti's main flagship and concept store, the 1,000 square meter space takes up six floors and is home to more than 10,000 books and 5,000 albums and DVDs. There's a multimedia area in the basement, an art gallery and exhibition area on the first floor, and a plant-filled café and bistro on the top floor that serves up tasty food, coffee, teas, wine, and more.
Cărturești Carusel Design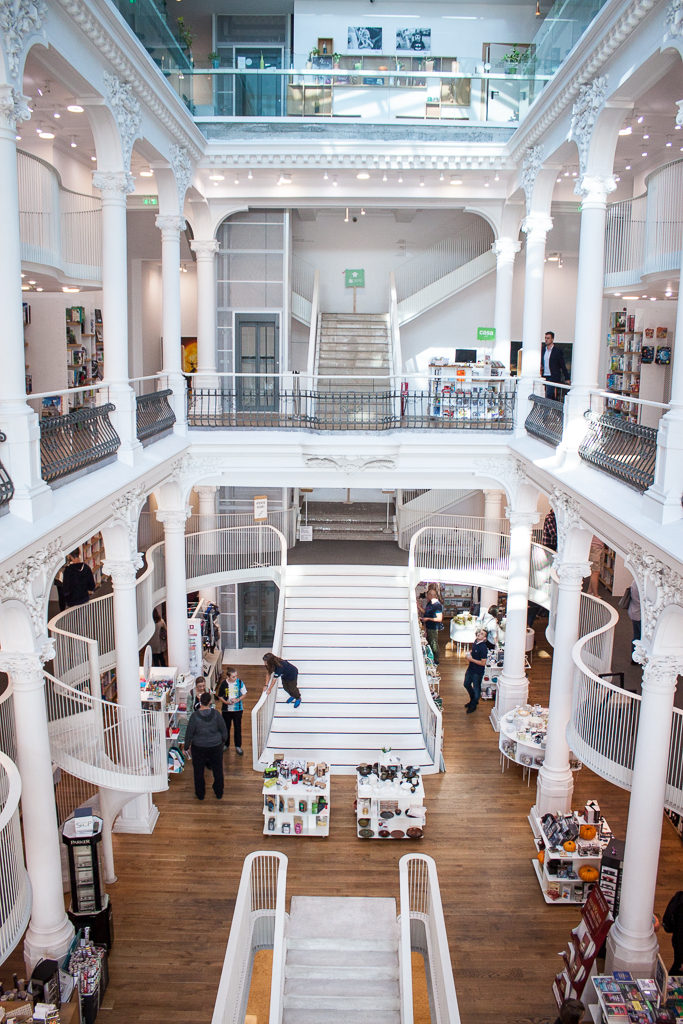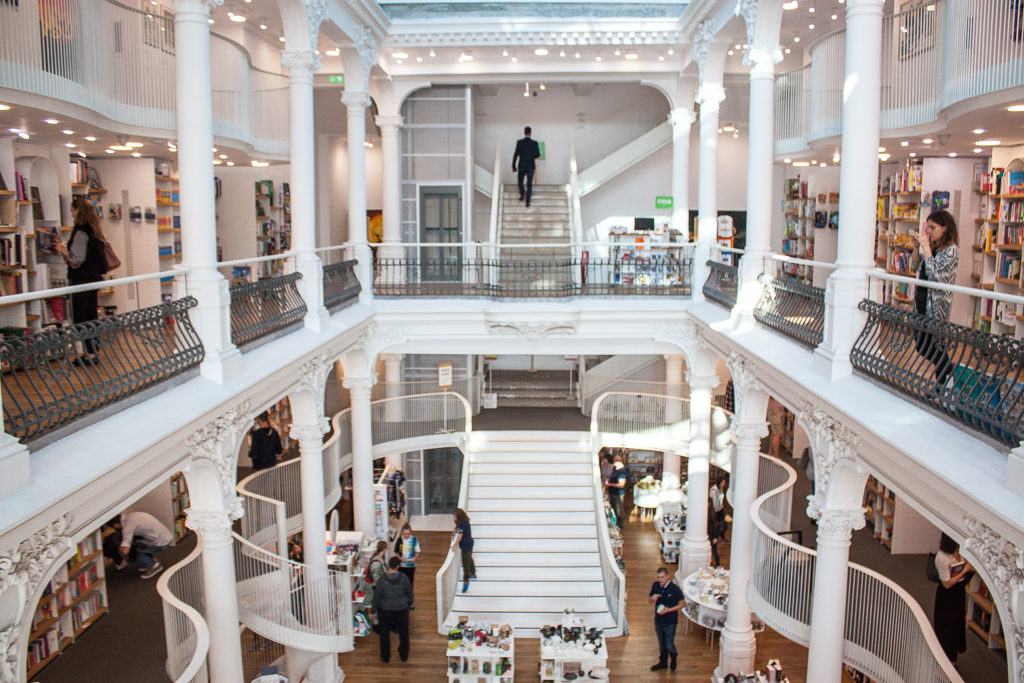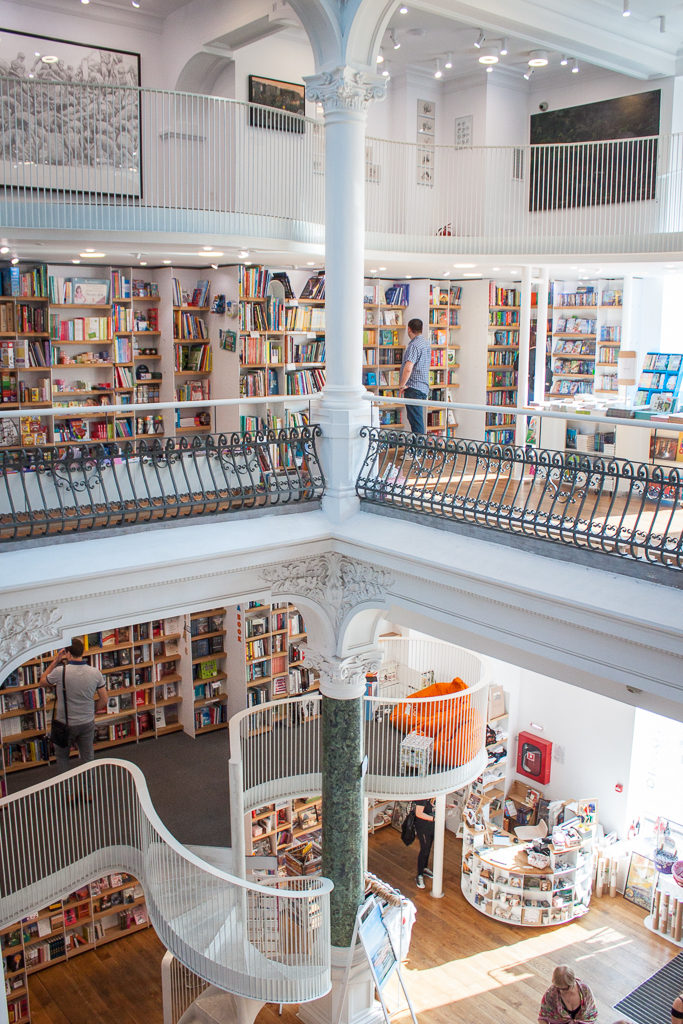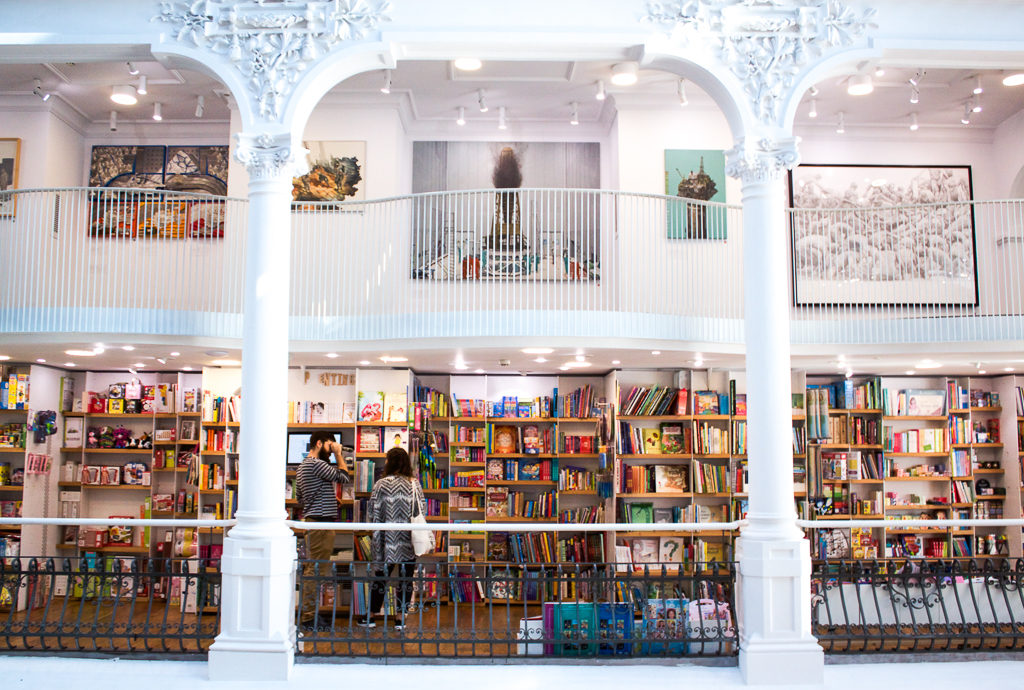 Cărturești Carusel translates to "Carousel of Light" and according to Square One, "The sinuous shape of the floors creates a dynamic atmosphere similar to a moving carousel … "
The airy design is carried out through the predominantly white interior, top floor skylight, and warm lighting system which was inspired by that of a starry sky. During the building's restoration, many of its original and classic elements were left intact, with some more notable architectural features being the spiral staircases, Byzantine-inspired marble colonnades, and several balconies. The platform railings are even composed of metal rods that are both opaque and transparent, depending on how they're viewed.
Cărturești Carusel also plays host to various cultural events such as readings, exhibitions, and concerts. When I visited, I even saw a couple having their wedding shoot done on the staircase leading up to the first floor.
Cărturești Carusel is for Influencers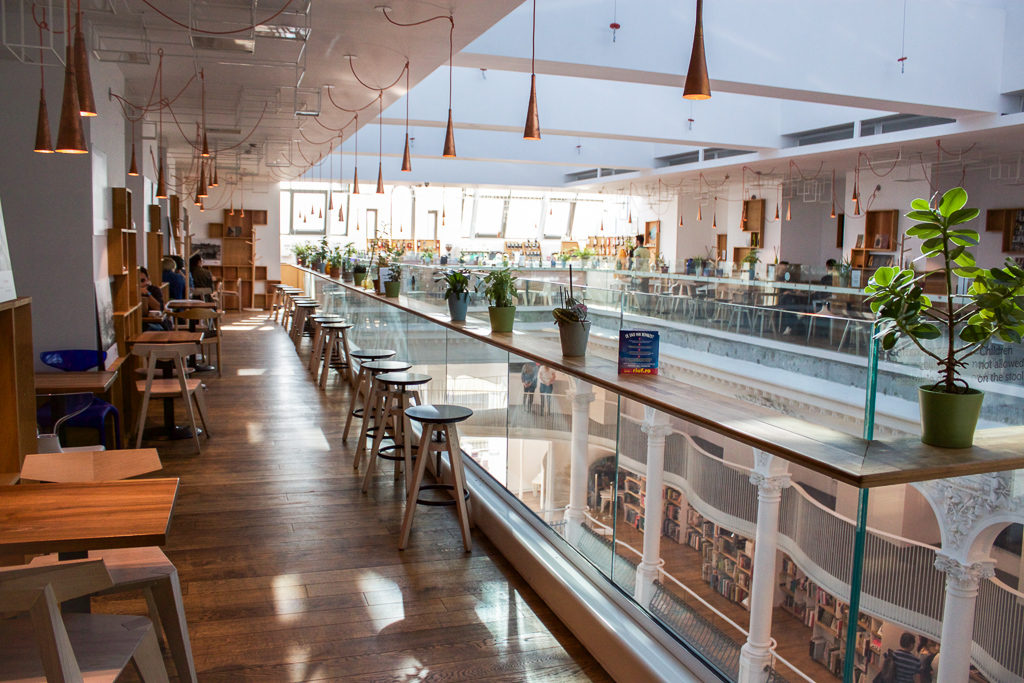 As expected, Cărturești Carusel is an influencer dream for many. While professional photographers book the space in advance for their photo sessions, you'll also witness an endless parade of aspiring models in long flowing dresses who are striking dramatic poses while being photographed by their adoring Instagram husbands or besties. Think of it what you will, but this is how people like to document their travel these days, so my only suggestion is to grin and bear it.
Bookstore aficionados will find it heartwarming that people actually come to the location to read as well, either grabbing a book and taking up residence in one of the many nooks or heading to the top floor café and bistro. 
Would you add this lovely bookstore to your Romania itinerary? Let us know in the comments below.
Location
Cărturești Carusel
Strada Lipscani 55, București 030033, Romania
+40 728 828 929
http://carturesticarusel.ro/
Good to Know
1) Cărturești Carusel is open daily, Monday – Wednesday from 10:00 a.m. – 10:00 p.m. and Thursday – Sunday from 10:00 a.m. – 12:00 a.m.
2) To avoid the large crowds and the wannabe Instagram stars, show up early or late in the day or the middle of the week.
3) The bookstore's located in the city center, in the Old Town. The closest metro stop's Universitate (the exact address of the bookstore is listed below).
4) Most of the books are in Romanian, but there is also a small English language selection.
5) As with most bookstores, you can purchase novelty items like pens, Romanian-themed souvenirs, notebooks, and more. I personally bought a magnet and an Alice in Wonderland Moleskine. For a good overview of souvenirs to purchase when in Romania read, 10 Romanian Souvenirs You Have to Make Room For in Your Suitcase.
6) Need a place to sleep in Bucharest. Check options on booking.com.
7) Looking for fun guided tours? See what there is to do with Get Your Guide.
8) For more amazing architectural gems around Europe, read these posts.
9) For even more Romanian travel inspiration, read 12 things to do in Bucharest in a day or consider these tours in Bucharest. Even better, check out this article, including the best places to visit in Romania.
*Disclosure – In order to provide helpful information about Romanian tours, I collaborated with Romanian Friends. As always, any opinions expressed here are entirely my own. This post also contains some affiliate links, so if you book a tour or hotel, I'll earn a tiny commission at no extra cost to you. Thanks for your support!