As I've lived in Berlin for about ten years now, I don't really think about where people should stay when they're visiting Berlin, be it a hotel or an Airbnb. I think more about which visa to get, how to find a flat, and where to learn German — all of which is outlined in my detailed moving to Berlin guide.
Yet as many of my readers are coming to Berlin on vacation, they frequently ask for guidance about the best places to stay in Berlin. While Berlin is comprised of many different areas, Mitte is a district in the heart of the city perfectly suited to tourists wanting to see the city's main sites like Brandenburger Tor, the Berliner Dom, Checkpoint Charlie, and more.
To that end, I've put together this comprehensive list of hotels in Berlin Mitte.
Best Hotels In Berlin Mitte (Personal Picks From A Local)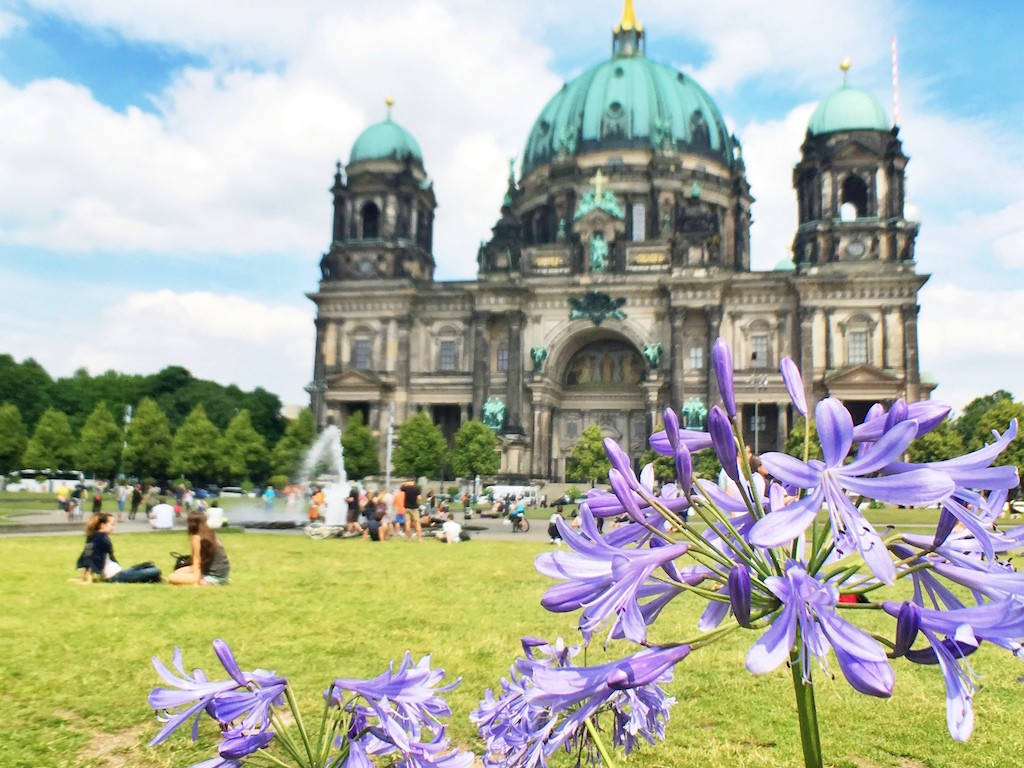 All hotels on this list were personally and carefully selected by me and feature 15 fabulous places ranging from opulent five-star hotels for high-end travelers, to four-star boutique properties, and more budget-friendly three-star accommodations that provide a level of affordable luxury.
5 Star Hotels In Berlin Mitte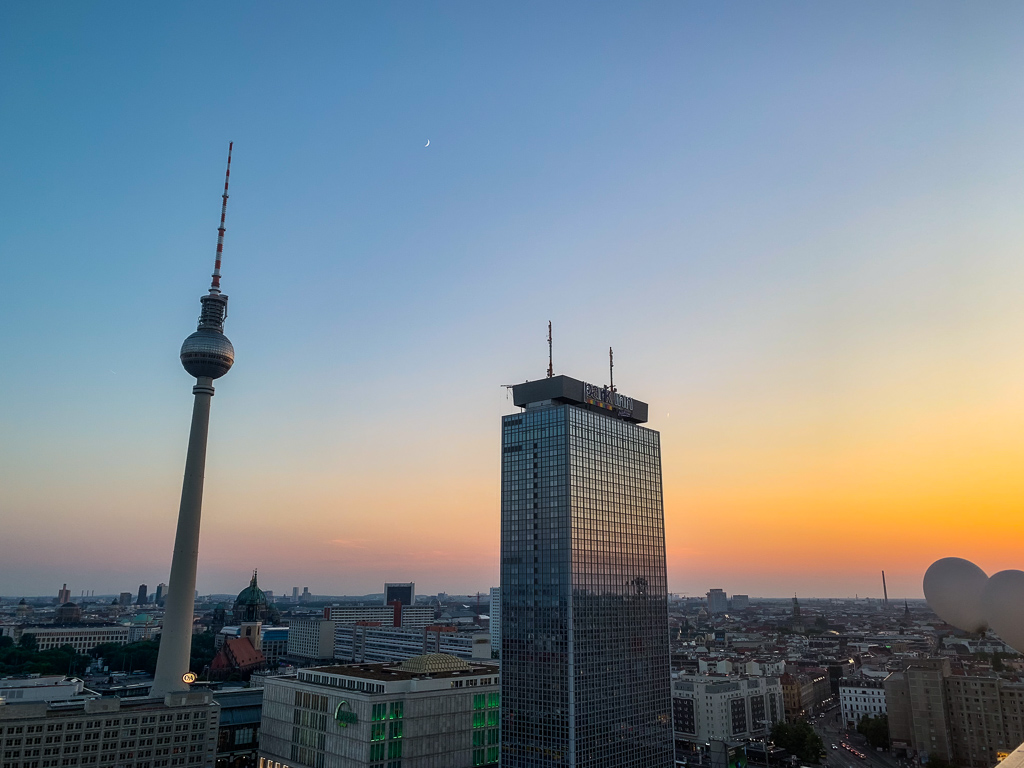 1) Berlin Marriott Hotel (5 Star) – Book Now
The Berlin Marriott Hotel is situated in a looming impressive white building and as soon as you walk in, you'll be awestruck by the lobby atrium. This hotel at Potsdamer Platz never fails to dazzle with its 24 gym facilities, including a pool and saunas. The Midtown Grill restaurants feature some of the best steaks in the city, while Big Dog offers up hot dogs and craft beer, and Lounge Bar doles out some mean cocktails. Rooms are amply sized, starting at 32 square meters, and come with city views, beds with pillow-top mattresses, a mini bar, complimentary coffee/tea/water, satellite channels, flat-screen TVs, floor-to-ceiling soundproof windows, bathrobes, slippers, and even more. Suites offer private floor access, as well as access to a lounge with complimentary food and drinks. Ask ahead, as the hotel is pet-friendly and you can bring your furry critter along for your vacation. Deluxe rooms start at around €150 a night.
Location: Inge-Beisheim-Platz 1, 10785
2) Hotel Adlon Kempinski Berlin (5 Star) – Book Now
Hotel Adlon Kempinski Berlin, located at Pariser Platz overlooking Brandenburger Tor, is the ultimate Old World-styled hotel in Berlin. Opened in 1907, it was burnt down when invading Russians tried to loot the wine cellar and accidentally set the hotel on fire. Finally, it was rebuilt in 1997 and in 2002, was made a tad infamous when Michael Jackson dangled his nine-month-old son from a sixth-story balcony. Many other notable people have stayed there including, the last Tzar of Russia, Albert Einstein, Queen Elizabeth II, President Barack Obama, and (unfortunately) Ivanka Trump. The entire building is decked out with extravagant touches like a Murano chandelier fixture in the lobby, as well as an elephant fountain, a smoker's lounge, and even marble bathrooms in the rooms. One of the hotel's highlights is its two-floor spa with a Roman-inspired heated pool, whirlpool, hair salon, and their varying treatments like massages and facials (for even more spa goodness – consider Berlin's Vabali Spa). There's a shopping arcade with several high-end boutiques, as well as three restaurants – the Sra Bua headed by legendary local Tim Raue, the Michelin-starred Lorenz Adlon Esszimmer, and Restaurant Quarré. This is also afternoon tea for those looking to experience the high-end English tradition. Rooms are large, starting at 35 square meters for a double, and are decorated in neutral colors, accented by mahogany furnishings. Double rooms start at around €250 a night.
Location: Unter den Linden 77, 10117
3) Hotel Titanic Gendarmenmarkt Berlin (5 Star) – Book Now
Hotel Titanic Gendarmenmarkt Berlin, is another high-end Berlin property that will tempt you not to leave its confines. Housed in a former warehouse for the Staatsoper, the 18th-century building is located in the Gendarmenmarkt, home to one of Berlin's most amazing Christmas markets. The hotel's signature restaurant, the Turkish-inspired Beef Grill Club features an open kitchen so you can watch your steak or other meal being prepared. There's even a Mediterranean-style patio to eat and drink on during warm spring and summer evenings. Meanwhile, Schinkel Bar makes some of the best cocktails around against the backdrop of live piano music, as well as other acts. The two-floor spa has a Turkish hammam, steam room, dry sauna, ice fountain, and relaxation areas. In addition, there are state-of-the-art gym facilities. There are more than 208 rooms, all with a royal feeling, with their dark wooden floors and subdued earth colors. Some rooms have balconies, floor-to-ceiling windows, and typical amenities like queen or king-sized beds, minibars, marble bathrooms, rainforest showers, bathrobes, slippers, and more. Classic rooms start at 20 square meters, while suites span two floors and come complete with separate living room areas. Double rooms start around €275 a night.
Location: Französische Straße 30, 10117
4) Steigenberger Hotel am Kanzleramt (5 Star) – Book Now
Close to Brandenburger Tor and the German parliament, Steigenberger Hotel am Kanzleramt is another five-star property in Berlin. The Sky Spa & Fitness on the seventh floor offers three saunas ranging from 60 – 90 degrees Celsius, an assortment of spa treatments, gym facilities with access to personal trainers, a steam bath, and an outdoor terrace. Rooms starting at 29 square meters include the usual like a minibar, soundproof windows, complimentary tea and coffee, a flat-screen TV, a seating area, and a bathrobe and slippers. There are also 24 suites starting at over 50 square meters with more exclusive amenities like Nespresso coffee machines, rooftop terraces, separate lounge areas, private spa features, and views over the Bundestag. The hotel's restaurant and bar offer spectacular views over Berlin, as well as a breakfast that guests claim is second to none. Rooms start at around €265 a night.
Location: Ella-Trebe-Straße 5, 10557
5) The Mandala Hotel (5 Star) – Book Now
Set in the heart of Berlin at Potsdamer Platz, Mandala Hotel is a member of Design Hotels. With numerous studios starting from 40 square meters, and going all the way to 200 square meters, they have everything you'll ever need – spacious bedrooms, seating areas, writing desks, comfortable beds with the plushest of linens, flat-screen TVs, separate showers/tubs, walk-in closets and more. More luxurious suites have kitchenettes, balconies, and even rooftop terraces that overlook the garden courtyard or Berlin itself. If you're looking for a trendy Berlin hot spot, have a drink and bite at QIU – Bar & Restaurant, and if you're really looking to treat yourself, eat at the two Michelin Star Restaurant Facil overlooking the hotel's garden. Guests also have access to ONO Spa and the fitness lounge. City Studio rooms start at €144 a night.
Location: Potsdamer Str. 3, 10785
4 Star Hotels In Berlin Mitte
1) Casa Camper Berlin (4 Star) – Book Now
Casa Camper Berlin is especially popular with visitors to the German capital. From its prime location in Mitte and the kind-hearted staff, the hotel's most well-known amenity is the top-floor lounge with a 24-hour buffet and a panoramic view over Berlin. Guests can indulge in an unlimited amount of tea, coffee, yogurts, salads, and sandwiches at any time throughout the day at no extra cost. Worry about putting on extra pounds because of all of this food at your disposal? Work it off in their fitness studio and cap off your workout with a session in the sauna. With about 50 generously sized rooms at over 30 square meters, guests also rave about how well the rooms are designed – be it the slippers and bathrobes, the views over Berlin, the seating area, the big beds, and the air conditioning. Rooms start at around €127 a night.
Location: Weinmeisterstr.1, 10178
2) Garden Boutique Hotel (4 Star) – Book Now
A green and tranquil oasis in the center of the city, Garden Boutique Hotel's main selling point is its Mediterranean-style garden with walkways, bridges, and seating areas. It's the perfect spot to take your coffee and sit back to read a good book. The hotel is also located in a heritage building that dates back to 1845. The rooms exude an aged feeling, not only through the romantic vintage decor but with wooden floors that still creak when you walk across them. Each room is soundproof, individually decorated, and has views over the garden or the city. The apartments, suited for longer stays, have kitchens. Guests adore the friendly staff and buffet breakfast, as well as the availability of coffee, and snacks 24 hours a day. It's rumored that a resident cat routinely greets the guests as they roam the hallways of the hotel. Small rooms start at around €85 a night.
Location: Invalidenstr. 122, 10115
3) Hotel

Capri by Fraser Berlin (4 Star) – Book Now
Choose from 143 serviced studio or one-bedroom apartments at Hotel Capri by Fraser Berlin. Located close to Nikolaiviertel, one of the oldest areas in Berlin, this design property features a bright airy lobby accentuated with pops of color and oodles of style, a business center, a fitness studio, and 24-hour reception. Apartments range from 23 – 35 square meters and are equipped with things like king-sized beds, a writing desk, a media hub with an iPod dock, a smart TV, a bathtub or rain showers, bathrobes, and slippers. Some come with washing machines and kitchenettes. Studios start around €140 a night.
Location: Scharrenstrasse 22, 10178
4) MOXY Berlin Humboldthain Park (4 Star) – Book Now
If you're looking for a hotel with a fun and youthful vibe, MOXY Berlin Humboldthain Park is the place for you. The lobby area feels more like a casual coworking space with lots of space to chill, pass time reading, have a drink at the bar, or eat at the restaurant. There's a continental breakfast available daily, with a "grab and go" option as well. There's an onsite gym and the hotel's even pet-friendly. With 101 large rooms spread over seven floors offering views over Berlin, expect cozy beds with high-end bedding, large 43-inch flat-screen TVs with Netflix(!), unique artwork, leather lounge chairs, and even backlit panels and motion-activated lights below your bed. Moxy Sleeper rooms start around €80 per night.
Location: Hochstrasse 2, 13357
5) The Dude Berlin-Mitte (4 Star) – Book Now
The Dude Berlin-Mitte (are you thinking The Big Lebowski like me?) is a small boutique hotel situated in a 19th-century building. With Brooklyn, an American fine-dining establishment onsite, a daily buffet breakfast, snacks and drinks being offered throughout the day, and a bar that comes stocked with more than 180 types of whiskey, this hotel offers more than you'll ever need. All 24 rooms are tastefully decorated in a minimalist style and come with tons of perks like parquet floors, air conditioning, flat-screen TVs with international satellite channels, tea and coffee – even Nespresso machines, fancy toiletries from Rituals, a Bose Bluetooth sound system, and large comfortable beds with Egyptian cotton linen. Suites even come with bathtubs and bathrobes. Mini rooms start at around €79 a night.
Location: Köpenicker Str. 92, 10179
3 Star Hotels In Berlin Mitte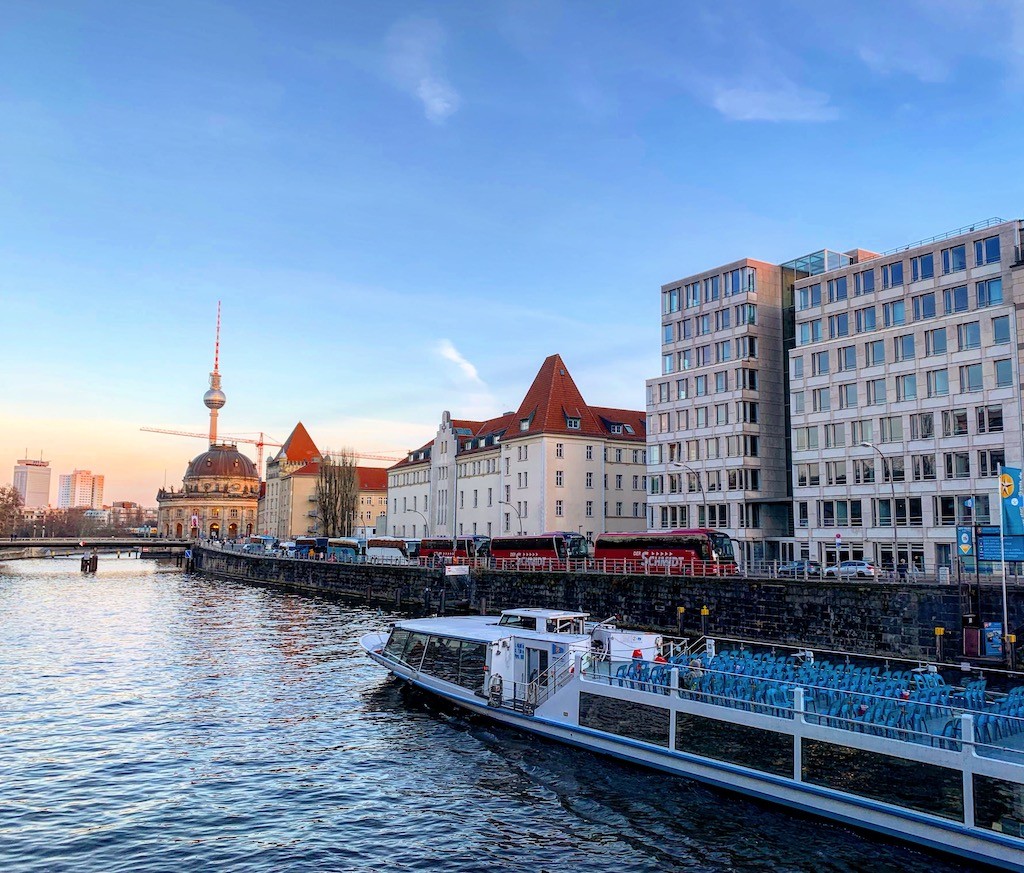 1) AMO by AMANO (3 Star) – Book Now
AMO by AMANO is a boutique hotel with a fresh contemporary design. With a restaurant serving up Israeli cuisine, an intimate basement bar with skilled bartenders creating the most creative cocktails, and a garden terrace perfectly suited for relaxation, there are also 93 rooms of varying sizes. Economy and standard rooms are about 15 – 18 square meters and come with queen-sized beds, air conditioning (needed more than ever with our stifling summers), smart TVs, and tablets with phone functions. Comfort and superior rooms are about 19 – 26 square meters, with plush king-sized beds, complimentary water, and a writing desk area. Economy rooms start around €65 per night.
Location: Friedrichstraße 113, 10117
2) Flottwell Berlin Hotel & Residenz am Park (3 Star) – Book Now
At Flottwell Berlin Hotel & Residenz am Park, rooms are not only spacious but also bright, contemporary, and chic. With rooms averaging around 27 square meters, they're decked out with parquet floors, large writing desks, HD satellite TV, a seating area, and a kitchenette with a fridge, microwave, hot plate, and electric kettle. All rooms have underfloor heating in the bathrooms, with some coming with bathtubs as well. Each floor is color-themed – the second floor is green, in honor of nearby Park am Gleisdreieck and the fourth is blue, like the sky over Berlin (only that way in summer as the winters here are dark and grey). Guests say the hotel's staff are friendly and love the daily breakfast that comes with salad, sausages, cheeses, fresh fruit, eggs prepared on demand, and more. The coffee they serve is fair trade, and their tea offering is an assortment of organic loose-leaf varieties. You can even request to have groceries delivered to the hotel or ask staff for board games, books, and children's movies. The hotel also has a washing machine and dryer if you need to do laundry. Flottwell Berlin Hotel & Residenz am Park can also help you out with arranging a bike rental – they have trekking bikes, eBikes, and cargo bikes in stock. Single rooms start at around €70 per night.
Location: Flottwellstraße 18, 10785
3) Hotel Gat Point Charlie (3 Star) – Book Now
Right beside Checkpoint Charlie and close to Friedrichstr., Hotel Gat Point Charlie is located in the former Stasi (East German secret police) headquarters. The hotel plays on its industrial structure with minimal, fun, and boldly coloured-styled rooms. Rooms typically include flat screens, satellite TV, hair dryers, desks, mini bars with soft drinks, iPod stations, unlimited tea and coffee, and views over Berlin. Suites feature king-sized beds and balconies perfect for sipping your morning coffee. There's a daily breakfast using food from local suppliers, light tapas-styled meals available in the evening, as well as a small cocktail bar. Hotel Gat Point Charlie can also arrange bike hires so you can experience the city as a local would. Single rooms start at around €85 per night.
Location: Mauerstr. 81-82, 10117
4) Les Nations (3 Star) – Book Now
Close to Berlin's main train station, Les Nations is a family-friendly hotel where it's easy to feel at home. This affordable and modern property features single rooms at 10 square meters and suites around 25 square meters, some with balconies overlooking the hotel's quiet and leafy courtyard. Rooms come with a desk, flat-screen TV with cable, minibar, and hair dryers. They also feature a complimentary bottle of water and a kettle to make coffee or tea. Suites have Nespresso coffee machines. Guests say they're quite happy with the buffet breakfast. The hotel offers onsite parking and can arrange bike hires. Single rooms start at around €60 per night.
Location:Zinzendorfstr. 6, 10555
5) Monbijou Hotel (3 Star) – Book Now
With over 99 tastefully decorated rooms, Monbijou Hotel is a boutique property that begs to be enjoyed. Even with its proximity to the happening Hackescher Markt and the surrounding area, you may find yourself hard-pressed to leave the affordable yet luxurious hotel. Each of the stylish rooms is individually decorated – some Asian inspired with brightly colored furniture and wallpaper. Single rooms start at 11 square meters, while suites are around 26 square meters. Spoil yourself and book a suite with a clear view of the Berliner Dom. Room perks include super comfortable beds, rain showers, sound-insulated doors, blackout curtains, and complimentary water. Some rooms even come with both a bathtub and shower. As if that weren't enough, the hotel comes equipped with a fitness room and sauna facilities. Monbijou Hotel also has a few places for you to get your drink on – a lounge bar complete with bookshelves and a fireplace, a large outdoor terrace bar perfect for enjoying those hot summer nights, and a rooftop bar where DJs serenade you while you savor the 360 panoramic views over Berlin. The hotel's restaurant also offers a daily buffet breakfast, with chefs able to whip up egg dishes on request. Single rooms start at around €80 per night.
Location: Monbijouplatz 1, 10178
These are the "best of the best" when it comes to hotels in Berlin Mitte. Have we missed any top hotels in the area? Do you have any questions about your holiday in Berlin? Drop us a comment below, so we can help you out right away.
Locations
Download this Google Map to keep track of the locations of these hotels in Berlin Mitte.
Good To Know
1) If these hotel recommendations weren't enough for you, check out more options.
2) Book one of these tours when you're in Berlin.
3) If you need inspiration about what to do when you're visiting Berlin, check some of our most popular posts:
*Disclosure – This post contains some affiliate links. If you book a tour or hotel through any of these links, I'll earn a tiny commission at no extra cost to you. Thanks for your support!