Note: While the unjust war in Ukraine rages on, we're leaving this post here with the sincerest of hopes that peace arrives and the country can be enjoyed by tourists once more. In the meantime, find out about how you can help Ukrainians in Berlin.
Over the years, I've become very taken with seeking out the more unusual attractions in any given city. The weirder, the better, I say (you can read all about the places I've visited in my ongoing weird and offbeat series).
So when I traveled to Kyiv, Ukraine, I naturally spent time at some pretty quirky places, like the Museum of Toilet History and Petrivka Book Market. Also on my list was the Kyiv Crematorium, a building with such unique and impressive Soviet-style architecture, that it's hailed by architects the world over.
Why You Should Visit The Kyiv Crematorium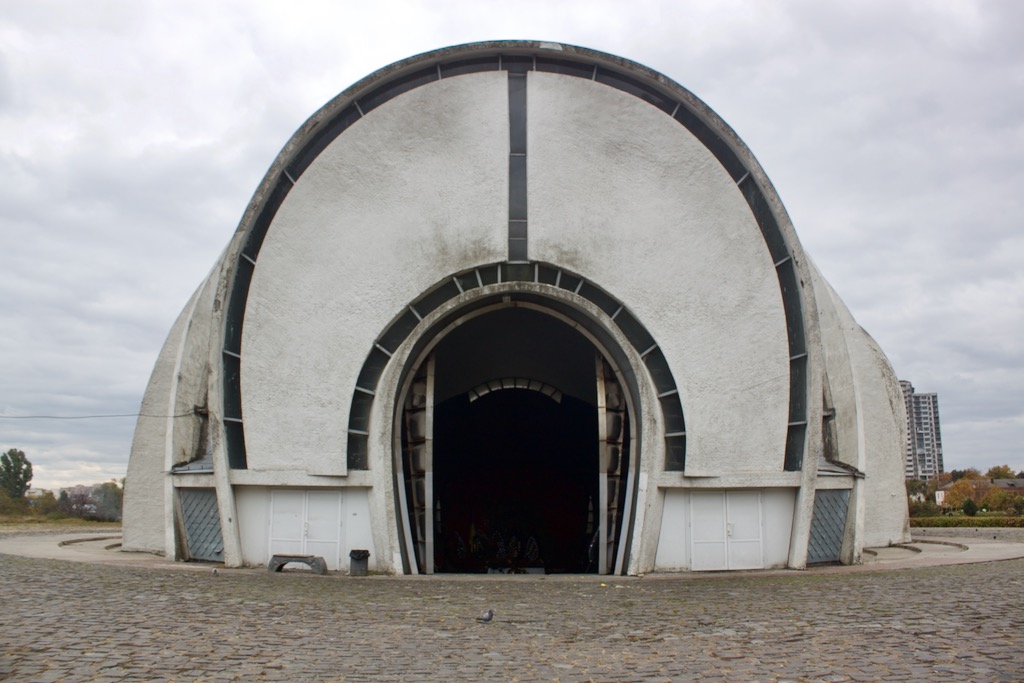 The Kyiv Crematorium, constructed in 1968, is one of the more distinctive examples of Socialist Modernist architecture that was so prevalent in the former Soviet Union. Located in Baikove Cemetery, the crematorium is part of Memory Park, a creation of the husband and wife artistic duo, Ada Rybachuk and Vladimir Melnichenko, in collaboration with architect Abraham Miletskyj.
Recommended reading: Read what others have written about the Kyiv Crematorium and Memory Park, including ArchDaily's Eastern Bloc Architecture: Monumental Museums & Memorials and this detailed article at Socialist Modernism.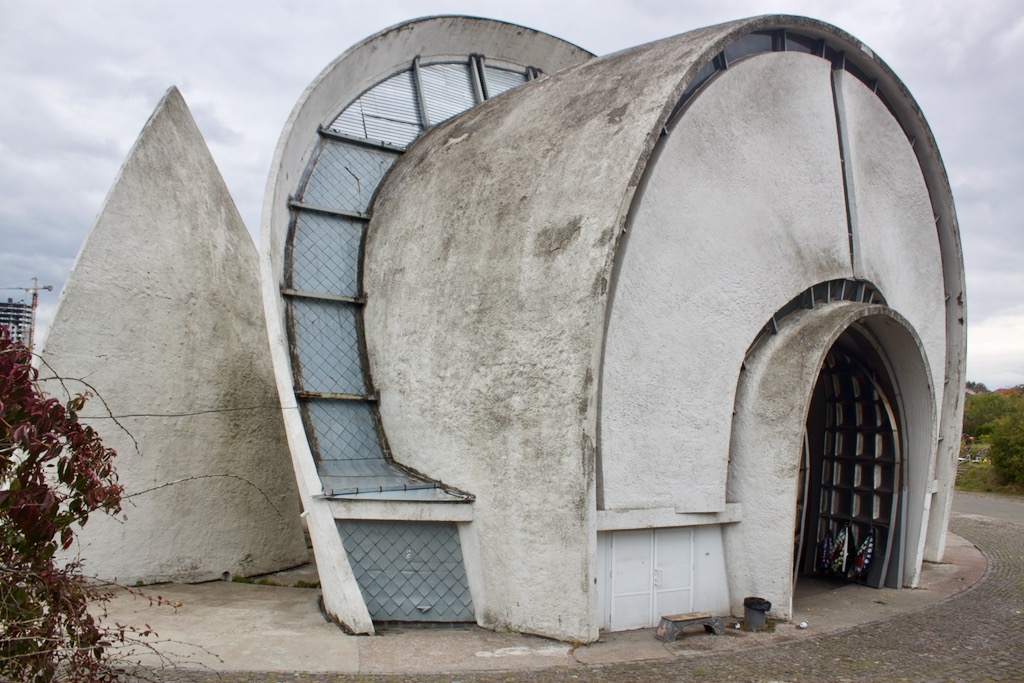 Cremation was a touchy subject during the 1960s, as the horrors of the Second World War and the mass killing of thousands of Ukrainian Jews by Nazis at Babi Yar still loomed largely over the nation. Around this time, public discussion of the Holocaust had just begun. When the idea of the crematorium was first tabled, it was fiercely opposed by the local community.
Initially, Miletskyj proposed a design for the crematorium that was said to be very functional. The concept was rejected by the artists, who suggested building something that would avoid a direct association with cremation, especially anything that echoed the mechanical and systematic methods of murder employed by the Germans. They proposed a design that would be more soothing and therapeutic for cemetery visitors, insisting on the creation of a park as opposed to a cemetery where the architecture and surrounding landscape would be a comfort.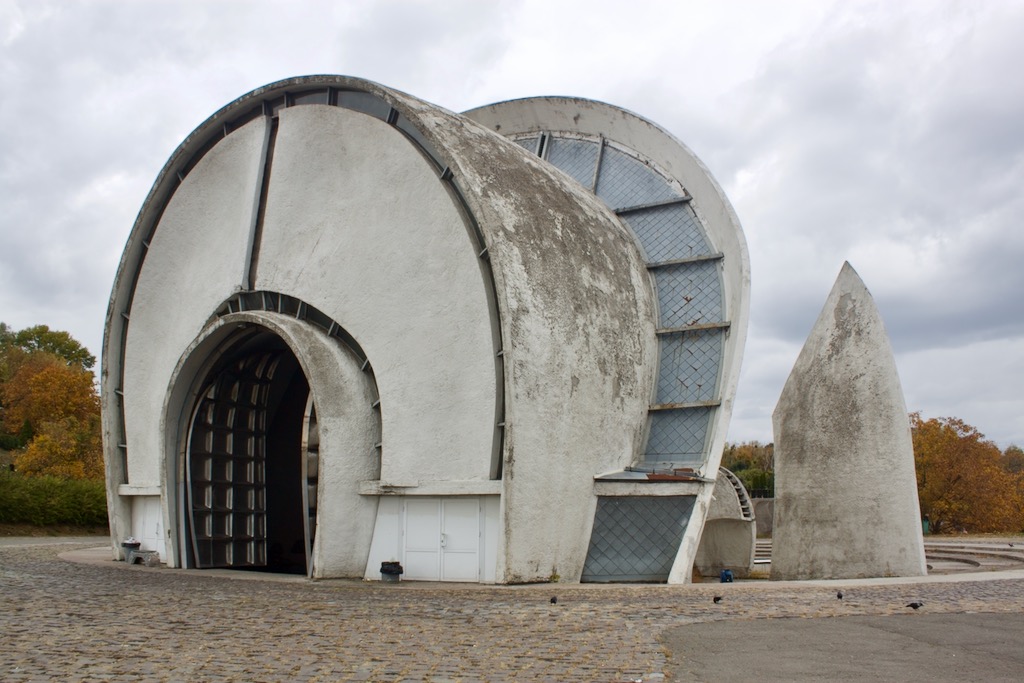 This came to fruition in the white concrete and curving lines of the building that now stands, with an especially noticeable absence of right angles. From the outside, it doesn't look like a crematorium, but more like a building that wouldn't be out of place in a dystopian science fiction movie.
The building features two symmetrical crematorium halls, known as the Halls of Farewell, each with cupolas resembling flames. The construction of the crematorium was a reflection of a time when artists, engineers, and architects collaborated in a way of "scientifically justified artistic consciousness" and the "Plastic forms of the Halls of Farewell combined a complicated technical process with an avant-garde artistic thinking, dialectically sublating the opposition between technology and humanities, typical of Soviet 1960's." (Source.)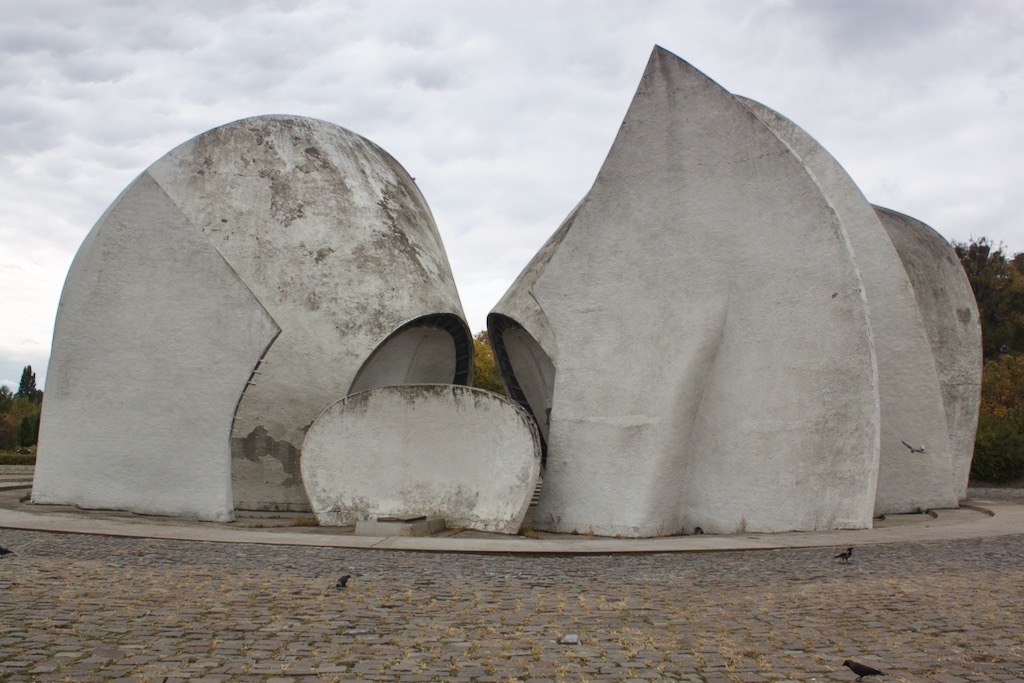 The artists also started work on a Wall of Remembrance, a labor of love that took a decade to realize. The wall was part of a structure, along with several terraces, to strengthen the small hill where the crematorium is located. The bas-relief sculpture spanning two hundred square meters was covered with various images, some mythological and some depicting post-war reconstruction efforts. At its base, was a tiny artificial lake, providing reflective light for the sculpture.
Their work was ultimately quashed by the ruling government in 1982, who ordered it to be covered in concrete saying that it was inconsistent "with the principles of socialist realism". While many artists around the globe have since offered to pay to remove the concrete so the sculpture could once again be unveiled, Kyiv officials have not taken up anyone on the offer just yet. For now, the concrete wall continues to shroud the work, covered in rather pretty overgrown ivy.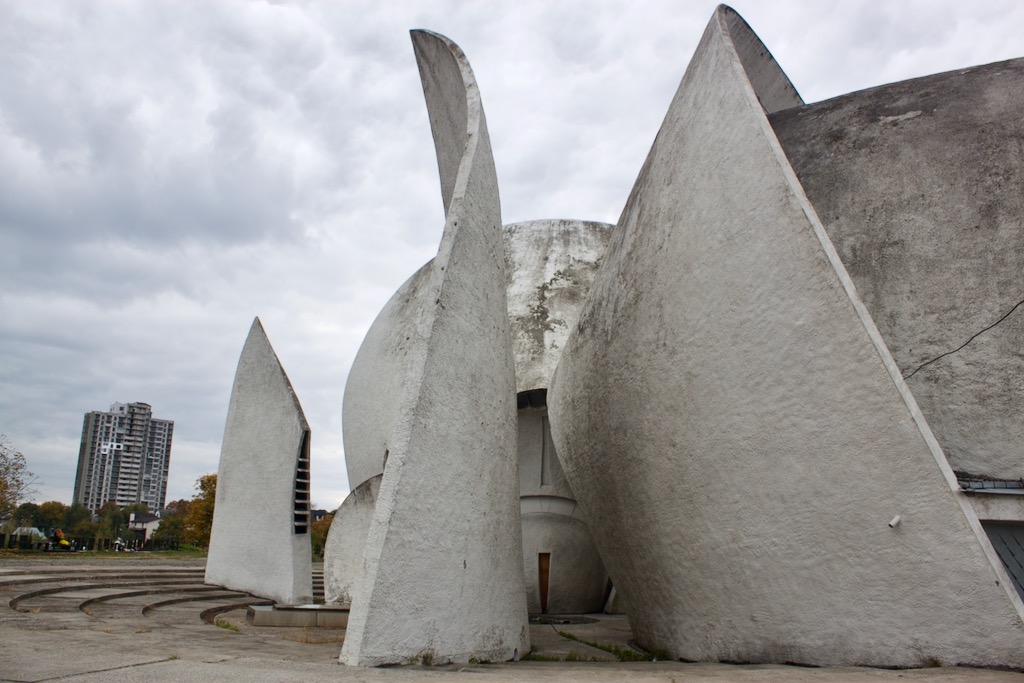 The crematorium continues to be quite active today, with 12,000 cremations being conducted annually. The cemetery is also busy with locals visiting their loved ones, leaving fresh flowers by the graves of the old and the young.
The Kyiv Crematorium is worth visiting, not only for the architecture, but also for a thoughtful stroll through the cemetery, and the panoramic views over Kyiv from the small hillside complex.
Watch/share this video about the Kyiv Crematorium and better yet, subscribe to my Youtube channel for even more travel-related videos.
What do you think about the Kyiv Crematorium? Can you recommend other weird and offbeat attractions in the city? Let our readers know and leave a comment below.
Kyiv Crematorium Location
Just where can you find the Kyiv Crematorium (Memory Park)? It's situated in Baikove Cemetery at Baikova St, 16, Kyiv, Ukraine, 03039
Kyiv Crematorium FAQ
There are some things that you should know before visiting Memory Park. Here are the answers to the most common questions:
1) What are the hours of operation? You can visit the crematorium anytime, as it's open daily. Mondays – Thursdays, it's open from 9:00 – 13:00 and then 13:45 – 18:00. From Friday through Sunday, it's open from 9:00 – 13:00 and then from 13:45 – 17:00.
2) What's the closest metro station? The nearest metro station is Lybidska on the Blue Line.
3) Do I have to pay to enter the cemetery or check out the crematorium? No, the cemetery is open to the public and there are no fees to visit.
4) How much time do I need for the crematorium and cemetery? I'd recommend about 30 – 60 minutes to check out the crematorium, take photos, and walk through the cemetery.
5) Can I take photos? Yes, of course. However, as it's a place of mourning, be super respectful and use your best judgment. Funerals are held here and many locals come to visit their loved ones. Don't disturb them, take your photos quickly and quietly, and then leave. This is not a place for Instagram photo shoots and TikTok-inspired athletic stunts.
5) Is the crematorium and surrounding cemetery safe? It's very safe. Some locals gawked at me as I strolled around, but I kept to myself and stayed out of their way. I'd be hesitant to go there at night. Note, I cannot speak about how your experience could be as a person of color in Kyiv, or while traveling through Ukraine.
Transportation Options In Kyiv
There are many many transport options in Kyiv, Ukraine:
1) To get to Kyiv's city center, you can choose between a train, taxi, or bus:
From the airports – Kyiv's main airport is Kyiv Boryspil airport (KBP), around 36 kilometers from the city center. You can take a train from Terminal D, which will take about 40 minutes and bring you to the main metro station, Vokzal. A ticket costs 80 UAH. This is the cheapest, quickest, and easiest way to get into Kyiv, as the city is filled with such heavy traffic that bus or car travel isn't the most optimal way to travel. If you're still determined to take a bus, you can take the Sky bus (#322) which runs all day from each of the terminals. The journey will take about an hour or more and bring you to the main station. A bus ticket is 100 UAH. You can also take a taxi from the airport, with prices starting around 300 UAH. A taxi ride will be about 40 minutes or more. The city also has a second airport, Kyiv Zhuliany airport (IEV), only eight kilometers from the city center. As it's so cheap, you might as well take an Uber from the airport to your hotel, hostel, etc.
From the main train station – The city's main railway station, Kyiv Passazhyrskyi, is located in the heart of the city. Call an Uber to get where you need to go.
From the main bus terminal – The main bus station is at Demiivska Square. It's not really in the city center, but it's also not that far. Again, we recommend taking an Uber.
2) There are numerous ways to make your way around Kyiv:
Taxis – As there are many taxi scams out there, avoid taking a taxi. If you don't speak fluent Ukrainian, they will most certainly note you're a tourist and charge you exorbitant prices. If you still prefer to take a taxi, popular companies include Uklon, Hopin, and CabLook Taxi. To be on the safe side, have your hotel call them for you versus hailing one yourself, and don't be hesitant to negotiate the quoted price down.
Ridesharing – Both Bolt and Uber are available. It's a super cheap and convenient way to get around the city.
Bikes – You can rent bikes when you're in Kyiv, from sharing services like nextbike. Unless you're a serious cyclist, we'd advise against cycling your way around the city. It's not exactly the most bike-friendly city, as the streets are made to serve motorists. Not to mention, the city is very hilly and biking will be a tough effort, to say the least.
Public Transit – You can take the metro, which has three lines and 52 stations. Hours of operation are from 6:00 until midnight daily. One ticket will run you 8 UAH. Kyiv has some of the deepest metro stations in the world and the Soviet architecture in the stations are well worth checking out. You can also travel by bus, trolley bus, or tram, and as with the metro – tickets are 8 UAH each. Note, buses tend to get crowded so it may be best to avoid traveling this way during Coronavirus. If you're really into having local experiences, you can take privately owned minibusses, Marshrutky. You can even travel by funicular to get from the upper city down to Podil, or vice versa. The view of the city and the Dnieper during the ride is said to be fantastic. The funicular runs from 6:00 – 23:00 in summer and 7:00 – 22:00 come winter. The cost of a ticket is 3 UAH.
Driving

–

If you feel confident enough to drive in Kyiv, (the locals drive a bit like maniacs!), rent a car.
For more information about how to get around Kyiv, see Kyiv Check-in.
Where To Stay In Kyiv
What are some of Kyiv's best accommodation choices?
1) Make a reservation for your Kyiv accommodation:
2) While in Kyiv, I stayed at ibis Kiev City Center. I had a room on a high floor offering jaw-dropping views of Kyiv. I nabbed a good deal, paying about €180 for three nights. The hotel's centrally located, the bed was large and comfy, and the restaurant served up a fairly decent breakfast. I'd suggest skipping other meals there and heading into the city for more yummy options.
Paying For Things In Ukraine
Tips and tricks to help you manage your money and cards when you're traveling in Kyiv and other places in the country:
1) Ukraine has its own currency, the Ukrainian hryvnia (UAH).
See xe.com to find out how the local currency compares to the Euro, US dollar, etc.
Many places accept bank or credit cards, but some smaller shops often only take cash. Grab some moula at a local bank machine. Note, many times bank machines are only accessible when banks are open. To avoid any issues, get your money as early in the day is possible.
If you do pay by card, you'll be asked which currency you want to pay in – choose to pay in the local currency (RSD), as you'll save money on the exchange rate.
2) Ukraine is much more affordable than other destinations in Europe and you'll find that your money goes a long way here, including your accommodation, eating out, and more.
3) If you can avoid it, exchange your money in the city, as the exchange rate at the airport tends to be quite high.
Good To Know About Kyiv
Important things to know when you're spending time in Kyiv:
1) Kyiv is a city packed full of cars and it's not unlikely that you will find yourself in a traffic jam time and time again. If you're getting around by car, give yourself time to get places, especially traveling to or coming from the airport.
2) Since Ukraine isn't part of the EU, you will incur data roaming changes when visiting the country. We advise you, to take advantage of free wifi or buy a local sim card. You can find sim cards at both of the city's airports.
3) If you're a fan of Eastern Europe, read some of my posts about some unique places you can visit in Czechia, Hungary, and Serbia:
*Disclosure – This post contains some affiliate links. If you book a tour or hotel, I'll earn a tiny commission at no extra cost to you. Thanks for your support!