When I spent the better part of five days in Greece, one of the things that excited me the most was the chance to explore the plethora of ancient sites spread across Athens. So obsessed, I even took it a step further and ventured outside of the city, going on a day trip to visit the Temple of Poseidon, set against the backdrop of the Aegean Sea.
As it was my first time in Athens, naturally, The Acropolis was also at the top of my bucket list. And on the day I went to the Acropolis, I was also delighted to spy the Odeon of Herodes Atticus, one of the world's oldest (and most beautiful) open-air theatres.
An Ancient Theatre, The Odeon Of Herodes Atticus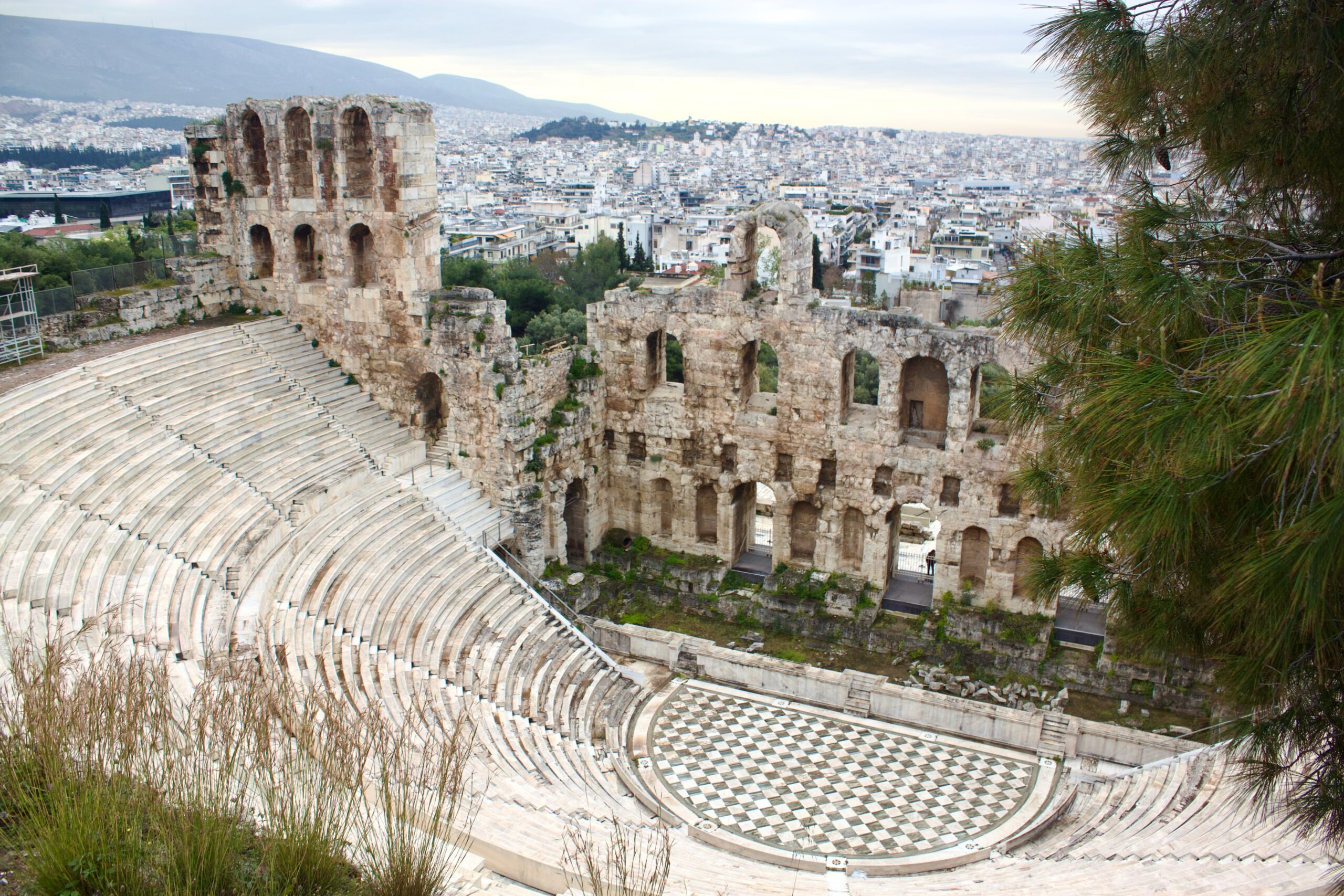 Construction of this Roman theatre wrapped up around 161 AD. Yessss! The Odeon of Herodes Atticus is that old. We're fortunate to have such ancient architectural treasures with us today, so we can learn more about Greek culture and history firsthand by touring them.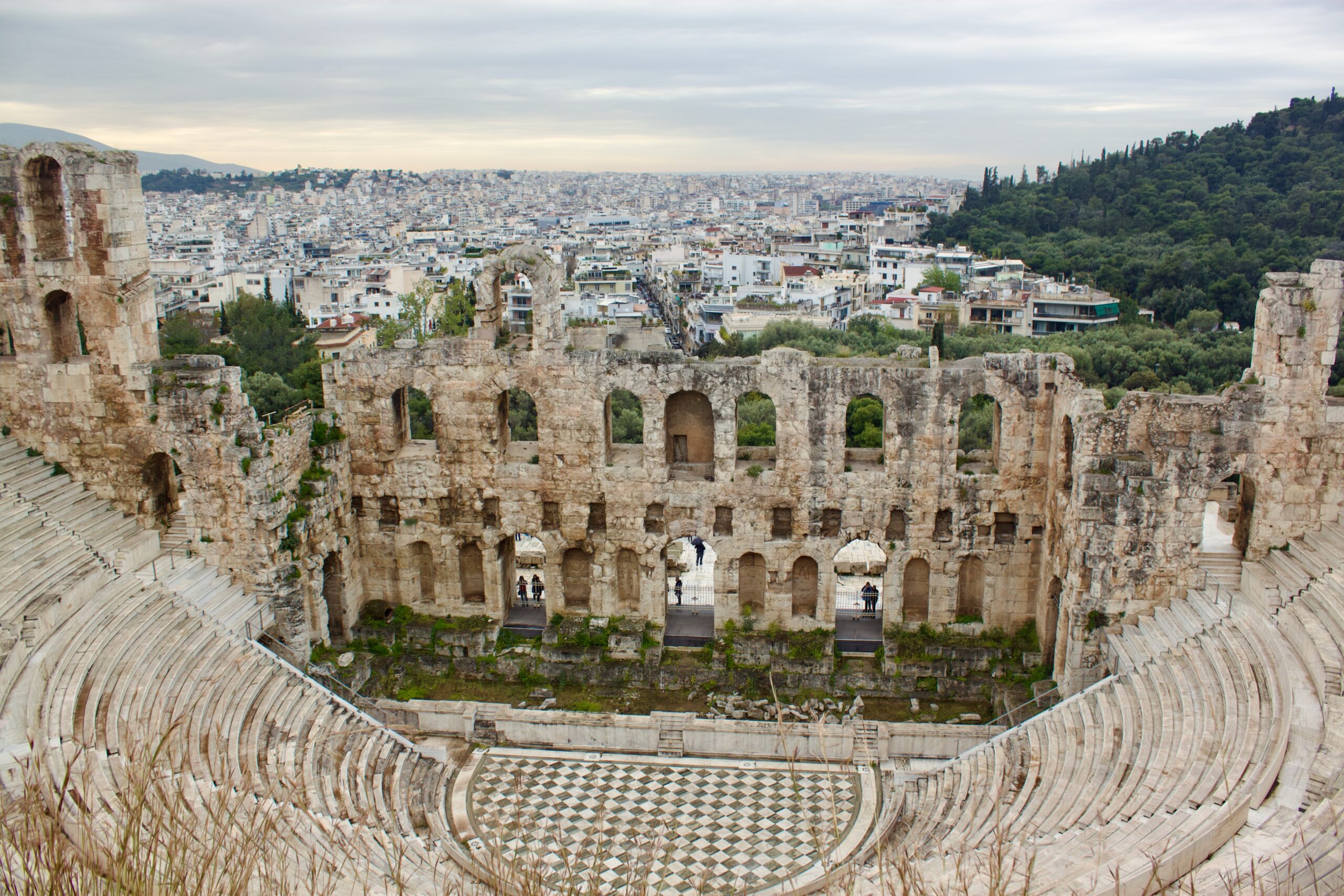 Who exactly is responsible for building the Odeon of Herodes Atticus? The theatre was built at the behest of an influential Roman citizen, none other than Herodes Atticus himself. He commissioned the theatre as a romantic and loving tribute to his deceased wife, Aspasia Annia Regilla. Swoon! I hope to someday meet someone who loves me so much that he builds an incredibly gorgeous theatre in my memory.
Aside from being a dude who seriously crushed on his wife, Herodes Atticus was a prominent figure during his time, being an enthusiastic patron of the arts, philosopher, teacher, and politician.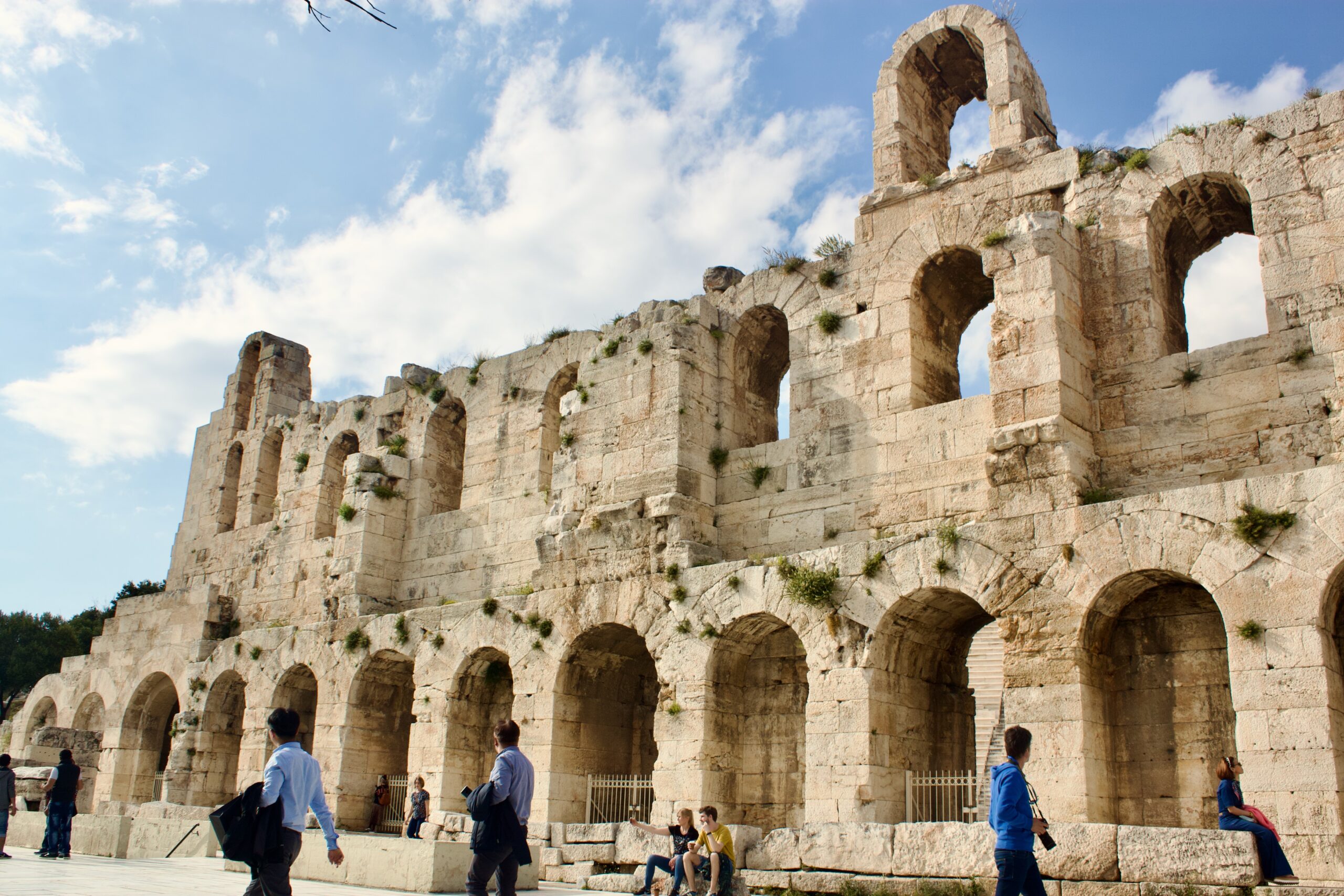 Let's dive into the classic architectural details of this theatre, the Odeon of Herodes Atticus, shall we? Shaped in a semicircle around a central stage, the Odeon of Herodes Atticus in Athens has a radius measuring around 380 meters wide. As the theatre is perched on a steep hill just southwest of the Acropolis, the first incarnation was a "steep-sloped theatre with a three-story stone front wall and a wooden roof made of expensive cedar of Lebanon timber." (Source) The building was covered in marble, featured multiple columns, and was packed full of statues. With 35 rows of stone benches, the theatre had (and still has) a seating capacity of about 5,000 people.
A mere century or so after the theatre opened, it was sadly destroyed by the Heruli, an early Germanic people, during the invasion of Erouli in 267 AD. It remained in ruins well throughout the Ottoman occupation. Sporadic restoration efforts began in the late 1800s, with the real facelift only beginning in the 1950s when the venue was redone using Pentelic marble.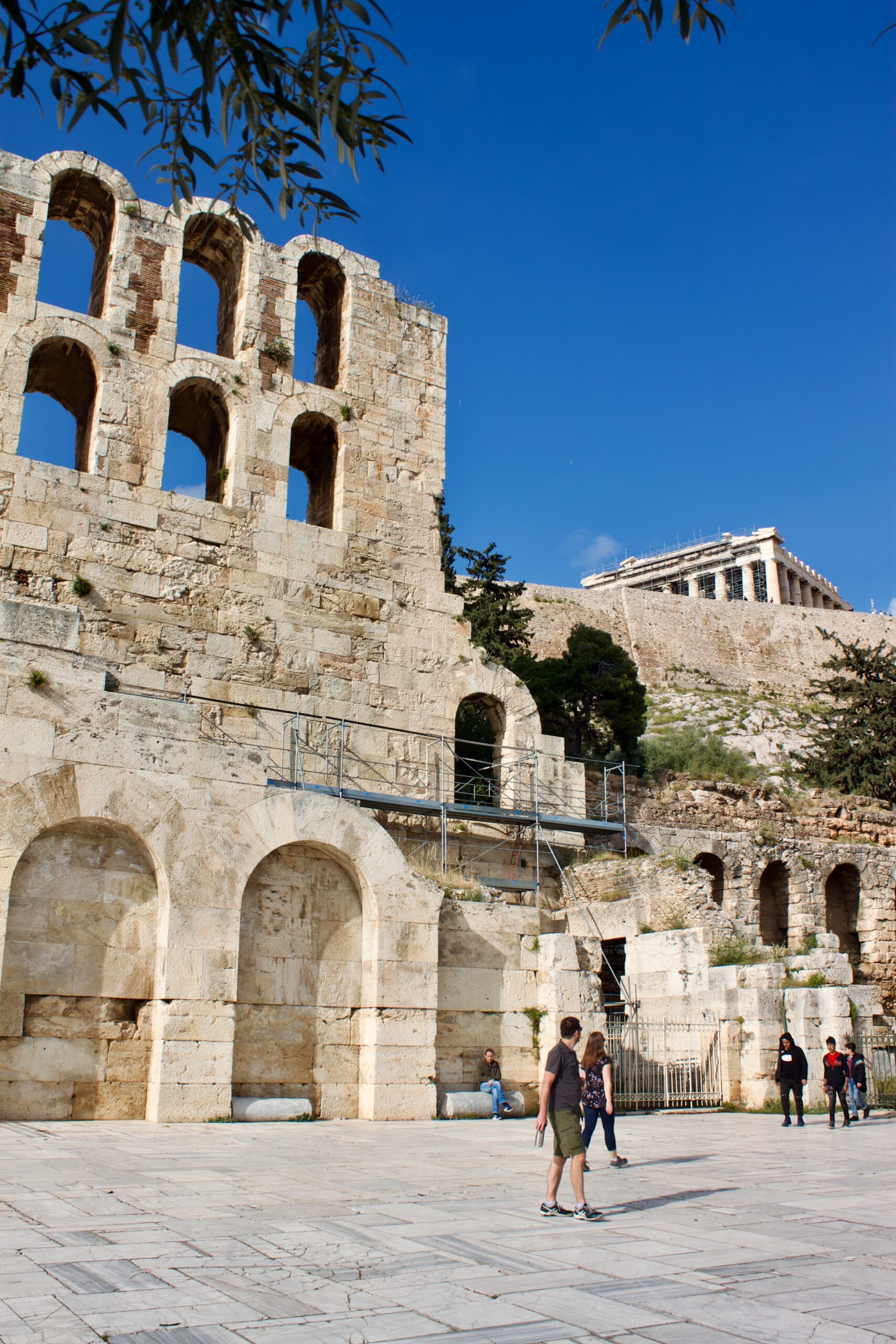 Between the jaw-dropping magnificence of the Odeon of Herodes Atticus and its top-notch acoustics, it's now one of the most popular and visited tourist attractions in all of Athens.
Serving as a performance venue for the annual Athens Festival which takes place from May through October, the theatre features renowned Greek, as well as international artists who perform opera, plays, ballets, and more. Some of the world's most famous people have performed here, including Frank Sinatra, Luciano Pavarotti, Sting, Elton John, Andrea Bocelli, Diana Ross, and the Foo Fighters.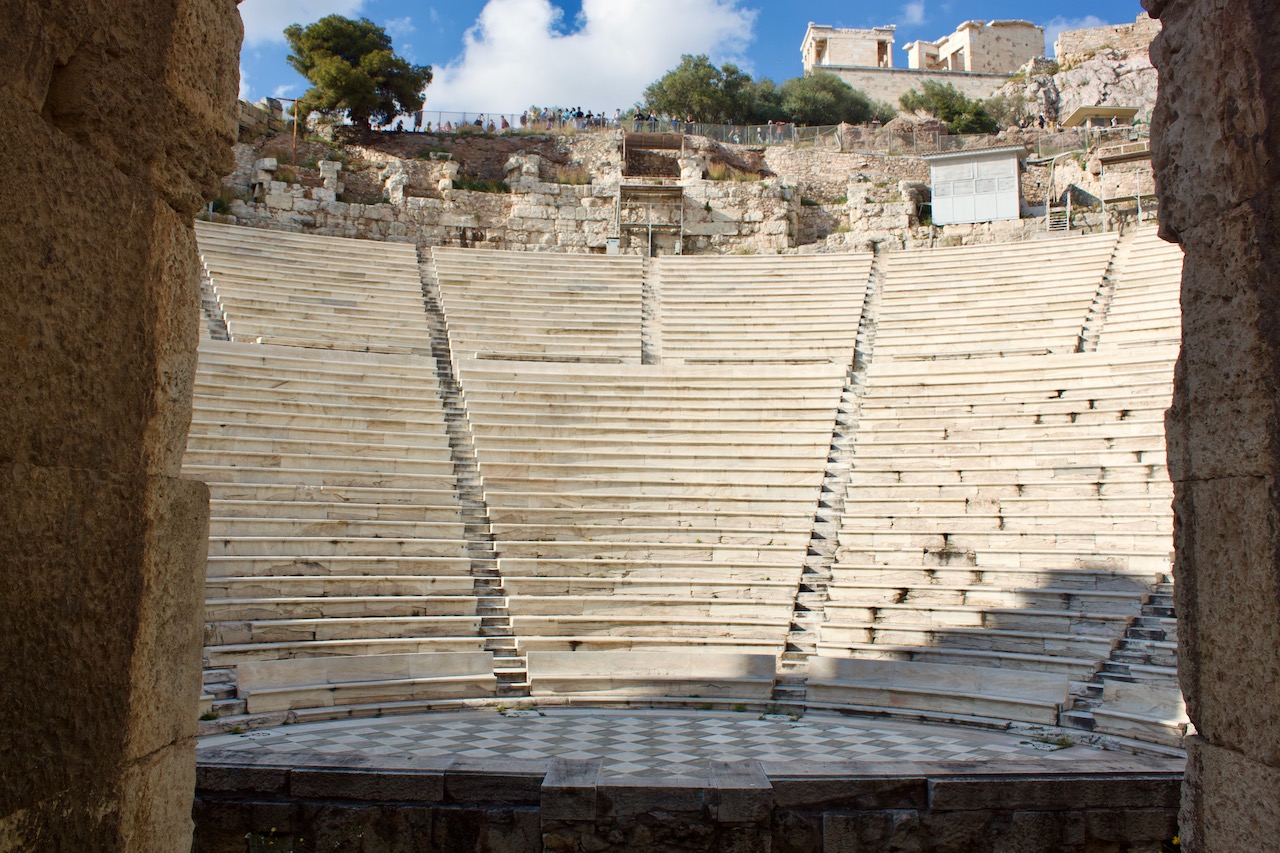 Damn! Can you imagine attending a concert here? This is my idea of a dream date night! The bummer for me was that not only was I alone in Athens for the weekend, but I also visited in April right before the season opened. Ahem, future boyfriends take note if you need date inspiration.
Watch/share this video about the Odeon of Herodes Atticus in Athens and better yet, subscribe to my Youtube channel for even more travel-related videos.
What do you think about the Odeon of Herodes Atticus? Would you spend time hanging out at this theatre, or even better watching a performance? Your comments are welcomed below, as well as any other Athens tips you'd like to share with our readers.
The Odeon of Herodes Atticus Location
Where can you find this ancient site in Athens? Head to Dionysiou Areopagitou, Athina 105 55, Greece.
The Odeon of Herodes Atticus FAQ
Some of the most frequently asked questions about the Odeon of Herodes Atticus:
1) How do I find out more about the theatre?
Visit their website and/or call +30 21 0324 1807.
2) What is the nearest public transit stop to the Odeon of Herodes Atticus?
The nearest stop is the Acropolis metro station, along line 2. From there, it's about a 10-minute walk to the theatre. You can find the entrance to the theatre along the pedestrian street, Dionyssiou Areopagitou.
3) When is the library open?
The theatre is not generally open to the public and only opens for performances from June – October. See the Athens Festival website for the latest news. As you walk around the Acropolis area itself, you can see the theatre from different vantage points.
4) Is there a fee to visit the theatre?
There is no specific fee to visit the theatre itself, but you'll need to pay to attend a performance.
5) Can I take photos of the Odeon of Herodes Atticus?
The easiest way is to take photos from a distance. If you're attending a performance, you can take photos without flash but no photos, videos, etc. are allowed during performances.
6) How much time should I spend at the theatre?
Show up as early as you can (before your performance is scheduled to begin) so you can take photos and experience the ambiance of the place.
7) Is the Odeon of Herodes Atticus suitable for children?
Not really. Children under 6 years of age are not permitted to attend performances.
8) Is the theatre accessible?
The Odeon of Herodes Atticus is wheelchair accessible. If you need assistance, contact the theatre in advance or show up early to request help.
However, some of the higher-level seats require a steep upward ascent. It's recommended to wear comfortable shoes. High heels are also not allowed in the theatre.
9) Can I eat and drink during a performance?
No, food and drink are not sold on the premises and are also not permitted at the theatre.
Getting Around Athens
Here's an overview of the best transportation options in Athens, Greece:
1) To reach Athens city center from the airport, take the metro, an express bus, a private shuttle, or a taxi:
Flights arrive at Athens Eleftherios Venizelos International Airport (ATH), about 27 kilometers east of the city. You can grab the metro to the city for €9 one way and reach the city center in about 40 – 60 minutes, depending on your stop. Be sure to validate your ticket before boarding and make sure you get on a metro train, not a suburban train. Suburban train connections are also available, but they are slower and involve more connections. Trains depart every 36 minutes between 6:00 to 23:30.
Another option is to take an express bus into Athens and you can take X93 to Kifissos Coach Station, X95 to Syntagma Square, X96 to Piraeus, and X97 to Dafni metro station. A one-way ticket is €5.50, which you can buy at the airport or onboard the bus. Buses run 24 hours a day and your journey will generally take about an hour.
Private car transfers are also available. Expect fares to be anywhere from €55 and up. Your trip into the city will take around 45 minutes.
Taxis are also available and fares are dictated by law with taxis to the city center running you €38 during the day (from 5 am – midnight) and €54 during the wee hours of the night (from midnight – 5 am). The drive in should last about 45 minutes, depending on traffic.
Check Wikitravel for a detailed overview.
2) Some of the best ways to get around Athens?
Bikes – Local bike sharing and rental services include Athens Bikes, Cyclopolis, and Baja Bikes.
Public Transit – Athens has an extensive public transit system that includes a three-line metro that connects you to buses, trolleybuses, above-ground rail, and trams. Visit their website to find out more about how to get around Athens via public transit.
Ridesharing – You won't find Uber or Lyft in Athens. Book a taxi instead.
Taxis – Popular taxi services in Athens are Athens Taxi, Athens Taxi Wagon, and George's Taxi.
Where To Stay In Athens
Highlights on where to stay when visiting Athens:
1) Look for places to stay on booking.com:
2) When I visited Athens, I stayed at The House. Only a 20+ minutes walk from the Acropolis, this lovely hotel is located in a vibrant neighborhood with plenty of restaurants and bars nearby. The staff was friendly, welcoming, and very helpful, handing me a warm tea upon my arrival. I booked a top-floor suite with my own private terrace and my room was not only super cozy, but decked out in a traditional Greek style. The House is truly a unique place to stay and I can't recommend it enough for anyone looking at accommodations in Athens.
Paying For Things In Greece
Things you need to know about paying for things in Greece:
1) Greece uses the Euro:
Check xe.com to see how your local currency fares against Euro.
Most places accept bank or credit cards. I never once needed to visit an ATM when in Athens.
When paying by card, you may be asked which currency you want to pay in – choose to pay in Euros to save money on the exchange rate.
2) Greece can be expensive depending on where you travel. If you head to popular places like Mykonos or Santorini, you'll be spending a lot of money on your accommodation, to eating out, and more. On the other hand, if you spend time on lesser-touristed islands, you'll find prices to be pretty fair compared to other European countries. Do your research and plan your budget ahead of time, so you can have the vacation of your dreams.
Good To Know About Athens
Other good-to-know items about how to have the absolute best vacation possible in Athens, Greece:
1) One of the best ways to experience Athens is to take a tour with Get Your Guide:
2) Generally speaking, Greece itself is a very safe place to travel. As a solo female traveler, I never once felt uncomfortable or worried. However, in heavily touristed places around Athens, you can expect possible incidents of pickpocketing and people running the usual scams. Stay alert and take precautions to keep yourself and your valuables safe. Read more about safety in Greece. Sadly, people of color report that residents aren't always so welcoming and you can read more in this account from Travel Noire and this one from Millennial In Debt.
3) If you like traveling through Europe, give some of my other posts a read:
*Disclosure – This post contains some affiliate links. If you book a tour or hotel, I'll earn a tiny commission at no extra cost to you. Thanks for your support!