I'm not sure when it happened, but in recent years I've become somewhat of a "library traveler" so whenever I visit a new city, I make an effort to check out some local libraries. After having visited some stunning libraries across Europe – like the Szabó Ervin Library in Budapest and the National Library of Finland, when I visited Stockholm, I made it my personal mission to explore as many libraries as possible.
After checking out the Stockholm University Library, I made my way to the Stockholm Public Library.
The Stockholm Public Library Is A Swedish Architectural Icon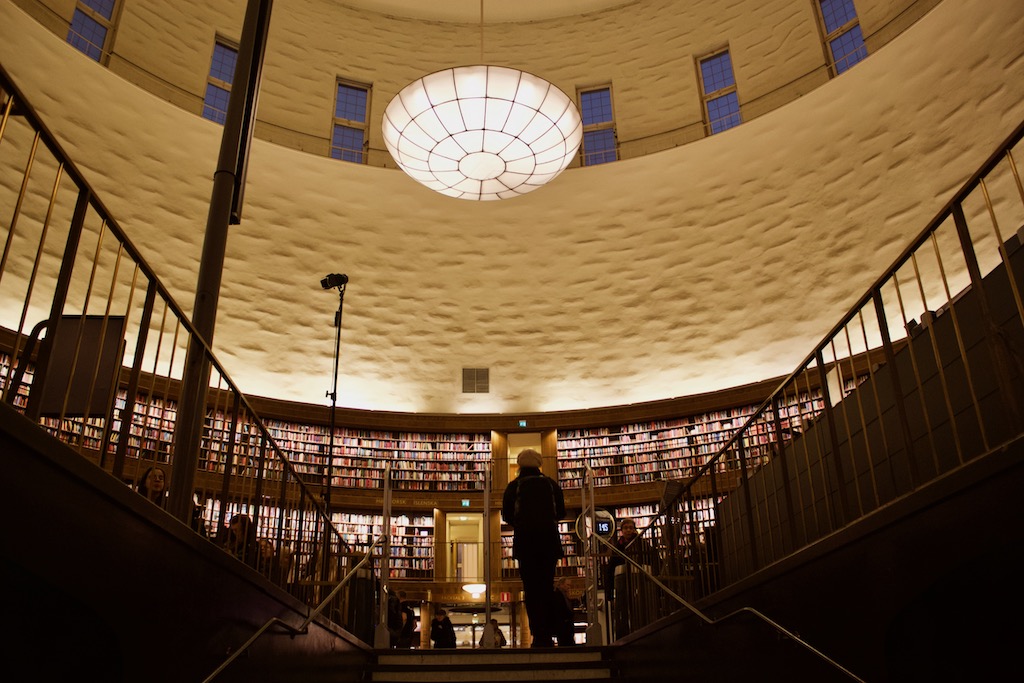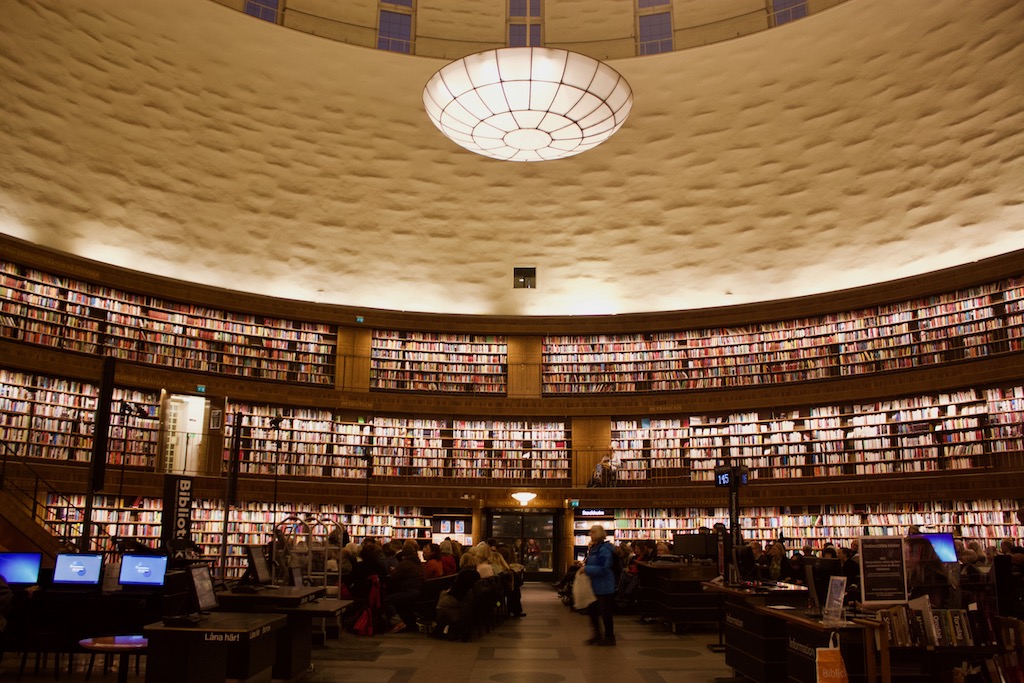 The library is the main branch of the Stockholm public library system and was first constructed in 1924, finally opening to the public in 1928. Stocked with more than 2,000,000 titles in 100 different languages ranging from Japanese to Persian, and Russian, the library also contains more than 2,400,000 million tapes, CDs, and audiobooks.
Recommended reading: This comprehensive list of 25 things to do in Stockholm.
The Library Was Designed By A Renowned Swedish Architect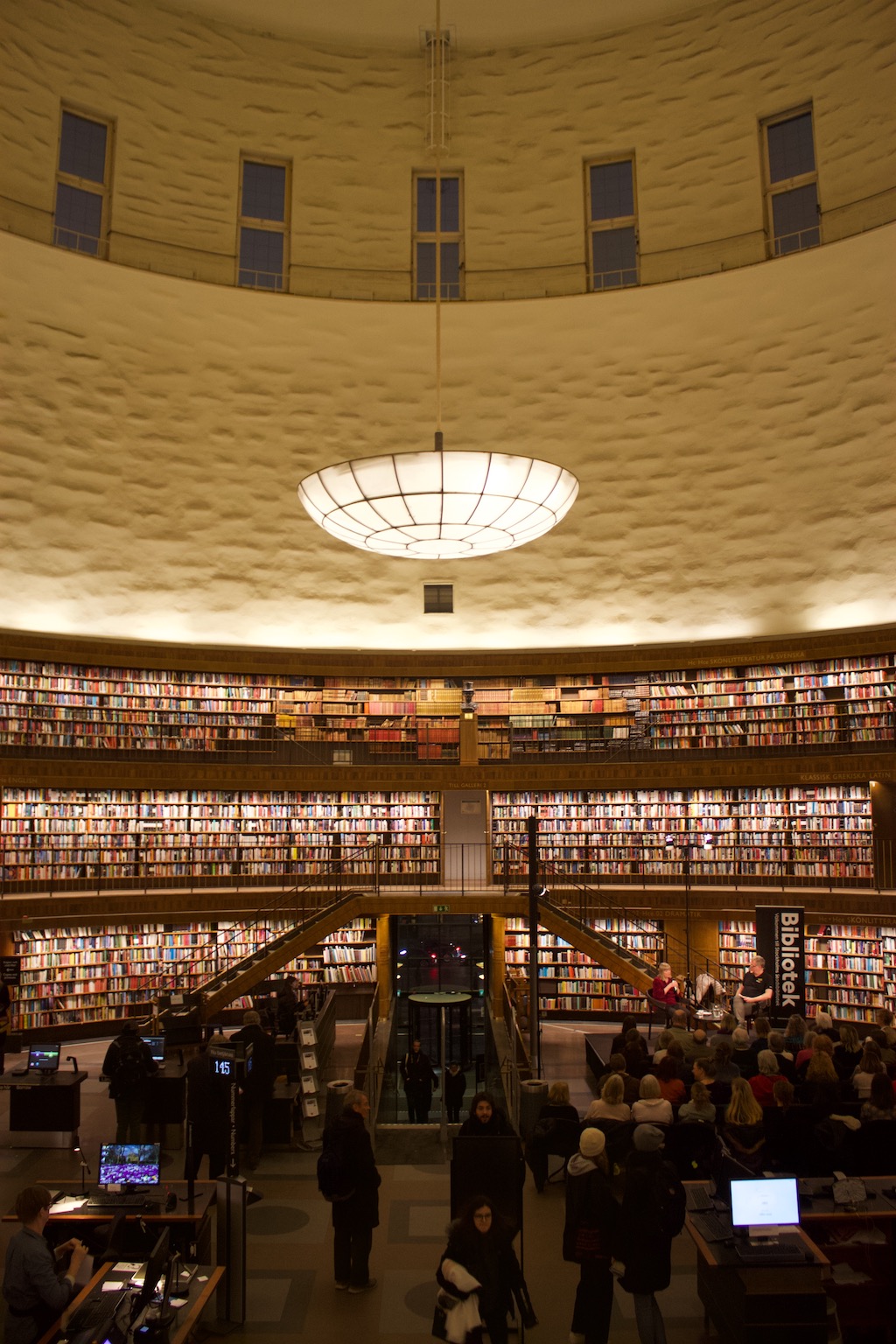 The Stockholm Public Library is a brainchild of Swedish architect Gunna Asplund, who also helped design the Skogskyrkogården, an early 20th cemetery with UNESCO world heritage status. The library is one of now Stockholm's most prized pieces of architecture, with a circular design that has been lauded as one of the most beautiful in the world.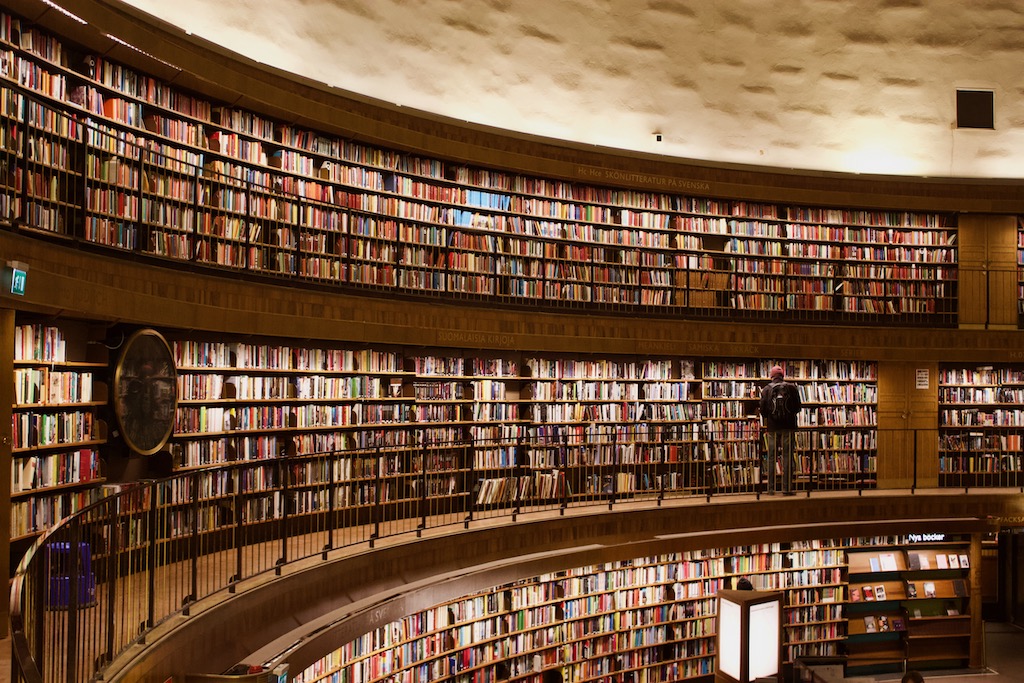 The architecture of the building is a curious one. Some say it was designed in a style known as "Swedish Grace". The architect's first vision of the library changed as he further developed the plans:
Says ArchDaily "Asplund's design was, at first, purely traditional, with a coffered dome, porticoed entry, and lavish exterior wall treatments more suited to a palazzo than a 20th Century library in Scandinavia. The layout of this scheme was essentially retained but, in Modernist fashion, was distilled down to its most primitive geometric elements: a cylinder emerging from a rectilinear box. Sitting at a slight angle from the street and the surrounding landscaping, the austere bulk of the library is seemingly magnified. The walls are finished in stucco, allowing the formal purity of the structure to maintain its full visual impact on visitors and passers-by."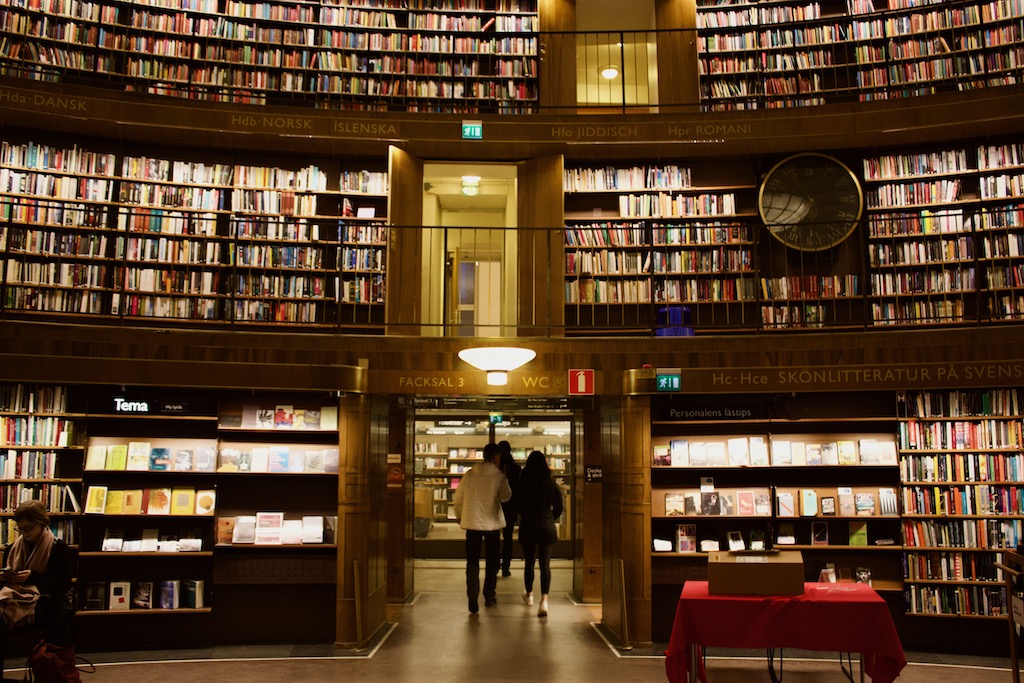 Opting for a rotund instead of a dome, the center of the library resembles a tall cylinder with a flat ceiling. When you enter the library, you are surrounded by books everywhere you look. There are three terraced levels with open shelves and in fact, the Stockholm Public Library was the very first library to offer this feature, enabling people to access books for themselves without the assistance of a librarian. A circle of windows close to the ceiling streams in plenty of light, making the round library and the experience of being there all the more surreal.
This Library Is A Must Visit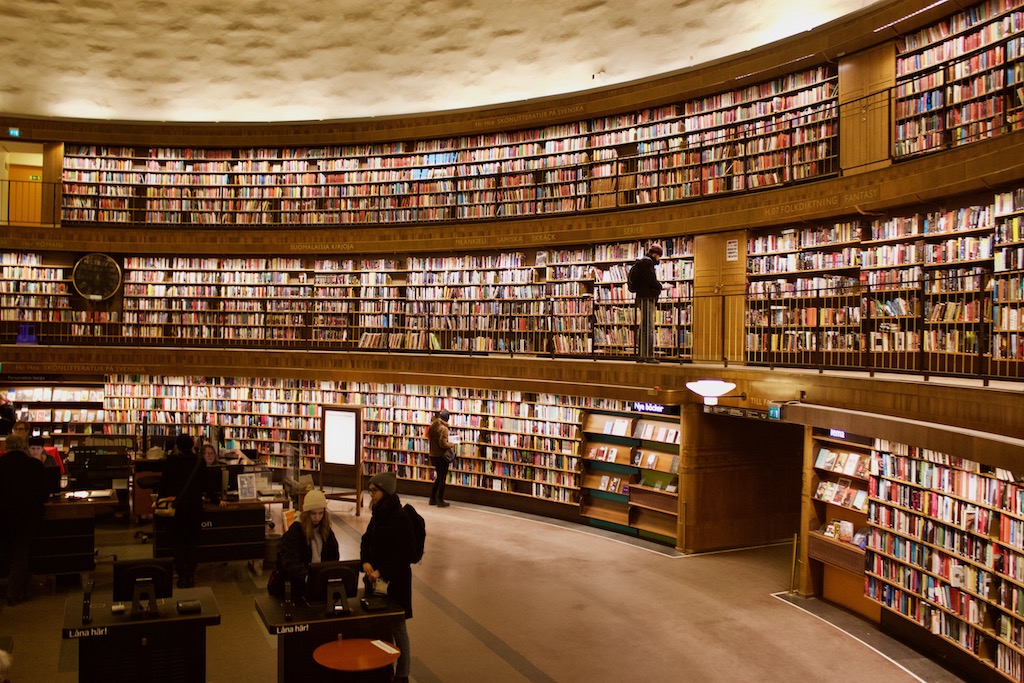 Asplund also designed a park, complete with a small pond in 1931. It's located just south of the building. In 1932, a west wing was added to the library complex, completing the square base encircling the rotunda. Three annex buildings were later added by other architects who based their ideas on Asplund's plans for the location. It's also said the Arnos Grove tube station in North London was inspired by the Stockholm Public Library. 
Recommended reading: Some of my favourite blog articles about bookstores and markets – like a used bookstore in Detroit with more than 1,000,000 titles, a small bookstore in Venice with books crammed into gondolas, and an open air book market in Kyiv that's in danger of being closed down.
If you're in Sweden, you should spend some time in the library and soak up the vibes of being in such close proximity of more than two million books. If you have time, grab a book, take a seat, and read for a while.
Watch/share this video about the Stockholm Public Library and better yet, subscribe to my Youtube channel for even more travel-related videos.
Have you visited any libraries in Stockholm? Which one was your favorite? Our readers would love to hear your thoughts.
Stockholm Public Library Location
Just where can you find the Stockholm Public Library? Sveavägen 73, 113 80 Stockholm, Sweden.
About The Stockholm Public Library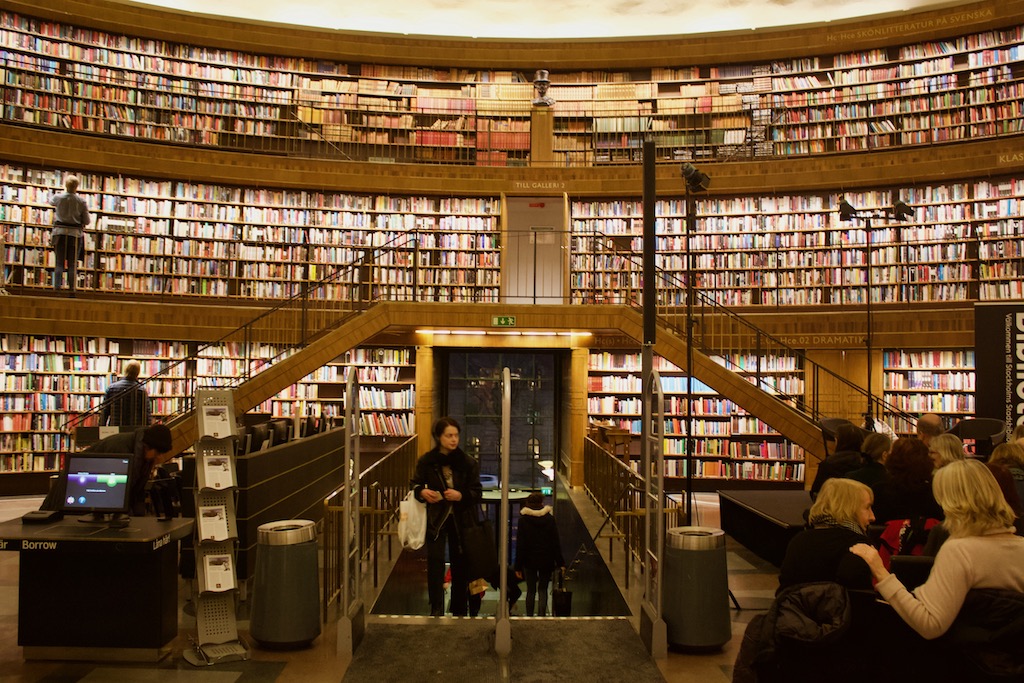 There are many things you need to know about the Stockholm Public Library. We answer your most common questions.
1) Can I get in touch with the library for more information? You can contact customer service at 08-508 30 900 or email [email protected]. Visit their website at https://biblioteket.stockholm.se/en/language/english-engelska
2) What is the nearest metro stop to the Stockholm Public Library? Odenplan on the Green Line.
3) When is the library open? The library is open from 10:00 – 19:00 Monday through Friday. On Saturday and Sunday, it's open from 12:00 -16:00.
4) Do you have to pay an entrance fee to enter the library? No, as it's a public library, you can enter for free.
5) Can I take photos and videos inside the Stockholm Public Library? Yes, you can and there is no need to pay any fees to do so. While this place is certainly "Instaworthy" and snaps from both inside and outside the building will grab you plenty of likes on Instagram, please don't turn such a holy place for literature into a stage for your photoshoot. Give the venue and the patrons the respect they deserve, take some quick snaps, and move along.
6) How much time should I spend at the library? If you're just there to take photos and check out the architecture, I'd recommend at least 30 minutes, longer if you read a book and relax for a while. 
7) Is the Stockholm Public Library suitable for children? Of course! As with most libraries, there is a section, especially for children. You can even download their app with ebooks for children.
8) Does the library host live events? Prior to COVID-19, the library played host to readings and other cultural events. Now many of them can be viewed online and you can take part no matter where you are in the world. View their event calendar for more information.
Getting Around Stockholm
You can easily get around Stockholm in a number of ways; these are the best transportation options:
1) To arrive at Stockholm's city center, you can drive, take a taxi, or bus from the airport and main bus/train stations:
Many people arrive in Stockholm by ferry at the ports Värtahamnen, Frihamnen, and Stadsgården. From Värtahamnen, you can take public transit into the city center which will take you 30-40 minutes. From Frihamnen, public transit will have you in the center of the city in 20-30 minutes. Lastly, from Stadsgården, a ride on public transit to the city center will take about 20 minutes. Popular ferry operators include Tallink, Viking Line, and Birka Cruises.
Buses and trains arrive at City Terminal, close to the Central Station which easily connects you to public transit. If you're feeling lazy, venture outside and hire a taxi.
Flights arrive at Stockholm-Arlanda Airport (ARN), about 40 kilometers north of the city. You can take express buses with Flygbussarna and Swebus. Expect the journey to the City Terminal, next to the Central station to take about 45 minutes. A one-way ticket for an adult starts around 99 SEK, about €10. You can also take the Arlanda Express Train into the city. Trains leave every 15 minutes and the journey to the Central Station takes around 20 minutes. A one-way ticket will run you 295 SEK or €27. A taxi into the city center will take approximately 45 minutes and start at 450 SEK or €43. You can also take a regular suburban train and bus, which takes longer, but is much cheaper.
Check Wikitravel for more detailed Stockholm transportation information.
2) The best ways to get around Stockholm include:
Bikes – You can rent bikes from City Bikes, Bike Sweden, and Gamla Stans Cykel.
Public Transit – Check out the SL website for more information about the local public transit network. The metro system, called the Tunnelbana or T-Bana, with more than 100 stations. The Blue Line in particular has some of the most beautiful metro stations on the planet. Read about how to do a self-guided subway art tour. 
Taxis – Taxis in Stockholm are very expensive and there are a handful of companies who charge tourists way more than they should. To avoid getting ripped off, stick with the major operators like TOPCAB, Taxi Kurir, Sverigetaxi, and Taxi Stockholm.
Driving – If you don't have a car of your own, rent a car to make your way around the Swedish capital.
Where To Stay In Stockholm
Options about where you can stay when you travel to Stockholm, Sweden.
1) Check out hotels, hostels, apartments, and more with booking.com:
2) I stayed at Connect Hotel City while in Stockholm, one of the more affordable and cool hotels in the area. As Stockholm is on the expensive side, I was happy to find this hotel so I could spend more money on memorable experiences like having a fancy dinner out at the Fotografiskas. They have a hip and cozy lobby space where you co-work or sip a craft beer and the rooms are large and the beds are comfortable. It's also located close to public transit so it's easy to get around the city. 
Paying For Things In Sweden
Things you need to know about handling your cash in Sweden:
1) Sweden has its own currency, the Krona (SEK). 
Check xe.com to find out how your local currency fares against Krona.
Most places accept bank or credit cards. I never once used a bank machine on my trip there.
When paying by card, you'll be asked which currency you want to pay in – choose to pay in SEK, as you'll save money on the exchange rate.
2) Sweden is notoriously known for being an expensive place to travel, from your accommodation, to eating out, and more. Make sure you plan ahead so you can have the best time there enjoying all of the things you like.
3) Check out this article from The Guardian about the best way to enjoy Stockholm on a budget.
Good To Know About Stockholm
There are other things to know about how to have the best vacation in Stockholm.
1) One of the best ways to get to know Stockholm is by taking a tour.
2) Is Stockholm safe? Stockholm is considered to be one of the safest cities in the world and as a solo female traveler, I felt very comfortable during my week there. It's also safe for people of color, but it's possible you'll experience incidents of racism. 
3) If you like this corner of Europe, take a look at some of my other blog posts:
*Disclosure – This post contains some affiliate links. If you book a tour or hotel, I'll earn a tiny commission at no extra cost to you. Thanks for your support!