Brno has plenty of unusual things to see, like the ossuary filled with more than 50,000 skulls or the so-called Brno "dragon". But one of the more curious attractions to visit in Brno, Czechia is the 10-Z Nuclear Shelter.
10-Z nuclear shelter was first built by the Germans to defend against enemy attacks in WW2. It was then taken over by the Soviets who maintained it as a top-secret bunker until the early 1990s. Present day, the location serves as a bar frequented by locals, a hostel for travellers looking for an unusual place to stay, and a historical site one can tour to see what a nuclear shelter really looks like.
Hot tip – if you really want to do know what things there are to do in Brno, read my comprehensive guide!
The 10-Z Nuclear Shelter In Brno, Czechia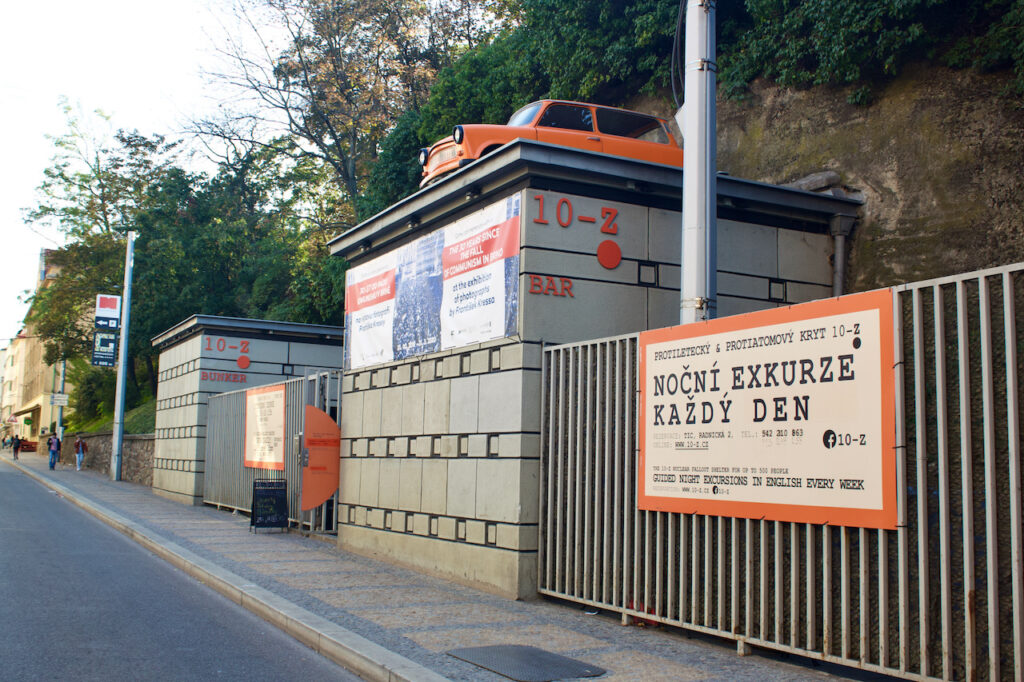 Located in the center of Brno, just under Špilberk Castle, the bunker was initially constructed by the Germans during WW2 to defend against both American and Soviet bombs. After the war was over, the nuclear shelter was then used as a wholesale wine store, Löwy & Šmíd.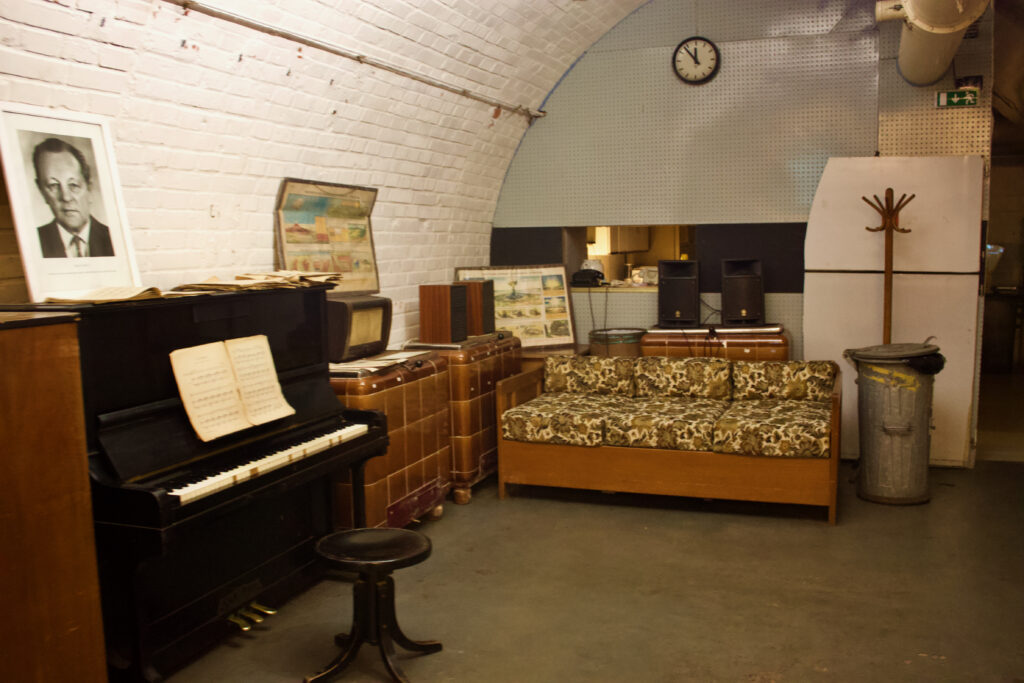 When the Soviets assumed control of Czechia after the coup in 1948, they confiscated the store and turned it into a top secret location to be used by local Communist party officials in the event a nuclear war occured. Construction efforts on the bomb shelter were completed by 1959 and plans were that the venue could house up to 500 people for up to 3 days and nights. Considering the entire shelter spans only 1,500 square meters, that would have been one crowded bomb shelter! The shelter remained under control of the Czech Army and was kept secret until 1993.
Fortunately for us, the bomb shelter never had to be put to its intended use.
May this place never serve its original purpose. And may it remain vibrant with the sounds of good jazz.

Hugo Marom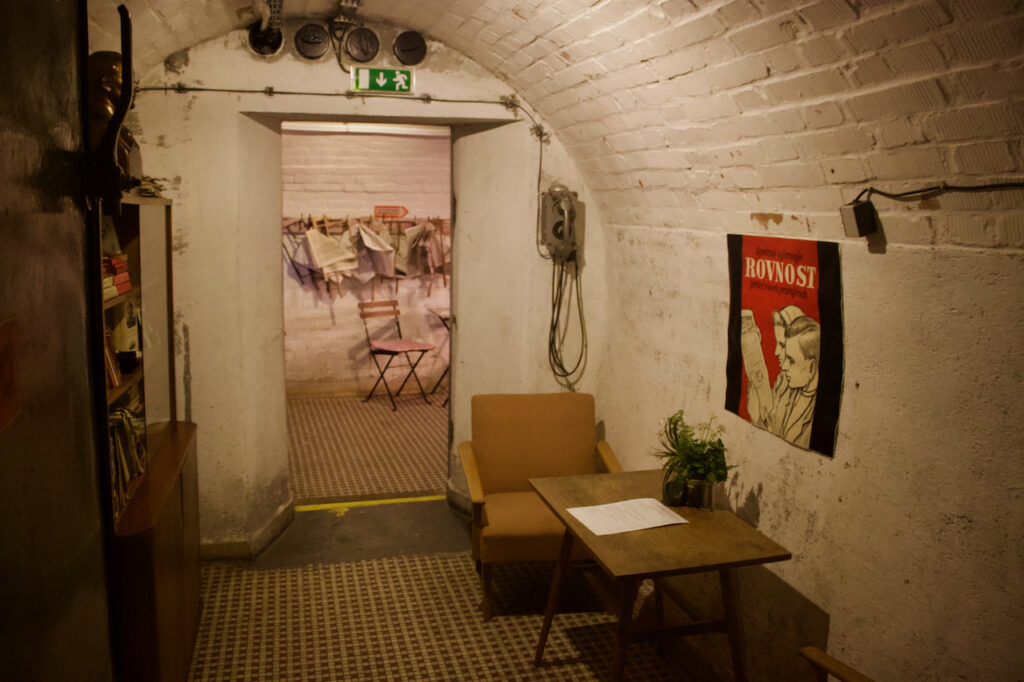 10-Z Nuclear Shelter is now run by a non-profit company, AMERFO. Their purpose is to make what was once a commanding military space into something that's accessible to the public, a place for them to come and learn about the history of the venue and connect to the individuals who were involved with the shelter.
10-Z Nuclear Shelter opened in 2016 and now operates as a retro themed hostel with 18 rooms. Not much was changed from the original Cold War look and feel – the same bunk beds are still in use and you can use some old school phones to contact reception. It's not only a truly unique place to stay, but it also gives visitors a chance to really experience what it would be like to stay in a bunker. Note, bathrooms are shared and the bunker remains at a constant temperature of 14 degrees Celsius, so warm clothing is a must.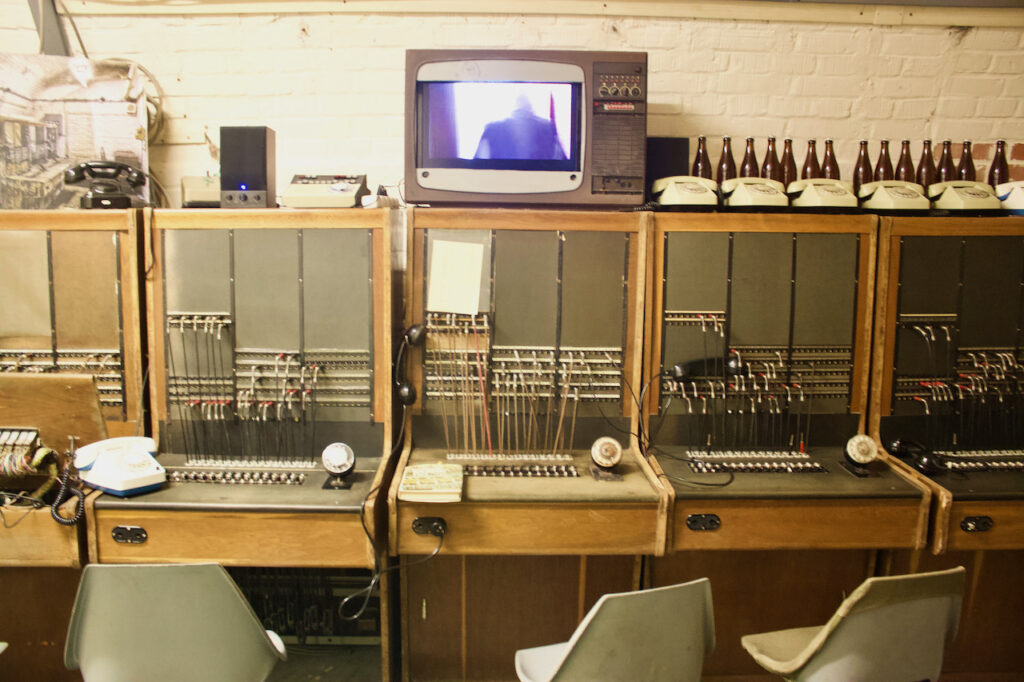 There's also an onsite bar, where you can kick back with a beer or listen to live performances.
You can tour the shelter, either alone or with a guide. If you go at it on your own, they'll hand you a map at reception. There's QR codes along the way, which you can use to watch videos and learn more about 10-Z's history. Note, free wifi is available so no need to worry about wasting precious phone data. Tour highlights include seeing technical parts of the shelter like the diesel unit, filter room, and phone exchange.
Recommended reading: Read about (and then visit!) another bunker, the Denis nuclear bunker which only opened in 2021.
Watch/share this video about the 10-Z Nuclear Shelter and better yet, subscribe to my Youtube channel for even more travel related videos.
What do you think about 10-Z Nuclear Shelter? Do you have any other tips for Brno? Tell us about in the comments.
10-Z Nuclear Shelter Location
Where is 10-Z Nuclear Shelter located? 10-Z Nuclear Shelter can be found at Husova, 602 00 Brno-střed, Czechia.
10-Z Nuclear Shelter FAQ
Everything you need to know about the 10-Z Nuclear Shelter in Brno. Let us answer your most common questions:
1) How can I get in touch with the shelter for more information?
You can call +420 515 919 793 and/or email [email protected].
2) When is 10-Z Nuclear Shelter in Brno open?
For hostel guests, it's open 24 hours a day. For those looking to do a tour, it's opened from Tuesday – Sunday from 11:30 – 19:00. It's closed for tours on Mondays. Get there by 18:15 latest to be able to complete a self guided tour before closing.
3) How much does admission cost?
A regular adult ticket is CZK 150 (about €6) and tickets for students, seniors, and people with disabilities is 100 CZK (about €4). Kids under 15 cost CZK 60 (< €3).
4) Should I book in advance?
If you want to do a tour on your own, you can just show up. If you want to do a guided tour, it's recommended to book in advance. Free tours run from Tuesday – Sunday at 19:00. Tours are offered in Czech, but if you call in advance, you can request an English tour. Organized tours typically take about an hour and can be customized to your requirements, if you call and book ahead.
5) Can I pay for my ticket with plastic?
Yes, you can pay the entry free to 10-Z Nuclear Shelter with a debit or credit card.
6) Can I take photos and videos inside the museum?
Yeppers. There are no additional fees involved.
7) How much time should I spend at the Brno Ossuary?
As the bunker comprises about 500 meters of tunnels and there are videos to watch along the way, I'd say an hour would suffice.
8) Is the 10-Z Shelter for children?
Yes, it's not at all scary. They may it boring though, but they may find it fun to roam through the tunnels and see the different rooms.
9) Can I see what the place looks like without going there?
If you're more of a fan of armchair travel, view this 3D tour online.
Transportation Options In Brno
All about how to get around Brno:
1) To reach Brno's city center, you can drive, take a taxi, or bus from the airport and main bus/train stations:
2) Some of the different ways to get around the city:
Where To Stay In Brno
My recommendations about where to stay in Brno, Czechia:
1) Take a look at places to stay with booking.com.
2) If you want to stay at 10-Z Nuclear Shelter, book here.
Paying For Things in Czechia
What you need to know about how to handle your money in Czechia:
1) The country has its own currency, the koruna (CZK).
2) Czechia is budget friendly, from accommodation, to dining out, and more. Read our guide about where to eat in Brno!
Good To Know About Brno
What else do you need to know about Brno? Here are some of our top tips for the city:
1) To make your time in Brno memorable, book a guided tour through Get Your Guide.
2) Is Brno safe? I can only answer this based as on my personal experience – as a woman travelling solo, I felt safe in Brno and didn't encounter any difficulties. However, the experience for people of colour could be entirely different. It's not the most ethnically diverse city and back in 2015, there was strong resistance to the mass refugee migration from locals. Read this interview, done in 2020 where people of colour in Czechia discuss their experiences.
3) If you like unusual places around the world, take a look at some of my other related blog posts:
*Disclosure – This post contains some affiliate links. If you book a tour or hotel, I'll earn a tiny commission at no extra cost to you. Thanks for your support!