One autumn, I made my way back to Belgium for a long weekend to experience the best of the country with Belgium, Uniquely Phenomenal. While my main goal was to drink as much local beer as possible (and that I did), it was fun to revisit Brussels and get to know two new cities, Antwerp and Liege.
While there, I spent four days and three nights at one of my new all-time favorite hotels, the Radisson RED Brussels.
A Stylish Hotel In Belgium: Radisson RED Brussels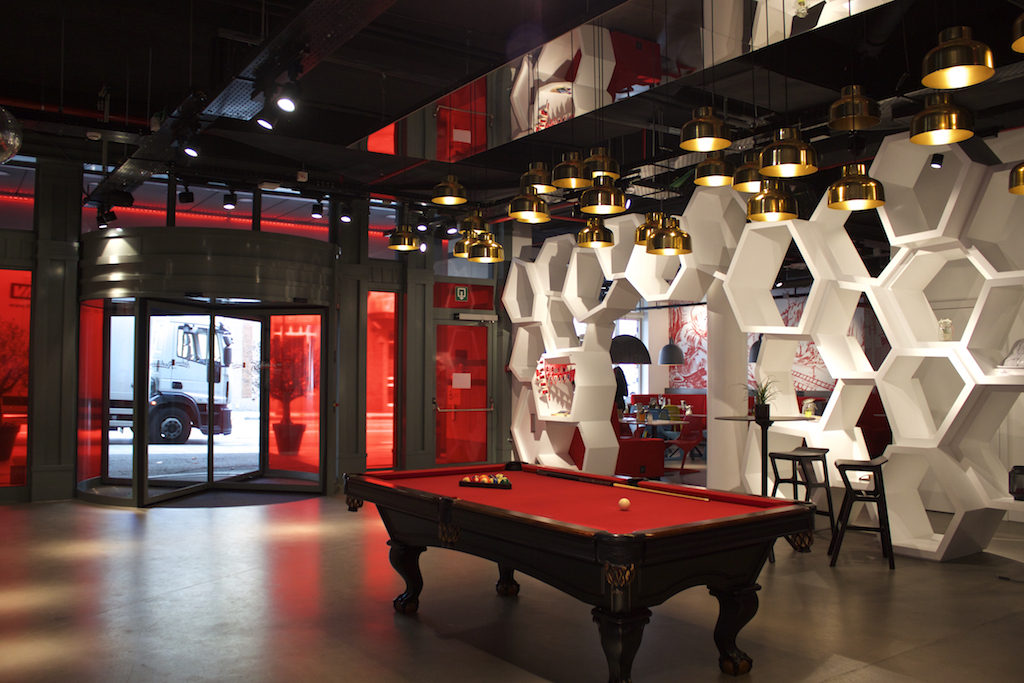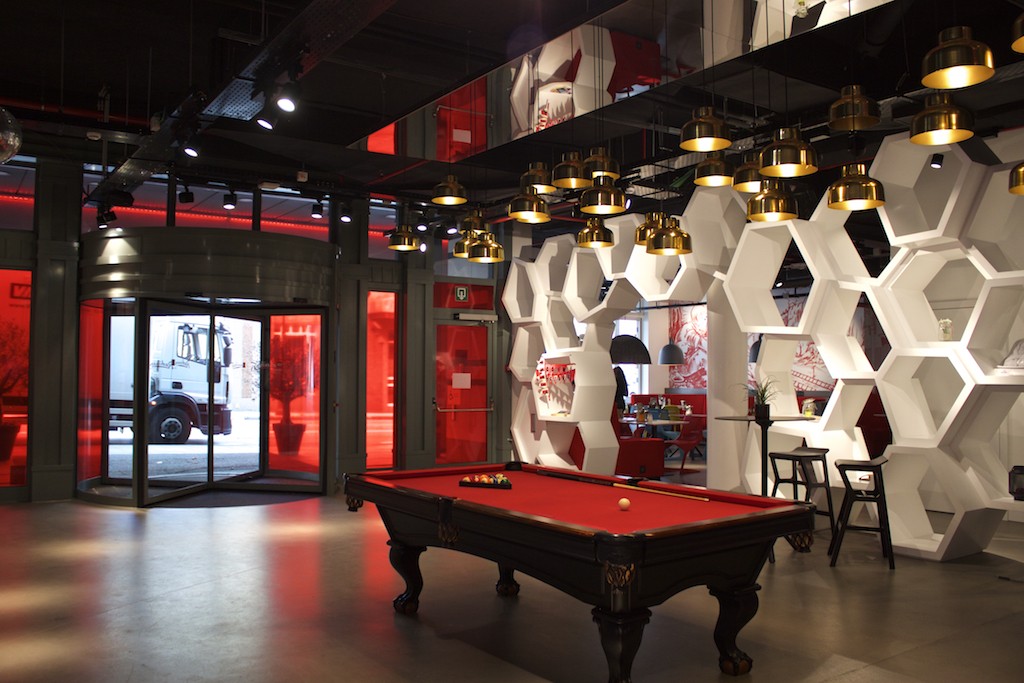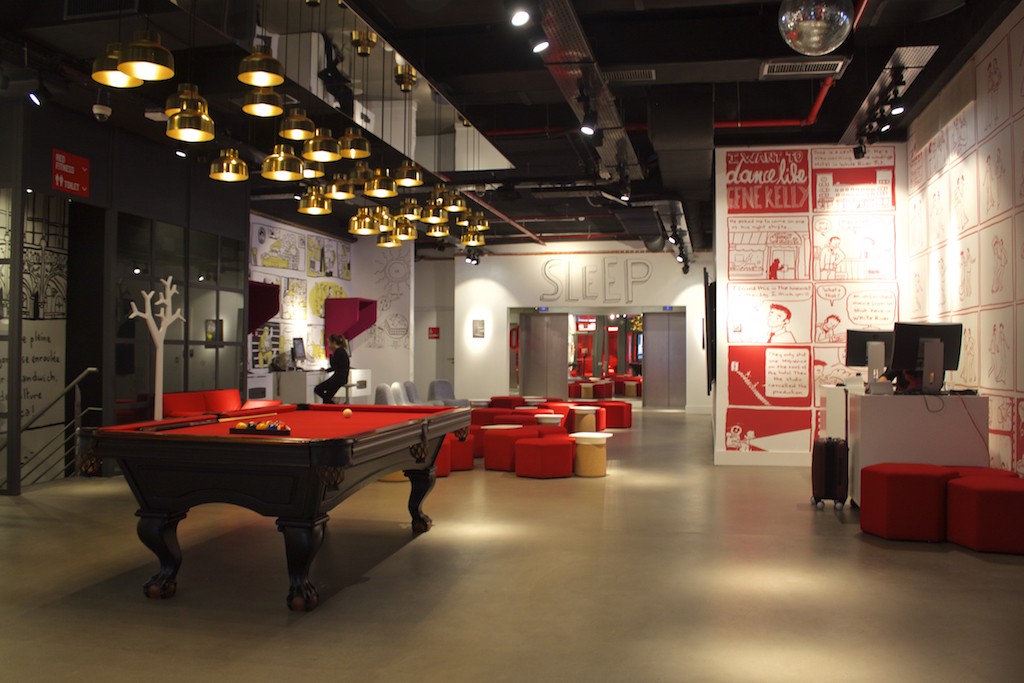 Just 12 kilometers from the airport, the Radisson RED Brussels is situated in the European Quarter just a hop, skip, and a jump away from the EU Parliament. Not far from many of the city's main attractions, it's an ideal place to base yourself if you're in Brussels for work or a short city break.

From the moment you walk through the hotel's revolving red doors and take in the bold signature red and white style of the Radisson's newest boutique brand aimed at millennial travelers, you can't help but be delighted by the fun and youthful vibe of the lobby itself and cheerful hotel staff. The decor is modern, hip, and fun, with art, music, and fashion being central to the design theme.
Setup with self-check-in desks, pool, and table tennis tables, and a bunch of flat screens showing photos of past guests in comical poses, you know immediately that you're not in a traditional hotel. Employees, or Creatives, as they call them were found through an innovative social media campaign. Dressed casually in t-shirts, jeans, and a pair of Converse, they'll cheerfully you and help you figure things out, especially if you're like me and prefer speaking with a human. All staff speak fluent, English, French, and Flemish.
The Studios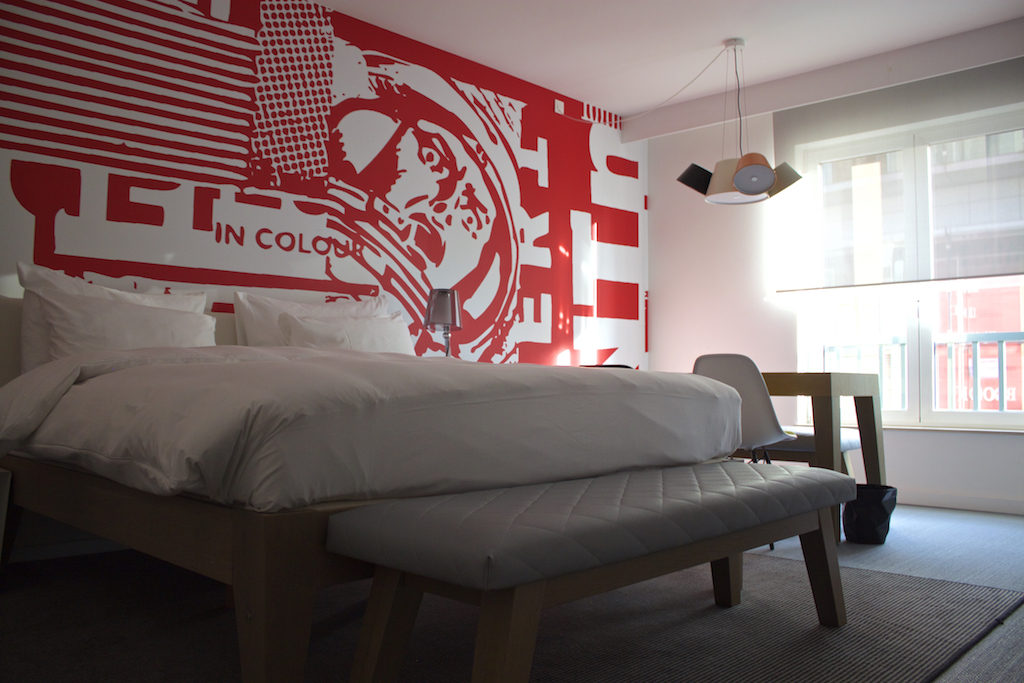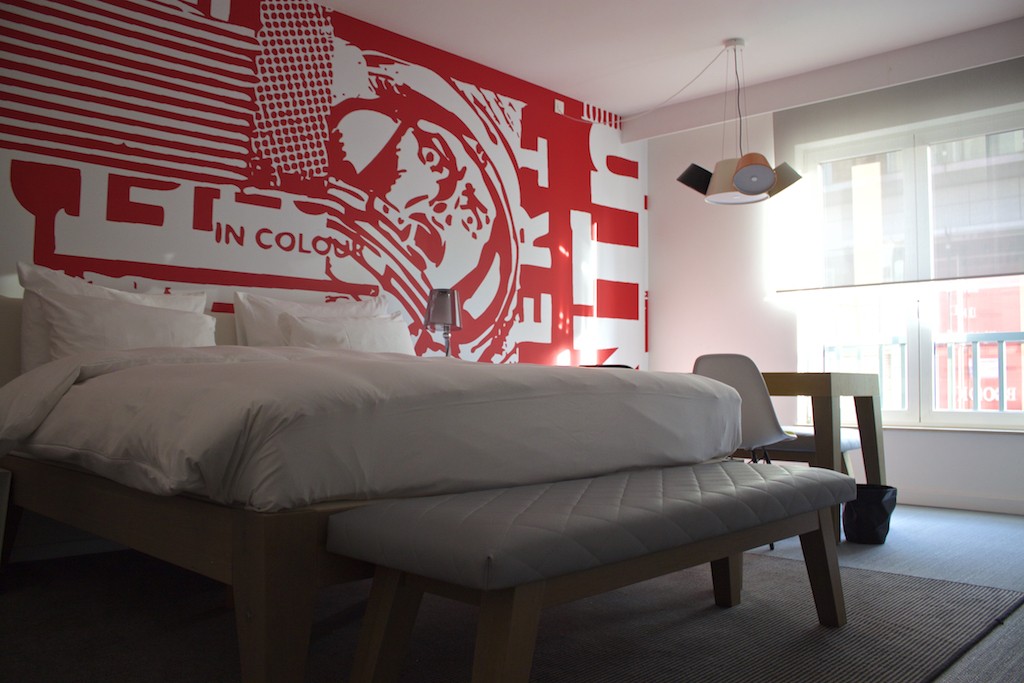 You won't find any rooms at the Radisson RED Brussels, but 149 studios. The hotel offers three different options, including standard studios, studio suites, and corner studios. Standard studios start at 26 square meters. You can choose a studio with a king-sized bed, two twins, or two queens. Studio suites start at 38 square meters, with your choice of a king bed or separate bedroom. Corner studios start at 28 square meters and tend to offer more light.
All studios are fairly spacious, quiet, bright, and filled with colorful artwork in both the bedroom and bathroom areas. Complete with big windows, a wardrobe, a 55-inch TV, and a picnic table area with two to three chairs, you'll also have the usual amenities like a fridge, iron, ironing board, and hairdryer.
Missing is a mini-bar and in-room coffee maker, but you can always buy your own drinks and stock their fridge yourself, as well as order coffee to go from the hotel restaurant. While lacking these very minor things, there are plenty of electrical outlets throughout the room, as well as USB chargers. You can even hook up your own device to the massive TV! You're also given two complimentary bottles of water upon arrival. Instructions for everything you need to know like the wifi password or the number to call to get in touch with reception are printed on the back of your door.
Bathrooms may include both a shower and bathtub and even a rain shower head. They also stock some pretty nice smelling shampoo, consider, and body wash.
I shacked up in a studio suite and it was absolutely everything I wanted in a hotel room. My king-sized bed was a dream and so comfortable that I slept like a baby. I loved waking up in the morning to watch a bit of morning news (there were plenty of English channels). I even brought a drink back to my room one night and enjoyed a luxurious soak in the tub.
OUIBar + KTCHN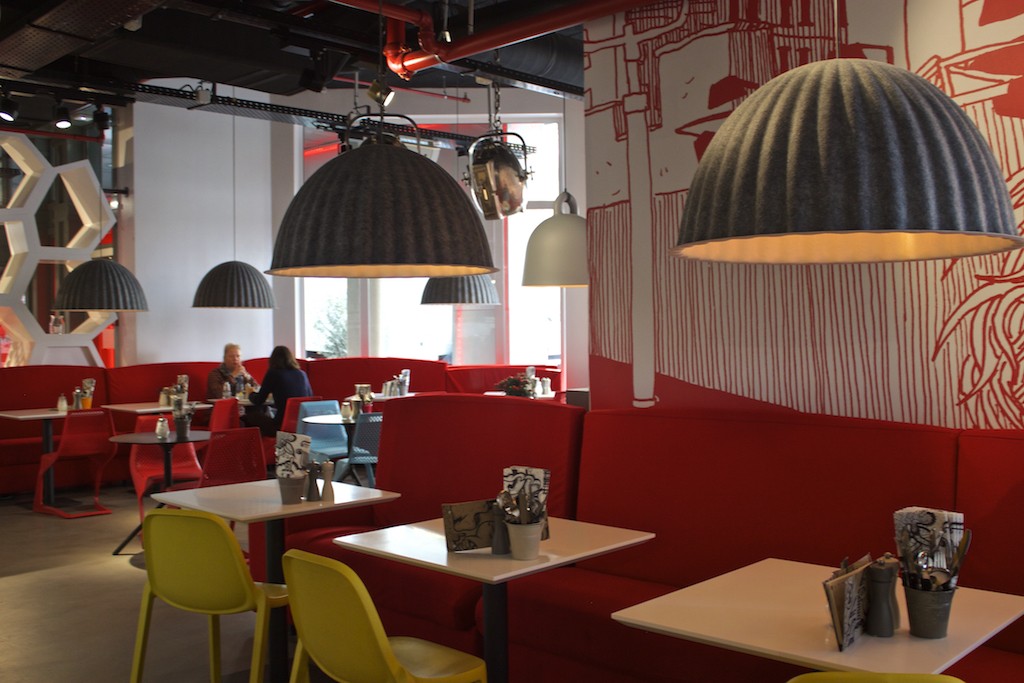 You read that right, the hotel's restaurant and bar is called OUIBar and KTCHN, and I have no idea why. Despite the strangely misspelled name, this sexy space is open from early morning until late evening serving up international cuisine with a Belgian flair for breakfast, lunch, and dinner.
Breakfast is €14 and includes a buffet of freshly baked croissants, fruit, scrambled eggs, and bacon. Fresh fruit juice and a coffee machine whipping up everything from americanos to cappuccinos to lattes are also available. You can also order tasty dishes made to order, like Belgian waffles and a bagel topped with avocado. You can also order coffee and snacks to go and have your breakfast on the road or even picnic at one of Brussels' many parks.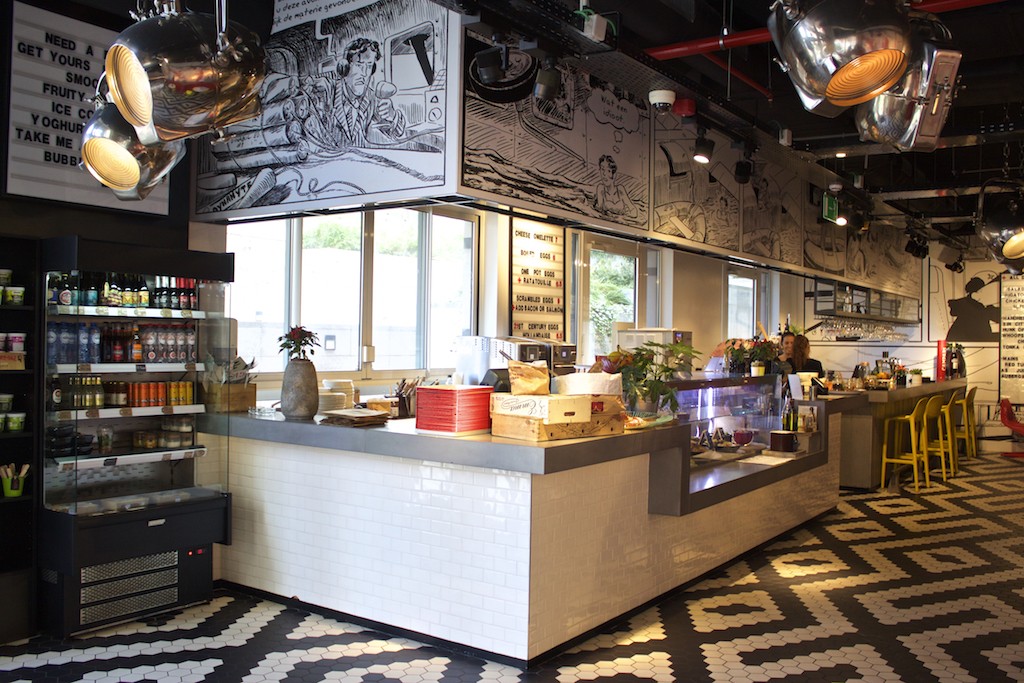 During the day, it has more of a café vibe, and you'll spot a lot of people working away at their laptops. Drink a coffee, order a snack (we recommend one of their burgers, tacos, or even some ramen), and have a productive day.
Come evening, OUIBar + KTCHN fills with a dinner and drinks crowd with people ordering cocktails, taking part in beer tastings, and indulging in one or more of the tasty dishes from the menu. Sadly, I only had breakfast at the restaurant, but I would have loved to try their charcuterie board, aubergine parmigiana, or ribeye steak.
The casual and chic restaurant is surprisingly affordable with appetizers starting at €5,50, mains at €8,50, and desserts at €3,50. It's open Monday – Friday from 6:00 am – 11:00 p.m. and Saturday – Sunday from 7:30 am – 11:00 p.m.
The RED App
To make the most of your stay at the Radisson RED Brussels, download the handy Radisson RED app. It allows you to do things like check-in and out of the hotel, order food from the kitchen, chat with other guests, request extra towels or pillows, and even open the door to your room without a physical card or key.
Note – although you can order food from OUIBar + KTCHN, room service is not available. You'll need to get your lazy butt down to the kitchen, pick up your order, and back to your room all by yourself.
Location
Good To Know
1) Free wifi's available throughout the hotel, be it in the lobby or up in your studio. It's reliable and fast enough to support a minor Netflix binge (I watched a movie in bed one night before falling asleep).
2) Parking's available in front of the hotel (Rue d'idalie 10) at a rate of €4 per hour or €23 per day.
3) You'll find a fitness studio with some basic cardio equipment and free weights in the basement of the building. Bonus is a tiny sauna that can fit up to two people at once for a more private health and wellness experience.
4) Pet owner? Then bring your best buddy with you on your trip! I know I would have loved to bring my little darling with me, but cats aren't exactly the best travelers – especially my grumpy little Persian. For €15 a day, the Radisson RED is all too happy to house your cat or dog during your stay. Upon check-in, your lucky little critter will receive a bandana, a pet bed, and food and water dishes. Of course, bringing your cat or dog comes with some conditions, so read the pet policy for more info.
5) The Radisson RED Brussels is also the ideal place to host events be it a conference, big meeting, or team workshop. With their three light-filled meeting rooms ranging from 18 – 68 square meters (including one theatre-style classroom holding up to 75 people), strong wifi, whiteboard walls, flip charts, large screens, and projectors, why go anywhere else? Add all the fun to your event by having your attendees take in a pool game or play table tennis and shuffleboard. They can even enjoy the hotel's gym and sauna area. Of course, all events can be catered by OUIBar + KTCHN.
6) If you're looking to experience the very best of Brussels, check out the hotel's city guide, which offers up tips on where to eat and drink, the best places to party, the top shops in the city, must-see art galleries, and more. Also consider checking out one of my very favorite places to eat in Brussels, Belga Queen. Even better, check out these unusual things to do in Brussels or these cool places to visit in Brussels.
7) If you'd rather stay somewhere other than this amazing hotel, check out options on booking.com.
8) While you're in Brussels, go on a guided tour and get to know the city better.
9) If you like European travel, consider giving some of these posts a read.
*Disclosure – In order to offer personal insight about hotels to stay in when visiting Belgium, we received a complimentary stay. As always, any opinions expressed here are entirely our own. This post also contains some affiliate links. If you book a tour or hotel, I'll earn a tiny commission at no extra cost to you. Thanks for your support!