On a weekend trip to Athens (my first time ever in Greece!), one of my main goals was to experience some moments of solitude by the sea. I wanted to breathe in that fresh air, feel the wind in my hair, and leave all my worries behind.
After looking into different day trip options from Athens, I decided that a visit to see the ancient Temple Of Poseidon at Cape Sounion would be a quick and easy way to soak up those sexy Aegean Sea views and tour a fascinating historic Greek temple at the same time.
Book your Temple of Poseidon Tour now.
A Perfect Day Trip From Athens To The Temple Of Poseidon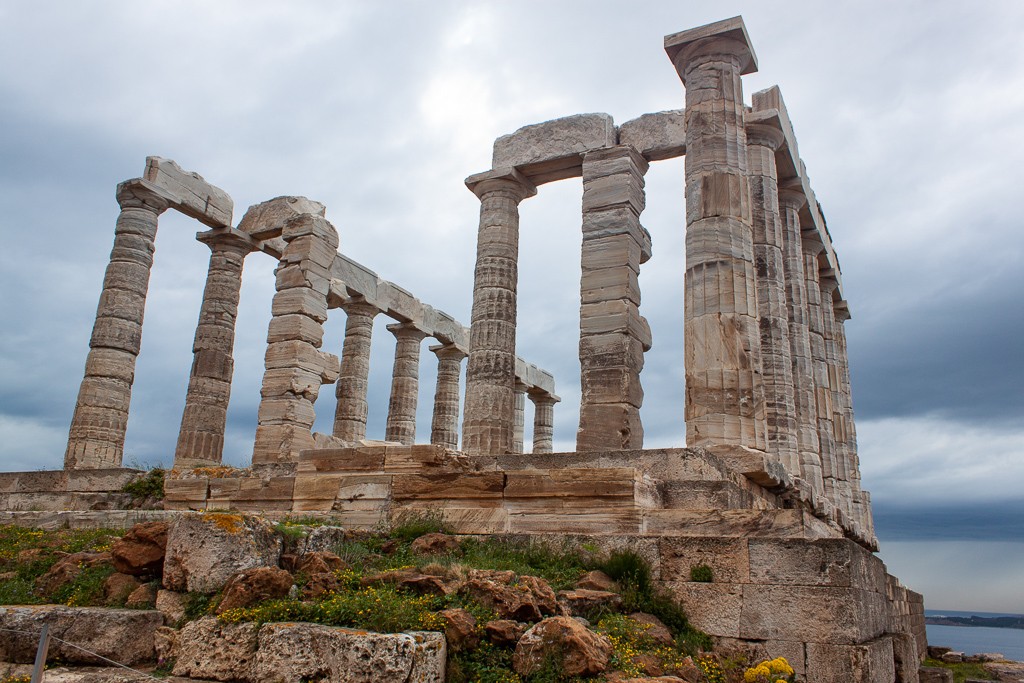 Only 70 kilometers from Athens, you'll reach The Temple Of Poseidon within two or so hours (depending on traffic). Once you escape the highly congested city center and make your way through the city's suburbs, you'll pass through affluent areas, and then more sparsely populated villages. The latter part of the drive is especially scenic as you traverse the curving and winding road that hugs the shoreline.
A Brief History Of The Temple Of Poseidon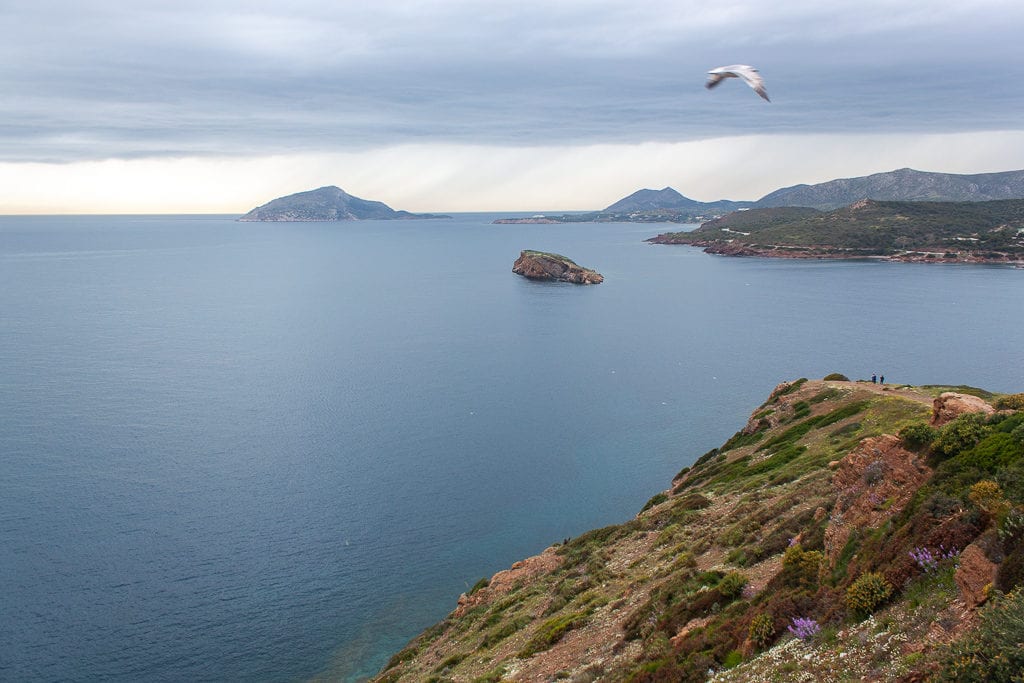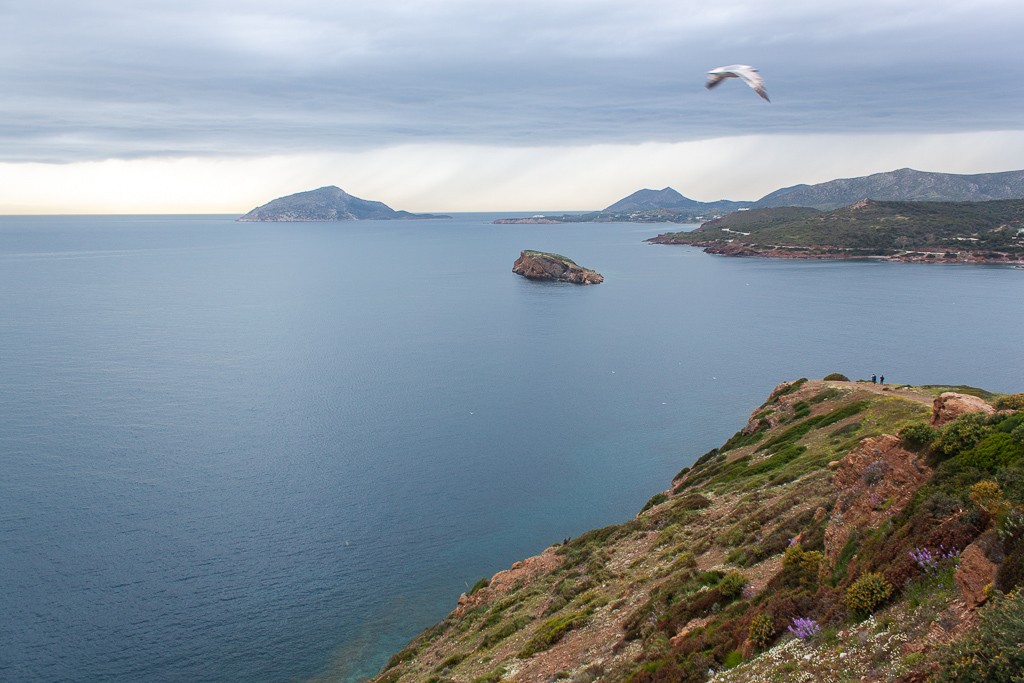 The Temple of Poseidon is an ancient Greek temple dramatically perched on the edge of a mountain jutting out into the sea at Cape Sounion. At 60 meters above sea level, the Temple of Poseidon was constructed between 444 – 460 BC and is considered to be a significant monument from the Golden Age of Athens. In fact, it closely resembles the Temple of the Hephaestus at the bottom of the Acropolis and might have been designed by the same architect. Sitting in its prominent position along the coast of Attica, The Temple of Poseidon was a signal to sailers that they were nearly home. The temple once had 34 stunning white marble Doric-style columns, 15 of which still remain today. Each of the columns is just over 6 meters high and is one meter wide at its base. Restorations of the temple started in 187, excavations in 1884, with most of the work being done during the 1950s by The Greek Archaeological Service.
Recommended reading: Find out more about the temple's history with this article, A Brief History Of The Temple Of Poseidon, Sounion.
The Temple Of Poseidon Claims To Fame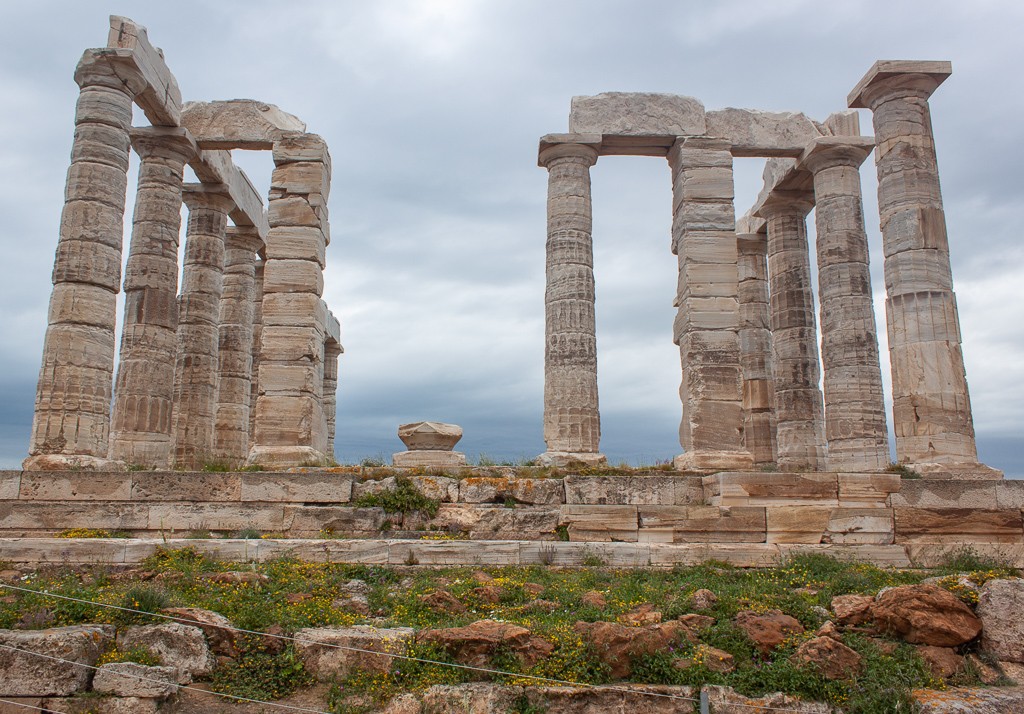 Legends say that Athenian King Aegeus killed himself by jumping off the cliffs at Sounion, upon thinking that his son had been killed in a battle with the Minotaur. In tribute, the Aegean Sea was bestowed with the king's name. Sounion is also written about in Homer's Odyssey, as it was here that the King of Sparta buried some of his men.
Notable artifacts have been excavated from the Temple of Poseidon over the years, including a 3-meter-high marble kouros statue known as the Sounion Kouros. What's a kouros, you ask? It's a statue of a naked young man, in the prime of his life, that was presented as an offering to the gods or demigods – in this case, Poseidon. The statue is the first of its kind ever found in the area and is now considered to be of great historical significance. Another well-known artifact that was found, is a marble relief of a self-crowning athlete. I dub myself queen all of the time and no one has preserved my likeness in marble … yet. Both pieces can now be seen at the National Archaeological Museum in Athens. One of the temple's Doric columns is also on display at the British Museum.
Although no one is quite sure if the claim is true, Lord Byron's said to have carved his name on one of the temple's columns in 1810 while he was touring Europe. Sadly, some tourists have also followed suit in recent years. Whatever you do, don't be Lord Byron, and contribute to the destruction of a major piece of our civilization's history.
What To Do At The Temple of Poseidon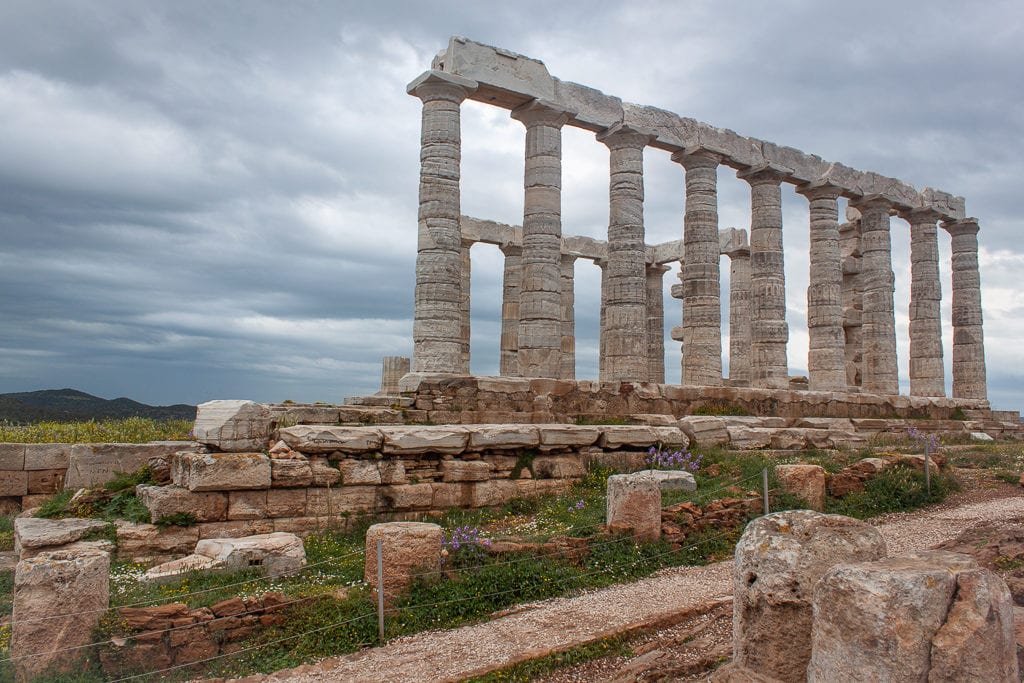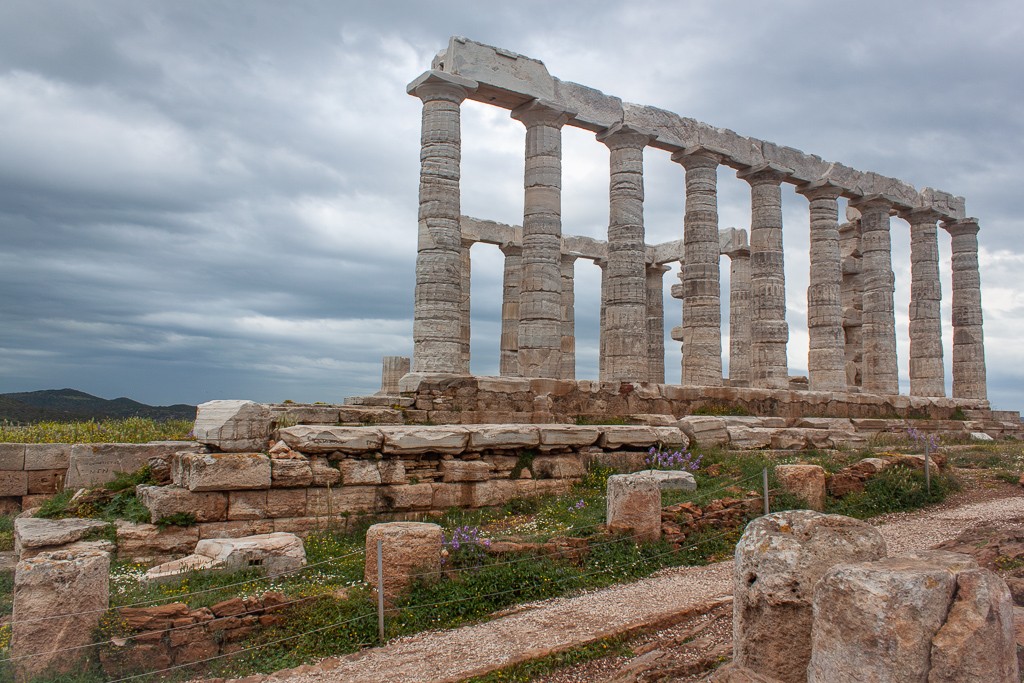 Aside from the obvious, which is to marvel at the Temple of Poseidon itself, what are the other things to do while there?
1) Come to enjoy the majesty of the area at sunrise or sunset.
2) Wander around the area surrounding the temple and enjoy the incredible views. On clear days you see the islands of Kea, Kythnos, and Serifos to the southeast and Aegina and Pelopnesso to the west. You almost feel as if you're on a Greek island without actually being on one.
3) Have a meal with an incredible view over Sounion at Naos Cafe-Restaurant or chow down on some fresh seafood at the nearby Ilias or Akrogiali.
Note about Naoas – it can get quite crowded when the tour buses start rolling in and lineups for the restroom can be quite lengthy.
4) Dip your toes in the Aegean Sea and spend the day hanging out at the nearby beach, adjacent to the Aegeon Beach Hotel.
What do you think about The Temple of Poseidon? Would you make this day trip from Athens? Let us know in the comments below.
Location
Temple of Poseidon
Cape Sounio, Sounio 195 00, Greece
Good To Know
1) The temple's roped off, so no one's allowed to enter and walk through the temple itself.
2) Admission to the site is €8, with reduced or free admission for others such as seniors who are Greek citizens or are from valid EU member states. See their website for more details.
3) During winter, the Temple of Poseidon is open daily from 9:30 am – sunset, and during summer, it's open daily from 9:00 am – sunset. The last permitted entry is 15 minutes before sunset. The site's also closed on certain holidays throughout the year, like Easter Sunday and Christmas.
4) There are a number of ways to get to the Temple of Poseidon from Athens:
Public bus – take a KTEL bus from the Pedion Areos bus station in Athens. The trip will take about two and a half hours, with one ticket costing around €7-8. Check the bus timetables. Our pro tip is to sit on the right-hand side of the bus for the best views.
Organized tour – you can take this sunset tour to Cape Sounion or this earlier half-day trip (the one I did).
Private taxi – George's Taxi is highly recommended by locals.
Car rental – if you're thinking of road-tripping your way through Greece, rent a car.
5) If you need somewhere to stay in Athens, check out your options with booking.com.
6) Experience tours like these in Athens and beyond. Also, consider this experience of olive picking in Athens.
7) If you like traveling in Europe, give some of our popular posts a read:
8) If you're keen on even more information on all things Greek travel, consider Peloponnese as another day trip from Athens or read about how you can have lots of adventures in Athens. Interested in Greece? From things to art, history, and more, then give these books about Greece a read.
*Disclosure – This post contains some affiliate links. If you book a tour or hotel through any of these links, I'll earn a tiny commission at no extra cost to you. Thanks for your support!