Calling all weirdos, library lovers, meat eaters, and church going enthusiasts. I went to Helsinki for a day in 2019, probably for about six hours or so, and had to figure out what I wanted to see and do in my short time in the Finnish capital. I scoured my usual "go to" websites for weird and offbeat locations, like Atlas Obscura and Spotted By Locals, to put together an itinerary for the day.
What To Do in Helsinki If You Have Just One Day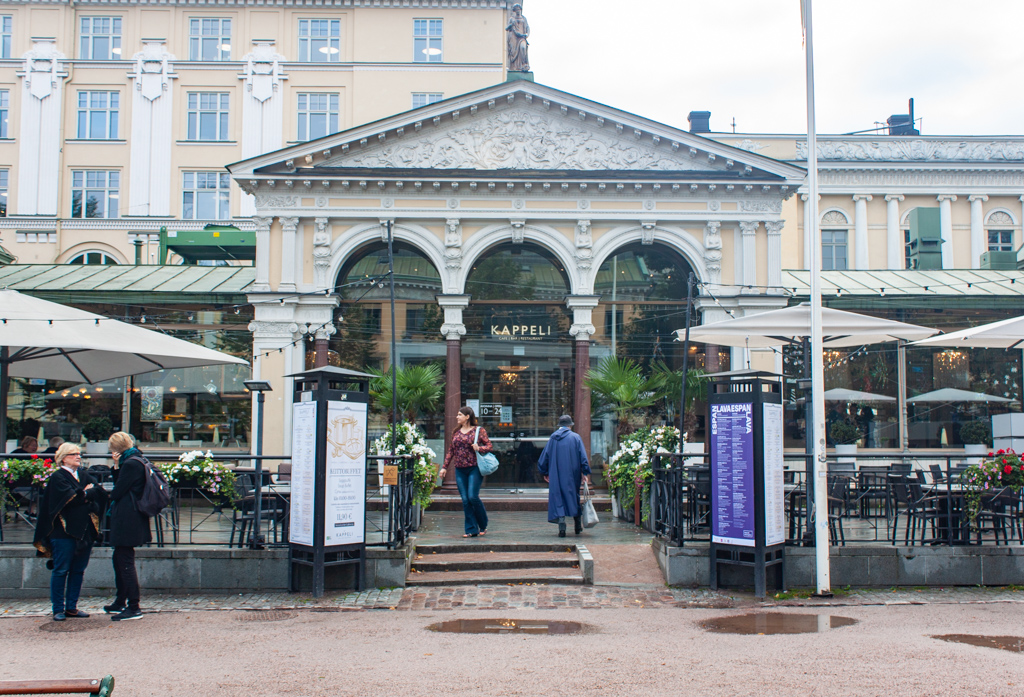 What resulted is this list of things to do in Helsinki. If you like to explore unusual locations, spend hours in stunning libraries, eat mouth watering meat dishes (maybe even reindeer), and hang out in traditional cathedrals and super odd churches, then go forth and follow my Helsinki in a day suggestions for all the strange and unusual travel inspiration you'll ever need.
1) Pose for a photo with the Bad Bad Boy statue
Like Portland, Helsinki likes to keep it weird and it doesn't get any weirder than the Bad Bad Boy statue. Whether locals harbour a fascination with public urination and are intensely envious of Brussels with all of their peeing statues but here, you'll find a gigantic statue of a blushing, naked, peeing boy. Forever stuck in perpetual embarrassment, the statue pees into the pavement below him. He's also massive – weighing in at eight tons and standing seven meters high.
Bad Bad Boy may feel crude to some but it has deeper meaning, much more than you'd think. Read this post, Weird & Offbeat: The Bad Bad Boy Statue Helsinki to find out how this peeing boy statue came to even be a thing.
My advice is to not take it too seriously – it's silly and fun. Goodness knows, we all use more light hearted moments in our lives and Bad Bad Boy offers just that. It's worth a visit for the laughs alone, and to come and take photos, get creative with your shots, and become infamous on Instagram for your playful antics. Hint – from certain angles, it looks like Bad Bad Boy is peeing into the flower pots below him.
Address: Tyynenmerenkatu 9
2) Get your book on at the National Library Of Finland
Close to bustling Senate Square, the National Library Of Finland is a must-see for anyone visiting Helsinki. Not only is it one of the prettiest libraries you may ever see, it's also a powerful cultural institution responsible for storing all pieces of Finnish cultural heritage in written and audio form, even collecting copies of materials from the Internet. The research library, part of the University of Helsinki, is filled with more than 3,000,000 books and periodicals that take up more than 109 kilometres of shelf space. Much of collection is stored in a 58,000 cubic meter underground bunker, stored 18 meters below the library. Not only does the National Library of Finland contain the largest collection of books in the nation, it also has one of the world's most extensive collection of books from the Russian Empire.
Recommended reading: Indulge in library travel by hitting up some of these spots – the Stockholm University Library and the Stockholm Public Library.
The library is also an astonishingly beautiful piece of architecture that will leave you standing there in awe. Divided into two sections, the main building, Fabiana was designed by architect C.L Engel and built between 1840 – 1845. The various halls are decorated in 19th century Empire flair, complete with vaulted ceilings, classic staircases, and Greek/Roman plaster casts. The Art Nouveau Rotunda annex was designed by architect Gustaf Nyström and built between 1902 – 1906.
Address: Unioninkatu 36
3) Say your prayers at the Helsinki Cathedral
Just across from the library at Senate Square is Helsinki Cathedral, an evangelical Lutheran church associated with the Diocese of Helsinki. A creation of Carl Luvig Engel inn tribute to the Grand Duke of Finland and Tsar Nicholas I of Russia, this impressive Neoclassical structure is not only a landmark seen by those arriving by sea, but is also one of the most touristed sites in Helsinki, attracting around 350,000 people annually.
The green domed cathedral was completed in 1852, is surround by four smaller domes and topped with sculptures of the twelve apostles. The cathedral is built into the shape of a Greek cross, is symmetrical in four directions, with each side having a colonnade and pediment.
The interior of the cathedral is less grand than its exterior, but step inside briefly to admire the organ, peruse the git shop, or browse one of ever changing exhibitions in the crypt. During warmer months, the crypt also plays host to Café Krypta, where you can get a coffee or small snack.
Address: Unioninkatu 29
4) Indulge in hearty Finnish food at Restaurant Savotta
Restaurant Savotta, also located just off Senate Square, is a popular restaurant that is often packed full of way too many tourists. Despite this, good restaurants are popular for a reason, and Restaurant Savotta is no exception. Come here to get your fill of Finnish food from various regions in the country and taste one of the many delectable items on their menu, like reindeer or beef stew, pictured above.
I'd already been eating my way around Tallinn on this particular trip (read my Mini Guide Of Where To Eat In Tallinn Estonia), and this was another place that really hit the spot. The beef stew was top notch and made for a perfect meal on a cold autumn day.
Address: Aleksanterinkatu 22
5) Find inner peace at Kamppi Chapel
Atlas Obscura says that Kamppi Chapel resembles an alien egg. Situated in Helsinki's Narinkka Square, close to the Kamppi shopping center, one can hardly recognise the odd looking curve shaped wooden building as a chapel.
Kamppi Chapel was built in 2012 by architects Kimmo Lintula, Niko Sirola and Mikko Summanen. Dubbed the "Chapel Of Silence", the chapel is intended to be a place of calmness and serenity, amidst one of the busiest areas of the Finnish capital. While no church services are held there, the chapel is ecumenical, welcoming anyone and everyone, regardless of religion or background.
The orange hued building features a wooden facade, using finder jointed spruce wood planks. The light filled minimalist interiors feature high ceilings, bare alder planked walls, solid wood pews, a single candelabra, and alter. The entrance area is also an exhibition space and is often a place to meet clergy people social workers. While no photos are permitted inside, check ArchDaily for photos and more details about the building's architecture.
As much as I dislike CNN as a media outlet, they were right in saying, "The chapel demonstrates how contemporary architecture at its best can fascinate and inspire." So popular, more than 250,000 had visited the chapel by January 2013 and by January 2014, they'd welcomed half a million visitors.
If you need a little peace of mind on your short tour of Helsinki, take a time out at Kamppi Chapel.
Address: Simonkatu 7
6) Visit a subterranean location at Temppeliaukio Church
Last but not least on our list of what to do in Helsinki is Temppeliaukio Church, a subterranean church carved right out of the city's bedrock. Also known as Church of the Rock or the Rock Church, this architectural delight designed by brothers Timo and Tuomo Suomalainen was completed in 1969. Much like Kampii Chapel, the building is circular shaped, crowned by a copper coated dome and surrounding skylight. Supported by rock walls, water still seeps into rock, creating small mesmerising waterfalls that further lend to the church's atmosphere. The parking lot underneath the church even used to be home to a Cold War air raid shelter. Acoustics in the church are so phenomenal, that concerts are held in Temppeliaukio Church on the regular. Aside from Helsinki Cathedral, this church is one of the most visited attractions in the city, especially with fans of weird and offbeat architecture.
Address: Lutherinkatu 3
Watch this video for a recap of what to do in Helsinki, Finland and subscribe to my Youtube channel for even more travel related videos.
What do you think of our weird and offbeat list of what to do in Helsinki if you have just one day? Have we missed anything? Tell us about it in the comments section.
Locations
Download this Google Map to experience Helsinki just the way I did.
Good To Know
1) Helsinki is yet another easy weekend escape from Berlin:
You can fly there on a budget – fares are often €50 return with cheaper airlines like easyJet. Another more expensive option is Finnair. The flight's around two hours long.
A bus to Helsinki from Berlin will cost you some time and money. Expect the journey to be about 24+ hours each way with a return ticket costing about €110. The recommended route includes taking a bus to Tallinn and then a ferry over to Helsinki. The ferry journey takes about two hours.
Driving to Helsinki would take you about 20 hours if you go non-stop. The fastest route is to drive to Tallinn and then take a ferry to Helsinki. If you like doing such road trips, rent a car.
2) You can get to Helsinki's city center in various ways:
Flights arrive into Helsinki Airport (HEL), which is 20 kilometers from the city center. A taxi will take about 30 minutes and cost anywhere from €30 – €50. Experts warn travellers to skip the taxis in the fourth line, as there is no price ceiling on the fare. You can also book a shuttle (usually a shared minivan with up to 10 other passengers) with Yellow Line, which will run you about €22. We advise you save your precious Euros and take the train – go with either the I or P train, as they run in a loop and both end up at Helsinki Central Station. The ride will take about 30 minutes and a ticket costs €5.50. Trains tend to leave every 10 minutes during regular hours and slow down at night. You can take a bus, but it's slightly more expensive and timely. Take regional buses 614 or 415, which leaves the airport every 30 minutes, and costs €6.00. A Finnair City Bus is also available, leaving every 15 minutes, costs €6.90.
Trains arrive at Helsinki Central station which is located in the heart of the city. Likewise, buses arrive at the Central Bus Station, not far from the main train terminal. Depending on where you're staying, you can walk, jump on public transit, or use Uber to get to where you need to go.
Ferries arrive at two main harbours – from West Harbour, take tram line 7 to reach the main train station and from South Harbour, take trams 2 or 3.
3) We fully endorse getting a Helsinki card if you're staying for 1 – 3 days. It covers public transport, entry to various tourist sites and museums, a free sightseeing tour, as well as discounts on shopping, dining, and more.
4) Finland uses the Euro, so there's no need to worry about a currency exchange if you live in another country in the European Union.
If you're from elsewhere, check xe.com to see how the Euro fares against your local currency.
You can easily go without cash in Finland, as you can use bank or credit cards in most places.
When you pay by card, you may be asked which currency you would like to pay in – Euros vs your home currency. Choose to pay in the local currency as you'll save loads of money on the exchange rate.
5) Stay longer than a day in Helsinki and book a hotel:
6) Make your time in Helsinki special and experience a guided tour:
7) For more content from the Baltic region, give these posts a read for some travel inspiration:
*Disclosure – This post contains some affiliate links. If you book a tour or hotel, I'll earn a tiny commission at no extra cost to you. Thanks for your support!