Amalfi Coast Photos That Will Convince You to Go There Now – Estimated reading time: 10 minutes
My first visit to Europe was a memorable one. I spent two weeks touring Italy, starting with a few days in Rome, five days in Tuscany and Umbria, and then finishing up in the Amalfi Coast for five days. While I loved each and every part, deciding to end my vacation on the Amalfi Coast was the best decision of my trip.
Dreamy Amalfi Coast Photos That Will Convince You to Go There Now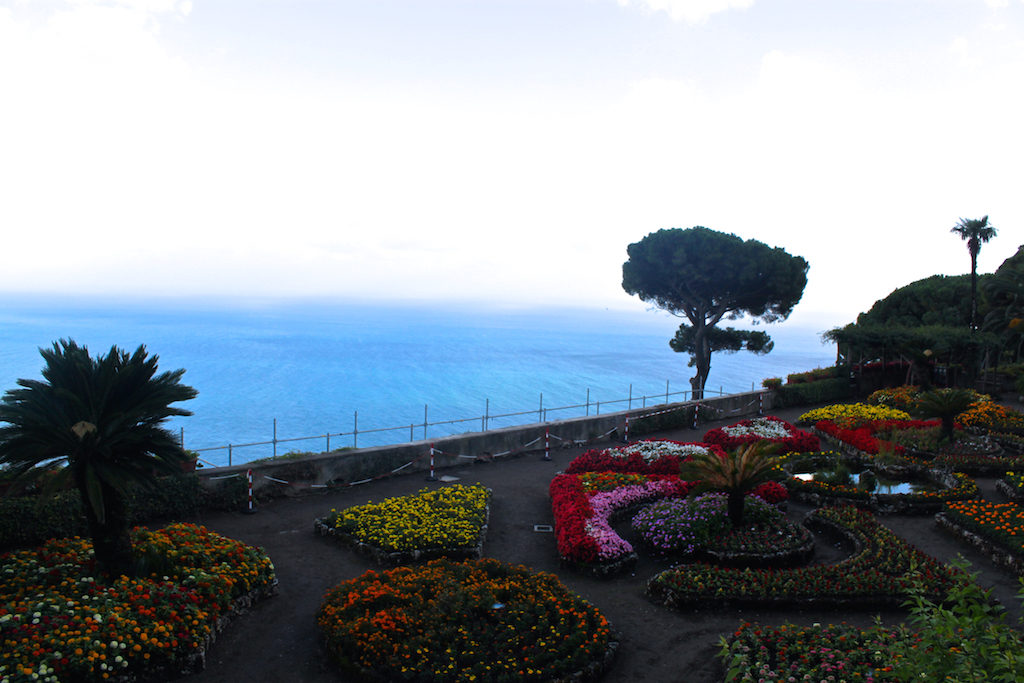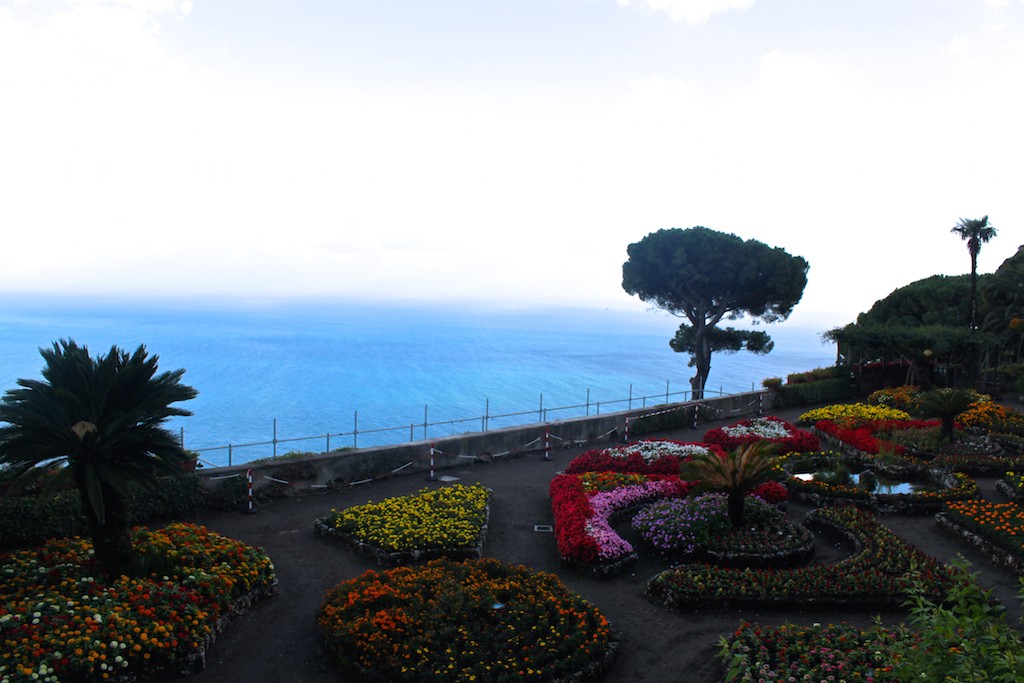 Touring Amalfi, Positano, and Ravello, I spent my days wandering through the towns, consistently surprised by their picturesque beauty; be it the rugged cliffs, winding roads, wisteria covered hotels, palatial villas, sea views, and more.
Let me convince you to travel to the area too with these dreamy Amalfi Coast photos. I'm pretty sure that like me, you'll book a flight to Italy immediately.
1) Amalfi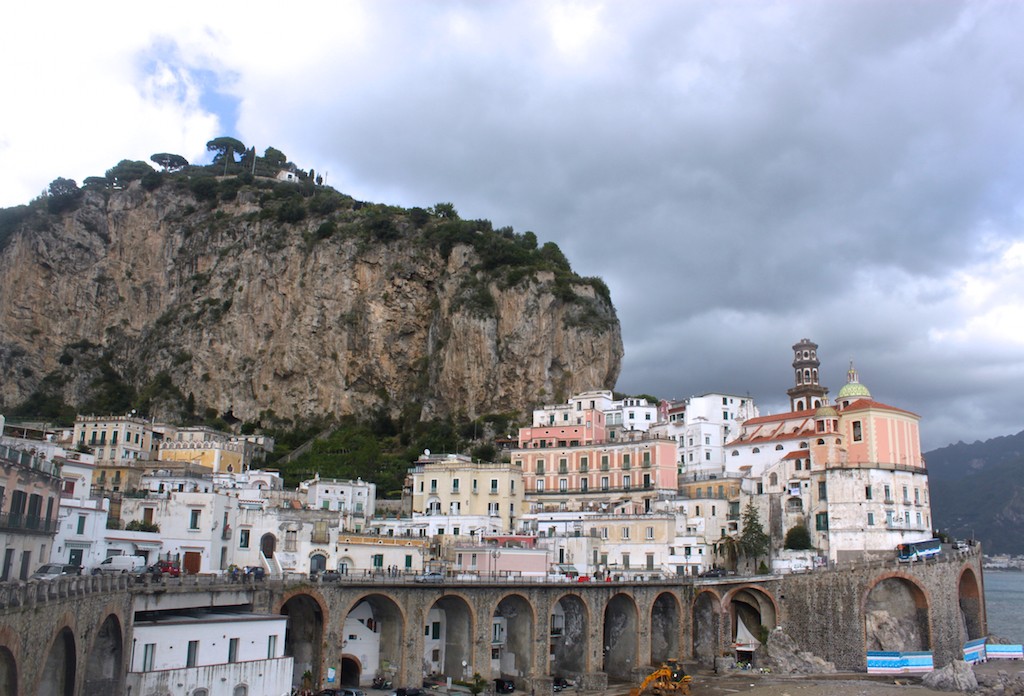 Situated at the base of Monte Cerreto, an imposing mountain with a height of 1,315 meters, Amalfi is flanked by rugged cliffs on each side and overlooks the sparkling blue green waters of the Tyrrhenian Sea. Despite being the largest town on the Amalfi Coast with a population of about 5,000 people, you can walk Amalfi end-to-end in about 20 minutes. Strolling along the bustling seaside promenade filled with piazzas, cafes, and souvenir shops, it's easy to see why Amalfi was favoured by British elites during the 1920's and is still a favourite of visiting tourists today. Alongside, Positano and Ravello, Amalfi is also a UNESCO World Heritage site.

My favourite memory of Amalfi was leisurely wandering through the entirety of the town and taking loads of Amalfi Coast photos.
After my exploring was complete, I stopped at a random cafe along the promenade, ordered a glass (or two) of prosecco, wrote in my journal, and people watched for a couple of hours, before heading back to my hotel.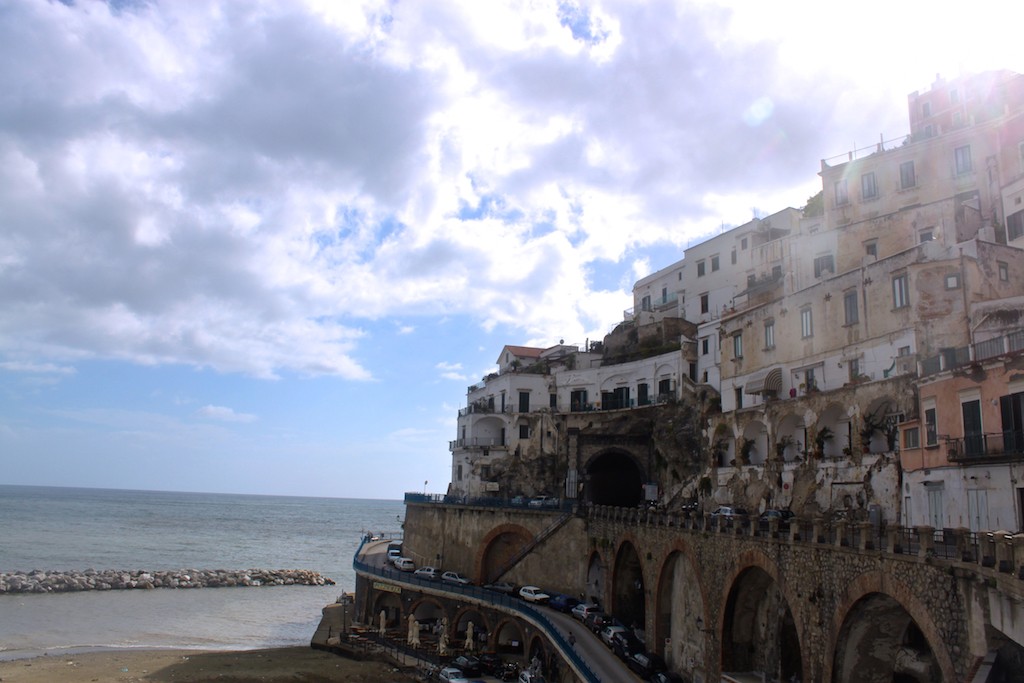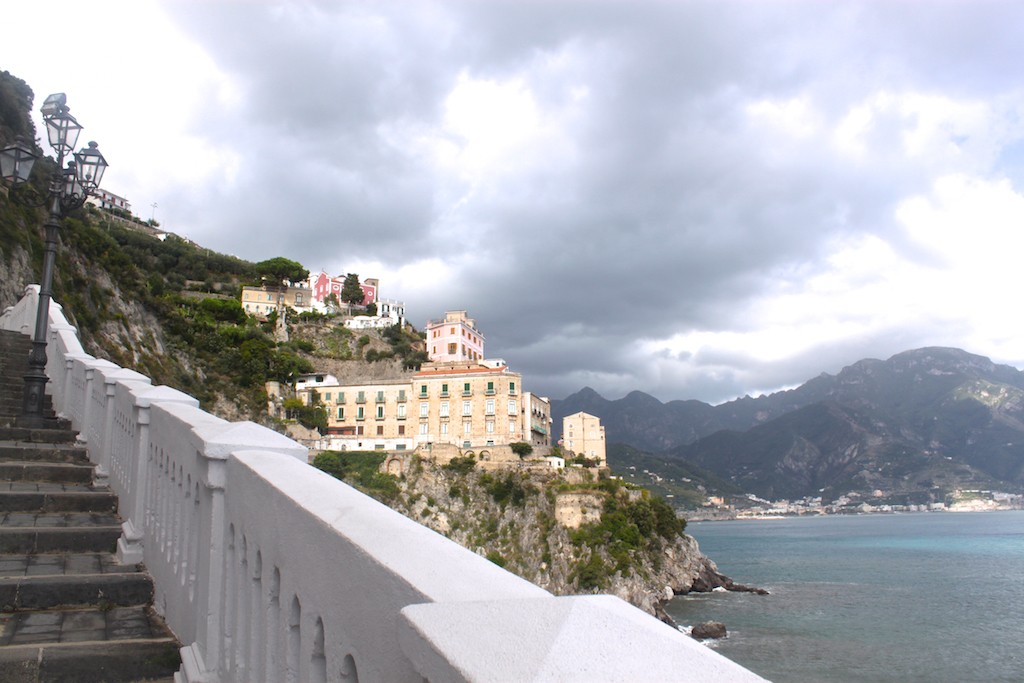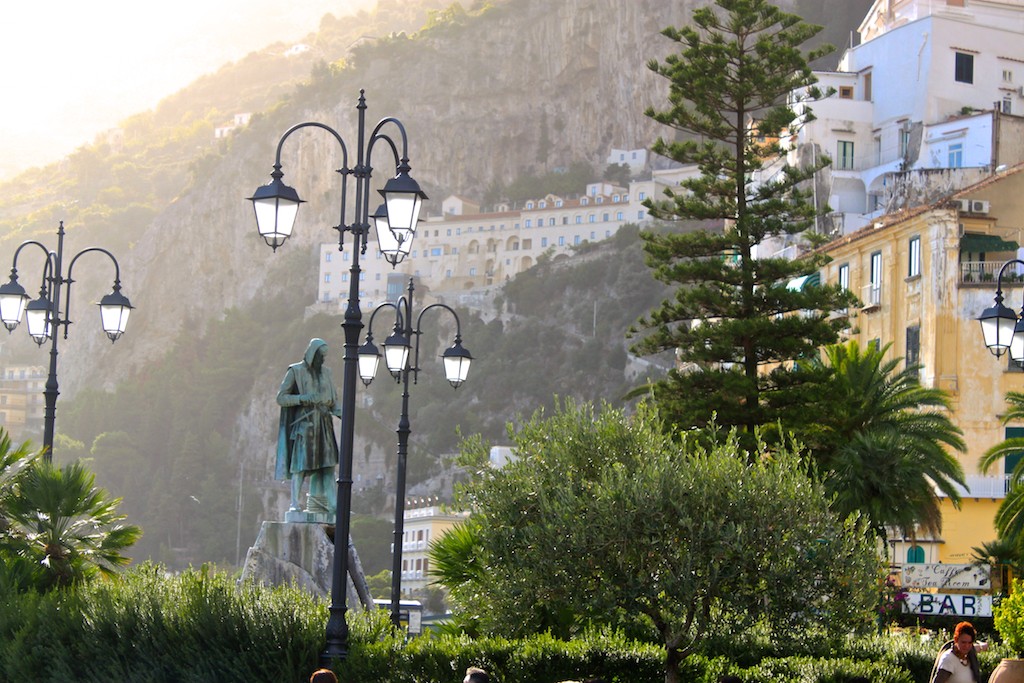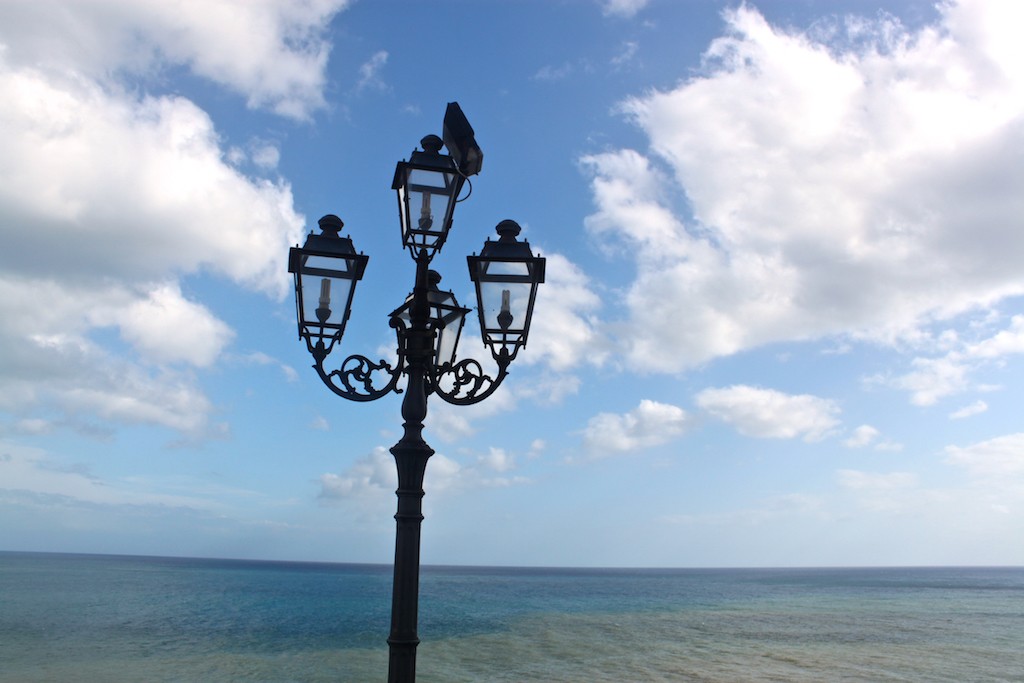 Top Amalfi sites include the Amalfi Cathedral, Cloister of Paradise, and the Museum of Paper. Upscale dining spots with an emphasis on fresh seafood are Ristaurante Marina Grande, Da Gemma, and Ristaurante Eolo. If you're looking for cheap eats, consider Pizza Express (offering gluten free options), G.A.S. Bar, and Rosalo Fancy Pub.
Need a place to stay in Amalfi? Take a look at offerings on booking.com.
2) Positano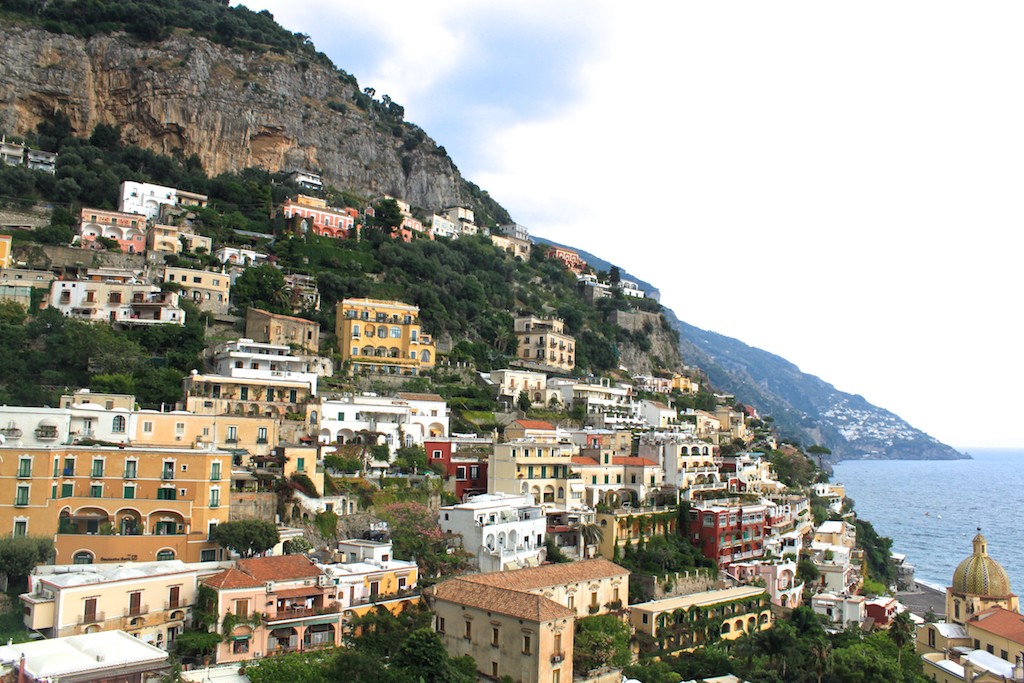 These days, Positano is the most popular of all of the towns that line the the Amalfi Coast. You're more likely to hear more English than Italian as you amble your way around the hilly, tight, tourist filled streets of town. You can hardly blame people for coming to the picture perfect Positano – the attraction of the place is hard to deny with its wide sandy beaches and smattering of pastel coloured homes along the mountains spilling out to the sea. Films such as The Talented Mr. Ripley and Under the Tuscan Sun were filled here.
I based myself in Positano for the duration of my stay. I've fond memories of lunches at the beach, dinner under the stars, and of course, exploring the town by foot while taking more Amalfi Coast photos.
Recommended Reading: This fun article from We Are Travel Girls, 20 Things to Do in Positano. As well, as this massive list of 25 things things to do in Positano.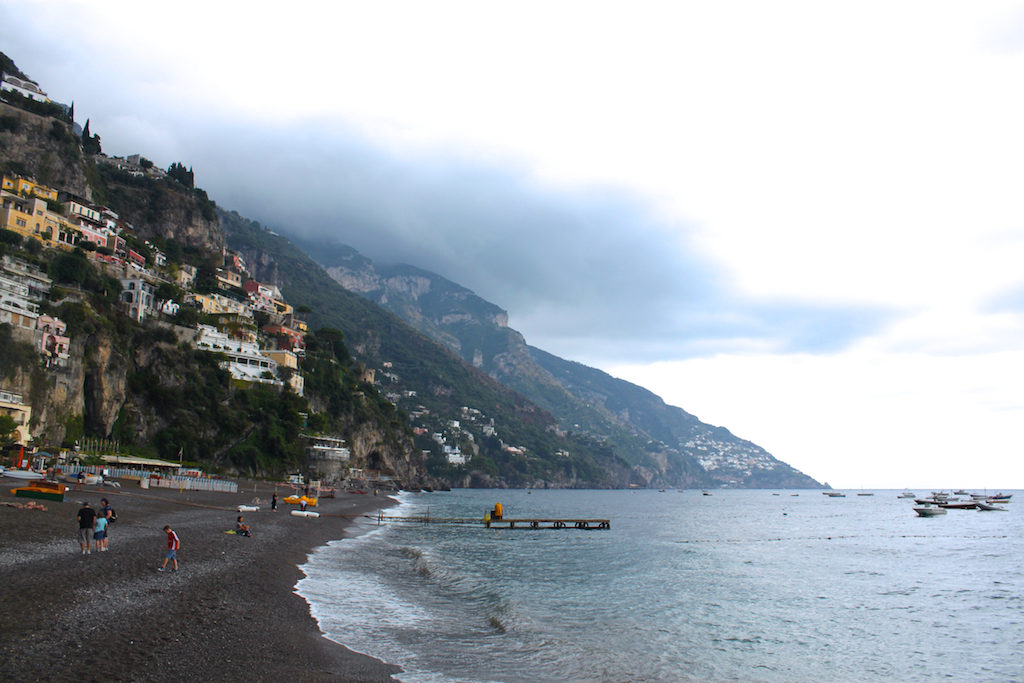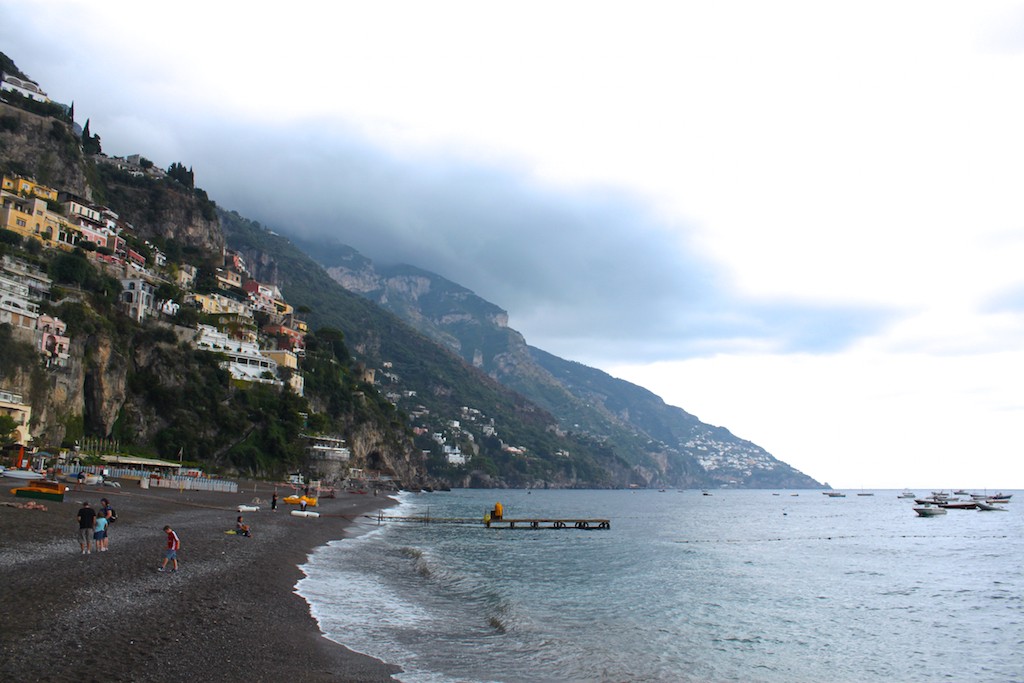 Positano is the best town in the Amalfi Coast to just sit back and relax as there aren't really any notable sites outside of Chiesa Santa Maria Assunta (the town's biggest church). Most visitors opt to shop, peruse the many art galleries, sunbathe and swim at Spiaggia Grande or one of the many other beaches, and dance the night away at the nightclub, Music on the Rocks. Of course, you'll need to get your fill of Italian food and fine dining in Positano can be found at Next2, La Sponda, and Donna Rosa. More casual options include Delicatessen (where I bought the most mouth watering mozzarella cheese sandwich and white wine from Sicily), Da Ferdinando, and C'era Una Volta.
Need a place to stay in Positano? See what's available at booking.com.
3) Ravello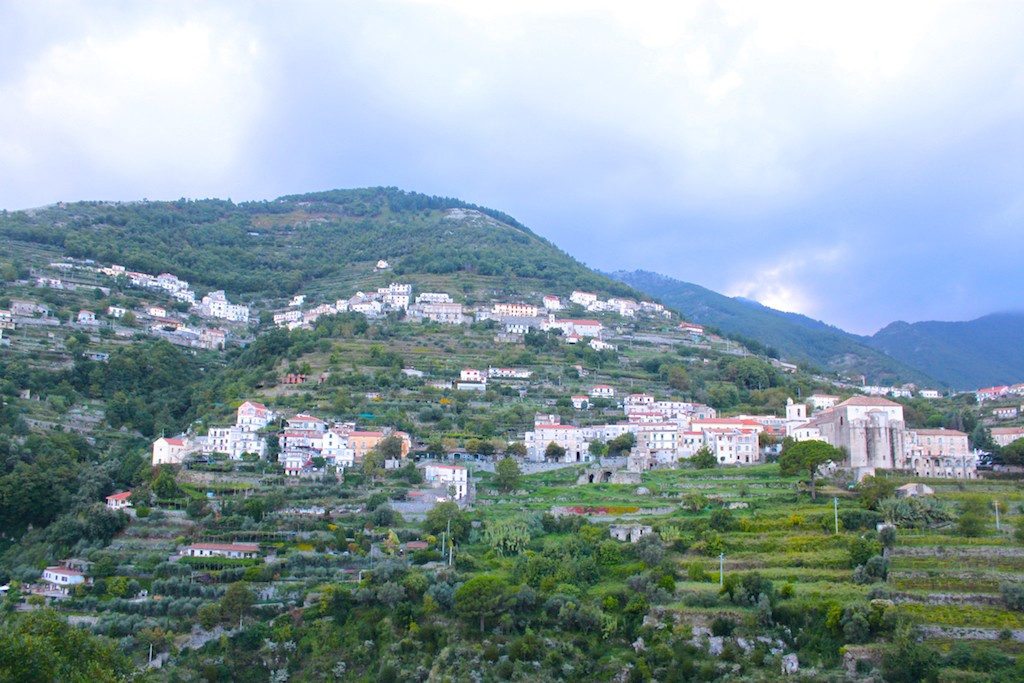 Ravello, resting high in the hills above Amalfi, offers jaw-dropping views overlooking the mountains and sea. With only 2,500 residents, Ravello is quieter and more subdued than nearby Amalfi and Positano. While Ravello might be less visited by tourists, it's arguably the best town to visit along the Amalfi Coast. During the 12th century, local nobility built up a large number of opulent and elaborate villas, many of which remain standing today – like Villa Rufolo and Villa Cimbrone. With garden terraces offering seaside views so stunning that it will make you weak in the knees, it's no wonder that Ravello has long been a favourite with legendary artists like D.H. Lawrence, Virginia Woolf, Truman Capote, and Greta Garbo. It was at Villa Rufolo that Richard Wagner was inspired to compose the opera, Parsifal. Artistic tradition continues to be honored each summer at the annual Ravello Festival with a program that includes music, dance, theatre, and more.
During my stay in the the Amalfi Coast, I made my way to Ravello not just once, but twice! I first went there for an evening piano recital at Villa Ruffolo. Before the performance started, I enjoyed a glass of prosecco sitting outside at Piazza Duomo. As I knew the town was renowned for it beauty, I once more endured the bus ride along the highway between Positano and Ravello. And wow, was I ever glad to return and see Ravello in the light of day.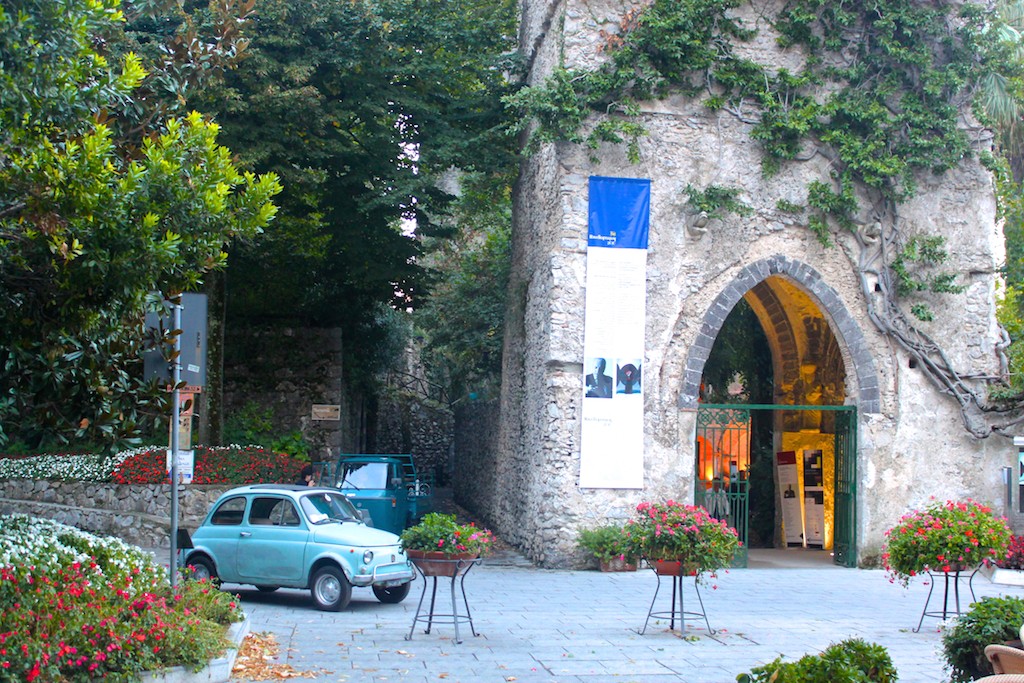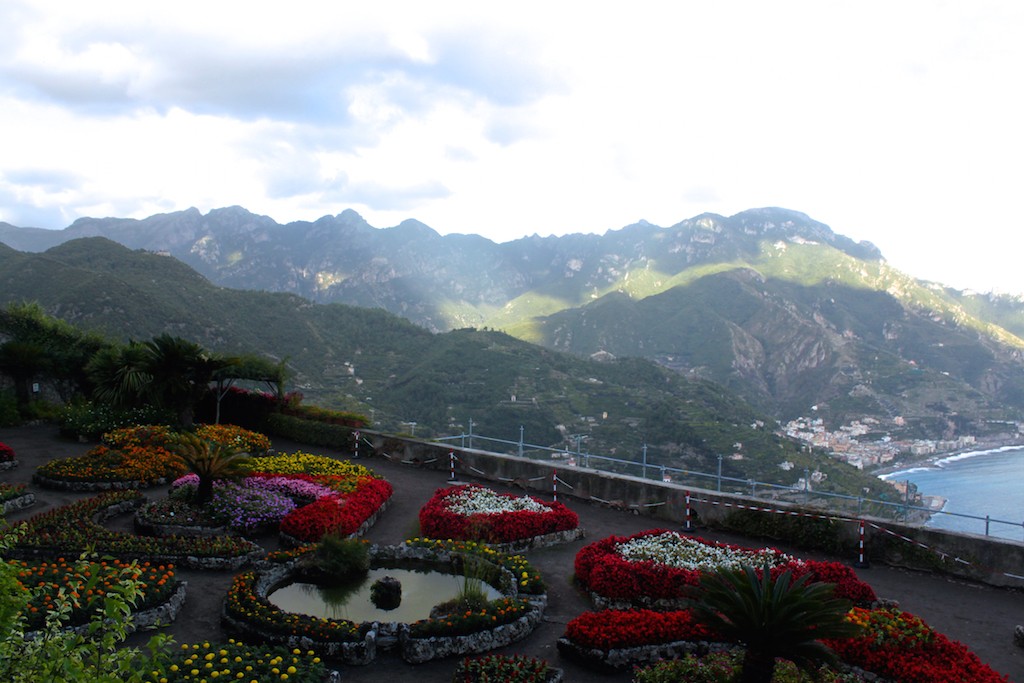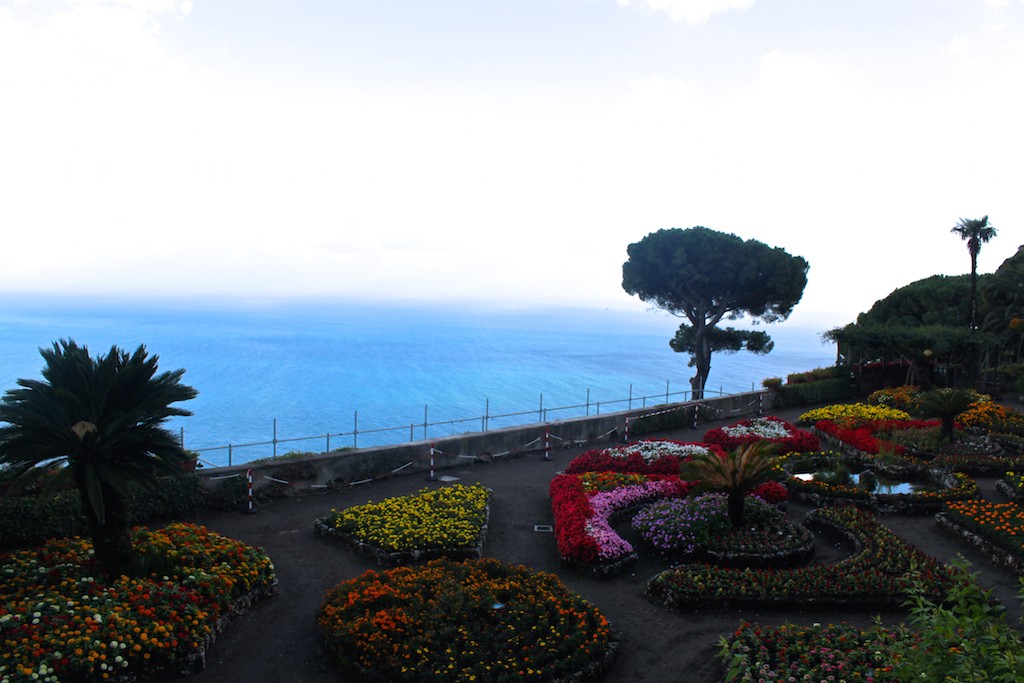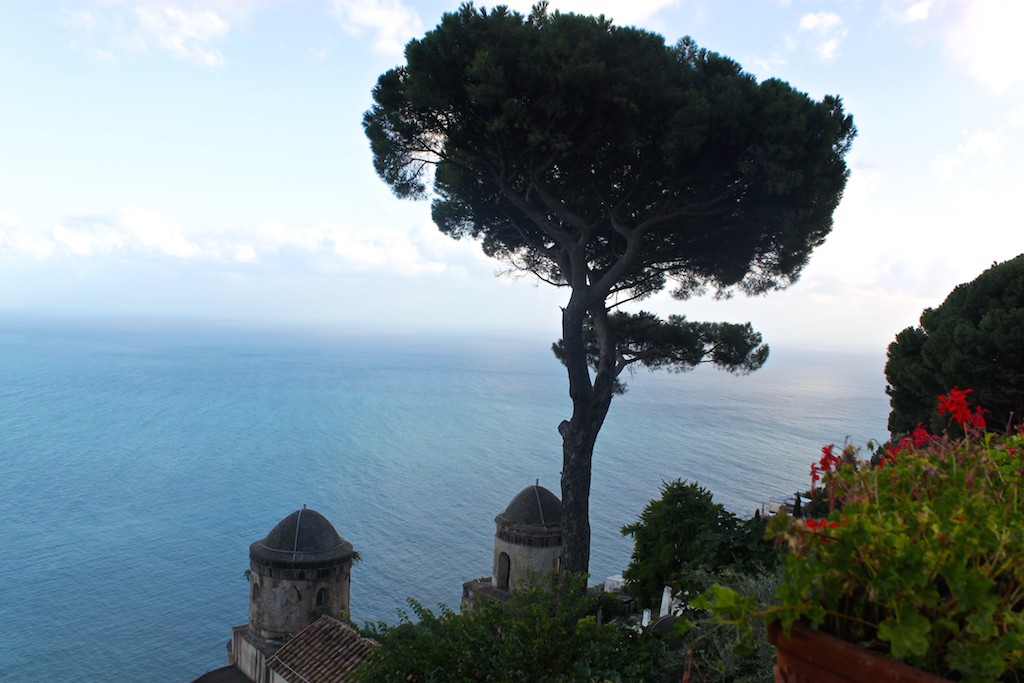 The most popular attractions in Ravello are the Duomo di Ravello (said to the most beautiful cathedral along the Amalfi Coast), the garden estates of Villa Rufolo and Villa Cimbrone, and walking the traffic free lanes of the town, perhaps enjoying the Tuesday morning market at Piazza Duomo when you can shop for local wine, designer clothes, and homemade ceramics. High end dining options include L'Antica Cartiera, Rosellinis, and Il Flauto di Pan. Places to get a better bang for your buck are Cumpà Cosimo, Babel Wine Bar Deli & Art, and Da Salvatore.
Find a hotel or other place to stay in Ravello.
What do you think about these Amalfi Coast photos? Do you have any questions about the area? Have any other tips? Drop us a comment below.
Dreamy Amalfi Coast Photos: Good to Know
1) Most people reach the towns along the Amalfi Coast by taking a ferry from Naples or Salerno. You can also take a shuttle bus or SITA Coach, which runs four times daily. More expensive options include hiring a private driver or renting a car. Both are strongly discouraged as the roads are congested with tourist buses and the ride there tends to be slow. In other words – expect to be caught in one or more traffic jams. There's also a lack of parking in many of the towns and what is available is on the expensive side.
2) To travel between the towns along the Amalfi coast, take a bus as they run frequently throughout the day. The ride will be slow going for the same reasons mentioned above, so sit back and enjoy the views. Buses tend not run past 10:00 p.m. Brave souls can also rent a scooter if they feel confident enough to navigate the small, spiralling roads that hug the coastline. Again, you can also hire a driver, but this is costly and discouraged. If you're into hiking, walk the Path of the Gods between some of the various coastal towns.
3) The Amalfi Coast is a great place to base yourself for day trips to places like the islands of Capri and Ischia, Mount Vesuvius, as well as Pompeii and Herculaneum.
4) While you're in the Amalfi Coast, be sure to make your time there even better by booking a tour.
5) Need even more inspiration for travel to Italy, then read these posts:
6) For even more things to think about when in Italy, check out 60 Fantastic & Fun Things to Do in Florence.
If you like this post, share it on Pinterest.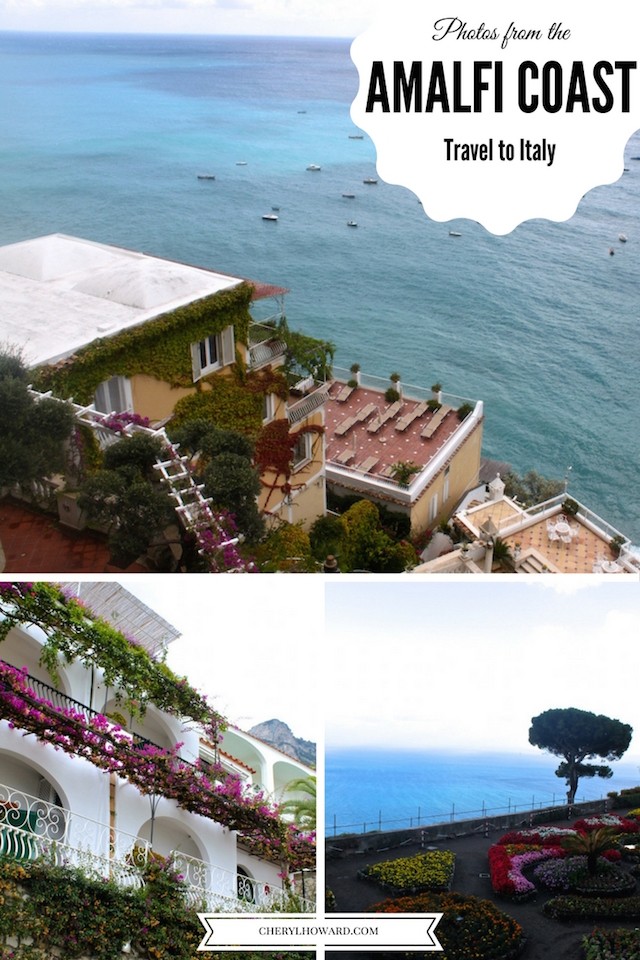 *Disclosure – This post contains some affiliate links. If you book a tour or hotel through any of these links, I'll earn a tiny commission at no extra cost to you. Thanks for your support!