A Real Life Fairytale At Isola di Loreto In Italy – Estimated reading time: 8 minutes
In the middle of the sparkling blue waters of Italy's Lake Iseo, you'll find one of the most magical and mysterious places in the world. Isola di Loreto (or Loreto Island) is one of those sites you wax poetic about, as it's just that beautifully unique.
Isola di Loreto is located in the province of Brescia, an area I've visited a couple of times and where I can't get back to soon enough. Think about how to spend a perfect 24 hours in Brescia, what it's like to wander the streets of Brescia, or sleep in some of the sexiest hotels in the city.
Why You Need To See Isola di Loreto In Italy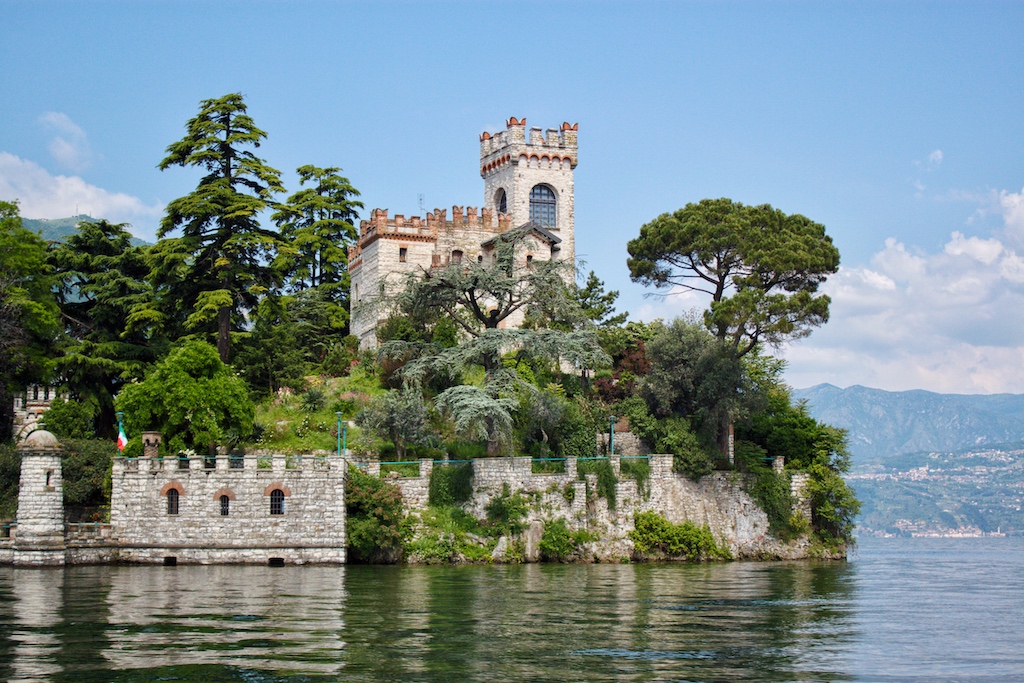 Like a fairytale come to life, the small Loreto island is set amidst the dramatic background of snow-capped mountains and features a neo-gothic castle perched on the edge of a cliff, plenty of greenery, two lighthouses, and a marina. Outside of rare and special occasions, the owners of this private island currently don't permit visitors. The island can only be admired from afar, by boat.
Recommended reading: This account, written by a woman who made her dreams come true when she visited the island to attend a jazz concert! Feel jealous as you read her account of the evening – she even got to meet and speak with the current owners.
Isola di Loreto History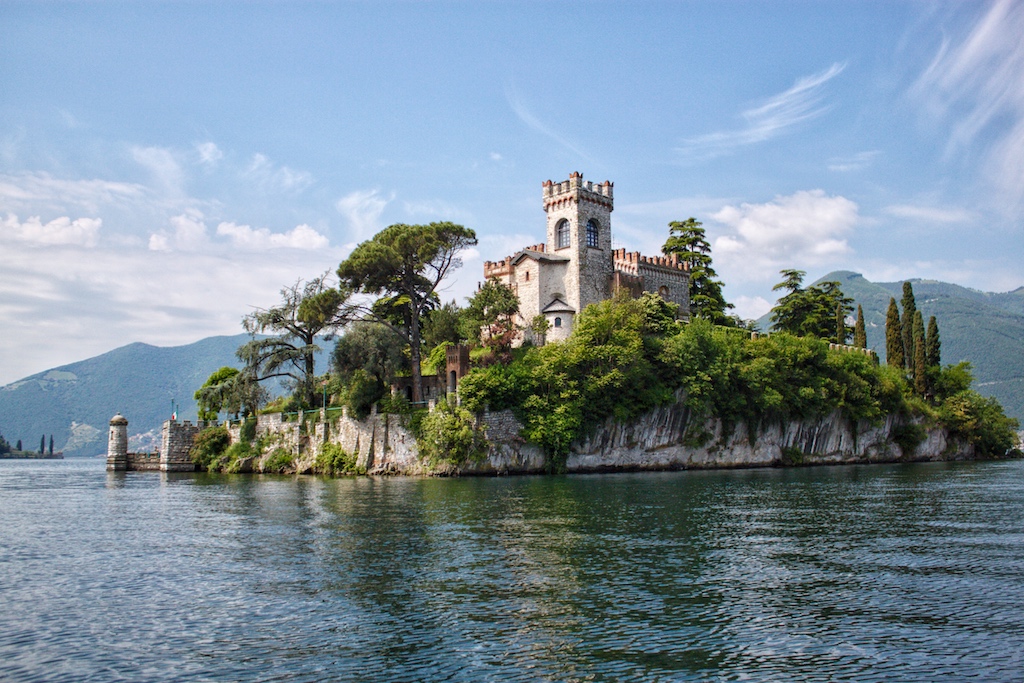 Some online accounts say there's not much known about the tiny island's history, but research shows otherwise, as there are plenty of stories to tell about Isola di Loreto.
The first known documented instance of the island dates back to 1238, thanks to the discovery of some coins. These coins were an artifact of the Roman empire, from the time of Frederick II, a man with almost as many titles as Game Of Thrones', Daenerys Targaryen. If you recall, she was the "Daenerys of the House Targaryen, the First of Her Name, The Unburnt, Queen of the Andals, the Rhoynar and the First Men, Queen of Meereen, Khaleesi of the Great Grass Sea, Protector of the Realm, Lady Regent of the Seven Kingdoms, Breaker of Chains and Mother of Dragons." Frederick's plethora of titles will also exhaust you – he was the King of Sicily, the King of Italy, the King of Germany, and the King of Jerusalem, as well as being the Holy Roman Emperor. It was thought that during Roman times, the island was frequented by local fishermen, traders, and pilgrims.
During the 15th century, a group of Clarisse nuns, the Sisters of Saint Chiara of Brescia, bought the island, built a convent, took a vow of poverty to show their devotion to God, and lived a life of spiritual solitude on the property. When Cardinal Charles Borreomeo visited the island in 1580 and found that a hermit named Pietro was living there (he'd built his own home and tended to a ramshackle chapel), the Cardinal immediately closed down the convent and sent the nuns away. One wonders why the Cardinal didn't allow the nuns and Pietro to continue to peacefully coexist. Was the hermit a playful flirt luring the nuns over to the "naughty side" or were one or more of the nuns romantically pursuing Pietro with reckless abandon? Maybe they were all just friends and Cardinal Borromeo was simply overreacting.
Loreto Island continued to be mentioned in the history books. Fast forward a wee bit to 1696 when Vincenzo Maria Coronelli, a Venetian geographer and renowned dude who made atlases and globes, noted that Isola di Loreto came into the hands of the heirs of Count Alessando Martinengo. In 1847, writer Constanzo Ferrari mentioned the island in his historical novel, Tiburga Oldofredi featuring two sibling protagonists, Tiburga and Imelda, from the nobel Italian Oldofredi family. A short time later, historian Gabriele Rosa wrote about the island, mentioning the remnants of a longstanding fortress with two square towers and an east facing chapel (parts of those ancient fortifications still remain on Isola Loreto today). A further reference of the island appeared in the Alpine Guide of the province of Brescia in 1889.
Eventually Loreto Island was owned by Duchess Felicita Bevilacqua La Masa. This amazing woman deserves recognition for her contributions to the art world. Like most bold and forward thinking females ahead of their time, she was said to be "troubled", have an impetuous temperament, and a tendency to undertake adventure. Born in 1822 as the oldest child of the once affluent Bevilacqua family, she grew up in a time when her family was facing severe financial problems. These problems persisted throughout her life, even until her death. Surprising everyone (she was not known to be a patron of the arts), she bequeathed Ca 'Pesaro palace in Venice's Grand Canal to the city so they could establish a studio for young artists with little financial means. The studio cum museum later exhibited the work of rebellious artists who showed their new and modern art, even showing some Cubist pieces.
After the duchess's death, the island was passed on to Royal Navy captain Vincenzo Richieri and his wife Giannina Zirotti. They commissioned architect Luigi Tombola to build the two story neo-gothic castle, Castelo della Isola di Loreto, with crenellated turrets and light coloured stone walls. Tombola also oversaw the building of the marina and two lighthouses. To further accentuate the beauty of the castle, they filled the lake's tiniest island with plenty of greenery, including pine and larch trees, as well as many exotic plants.
Isola di Loreto Now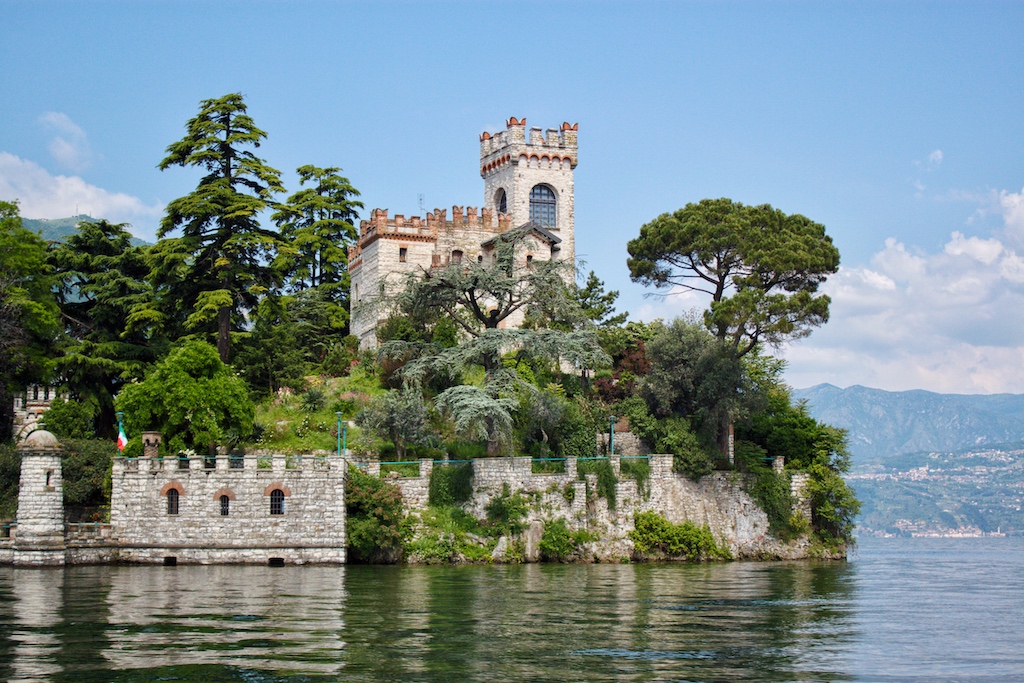 At the time of writing, the island is owned by a wealthy entrepreneur who hails from nearby Erbusco. The owner is said to have turned down several offers over the years from people wanting to buy the place. Rumors have it that back in 2010, George Clooney wanted to purchase the property for his former lover, Elisabetta Canalis.
The island remains completely off-limits to the public, with the owners rarely opening it for events such as jazz concerts. Who wouldn't be willing to give one of their vital organs just to be able to attend a jazz concert on Isola di Loreto?
Recommended reading: Our review of the nearby Hotel Rivalgo in Sulzano. This hotel is a stunning and calming sanctuary resting on the shores of Lake Iseo. It's the perfect place to base yourself and nearby visit Monte Isola or Loreto Island.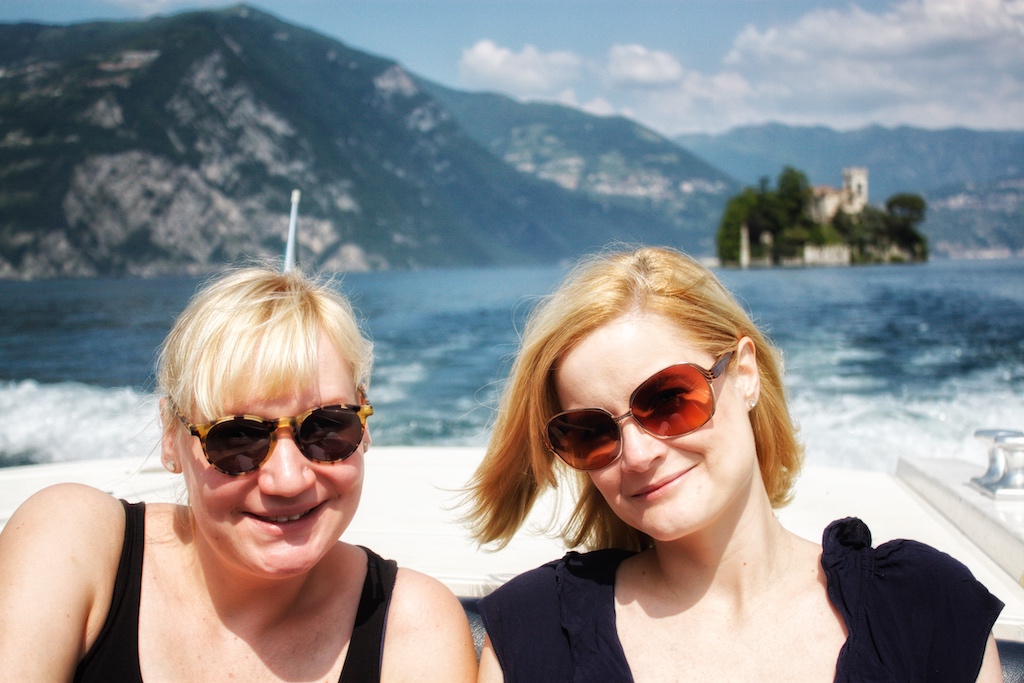 To see how the island looks from above, view this Youtube video with drone footage set to some rather cheesy piano music.

Even better, watch/share this video about Isoloa di Loreto and better yet, subscribe to my Youtube channel for even more travel related videos.
What do you think about Isola di Loreto? Are you keen to visit this stunning place? Let us know and leave a comment down below.
Location
Isola di Loreto
25050 Monte Isola, Province of Brescia, Italy
(The island is close to Monte Isola, opposite Carzano in the province of Brescia)
Good To Know
1) Browse hotel offerings in the Lake Garda area.
2) Experience the Lake Iseo and Lake Garda areas with a guided tour.
3) If you'd like some further Italy travel inspiration, read these fabulous blog posts:
4) For more Italy inspiration, read Plan an Amazing Day Trip to Pompeii From Naples.
If you like this post, share it on Pinterest.

*Disclosure – We worked with Around Airports to share helpful travel advice with our readers. This post also contains some affiliate links. If you book a tour or hotel, I'll earn a tiny commission at no extra cost to you. Thanks for your support!