Getting Rubbed Down at the Blue Lagoon Iceland – Estimated reading time: 10 minutes
Not only had I always wanted to visit Iceland, I'd always wanted to experience the Blue Lagoon. It'd long been on my travel bucket list.
When I arrived at the Blue Lagoon Iceland, it was still dark. Not unusual for late December there, when sunrise typically happens around 11:15 a.m. Even though I was tired after my long transatlantic flight, I was so excited to be there that I was the first one off the bus. Despite my heavy luggage, I ran up the long path to the entrance and right inside so that I could get a prime spot in line.
Arriving At The Blue Lagoon In Iceland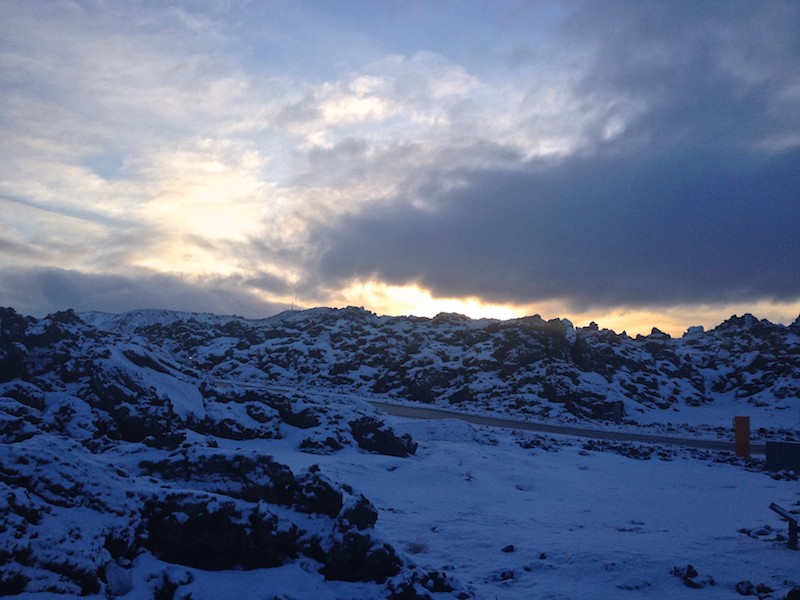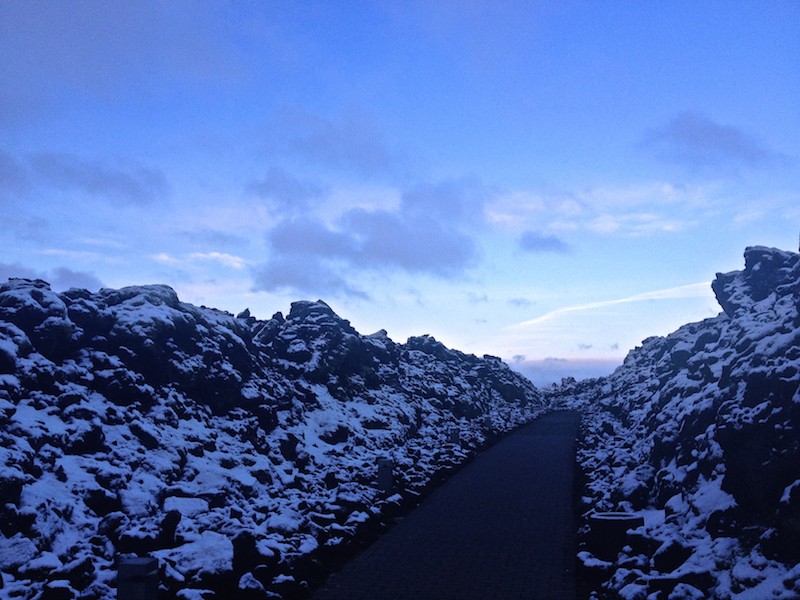 I breezed through check-in, stored my luggage, changed into my swimsuit, tied my hair back (you don't want to get your hair wet), donned the signature Blue Lagoon white fuzzy robe, slipped into my flip- flops, took the mandatory shower and went directly outside as quickly as possible.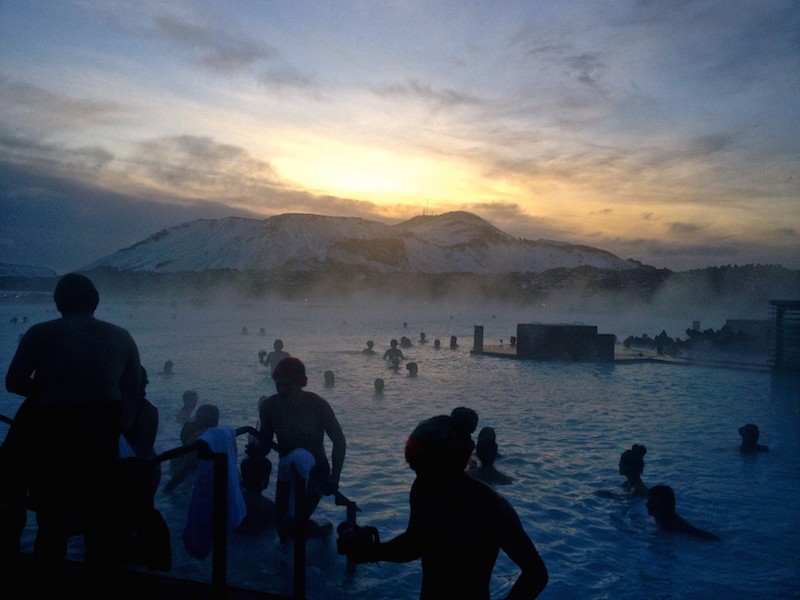 Before I could even absorb the scene in front of me, I was assaulted by a blistering, cold Icelandic wind. I laughed when I saw others emerge from the building, also stunned by the ultra-cold temperatures. Most would scream or giggle, quickly dump their attire and streak quickly into the soothing blue waters of the lagoon.
Recommended reading: A Piece Of The Berlin Wall In Reykjavik Iceland
All Of The Blue At The Blue Lagoon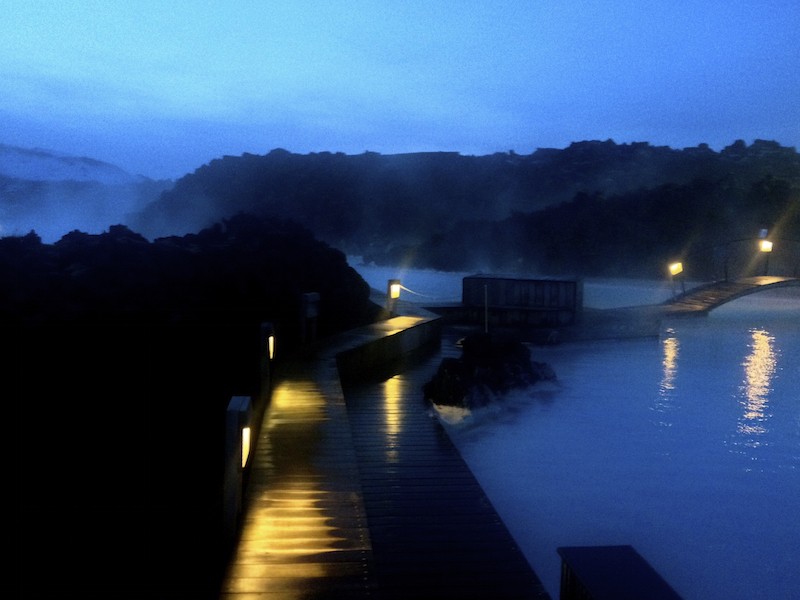 Everything, and Although my fingers felt like icicles and the wind was whipping up and under my robe, I was determined to walk around and take photos before it got too busy.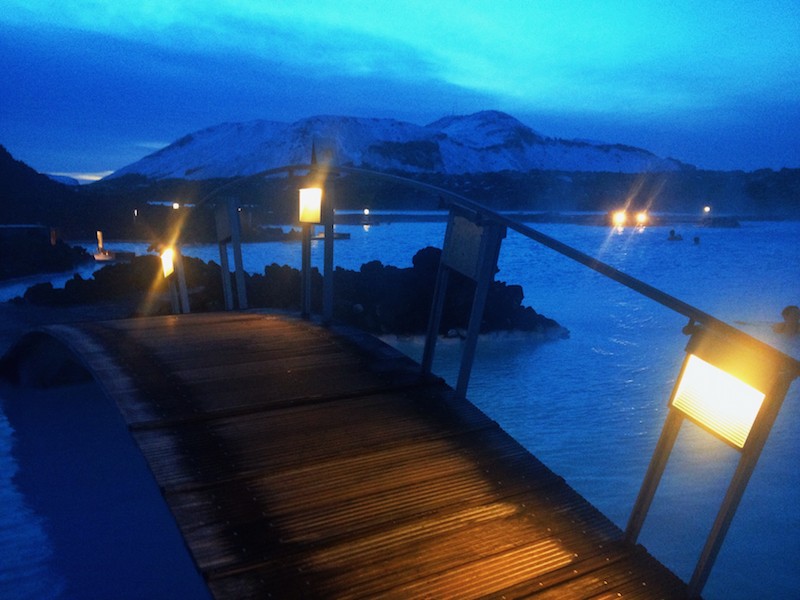 I mean everything, was blue. Not only the water, but the horizon. You could just make out the silhouette of the mountains in the distance. Wisps of steam flew wildly from the water. It was like being on a distant planet and it didn't seem real. It was beautiful and absolutely perfect.
I waded in and sank into the water up to my neck. It was really warm and welcoming. The milky blue liquid enveloped me and as I swam around, the sky slowly brightened and I could see more of the spa area and the surrounding mountains.
"Holy shit!" I thought with a smile. "I'm really here. I'm actually here. I'm swimming in the Blue Lagoon ."
It was everything I ever dreamed.
The Blue Lagoon Iceland Spa Experience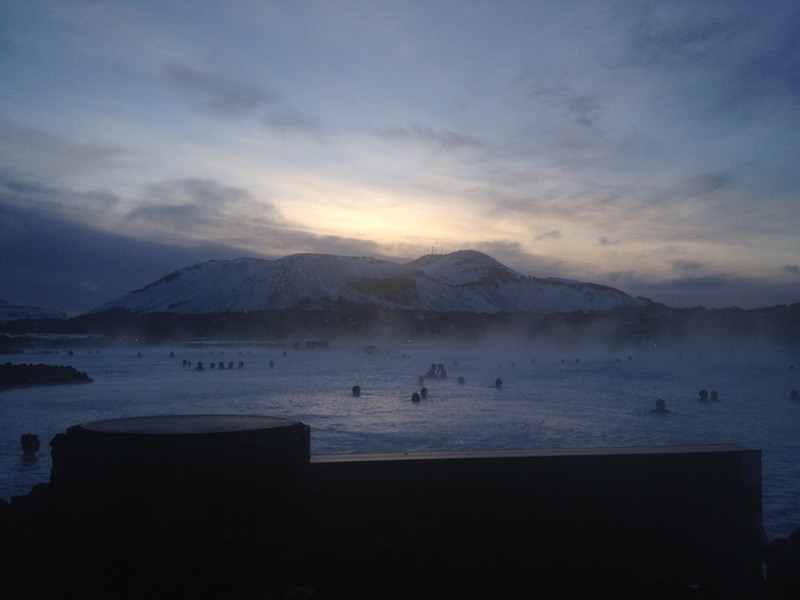 My smiles didn't stop there as it was time for a spa treatment. I was scheduled for the pure salt glow. The treatment involved the application of a salt glow to my entire body, to exfoliate my skin and give me a radiant and healthy appearance.
I swam over to the designated spa area and waited for my attendant to arrive. He showed up wearing a wetsuit, a winter jacket and a hat! Saying a cheerful hello, he instructed me to climb up on an inflatable pool mattress and lie on my stomach. I hesitantly got on the bed and was immediately taken aback by the cold. He saved the day by quickly dipping a couple of blankets in the water and then covering my body with the warm, wet blankets.
This was certainly different than any other spa treatment I'd ever had.
He started by peeling back the blanket to expose one of my legs. Slapped again by the gusting winds and freezing temperatures, I shivered uncontrollably. He put the scrub on his hands and began to vigorously rub my leg. I yelped with pain! The application of the scrub, combined with the cold was too much to bear. He continued on with his task at hand, working his way to the other leg and the rest of my body. It was like cruel and unusual punishment.
Every few minutes, the blanket would become icy cold. At which time, the attendant would remove it, wet it and apply it back on me. The time between the removal and the application was only a minute but was cold to say in the least.
At one point I asked "Um, is it supposed to hurt this much?" He laughed and said "You did order the salt scrub, didn't you?" I nodded in resignation and let him reach our painful finish. Yes folks, I'd just got rubbed down in the Blue Lagoon.
I also got to experience one of the spa's many amenities by having a silica mud mask application. Finally, our session ended with an in-water massage. It was heaven and I began to relax again. This, it seemed, was my "happy ending."
When it was over, I swam out to the main part of the pool to recover.
The Beauty of the Blue Lagoon Itself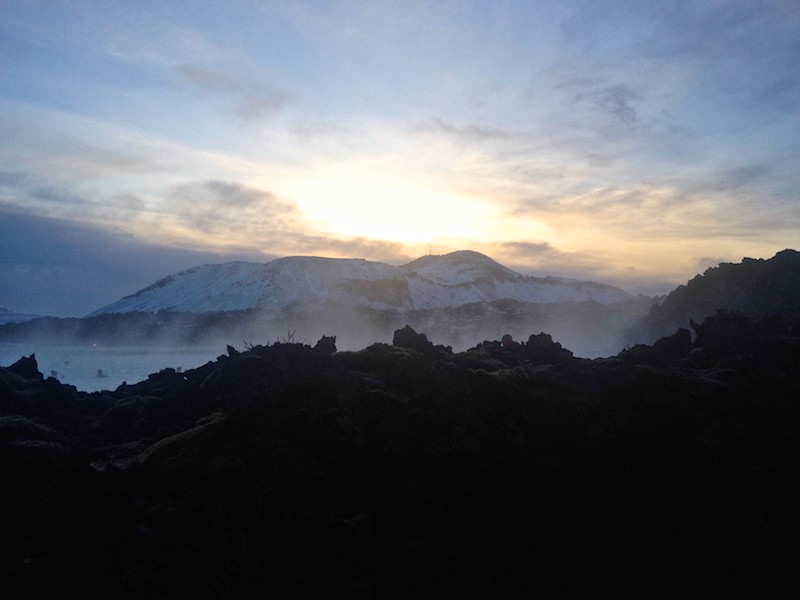 The sun had come out and the skyline was dreamy. To say I was happy would have been an understatement.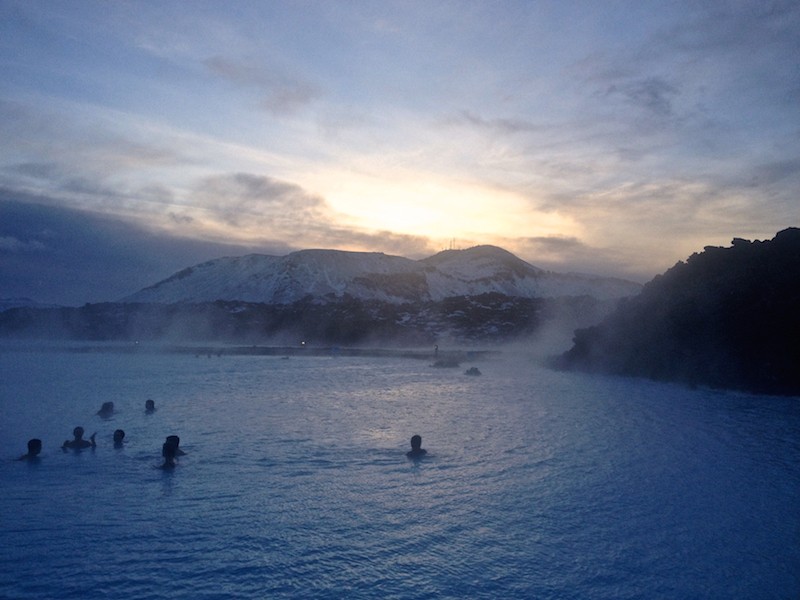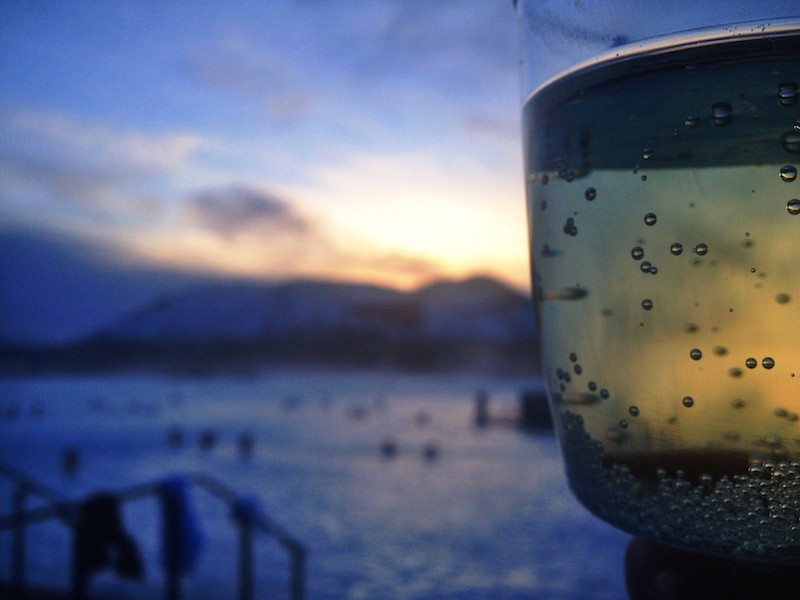 To finish off my time at the Blue Lagoon, I swam up to the bar and had a glass of prosecco. I may have been alone but I silently toasted a weird but wonderful moment in my life and sighed with the happiness that I'd just made a dream come true.
The Icelandic Landscape At The Blue Lagoon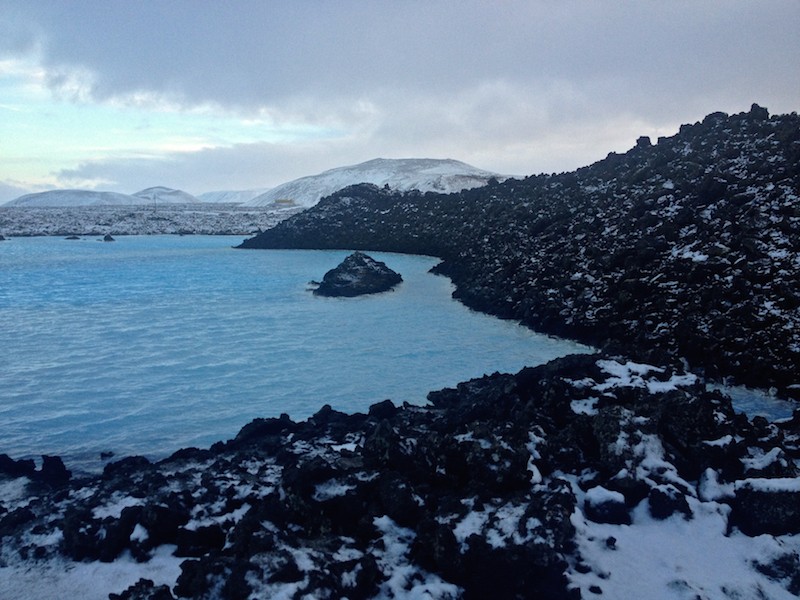 While waiting for the final shuttle bus to arrive and take me into Reykjavik, I wandered around the property and got even more shots of the Icelandic landscape.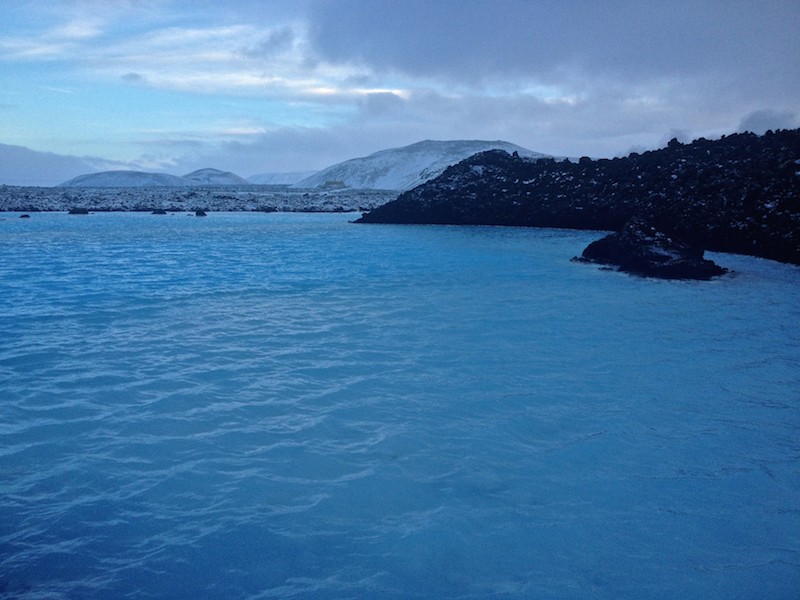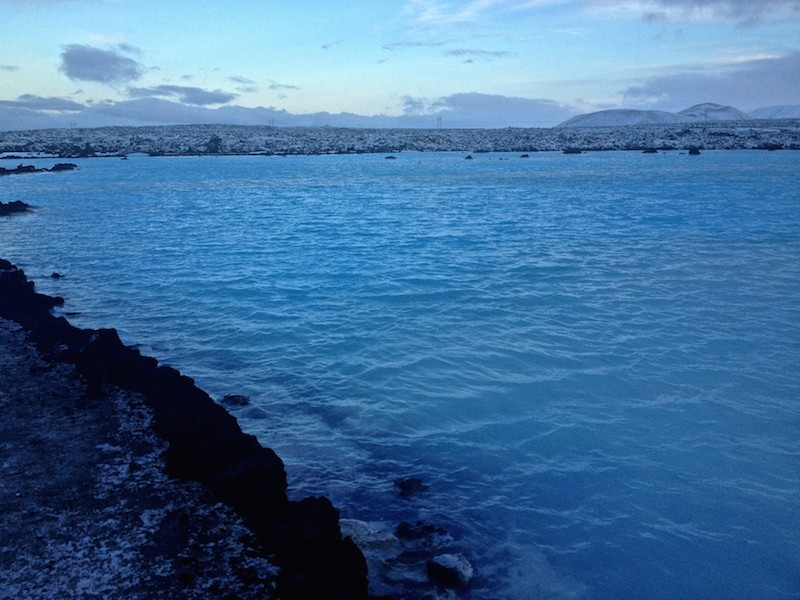 What do you think about the Blue Lagoon in Iceland? Do you have any other Icelandic travel tips for us? Tell our readers about it in the comments below.
Location
Blue Lagoon Iceland
240 Grindavík
Iceland
(+354) 420 8800
Good To Know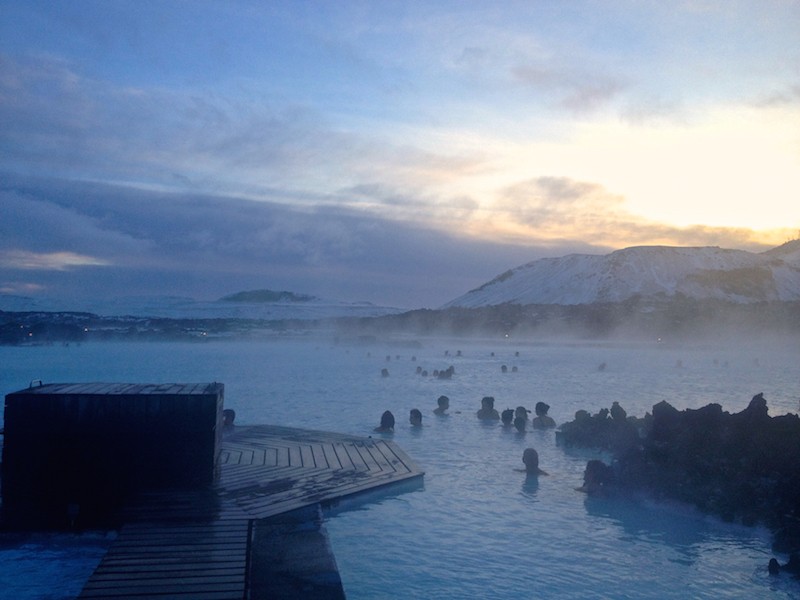 1) Visit the Blue Lagoon upon arrival in Iceland. It's close to the airport – you can drive there yourself or buy a bus ticket at the airport. If you arrive in the middle of the night, be prepared to wait. The first bus does not depart for the Blue Lagoon until about 8:30 a.m.
2) If you plan to go on to Reykjavik afterwards, make sure you also book transport to Reykjavik from the Blue Lagoon at the same time as you book your transport to the Blue Lagoon from the airport.
3) Visit the Blue Lagoon early in the morning, as there are less people. It gets much more crowded as the day goes on.
4) Make reservations before you arrive as you'll get through the line faster. Also recommended if you want to experience a spa treatment. Book online directly at the Blue Lagoon website. Prices start at 35 euros or $43 US (before spa fees).
5) I booked the Comfort Pass which includes the visitor pass, entrance fee, use of a towel, drink of your choice, skin care trial pack and algae mask. I think it offers the best value (50 euros or $62 US), as it was nice to have a drink in the lagoon and have use of a towel.
6) If you want to visit around Christmas, be sure to look at the schedule. I went on December 24th and the spa closed around 1:00 p.m. and was then closed for 1-2 days afterwards.
7) For more facts about the Blue Lagoon and tips about how to take care of your hair (if it gets wet, it's extremely hard to wash out the mineral buildup), check out this helpful article from The Blonde Abroad.
8) If you need somewhere to stay in Iceland, I can personally recommend 101 Hotel Reykjavik and Hótel Borg. If you want to browse even more options, check with booking.com.
9) To get the most out of your trip to Iceland, book a tour.
10) For more European travel inspiration, check out some of our most popular posts.
If you like this post, share it on Pinterest.

* Disclosure – My Blue Lagoon experience was complimentary. As always, ny opinions expressed are entirely my own. This post also contains some affiliate links. If you book a tour or hotel through any of these links, I'll earn a tiny commission at no extra cost to you. Thanks for your support!