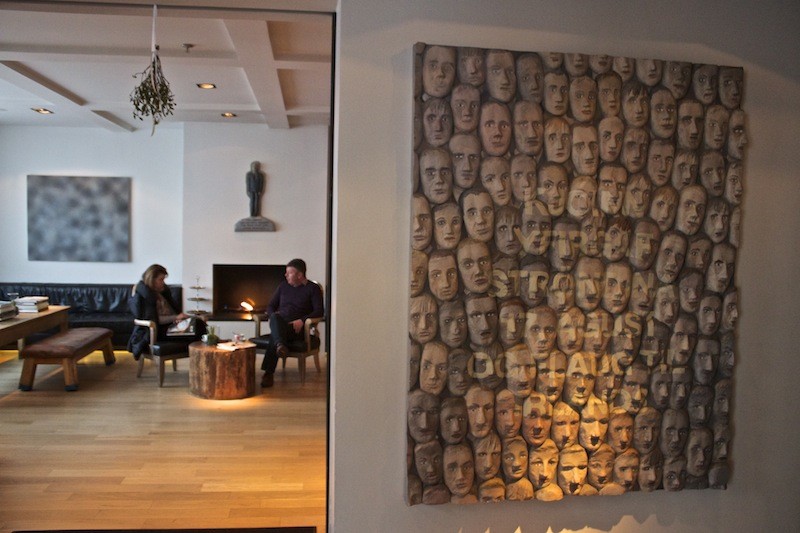 Iceland Hotels: 101 Hotel Reykjavik – Years ago, when I moved to Berlin, I sold everything I owned in order to help finance my European adventure. Since then, I've learned to live with less and been much happier as a result. It meant a number of sacrifices such as sleeping on futons, tolerating washing machines that required you to sit on them during the spin cycle and showering while sitting down (all true stories from my time abroad). In keeping with my new lifestyle, I stopped booking accommodations at expensive hotels and started staying at hostels instead. After brilliant times at the Wombat's City Hostel in Budapest and the Living Lounge Hostel in Lisbon, it was a surprisingly easy transition.
That being said, this doesn't mean that I don't enjoy a stay at a luxury hotel, especially if it means a break from my frugal way of living. After all, who doesn't want to feel like a queen for the day? So lucky for me, my job as a travel writer and photographer calls for accommodation reviews from time to time when I get to pretend, ever so briefly, that I'm part of the world's wealthy elite. So while planning my Christmas in Iceland this past December, I was delighted to collaborate with 101 Hotel in Reykjavik.
Iceland Hotels: 101 Hotel Reykjavik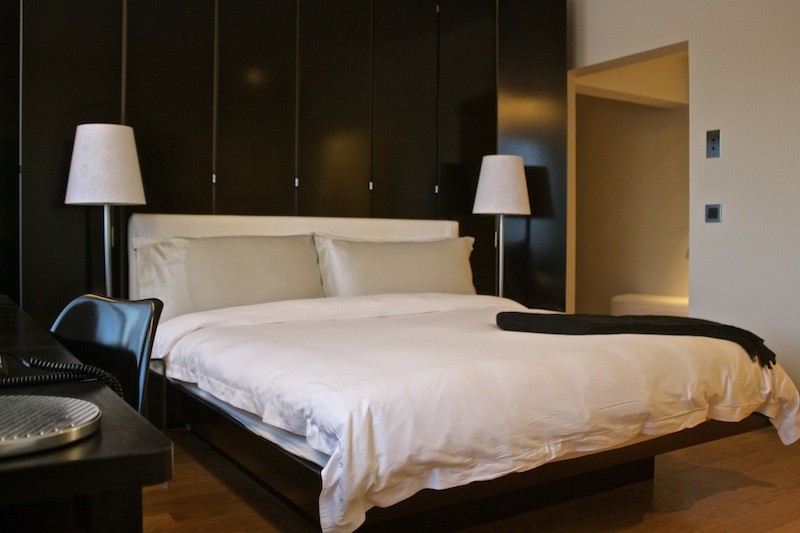 [bctt tweet="Sexy As Heck Iceland Hotels: 101 Hotel In #Reykjavik" username="cherrysberries"]
101 Hotel is a luxurious design hotel set in the heart of historic Reykjavik, the world's most northern capital at the edge of the Arctic Circle. A member of Design Hotels, this elegant and refined hotel features 38 guest rooms (including 6 suites), a trendy restaurant and bar, a relaxing lounge area and on-site spa facilities. Contemporary artwork from local Icelandic artists is also showcased throughout the hotel, with a permanent exhibition and rotating works as well.
What really sets this hotel apart from others is the cool and "unapologetic" Nordic design, a creation of designer and owner Ingibjörg S. Pálmadottir. The space is modern and minimalist making use of a calming monochromatic colour palette of black, white and grey. The extensive but quirky art collection, '60s style furnishings, warming fireplace in the lounge and use of floor-to-ceiling glass in the restaurant and bar all combine to make your stay at Hotel 101 unforgettable.
My Room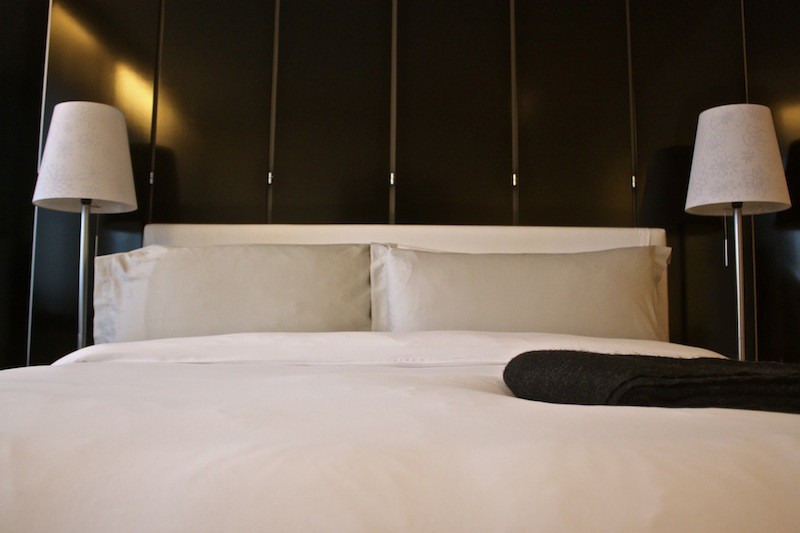 From the moment I walked into my room, I felt like I'd entered a peaceful, calming sanctuary where all my worries could be set aside. It was quiet throughout the duration of my stay and not once did I hear sounds from people in other rooms or from party revellers outside.
Being jet lagged, I was all too eager to jump into the king-sized bed and sleep the day and night away. While the bed was large, it wasn't as comfortable as I'd expected it would be as I found the mattress to be too thin. This could easily be fixed with the use of a feather bed.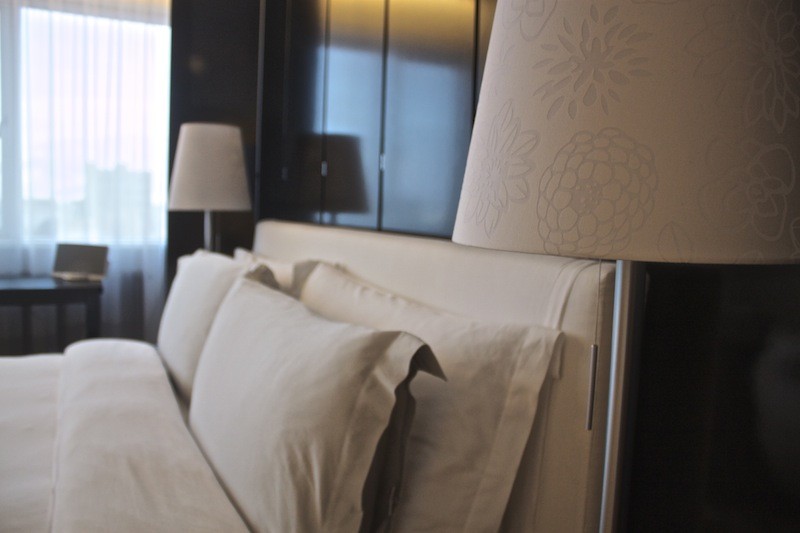 There were tons of things to love about the room – it was spacious, with heated oak floors and offered a spectacular view of Harpa (Reyjkavik's stunning concert hall) and the surrounding marina. Other perks for tech lovers were the flat screen TV, DVD/CD player and Bose iPod dock. There's also free Wi-Fi available throughout the hotel.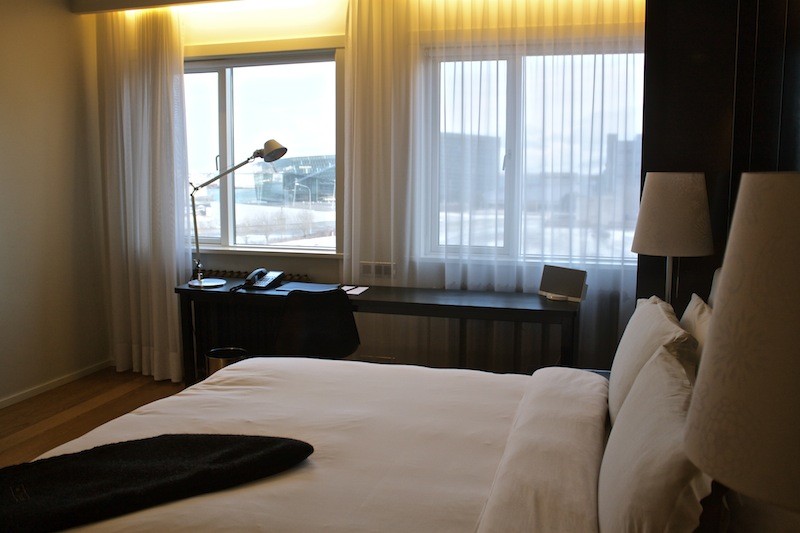 I squealed when I saw the Aveda products and big fluffy robe. My stay really did feel like a spa experience! Blue Lagoon products are also available for in-room purchase, but are quite pricey. There's also complimentary slippers available if the heated floors fail to warm your cold feet. If you really want to indulge in a spa experience, you can order an in-room massage. Or you can use the hotel's spa facilities which include a steam bath, Jacuzzi and fitness center.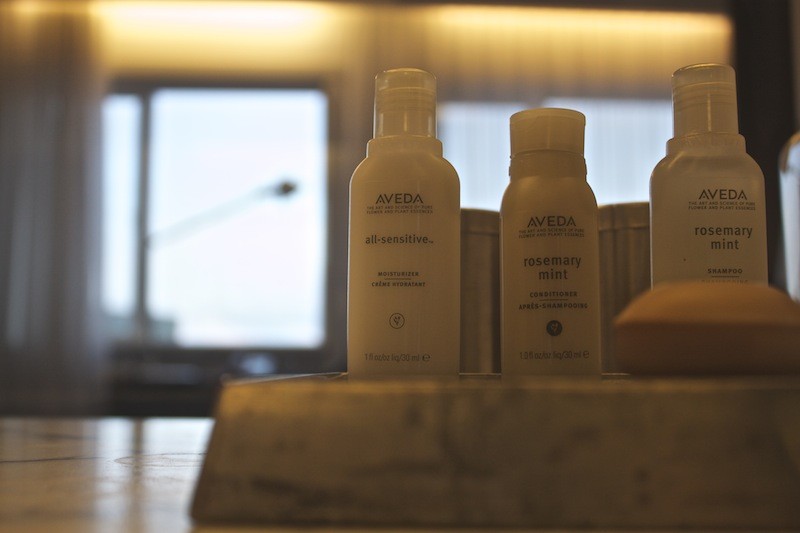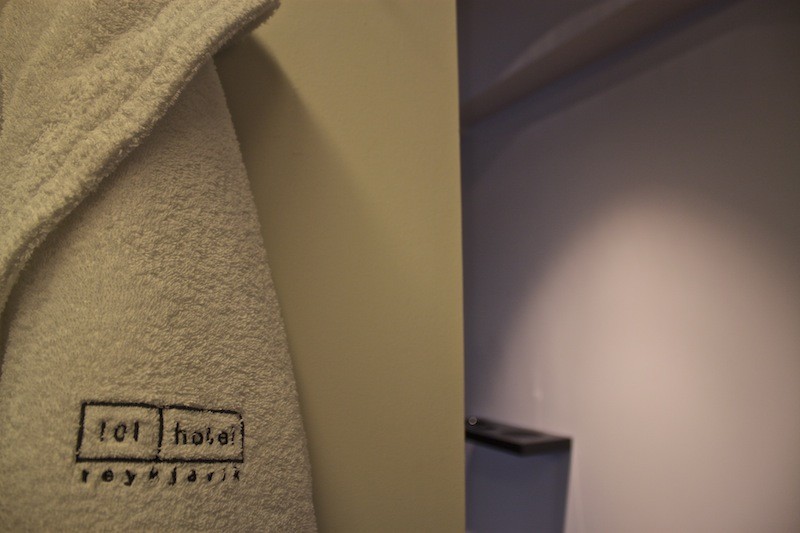 My room also included a large walk-in shower with a rainfall shower-head. Sadly, I did not have a bathtub but some of the other rooms come with beautiful, free-standing silver-clawed bathtubs. Taking a long bubble bath in one of those would have been divine! Some room also have balconies.
Room prices vary between low and high season but average from 28,000 ISK / $242 US per night up to 63,500 ISK / $550 US.
101 Restaurant and Bar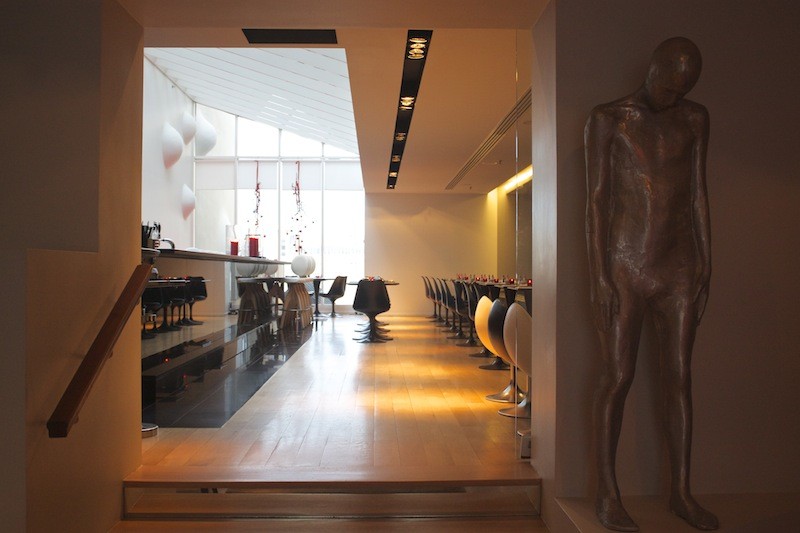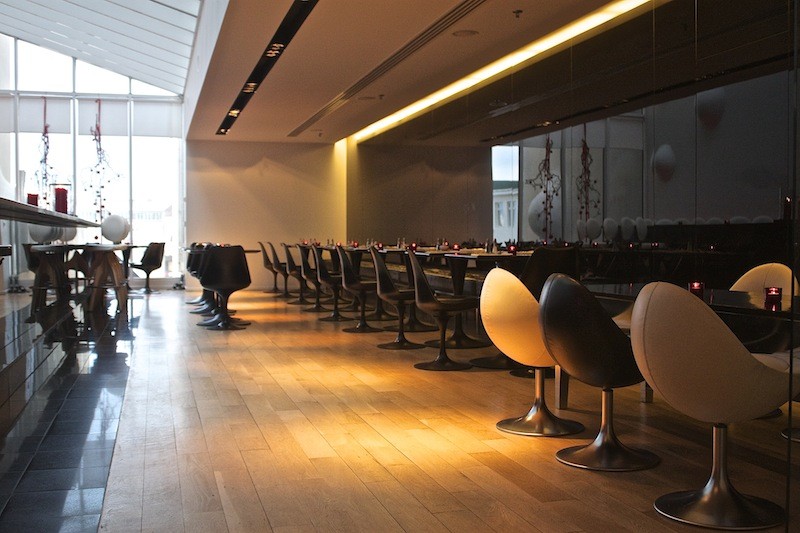 The restaurant offers up Icelandic and international cuisine – online reviews reveal their hamburgers are a popular choice. The bar also carries an extensive wine list and cocktail selection. Locals often frequent the place on the weekends, making this one of THE places to be in Reykjavik.
The kitchen is open from 7:00 a.m – 11:00 p.m. daily and the bar is open until midnight on weeknights and 1:00 a.m. on weekends. Room service is available while the kitchen is open. View the full menu.
Note – breakfast is NOT included in the room price.
Lounge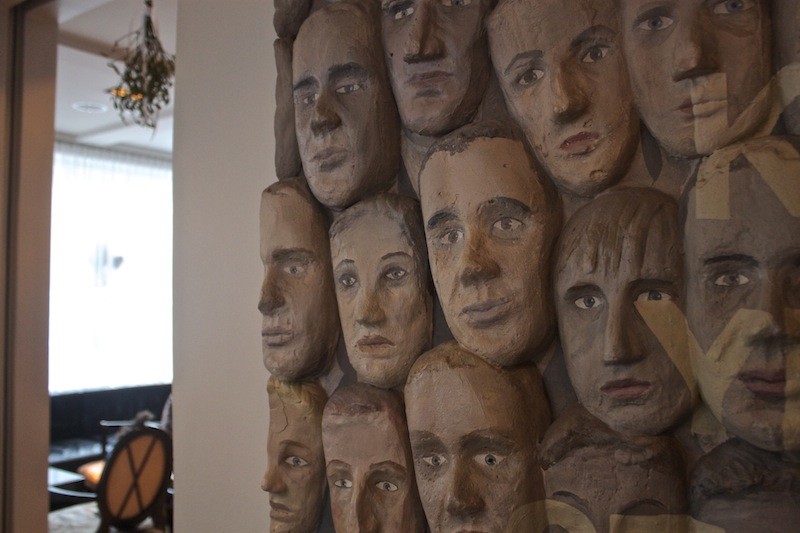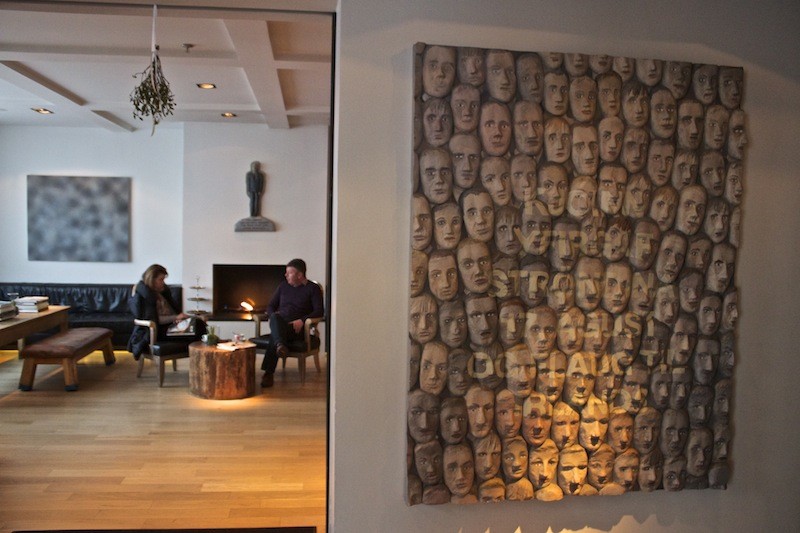 The lounge area is a bright space, inviting and comforting. I was all too content to sit by the fireplace and read a book for a couple of hours.
Recommendation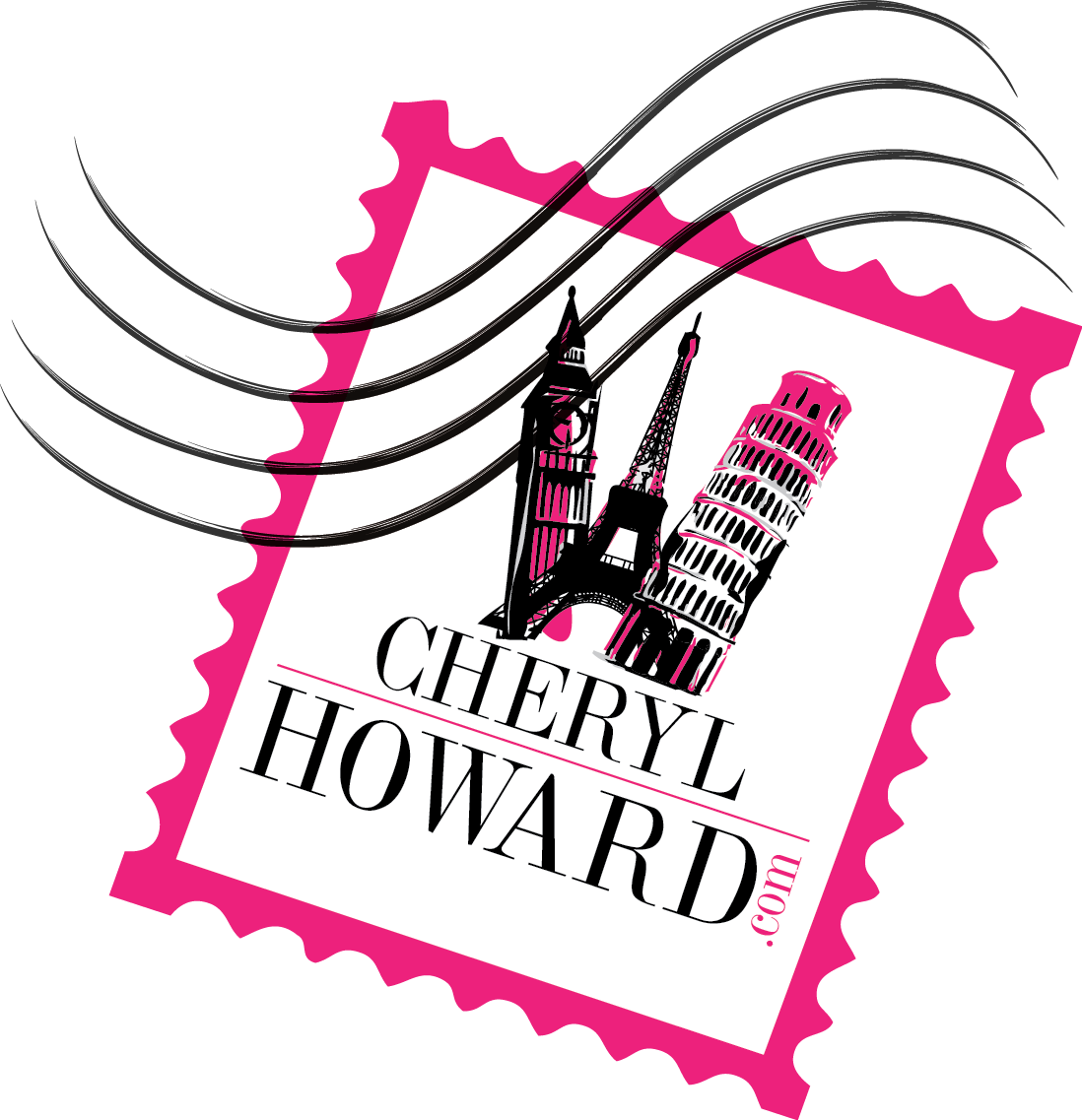 101 Design Hotel has the cherylhoward.com stamp of approval! I highly recommend it to anyone who's looking for a unique, luxurious, design hotel experience in Reykjavik.
Here's the feedback from one of my blog readers, who also loved 101 Hotel:
"After Rebecca my wife and I decided to have a quick getaway to Iceland, I remembered seeing Cheryl's pics on Instagram. I contacted her to ask about accommodation. Cheryl highly recommended that we stay the 101 Hotel, close to the center of town (but quieter) and very comfortable. In short Rebecca and I LOVED staying there. The staff was incredibly friendly and helpful, the rooms were VERY well appointed ultra modern and VERY clean. We will definitely stay there the next time we travel to Iceland."
— Brian Schmidt, Vineland Estates Winery
What do you think about 101 Hotel Reykjavik? Would you stay here? Let us know in the comments below.
Good to Know
1) Book a tour when you're in Iceland:
2) If you want to book a different hotel, check your options now:
3) 101 Design Hotel is approximately a 45-minute drive from Keflavík International Airport:
If you're renting a car, know that the hotel does not have its own parking area and you'll need to pay a daily fee in order to use a nearby lot. Call in advance or speak with reception upon arrival for details.
A taxi from the airport to the hotel will cost you about 70 € or $95 US. A more economical option is to use Flybus to make your way into the city, which will take you directly to the hotel for around 9 € or $12 US.
4) The hotel is situated in the heart of historic Reykjavik, with plenty of restaurants, bars and shops within walking distance. The city's oldest cafe, Prikið Restaurant and Bar is located only meters away.
5) Although families are welcome, the hotel is primarily geared towards singles, couples and business travellers. Also, the hotel isn't pet-friendly.
6) If you want an apartment stay in Reykjavik, book an Airbnb flat. First time users can use this link to score a €34 travel credit.
7) If you like my Iceland content, read some of my favourite articles or browse the archive:
Travel to Iceland and See Gullfoss Waterfall in Winter – See photos of one of Iceland's most popular tourist attractions, the 32-metre-high Gullfoss Waterfall, in winter.
Getting Rubbed Down at the Blue Lagoon Iceland – Achieve that travel bucket list dream and experience the Blue Lagoon Iceland for the very first time. Even better is having an in-water massage!
The World's Most Beautiful Concert Hall: Harpa Reykjavik – Set against the backdrop of the Atlantic and snow-capped mountains, the Harpa Reykjavik is one of the most beautifully designed concert halls in the world.
Location
101 Hotel Reykjavik
Hverfisgata 10, 101 Reykjavik, Iceland
+354 580-0101
http://www.101hotel.is/
If you like this post, share it on Pinterest.

*Disclosure – My one-night stay at 101 Hotel was complimentary. Any opinions expressed about my love of design and spa-like hotel rooms are entirely my own. This post also contains some affiliate links. If you book a tour, car rental, or hotel through any of these links, I'll earn a tiny commission at no extra cost to you. Thanks for your support!