After two trips to the area, Brescia remains one of my favorite cities in Italy. Home to a plethora of historical sites like the Roman ruins of Tempio Capitolino, museums like Museo di Santa Giulia, and massive squares such as Piazza Paolo VI, this city is well worth a visit when traveling through the Lombardy region.
If you're looking for a guide about where to stay when you're in Brescia, look no further than this list of carefully picked and reviewed best Brescia hotels.
Stay in Northern Italy At These Best Brescia Hotels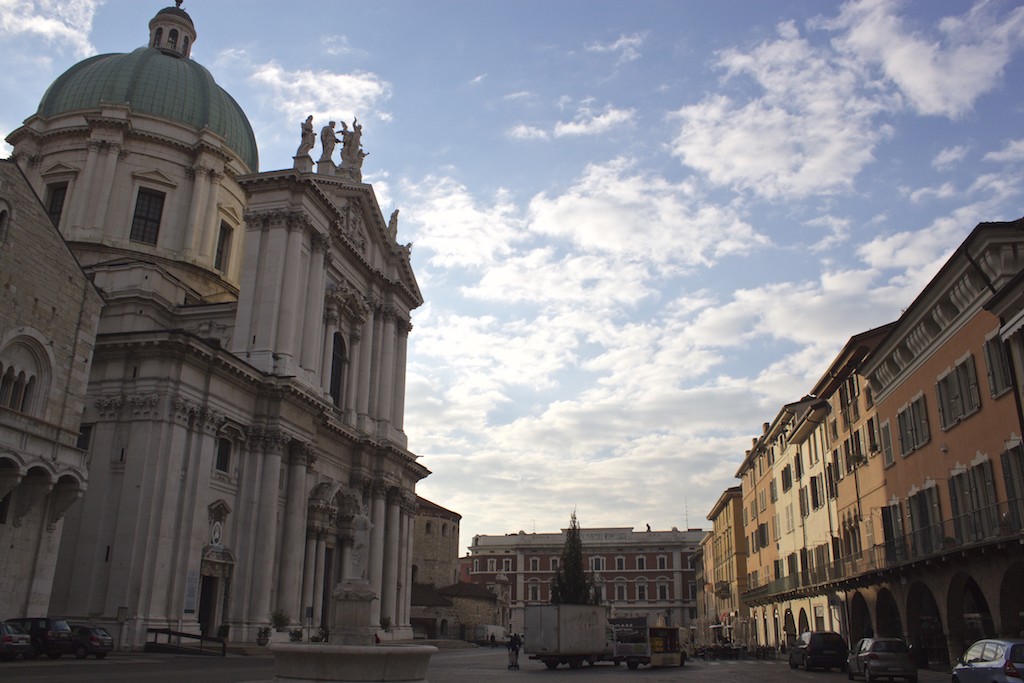 For this best hotels in Brescia list, we've chosen hotels ranging from more budget-friendly three-star properties all the way to five-star hotels in the city center, and even resorts just minutes outside of Brescia.
1) AC Hotel Brescia
Just over one kilometer from the city center, AC Hotel Brescia is one of the city's more modern and trendy hotels. The moment you enter the lobby, you'll see that the hotel was designed to impress visitors. The large stylish rooms come with the usual perks like flat-screen TVs, a mini bar, views over the city, and more. Enjoy the hotel's restaurant to sample international and Italian cuisine and their daily American breakfast buffet – you can even take a "grab and go" breakfast if you're anxious to explore Brescia and the surrounding area. If you need to work off carbs from all the pasta you're eating, there are gym facilities onsite. Expect prices to start from €90 per night during peak season.
Location: Via Giulio Quinto Stefana 3, 25126
2) Albergo Orologio
Situated directly in the city center, Albergo Orologio is a three-star budget-friendly option when staying in Brescia. While the rooms are simple, some come with grand wooden beamed ceilings, king-sized beds, and small balconies. There's a daily breakfast to help you start your day and as the hotel's located in the most happening part of the city, plenty of other attractive dining options are nearby. What sets this hotel apart from others here is how incredibly friendly their staff is. For example, when I stayed there, they took care to provide me with a lactose-free meal each day. Expect prices to start from €75 per night during peak season.
Location: Via C. Beccaria 17, 25121
3) Hotel Vittoria
Smack dab in the heart of Brescia, you'll find the luxurious five-star Hotel Vittoria. Only steps away from historic local attractions like Duomo Nuovo Cathedral and Museum of Santa Giulia, this Art Nouveau-styled hotel features an elegant marble columned lobby and Murano-glass chandeliers. Room perks include coffee and tea, a minibar, flat-screen TVs with an extensive channel selection, and complimentary robes and slippers. Some rooms even have deep soaker bathtubs and terraces with spectacular views over Brescia. The onsite restaurant serves up Italian and international cuisine and alternatively, you can take your meal on your terrace and order from room service. You can even enjoy sampling a fine local wine at their piano bar. Airport shuttles are also available – just call in advance to make arrangements or speak to the concierge. Expect prices to start from €75 per night during peak season. 
Location: Via X Giornate 20, 25121
4) Regal Hotel
A little over two kilometers from the center of Brescia, Regal Hotel's most attractive feature is its rooftop pool with views overlooking the mountains. Rooms are soundproof if you need a good night's sleep, come with flat-screen TVs, and hairdryers, and some rooms even come with a bathtub. While the hotel is basic, it's easy on the wallet and worth its value just for the pool experience alone. Expect prices to start from €50 per night during peak season.
Location: Viale Europa 2b, 25128
5) Santellone Resort
Santellone Resort might be a bit out of the way at just over four kilometers from the city center, but it's simply too beautiful not to mention. Set in a former Benedictine monastery in the medieval part of Brescia, the hotel's spacious rooms come with large windows, tiled floors, minibars, flat-screen TVs, and more. Some rooms even have terraces or balconies overlooking the luscious green property. Stroll through the gardens, take in the architectural elegance of the resort, and relax in the solarium. Pamper yourself at the adult-only spa with a Finnish sauna, indoor/outdoor swimming pools, a Roman Bath, and a Turkish bath. Expect prices to start from €100 per night during peak season.
Location: Via Del Santellone 116, 25132
Have I missed out on any other hotels worth mentioning in Brescia? Let my readers know in the comments below.
Locations
Download this Google Map to keep track of locations for the best Brescia hotels.
Good To Know
1) Brescia is an ideal weekend getaway from Berlin. If you want to head to Brescia, the easiest way to get there is to fly into Orio al Serio International Airport near Bergamo (5o kilometers away). Round-trip tickets via Ryanair start at around €40. Alternatively, you can also fly into Verona (50 kilometers away), Milan's Linate (100 kilometers away), and Malpensa airports (150 kilometers away).
2) After arriving at one of the nearby four airports, you'll need to consider travel time and method of transportation:
3) Italy uses the euro, so there's no need to worry about exchange rates if you're a European resident. While there are plenty of bank machines around and most places will accept card payments, it's always a good idea to always carry cash on you as well.
4) Looking for other places to stay when you're on holiday in Brescia that aren't listed above? Check out even more options on booking.com.
5) Explore Brescia with these city tours.
6) If you love Italy as much as I do, browse my Italy archive and check out our coverage of the country:
Books In Boats At The Libreria Acqua Alta Bookstore in Venice – When in Venice, stop at the bookstore, Libreria Acqua Alta. See books packed into boats, the resident cats, a staircase made from books & more.
Eating Lunch At Tschötscherhof Farm In The Italian Alps – Stop for lunch, eat locally grown produce, & visit a historical museum at the remote Tschötscherhof Farm in the Italian Alps.
Yes, There Are Cats In the Roman Coliseum And They Live There – As you tour the ancient structure, you'll notice various cats in the Roman Coliseum, and yes, they happen to call this place home.
*Disclosure – This post contains some affiliate links. If you book a tour or hotel through any of these links, I'll earn a tiny commission at no extra cost to you. Thanks for your support!