Why is it that men in Alpe Di Siusi all wear such funny-looking hats? Just like chef Franz Mulser at the Gostner Schwaige Mountain Hut (where I learned how to make dumplings from scratch during an outdoor cooking class), the owners of Tschötscherhof Farm were about to treat me to even more of their delicious local Tyrolean cuisine. A whole bunch of really good stuff was about to go in my tummy.
Thankfully, there was more than enough hiking on the itinerary during my trip to the Seisor Alm area to work off all of that food.
About The Tschötscherhof Farm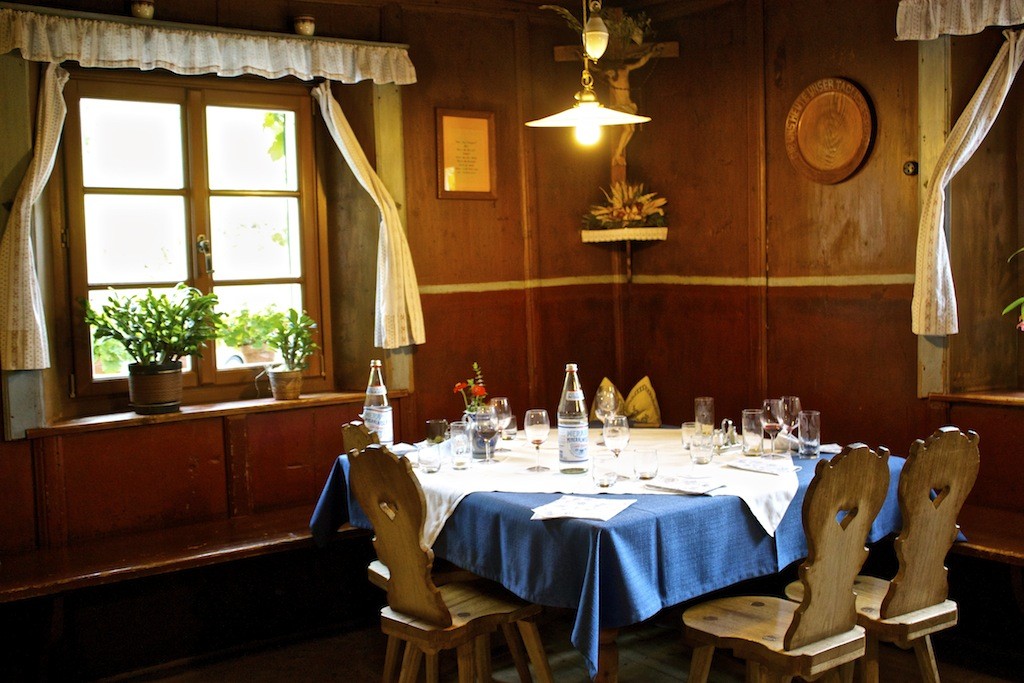 This adorable husband and wife team run a 500-year-old farm that has a restaurant, several apartments, and even, a museum. In fact, the man in the funny-looking hat grew up on the farm which has been in his family for several generations. After meeting the owners, they led us inside the farmhouse to eat lunch.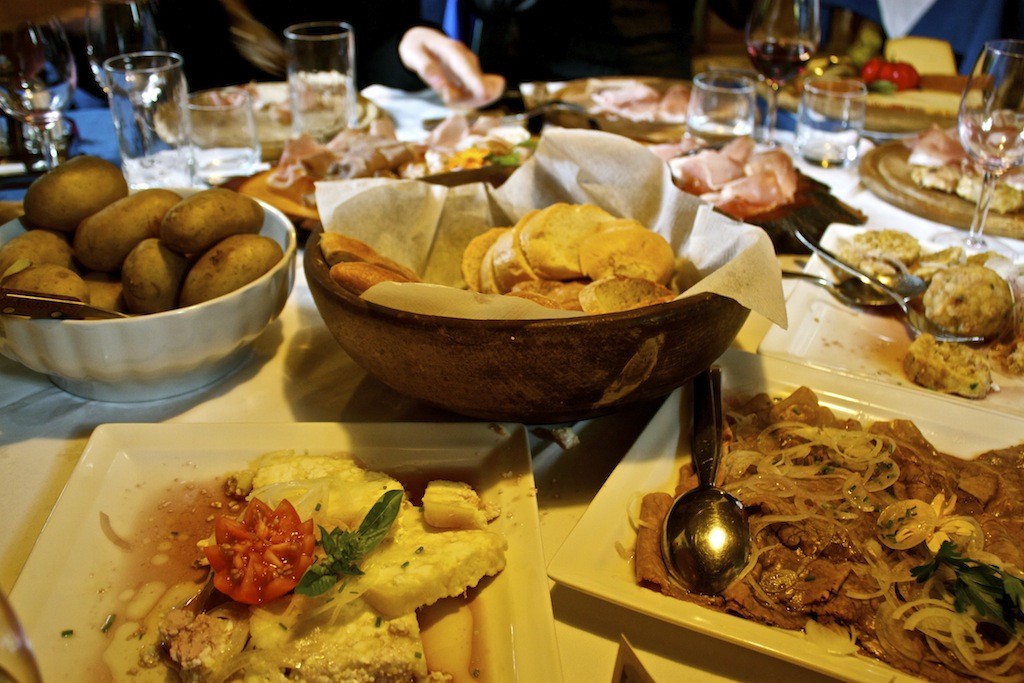 This, my friends, was the spread. Talk about some serious "food porn" happening here! If this doesn't get a serous foodie all hot and bothered, I don't know what will. All food they serve is exquisitely fresh and grown locally. They also serve wine harvested from their own vineyard.
For some reason, many dishes in Alpe Di Siusi are presented with flowers. I don't mind as what girl doesn't like a little flower in her food? There were even more dumplings on the menu. As if I hadn't already had enough.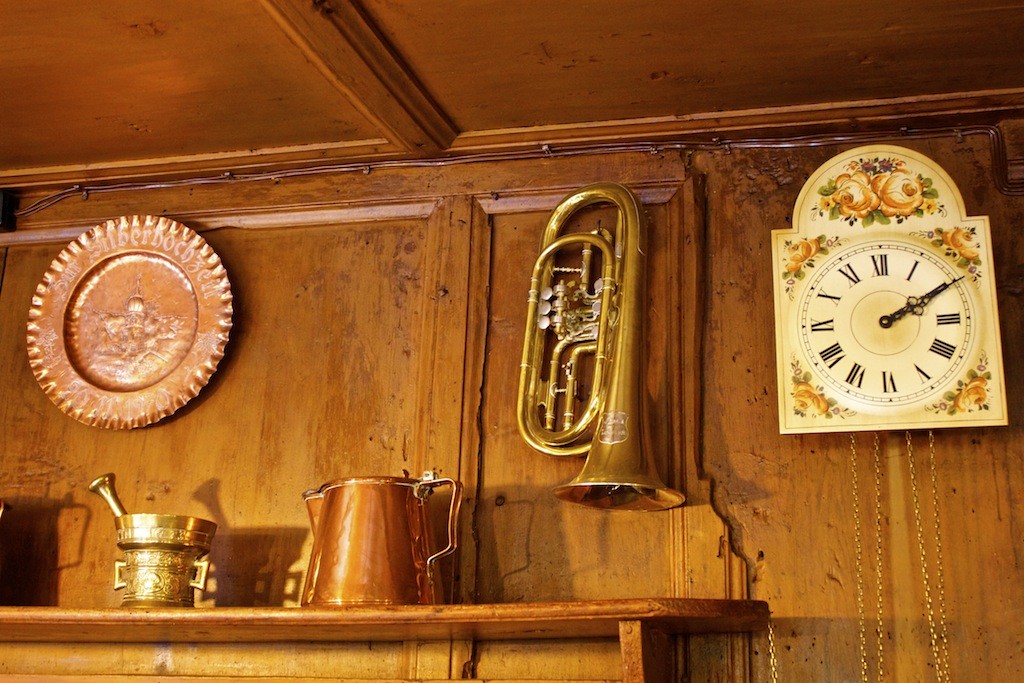 The farmhouse interior is quaint as one would expect from a country home. A mishmash of kitsch items decorated the walls. You can see that the owners of the farm are also religious.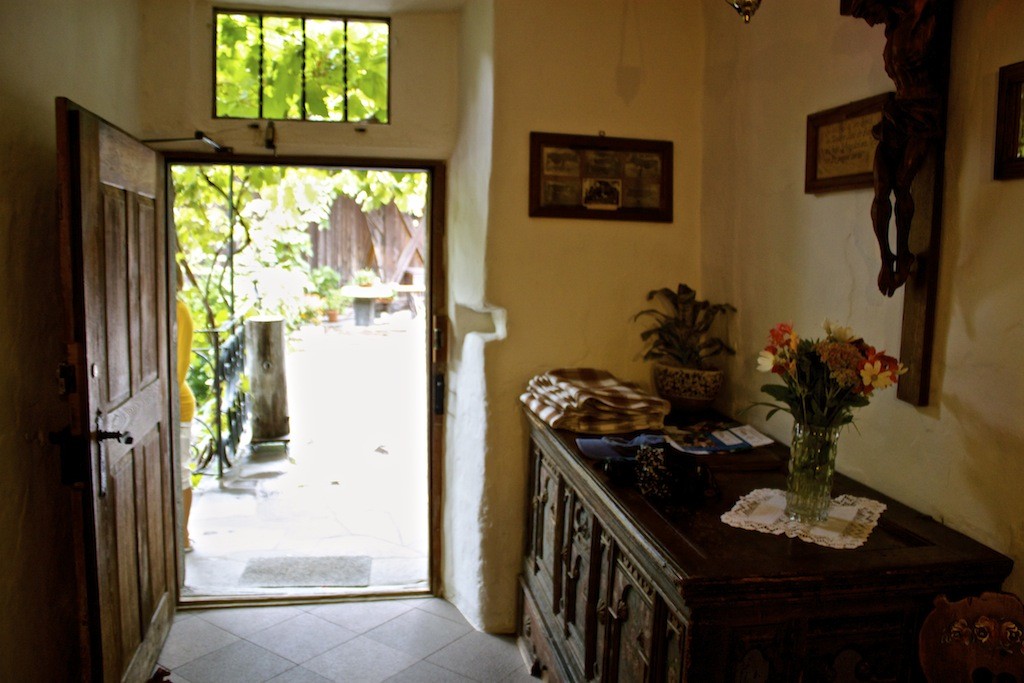 Sadly lunchtime was over and it was time to check out the farmer's museum which showcases the family's collection of household appliances, agricultural tools, and furniture.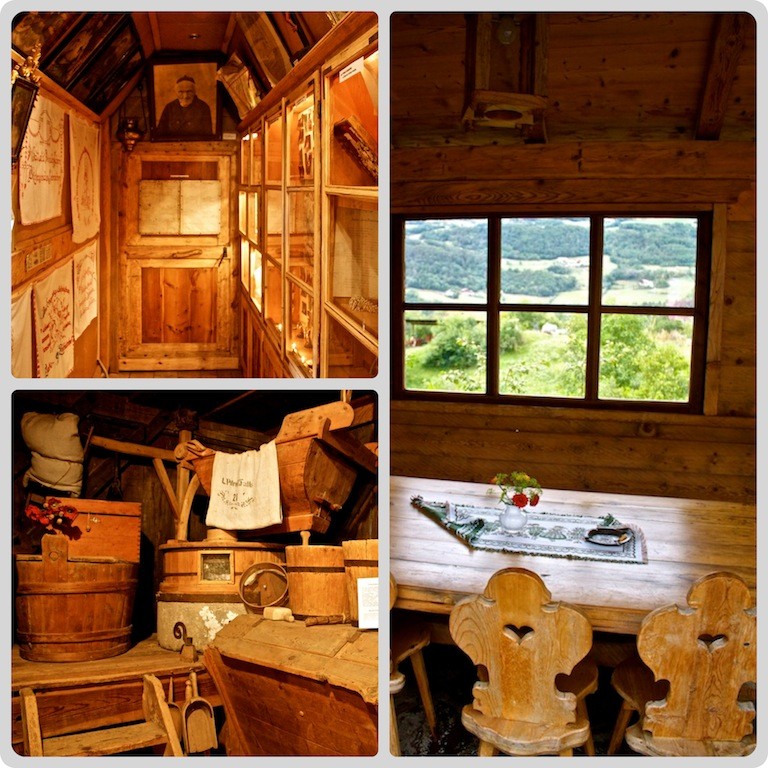 Upon entering the museum, we were greeted by this cute little feline. You know how I love cats, right? Evident by a trip to Amsterdam where I visited a cat sanctuary on a boat and even a museum containing only cat art. To be honest, the museum wasn't that interesting for me personally, but it was neat to get a glimpse of their past. One item I did like was the old-school radio. Can you imagine how much you could sell this for an antique market? I bet I could fool a hipster type into paying big bucks for one of these babies.
Like that mountain hut where I learned how to cook dumplings, Tschötscherhof Farm is a truly special place. It's charming, quaint, and down to earth. My lunch there didn't seem long enough and I would have loved to extend my time there by staying in one of their eight apartments (most with balconies.) Averaging around €45 a night, it's an incredible bargain considering what you get – the chance to stay at a traditional farm, eat loads of scrumptious local food and more importantly experience day-to-day life in Seiser Alm.
Alpe di Siusi is one of the most beautiful destinations on earth. It's an underrated part of Italy that few outside of Europe seem to know about. If you ever make your way to the Italian Alps, include a stay in this area as part of your holiday and in the very least, make sure you stop by the farm for some lunch or dinner.
What do you this about Tschötscherhof Farm? Would you like to eat here, or even better, stay for some time?
Location
Good To Know
1) If you'd rather stay somewhere else in the area, check out options with booking.com.
2) Find something to do while in Alpe di Suisi by enjoying a local tour.
3) Get more Italy travel inspiration by checking out some of our most popular posts about the lovely country.
*Disclosure – My stay in this beautiful area of Italy was courtesy of Alpe di Siusi. Any opinions expressed here remain entirely my own. This post also contains some affiliate links. If you book a tour or hotel through any of these links, I'll earn a tiny commission at no extra cost to you. Thanks for your support!