You know me. I'm always on the hunt for the most weird and offbeat things I can find whenever I travel. That's why I was so delighted to spot the giant hands sculpture in the Venice Grand Canal several years back. While the sculpture has long since been removed, this work of art delivered a powerful message.
It was a hot and humid Saturday morning in July. I'd left my B&B to set out on my first day of exploring Venice, which included walking over the Rialto Bridge, perusing the gondolas piled full of books at Libreria Acqua Alta, and having a delicious lunch (which naturally, included a Bellini!) at AMO.
On my way to the Rialto Bridge, I spied the massive hands' sculpture across the canal from the fish market and went into a frenzy, taking loads of pictures, and just staring at the sculpture in wonder. When you first see it, you think "Cool, a pair of hands coming out of the water! My photos of this are going to do well on Instagram." But of course, I was curious to know much more, such as what did the sculpture represent and why was it there?
The Surprising Hands Sculpture in the Venice Grand Canal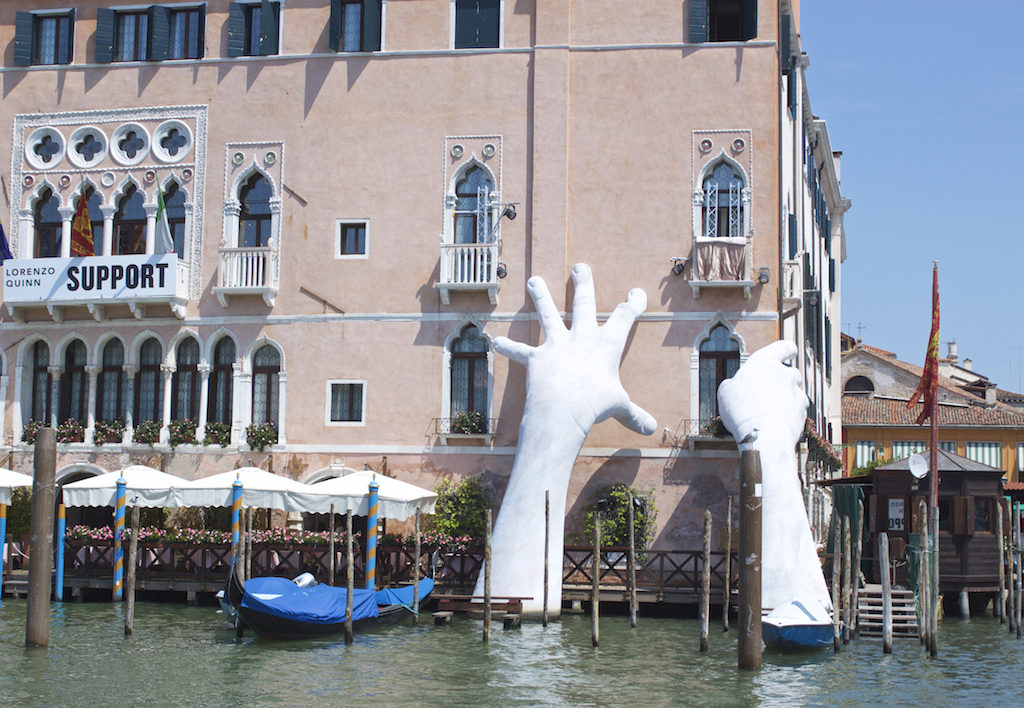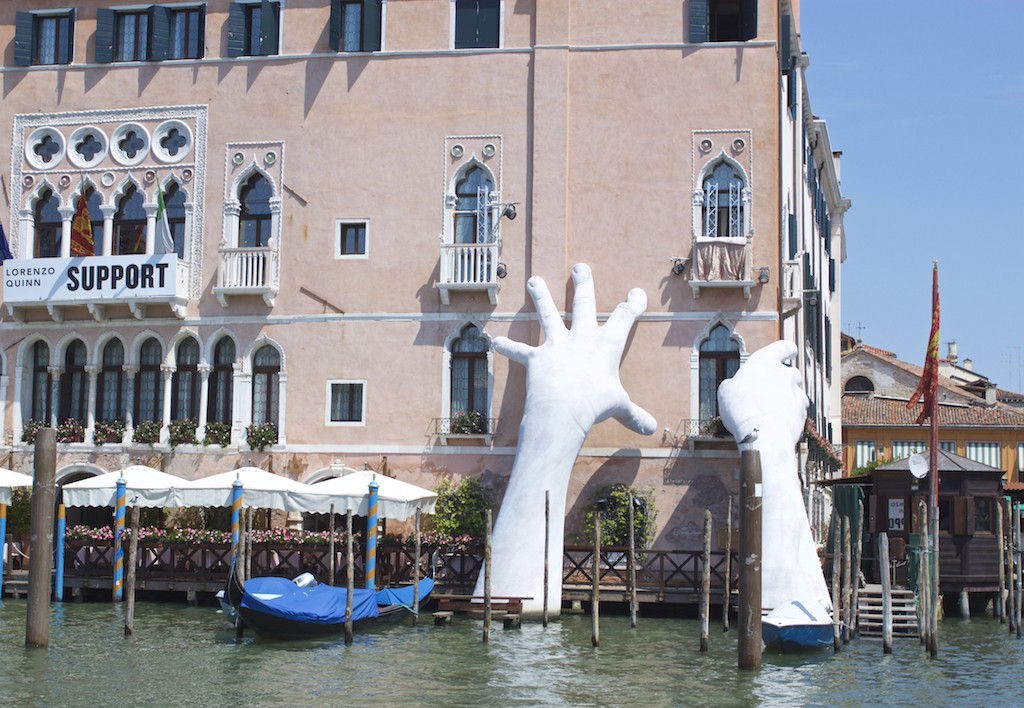 Designed by Italian artist, Lorenzo Quinn, the art installation was created in a collaboration with the City of Venice and London's Halcyon Gallery. Construction on the piece was completed on May 12, 2017, just in time for the 2017 Venice Biennale.
Simply entitled Support, the piece involves a pair of hands protruding from the waters of the Grand Canal. They clutch the side of the Ca'Sagredo Hotel's 14th-century walls as if they were preventing the hotel from falling apart and sinking into the depths of the canal. At night, it's lit up by bright spotlights so no one can miss it.
Support makes a bold statement about the negative effects of climate change and deliberately provokes us to think about its impact on humanity. Venice is suffering more than most cities. It's anticipated that the Mediterranean Sea will rise by five feet at the end of the century, with the possibility of Venice being submerged entirely. Says Quinn: "Venice is a floating art city that has inspired cultures for centuries but to continue to do so it needs the support of our generation and future ones because it is threatened by climate change and time decay."
While the message is rather bleak, Quinn also encourages us not to despair, as we still possess the power to stop climate change from happening.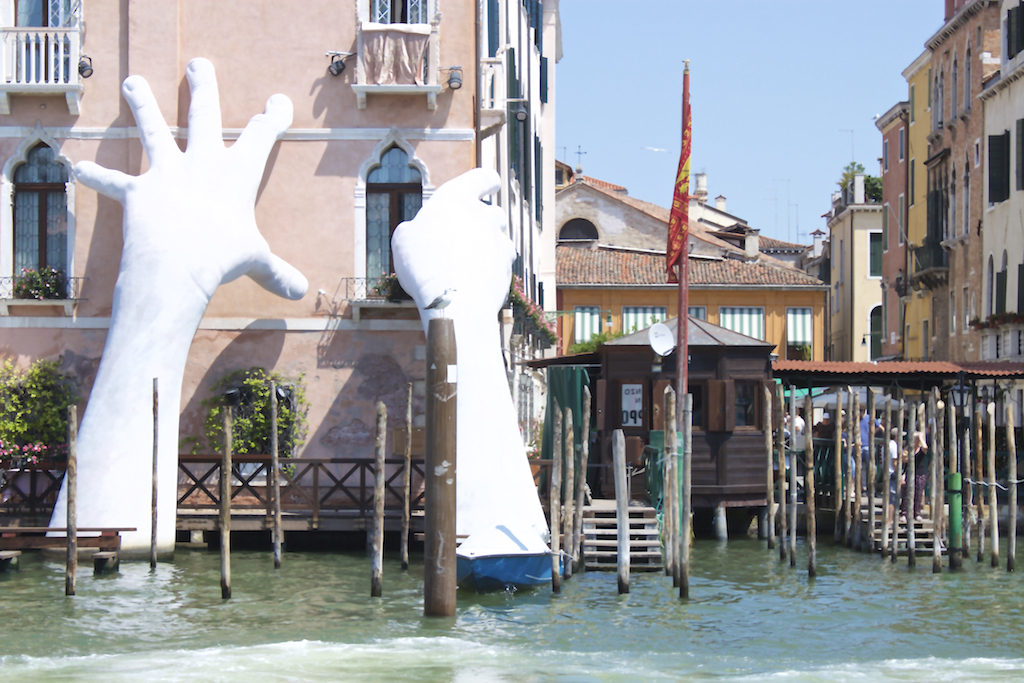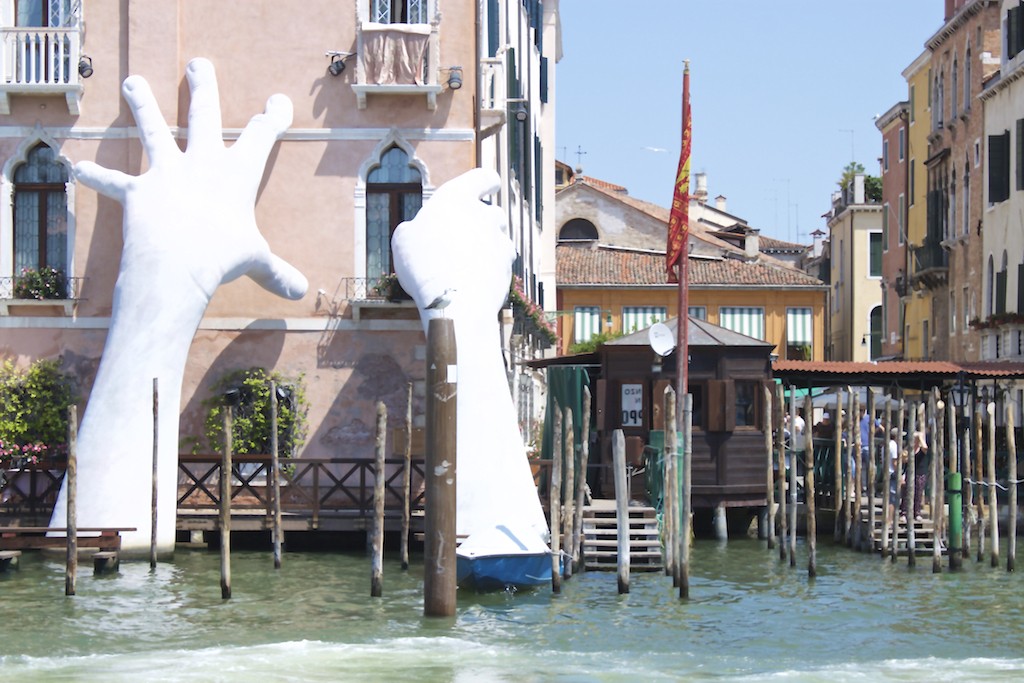 Recommended reading: See what others had to say about the hands sculpture in the Venice Grand Canal, including this article from Bored Panda and this one from the Evening Standard, which includes a video showing how the piece arrived in Venice by boat.
The 5,000-pound hands were molded at a studio in Barcelona and sent to Venice by boat. Made from polyurethane foam covered in resin, the sculpture is supported by four pillars that are anchored at a depth of 30 feet. The hands were modeled after Quinn's 11-year son and are so life-like that you can see creases in the skin and even, fingernails. Quinn noted: "I wanted to sculpt what is considered the hardest and most technically challenging part of the human body. The hand holds so much power – the power to love, to hate, to create, to destroy."
Good to Know
1) If you want to see the hands sculpture in the Venice Grand Canal yourself, it's unfortunately no longer there. Support was taken down in November 2017, with the plan for it to go on tour in other Italian and European cities.
2) If you're traveling to Venice, be sure to book a place to stay. Check out your options with booking.com.
3) Make your time in Venice memorable and try a guided tour.
4) If you love Italy like we do here at cherylhoward.com, check out our favourite blog posts:
*Disclosure – This post contains some affiliate links. If you book a tour or hotel, I'll earn a tiny commission at no extra cost to you. Thanks for your support.