Marmore Falls In Italy Is Home To The World's Tallest Manmade Waterfall – Estimated reading time: 15 minutes
Sometimes, beauty in nature doesn't occur naturally, but is made possible by the sheer ingenuity of humans. Italy is full of such beauty, be it the colosseum in Rome, the bridges of Venice, or the Duomo Florence.
One such place is Mamore Falls (Cascata delle Marmore) in Terni, Italy. Crafted at the hands of the ancient Romans, it's the tallest manmade waterfall in the world at 165 meters high. The tiered waterfall comprises three different sections, with the largest one being 83 meters.
Marmore Falls In Italy Is Home To The World's Tallest Manmade Waterfall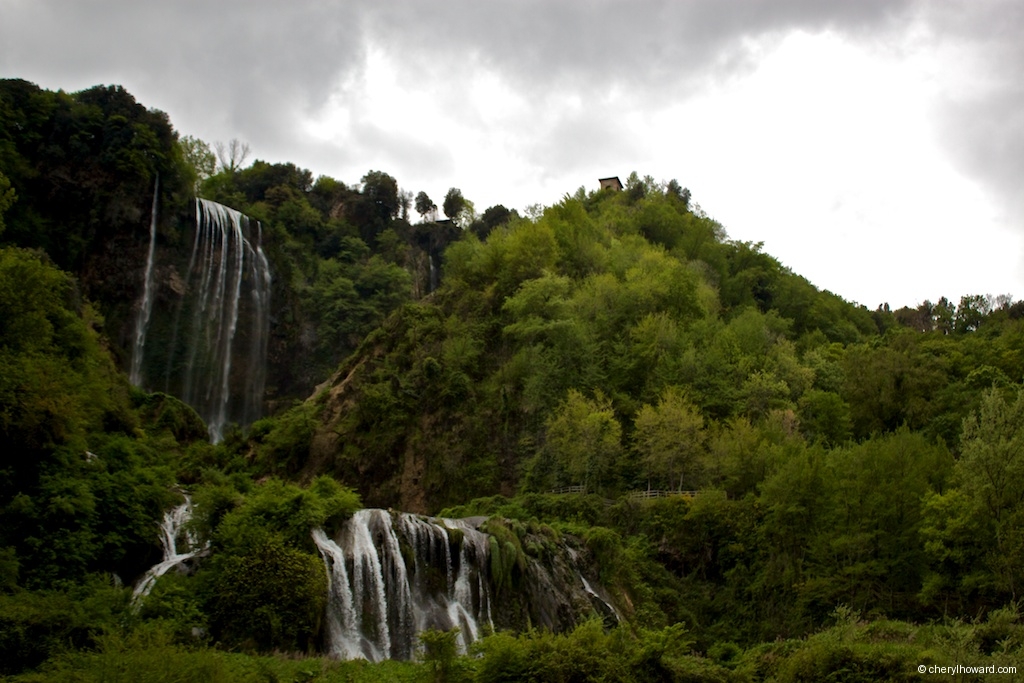 One of the top highlights of the Umbrian region, Marmore Falls draws its water from the Velino river. Now controlled by the local power plant, the flow of the waterfall is actually turned on and off based on an established schedule. Said to be a spectacular sight, tourists in particular come to Mamore Falls to see when the falls are turned on by the plant.
The History of Marmore Falls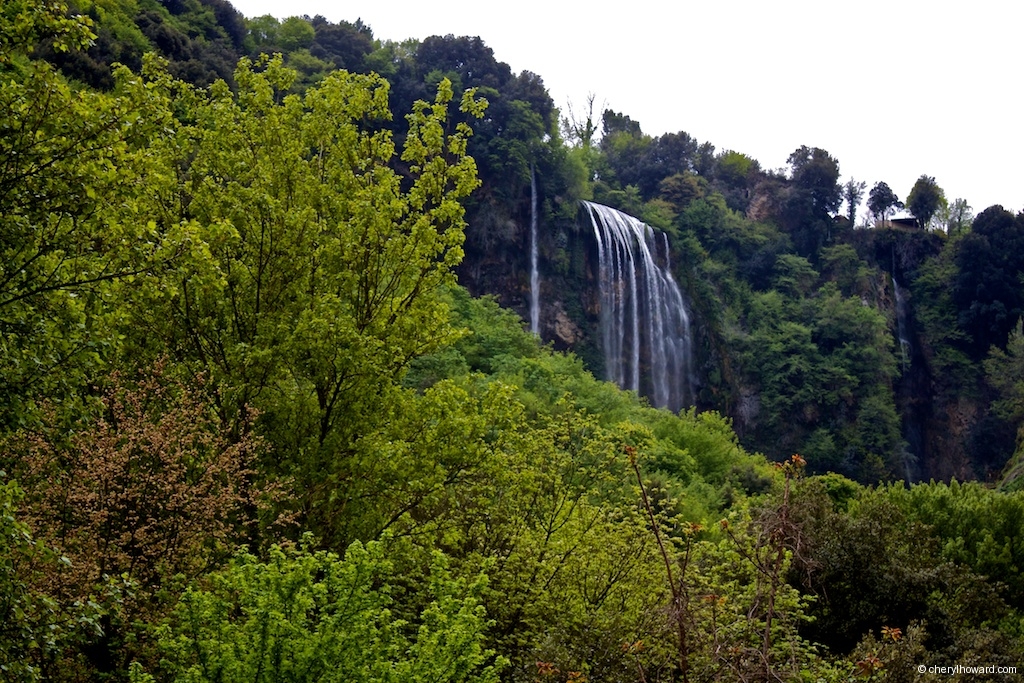 During ancient times, the Velino river passed through a wetland in the Rieti Valley where stagnant water was the perfect breeding grounds for insects. These insects helped magnify the spread of illnesses like malaria, so in 271 BC the local Roman consul spearheaded a construction effort to build a canal that would divert the waters to the dry cliffs at Marmore where the water flowed into the Nera river below.
As ingenious as this solution was, the newly constructed Curian Trench (as it came to be called), unfortunately created a larger problem. When the Velino was experiencing floods, the water from the Nera river flowed through in such abundance that it posed extreme danger for those living in Terni. Tensions between the cities of Rieti and Terni were so high that the issue was brought before the Roman Senate. As with many political institutions, the pervasive indecision and other factors at play caused the problem to continue for hundreds of years.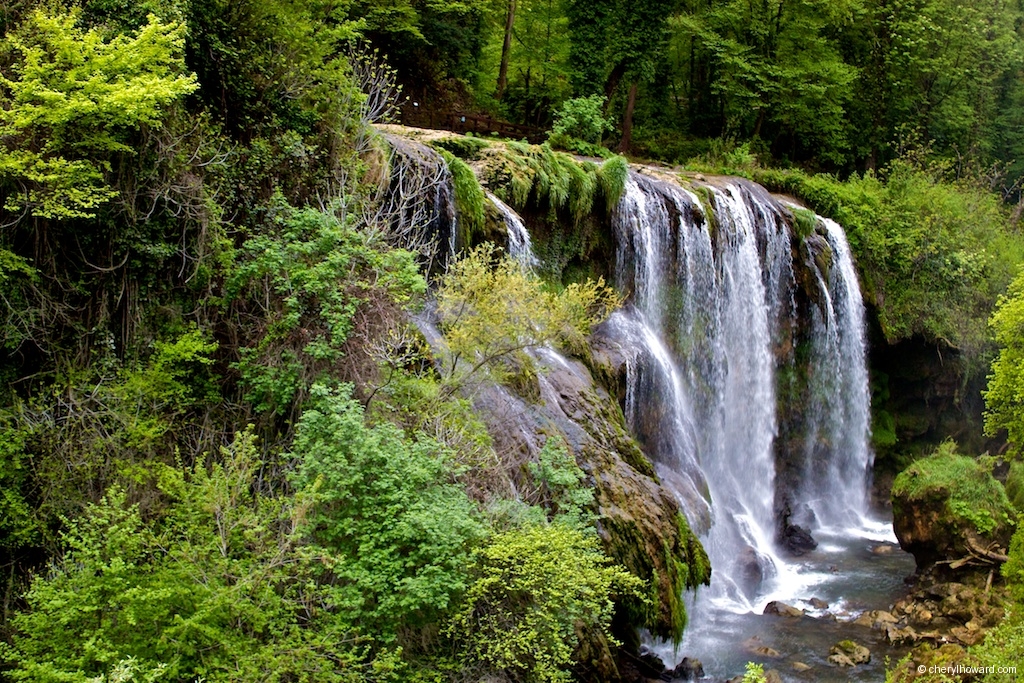 Lack of ongoing maintenance to the canal actually brought the wetland back again. In 1422, the construction of a new canal was ordered by Pope Gregory XII so the previous flow could be restored. In 1545, yet another pope ordered further construction and this time, plans included a regulating valve that would better control the water flow. The canal was renamed the Clementine Trench, a namesake of the ruling pope at the time.
Despite the new regulating valve, the Nera still experienced frequent and massive flooding events. In 1787, Pope Pius VI commissioned an architect to modify the leaps below the falls by creating what's known as a "lateral cataracts". This feat of engineering is how the flooding problems were finally addressed.
Later on in 1896, Terni based steel mills began using the power of the flowing river to generate electricity.
Present Day Marmore Falls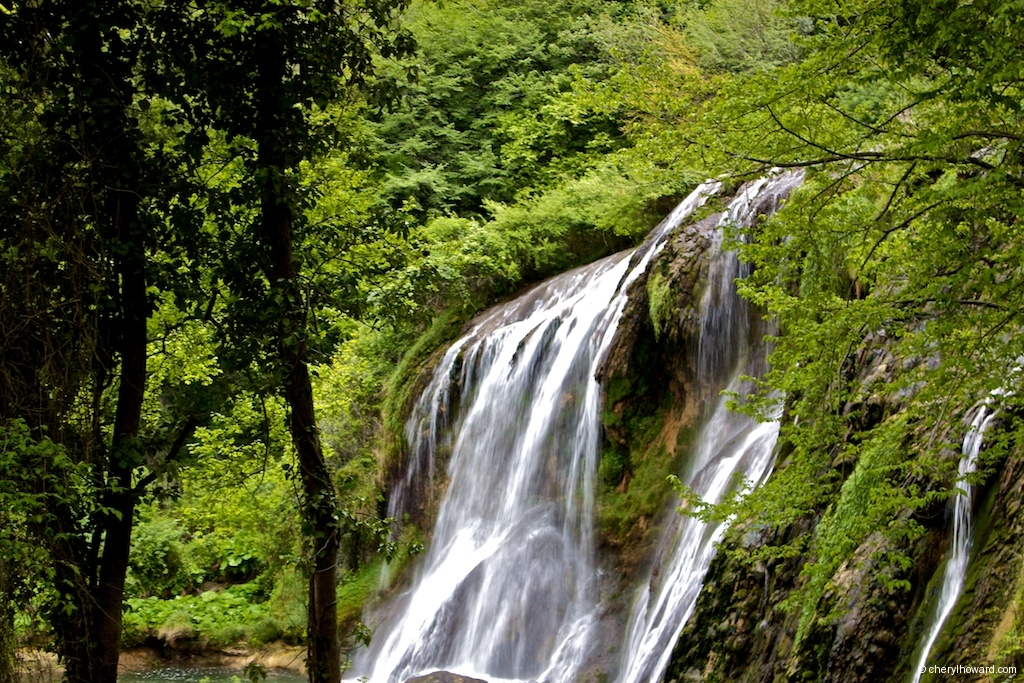 Much of the time, the flow of water in the canals is sent to the local Galleto power plant to fuel their production of clean energy. During these moments, the flow of water almost comes to a complete standstill.
The falls are literally turned on at different times throughout the day. The process begins with the sounding of an alarm and the opening of gates, transforming the slow peaceful stream of water into a speeding flow of 15 cubic meters of water per second, and bringing Marmore Falls into her full glory.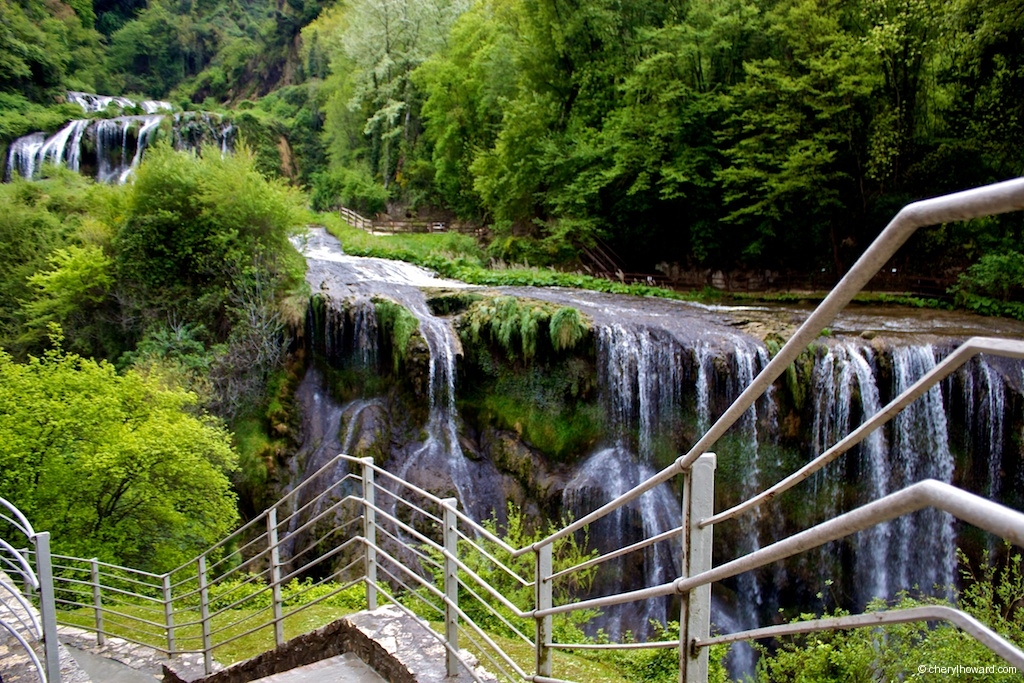 The falls are situated in a park where there's plenty on offer. Visitors can walk along five different routes or paths. At the upper viewing point, you're treated to an expansive (and often rainbow filled) view of the falls and surrounding Nera Valley. In the middle section of the falls, there's even a tunnel leading to an observatory where you can touch the water and almost bathe in it, getting you totally and completely soaked.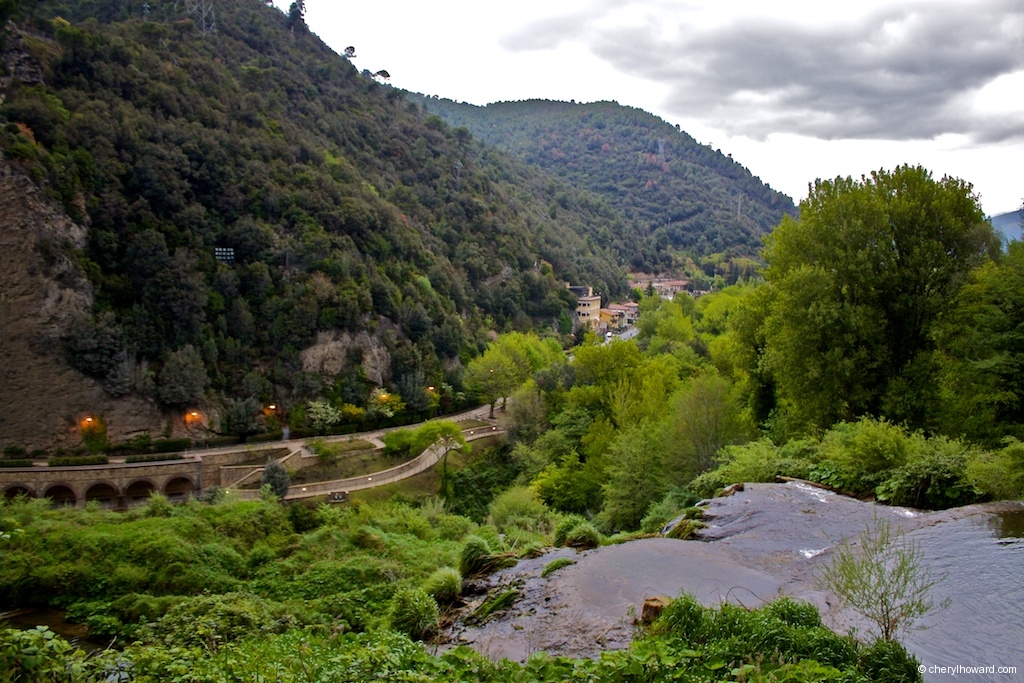 Even when the falls aren't turned on, the park is well worth a visit. The greenery and nature offers ample opportunity for more activities – there are several hiking trails, caves to explore, and activities like rafting, climbing, biking, and more. While there, I went rafting, as well as jumped and swam in the (very cold!) Nera river. Both experiences were very fun and I can highly recommend signing up for such activities.
Watch/share this video about the Marmore Falls and better yet, subscribe to my Youtube channel for even more travel related videos.
What do you think about Marmore Falls in Italy? Do you have any travel tips from the Umbrian region? Leave us with your best tips in the comments below.
Marmore Falls Location
Just where is this Marmore Falls located? 05100 Terni, Italy
Marmore Falls FAQ
There are a number of things you need to know when you plan your visit to Marmore Falls, so we've taken the time to answer some of the most common questions.
1) How can I get more information about Marmore Falls? Visit the official website (https://www.cascatadellemarmore.info/), call +39 345 7709992 , or email [email protected]
2) What are the best routes to take at Marmore Falls? There are five routes that you can take, with varying difficulty levels. Regardless of which path you choose, you'll be able to see Marmare Falls from different viewpoints along the way.
Route one is a stairway that will take you from the bottom to top of the falls and is considered to be a challenging physical endeavour. You'll find a tunnel midway leading to a terrace, the Lovers Balcony, where you can get up close and personal with the water. If you're exhausted by the time you reach the top, you can take a shuttle back down to the bottom point.
Routes two and three, taking you around the bottom of the falls, are the easiest ones and take about 20 minutes to walk and allow you to observe the second and third jumps. These routes are well suited for children or less abled people.
Route four is the best for photos, giving the widest view of all three jumps. It's recommended to watch the water openings from here.
Route five is especially suited to civil engineering buff, as you pass by the old power station. Online reviewers say this is the most underwhelming trail, and the water levels can be quite low.
3) What are the opening hours of the the park? It varies, depending on the time of year. During low season, you may find the area completely closed and the waterfall turned off. During more seasonal times, the park tends to be open from 10:00 – 22:00 on weekdays and from 9:00 – 22:00 on weekends. The water will be turned on two – three times a day, depending on the day of the week and whether or not it's a holiday. When planning your visit, we suggest checking ahead by taking a look at this schedule. Arrive well ahead of the time planned water release so you don't miss the great event.
4) How much does a ticket to Marmore Falls cost? A single adult ticket starts around €10, which includes park admission, access to the viewing points and the various walking routes to reach the falls, parking, and even a shuttle bus that runs you between the upper and lower viewing points. Note, the shuttle service is only offered during high season. Reduced ticket prices are available for children and seniors. You can buy tickets online in advance and/or purchase them directly at the park. Tickets purchased online do not need to be printed and simply showing the ticket on your phone will suffice.
5) Can I pay for my ticket onsite with credit or debit cards? This information is unfortunately not available on their website. Bring cash just in case paying by card isn't an option.
6) What are the waiting times like to get into the park? Marmore Falls is such a popular place, that it gets packed with tourist during high season. Online reviews inform visitors that waiting times in line can sometimes be up to an hour before you're able to enter the park. This means there's also often a wait to board the shuttle buses, with some park visitors reporting waiting times of up to two hours. Pro tip? Buy your tickets online in advance to skip the queue to get into the park!
7) Is there a gift shop? Yes! There are also several vendors selling souvenirs and other useful items like rain ponchos to help keep you and your items dry should you choose to get close to the falls.
8) Can I take photos and videos of Marmore Falls? Yes, most certainly. There is no rule preventing you from taking photos and no additional permits or fees are required.
9) How much time do I need for Marmare Falls? It all depends on which routes you take, what tours or activities you partake in, if you stop for a meal, how busy the park is, and the amount of time you may spend waiting, etc. We'd recommend reserving at least half a day but do even better, and spend a full day there to truly experience the falls and surrounding area.
10) Can I see Marmare Falls on my own and not via a tour? Yes, pathways are well marked and it's fairly easy to navigate it alone.
11) I'd rather go on a guided tour of Marmare Falls. Where can I sign up? Guided tours can be booked through the park's website and you can also book when you get to the ticket office. There's special tours for children, seeing the waterfall at night, longer tours to nearby Lake Piediluco, and even some that include boat rides. To avoid waiting times before starting a tour, book well in advance.
12) Are tours offered in different languages? This information is not available on their website at the moment. Ask upon arrival, but don't expect that tours in English are a given.
13) Is there a place to store our belongings? No, so be prepared to carry everything that you bring.
14) Is Marmore Falls good for kids? Yes, most definitely. It's a very family friendly location and a number of tours and activities on offer have been specifically developed for children.
15) What about COVID-19 safety measures? As Italy suffered greatly during the pandemic, they take the health and safety of their guests and staff pretty seriously. At time of writing, all guests are required to wear a mask while in the park. As restrictions can change quickly, check the park's website or contact them before your visit to be best informed.
16) What should I wear when at Marmare Falls? Comfortable clothing and at a minimum, sneakers. Hiking boots are even better. Bring a rain poncho along too, as the bottom area of the falls gets quite misty.
17) Where can I book sporty activities in Marmore Falls?
How To Get To Marmare Falls
Tips and tricks on how to get to Marmore Falls.
1) To get to Marmore Falls, you can drive, take a bus, or train:
By Car – Check Google Maps or your car's navigation system to determine the best way for you to drive to Marmore Falls. If you plan to start at the bottom of the falls (Belvedere Inferiore), use Via Giuseppe Vasi, 05100 Collestatte Piano TR, Italy as your destination address and to start your journey from the top of the falls (Belvedere Superiore), use Vocabolo Cascata, 05100 Marmore TR, Italy as the address.
By Train – Trenitalia offers trains from Rome to the Terni-Marmare station on the hour. Ticket prices start at around €9 and the journey takes 90 minutes, with some trains running on slower schedules. When you reach the station, it's only a few hundred meters from Belvedere Superiore. You can also take a train to the main station in Terni and then take a bus (more on that below below).
By Bus – From Terni station, you can reach the Belvedere Inferiore in about 30 minutes by bus. Take any of these buses – E622, TR14, or TR7. Check Busitalia for route nformation and related ticket prices.
Where To Stay In Umbria
These are some of the best accommodation options for the Umbria region in Italy:
1) Book a hotel, hostel, or private apartment for your stay in Umbria.
2) When I travelled to Umbria, I stayed near Assisi at the Valle di Assisi Hotel & Spa. View photos of flag throwing ceremony that was held one night at the hotel.
Paying For Things In Italy
Follow these tips to know how to handle your money when travelling around Italy.
1) As Italy is part of the European Union, they use the Euro.
Check xe.com to find out how your local currency fares against the Euro.
While most places will accept bank or credit cards, smaller shops often only take cash. Get cash at any bank machine and expect the possibility of exchange rates being high.
If you pay by card, you could be asked which currency you want to pay in – choose to pay in Euros, as you'll save money on the exchange rate.
2) Italy is of pretty much the most sought after European destinations and as such, you'll find that parts of the country can be expensive, be it your accommodation, to eating out, and more. Dining in restaurants outside of tourist areas and staying in bed and breakfasts, are just some things you can do to save money.
Good To Know About Umbria
Some last things you need to know when you're visiting Umbria, the Italian region where Marmore Falls is located.
1) As with most of continental Europe, Italy is at its best in spring, summer, or autumn, but don't let that hinder you from making a visit during a low season winter. There are far less tourists and as such, prices are lower, and you get more value for your money. Top sites in Umbria include Monti Sibillini National Park where you can take a donkey ride through the mountains and towns like Orvieto with one of the most beautiful cathedrals I've seen to date.
2) To experience the best of the Umbria, book a guided tour.
3) If you like Italy as much as I do, read some of our most popular blog posts.
If you like this post, share it on Pinterest.
*Disclosure – This post contains some affiliate links. If you book a tour or hotel, I'll earn a tiny commission at no extra cost to you. Thanks for your support!