Driving through Detroit, you see a city like no other. The urban blight is widespread – be it the lonely downtown core, the wide highways with nary a car in sight, the unlit street lamps at night, and of course, the abandoned homes and businesses like the Abundant Life Christian Church. It was surely no surprise when it was announced that Detroit was filing for bankruptcy. Where news agencies once flocked to Detroit to photograph the city's decay and widespread abandonment (much to the locals' dismay), media is now heading there again to tell a greater story. There are many good things happening in Detroit that may surprise you.
There are those who withstood the problems that plagued the city and didn't leave with everyone else. Take for example, Riet and Mark who run an urban farm in Brightmoor called Knuckle Head Farm. This caring and giving couple are part of community improvement initiative, Neighbors Building Brightmoor, which does things like involve troubled youth in maintaining a vegetable garden. Produce is sold at the market and profits are split with the kids. Imagine these kids actually being motivated enough to get up in the morning to do hours of hard work without being told. Take that a bit further and think about how these kids have paying jobs, when they come from several generations of unemployment. Nothing less than remarkable.
Then there are others like Tyree Guyton, who built the now internationally renowned Heidelberg Project, a huge outdoor art installation set-up in one of Detroit's poorest neighbourhoods. People from around the world travel to Detroit just to see his work. He accomplished the impossible, attracting tourists to a bad area of town.
The MBAD African Bead Museum In Detroit, Michigan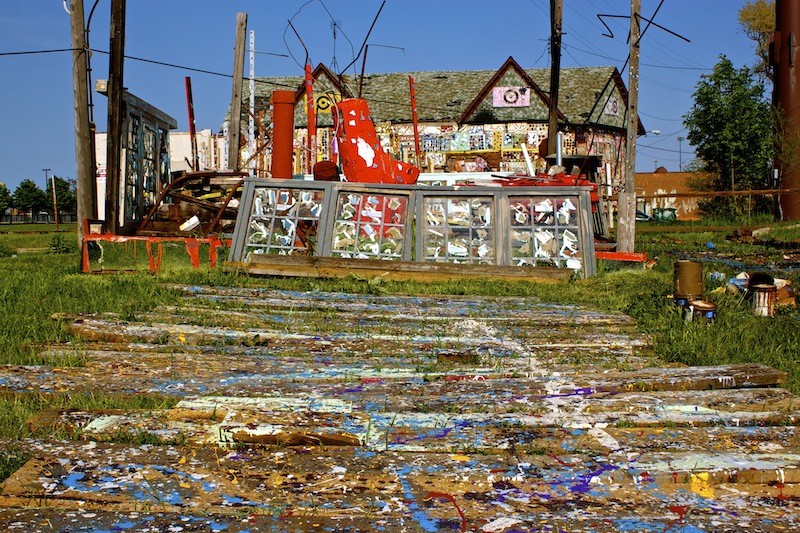 One of the more notable instances of community good is the MBAD's African Bead Museum. A creation of artist and historian Olayami Dabls, here you can find a museum celebrating the tradition of African beads and more impressively, an outdoor art installation made from 100% recycled materials including mirrors, beads, paintings and various found objects. Says Dabls in an article on the Detroit Hub, "Everything here is made of natural material, which can't help but appeal to your natural sense of aesthetics," he explains.
Recommended reading: Read more about this place – give this article a read, Meet The Wise Olayami Dabls And Visit His Incredible African Bead Museum, or also this one, This Artist Took Over an Entire City Block to Build an African Bead Museum.
Dabls is known as a visual storyteller who focuses sharing his African roots and culture through his art. The museum contains bead collections, sculptures and other items. Known to be a friendly man, Dabls will also provide a tour of his studio and eagerly talk about his work.
While I didn't tour the museum itself, I was enthralled with the exterior of the building and the outdoor art installation.
MBAD African Bead Museum Detroit: The Museum Building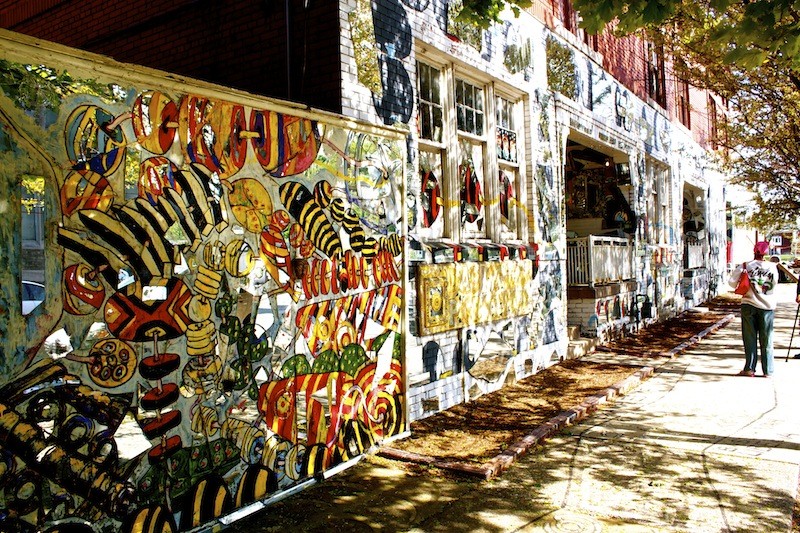 The walls just outside the museum are boldly and colorfully decorated with pieces from broken mirrors. As you can see, mirror fragments play a central part in his work and can look quite stunning when the sun playfully reflects itself across the installation.
MBAD African Bead Museum Detroit: The Outdoor Art Installation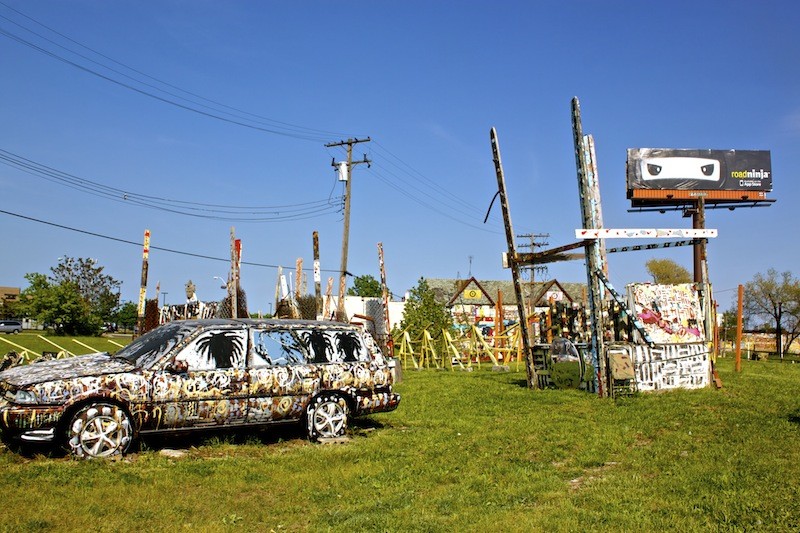 This is where my friend and I spent most of our time as we explored the exhibit and took tons of photographs. There may or may not have been an extreme modeling shoot as well …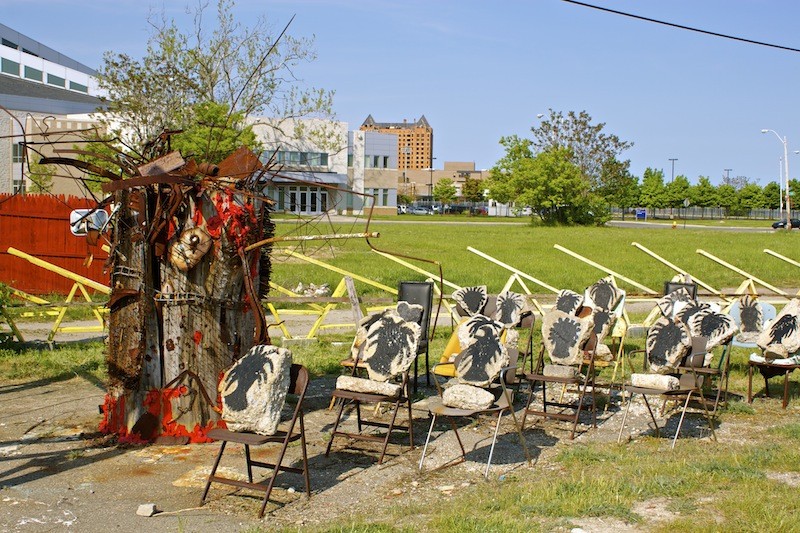 There was a weird-looking theatre setting and even a dinner table setting with close attention to detail like the wedding cake and "food" on the plates.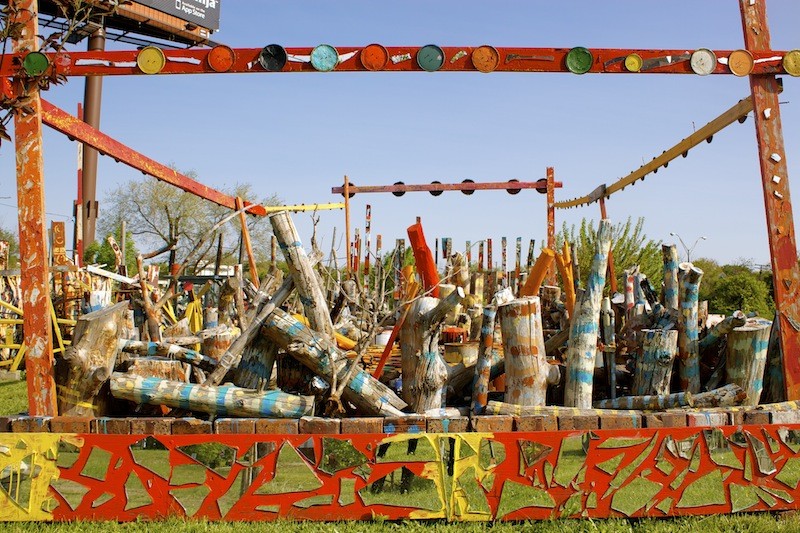 Then some kind of boxing ring.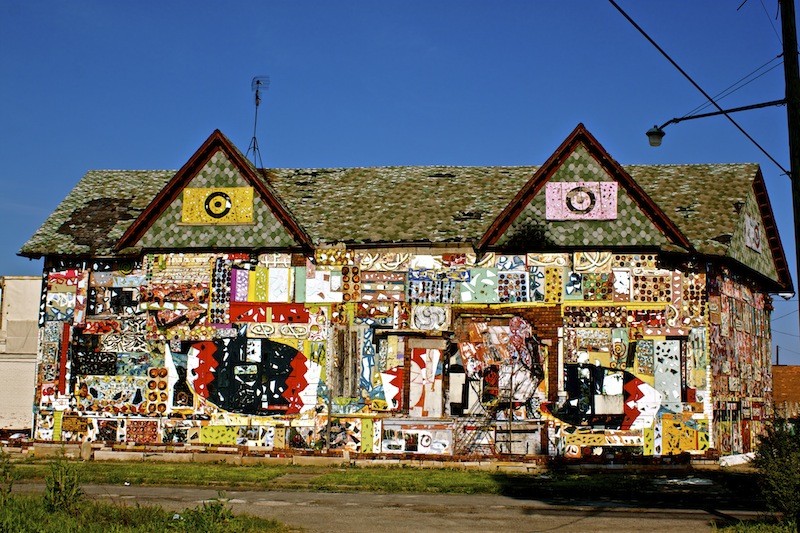 Much like the Heidelberg Project, this house is adorned with art, as well as a wall that's also covered from head to toe.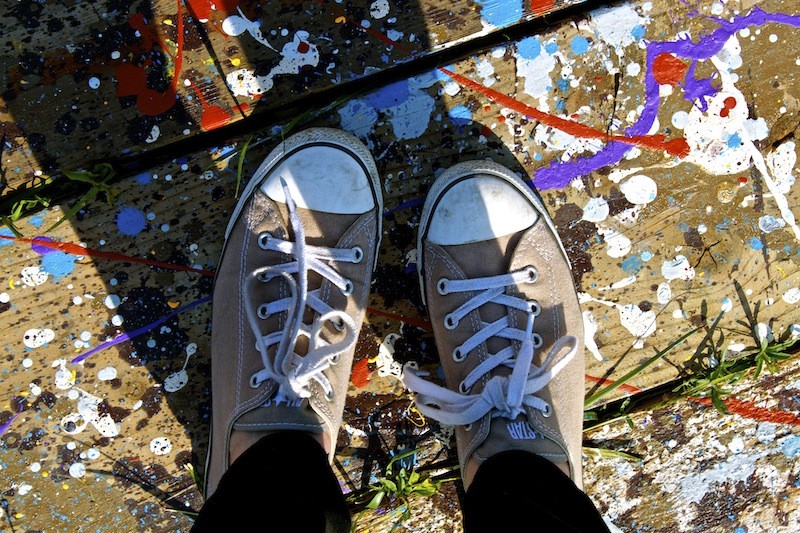 The MBAD African Bead Museum Detroit is yet another bright spot in Detroit's urban landscape. While one can't ignore the challenges the city faces now and going forward, any visitor to the city can certainly do their part and revel in the community good.
Have you been to MBAD African Bead Museum Detroit? Tell us about your experience in the comments below.
Good To Know
1) Find a hotel or apartment to stay when you're visiting Detroit.
2) Take a guided tour in Detroit.
3) Looking for more Detroit highlights? Check my archives or some of my favourite posts: