Note: This museum is now closed. However, as we love unusual places and things, we'll leave this up as a memory of what once existed.
If you're seeking something weird and offbeat to do when you're visiting Bucharest, look no further than the Museum of Romanian Kitsch.
This boutique museum features an exhibition that pokes fun at Romanian kitsch; tacky items that reflect a part of the country's history and culture.
The Romanian Kitsch Museum in Bucharest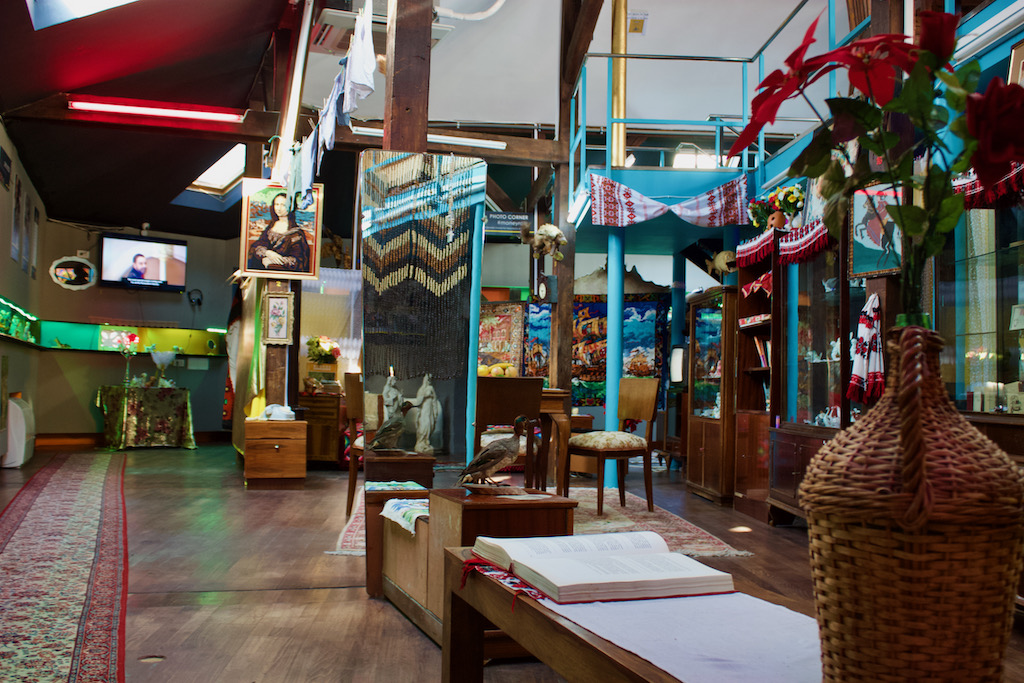 As the name implies, The Romanian Kitsch Museum features a large collection of more than 200 pieces of kitsch. Set in Bucharest's old town, the museum is set in a historic building that spans two floors.
Recommended reading: Articles others have written about the museum, Dracula Meets Ceausescu: Museum's Homage to Romanian Kitsch and Romanian Kitsch Museum opens in Bucharest.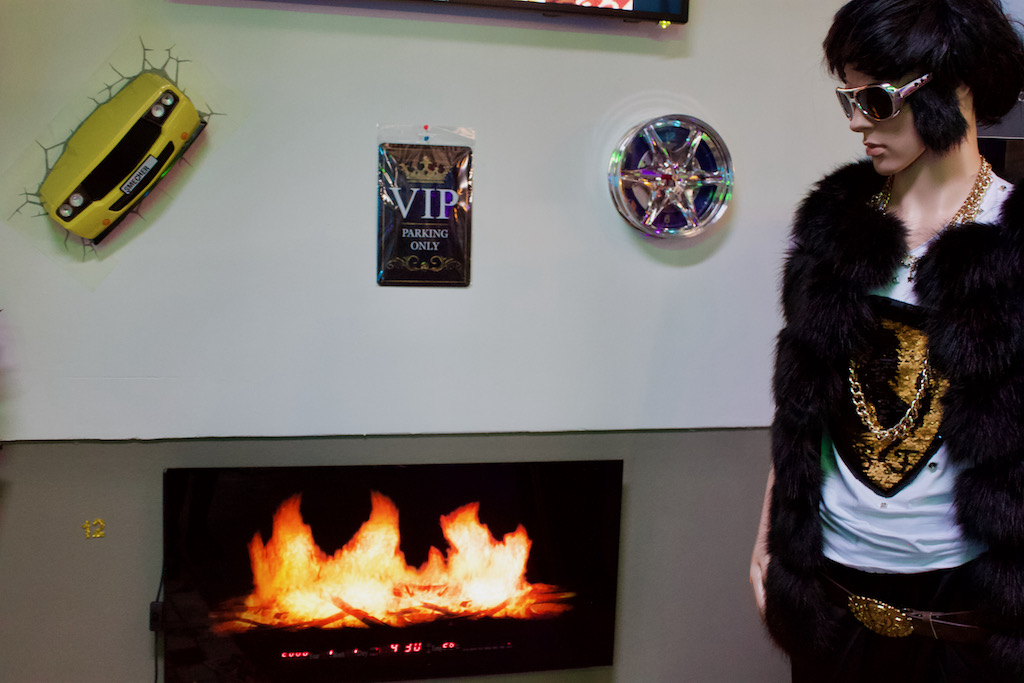 Opened in May 2017 by Christian Lica, the museum owner and curator is a well traveled Romanian who wanted to showcase his personal collection of kitsch items.
Most of the items featured in the museum are actually owned by him, with a small number of them being donated by locals.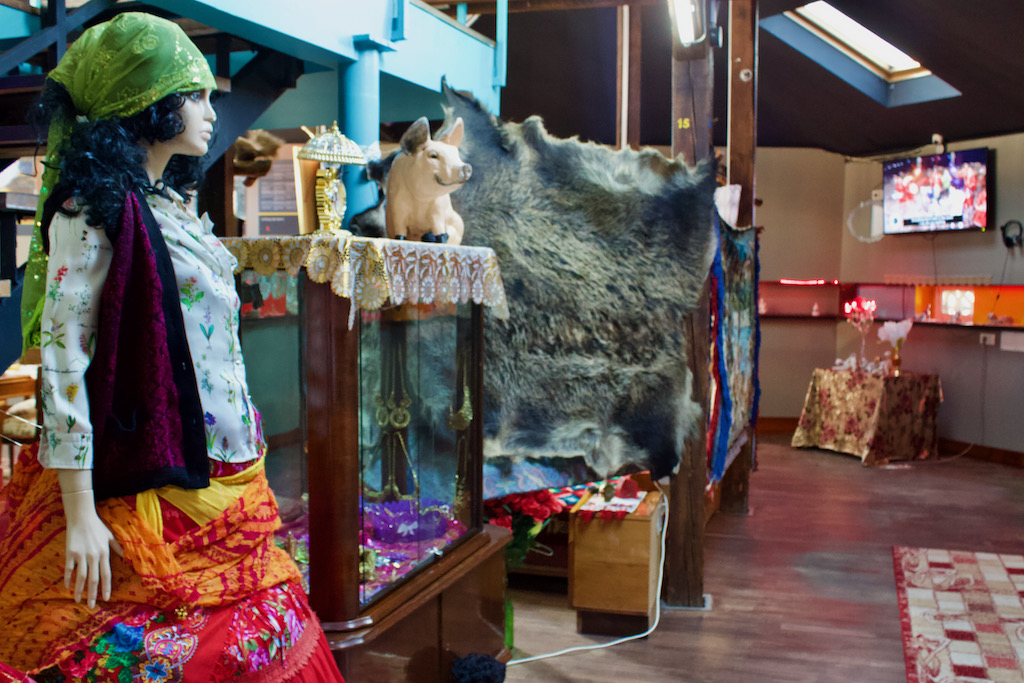 You may wonder why there's a museum featuring all the gaudy, tacky, and crazy items typically found in a Romanian grandmother's house. The owner explains on his website:
The Romanian Kitsch Museum is the best way of understanding Romanian (sub)culture. Kitsch is defined as art, objects, or design considered to be in poor taste because of excessive garnishments or sentimentality, but sometimes appreciated in an ironic or knowing way. Romanian Kitsch truly is authentic as the Romanian people can be creative, ridiculous and proud! The museum looks to promote Romanian Kitsch in the most tasteful way. There is no good or bad taste, beauty is in the eye of the beholder!
The Romanian Kitsch Museum features different sections including Dracula kitsch, Communist kitsch, religious kitsch, interior design kitsch, modern kitsch, and even a section where you can "make your own kitsch." There's also an art gallery area featuring kitsch pieces that people have gifted to the museum over the years.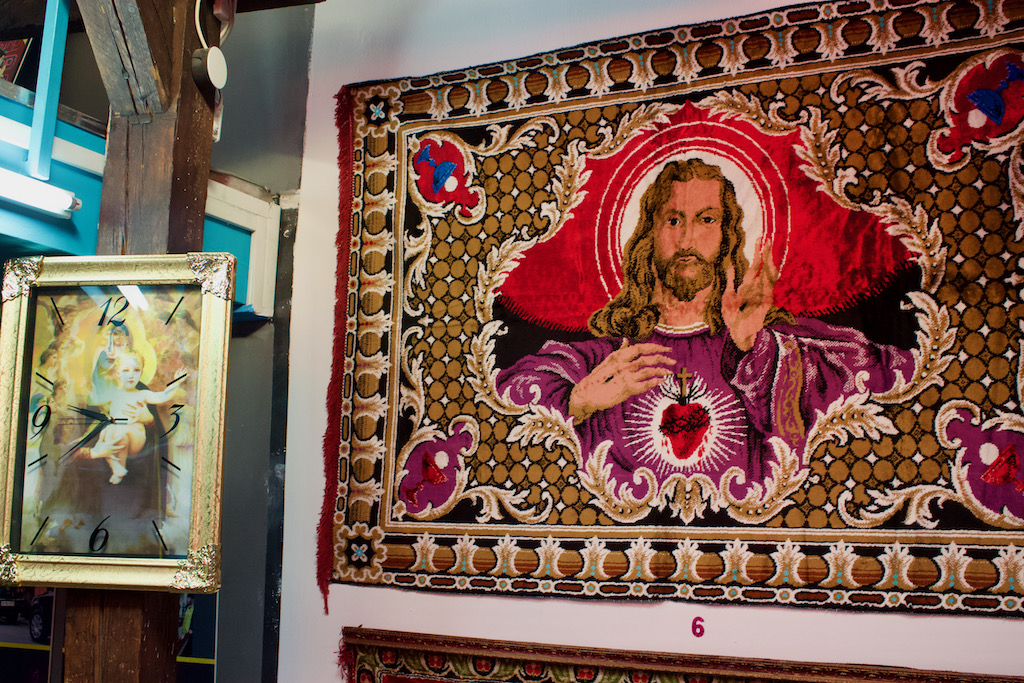 Some of the more notable and provocative kitsch items featured in the museum? A life-size Dracula statue, cushions in the shape of a €1 coin, and a statue of David decked out in gold bling. There's even a depiction of a woman (known as a "Pitzipoanca") clad in fishnets, a neon-colored dress, and a knock-off Versace hat. The museum also covers topics like "fake news" (ever so prevalent these days) with headlines like "Extraterrestrials steal electric current."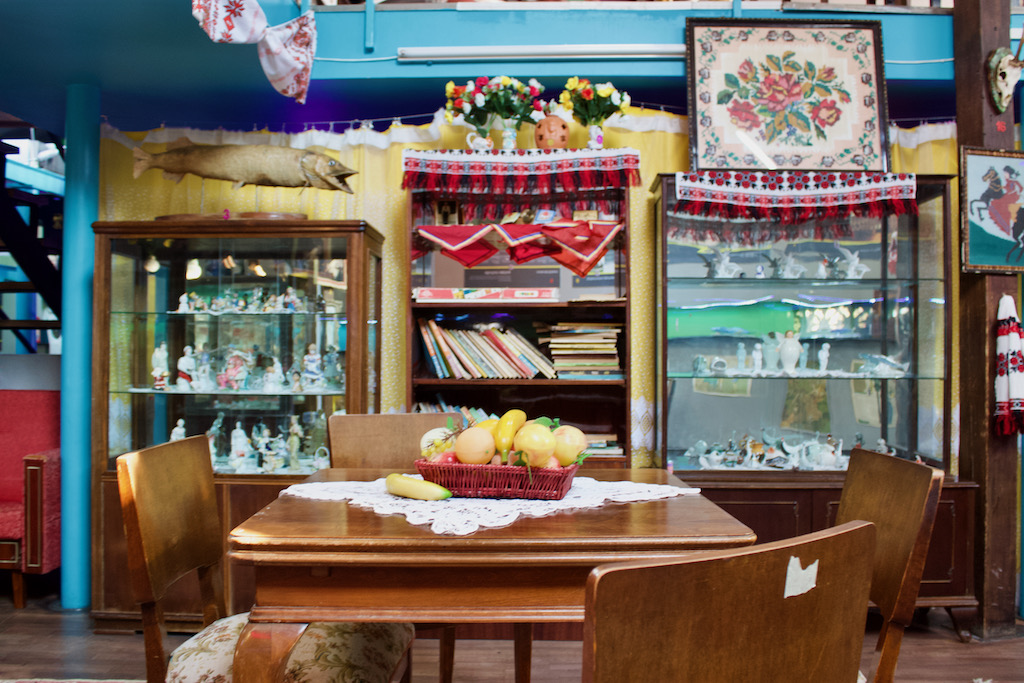 This humble museum attracts about 20 people a day, mostly tourists. This is amusing since many locals think the ironic and sarcastic references will be lost on anyone who's not Romanian. While this is somewhat true, most things are self-explanatory.
If you want to go all out (someone pleaseeee do this and send me your photos!), you can even arrange to be picked up and driven to the museum in a limo.
Watch/share this video about the Romanian Kitsch Museum and better yet, subscribe to my Youtube channel for even more travel-related videos.
What do you think about the Museum of Romanian Kitsch in Bucharest? Can you recommend any other "must-see" places to visit in the city? Tell us about it in the comments below.
Romanian Kitsch Museum Location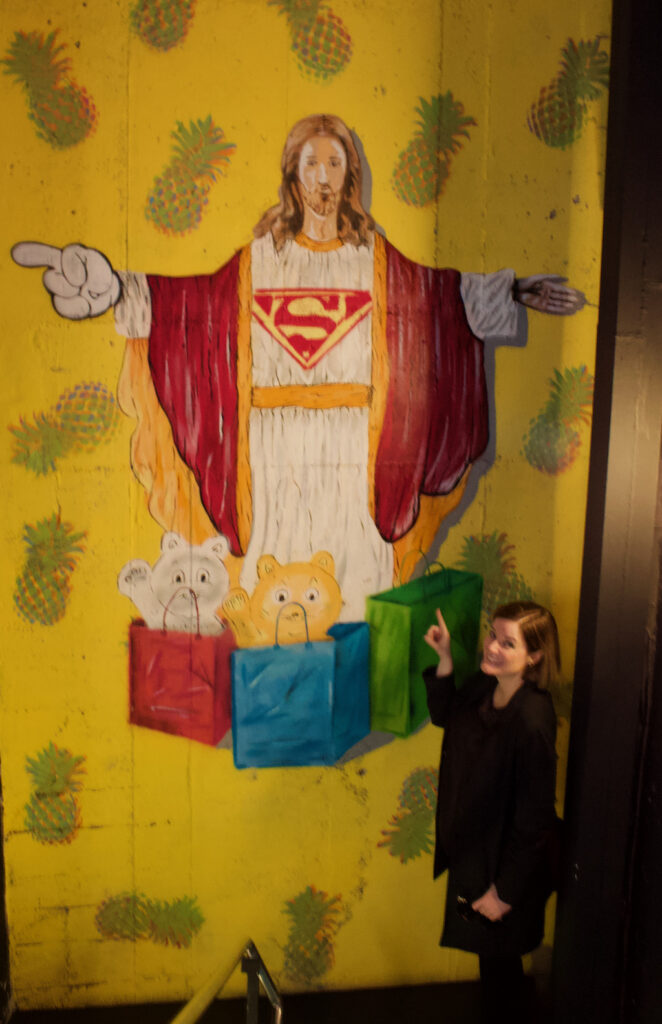 Where can you find the Romanian Kitsch Museum in Bucharest? Head to Bulevardul General Vasile Milea 4 Afi Palace Cotroceni, București 061344, Romania.
Romanian Kitsch Museum FAQ
There are some things you need to know before visiting the Roman Kitsch Museum, so here are answers to the most common questions people ask.
1) How can I contact the museum for more information? You can call them at +40 737 469 208.
2) When is the Romanian Kistch Museum open? It's open daily from 11:00 through 21:00.
3) How much does a ticket cost? At the time of writing this article, entrance to the museum is free.
4) Is there a gift shop? No, there is no onsite gift shop or any online shop either.
5) Can I take photos and videos inside the museum? Yes, you can, and frankly, it's highly encouraged. You can have a lot of fun playing around in the interactive areas and taking hilarious photos for Instagram.
6) How much time do I need for the Romanian Kitsch Museum? You don't need more than 45 minutes to an hour at the museum.
7) Does the museum offer guided tours? No, your tour through the museum is self-guided.
8) Do I need to book in advance? As not that many people visit the museum, you can just show up.
9) Does the Romanian Kitsch Museum have wifi? When I visited, they didn't but this may have changed since then. It won't hurt to check with the friendly museum staff if they have public Wi-Fi available.
10) Is there a place to store our bags or hang our coats? No, there are not any lockers or coat checks. You should keep your belongings with you at all times.
11) Is the museum good for kids? Yes, they obviously won't understand many things, but they'll especially enjoy the Make Your Own Kitsch section.
Transportation Options In Bucharest
Some information about your transportation options in Bucharest, Romania.
1) To reach Bucharest's city center, you can choose between a train, taxi, or bus:
From the airport – Bucharest's airport, Henri Coandă International Airport (OTP) is 18 kilometers from the city center. Bus options include taking express bus 783, which runs every 20 minutes (every 40 minutes at night). You can also take express bus 780, which leaves the airport every 40 minutes from 05:30 – 23:00 and takes you to the main train station, Bucuresti Nord (Gara de Nord

). The bus trips will take about 20 – 40 minutes (depending on traffic) and will cost you around €2 euros or 9 RON. You can also take the Henri Coandă Express, which runs hourly starts by taking a minibus for about 2 kilometers, followed by a train ride to the main train station. The trip will take about 50 minutes and cost

about €2 or 8 RON. Another alternative is a taxi, which will fetch you about €11 or 50 RON to get to the city center and take about 20 minutes. Taxi scams are rampant, so be careful and read more about how airport taxis work. If you're feeling fancy, book a private transfer with a company like Blacklane (I can

recommend them as I used to work there).

From the main train station – The city's main railway station, Bucuresti Nord (Gara de Nord

),

is located in the city center. Use public transit, walk, or take a taxi/Uber to get where you need to go.
From the main bus station – The main bus terminal can be found just outside of the Gara Basarab train station. It's about 5 kilometers from the city center, so jump on public transit or take a taxi or Uber to get to your accommodation.
2) Getting around Bucharest :
Taxis – As mentioned above, tourists are frequently scammed when taking taxis around Bucharest. If you can avoid doing so, use Uber instead. If you need to take a taxi, do so at your own risk. Use one of these locally recommended companies, Taxi Speed, Taxi Cobalcescu, Taxi Leone, Taxi Meridian, Taxi Cristaxi, or Taxi Pelicanul.
Ridesharing – Uber is available and offers an alternative to traditional taxi services.
Bikes – You can rent bikes in Bucharest through Bike The City or I'Velo Urban. It's a fun, sporty, and eco-friendly way to get around so if you love yourself and the planet, jump on a bike.
Public Transit – There is an extensive public transit system, with underground metro, buses, and trams. Check out their public transit website for more information.
Driving– If you want to drive around Bucharest, consider renting a car.
For more information about how to get around Bucharest, see Wikitravel.
Where To Stay In Bucharest
These are some of the best Bucharest accommodation options:
1) Book a place to your stay while you're in Bucharest:
2) I stayed at this cute studio apartment near Bucharest's Old Town. Despite being a studio, the apartment is spread over two floors. The best feature is the bathroom with a jacuzzi with mood lighting (which I thoroughly enjoyed). The hosts also couldn't have been nicer, even recommending a nearby pub to eat at on my first night there.
Paying For Things in Romania
Tips and tricks for handling money matters when you're traveling to Bucharest, Romania:
1) Romania's currency is the Romanian Leu (RON).
Check xe.com to find out how far your money will go in Romania.
Many places take bank or credit cards, but smaller shops often only allow cash. Get a small stash of cash at any local bank machine.
If you pay by card, you may be asked which currency you want to pay with – choose to pay in the local currency (RON) to save money on the exchange rate.
2) Romania is budget-friendly compared to other popular destinations in Europe and you'll find that your money goes a long way here from your accommodation to eating out, and more.
3) If you can avoid doing so, wait to exchange your money somewhere in the city (you'll find tons of places to do so) as exchange rates at the airport tend to be pretty high.
Good To Know About Bucharest
There are some things you need to know when you're visiting Bucharest:
1) Make the most of your time in Bucharest and book one of these tours:
2) As a solo female traveler, I felt fairly safe during my time in Bucharest. In general, the country doesn't have a lot of crime, and you're more likely to fall victim to a taxi scam more than anything else. As to how it is for people of color, it's possible you'll encounter racism. You can read more over at World Nomads.
3) If you like to see all of the quirky things when you travel, give some of my other articles a read:
Disclosure – This post contains some affiliate links. If you book a tour or hotel, I'll earn a tiny commission at no extra cost to you. Thanks for your support.