Get Mooned By Den Deugniet In Antwerp – Estimated reading time: 7 minutes
I've profiled some seriously weird and offbeat attractions throughout my years of travel. Some of my favourites are oddball statues like the peeing Bad Bad Boy statue in Helsinki and the Bruce Lee statue in Mostar.
Years back while travelling through Belgium, I came across another rather delightful statue, the Den Deugniet or Rascal, a little boy forever captured in a naughty full moon stance.
Get Mooned By Den Deugniet In Antwerp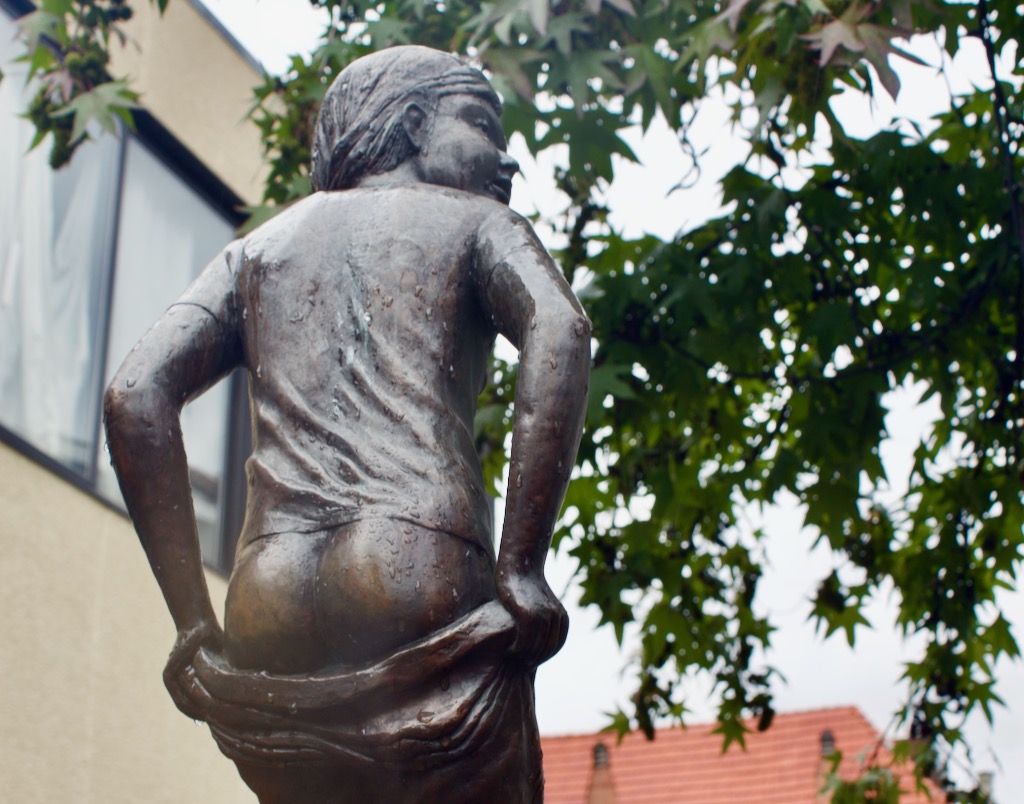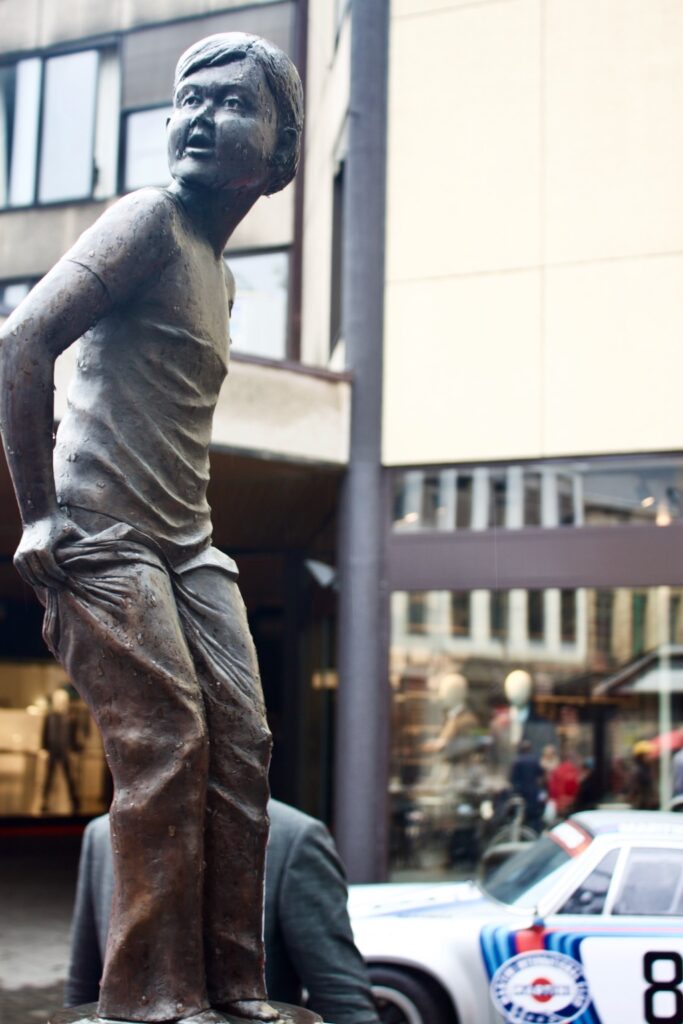 Belgium is well known for their strange, yet cute, statues. In Brussels, you'll find three different celebrated statues of a young boy, a young girl, and a dog all caught up in the act of public urination.
Recommended reading: If you're fond of comical statue stories, read this article about a disappearing phallus statue in Germany.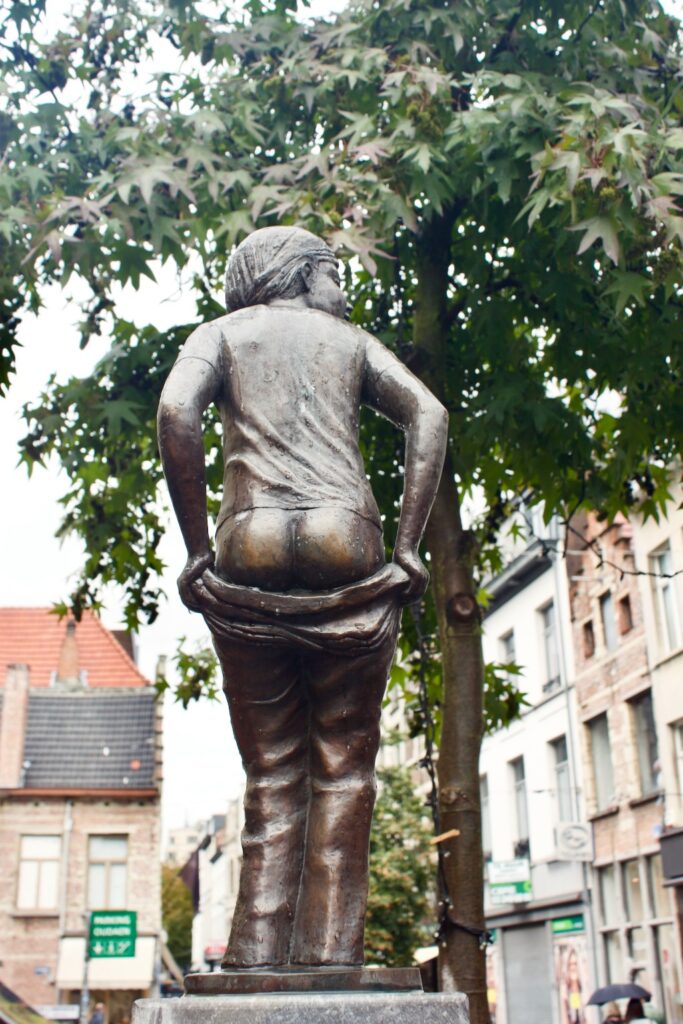 For reasons unknown, in 1976, artist Luc Verlee created Den Deugniet, this statue depicting a young boy pulling down his pants to reveal his little behind. Smack dab in the middle of Antwerp, it's a statue that makes you stop in your tracks to take a closer look, and of course, snap some pictures.
The sign on the statue features a song:
Deugnietlieke

Oep den Oudaan stater nondedju
à ventje in z'n blote ku
't is famile van "Manneke Pis"
ge kunt goe zien dat ne'n "Deugniet" is

Refrein : ja, ja, ja …

Mensen bleft toch staon
en komter mor is aon
mor dooget met fatsoen
dan moude "wenske" doen
't is 't allerschoenste "gat"
van hiel de koekestad
ja hiel de waereld rond
vind men gien schoener "kont"


Refrein : ja, ja, ja …

Er staot geschreve onderaon
"Met hiel de Stad, mor nie me mij"
En die da nie goe verstaon
zen nie van hier, geloofd me vrij


Refrein : ja, ja, ja …

John Lundström
9 December 1976
My translation efforts didn't go so well with this, nor did my research, but there's a reference to the aforementioned Manneke Pis, the famous peeing boy statue in Brussels. Perhaps Antwerp wanted to make fun of Brussels for their statue series or maybe they just wanted to have a notable one of their own?
Whatever the reason, Den Deugniet is a statue that will make you smile, laugh, and shake your head in wonder. If you happen to be spending time in Antwerp, give this guy a little love, and go see him!
Also worth noting, the image of Den Deugniet also features on a Belgium beer of the same name, so give it a try when dining out.
Watch/share this video about Den Deugniet and better yet, subscribe to my Youtube channel for even more travel related videos.
What do you think about this mooning little rascal or Den Deugniet? Can you recommend other weird and offbeat attractions in Antwerp?
Den Deugniet Location
Where is this little rascal in Antwerp? You can find it at Korte Gasthuisstraat 36, 2000 Antwerpen, Belgium.
Den Deugniet FAQ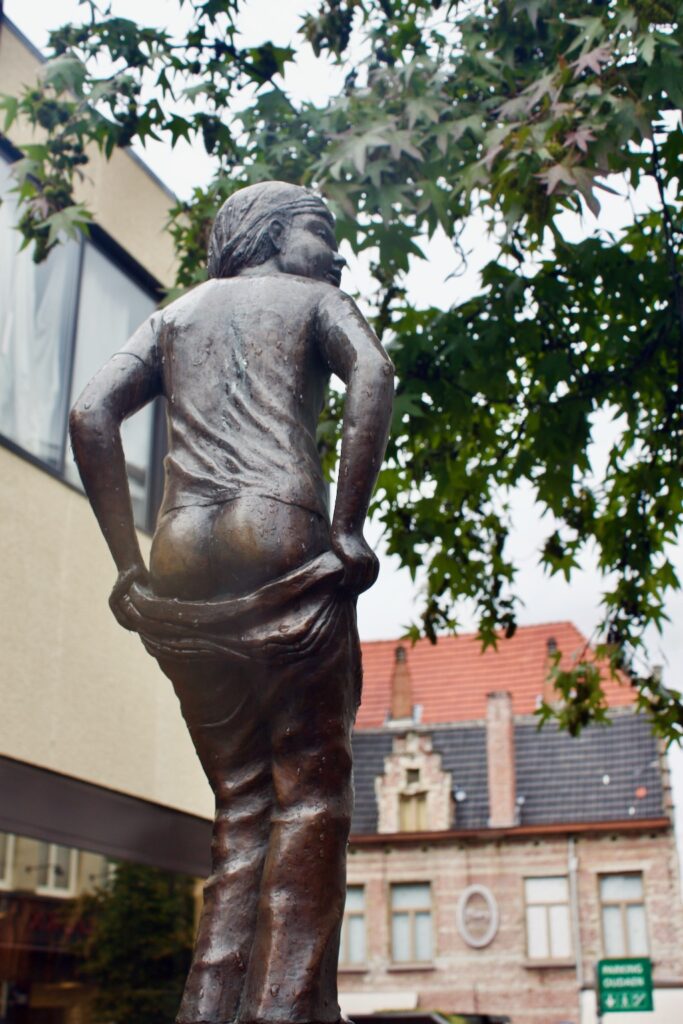 There are some things that you should know before visiting the cheeky Den Deugniet. Here are the answers to the most common questions:
1) When can I see the statue? You can visit anytime, as it's in a public space.
2) What's the closest metro station? The nearest metro station is Groenplaats.
3) Do I have to pay to see the statue? No, thankfully this piece of public art is free to enjoy.
4) How much time do I need to see the statue? Depending on how much you love the statue, not more than five minutes.
5) Can I take photos? Most definitely and photos are in fact, highly encouraged.
Transportation Options In Antwerp
Some information about your transport options in Antwerp, Belgium:
1) To reach Antwerp's city center, you can choose between a train, taxi, or bus:
2) Getting around Antwerp:
For more information about how to get around Antwerp, see Wikitravel.
Where To Stay In Antwerp
Some of Antwerp's best accommodation choices?
Paying For Things In Belgium
Tips and tricks to help you manage your money and cards when you're travelling in Belgium:
1) Belgium uses the Euro:
2) Belgium is more expensive than other European destinations, so you may find yourself needing to budget when it comes to accommodation, eating out, and more.
3) If you can avoid it, exchange your money in the city center, as exchange rates at the airport tends to be quite high.
Good To Know About Antwerp
Some things to know as you're out and about in Antwerp:
1) To really experience Antwerp, go on a tour:
2) As Belgium is part of the European Union, if you have an EU based phone number, you won't incur any data roaming charges.
3) If you love travelling around Belgium, read some of my posts:
If you like this post, share it on Pinterest.
*Disclosure – This post contains some affiliate links. If you book a tour or hotel, I'll earn a tiny commission at no extra cost to you. Thanks for your support!