Belgrade, Serbia is a city that offers a lot of weird and offbeat things to do. You can start with a visit to the Tesla Museum where you get to learn about all about the great man, as well as take part in interactive science experiments. Then you can take a stroll through the Belgrade Fortress, soaking up the city views, and seeing where the Sava and Danube rivers converge into one. There's also one more thing to do while you're at the fortress and that's to search for the hard-to-locate Ružica Church and see chandeliers made out of various weapons from WW1.
The Ružica Church Belgrade Has Chandeliers Made From Weapons
Ružica Church, or the Little Rose Church, is one of the oldest churches in all of Belgrade. You can find the church on a hillside inside the mammoth Belgrade Fortress, in the North East area close to the Zindan Gate. Covered in lush green ivy and fragrant roses, this special church has great historical significance.
The Early History Of Ružica Church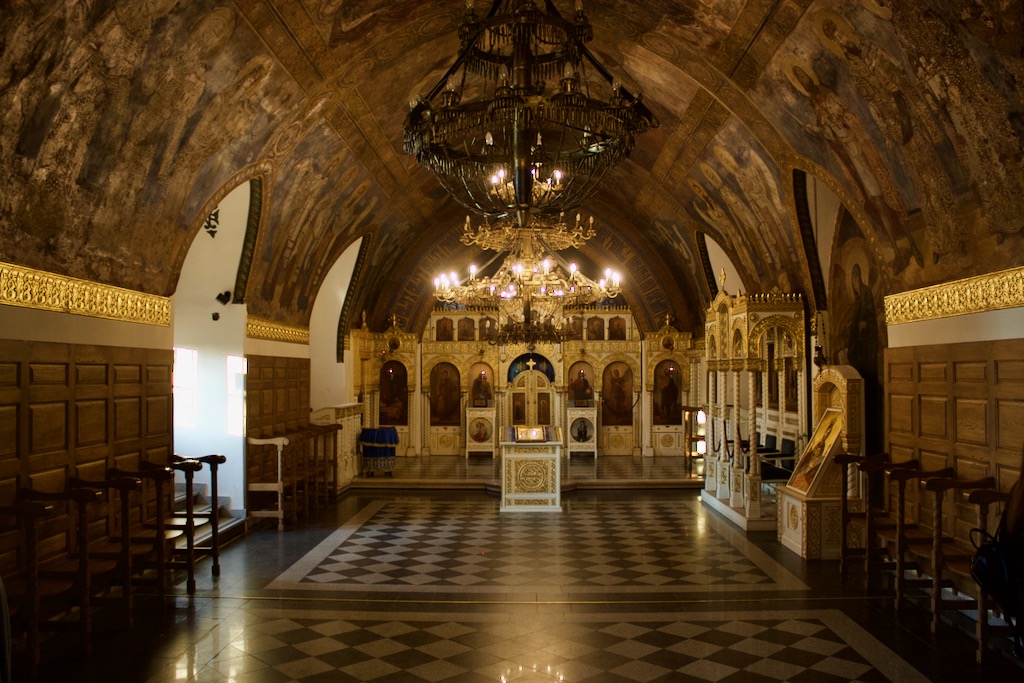 No one is really quite sure about the exact origins of the Ružica Church. Many historians trace the church's humble beginnings back to the 14th century. Under leader Stefan Lazarevich, it was first established as the Church of the Assumption of the Blessed Virgin Mary. Others think that Ružica Church had its beginnings even earlier, in the 13th century under King Dragutin's rule.
What we do know for sure is that this holy venue has been controlled by its fair share of rulers over the centuries – everyone from the Serbs to the Turks, Hungarians, and even the Austrians. In the 16th century, the church was destroyed by the invading Ottomans and transformed into a mosque. Later, the church was reclaimed and made back into a church again. Then in the 18th century, because they just couldn't let go, the Turks again used the building, and this time, to store gunpowder. In the 19th century, the Serbs retook the church and it became a military church and sanctuary for more than 1,000 soldiers, taking on its current name, Ružica Church. During this time a bell tower and altar were added.
The More Recent History Of Ružica Church
Ružica Church was almost completely obliterated during the first world war, damaged by all of the heavy bombings. Renovations started in 1925 under the direction of a Russian architect, Nikolay Krasnov. The construction work on the church continued beyond 1925 and was finally completed in 1937.
The church features several frescoes painted by the renowned Russian academy artist, Andrej Bicenko. More interestingly (meaning waayyyy cool and the reason I visited the church in the first place), there are unique chandeliers hanging from the ceiling, as well as three large candelabras. The chandeliers are made out of weapons (yes!) – bullet casings, swords, rifles, cannon parts, and more. They were crafted by frontline Serbian soldiers, expert craftsmen from Kragujevac, who used the remnants of Austro-Hungarian materials left on the battlefield.
This rather strange feature makes Ružica Church one of the more unique churches in the world, much like the Otranto Cathedral in Italy with its puzzling mosaic floor and the skulls of martyred Christians, said to be murdered by invading Ottomans.
Recommended reading: If you're fascinated by these kinds of dark historical sites, we recommend visiting the Brno Ossuary where more than 50,000 skulls are on display. You can also check out the Skull Tower in Nis, Serbia, as well as visit the former concentration camp, and more.
The idea of the artists who designed the chandeliers was that the combination of the light and the melting candle wax that would drip onto the weapons would communicate a peaceful message – that the Great War was an atrocity that should never be repeated. While the chandeliers now use light bulbs, the message is no less diminished. The impact of the war was devastating to Europe – it's estimated that more than 30,000 bombs had been dropped on Belgrade alone.
Some other highlights of Ružica Church? At the church's entrance, you'll find two statues standing guard. One is of the Serbian king Stephen Dusan, seen proudly sporting typical armor worn during the Battle of Kosovo. The other depicts an everyday infantryman from the time of the Balkan Wars.
Ružica Church Today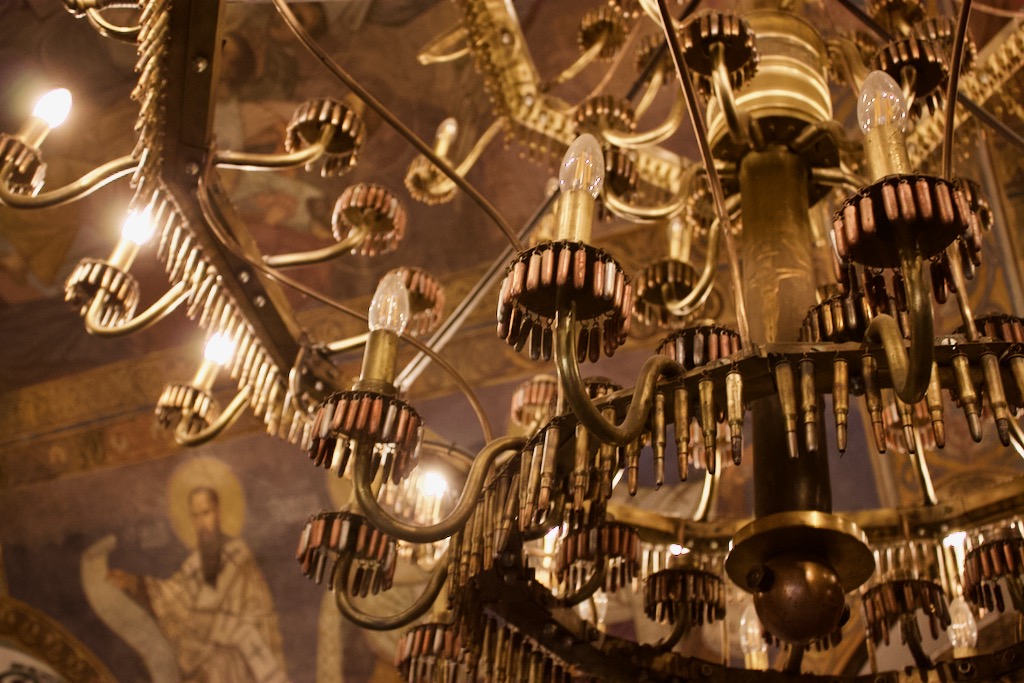 After WWII, Ružica ceased to be a military church and opened to the general public for worship. In 1965, the church was placed under state protection after receiving status as "an object of cultural and historical heritage". Today, the Serbian Orthodox church offers worship services and is a place for Serbians to come and pay tribute to soldiers who fought for Serbian independence in various wars over the years, most notably the First and Second world wars. There's even a special service held each year at the church commemorating those who died.
Watch/share this video about the Ružica Church Belgrade and better yet, subscribe to my Youtube channel for even more travel-related videos.
What do you think about Ružica Church Belgrade? Have you been and what did you think? After reading this article, are you itching to go there ASAP? Tell us about it in the comments below.
Ružica Church Belgrade Location
What is the location of Ružica Church Belgrade? There is no exact address, but you easily find the church in the Belgrade Fortress, as well as find it on Google Maps.
Ružica Church Belgrade FAQ
There are some things you should be aware of before you pay a visit to Ružica Church, so we've taken the time to answer the most common questions:
1) Can I contact the church for more information? You can call them at +381 11 2630699 and/or visit their website.
2) What are the opening hours of the Ružica Church in Belgrade? The church is open each day from 7:00 – 18:00. Contact the church to confirm the exact times of services or other special events.
3) Is it free to enter the church? Yes, you can enter the church completely free of charge.
4) Can I take photos and videos? Yes, you can. But do so quickly out of respect for the worshippers.
5) How much time do I need for Ružica Church? As it's not a big church, I'd say at least 15 minutes, if not more.
6) Are there tours available? No, anything you do is self-guided.
7) Does the church have wifi? No, wifi is not available.
8) Is Ružica Church suitable for children? Of course, bring your children and show them the beauty of this gem of a church.
Transportation Options In Belgrade
Our recommendations to navigate your way around Belgrade:
1) To get to Belgrade's city center, you can drive, take a taxi, bus, or use a rideshare:
2) There are numerous transportation options in Belgrade:
Where To Stay In Belgrade
These are some of the best Belgrade accommodation options.
1) Book a hotel, hostel, or private apartment for your stay in Belgrade:
2) For my weekend in Belgrade, I stayed at the Public House Hotel. I highly recommend this hotel as it's centrally located, they offer free airport pickup, and provide you with a mobile phone for the duration of your stay. As Serbia isn't part of the European Union (EU), steep roaming fees apply for anyone with a number from an EU country. Public House Hotel saves you the money and hassle of buying a local sim card. You can even use their phone as a hotspot for yours.
Paying For Things in Serbia
How to handle your cash and bank/credit cards when you're visiting Belgrade, Serbia:
1) Serbia has its own currency, the Serbian dinar (RSD).
2) Serbia tends to be cheaper than other more popular destinations in Europe and you'll find that your money goes a long way here for everything from your accommodation to eating out, and more.
3) You cannot change dinars inside the airport – shops will take the local currency, but all prices will be in Euros.
4) The duty-free shop is way overpriced. Buy your favorite rakija at a shop in the city instead! Your friends will love you, trust me.
5) If you can avoid it, wait to exchange your money somewhere in the city (you'll find tons of places to do so). The exchange rate at the airport tends to be quite high.
Good To Know About Belgrade
Other things to know when you're visiting Belgrade:
1) To more deeply experience Belgrade, book any of these guided tours.
2) Serbians are huge fans of smoking and they smoke everywhere, typically in bars and cafés, but even in restaurants when having dinner. While this will be a shock to most visitors, there isn't much you can do about it without causing an unneeded fuss. You can ask to sit in the "nonsmoking" section of a restaurant (if they even have one), but with no barriers in the restaurant to separate the smoking and nonsmoking sections, there really isn't much of a difference. In nicer weather, you can eat or drink outside, otherwise go with the flow and suffer silently.
3) Years back, the EU passed a law that provided free data roaming wherever you travel within the EU. As Serbia is not part of the EU, you're either going to need to take advantage of free wifi when you find it, buy a local sim card, or rack up excessive data roaming charges. If you're lucky, you may find a hotel that offers a free phone to use during your stay.
4) If you like to travel in Europe, give some of these posts a read.
5) We also recommend this post, The Best Viewpoints on Lake Bled.

*Disclosure – This post contains some affiliate links. If you book a tour or hotel, I'll earn a tiny commission at no extra cost to you. Thanks for your support!