Reminders of the Kosovo War can be found throughout Pristina and due to its recency, you'll find several statues and memorials across the city, like the sobering Heroinat Memorial which pays tribute to the 20,000+ women raped during the war. You'll even find a statue of Bill Clinton due to his efforts to end the war. Another statue of an influential American figure is Madeleine Albright, where you'll find a bust in her likeness at the similarly named Madeliene Albright Square.
The Madeleine Albright Statue in Pristina, Kosovo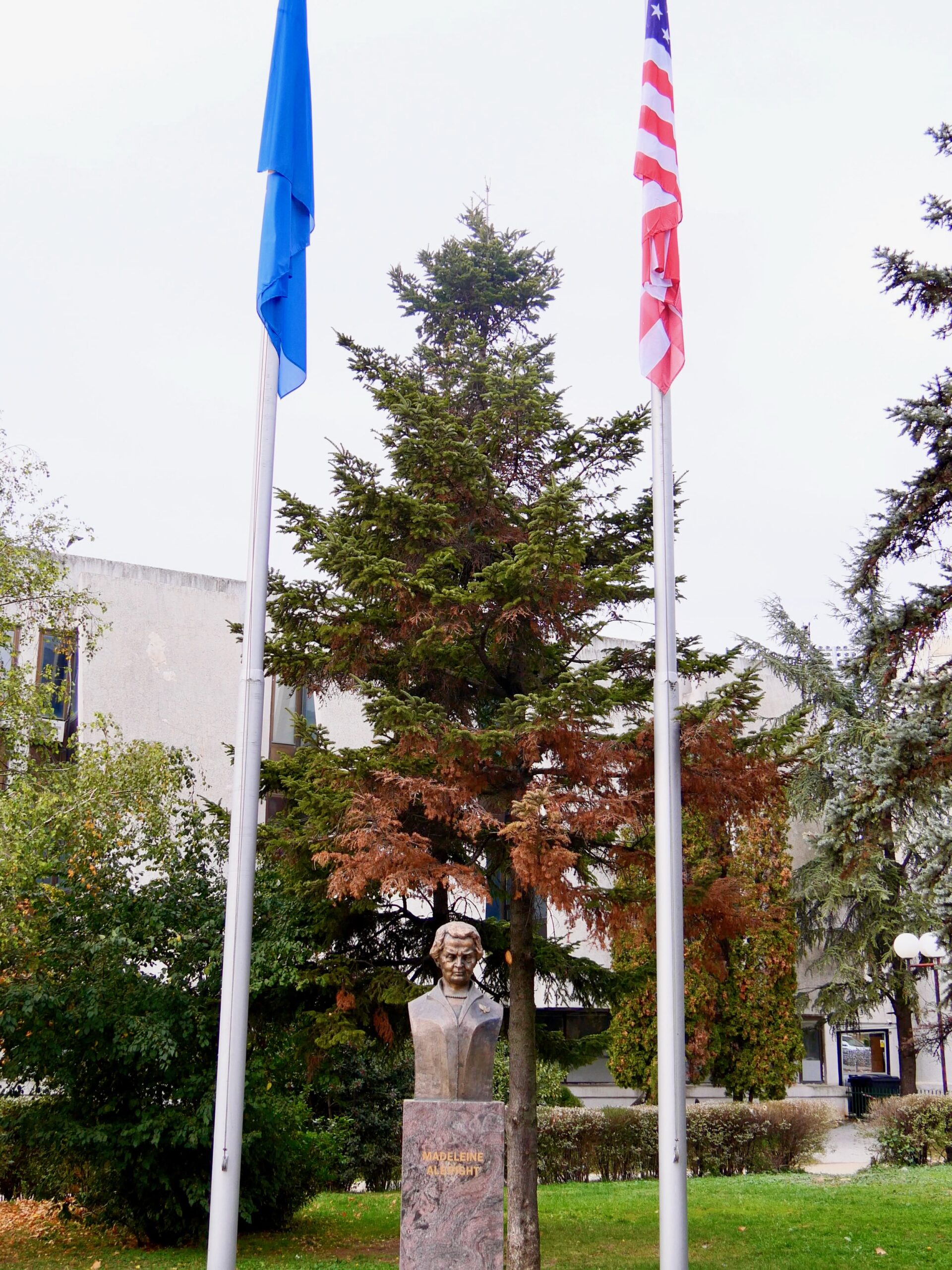 President Clinton and Albright both traveled to Pristina in 2019 to help Kosovo celebrate its 20 years of independence. The statue was unveiled during their visit, which unfortunately was Madeleine Albright's last trip to the country. She passed away at the age of 84 on March 23, 2022.
Why do the people of Kosovo appreciate Madeleine Albright so much and to the point of erecting a statue in her honor?
Serving during the Clinton administration as the first female Secretary of State from 1997 – 2001, she was instrumental in directly involving the West, namely NATO, in the Kosovo War. So strong was her political influence, some even called it "Madeleine's War". Working alongside President Clinton, she advocated for a strong response to Serbia's brutal genocide of Albanian Kosovars who sought independence from the former Yugoslavia. Failing to get the United Nations (UN) approval for military intervention, NATO went ahead anyway. They bombed Serbia for 78 days straight, concluding only when Serbia withdrew its forces from Kosovo and a UN peacekeeping mission was established.
Post-war, Madeleine Albright further led efforts to bring Serbian war criminals to justice, including the conviction of former presidents, Slobodan Milosevic and Radovan Karadžić for crimes against humanity, genocide, and many other war crimes too countless to list.
After her passing, moving tributes came in from around the world:
Said President Joe Biden, "Working with Secretary Albright during the 1990s was among the highlights of my career … as the world redefined itself in the wake of the Cold War, we were partners and friends working to welcome newly liberated democracies into NATO and confront the horrors of genocide in the Balkans."
President Clinton also shared his thoughts about when they traveled to Kosovo together – "Almost three years ago, we took our last trip together to celebrate the 20th anniversary of Kosovo's fight for independence, when they dedicated a statue of her in downtown Pristina. She had a richly deserved happy day."
And as expected, the most meaningful tributes came from Kosovo:
"Kosovo lost an invaluable friend today. We're saddened beyond words by the passing of the formidable and inspiring Secretary Madeleine Albright," Kosovo President Vjosa Osmani said on Twitter. "Her contribution to our freedom & democracy will never be forgotten. With her work, she left this world a better place. RIP dear friend."
"Saddened to hear of the passing of Madeline Albright, a remarkable woman with uncompromising morals for the United States, a friend of Kosova to the end, and a partner with all who pursued peace, freedom, and democracy," said Prime Minister Albin Kurti.
While Madeleine Albright is seen as a hero in Kosovo, many Serbians don't view her positively. During the NATO campaign in Serbia, there were tragic incidents that resulted in civilian casualties when hospitals, refugee camps, and even hotels were bombed (see this UN report). Regardless of your position, there is no denying that she helped Kosovo achieve the peace and independence it deserved.
What do you think about the Madeleine Albright Statue in Pristina? Do you have any other tips for those wanting to visit the capital of Kosovo? Tell us about it in the comments.
The Madeleine Albright Statue Location
Where can you find the Madeleine Albright Statue? You'll find it in Madeleine Albright Square, close to the NEWBORN monument.
Madeleine Albright Statue FAQ
There are some good things to know about the statue. We answer some of the most commonly asked questions:
1) When can you see the Madeleine Albright Statua? You can visit 24/y, as it's in a public space.
2) Can you take photos and videos of the statue? Yes, but kindly be respectful. She's surely a controversial figure, but she's being honored for her help to end the war and bring independence to Kosovo.
3) How much time should you spend at the Madeleine Albright statue? At the most, you need 5 minutes to check out the statue.
4) Is the memorial good for children? This honestly wouldn't be an interesting sight for kids.
5) Do you need to pay to see the memorial? Nope, you can view it for free.
About Transportation In Pristina
Everything you need to know about getting around the capital of Kosovo:
1) To reach Pristina's city center from the airport, take a bus, a private shuttle, or a taxi:
2) To get to Pristina's city center from the main bus and train stations, take a taxi or walk into the city.
3) Something to keep in mind if you want to travel to Serbia from Kosovo? As Serbia doesn't recognize Kosovo as an independent country but a Serbian territory, you'll be denied entry at the border if you entered Kosovo from either Albania, Macedonia, or Montenegro. As such, it's better to leave Kosovo, travel to one of these countries, and enter Serbia from there.
4) Some of the different ways to get around the city:
Where To Stay In Pristina
My top recommendations about where to stay in Pristina, Kosovo:
1) See what's available on booking.com.
2) I spent three nights at the Swiss Diamond Hotel Prishtina in a single room. The room was spacious, the bed large and comfortable, there was a completely stocked mini-bar, wifi was strong and reliable (no password required), and there was a rainfall shower head that made my morning showers a delight. Breakfast was also included, and seriously, they had one of the biggest and best breakfast buffets I've ever experienced with plenty of hot dishes, yogurt, cereals, and various types of bread and sweets. Last but not least is their stunning spa (a stay at the hotel includes access), with a large pool, jacuzzi, and seven different types of saunas. I also had a massage and my afternoon/evening in the spa was nothing less than exceptional.
Paying For Things in Kosovo
Be a financial pro in Kosovo:
1) Kosovo uses the Euro, making it convenient for European travelers.
2) Kosovo is very budget-friendly, from your accommodation to eating out, and more.
Good To Know About Pristina And Kosovo In General
Other good-to-know things about Pristina and Kosovo?
1) To fully experience the country, go on a tour.
2) Like many other Balkan countries, smoking indoors is fairly common, including at some bars and restaurants. While this isn't the most pleasant thing for non-smokers, just head to non-smoking venues or venture to places during uncrowded times.
3) Kosovo isn't part of the European Union (EU) just yet, so those with a European number will incur dating roaming charges. Luckily, many establishments have free wifi and you can always buy a SIM card – I got one for about €8 with plenty of data included at IPKO. Alternatively, buy an eSIM and save yourself the trouble of having to purchase a local SIM card. I did that when traveling to BiH recently, and it was super convenient.
4) The official languages of Kosovo are Albanian and Serbian. You'll also find that many people speak English and even German.
5) Is Kosovo safe? I can only answer this from an anecdotal perspective – as a woman traveling solo, I felt very safe in Pristina and didn't experience any major difficulties. In fact, people were very friendly and helpful throughout the entire trip. I had coffee with a local and dinner and drinks with another. When I looked lost, a couple of people provided directions. Read this in-depth post from Kami and the Rest of the World for even more information.
Tensions have dramatically risen between Serbia and Kosovo during 2022 and 2023. In my conversations with locals, they indicated worry about future developments. Before embarking on your trip, check your recent travel warnings (if there are even any) and follow news articles to find out the latest happenings.
6) If you like exploring unusual things around the world, check out some of our reader's most-liked posts:
*Disclosure – This post contains some affiliate links. If you book a tour or hotel, I'll earn a tiny commission at no extra cost to you. Thanks for your support!