Note: While the unjust war in Ukraine rages on, we're leaving this post here with the sincerest of hopes that peace arrives and this book market will live on and be enjoyed once more. In the meantime, find out about how you can help Ukrainians in Berlin.
If you've been following my blog for a while, you'll know that I absolutely love to visit bookstores and libraries whenever I travel. From the Instagrammable cultural hotspot, Cărturești Carusel in Bucharest, to the books stuffed in boats at Libreria Acqua Alta in Venice, and a bookstore in Detroit filled with more than 1,000,000 second-hand titles, these are my happy places.
When visiting Kyiv, a local resident gave me some cool tips about some unusual places to check out, including the Museum of Toilet History, as well as a recommendation to visit Ukraine's largest book market, the Petrivka Book Market.
Book Lovers Should Go To The Petrivka Book Market In Kyiv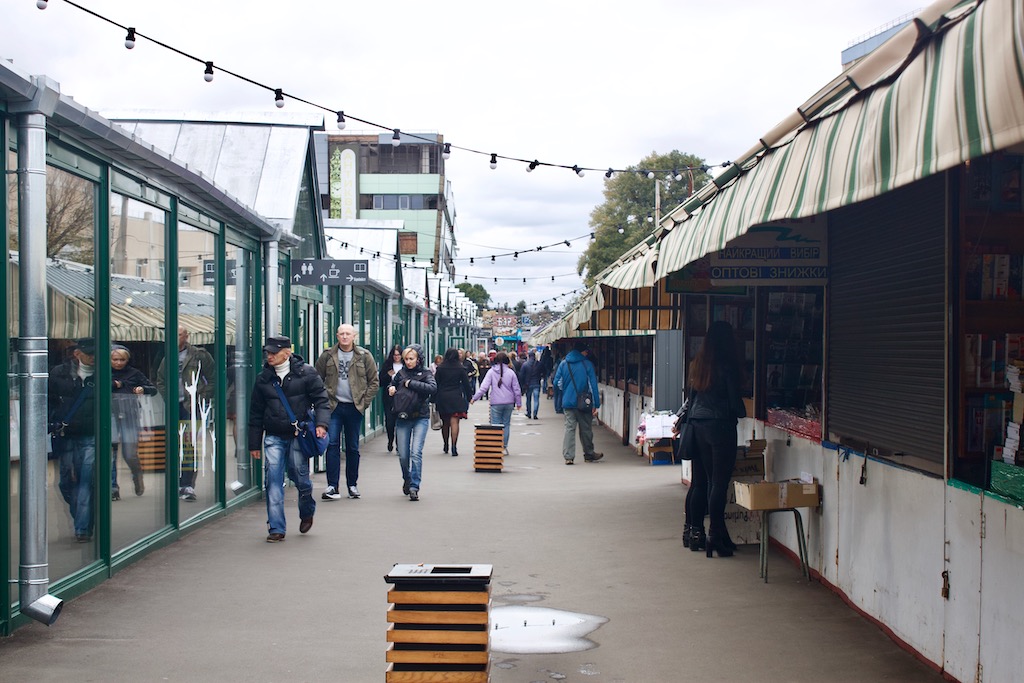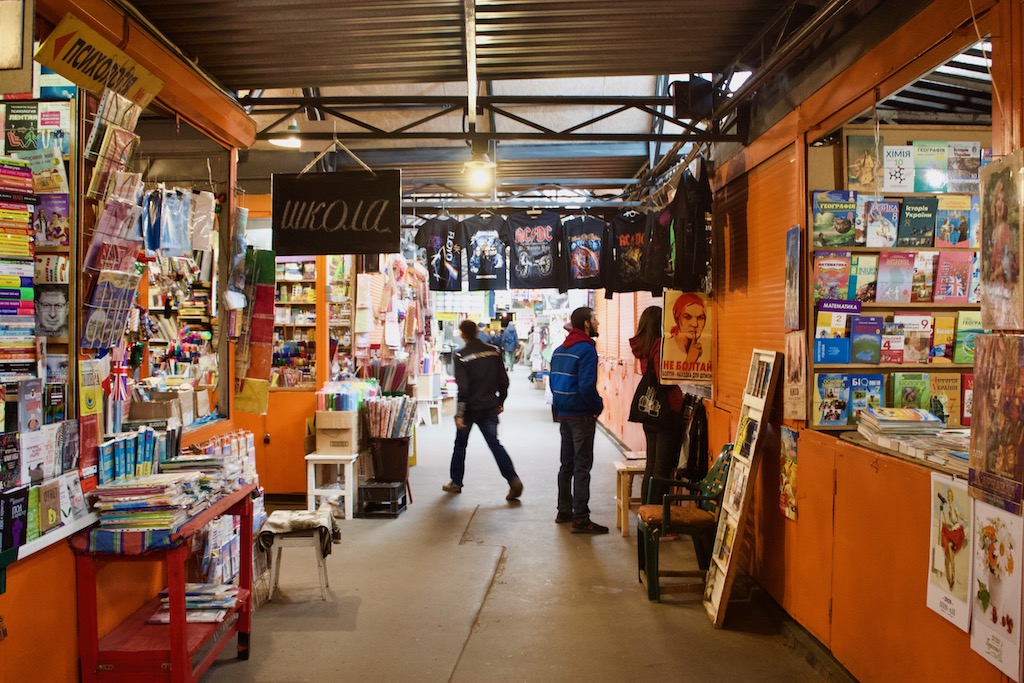 If you're looking for a little something off the beaten path to do while you're in Kyiv, head to the Petrivka Book Market. This gigantic open air market spans 1000 square meters and is filled with more than 100,000 titles, making it Ukraine's largest book market. Petrivka also happens to be Kyiv's oldest market.
Recommended reading: Find out the best markets to explore in Kyiv for fresh food, vintage clothes, and more. Check out this guide to thrifting in Kyiv and this post about how to indulge your retail therapy urges with these recommendations for shopping in Kyiv.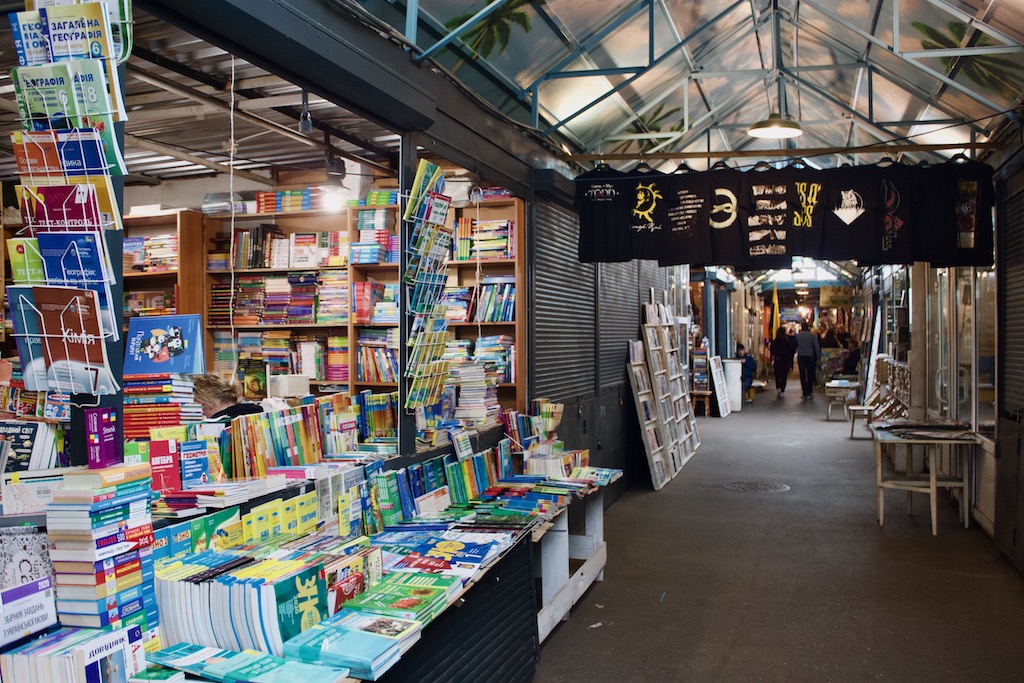 Aside from books both new and secondhand, you'll find a bizarre assortment of CDs, DVDs, records, software of dubious origins, party supplies, paint by number sets, and more.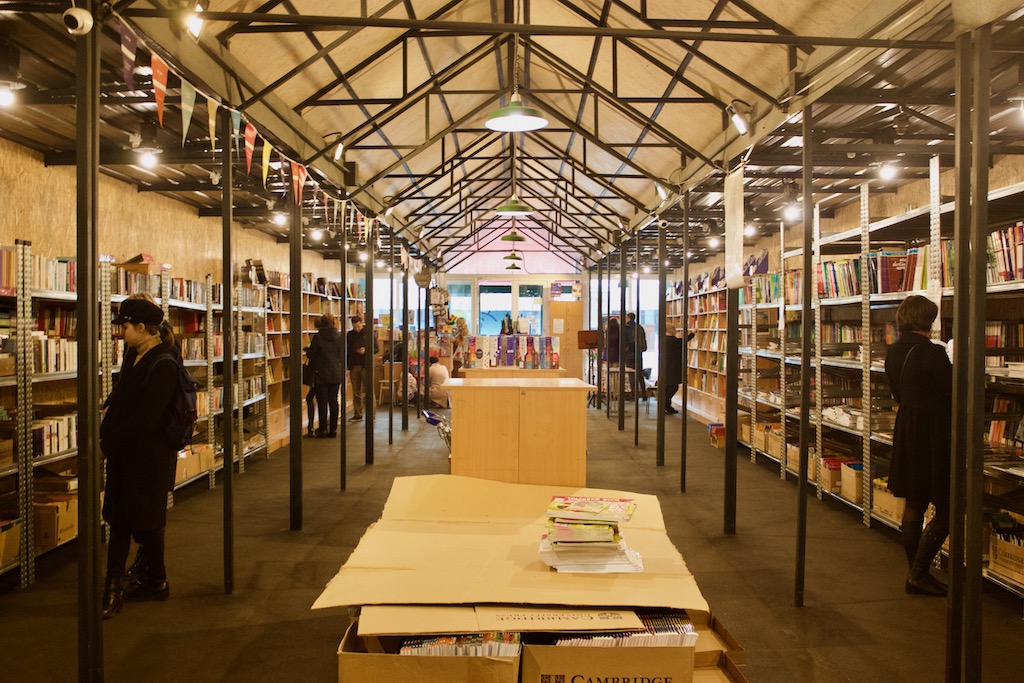 While the vastness of the market can seem overwhelming (there's more than 167 shops, each selling anywhere from 2,000 – 3,000 books), and the rows of bookstalls start to feel the same after a while, it's a fun way to spend a couple of hours. Especially because Petrivka book market is a place for locals (mostly pensioners) and not tourists! There's live music, stalls where you could buy coffee, and even cozy nooks where you could sit and relax for a while.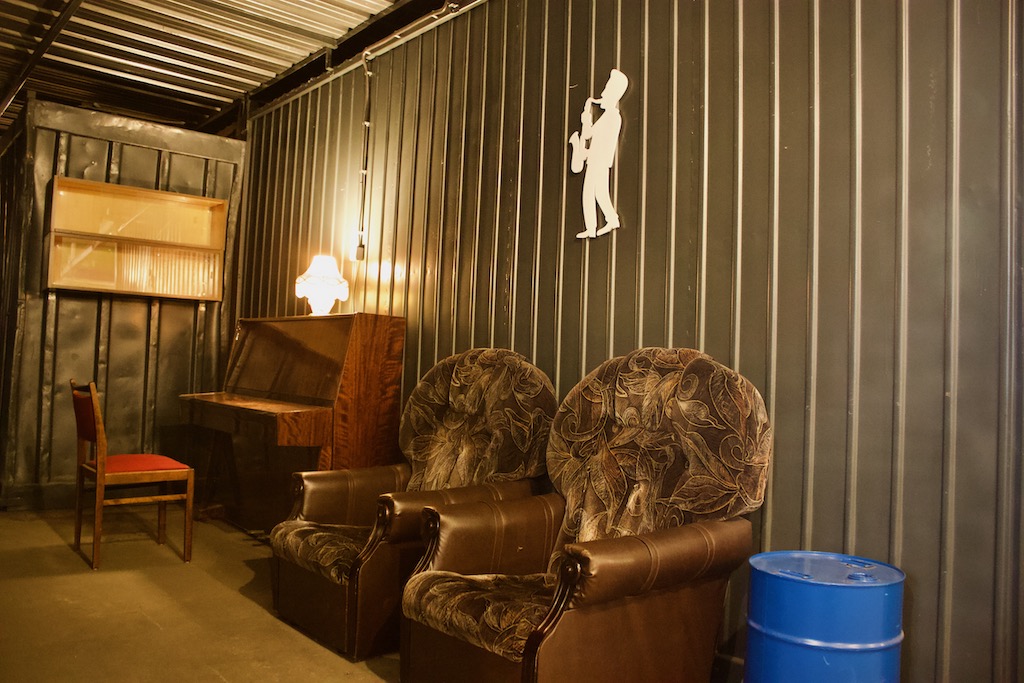 Most books in Ukraine are actually not sold in retail shops, but in markets like Petrivka where used books remain affordable to the average person. In recent years, the demand for secondhand books has substantially increased as purchasing new books is now considered a luxury buy for many. These markets are not only community institutions, but a vital way to provide literature to Ukrainians at a nominal price.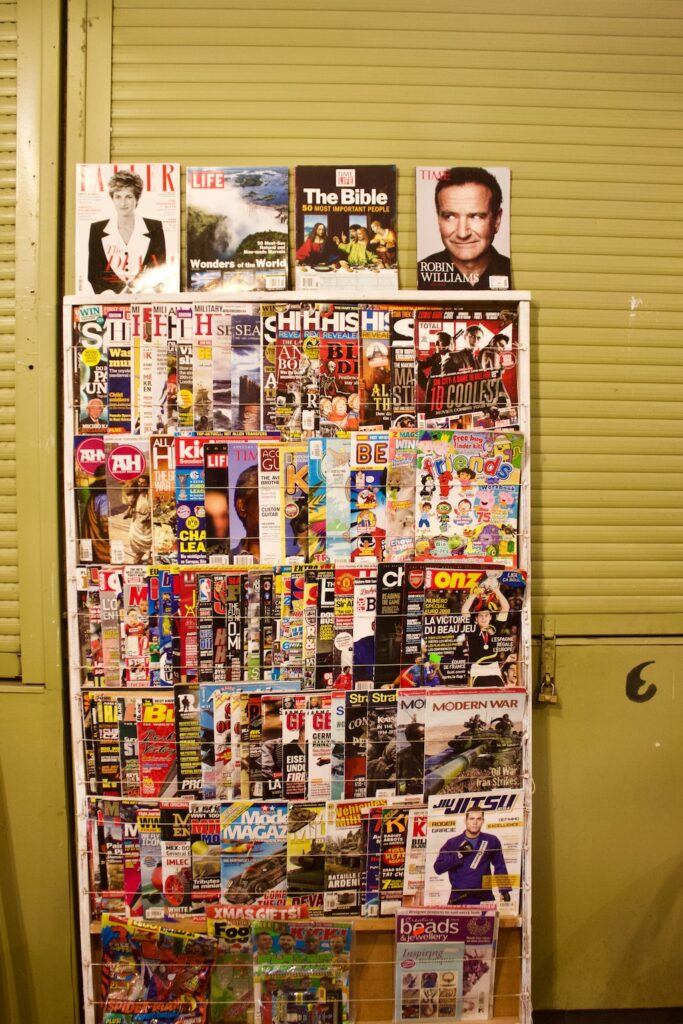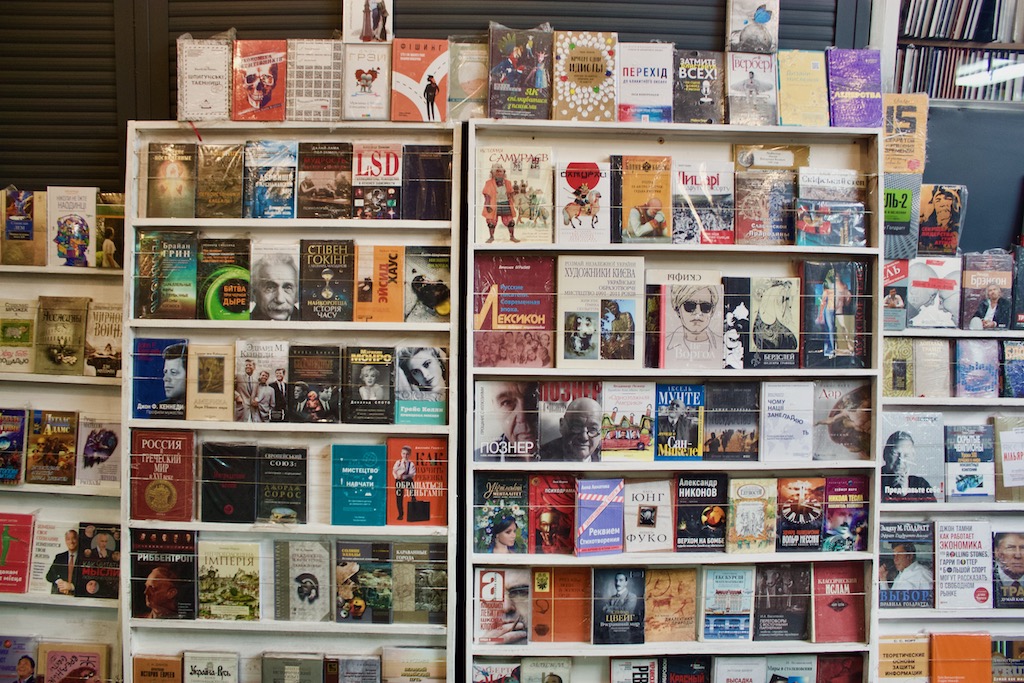 There are rumours that the Petrivka book market will be shut down and be replaced by yet another soulless shopping center, so visit this place while it's still around! Even more sad, is that this appears to be a growing trend – read, Retail Pressures: Ukraine's Open-Air Bookselling Marketplaces Appear Headed for Closure for more details.
Watch or share this video about the book market and better yet, subscribe to my Youtube channel for even more travel related videos.
Would you hang out at the Petrivka book market while you're in Kyiv? Can you recommend other offbeat attractions in the city? Let us all know by leaving a comment below.
Petrivka Book Market Location
Where is the Petrivka book market? Vulytsya Verbova, 17, Kyiv, Ukraine, 02000.
Petrivka Book Market FAQ
What do you need to know before you visit the Petrivka book market in Kyiv? We answer some of the most common questions.
1) What are the hours of operation? The market is open daily from 9:00 – 17:00. It's closed on national holidays.
2) What's the closest metro station? The nearest metro station is Pochaina metro station (formerly known as Petrivka) on the Obolonsko–Teremkivska line.
3) Can you find English books at the Petrivka book market? As this is a market catered to locals and not tourists, most books are in either Ukrainian or Russian. This also means most shop owners do not speak English either. You can still find a small selection of books in English, but you really need to look for them. I picked up a few awesome travel guides to Kyiv, Odesa, and Lviv at a shop called Bookling but found them to be on the expensive side. I may have gotten slapped with a "tourist tax" or English books are a higher price due to their limited availability.
4) How much time do I need for the market? I'd recommend at least an hour for the book market, and another hour or so for the nearby flea market. Hot tip – check out the flea market for yes, a lot of junk, but also all sorts of treasures.
5) Is the market safe? Yes. As a woman walking around alone, I never once felt unsafe. People stared at me sometimes, as I definitely looked like a tourist when I was snapping photos, but no one bothered me. Note, I cannot speak about how your experience could be as a person of color at the market, in Kyiv, or while traveling through Ukraine. Read more over on Lonely Planet about some dangers and annoyances you may encounter, including the possibility of racist attacks.
Transportation Options In Kyiv
How to get around Kyiv, Ukraine:
1) To get to Kyiv's city center, you can take a train, taxi, or bus:
From the airports – Kyiv's primary airport is Kyiv Boryspil Airport (KBP), which is 36 kilometers from the city center. You can take a train from Terminal D, which will take about 40 minutes and bring you to the main metro station, Vokzal. A ticket will cost you 80 UAH. This is the cheapest, quickest, and easiest way to get into Kyiv, as the city is congested with such heavy traffic that bus or car travel is not the most optimal way to travel. If you're still determined to take a bus, you can take the Sky bus (#322) which runs all day from each of the terminals. The journey will take about an hour or more and bring you to the main station. A bus ticket is 100 UAH. You can also get a taxi from the airport, with prices starting at around 300 UAH. A taxi ride will be about 40 minutes or more. The city also has a second airport, Kyiv Zhuliany Airport (IEV), only eight kilometers from the city center. As it's so cheap, you might as well take an Uber from the airport to your hotel, hostel, or whatnot. 
From the main train station – The city's main railway station, Kyiv Passazhyrskyi, is located in the heart of the city. Call an Uber to get where you need to go.
From the main bus terminal – The main bus station is at Demiivska Square. It's not exactly in the city center, but it's also not that far. Again, we recommend taking an Uber.
2) There are numerous ways to make your way around Kyiv:
Taxis – As taxi scams are plenty, skip taking a taxi. If you don't speak fluent Ukrainian, they will most certainly pick up on the fact you're a tourist and charge you exorbitant prices. If you still prefer to take a taxi, popular companies include Uklon, Hopin, and CabLook Taxi. To be on the safe side, have your hotel call them for you versus hailing one yourself, and don't be hesitant to negotiate the quoted price down.
Ridesharing – Both Bolt and Uber are available in Kyiv. Due to having a fractured foot, I used Uber to get around Kyiv throughout my entire time there. It was super cheap and a convenient way to get around the city.
Bikes – You can rent bikes when you're in Kyiv, from sharing services like nextbike. Unless you're a serious cyclist, we'd advise against cycling your way around the city. It's not exactly the most bike-friendly city, as the streets are made to serve motorists. Not to mention, the city is very hilly and biking will be a tough effort, to say the least.
Public Transit –  You can take the metro, which has three lines and 52 stations. Hours of operation are from 6:00 until midnight daily. One ticket will run you 8 UAH. Kyiv has some of the deepest metro stations in the world and the Soviet architecture in the stations are well worth checking out. You can also travel by bus, trolley bus, or tram, and as with the metro, tickets are 8 UAH each. Note, buses tend to get crowded so it may be best to avoid traveling this way during Coronavirus. If you're really into having local experiences, you can take privately owned mini buses, called Marshrutky. You can even travel by funicular to get from the upper city down to Podil, or vice versa. The view of the city and the Dnieper during the ride is said to be fantastic. The funicular runs from 6:00 – 23:00 in summer and 7:00 – 22:00 come winter. The cost of a single ticket is 3 UAH. 
Driving – If you feel confident enough to drive in Kyiv, (the locals drive a bit like maniacs!), rent a car.
For more information about how to get around Kyiv, see Kyiv Check-in.
Where To Stay In Kyiv
What are some of Kyiv's best accommodation choices?
1) Stay in a hotel, hostel, or private apartment while in Kyiv. 
2) When I was in Kyiv, I stayed at ibis Kiev City Center. I was lucky enough to score a room on a high floor that offered a spectacular view of Kyiv. While this hotel chain isn't the style of the hotel I typically choose, the deal was too good to resist costing about €180 for three nights. Aside from that, the hotel's centrally located, the bed was large and comfy, and the restaurant served up a fairly decent breakfast.   
Paying For Things In Ukraine
Tips and tricks to help you handle your money and cards when you're traveling in Kyiv and beyond:
1) Ukraine has its own currency, the Ukrainian hryvnia (UAH). 
Check xe.com to find out how the local currency fares against the Euro, US dollar, etc.
While most places will accept bank or credit cards, smaller shops often only take cash. Get yourself some cash at a local bank machine. Note, many times bank machines are only accessible when banks are open and are closed when the bank closes. Be sure to get your money as early in the day is possible.
If you do pay by card, you'll be asked which currency you want to pay in – choose to pay in the local currency (RSD), as you'll save money on the exchange rate.
2) Ukraine is way cheaper than other destinations in Europe and you'll find that your money goes a long way here, including your accommodation, eating out, and more.
3) As always, if you can avoid it, wait to exchange your money somewhere in the city (you'll find tons of places to do so). The exchange rate at the airport tends to be quite high.
Good To Know About Kyiv
Important things to know when you're in Kyiv:
1) Kyiv is a city full of motorized vehicles. I haven't visited such a car-crazy city since I visited Bangkok! If you're getting around by car, which you likely will be at some point, give yourself a long time to get anywhere as you'll likely get stuck in one or more traffic jams. Take into account the extra travel time when coming from or going to the airport.
2) A few years ago, a law was passed to enable free data roaming wherever you go in the EU. As Ukraine isn't part of the EU, you're either going to need to take advantage of free wifi when you find it, buy a local sim card, or rack up excessive data roaming charges. You can find sim cards at both airports.
3) If you like traveling in Eastern Europe, you may want to check out some of the blog's more popular posts:
*Disclosure – This post contains some affiliate links. If you book a tour or hotel, I'll earn a tiny commission at no extra cost to you. Thanks for your support!