Since moving to Berlin Lichtenberg, I've made the effort to explore my new district and the surrounding area as much as possible. Whether it be visiting the Gardens of the World or the Tierpark, there were (and are) several places I want to check off my list, and Schlosspark Biesdorf just happened to be one of them.
Spending a warm summer day visiting a park filled with all sorts of greenery, an English-style garden, and an Italian-inspired villa? Count me in.
Why You Should Check Out Schlosspark Biesdorf Berlin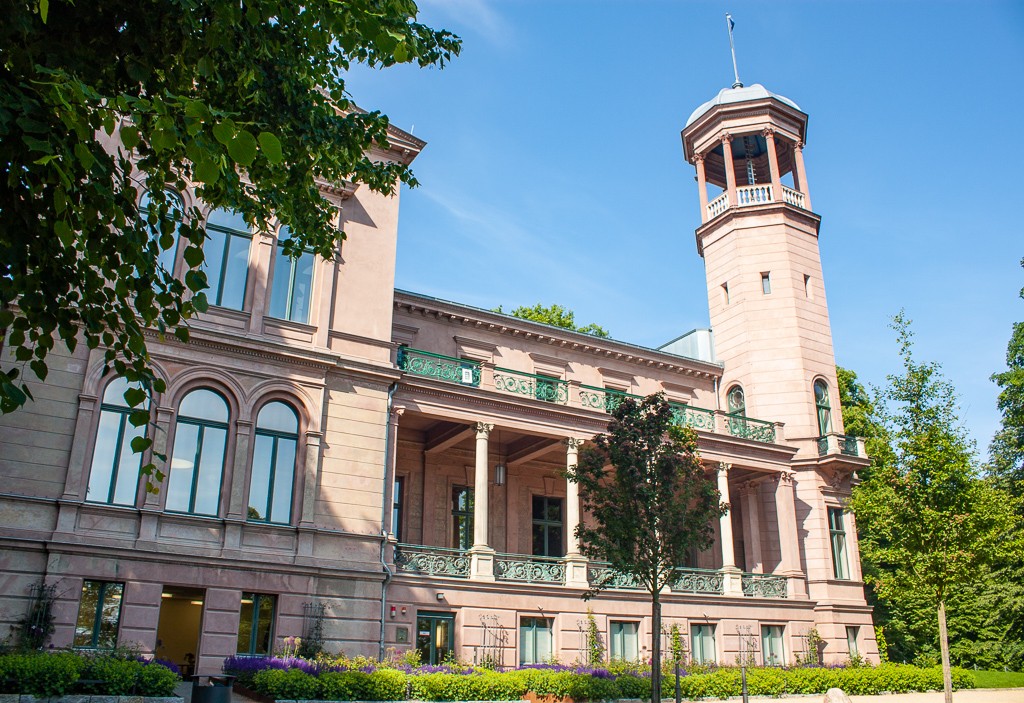 Have you ever heard of Schlosspark Biesdorf Berlin? Likely you haven't, as even many longtime Berliners haven't visited this beautiful spot for themselves. For sure, Schlosspark Biesdorf isn't one of Berlin's prime attractions like the TV Tower or the Berliner Dom and the fact that it's located well outside of the city center makes it even less appealing for some. Yet whether you're a local or a tourist, I recommend a visit. It's totally worth the brief journey there and in my humble opinion, may very well be one of Berlin's most underrated sites.
Recommended reading: Find out where to take photos of some of Berlin's best landmarks – Five of the Most Photographed Landmarks in Berlin.
The History of Schlosspark Biesdorf Berlin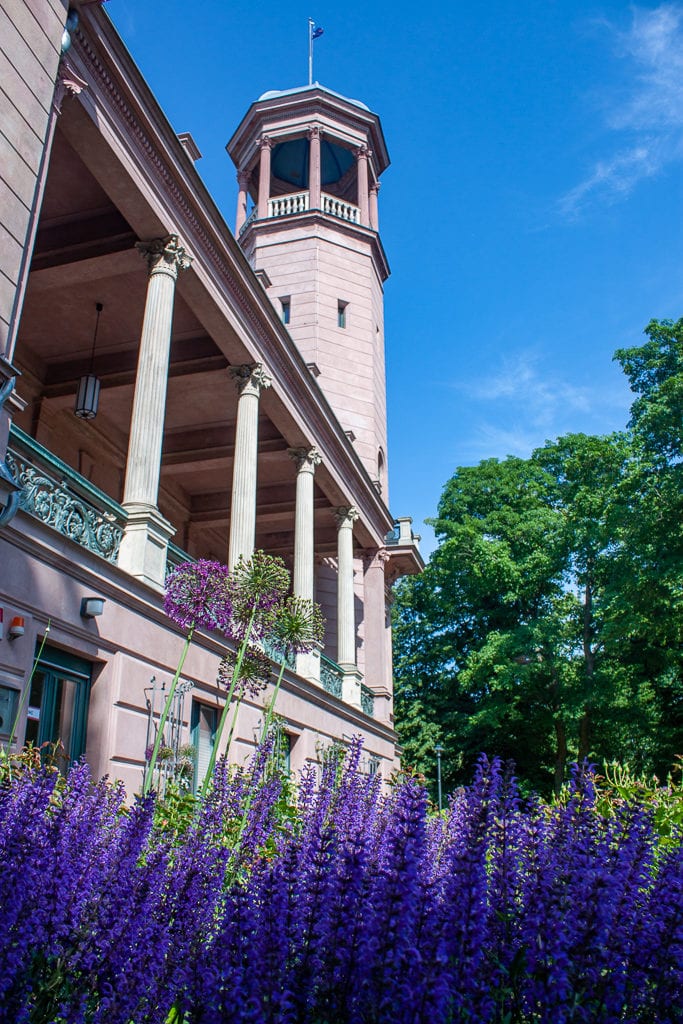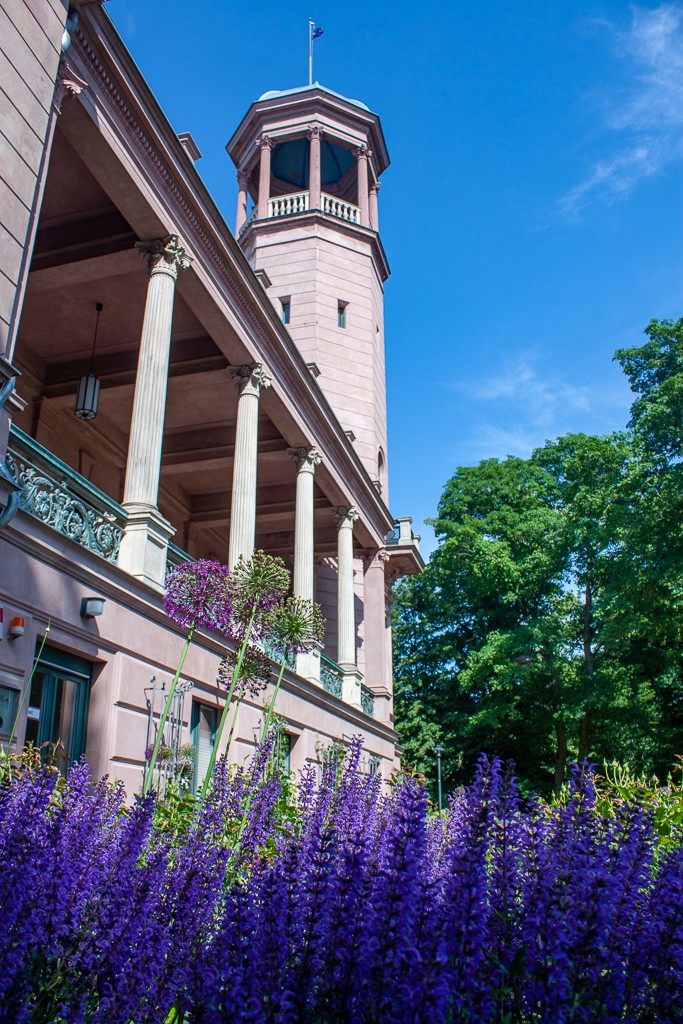 This pink-hued, 20-room, Neoclassical villa with an octagonal tower was first built in 1868 for Baron von Rüxleben. Dreaming of a luxurious villa with an Italian vibe, he hired Heino Schmeiden to complete his masterpiece. The villa ended up being sold several times over the next two decades until it came into possession of the Siemens family in 1887.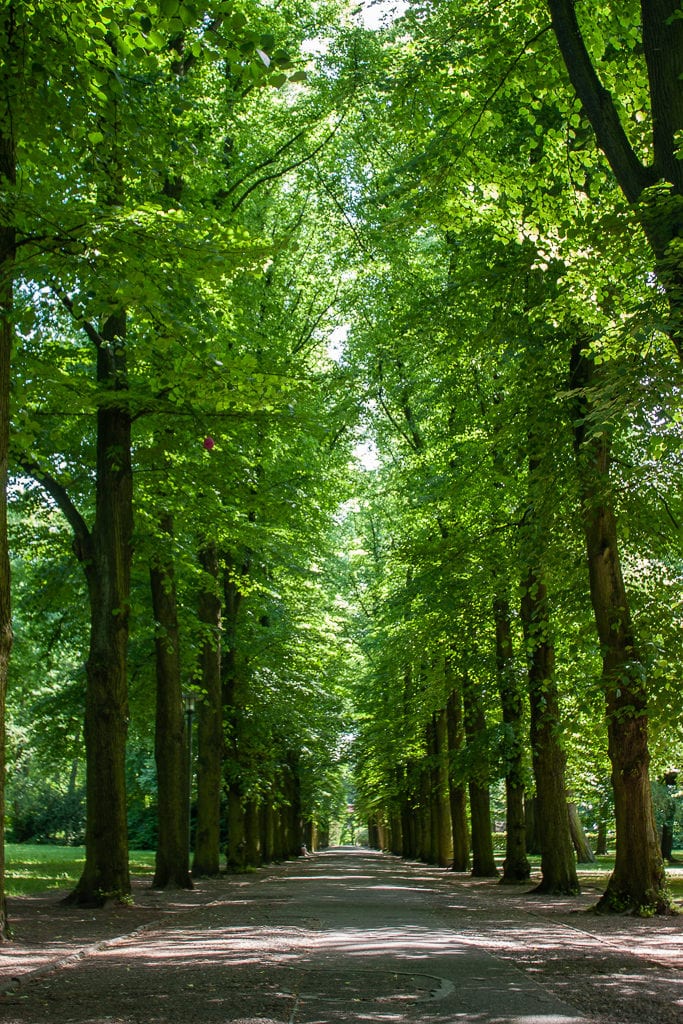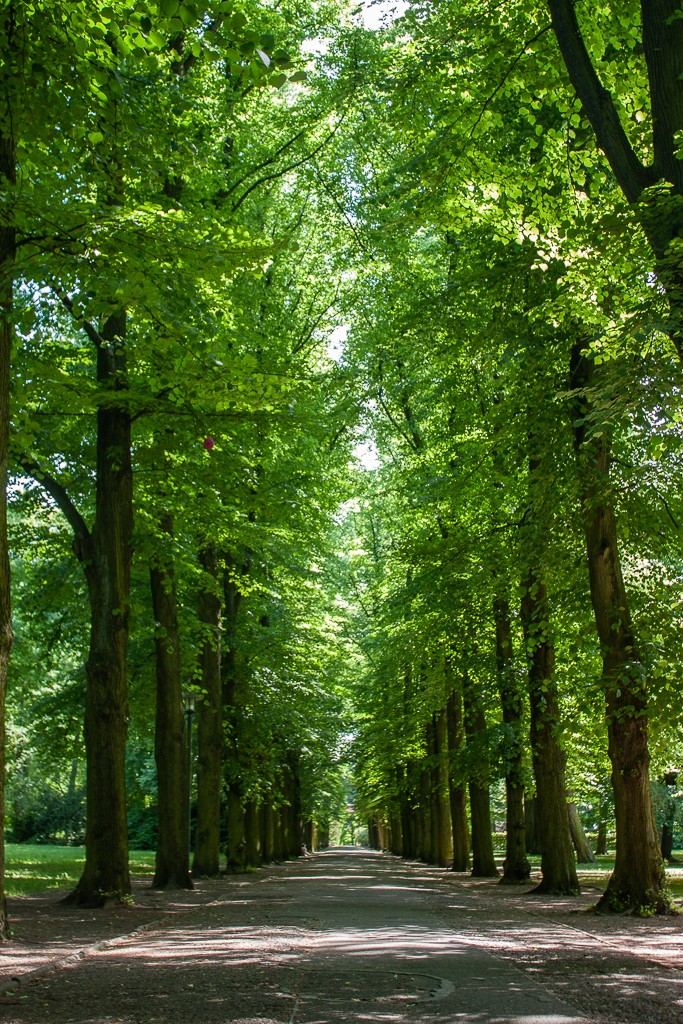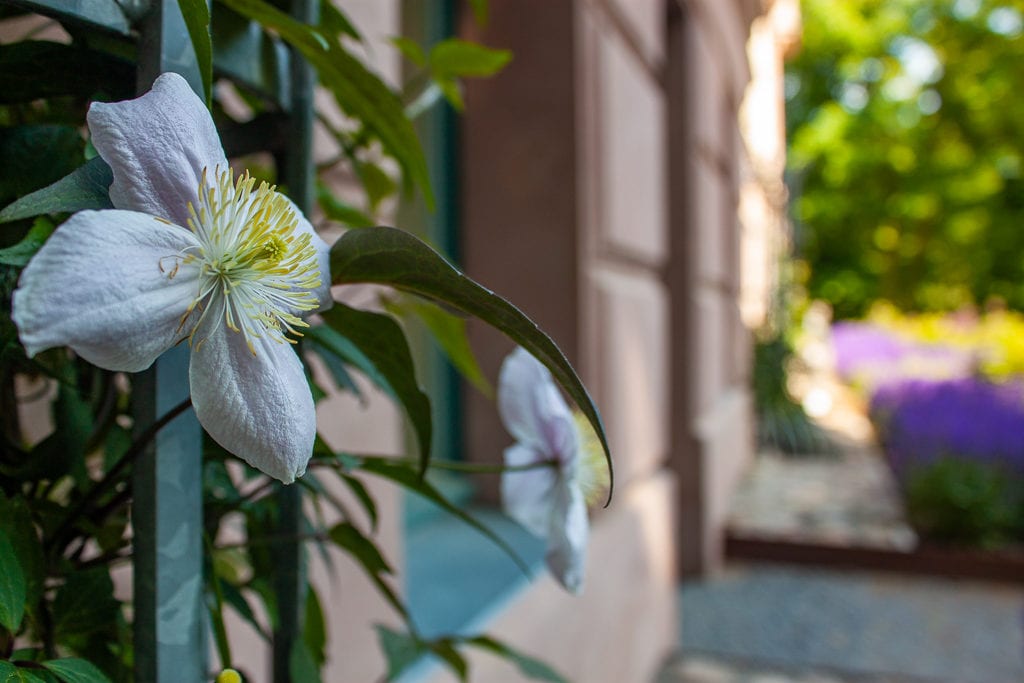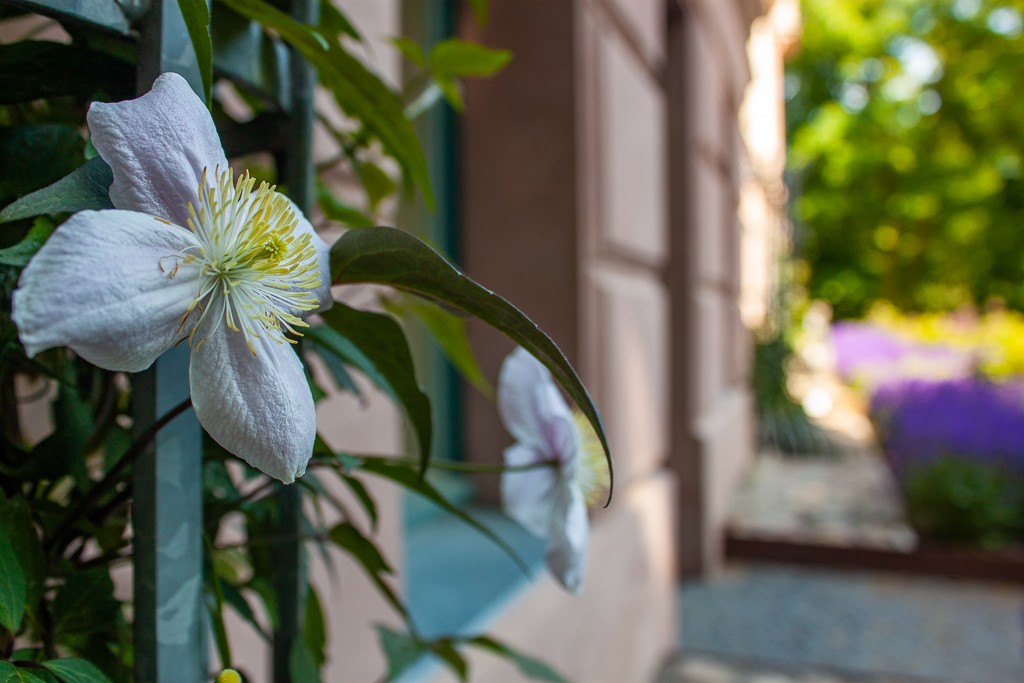 The Siemens expanded the outdoor area into a 14-acre English-styled public park which included a pond, walking paths, manicured lawns, gardens, a tea pavilion, and many large deciduous and coniferous trees.
Eventually, the villa was given over to the city of Berlin and it sadly fell into a state of neglect and disrepair. A fire in 1945 destroyed the entire top floor.
Schlosspark Biesdorf Berlin Right Now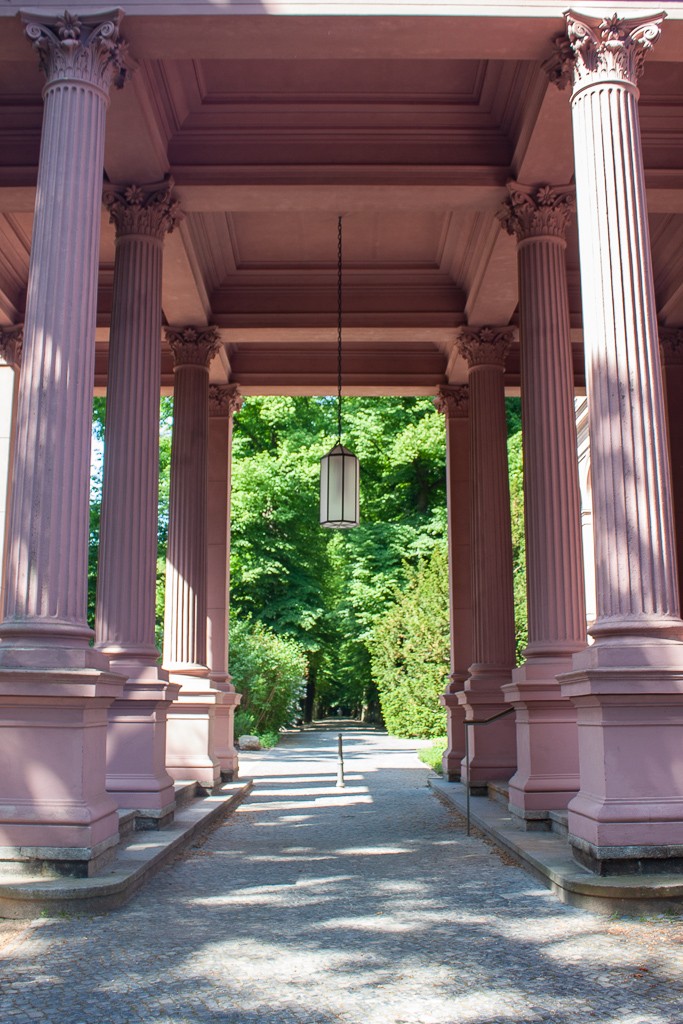 These days, Schlosspark Biesdorf Berlin is seen as a remarkable 19th-century piece of architecture. Renovations started on the villa a few years back and continue today. The top floor was restored, as well as the entire interior, while the restoration of the facade remains a work in progress. The main western entrance features a pillared vestibule, and the south and east sides are dotted with pillared loggias and pergolas. You'll find the Belvedere octagonal tower at the southeast point of the villa. The entrance hall leads to a main room that's over two stories high and features a massive skylight.
Now an art institution – Kunsthaus Schloss Biesdorf hosts art exhibitions, talks, and even concerts. It's also a member of KGB, a working group of galleries in Berlin. Their art exhibitions feature modern artists and in particular, pieces from the former German Democratic Republic. Many visitors come just to learn more about the history and architecture of villa and park. There's a small shop in the lobby and a café that features a lovely Sunday brunch. Schlosspark Biesdorf Berlin can even be booked as an event venue, as it has several meeting rooms, workshop spaces, and more. In the summer of 2021, several Berlinale screenings were held in the park.
Recommended reading: These articles (auf German) that discuss how the park is transforming into a cultural hub and the ongoing renovations.
Schlosspark Biesdorf In Autumn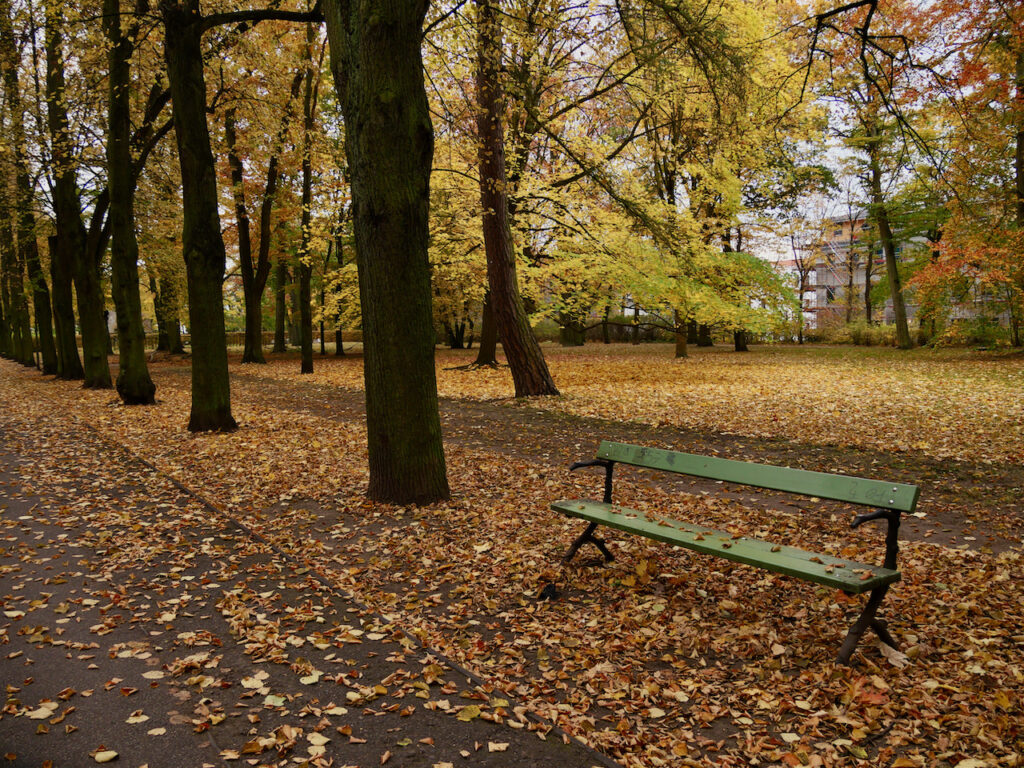 In October 2021, I made a visit back to the park on the most lovely of autumn days. And wow, what a memorable experience! Seeing Schlosspark Biesdorf during the fall season should definitely be on your Berlin "to-do" list. The ground was carpeted with gold, orange, and red leaves. As I walked around the park, the breeze gently blew the leaves from the trees and slowly drifted to the ground. It was like being in a snow globe, but with falling leaves instead of snowflakes.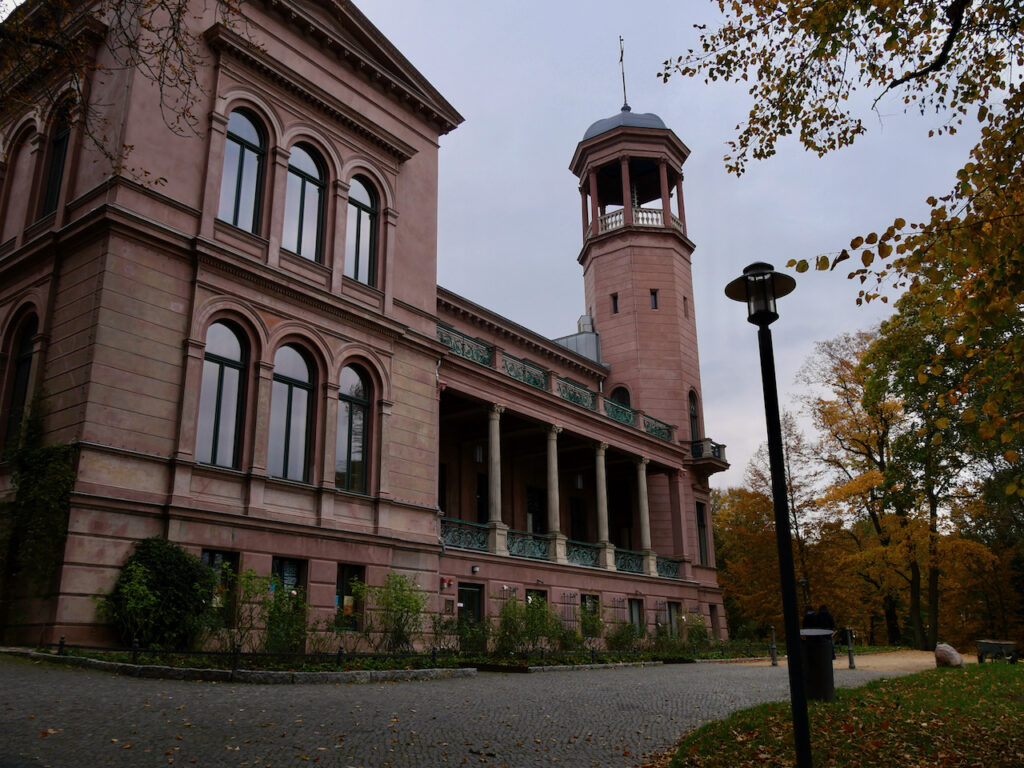 Why come here? To see the Italian-themed villa, check out an art exhibition, feast on brunch in their café, or simply soak up the sun and nap in the park. Visit in spring or summer, and then come back in the fall to see the park with an entirely different vibe.
Will you visit Schlosspark Biesdorf Berlin? Let us know in the comments.
Schlosspark Biesdorf Location
Just where you can find Schlosspark Biesdorf Berlin? Head to 12683 Berlin, Germany.

Schlosspark Biesdorf FAQ
1) When is the park open?
The park is open every day (except Tuesday) from 10:00 – 18:00.
2) When is Café Schloss Biesdorf open?
It's open from 10:00 – 18:00 p on Monday, Wednesday, Thursday, Saturday, and Sunday. On Fridays, it's open from 12:00 – 18:00 p.m. It's closed on Tuesdays.
3) How do I reach Schlosspark Biesdorf?
To get there, take the S5 from the city center (i.e. Berlin Hauptbahnhof, Friedrichstr., or Alexanderplatz) to the Biesdorf S-Bahn station. The journey will take about 30 minutes and the park is a five or so-minute walk from the train station.
4) How can I get in touch with the park's administration?
You can call +49 30 516567790.
5) Can I take photos at Schlosspark Biesdorf?
Yes, of course!
6) Do I have to pay an admission fee to enter the park?
No, the park is free and open to the public.
7) Is Schlosspark Biesdorf good for children?
The castle and gardens might be boring for kids, and there are no playground facilities either. But there's lots of green space for the children to play and wander around.
Transportation Options In Berlin
These are your transportation options when spending time in Berlin, Germany:
1) To reach Berlin's city center, you can go by train, taxi, or bus:
2) How to get around in Berlin:
Where To Stay In Berlin
1) Find a place to sleep in Berlin with booking.com.
Paying For Things In Berlin
These tips will help you stay on top of your finances while you're on holiday in Germany:
1) Germany uses the Euro:
2) Germany is about average on the cost scale compared to other European destinations. Berlin is especially budget-friendly, so you splurge on your accommodation, dining out, and more.
3) Exchange your money in the city center, as exchange rates at the airport tend to be on the high side.
Good To Know About Berlin
Other things to know about Berlin?
1) Make your time in Berlin even better and go on a guided tour.
2) If you're a passionate fan of the German Hauptstadt like me, read some of my very favorite blog posts.
3) More even more Berlin inspiration, read this one about how to spend 48 hours in Berlin.
*Disclosure – This post contains some affiliate links. If you book a tour or hotel, I'll earn a tiny commission at no extra cost to you. Thanks for your support!