I've actually eaten tapas before, but only in Toronto and Berlin. As such, I didn't really think any of those times could be counted as an "authentic" experience. No matter how much you'd like to convince yourself, nothing is ever better than the real thing.
To truly experience regional cuisine at its very best, you need to go to the source. So in order to lose my "tapas virginity", I needed to head to Spain. Along came September, as well as my birthday, so I made my way to Barcelona for a week.
Thanks to suggestions from awesome people online, I decided that my first tapas outing would be at Tapas 24.
Eating At Tapas 24 In Barcelona Spain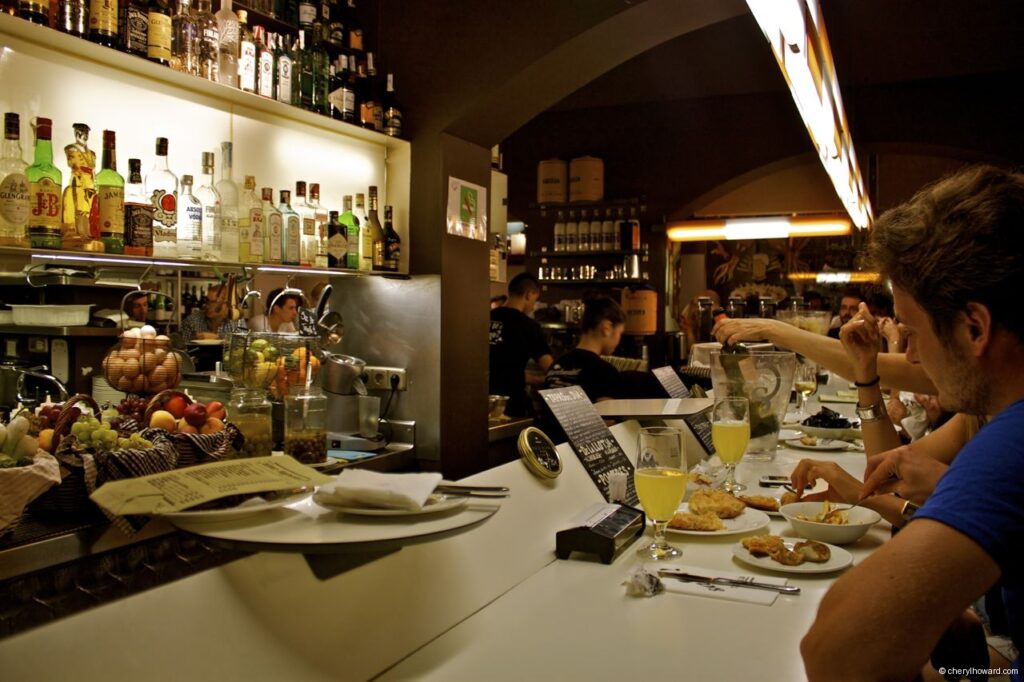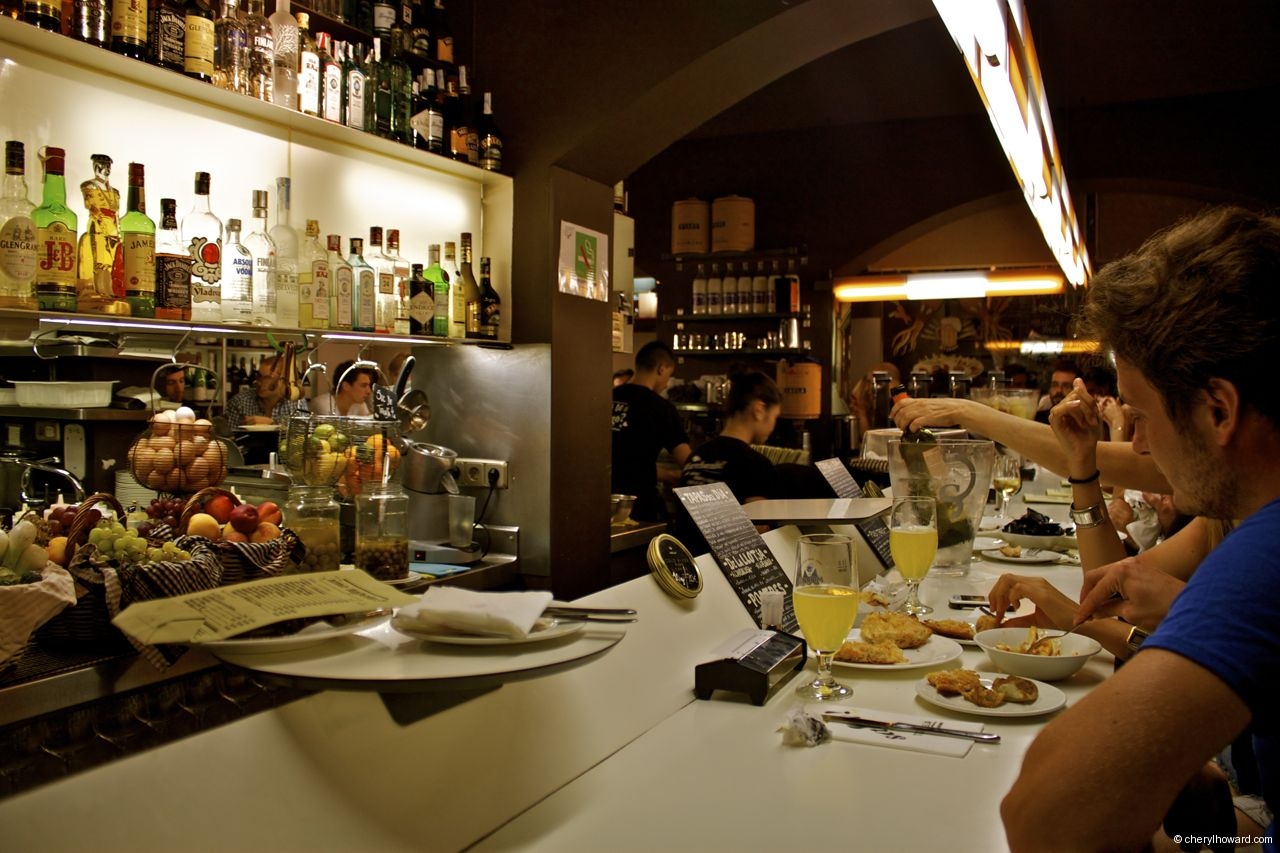 When I arrived, the place was jammed packed and the hostess informed me that a wait for a table may be up to an hour. I shyly admitted that I was by myself. Instead of the usual look of surprise, she said "Lucky you, we have a spot at the bar."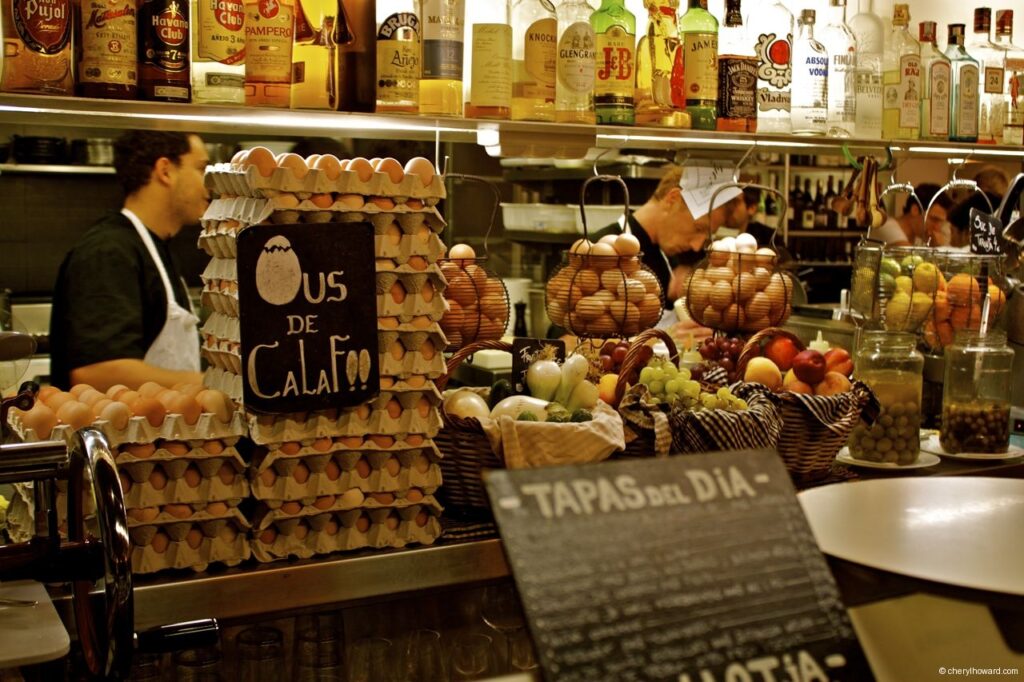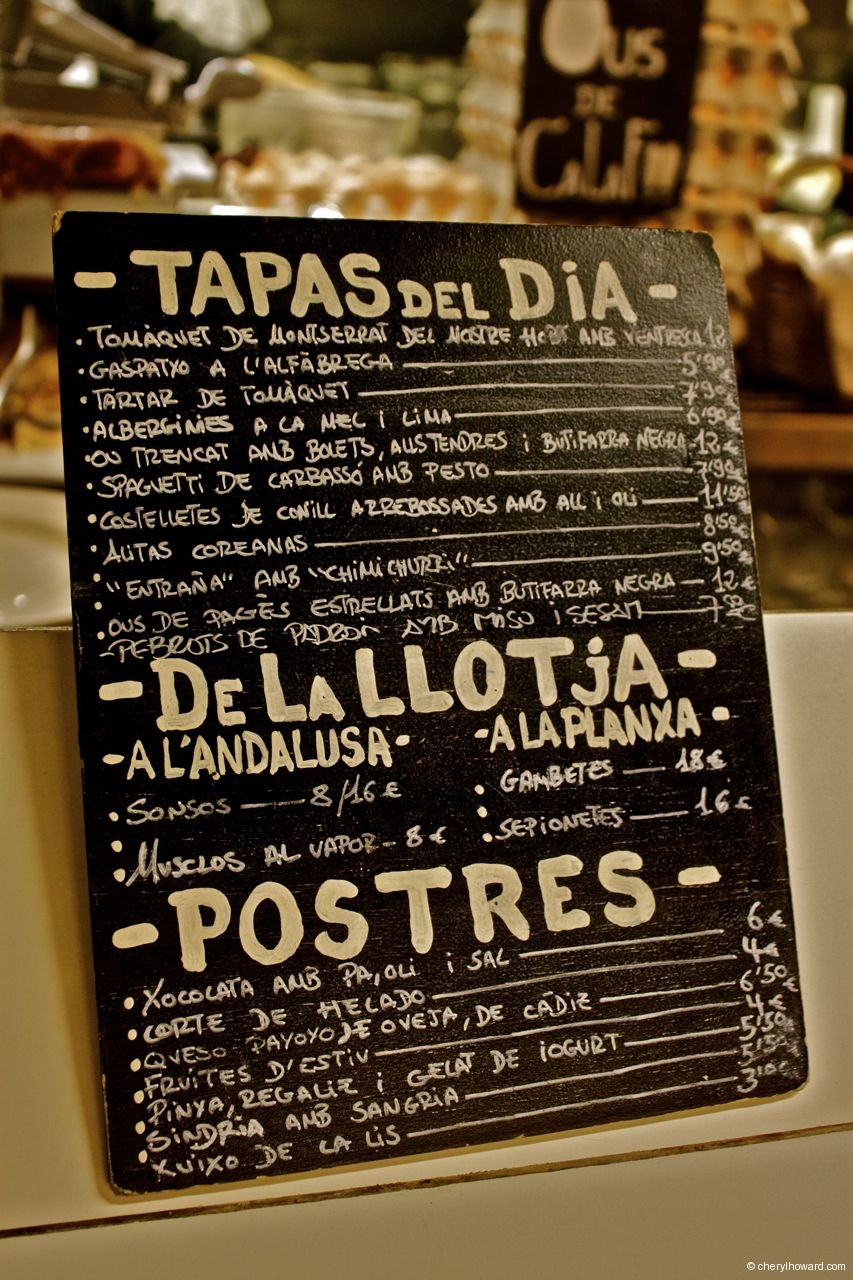 Settling in, my first order of business was to order a glass of wine and decide what I was going to eat. To my delight, the menu items were written on a cute little chalkboard. Since my comprehension of the Spanish language doesn't extend much beyond the basics (like hola and hasta mañana) to the slightly more sophisticated (una cerveza, por favor), I required the help of my waiter in translating the details of the menu.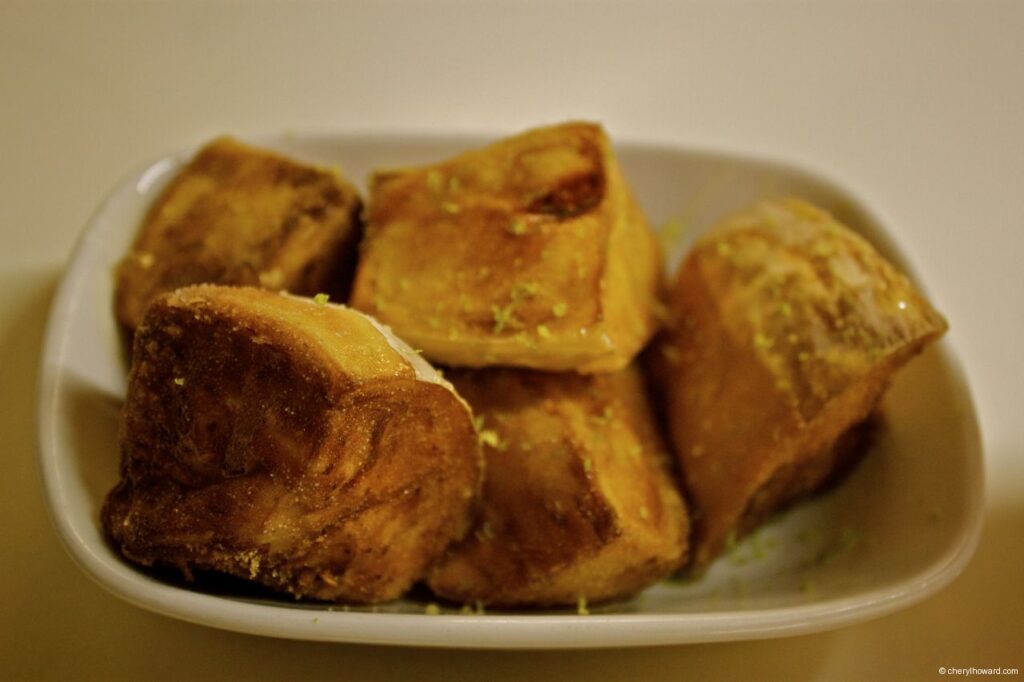 What did I end up ordering? A strange combination of food to say in the least. But if you've been reading this blog long enough, you're already aware that I'm weird. My only vegetarian dish was aubergines dipped in honey and lemon. Absolutely freaking delicious!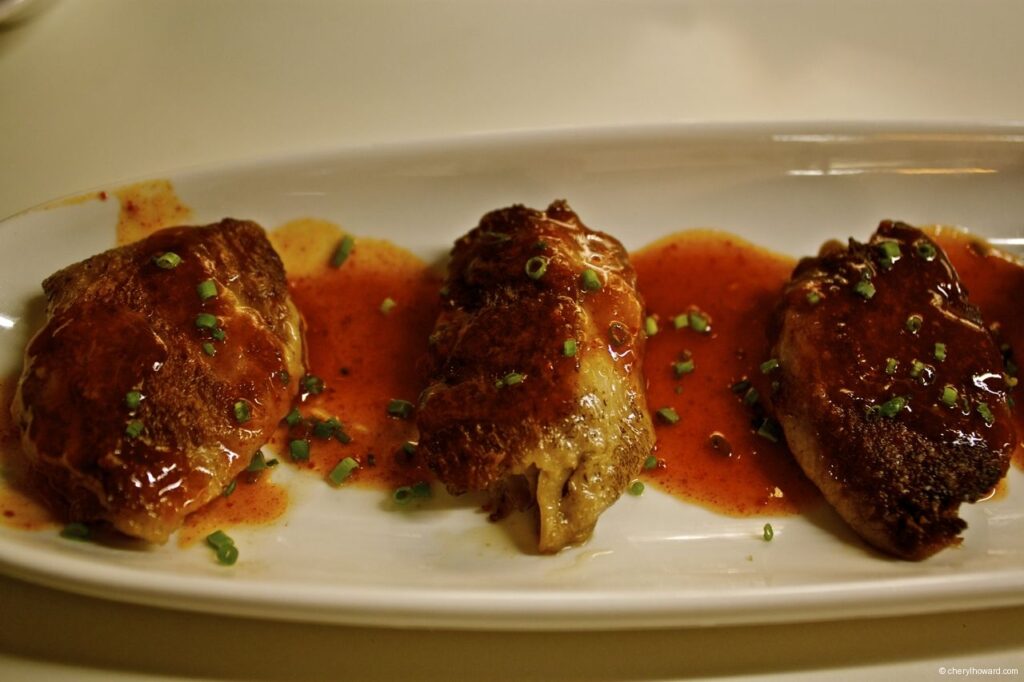 Then I had some Korean chicken wings. I'm not sure how this qualifies as a tapas item, but it'd been a long time since I'd had either Korean food or chicken wings and I couldn't resist trying it out. Awesome was the fact that the bones had already been removed and I could eat chicken wings like a "real lady", using my knife and fork. The wings were pretty darn good, but I'd expected them to be much spicier.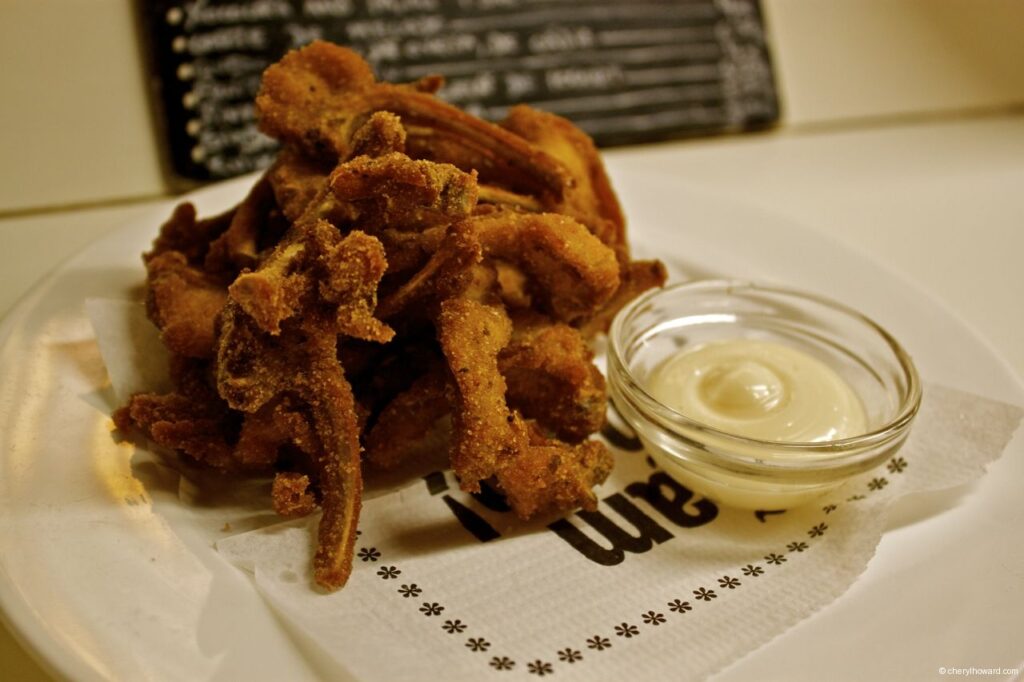 Lastly was a deep-fried rabbit! Yep, I went there – I've eaten horse meat before so this wasn't a stretch. Gnawing on piece after piece of rabbit wasn't easy though. Unlike the chicken wings, there was no way to be dainty or elegant. I was a trooper and made it through, much as if I were eating a messy döner kebab in front of the guy on our first date. The rabbit was disappointingly bland, saved only slightly by the tasty dipping sauce.
For the amount of money I paid to eat at Tapas 24 in Barcelona, I'd have expected the food to have tasted so much much better. If anything, I now have another excuse to return to Spain in order to make up for this bad first-time encounter with tapas. I should have known better right? The first time is never that good.
Have you been to Tapas 24 in Barcelona? Do you have any other suggestions about where to eat in Barcelona?
Location
Good To Know
1) If you need somewhere to stay while you're in Barcelona, check out options with booking.com.
2) Looking for something to do in Barcelona? Go on a guided tour.
3) If you like travelling in Europe as much as I do, give some of my other articles a read:
*Disclosure – This post contains some affiliate links. If you book a tour or hotel, I'll earn a tiny commission at no extra cost to you. Thanks for your support.