Forgive me, dear readers, for I have sinned. I'm a very bad Canadian. I've traveled extensively around the world but until recently had never been to Vancouver. With mostly warm weather (by Canadian standards anyway), its oceanside position, and mountain surroundings, Vancouver is considered by some as my country's most beautiful city.
Why had I never been to Vancouver? Well, it wasn't that I didn't want to go, but with the price of a flight from Toronto to Vancouver typically being the same price as a flight to somewhere in Europe, for me the romance of Europe wins every time.
So err … yeah, I also spent what amounted to just over 24 hours in Vancouver. Another travel faux pas! Now before you slam me, I obviously know that one day is not enough. One day is never enough, anywhere. I know that I need to go back, spend more time there, and get to know the city better.
Though, it's with extremely-nonsensical pride that I can now finally say that I've traveled Canada from coast-to-coast. I think (hope) that counts for something as a serious traveler. So I simply consider my visit a mere sneak peek. And what I saw, I loved.
What a Day in Vancouver Might Look Like (If You Were Me)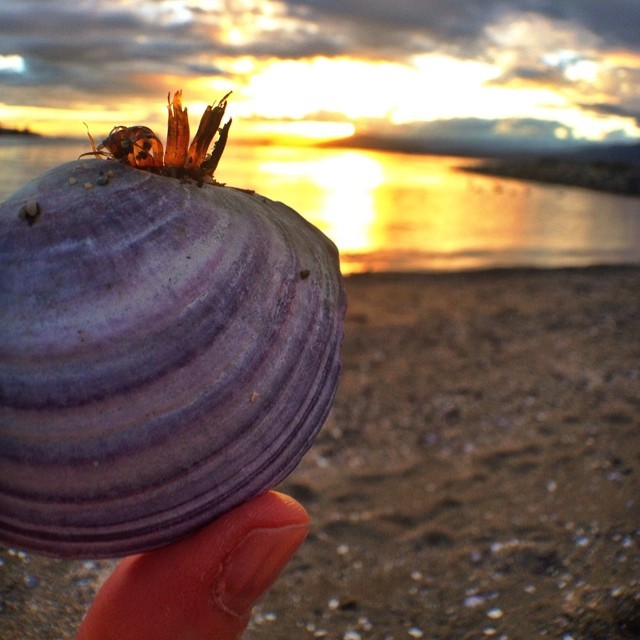 What does a day in Vancouver look like, if you were me? It looks a little something like this.
Recommended reading: If you're visiting Vancouver, consider these way fun things to do in Vancouver. If you want to venture further beyond the city, check out these best Kelowna wineries to satisfy your thirst for all the vino you'll ever need.
1) Share a cramped 6-bed dorm room with 5 other people, 3 of whom are smelly French boys
I'm not a baller, so I usually end up staying at hostels. I chose SameSun Backpackers Hostel as it's located in downtown Vancouver, close to the hotel that I'd be checking into the next day.
I ended up in a teeny-tiny dorm room with 3 boys from France who came to Canada on a working holiday visa. This is how I made my first year in Germany possible, by the way!
The boys were nice, even hilarious – just needed to take a shower to soften the blow of their odor.
Their impressions of Canada were cute. They apologized for liking Vancouver better than Toronto and told me that Montrealers speak a very peculiar form of French. One of them sported a very tight hot pink T-shirt and asked me if I thought it made him look gay, all the while reassuring me that he reeeeeally loves women. I told him that it looked very European and he should wear it with pride. After all, some women like a man who is not afraid to wear pink.
2) Indulge in cheap eats
The hostel bar and restaurant (aka The Beaver Lounge and Restaurant) offers up super cheap food and better yet, booze. I ate a $5 spaghetti bolognese for dinner and got slightly buzzed from a beer and cocktail.
3) Watch the sunset over the city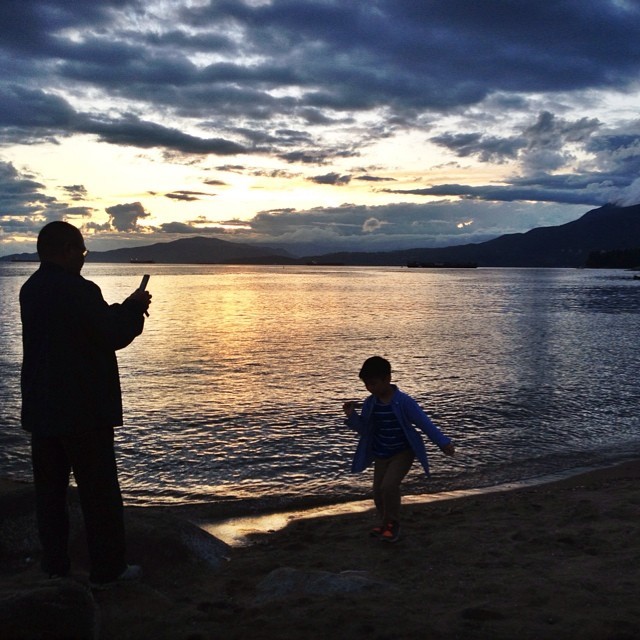 A little drunk, I headed to the appropriately named Sunset Beach Park to watch the sunset over the ocean and mountains. I walked barefoot through the sand, took 5,000 photos, and floated in an alcohol-induced cloud of glee.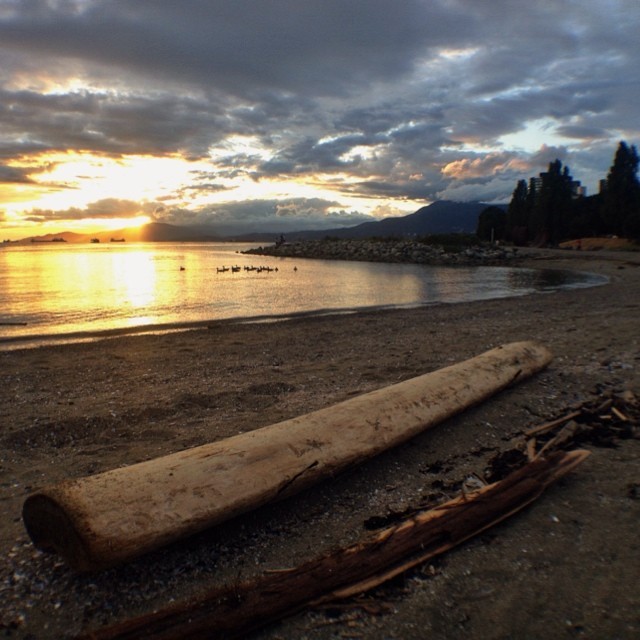 I thought to myself, if I did nothing else I did during my one day in Vancouver, I'd be happy.
4) Walk along Bute Street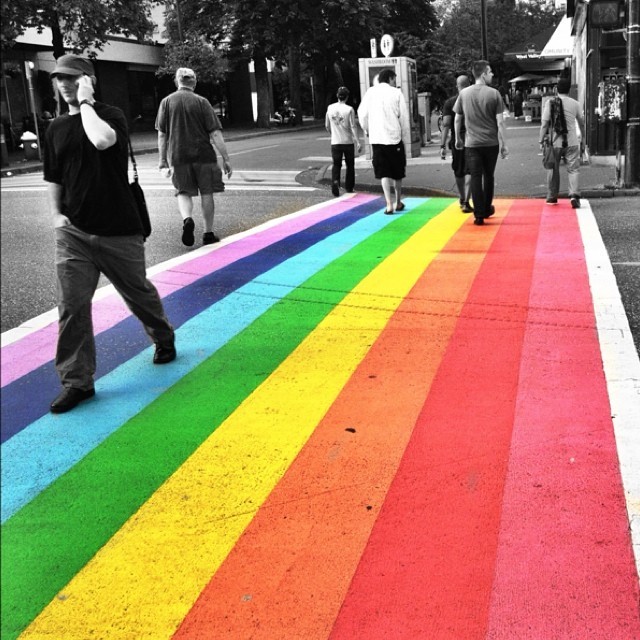 Not only will you get a great workout walking up and down the steep hill, you can check out all sorts of really cute apartments decked out with pretty flowers.
You'll get even more of a workout if you spy a skunk and need to run away to avoid being sprayed and end up smelling like Pepé Le Pew. I thank the lovely couple who warned me of the impending danger.
I was impressed by these cute bird feeders and pride-themed crosswalks.
5) Drink even more cheap drinks at the hostel bar
With nothing else to do that night, I went back to the hostel and enjoyed another round (or two) of beer, and went to bed early.
6) Ditch the hostel for accommodations that suit your refined ladylike tastes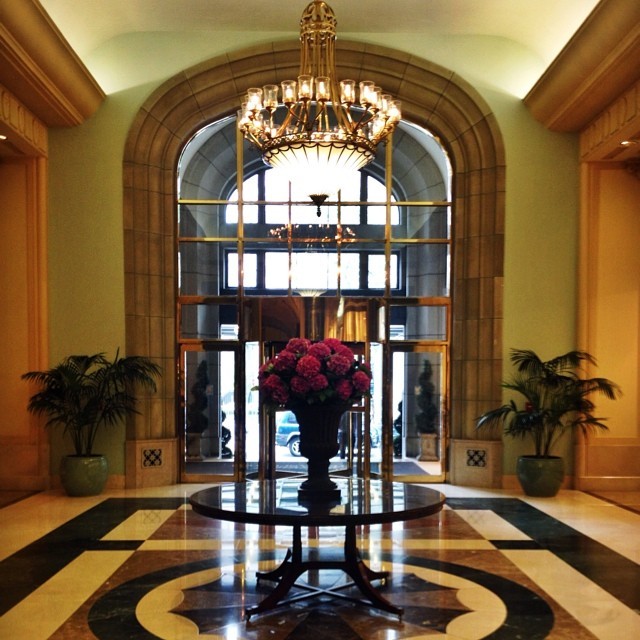 It was time to check into a proper hotel sans smelly French boys. As I was in Vancouver to partake in a Rocky Mountaineer train journey from Vancouver to Banff, I was able to switch to the rather swanky Fairmont Hotel Vancouver.
It's a beautiful property, decked out in art deco glory. The stunning lobby is home to several stores like Louis Vuitton where there are handbags, for pocket dogs like Yorkies, that would cost several months of my salary to purchase.
Upon checking in, I donned the fuzzy hotel robe and slipped into the glorious king-sized bed to read Bridget Jones, Mad About a Boy which tells you all about what happens after she marries Mark Darcy.
7) Have an awkward encounter
While lying in bed, have your friend (who's accompanying you on the train journey) burst into the room with one of her local friends. Now, imagine meeting someone for the first time while you're in bed, cloaked in a fuzzy hotel robe reading a book that any good woman should be embarrassed to read in public.
Note to self: carry a copy of War and Peace on me at all times so I look more academic and intelligent!
8) Get a massage at the hotel spa
The Absolute Spa is where it's at, folks. As you can tell by now, I'm clearly a broke writer and photographer type. I can't exactly afford to indulge in hedonistic experiences like facials and mud-wraps on a regular basis unless I chose to take on a sugar daddy.
However, I have a geeky day job as an IT project manager that comes with benefits coverage, so I'm allowed to expense a few massages throughout the year! That meant a 45-minute deep tissue massage with a man who has the hands of a god, performing miracles on my sore back and shoulders.
9) Have lunch at the Vancouver Art Gallery
There's a nice café at the Vancouver Art Gallery filled with fancy people and fancy food. There's even a lovely patio that you might be able to use if it's not raining (and it rains a lot in Vancouver).
I met my friend Jai from Savoir There for lunch. We originally met in Portugal where we experienced a motorcycle ride and walking tour together through Lisbon. And here we were, two years later, seeing one another in Vancouver of all places! A perk of being involved in the travel blogging community is having friends all around the world.
It was the perfect way to continue my one day in Vancouver.
10) Meet Gumhead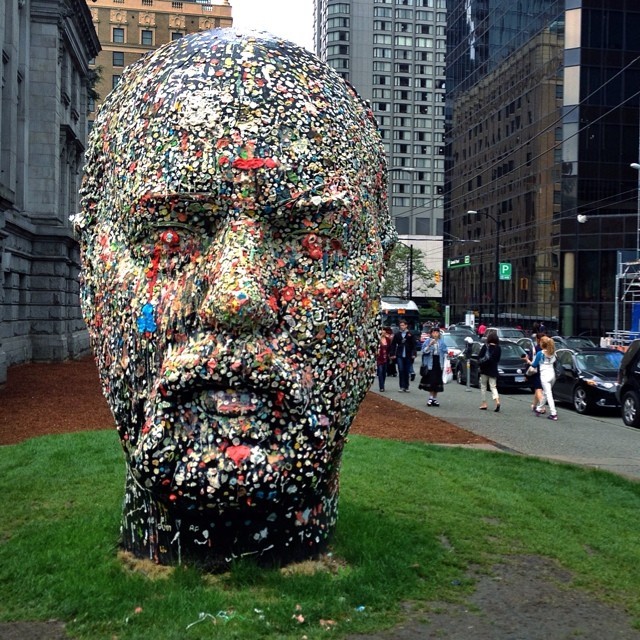 There's a seriously weird, not to mention gross, interactive sculpture of Douglas Coupland outside the museum. It has gum all over it and you're encouraged to add a wad of your own. It smells and bees are buzzing all around it for the free sugar rush. Seriously, WTF? I don't get it. Is this what's considered "art" these days? It scared me, so we left.
11) Walk along the sea wall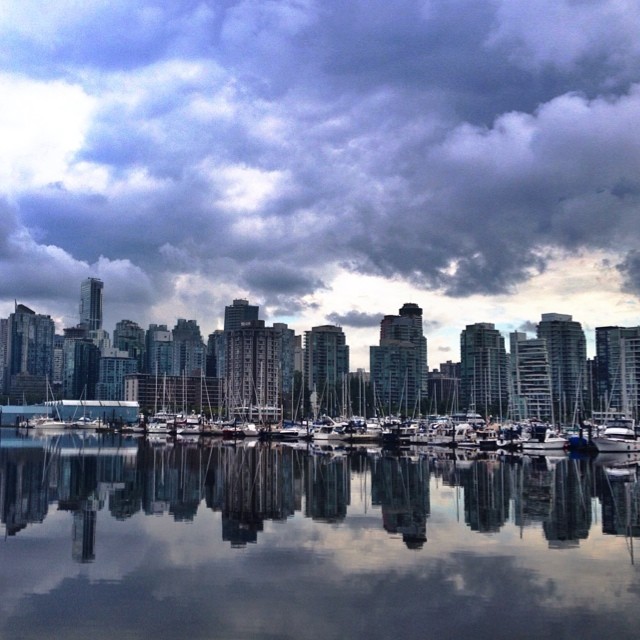 It's a nice walk, filled with pretty sites and there're all sorts of attractions along the way like the Vancouver Aquarium, a place that no travel blogger in their right mind would ever frequent as we all oppose animal captivity of any kind even when that aquarium rescues dolphins not fit to be released into the wild.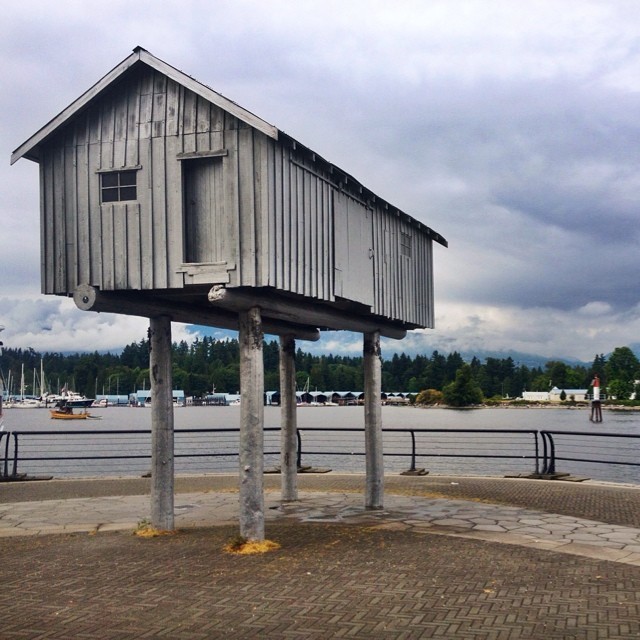 All jokes and sarcasm aside, you just have to do this walk. There're some classic views of Vancouver that will make your heart swoon. Seriously, why have I not been here before? Why do I live in Toronto? Perhaps, I've been living in the wrong Canadian city all along.
12) Get Japadog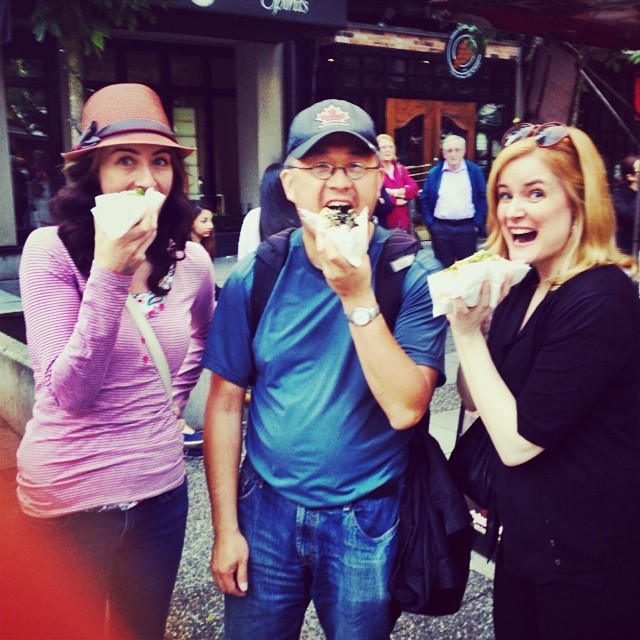 This photo was taken by a German tourist who had just spent some time touring across Canada. Notice her finger made an appearance in the photo as well.
Jai and I met up with another travel blogging friend, Henry, from Fotoeins Fotopress. I met Henry while I lived in Berlin. We opted for street food and decided to have Japadog, a chain in Vancouver where you can eat a bizarre but very tasty assortment of Japanese -themed hot dogs. I had a bratwurst because having a Japanese and German blended hot dog always makes sense.
The tourists enjoyed Henry's ability to speak to them in German while I listened in, silently accessing whether or not I could understand some of their dialogue. I mean, I did have to put all those months of German class over the past year to the test. I managed to belt out a pathetic "Guten flug" as we left (they were flying home to Germany the next day).
13) Drink local beer at a random pub
We then had a beer at a pub. I don't remember its name, location, or even what form of local brew I drank. I'm horrible with details, which doesn't make for a good travel blogger. Don't tell anyone!
14) Have drinks at the Fairmont Hotel Vancouver's rooftop bar
Continuing on with our day in Vancouver? Balling it, Henry and I went for drinks here, meeting up again with my friend and yet another one of her friends, a Canadian who happens to live in Berlin and was visiting Vancouver. Seriously, am I a magnet for all things German (no matter how weak the tie), or what?
15) Embark on a Rocky Mountaineer journey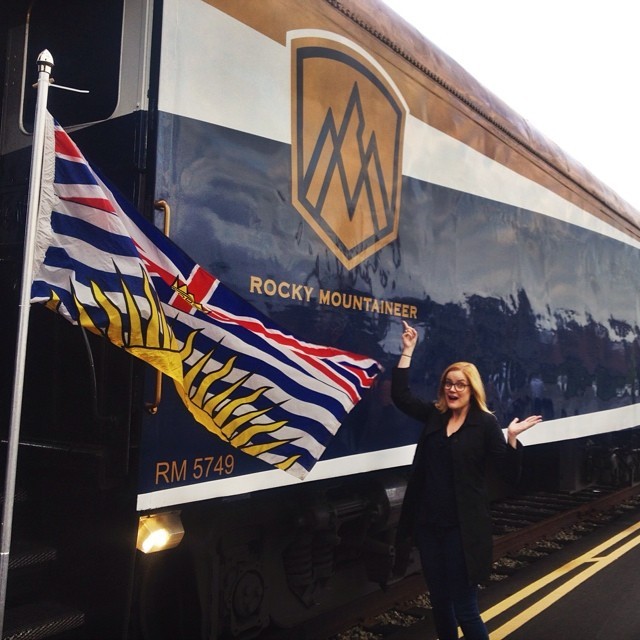 Have you heard of this legendary train ride? I took this train from Vancouver all the way to Banff, Alberta! Imagine traveling in first-class style – comfortable seating, domed double-decker car, open bar, private chefs cooking you breakfast and dinner – all the while enjoying scenic views of the Rockies.
There you have it – my day or so in Vancouver. My gift to you is this use this absurdly weird and hardly useful travel guide for what you could do if you were to spend a day in Vancouver. Enjoy responsibly!
Good To Know
1) If you're looking for a place to stay in Vancouver, check out booking.com.
2) Consider making your time in Vancouver even better by booking a guided tour.
3) If you're in need of further Canadian travel inspiration, give these posts a read:
*Disclosure – This post contains some affiliate links. If you book a tour or hotel, I'll earn a tiny commission at no extra cost to you. Thanks for your support.