Do you ever feel like you need a vacation from a vacation? It sounds weird, right? Let me explain. On one of my trips home to Canada, I came to a point when I found myself needing exactly that. Coming home after living abroad for so long – especially several years, was really an emotional experience. I was delighted to be home, seeing family and friends, eating all the food I missed, and hitting up my favourite spots around Toronto, but at the same time, it was also bittersweet. I felt sad about missing out on so many things like births, marriages, graduations, and more, not to mention sad to be leaving again. My heart ached as my time home was so short and I had no idea as to when I'll return next, especially when things like a global pandemic can happen.
What do you do when you're in such a situation? You indulge in a quick getaway on your own, preferably to a place where you can relax, take a moment to breathe, and reflect. Better yet, if it's somewhere where you can pamper yourself with gourmet food, time at a spa, and other health and wellness activities. So of course, it naturally seemed like fate when I received an email inviting me to come and spend 24 hours at Benmiller Inn & Spa in Goderich, Ontario. Only a two and a half hour drive from Toronto, this was the perfect location for a solo getaway.
Benmiller Inn and Spa – A Getaway from Toronto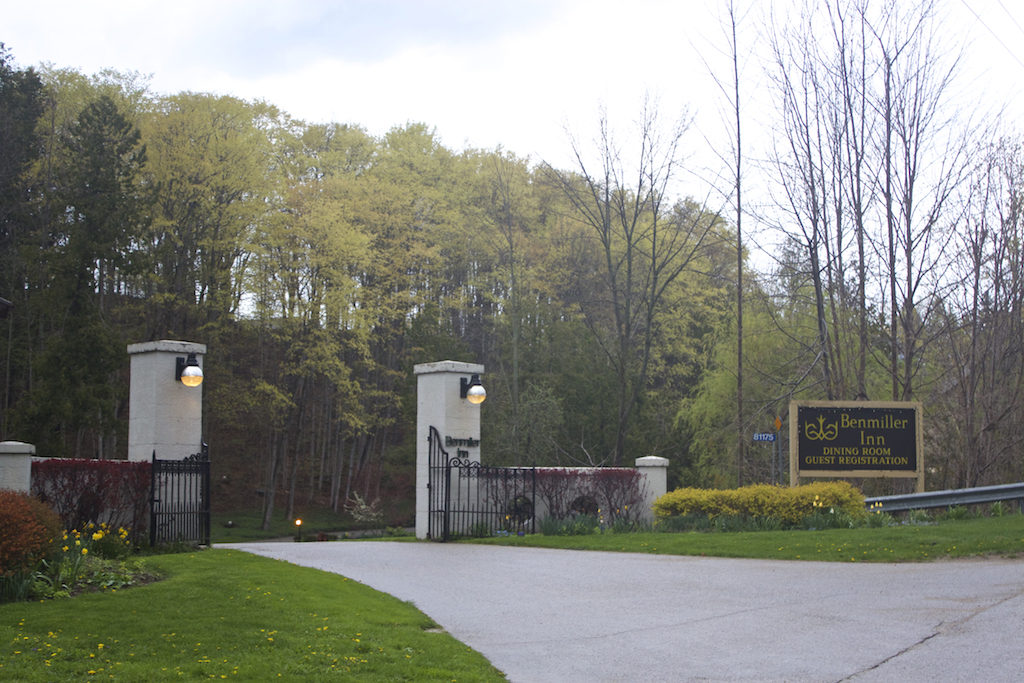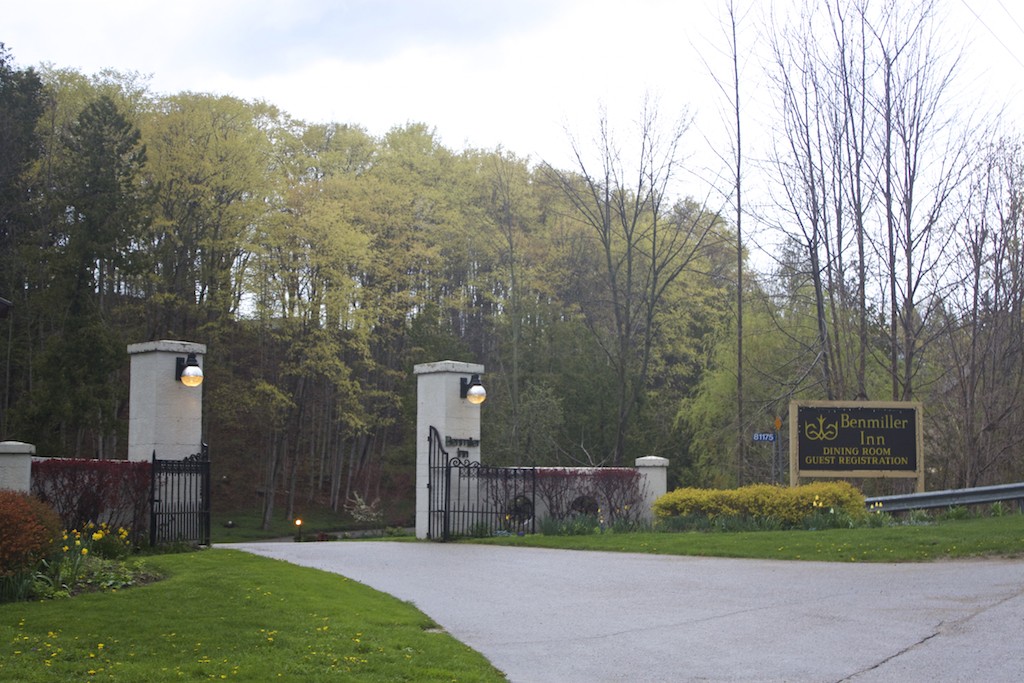 Benmiller Inn and Spa is an authentic century old historic country inn surrounded by rolling hills, a lush green forest, as well as Sharpe's Creek and the Maitland River. The area, once a pioneer settlement known as Benmiller Village, was built around woollen, saw, and grist mills. While the millstream continues to function today, the other two mills are now part of the Inn's expansive property which extends across five buildings including the Woolen Mill, Rivermill, Gledhill, Mill House, and Sharpe's Retreat.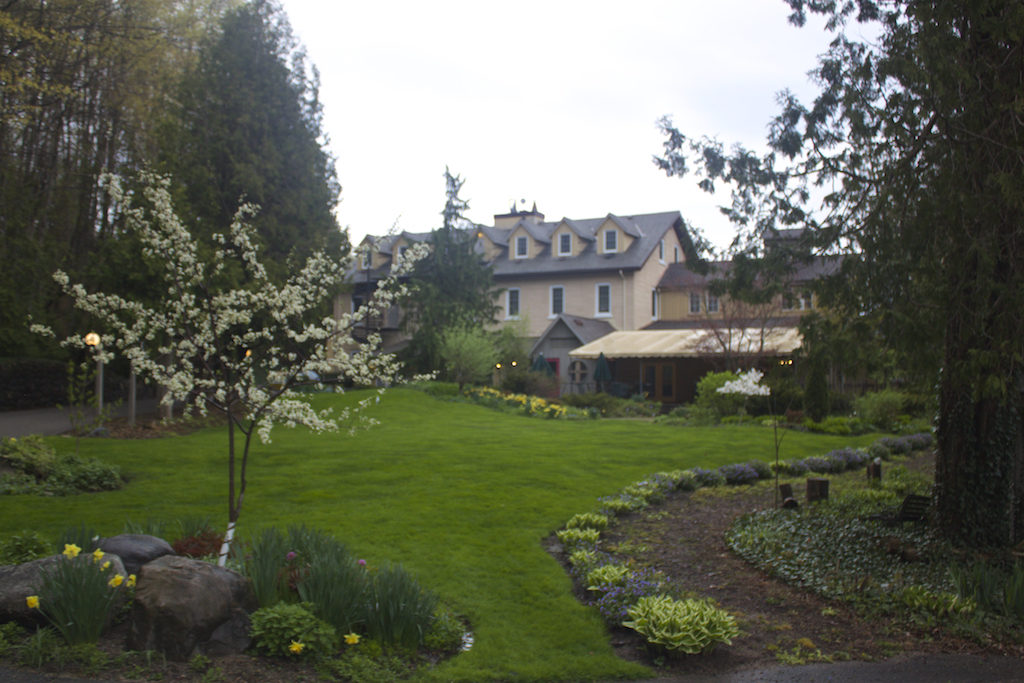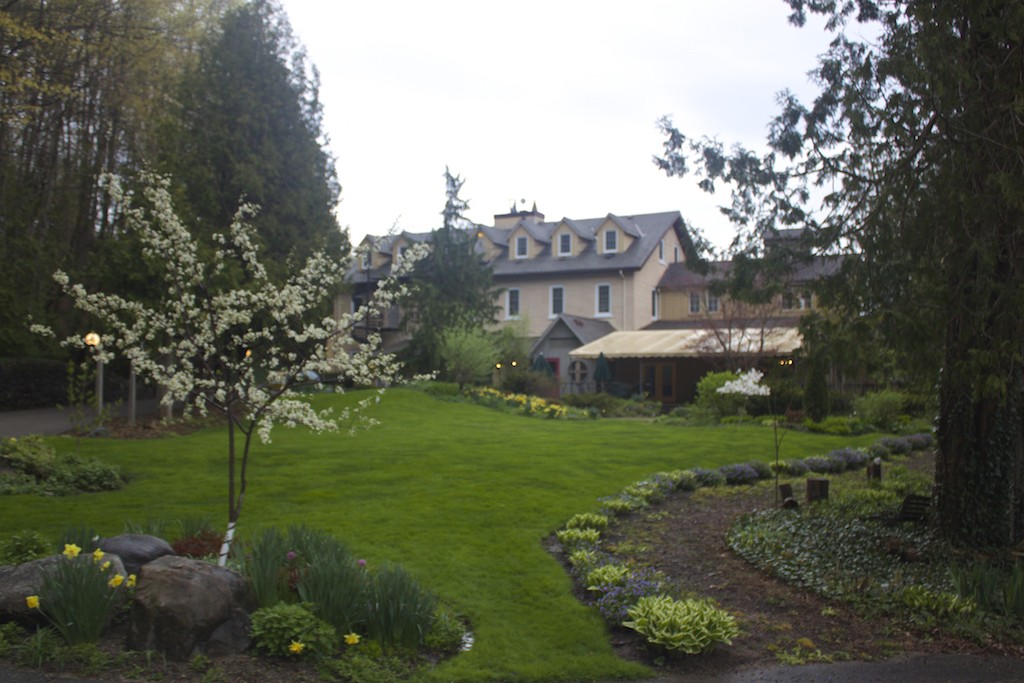 Steeped in history, the building's stories just begs to be told. The Woollen Mill building was used during the early 1900's to manufacture woolen blankets. Now home to 12 rooms, a lounge, and restaurant, it's here that guests can nab rooms with views of Sharpe's Creek and the Inn's meticulously manicured English gardens. The Rivermill, a former gristmill resting on the banks of the Maitland River, now features 21 rooms, a spa, as well as an indoor heated pool, hot tub, and sauna. Thomas Gledhill, part of the family who owned the woollen mill, once called Gledhill home. These days, the massive home now contains 18 rooms, most which have balconies overlooking a pond.
For those seeking something more private, Mill House only has four rooms, two of which have a fireplace and whirlpool tub. Last but not least, Sharpe's Retreat is a house especially suitable for families, as it's equipped with a kitchen, formal dining room, living room, and two bedrooms.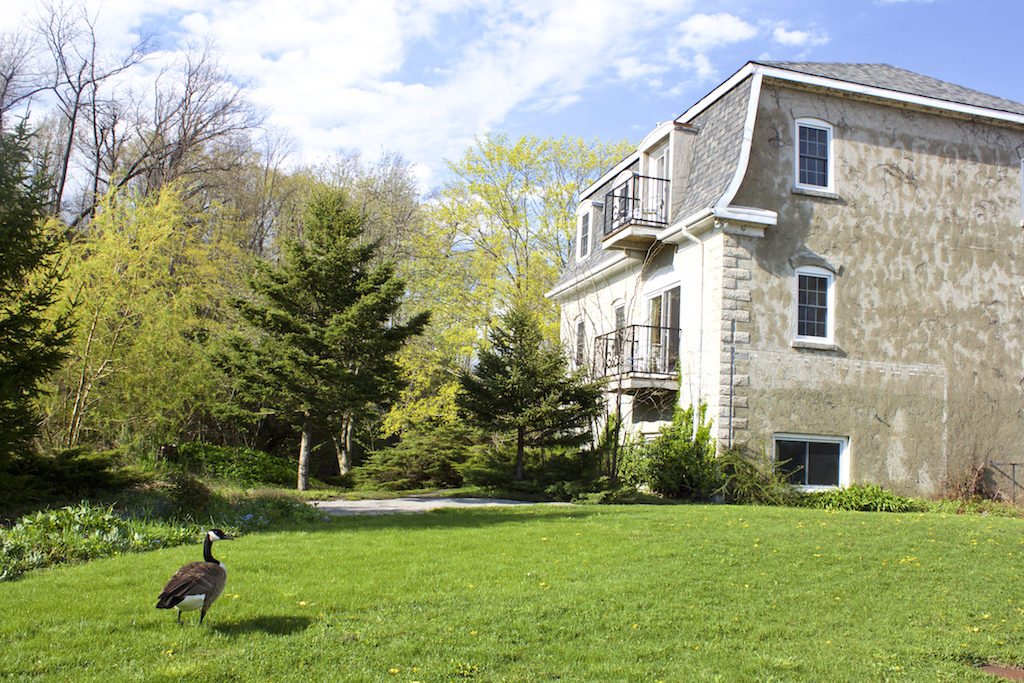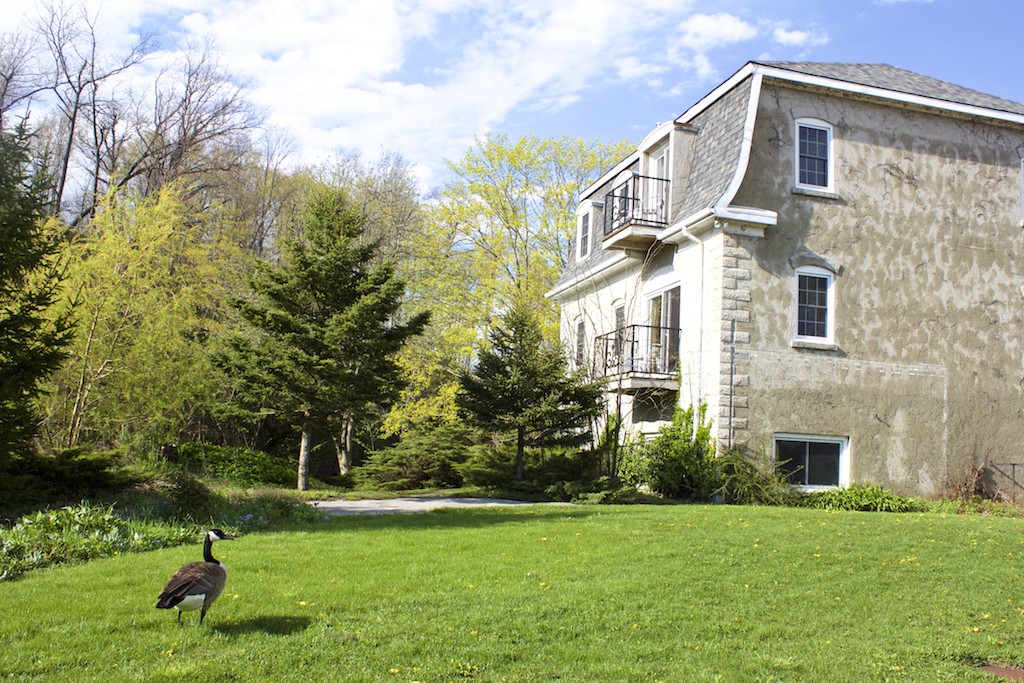 Aside from the vast assortment of buildings and rooms, the hotel has plenty of other offerings to guarantee happy guests. There's a cozy lounge perfect for early evening or late night drinks, an award winning restaurant serving up tasty dishes with locally sourced ingredients, a spa where you can treat yourself to a massage, manicure, pedicure, or even a facial, as well as a pool, complete with a sauna area and hot tub. In addition to all of these onsite amenities, there's a host of recreational activities that you can partake in, such as golf, horseback riding, fishing, hiking, cycling, and even wakeboarding in nearby Lake Huron. If sports aren't your thing, you can opt to take in a theatre performance, peruse local artist's studios, or shop at farmer's markets.
Benmiller Inn and Spa is especially popular with couples seeking a romantic getaway, groups of gal pals seeking a spa weekend, and even solo travellers like me wanting to escape the grind of everyday life in a peaceful and natural setting. Many people also have their weddings here!
My Stay at Gledhill House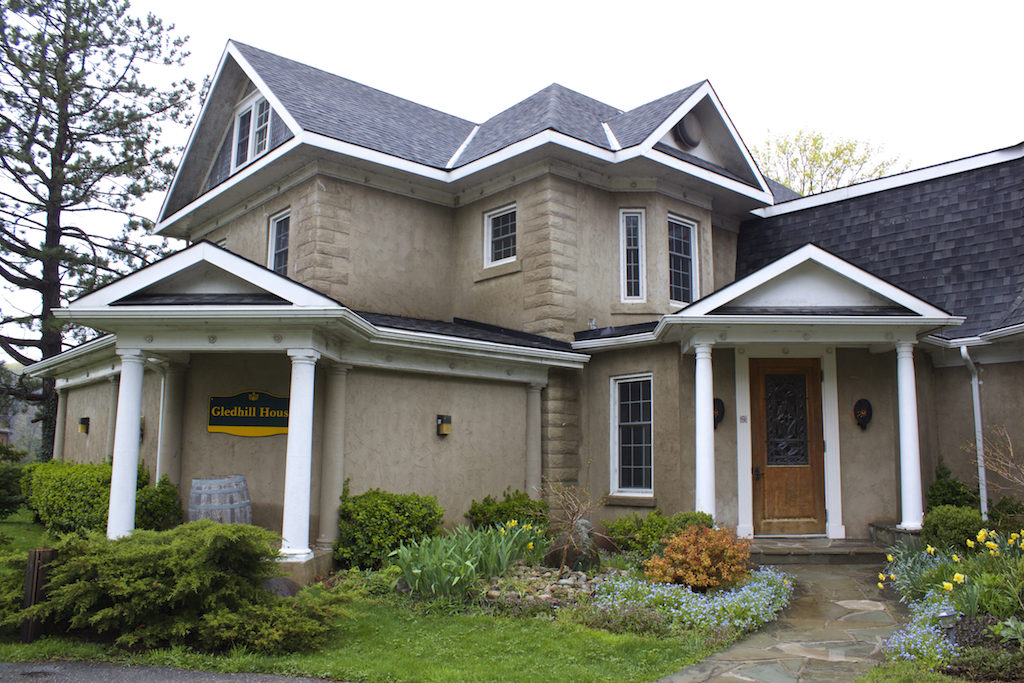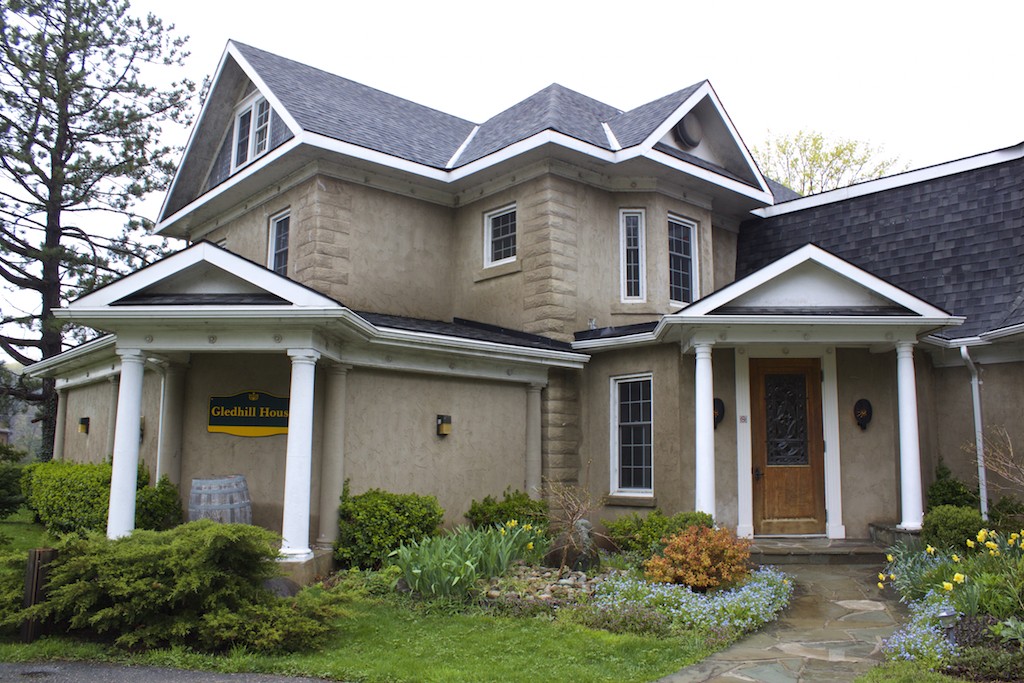 For my one night's stay at Benmiller Inn and Spa, I stayed in the Gledhill building in a Benmiller Select Room. These room types come with ample space, floor to ceiling windows, a king sized bed, reading nook, work area, and bar fridge. Other perks included a fuzzy bathrobe, a deep soaking bathtub, a homemade shortbread cookie left out on the bed, and best of all, a view over Sharpe's pond from a balcony terrace.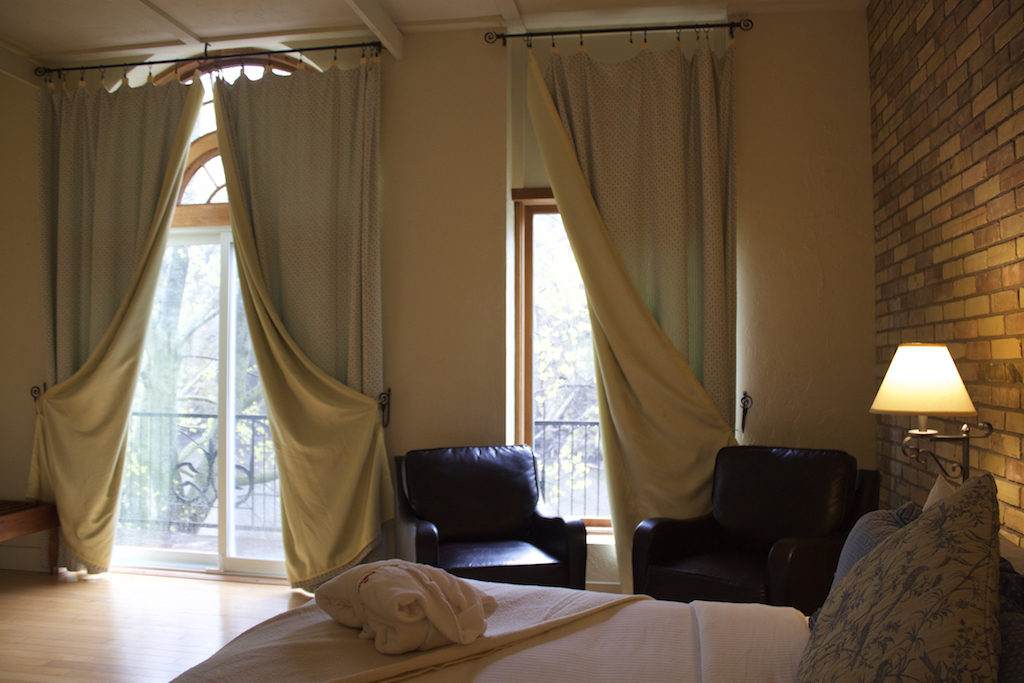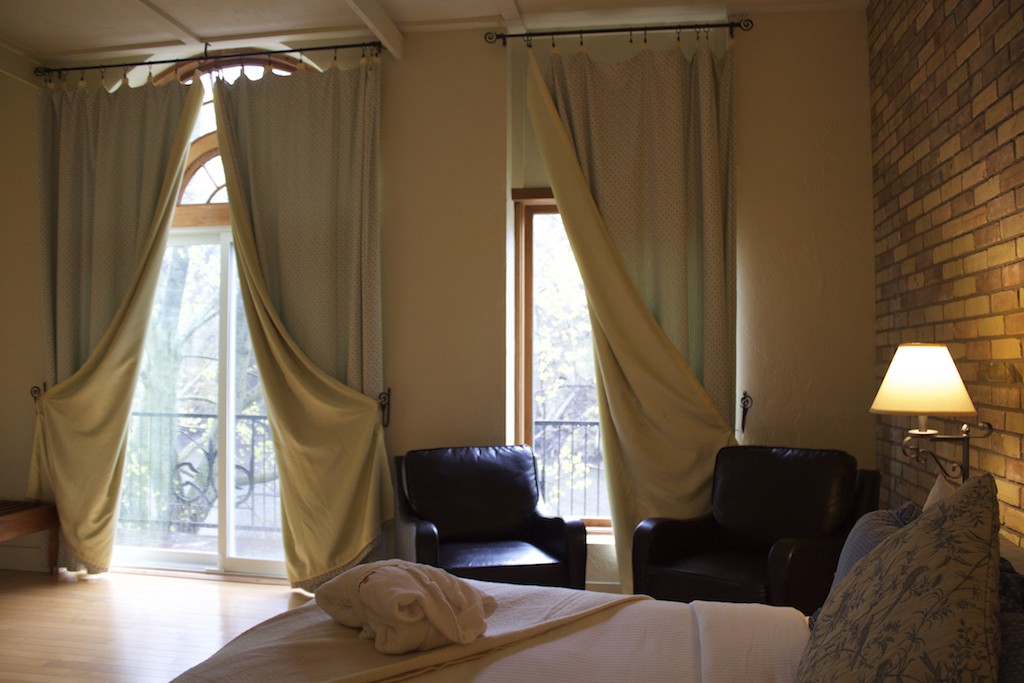 The huge bed was exactly what I needed for an afternoon nap and later on, a comfortable night's sleep. As soon as I unpacked, I donned the soft bathrobe and kicked back with some Netflix while munching on the little shortbread cookie. I even spent time reading in the comfortable brown leather chairs.
As I was on vacation from my vacation, I didn't take advantage of the workspace as the main purpose of my stay was to simply chill. But I'd imagine it would be easy to get loads of work done with the scenic backdrop just outside.
By far, my favourite room feature was the balcony terrace. Had the weather been nicer, I'd have spent more time outside reading with a coffee in hand.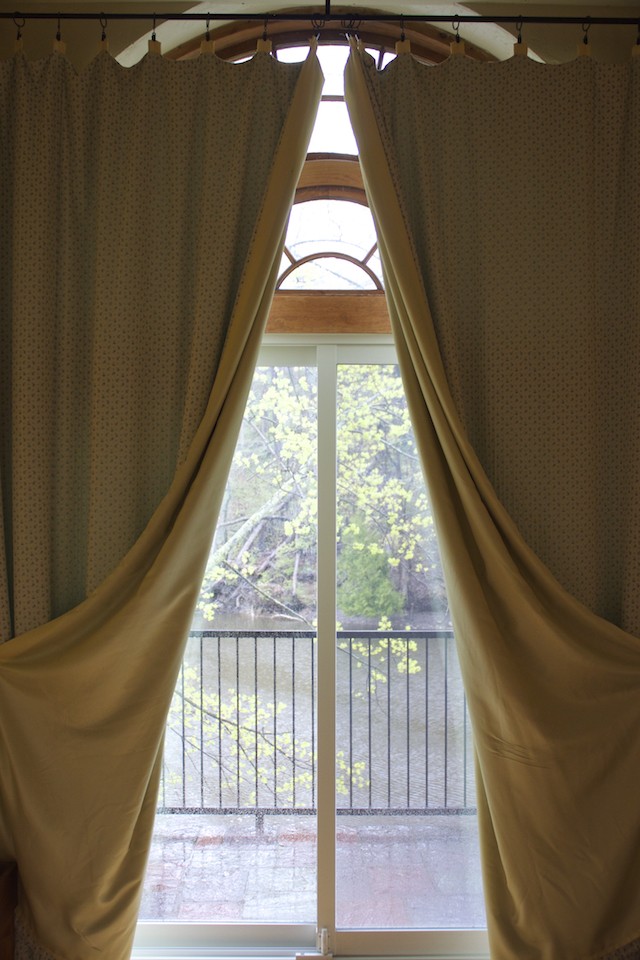 The Petit Aveda Spa in the Old Mill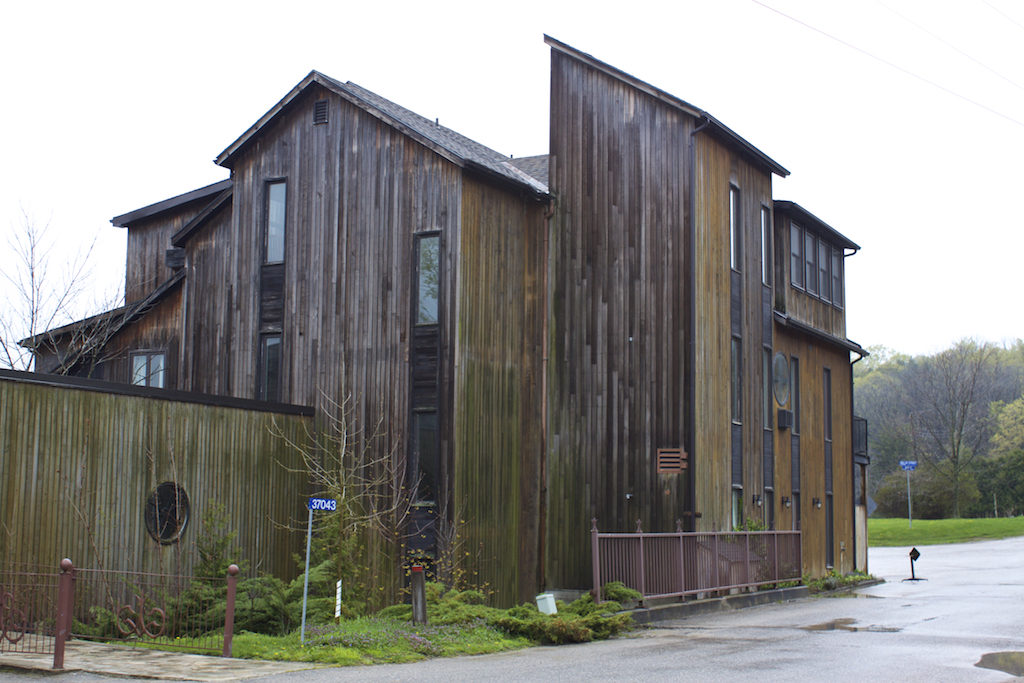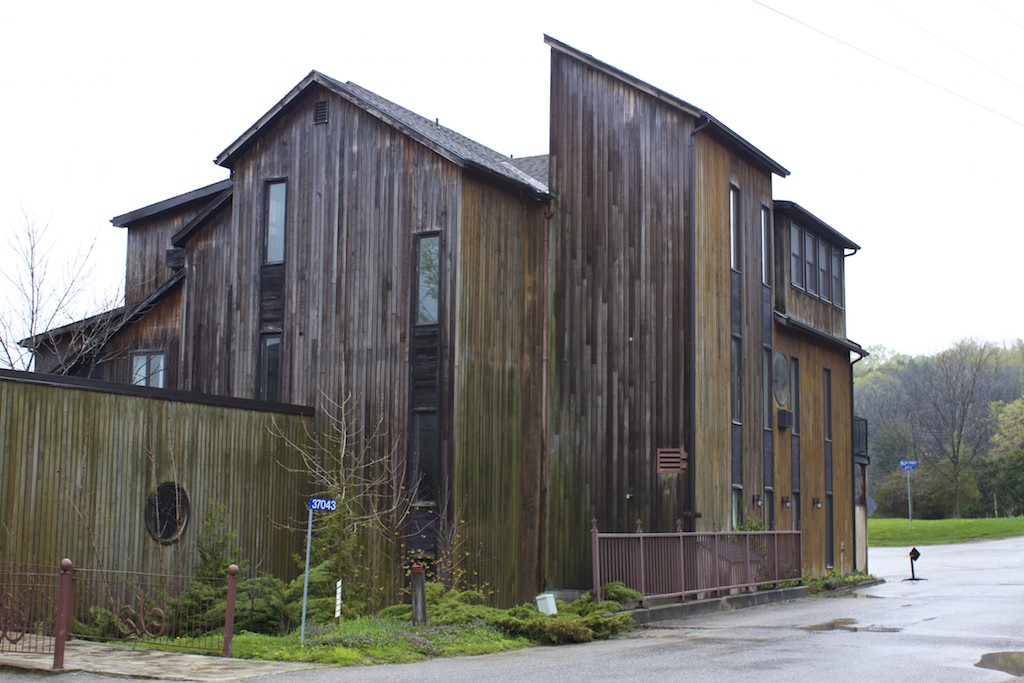 The Petit Aveda Spa is ideal for treating yourself to one of their many services, be a massage, manicure, pedicure, facial, and body treatments such as a herbal wrap. The spa makes use of top of the line Aveda products and OPI nail polishes.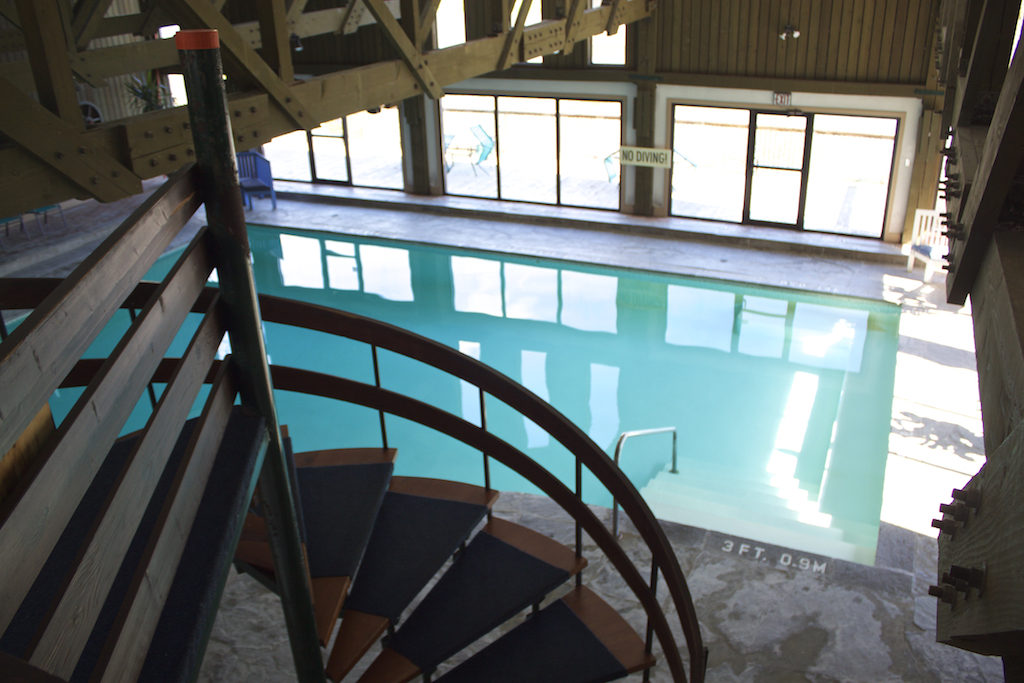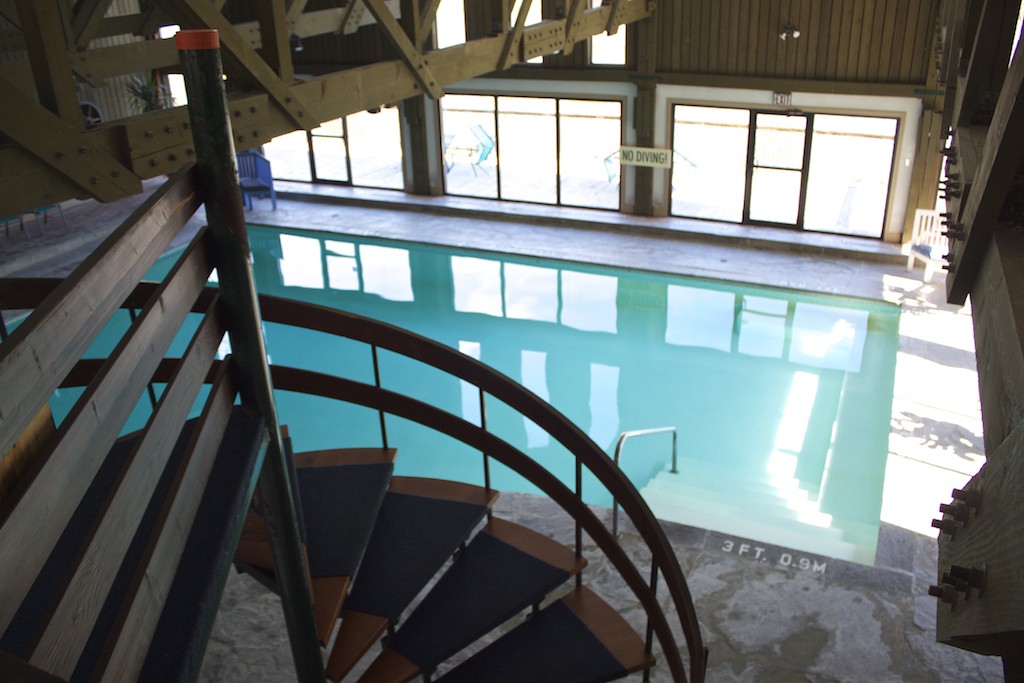 You know how I love a good spa, be it Vabali Spa in Berlin to the more odd beer bath in Prague. I had a lovely pedicure ($60 Cdn) and then set out to enjoy some of the other spa amenities, namely their huge and deep heated indoor pool.
After an hour or so of swimming, I was hungry and made my way back to my room to get ready for a yummy dinner.
The Ivey Dining Room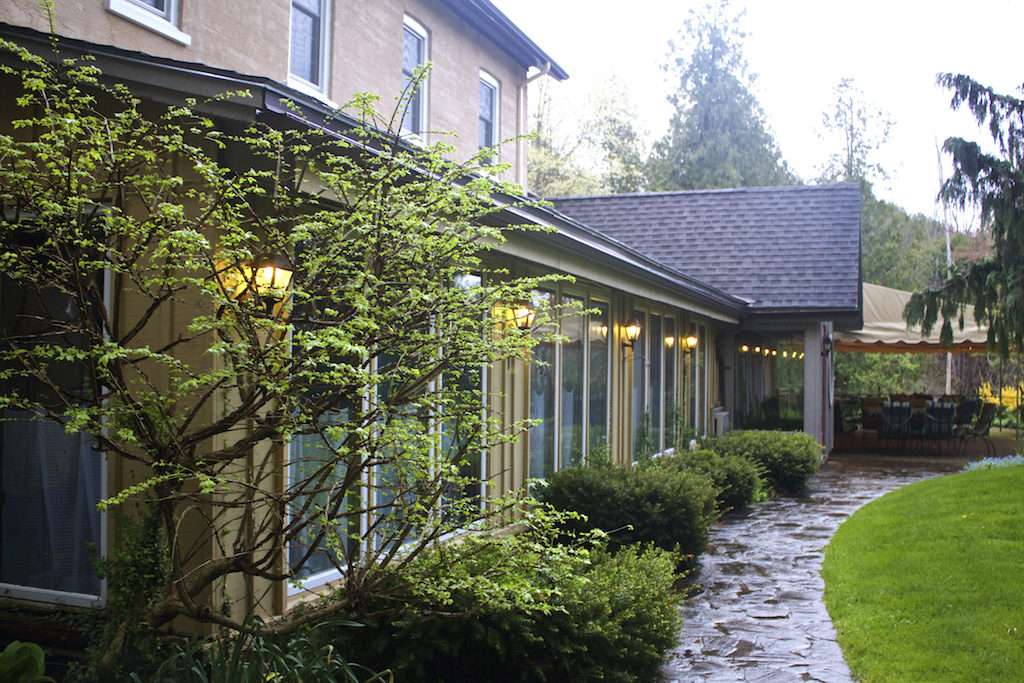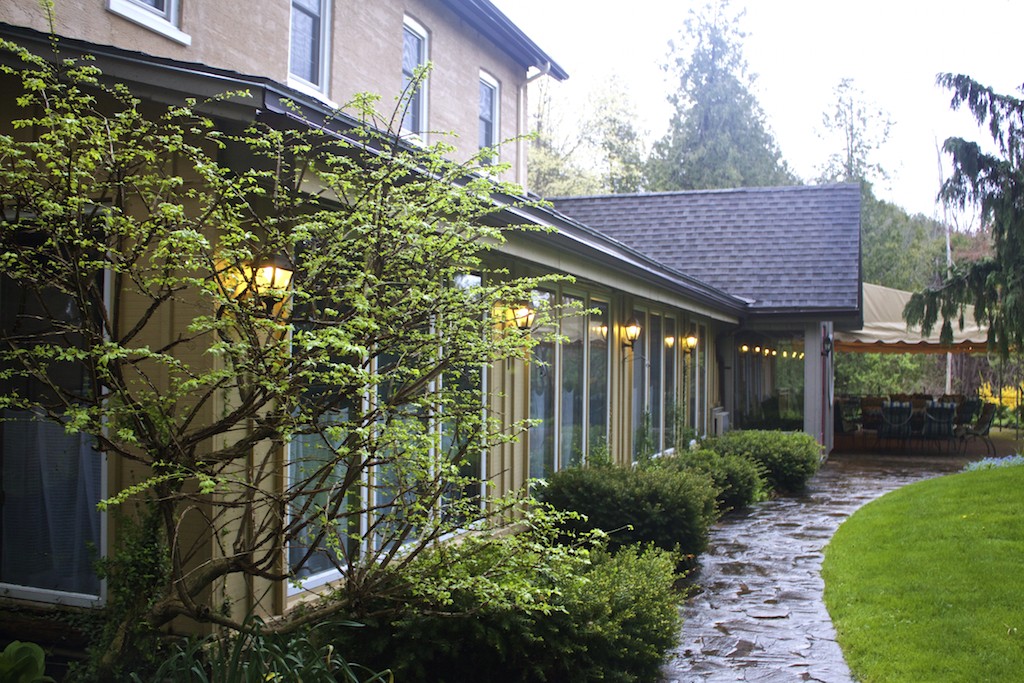 The Ivey Dining Room is something special, as its an award winning restaurant which has received a CAA Four Diamond Award numerous times and is consistently featured in Toronto Life's Dining Guide. Here you can feast on home cooked food using ingredients which have been sourced locally. Enjoy a meal in one of their dining rooms or outside on Benjamin's Patio. I was seated in the Solarium area with a view over Sharpe's Creek.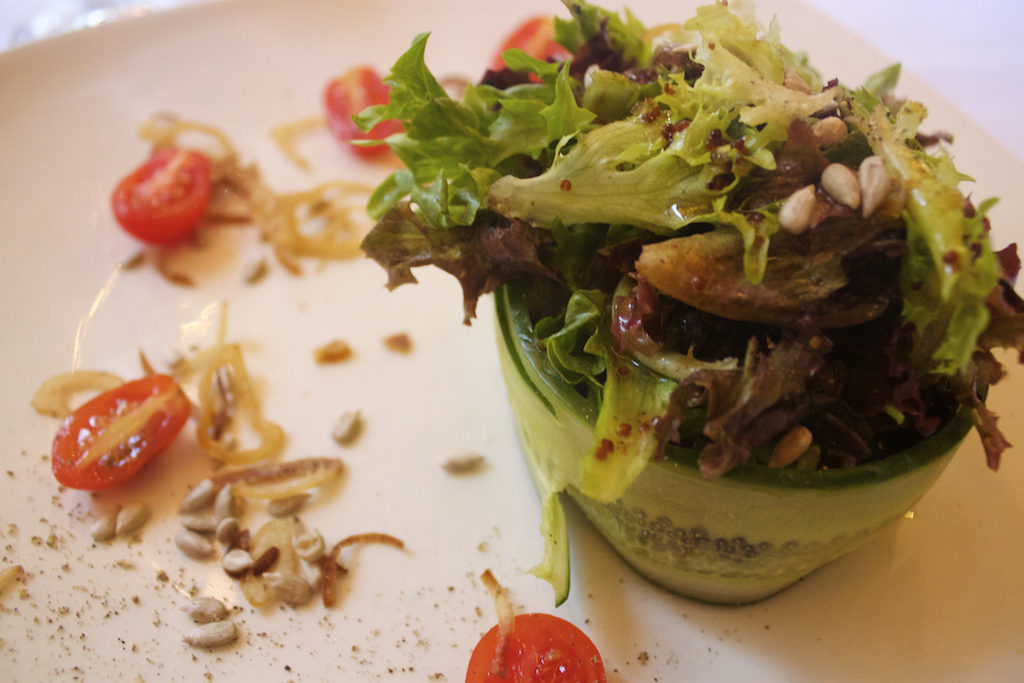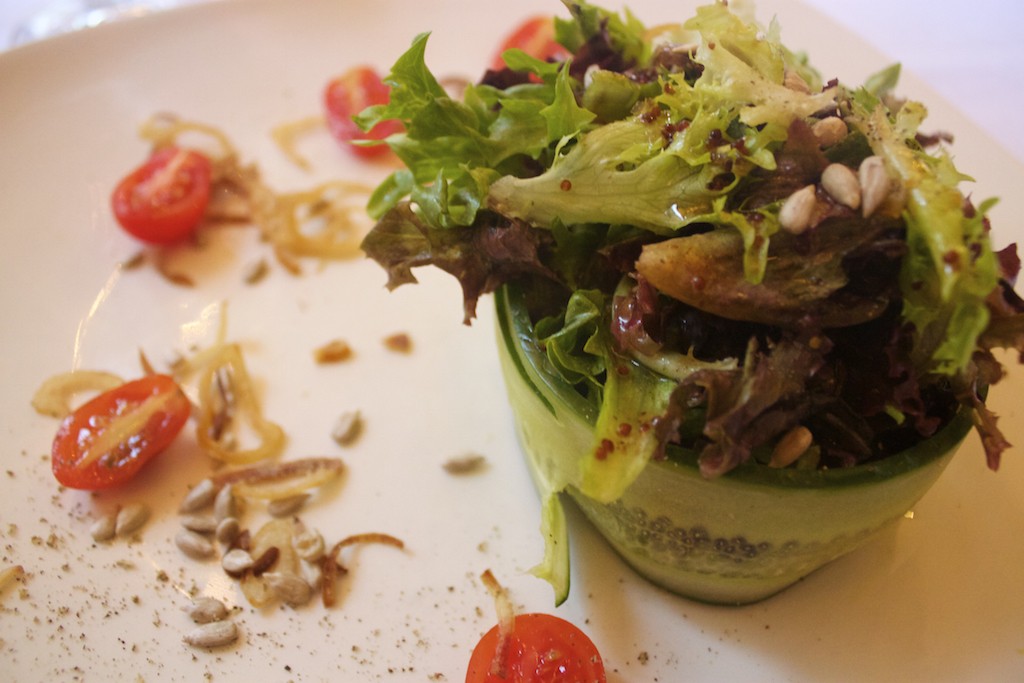 The meal was hands down one of the best dinners I've had in a long time! I started with a Benmiller Green Salad with cherry tomatoes, sunflower seeds, and a warm bacon vinaigrette ($10 Cdn). Next up was braised lamb shank, decked out with double smoked bacon, pearl onion porcini, roasted potatoes, and some seasonal vegetables ($26 Cdn) – paired with a glass of Ontario red wine. I completed the meal with a small scoop of vanilla ice cream.
Location
Benmiller Inn & Spa
1175 Benmiller Line
Goderich, ON N7A 3Y1
Canada
01-800-265-1711 or 01-519-524-2191
Good to Know
1) My stay at Benmiller Inn and Spa was absolutely perfect and provided me with a much needed break. I left feeling refreshed and ready to take on the rest of my vacation. From the friendly and helpful staff, to my luxurious room, relaxing time at the spa, followed by the delicious dinner – I couldn't have asked for a better stay. I highly recommend staying here!
2) The inn has 55 guest rooms in total. Room types range from Classic Rooms, to Country Rooms, Ivey Rooms, Select Rooms, Spa Rooms, and finally Deluxe Suites. Classic Rooms start at $172 Cdn per night during the week and rise to $199 per night on weekends during high season while Deluxe Suites start at $259 Cdn per night during the week and rise to $289 Cdn per night on weekends during high season.
3) Wifi's free and available across the hotel's property.
4) The Petit Aveda Spa welcomes outside guests. All guests are able to enjoy the pool and other amenities. The spa's open seven days a week from 9:00 a.m. – 5:00 p.m. Evening services can be arranged upon request. Walk-in appointments are possible, but reservations are preferred. A credit card is required to reserve a spot and 24 hours notice is needed to cancel your treatment – otherwise a penalty fee may be incurred. If you have a massage, you can also request a RMT receipt. Show up at least 15 minutes before your treatment begins and wear comfortable clothing.
5) The Ivey Dining Room also welcomes outside guests. The restaurants can also cater to various requests, be it vegan, gluten-free, lactose free etc. Breakfast is available from 7:00 a.m. – 10:00 a.m. Monday through Thursday. On Saturdays and holidays, the restaurant opens at 8:00 a.m. for breakfast. They're also open for lunch Monday through Saturday from 12:00 p.m. – 2:00 p.m., with Sunday brunch running from 9:00 a.m – 1:00 p.m. Dinner starts at 5:00 p.m. – 7:30 p.m Monday through Thursday and on Fridays and Saturdays, 5:00 p.m. – 8:30 p.m. Reservations are highly recommended.
6) If you're looking to enjoy one of the many activities outside of the inn, speak with reception for more details.
7) In addition to weddings, the inn also hosts company retreats, holiday parties, conferences and more. Get in touch with them directly for more information.
8) If you'd like to stay somewhere other than this lovely place, check out offerings on booking.com.
9) If you want even more to do in the area, go on a guided tour.
10) If you're looking for some more North American travel inspiration, read these posts:
*Disclosure – In order to offer personal insight about hotels to stay in when visiting Ontario, Canada, I received a complimentary one-night's stay. As always, any opinions expressed here are entirely my own. This post also contains some affiliate links, so if you book a tour or hotel, I'll earn a tiny commission at no extra cost to you. Thanks for your support!