The longer I live in Europe, the more I'm convinced that the continent has an obsession with public urination. For what other reason, would it be so frequently featured in public art installations in its various capital cities?
The Bad Bad Boy Statue Helsinki
While in Finland recently on a day trip from Tallinn, I came across yet another candidate for our ongoing weird and offbeat series, the Bad Bad Boy statue in Helsinki.
Public Urination In European Art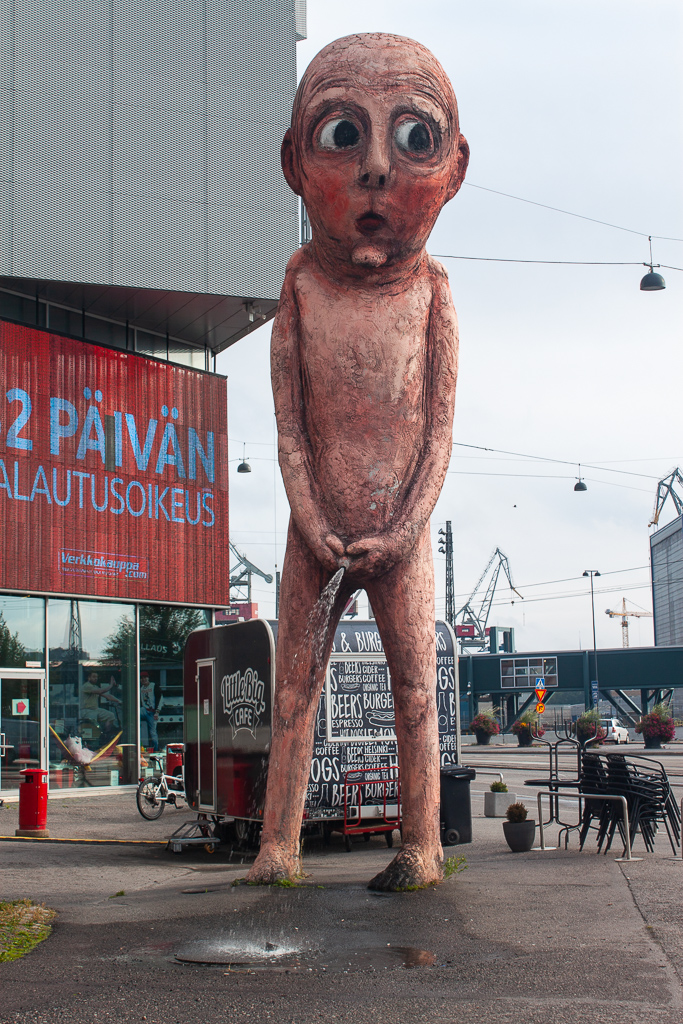 Ever classic is Brussels, with three different statues of two children and an animal peeing. The most famous, Manneken Pis, is a statue of a small boy peeing into a fountain. The Belgians, with their playful sense of humor, even dress him up on special occasions. Then there's the sweet Jeanneke-Pis, a statue of a young girl squatting down for a pee. Finally, there's the dog statue, Het Zinneke, lifting his leg in the air and pissing on a pole.
In Prague, there's a more lewd work of art to be found at the Kafka Museum. Created by the now infamous Czech artist David Černý, there are two rotating bronze statues of men peeing into a pool below them. You can even text a number to have the men spell out your name, much like a man trying to write his name with piss in fresh white snow.
The Bad Bad Boy statue in Helsinki, Finland is just another example of urination being highlighted in the public space.
The Bad Bad Boy Statue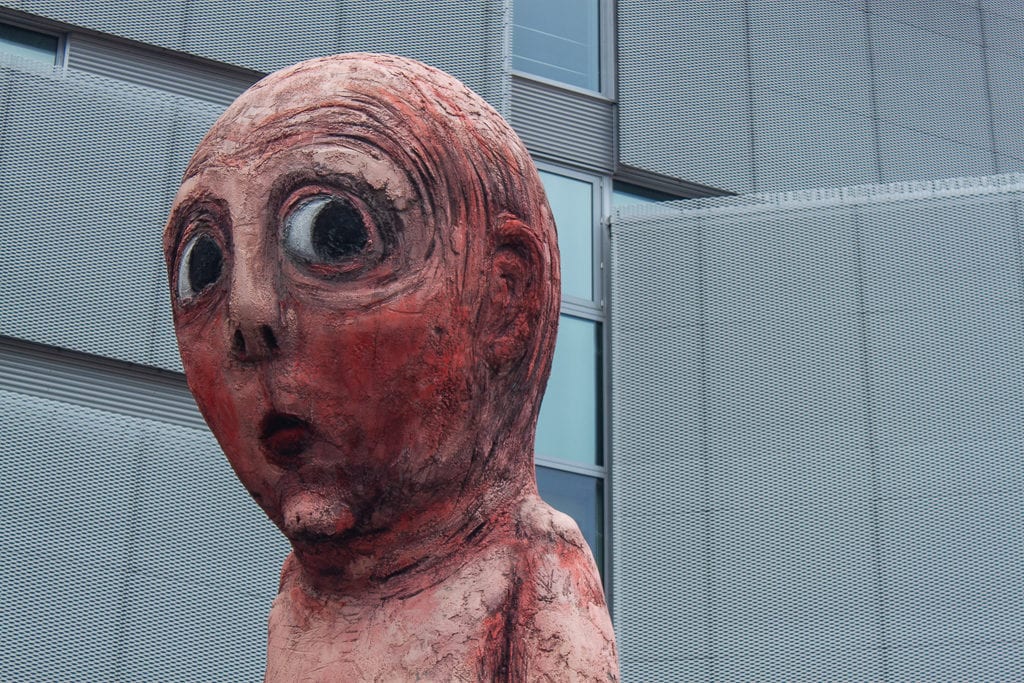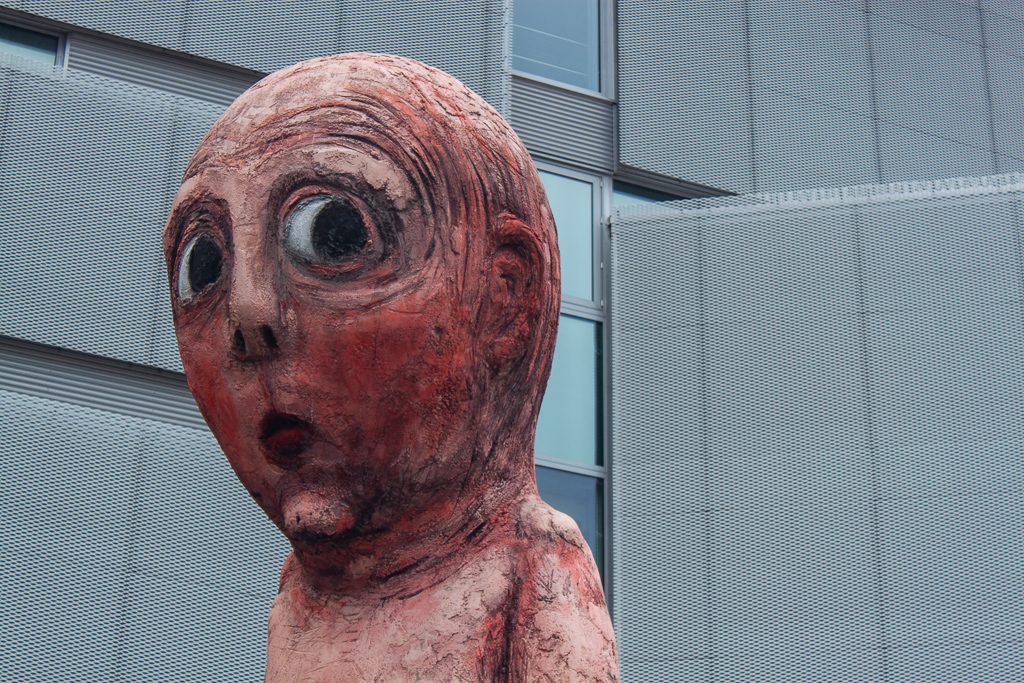 Standing at an impressive 8.5 meters high, this massive concrete statue also weighs in at a whopping 7.5 tons. Completely naked, the pink-hued boy has eyes that seem to follow you everywhere and a permanent blushing expression on his face that shows his shyness, embarrassment, and chagrin. He's peeing a constant stream into the pavement below him and from certain angles, it even looks like he's "watering" the nearby flower pots. Atlas Obscura remarks that he "commemorates the sneaky pees had by us all".
Check out my short video to get a feeling for this oddball work of art.
Conceived by Finnish artist Tommi Toija, the construction of Bad Bad Boy wasn't an easy process and they even had to use a crane to help put him together. The statue was first set up in 2014 as part of the Mutatis Mutandis exhibition in Helsinki's East Harbour, along the waterfront near the amusement park and ferry terminal. Here the statue sat perched on the edge of Market Square, continually taking a piss into the Baltic Sea.
Why a statue of a peeing boy in Helsinki? Toija's website offers up some insight:
Toija explores human vulnerability in his archetypal figures – which he argues are neither male nor female, neither old or young, just human – thereby appealing to the inner heart of audiences worldwide, swaddled as they are in social norms and the personas we need to get by.

What does it mean to be human, what does it mean to exist in society, what are we? Toija's figures are literally and figuratively naked, exposed to the earth's elements and its peoples' stares. The results border on humorous, making Toija's work both approachable and incredibly striking.
When the show reached its conclusion, the statue was relocated to the city's West Harbour. It's now just a hop, skip, and a jump away from the ferry terminal and beside the spot of the now close, Helsinki Computer & Game Console Museum.
What do you think about the Bad Bad Boy Statue in Helsinki? Are there any other weird and offbeat things to do in Helsinki? Let us know in the comments.
Location
Good To Know
1) As the statue is open to the public, seeing it is 100% free.
2) Seeing Bad Bad Boy will require you to go a wee bit out of your way from Helsinki's City Center. Fortunately, he's located along a tram line – just hop on lines 6T, and 7 and come on out. If you're coming from the nearby ferry terminal, West Terminal Two, it's a short walk five or so minute walk to see the statue.
3) Browse hotel offerings in Helsinki.
4) We recommend experiencing Helsinki with a guided tour.
5) Finland is a beautiful country to see, so why not rent a car and see more of it for yourself? Or find out more about the best ferry options from Helsinki to Tallinn.
6) If you like unique attractions like this peeing boy statue, read about some of the other weird and offbeat places we've gone.