Take A Soak In Suds With A Prague Beer Bath – Prague is weird. In fact, it's so weird that the city doesn't need a street art mural like Portland does, begging its inhabitants to "Keep Prague Weird."
From the David Cerny sculptures, to the Museum of Torture, to the option of getting a fish pedicure, there are so many weird and offbeat things to see and do in Prague that visitors will actually have a hard time fitting all of them into their agendas.
A Prague Beer Bath
In my ongoing quest to find weird and offbeat things to share with you, I thought about all of the possible weird things to do in Prague, Czech Republic. I hadn't yet visited the Sex Machines Museum. I still hadn't seen any of the David Cerny sculptures. I hadn't ever taken a beer bath in Prague.
I never made it to the museum; however, I did see a handful of David Cerny's works. And best of all, I managed to finally live out a lifelong dream of taking a bath in beer while drinking beer!
Yes, it wasn't really a lifelong dream, but it's been something that I've wanted to do ever since I first heard about it when I moved to Berlin four years ago. It seems that beer baths are actually quite popular in Germany and Austria too.
I wondered what it would feel like and if it's really relaxing. Would there really be any healing effects? Would I feel drunk by the end of the beer bath? I hoped it would be as fun as it sounded.
Beer Spa Bernard in Prague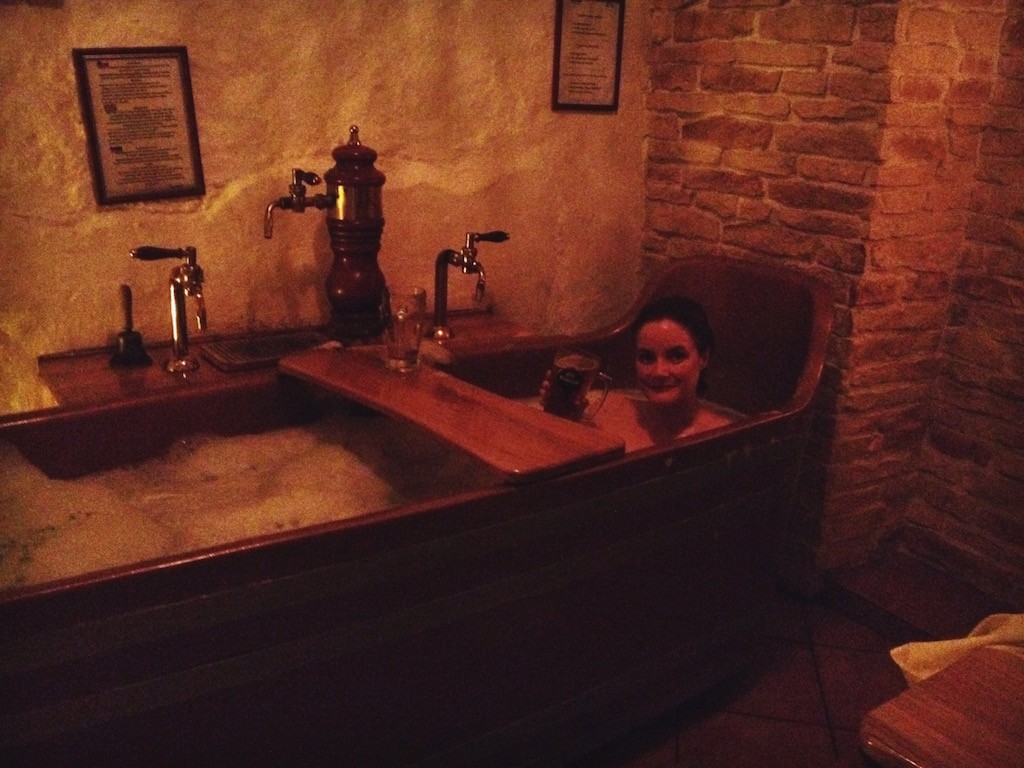 My Prague beer bath finally happened when I visited Canadian friends Jeff and Katie of Wandertooth just last month. After spending the better part of the day exploring Prague with Katie by foot, she dropped me off at Beer Spa Bernard. Located in the heart of Prague's Old Town, the location is central and easy to reach if you're already in the area visiting tourist attractions like the Charles Bridge or astronomical clock.
Spa Bernard offers a private experience that can be enjoyed as a couple or, in my case, alone. You know me, I like to fly solo!
I learned from the spa attendant that people have been partaking in beer since the Middle Ages. She went on to explain that a beer bath has tons of health benefits including helping your body with detoxification, increased blood circulation, calming of the nervous system, relief of joint pain, smooth skin, and more. I'd been feeling pretty stressed around this time, so the beer bath was the perfect solution to relax and just have fun.
The Beer Bath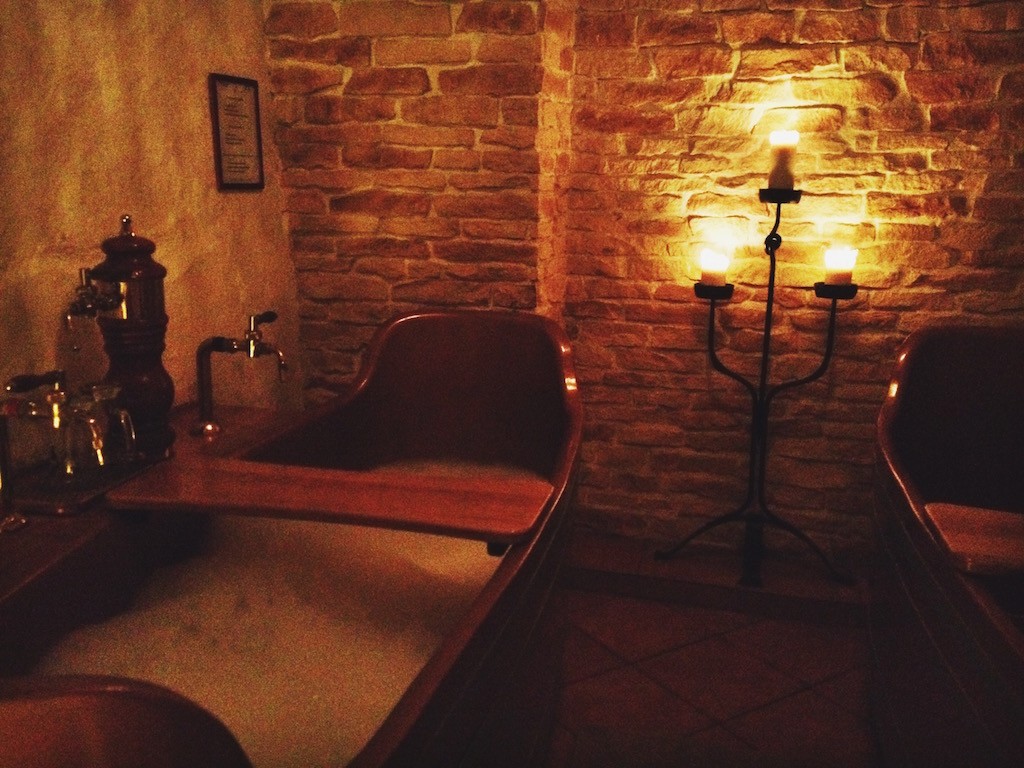 The beer bath at Spa Bernard begins when you head to the change room to get undressed and wrap a bedsheet around yourself. A bathing suit is not required unless you're feeling modest. As you can tell from my experiences at the German sauna, I have no problem with modesty at all!
From there, you're led into a room with two giant beer tubs, with each tub comfortably fitting two people. In fact, the tubs are so large they can hold up to 350 litres of water.
My tub was already filled with warm water, at a perfect 37 degrees Celsius, which they say is the optimal temperature for the experience. The attendant then placed the related beer bath ingredients, barley, hops, and yeast, into the water and left the room. I immediately tossed my sheet aside and jumped into the tub.
The heavy smell of beer in the air and the thought of actually bathing in a giant tub of alcohol felt a little strange at first, but you soon forget this as you sink into the warm, soothing water. To my delight, it was a Jacuzzi bath, and the jets of water were soon massaging my entire body. The swirling water helps to release vitamins, proteins etc.
Of course, no beer bath experience is complete without an actual drink of beer, so I grabbed one of the pint glasses conveniently placed next to the tub and poured myself a glass of Bernard beer. You're actually allowed to drink as much beer as you want during your beer bath.
Yes, believe it or not, they have a keg hooked up to a tap right beside the tub! After 30 minutes, the Jacuzzi jets are turned off, signaling the end of your bath time. I wrapped myself in the sheet again and was led by the spa attendant into a separate room.
Bed Rest and a Massage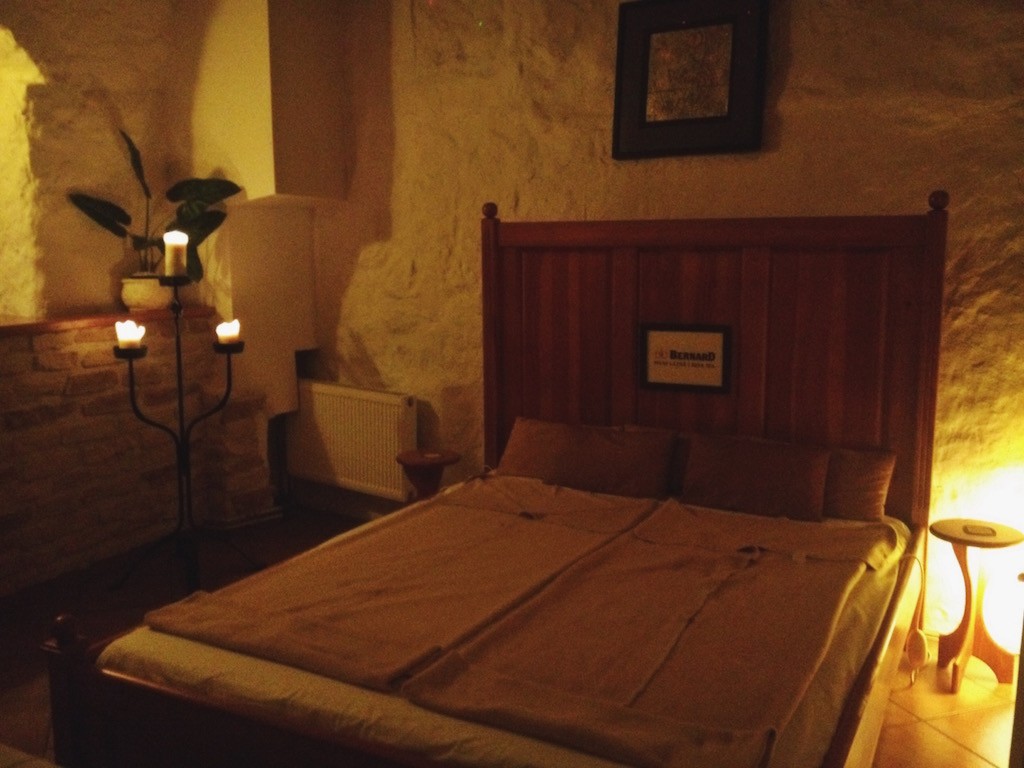 You then climb into bed and are wrapped in fresh linens. You spend the following 30 minutes lying there alone, revelling in relaxation of it all. During this time, you'll sweat and give your skin time to absorb all of the ingredients in the beer bath.
The treatment concludes with a 20 minute massage. You can even direct the masseuse to which area of your body to focus on. As I have a desk job, I asked her to concentrate on my neck, shoulders, and back. My massage turned out to be so blissful that I fell asleep toward the end of it.
Sadly, the Prague beer bath experience had to end, but I felt absolutely fantastic. I returned to the change room, got dressed, and finished off my glass of delicious Czech beer.
Good to Know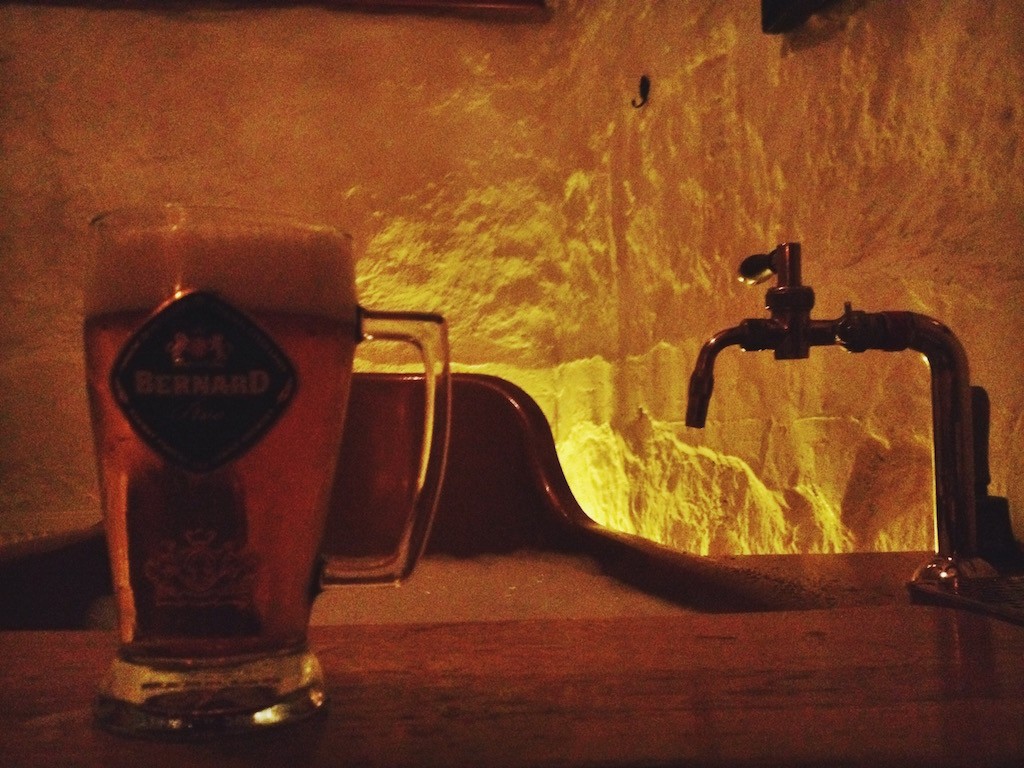 The price of the Prague beer bath, complete with the quality snuggle time in bed and a massage, is 3,090.00 CZK or 114 EUR.
To gain full health benefits of the beer bath, do not shower for at least 12 hours. No worries, you will not smell like a drunken sailor afterward.
Read about other beer bath experiences in Prague.
If you're looking for a hotel in Prague, consider Hotel Yasmin.
If you like design and cubism specifically, visit The House of the Black Madonna.
Location
Prague Beer Spa Bernard
Týn 644/10, 110 00 Praha 1-Staré Město, Czech Republic
+420 221 771 048
http://pivnilaznebernard.cz
What do you think? Would you take a bath in beer? Let me know by leaving a comment below.
* Disclosure – My time in Prague Beer Spa Bernard was discounted for the purpose of writing this review and sharing my experience. Any opinions expressed about my love of Czech beer and climbing into giant tubs of beer to take a bath are entirely my own.