Berlin, my current home, made headlines back in 2016. A rather tragic event unfolded when a terrorist drove a truck into a Christmas market, killing 12 people and injuring 48 others. 
Words can't describe how it feels to have something like this happen, especially in the place where you live. The utter sadness and sheer heartbreak at the thought of innocent people losing their lives when they were simply out enjoying one of the greatest things Germany has to offer, the Christmas markets. Hordes of locals and tourists alike descend on the Christmas markets to feast on delicious treats, sip on warm mulled wine, and enjoy the festive spirit this time of the year brings. How could such a thing happen? Can any of us ever go to a Christmas market again without feeling hesitation, fear, and panic? It was difficult to even process.
The emotions don't stop there. There's the compassion you feel for the people who lost their loved ones. Wondering if anyone you know was there at the time and frantically sending messages to everyone, even obsessively looking at Facebook to see who marked themselves as "safe." Then there's the anger towards the culprits and wishing for their speedy capture. Or watching the online vitriol stemming from the far right, who were only too quick to cast blame and make assumptions when an investigation hadn't even begun. Or politicians seizing the event for the sake of furthering their own political agendas.
Despite everything, Berliners are a tough and resilient bunch. Take for instance this Facebook update which has been shared a lot over the past few days: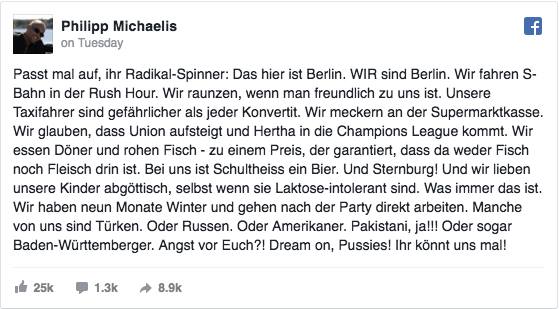 Translated to English, it reads: "Watch out, you extremist nutcases: This is Berlin. We are Berlin. We ride the S-Bahn at rush hour. We complain when people are friendly to us. Our taxi drivers are more dangerous than any converts. We grumble at the supermarket. We believe that Union will get a promotion and Hertha will be in the Champions League. We eat kebabs and raw fish – at a price that guarantees that there is neither fish nor meat in them. Schultheiss is a beer here. And Sternburg! And we love our children like crazy, even if they are lactose-intolerant. Whatever that is. We have nine months of winter and we go straight to work from the club. Some of us are Turks. Or Russians. Or Americans. Pakistanis or even Baden-Württembergers. Scared of you?! Dream on, Pussies! You can look us up!"
You can also peruse this article from Der Spiegel, 'Completely Unimpressed' Berliners Maintain Composure after Attack. Or this one, Sadness and defiance mark the reopening of Breitscheidplatz market. 
Whatever the fallout from this particular event may be, whether or not it will happen again (and one can presume it will), this is our home, we'll overcome this, keep on going about our lives, and continue to celebrate our love for Berlin.
Spreading Berlin Love With Brandenburger Tor At Christmas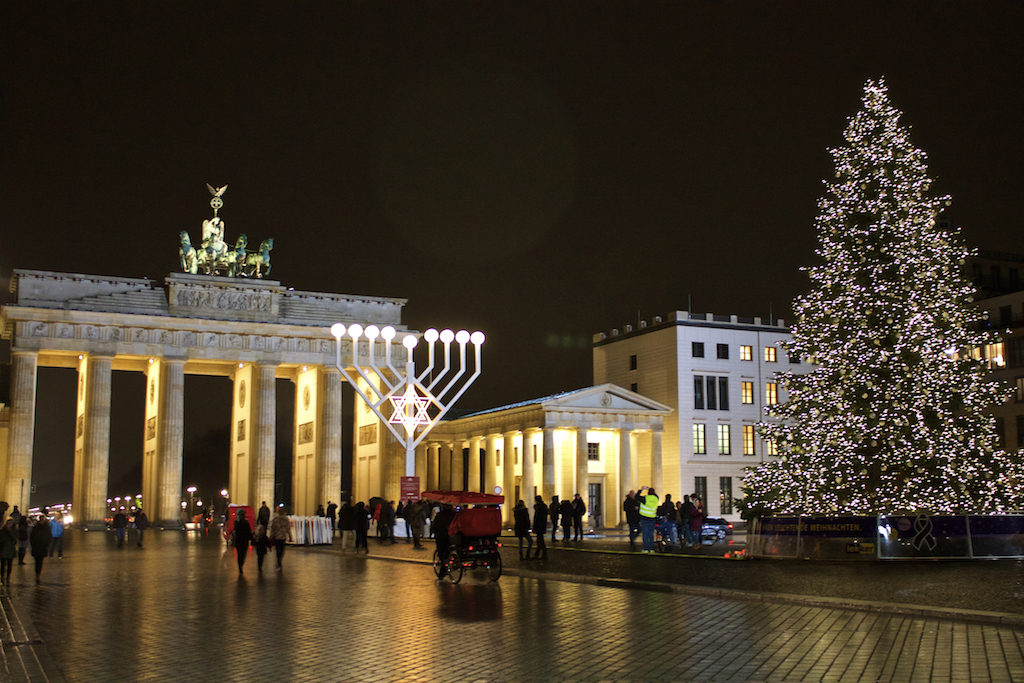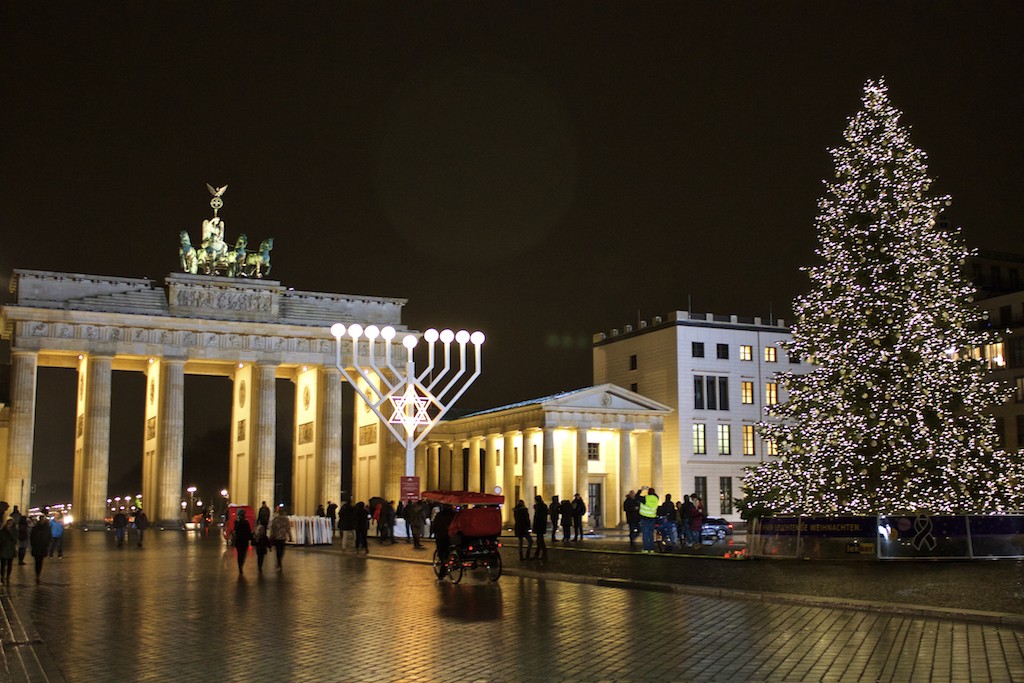 You all know how much I love Berlin. I first lived here for 18 months before moving back to Toronto. During my two years home, I missed Berlin so much that at times, it physically hurt. The persistent heartbreak and feelings to return were so intense that it didn't take long to start plotting my way back. I've now been back for two years and am not sure when, or if, I'll ever leave. 
That said, I want to start sharing more stories about why I love this city so much. They may be portraits from events like celebrating Pride or May Day in Berlin, or even Christmas markets like the one at Schloss Charlottenburg. So what better place to start than to put a spotlight on Brandenburger Tor at Christmas? Seeing it decked out with a festive vibe was heartwarming and frankly, needed to bring back my Christmas spirit.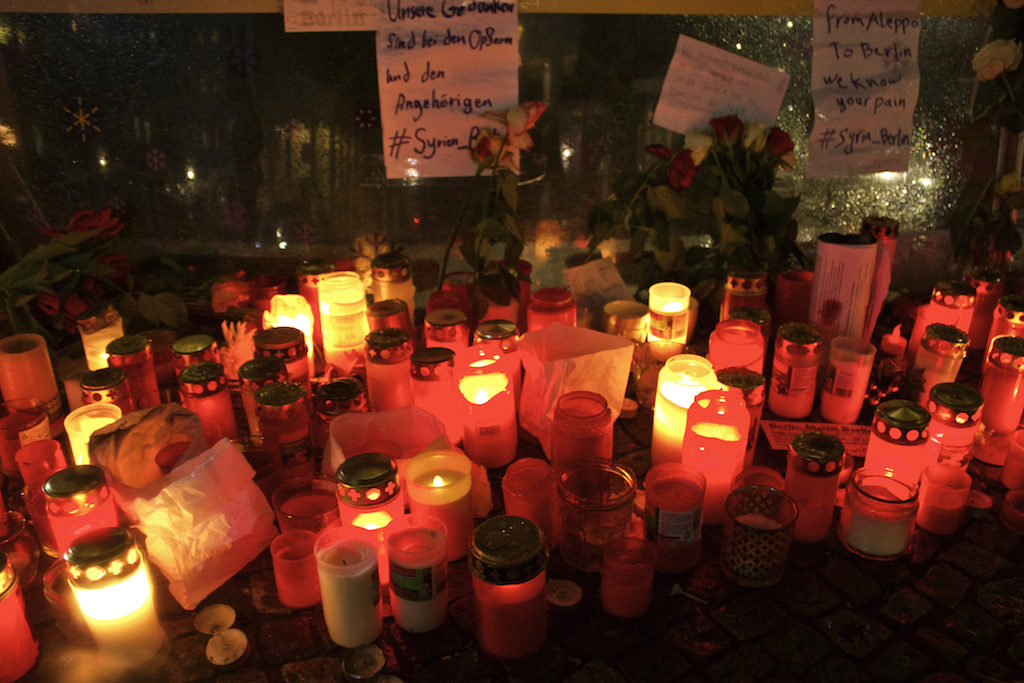 There was a small memorial dedicated to the victims of the terrible event on that ugly Monday night. Especially beautiful, yet simultaneously painful, was this message:
From Aleppo
To Berlin
We know your main
#Syria_Berlin
What do you think about Brandenburger Tor at Christmas? Isn't this just another reason to love our city?
Good To Know
1) When you're in Berlin on holiday, be sure to find a place to stay with booking.com.
2) Make your Berlin holiday even better and take a tour with Get Your Guide.
3) Find even more Berlin travel inspiration by reading some of our top posts:
*Disclosure – This post contains some affiliate links. If you book a tour or hotel, I'll earn a tiny commission at no extra cost to you. Thanks for your support!