The Christmas market in Bratislava's Old Town may not be as pretty like the ones in Berlin's Schloss Charlottenburg or Prague's Old Town Square but it remains one of my all time favorites.
While some snobby travel types may scoff at the mere mention of Bratislava, I loved it there. I'm a little biased as I harbour a profound love for all things Eastern Europe, but I spent a few happy hours enjoying the market, the medieval architecture and people watching (there were more locals than tourists). I long to return not only to eat at the UFO Taste Restaurant but to explore more of this capital that's been labelled as Europe's comeback kid.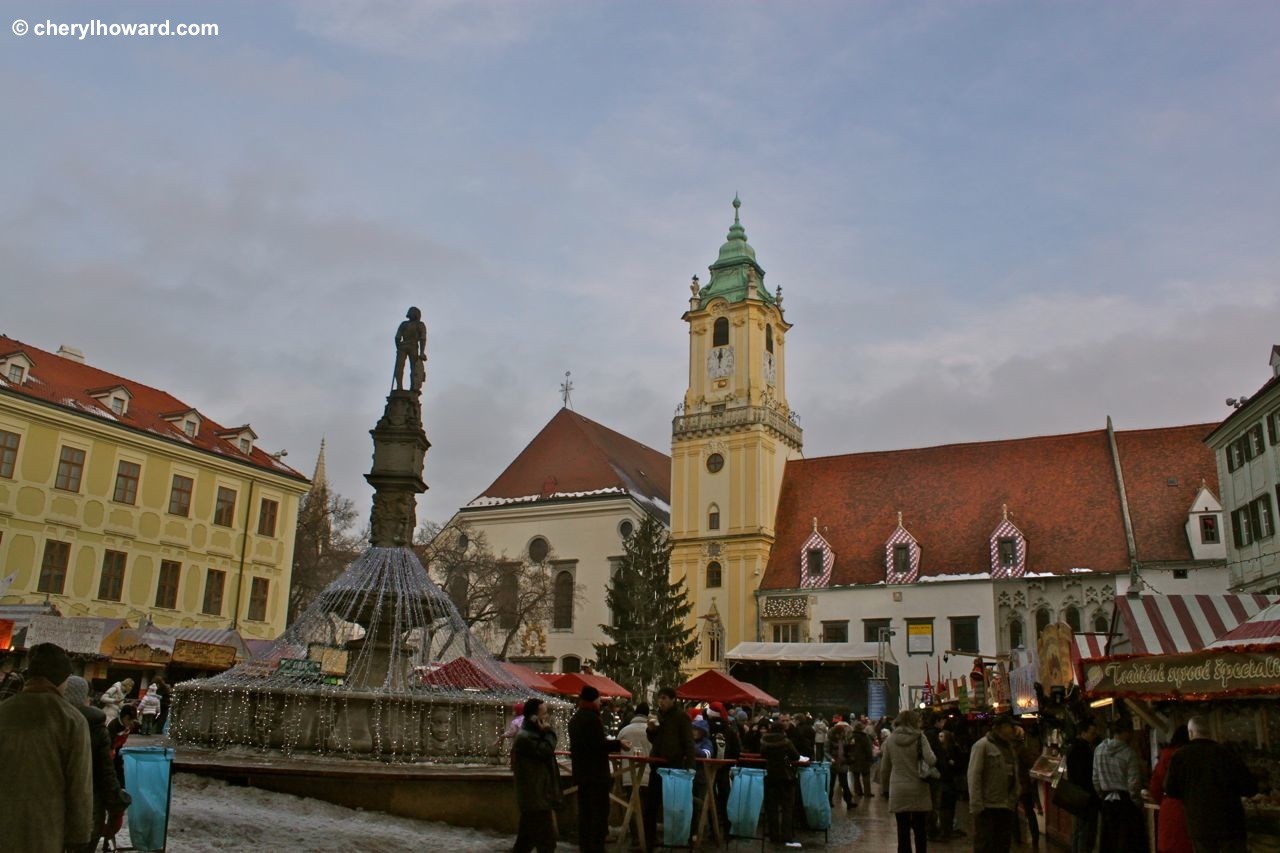 After I stopped taking pictures of all the surrounding buildings, I decided it was time get some food and drink. There were actually line-ups at most of the stalls, mostly locals who came to eat at the Christmas market during their lunch. I was secretly jealous of them, lunch options at home in Toronto were food courts comprised of fast food chains like McDonalds and KFC while these guys were drinking mulled wine and eating delicious sandwiches.
And look, candy apples! So adorable.
This guy was all smiles. Perhaps the giant Santa mural keeps him in good cheer all day.
I couldn't resist buying a pork and onion filled sandwich from these guys wearing a Santa hat and reindeer antlers.
It may not look like much, but this was really (and I mean really) tasty.
Of course I then went for the mulled wine. This is the BEST cup of mulled wine I've ever had.
Some of the more unique items available for purchase.
So what is it about this Christmas market in Bratislava that I love so much? Aside from the several very tall, dark and handsome men I spied, the fact that it's not so touristy resonates well with me. The roughness about it is also appealing – the cheesy paper, plastic cups, the lack of pretension and simplicity of it all stole my heart. I'll be back to visit this comeback kid!
If you're looking for something to do in Bratislava, I'd suggest saving your visit for Christmastime when you can take in this cute little Christmas market!