If you happen to be taking a stroll through Mostar's Park Zrinjevac, you may be surprised to find a life-sized statue of Bruce Lee with nunchucks in hand!
As a lover of unusual places and things, I was all too delighted to visit this statue and see it with my own eyes. It reminded me of other strange things I'd seen over the years like the Brno Ossuary packed full of more than 50,000 skulls, a church in Belgrade with a chandelier made out of weapons, and a statue of a young boy mooning in Antwerp.
Is there really a Bruce Lee Statue in Mostar?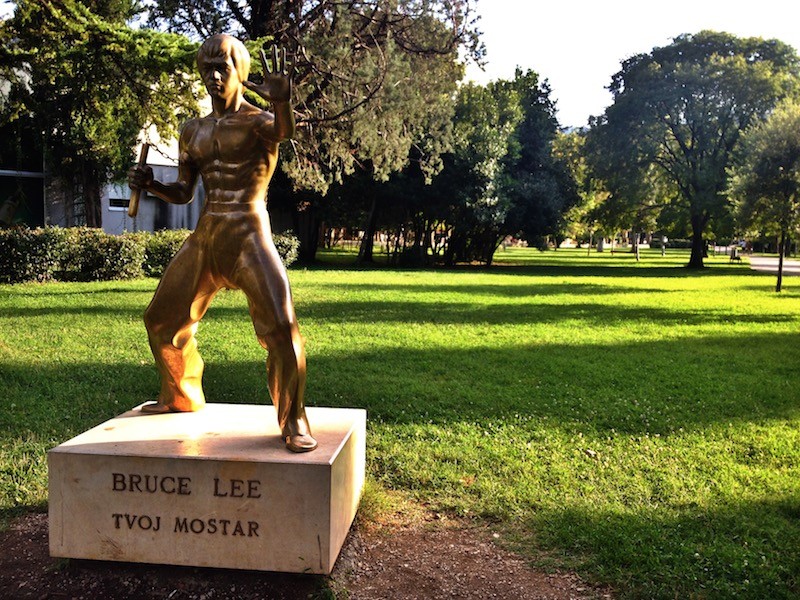 The Bruce Lee statue in Mostar was erected on November 26, 2005, right around the time of the martial arts star's 65th birthday, and was actually, the world's very first Bruce Lee statue. Standing 1.68 meters high, it's only slightly shorter than the real man himself, who measured in at 1.72 meters.
Created by Croatian sculptor Ivan Fijolic and oddly funded by the German government(!), the statue was a symbol of solidarity with an ethnically divided Mostar. It was thought that everyone loved Bruce Lee, regardless of whether or not they were Croatian, Serbian, or Bosnian.
The Bruce Lee statue was commissioned by a youth group called Mostar Urban Movement. Just like the Mostar Street Art Festival also spearheaded by local youth, the statue was intended to bring a message of peace in a fun and lighthearted way.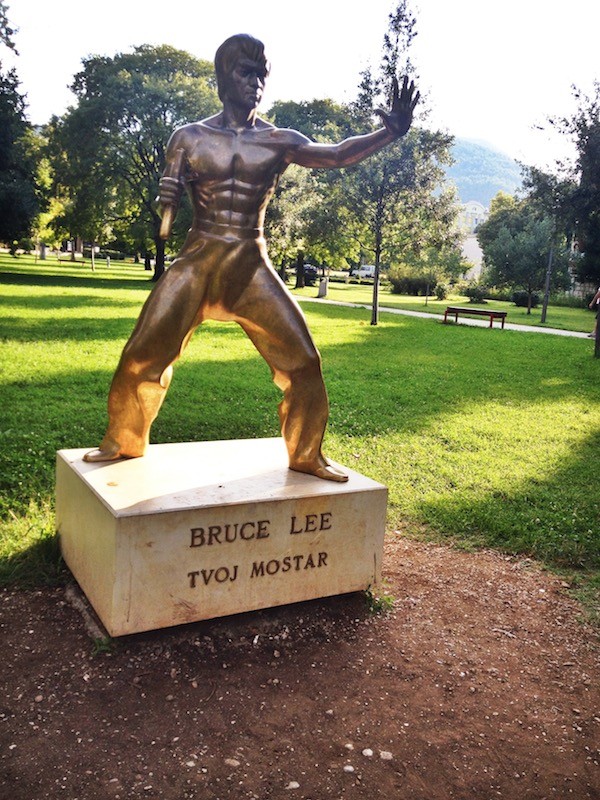 Recommended reading: This post about street art in Mostar and this post, telling you all the reasons why you need to visit Mostar.
It was originally placed in Spanish Square but was vandalized shortly thereafter. Sadly, the statue had to be removed and was only returned in 2013, when it was placed in the city park.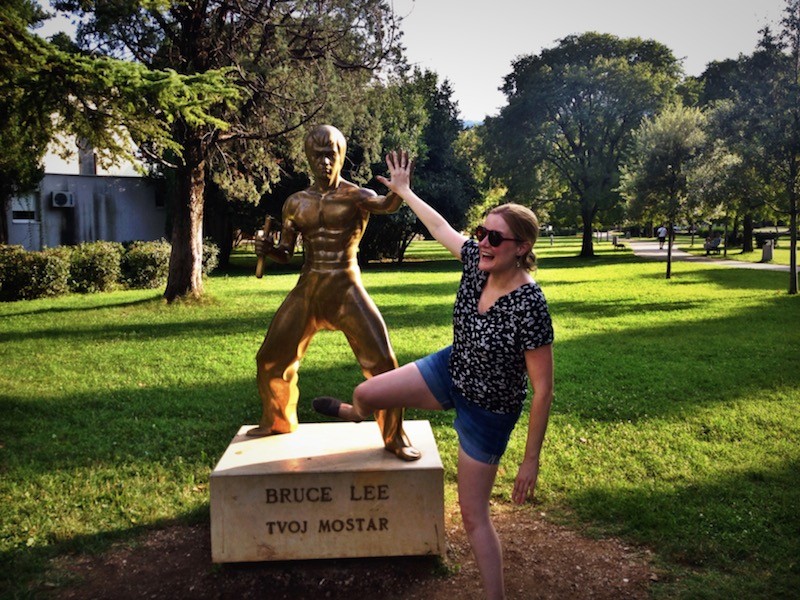 Thankfully, tourists like me can now do their part and take pictures of themselves acting like complete goofballs.
Watch/share this video about the Bruce Lee statue and better yet, subscribe to my Youtube channel for even more travel-related videos.
What do you think of this Bruce Lee statue in Mostar? Do you have other tips for the city? Tell us in the comments below.
Location
Good to Know
1) If you need somewhere to stay while you're in Mostar, read our guide or check more options with booking.com.
2) While you're in Mostar, go on a guided tour with Get Your Guide.
3) If you love Europe as much as we do here on this blog, read some of our top posts.
*Disclosure – This post contains some affiliate links. If you book a tour or hotel through any of these links, I'll earn a tiny commission at no extra cost to you. Thanks for your support!