Forget the Resorts! Stay at a Casa Particular While in Cuba
Staying at a resort while in Cuba robs you of the chance to experience authentic Cuban culture. Why not book a stay with locals at a casa particular instead?
Forget the Resorts! Stay at a Casa Particular While in Cuba
"Cheryl, come. Come and look at this."
So said Eddy, the owner of the casa particular I was staying at in Havana, Cuba.
He gestured for me to follow. I obliged.
Eddy led me to the small fish pond in his backyard full of koi. You know, the kind of fish you would see if you having a meal at the Mandarin chain restaurant in Toronto? You might even see such a setup in someone's garden. The fish were big and beautiful, colored a bright orange. The pond was filled with other smaller fish which Eddy called "guppies", however they didn't look like the guppies you would see in a North American pet store.
He held something in his hand which he scattered into the fish pond. He was feeding them. Immediately after depositing the mysterious substance into the water, the fish went into a frenzy. Guess what he was feeding them? Nothing other than meat. Beef actually.
Yes, Eddy was feeding his fish meat! He laughed when he saw my surprise.
He explained that he also feeds them tomatoes and egg yolks. Apparently the koi are big fans of the egg yolk.
Later that day when I was retelling my experience to a couple from the Czech Republic who were also staying at the casa, the Czech man was incredulous. "What issssss this?" he cried. "You need to feed fish flakes and not human food. They will soon die."
I laughed and told him the fish pond had been there for three years. I asked him, "Where would Eddy get fish flakes in Cuba, given the shortage of even the most basic supplies?"
We shared a good laugh over Eddy's amazing feat of ensuring his pets' survival by such unconventional means.
Yet, this is Cuba or as locals say "Es Cuba."
What is a Casa Particular?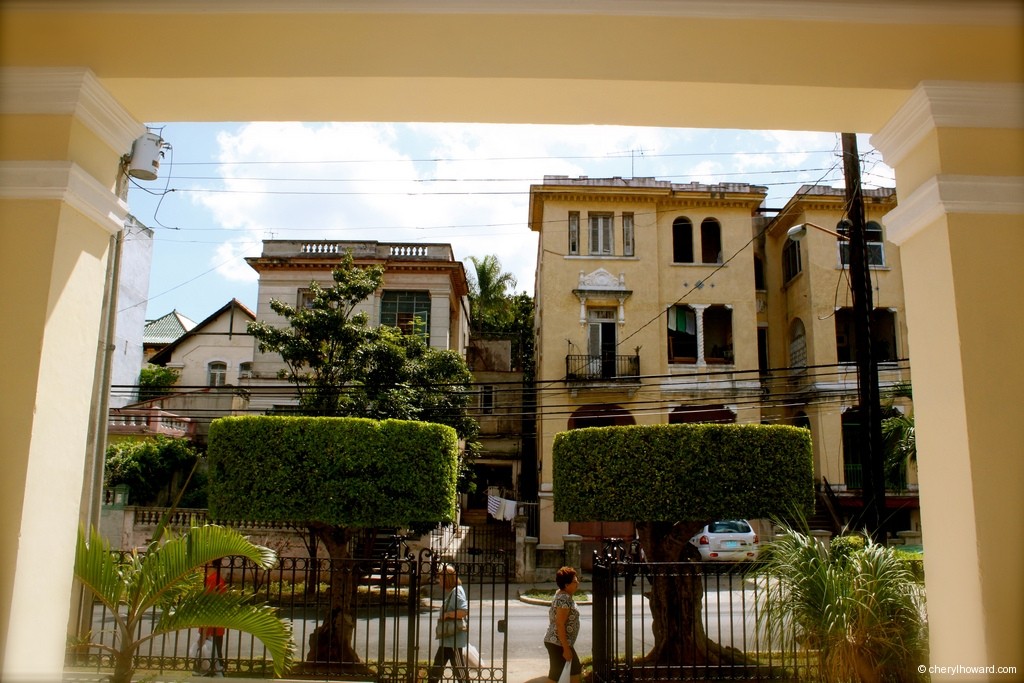 A casa particular is a Spanish term for private home. The Cuban government allows its citizens to pay a monthly fee to retain a license to rent rooms out to tourists.
Why Stay at a Casa?
Aside from being super cheap, you'll get to know first-hand what life is like for the average Cuban. Eddy regaled me stories of his previous life before setting up his casa particular. He used to be a fishing boat Captain and sailed all over the world. Just when you thought that Cubans never leave the island! His fishing career ended with the fall of the Soviet Union. He told me how he learns English from a cartoon show aired by the Cuban government,, in an effort to have the population become more fluent in the language.
Casa owners can direct you to places not listed in a guidebook. They may make meals for you that are better than you can have in any restaurant and give you practical tips such as areas to avoid and scams to watch for.
Depending on how long you stay, they may even start to treat you like a good friend or member of the family.
The thought of staying in a resort with North American styled food and a non-authentic presentation of the Cuban way of life was the last thing I wanted. I liked the idea of meeting people and hearing their stories, especially in Cuba, one of the last Communist relics.
It's also a great way to meet other like-minded travelers, particularly back-packers. For example, I got to know other people who were staying at Eddy's casa. There was a Swedish man studying Spanish at the University of Havana who invited me to a party on his private patio (Eddy's casa is probably one of the nicest you can find). I hung out with him, his classmates and some of their Cuban friends. I met a couple of German girls who convinced me to move to Berlin, a naive young Danish boy who is a member of the Communist party in Denmark, and a couple of local Cuban boys who took me to see an Afro Cuban music performance in Callejon De Hamel the next day. On my last night in Havana, I had a fantastic time getting drunk on rum and coke and smoking a giant cohiba with the Swede and the Czech couple in the backyard by the pond.
Such things made my trip special and is something that I never would have experienced had I stayed in a resort.
What Are Casa Particulars Like?
The conditions of casa particulares vary. As you are in Cuba, you'll find the accommodations simple with only the bare necessities.
Better casa particulares may include towels, bedding, kitchen facilities and breakfast. (It's best to bring your own towels, linens and even a pillow just in case the tems are not available.) Your room might even have a private entrance and bathroom.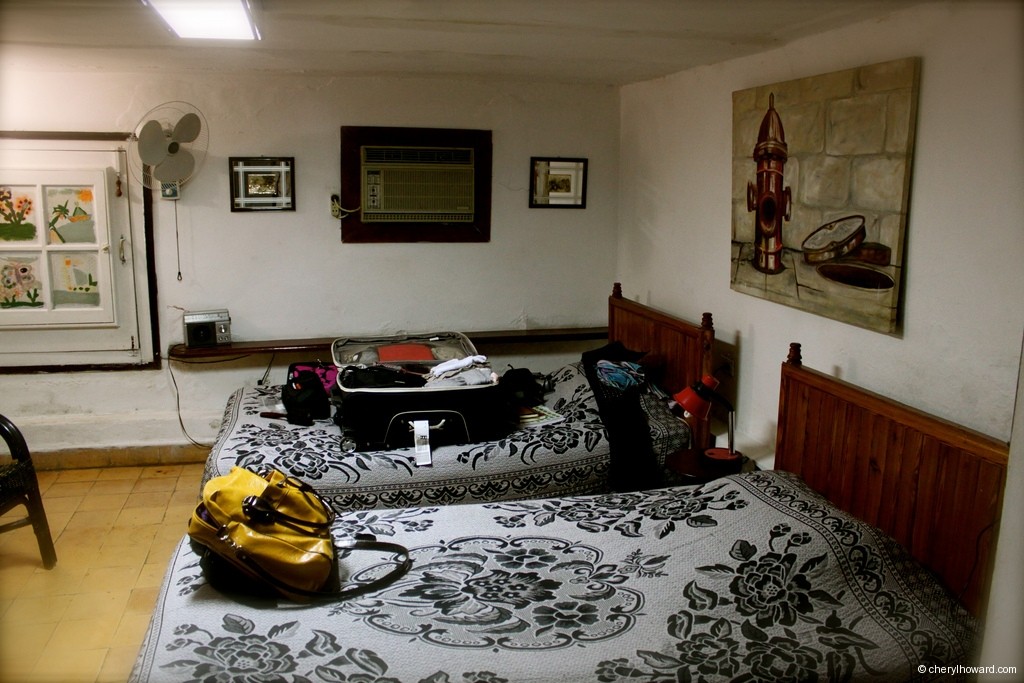 Eddy includes bedding and towels in the daily fee while breakfast is available for an additional cost. He boasts that he offers the "best breakfast in all of Havana." It was actually quite tasty and included juice, coffee, a fruit plate, toast, a ham/cheese omelette, and a small crepe. The menu is the same each day though, so you may eventually grow bored of the spread.
Expect the Unexpected
Aside from the meat eating fish, Eddy's colonial style home was full of delightful surprises.
Located in Vedado, a beautiful residential neighborhood in Havana, it would be considered a mansion inhabited by someone rich and famous anywhere else.
It was full functioning antiques like a clock, radio and sewing machine. My favorite is Eddy's bright red 1972 Argentinian made Dodge.
He even employs a night guard named Alfredo who sports gold capped teeth and always has a Cohiba hanging out of his mouth.
Tip – if you ever stay at Eddy's casa, Alfredo can secure you Cohibas at a really good price!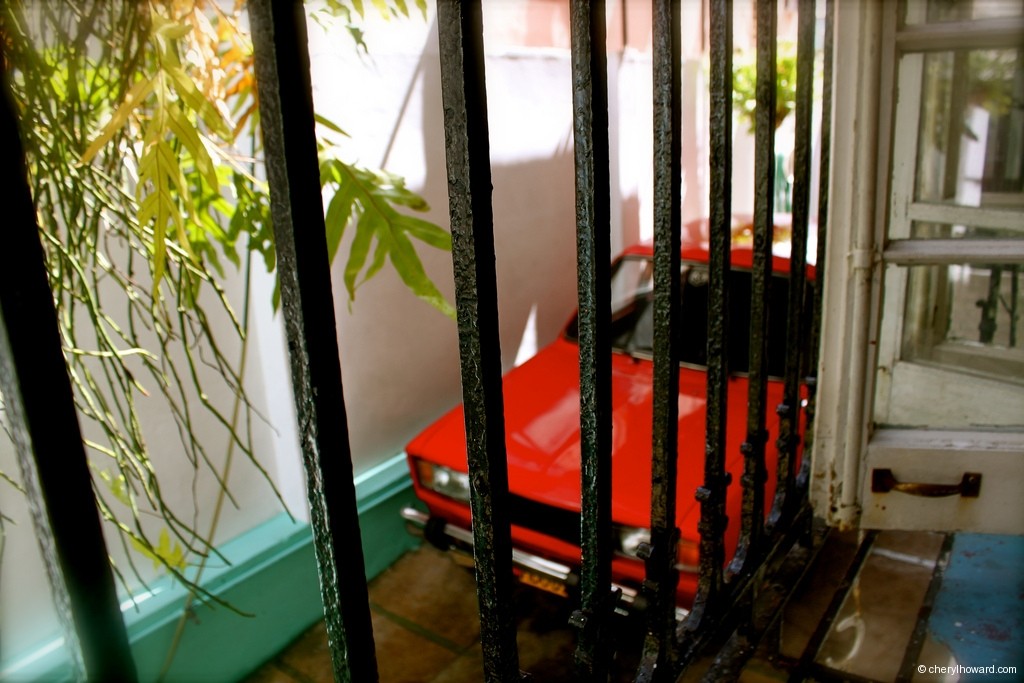 Unfortunately the surprises may not always be as delightful as old cars or discounted cigars. I was kept awake by a rooster who had no concept of time and crowed relentlessly day and night. When I plugged in my hair dryer, it overheated, died, and took down Eddy's electricity for about an hour.
Worse yet, you may find yourself in a home that isn't clean or is infested by insects. Your room may be tiny and lack privacy. The bathroom may be shared you may not have hot water.
How Can I Book a Stay in a Casa Particular?
Most casa owners do not have a website or even internet access, so unfortunately, in most cases you cannot book online or in advance.
As such, people usually find casa particulares after they arrive in Cuba. Anytime you enter a Cuban city or town (especially at airports and bus stations) you'll find yourself bombarded with aggressive people attempting to lure you to their casa. You can choose to go with one of them or walk around looking for one in a location of your choice.
All government licensed casas display a universally used sign advertising they have rooms to rent. Never stay in casa that does not have this sign. To do so would be considered an illegal action by the Cuban government and you, not to mention the casa owner, may find yourself in serious trouble.
My advice is that you ask to see the rooms before committing to an overnight stay. If you don't like what you see or feel uncomfortable, continue with your search. This will help you avoid some of the casas that are not as nice as Eddy's.
Be sure to inquire about any house rules and make sure you follow them. The last thing you want to do is offend your host.
You can sometimes find out some information about casa particulares in advance.
Websites like Cuba Junky have pictures and descriptions of various homes. Some even allow you to book online. Note, reservations are not held by using a credit card (explanation to come).
You can also find really good casa particulars by purchasing guidebooks from Lonely Planet. I highly recommend finding a casa this way. You'll know what your getting yourself into based on the descriptions of people who have stayed there or in the very least toured the home.
This is how I came to become aware of Eddy's casa. I called him one afternoon and made the booking. He also takes email reservations but don't expect a response right away. He checks email (via a dial-up connection) whenever his daughter is available to help him translate messages and respond in English.
Even though you book in advance, you cannot count on the room being available when you arrive. If someone knocks on a door of a casa and asks for a room, the home owner is unlikely to reject him/her. Cuba is a poor country, a casa particular license costs a lot of money and lastly – your arrival is not guaranteed. If you don't bother to show up, the owner does not receive any financial compensation. For this reason, do not be rude to them. Just ask if they know of any other casas in the area and they will most likely recommend another place close by.
Can I Bring a Girl or Guy Back With Me to a Casa Particular?
It depends.
If you went out, had one mojito too many and met someone, it is not at all appropriate to bring them back to the casa for a night of heated passion. Even though you're a paying guest, you're staying in someone's home. Be respectful.
Inviting friends over for dinner or hosting a party might be appropriate. Ask the owner of the casa how they feel about it first before making any plans. One of the apartments at Eddy's had it's own patio so he didn't mind guests having parties.
How much does a casa particular cost?
The average cost is between 20 – 30 CUC's per day. Breakfast may be extra and at Eddy's it was 5 CUC's. Payment is to be made in cash only.
If you really enjoyed your stay and were treated well by the family, give a tip or other non-monetary donation. Some travelers leave gifts of clothing (gently used or new), soap, pencils, toys and other items that are hard to come by in Cuba.
Would You Stay at a Casa?
So there you have it, all the information you need about casa particulars and another way to "travel on the cheap" in Cuba.
Now that you know more, would you consider staying at one? Have you ever stayed at a casa particular yourself? Tell my readers and I by leaving a comment below.
Eddy Gutierrez
Calle 21 Numero 408
entre F y G, Vedado
Ciudad de La Habana
Cuba, CP 10400
Email: [email protected]
Phone: (537) 832 5207