The Golden Circle Tour is one of the top-rated attractions for visitors to Iceland. I often shy away from taking guided tours as they can be way overrated but there are times when they're completely worth your time and money. This is one of them. It includes three highlights – Gullfoss waterfalls, Thingvellir National Park, and the Geysir Geothermal Field.
While each site is beautiful, my favorite part was seeing the sunset at the Geysir Geothermal Field.
Experience A Winter Sunset At The Geysir Geothermal Field In Iceland
The field is home to the first Geysir ever described in print form and has a surface area that spans 3 kilometers. While the original Geysir – also known as the Great Geysir – is now inactive, its little friend Strokkur is a happy little beast that shoots out boiling water, up to 40 meters in the air, every 5-10 minutes.
In the midst of Iceland's winter, the hot temperature of the field revealed rare patches of green, small pools of water, and various small holes emitting steam.
Recommended reading: A Piece Of The Berlin Wall In Reykjavik Iceland & The Sun Voyager In Reykjavík, Iceland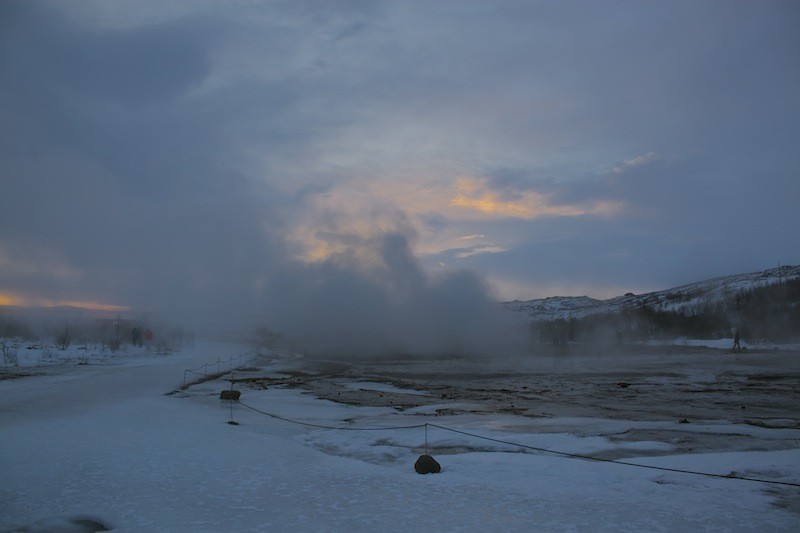 Walking towards Strokkur, I was captivated by its powerful, shooting eruptions and stood there and watched it quickly subside as the mist was captured by the wind and taken away in a matter of seconds.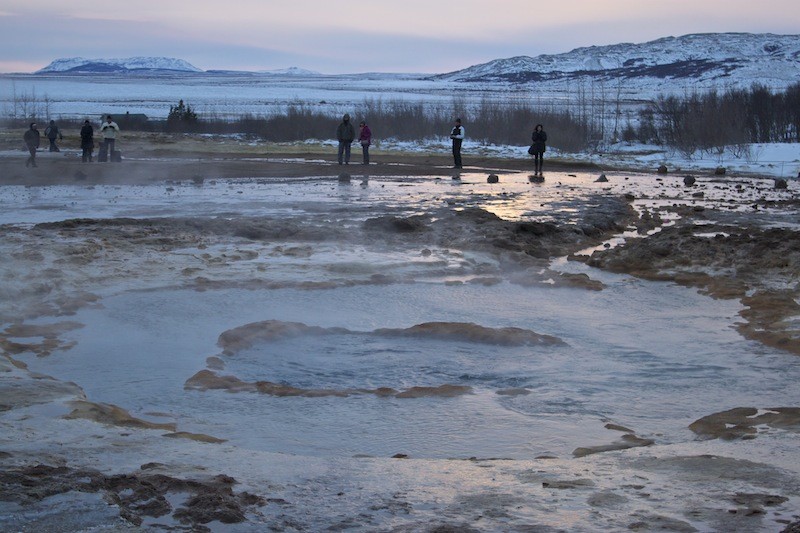 A moment of relative calm between eruptions.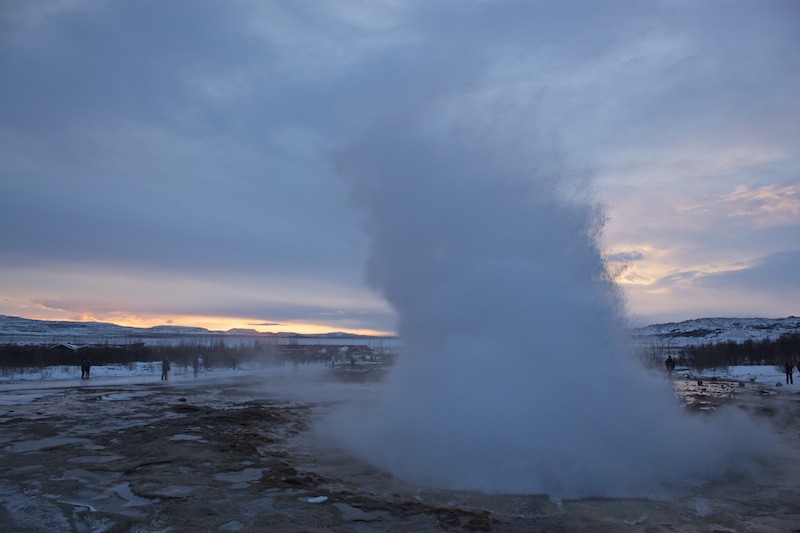 An eruption action sequence – Strokkur is quite the superstar, willing to perform a demanding routine at such regular intervals. I stood there transfixed, not sure whether to laugh or cry. It was such an emotional moment and I wasn't quite sure how to take it all in. I wanted to hug someone, whoop with joy, or jump up and down with delight!
However, that would have been dangerous as the area surrounding the Geysir was a sheet of pure ice. Seeing as how I don't even know how to ice skate (I'm such a bad Canadian), any jumping would result in me landing either face or ass-first on the ground, maybe even injuring myself.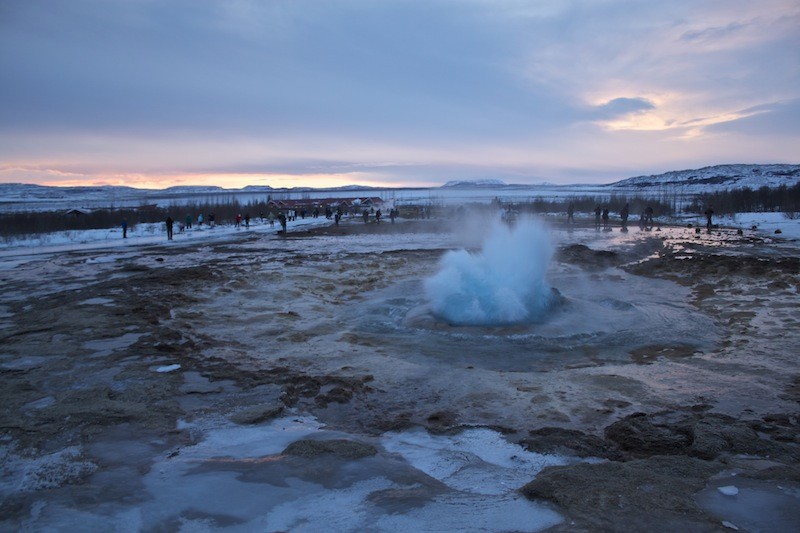 I ended up staying there to watch it erupt about 10 times, taking photos from as many vantage points as possible and capturing the Geysir in different states of eruption. Is it just me or does the last part of the sentence sound a little dirty?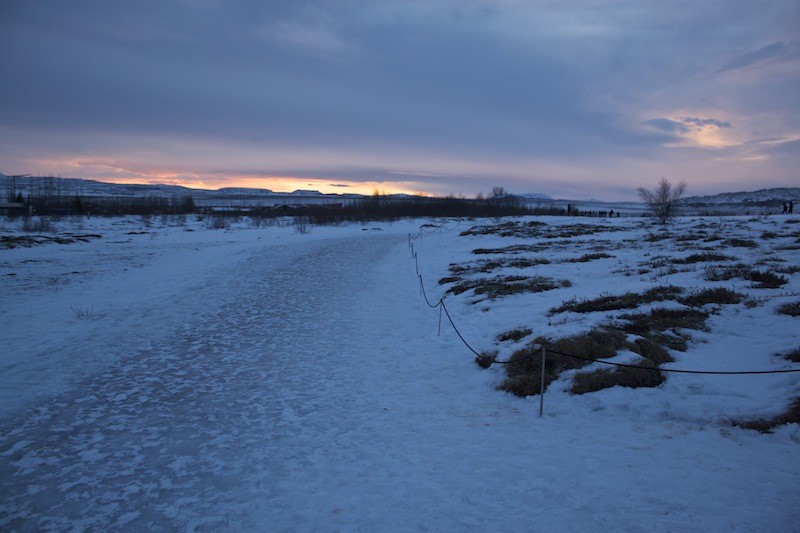 Walking back to meet the rest of my tour group and head to our next destination, I was smiling from ear to ear. Witnessing the eruptions, against the stark Icelandic landscape and the pink, blue, and orange hues of sunset surely goes down as one of my best travel moments yet.
How about you? Are you dreaming of a visit to see the Geysir Geothermal Field in Iceland?
Location
Good to Know
1) If you're going to visit the geothermal field during winter, be sure to wear proper attire. It can be quite windy there and you'll need a warm jacket, hat, gloves, etc. More importantly, wear proper footwear – believe it or not, I saw women in wedge heels and men sporting Converse shoes. It's not a fashion show, people!
2) The Golden Circle Tour is an easy day trip from the nation's capital Reykjavik. I booked this tour through Reykjavik Excursions, one of the few companies open on Christmas Day.
3) The tour cost approximately €50 euros. It's cheaper for teenagers and free for children under 11 years old.
4) Pick-up and drop-off from your hotel/hostel are included in the price.
6) If you need somewhere to stay while in Iceland and are basing yourself in Reykjavik, check out local hotel options here.
7) Book a guided tour while you're in Iceland.
8) For more European travel inspiration, check out some of our top posts.
9) For more Iceland travel information, take a closer look at the landscape of Iceland or check out this guide to see the Iceland Northern Lights.
*Disclosure – This post contains some affiliate links. If you book a tour or hotel, I'll earn a tiny commission at no extra cost to you. Thanks for your support!