There are loads of unusual places to visit when in Reykjavík, Iceland, including spots like the Monument To The Unknown Bureaucrat or the piece of the Berlin wall.
Another such thing to see is The Sun Voyager. Just what does The Sun Voyager represent? Who designed The Sun Voyager? How long did it take to build? Let's find out!
The Sun Voyager In Reykjavík, Iceland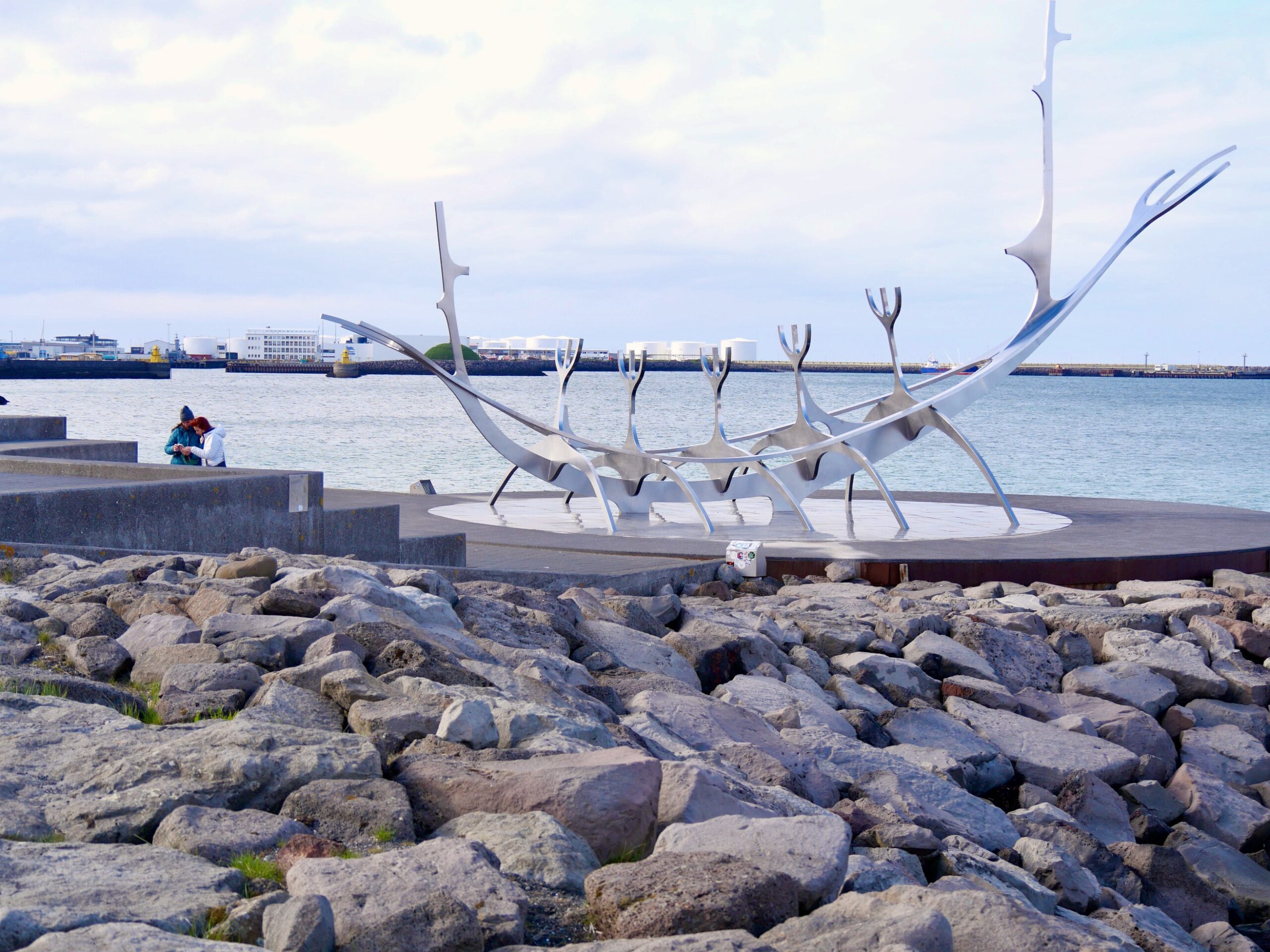 Located on Reykjavik's Sæbraut (a long seafront walking path), you'll find The Sun Voyager, one of the city's most iconic landmarks. The massive sculpture, created by artist Jon Gunna Arnason, was designed to be an ode to the sun and a dream boat promising a light-filled journey to uncharted waters coupled with aspirations of hope, progress, and freedom.
Recommended reading: Our features about other weird and offbeat places and things around Europe, like the Ronald Reagan statue in Budapest, the 10-Z Nuclear Shelter In Brno, and all about the cats in the Rome's coliseum.
The idea for The Sun Voyager (Sólfarið) was first conceived in 1986 when the city funded a competition for a new piece of art to celebrate Reykjavik's 200th birthday. Arnason took home the prize and the 17-meter-long, 2.6-ton stainless steel sculpture, resting on a circular stone platform consisting of concrete slabs, was finally unveiled to the public in August 1990.
Sadly, after a battle with cancer, the artist died while the sculpture was still under construction, passing away just one year before its completion. It's thought that his preoccupation with death influenced this particular work, as the dream boat is one that transports souls to the afterlife.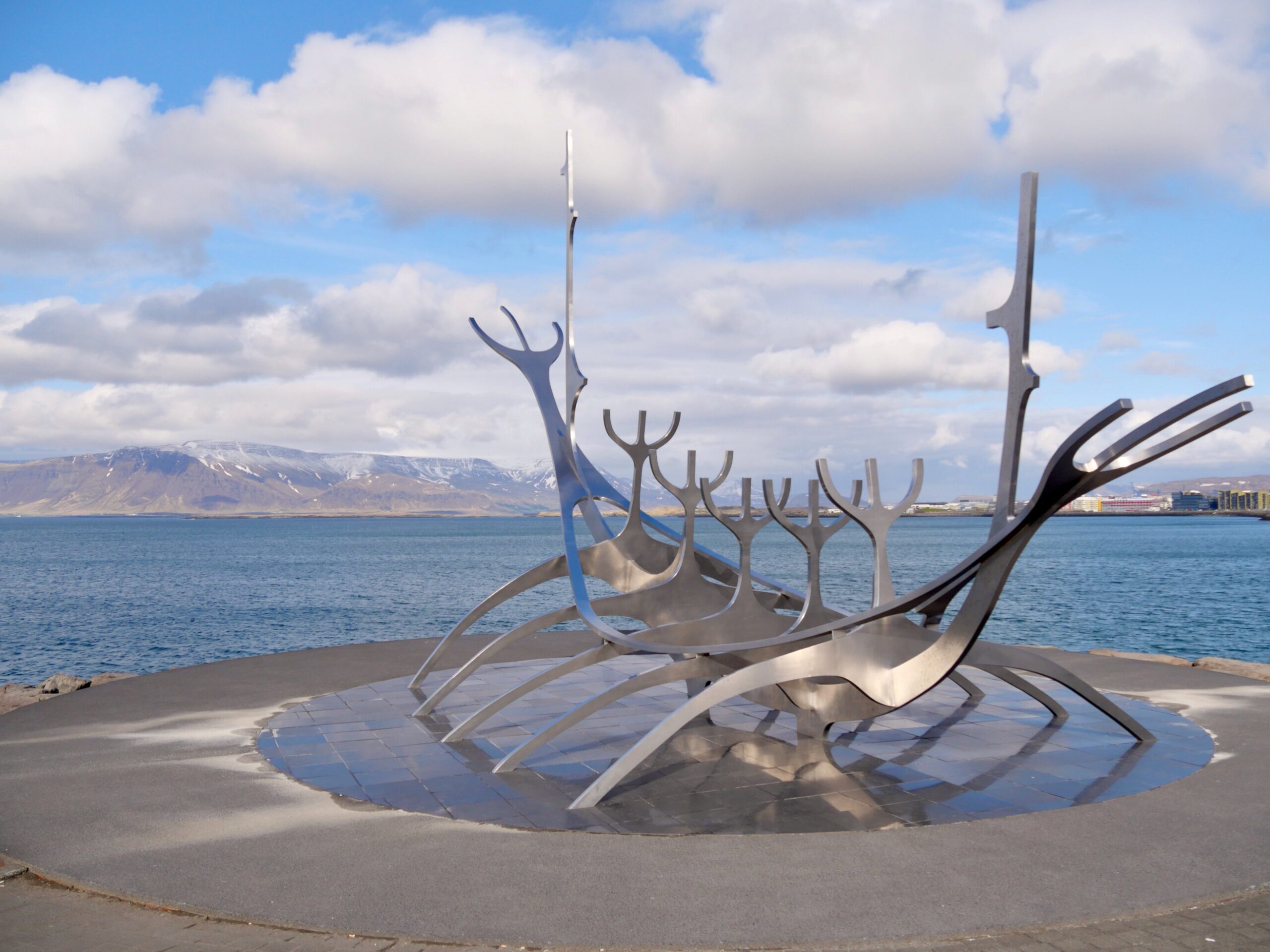 "Its irregular form with the ever-flowing lines and poetic movement which are a distinctive feature of so many of his works make it seem as if the ship is floating on air. It reaches out into space in such a way that the sea, the sky, and the mind of the observer become part of the work as a whole. As a result, Sun Voyager in Reykjavík has the unique quality of being able to carry each and every observer to wherever his/her mind takes him/her. "
Arnason's ultimate intention with this project was to give the people of Reykjavik artwork that sparked their imaginations and dared them to dream big.
It's now a popular place with photographers and tourists and from certain angles, you can catch the Harpa and Mount Esja in the background.
Watch/share this video about The Sun Voyager in Reykjavík, Iceland, and better yet, subscribe to my Youtube channel for even more travel-related videos.
What do you think about The Sun Voyager in Reykjavik, Iceland? Do you have any other Reykjavik city tips? We'd love to hear from you!
The Sun Voyager Location
Just where can find the sculpture? It's located at Sæbraut, 101 Reykjavík, Iceland,
The Sun Voyager FAQ
What you need to know:
1) When can I check out the sculpture? You can visit anytime, as it resides in a public space.
2) What's the closest metro stop? Reykjavik is pretty small. If you can, walk there or ride there on a scooter using one of the local ride-sharing services. Sund is the nearest bus stop at 139 meters away.
3) Do I have to pay to see The Sun Voyager? Not at all. As this is public art, it's there for all to enjoy.
4) How much time do I need when I visit the sculpture? About 10-15 minutes, maybe longer if you want to get some good pictures.
5) Can I take photos and videos? Photos are highly encouraged. Although, if you're some sort of social media star filming a new TikTok or something like that, don't make people wait too long to get their time for photos or videos as well.
6) Is this artwork suitable for kids? It's family-friendly, as the kids can climb on it and interact with it.
Getting Around Reykjavik
These are the best transportation options for your visit to Reykjavík:
1) International flights land at Keflavík Airport (KEF), about 50 kilometers southwest of the capital. To reach the city center, you can opt for a shuttle bus, public bus, a taxi/chauffeur service, or a rental car:
Shuttle Service – The easiest way to get into the city is via a shuttle service. It will cost anywhere from €20 – 25 for a one-way ride, which you can expect to take 45 – 90 minutes (depending on the company and service you choose). You can book with Flybus or Gray Line Airport Express. With Flybus, you can choose to be dropped off at their bus terminal (BSI) and make your way to your hotel on your own. Check the distance between BSI and your hotel and if it isn't close, you can ask to be taken directly to your hotel. You will then take a separate bus to get there. Gray Line's bus terminal is quite far outside of the city, so your only option is to book a drop-off at your hotel. Expect to transfer to another vehicle at their bus terminal before continuing into Reykjavik. You can skip out on having a transfer altogether and get taken directly to your hotel with Airport Direct and Gray Line Premium. It will cost around €40 – 45, but is cheaper than a taxi or private chauffeur service and will get you there faster than the regular shuttle service.
Public Transport – The cheapest way to get into Reykjavik is to take the public airport bus, 55. The schedule for this bus is limited, so check ahead of time. Note, because of the many stops, the journey will take longer than the shuttle service. A ticket will cost about €15 for a one-way journey.
Taxi / Chauffer – Taking a taxi is the most expensive option and is frankly overpriced. You can pay upwards of €200 for a one-way trip to Reykjavik. Oddly, a chauffeur service is slightly cheaper, seeing you pay about €150. Note, there is no Uber or Bolt services in Iceland.
Car Rental – Rent a car and navigate Iceland at your own pace. Book a rental well ahead of your vacation to ensure the car you'd like is available. Top companies include Go Car Rental Iceland, Dollar Rent A Car, and Cars Iceland.
2) The best ways to get around Reykjavik:
Where To Stay In Reykjavik
Find a place to stay when you're on holiday in Reykjavík, Iceland:
1) Find the best accommodation options with booking.com:
2) I've stayed in numerous places when in Reykjavik. For budget-friendly accommodations, go with Kex Hostel or Loft High Hostel. For a more luxurious stay, go with 101 Hotel or Hotel Borg. Be sure to check out my personal reviews of 101 Hotel and Hotel Borg.
Paying For Things In Iceland
Things you need to know about paying for things in Iceland:
1) The Icelandic króna is the country's currency:
Check xe.com to see how your local currency fares against króna.
Most places accept bank or credit cards. I never used an ATM once to withdraw cash on my visits.
When paying by card, you may be asked which currency you want to pay in – choose to pay in króna to save money on the exchange rate.
2) Iceland is a very expensive country, so expect to dole out a lot of money for tours, accommodation, to eating out, and more. Do your research and plan your budget ahead of time, so you can have the best vacation possible in this dream destination.
Good To Know About Iceland
Other good-to-know items about how to have the absolute best vacation possible in Iceland:
1) One of the best ways to experience Iceland is to take a tour with Get Your Guide:
2) Iceland is one of the safest places in the world, if not the safest. As a solo female traveler, I never once felt uncomfortable or worried. People of color should also be able to feel safe there – give this Reddit thread a read for more insight.
3) If you like traveling through Europe, give some of my other posts a read:
If you like this post, share it on Pinterest.
*Disclosure – This post contains some affiliate links. If you book a tour or hotel, I'll earn a tiny commission at no extra cost to you. Thanks for your support!