Just who's the man in the funny-looking hat? And why am I laughing so hard? Meet Franz Mulser, chef at the Gostner Schwaige Mountain Hut in Alpe Di Suisi (Seisor Alm), located in the Italian Alps. Franz led me and a group of very hungry travel bloggers through a cooking class where we learned how to make absolutely delicious dumplings from scratch.
I happened to be laughing at Franz's very honest proclamation that my dumplings were done "Cheryl style". It was his "nice" way to tell me that my dumpling-making skills weren't exactly up to par.
Gostner Schwaige Mountain Hut In Italy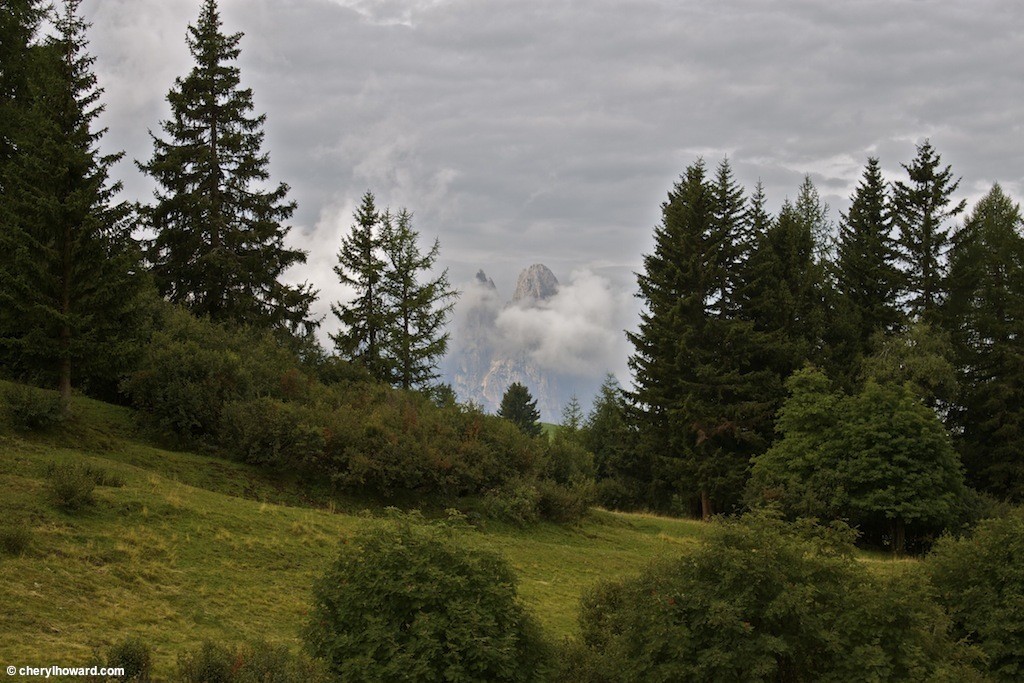 Gostner Schwaige Mountain Hut is really a special place. Set against the dramatic and beautiful landscape of the Italian Alps, the mountain hut has a restaurant that offers the perfect opportunity to stop and eat a meal after a day spent hiking the nearby trails.
Says Franz about his restaurant, "Everything is already there! We just have to open our eyes and see the gifts nature gives us. There is a lot to see, feel, and taste. Here you get very close to the South Tyrolean soul. "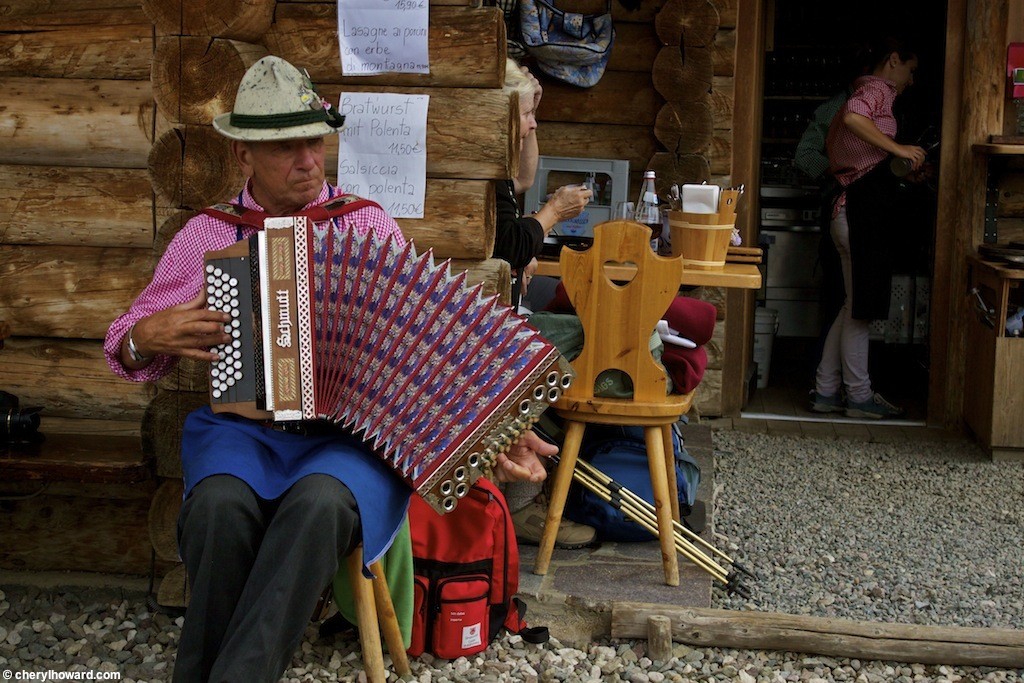 As you devour your food, you might even be lucky enough to be serenaded by this adorable old man playing the accordion. If hiking is not your thing, you can also take a romantic horse-drawn carriage ride up to the mountain hut.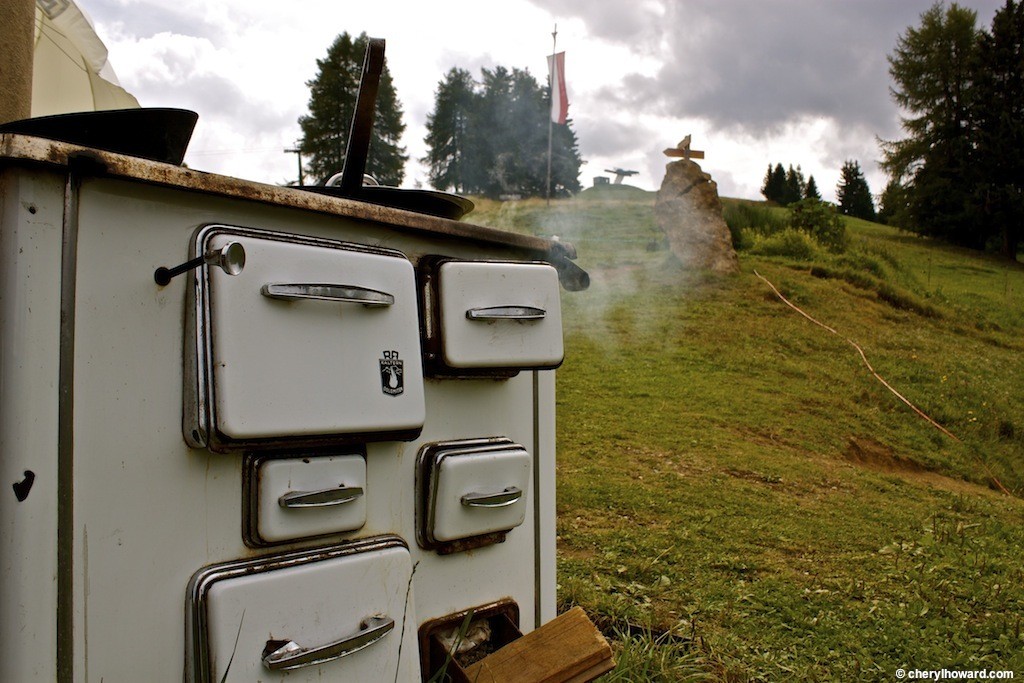 Franz not only serves delicious fresh food to his customers (we cooked with mushrooms picked that very day), but he also offers cooking courses where you can learn not only how to make local specialties like dumplings but cook outdoors using this old wooden stove.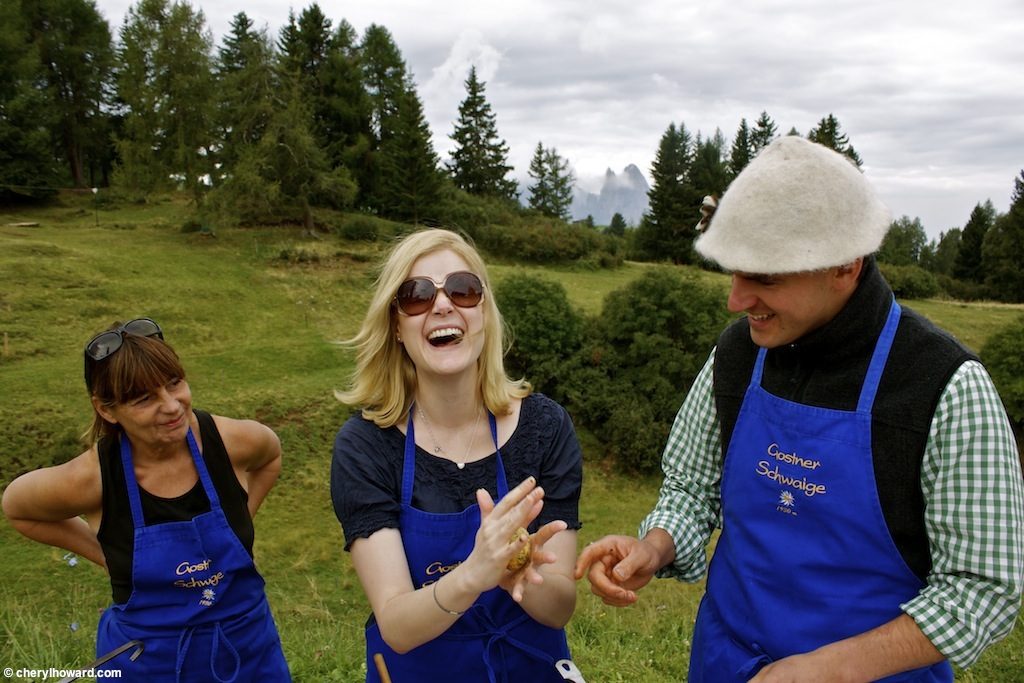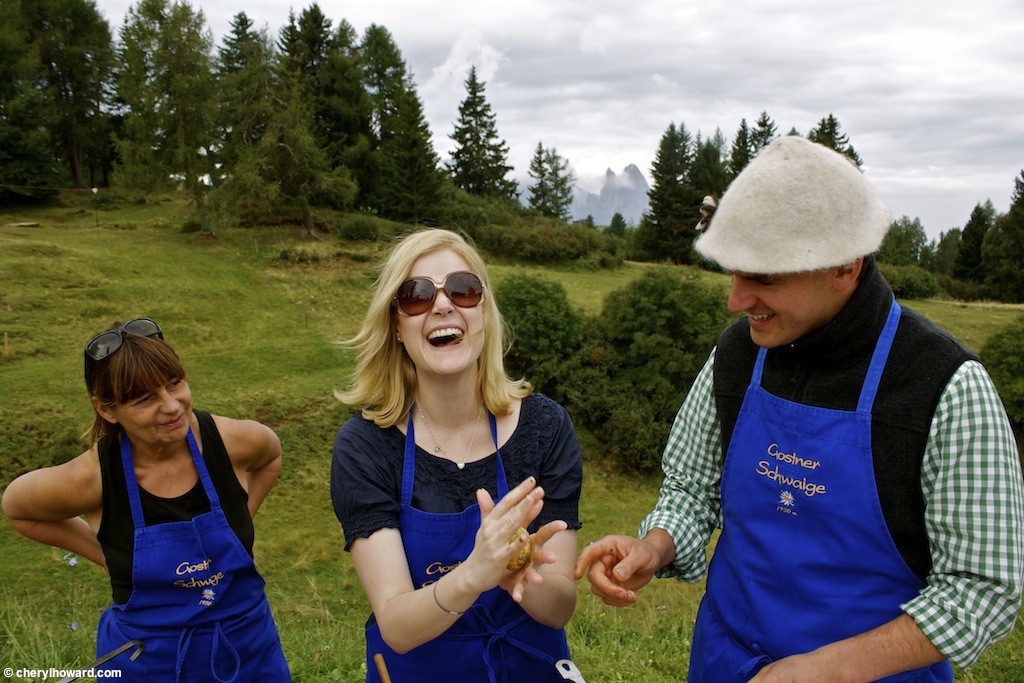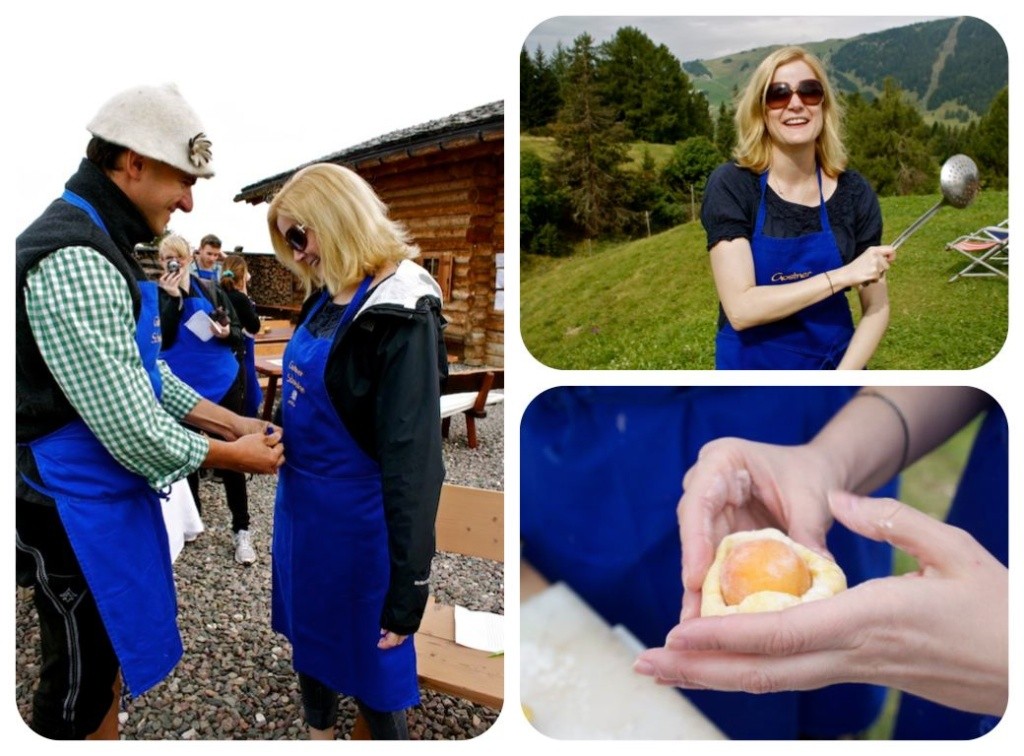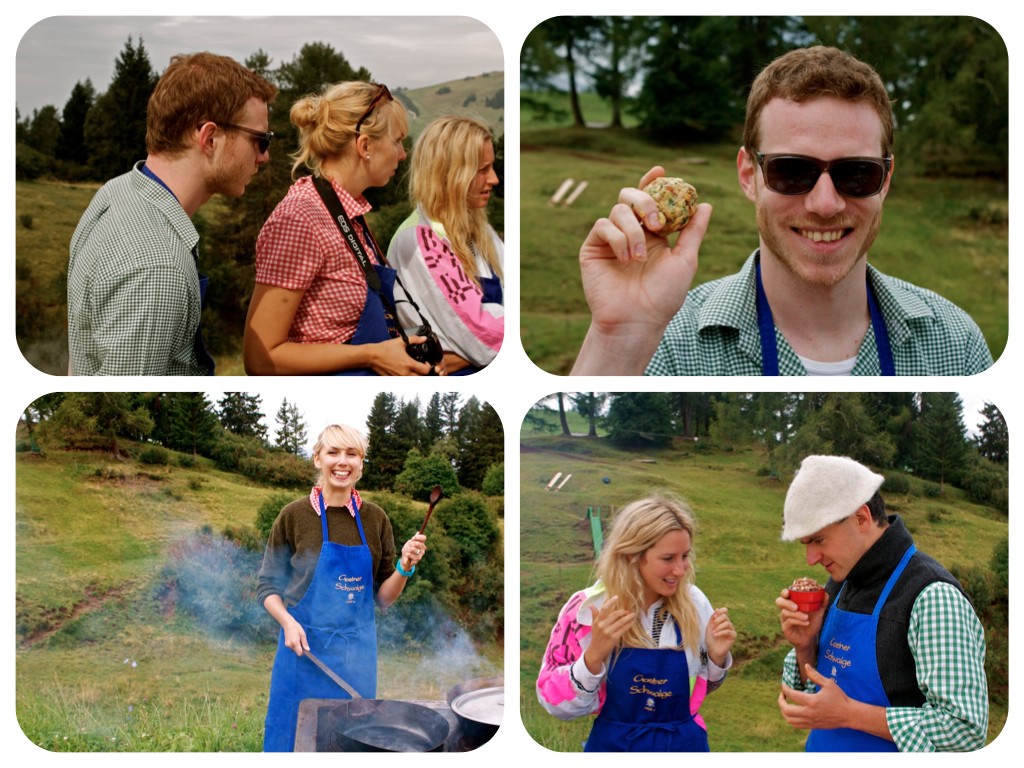 That morning, we learned how to make two kinds of dumplings – one filled with meat which was our main course, and another filled with fruit for dessert providing us with a delectable combination. Suiting up in "proper" attire, it was time for the cooking class to begin. As you can see, we were a very happy and enthusiastic group of students!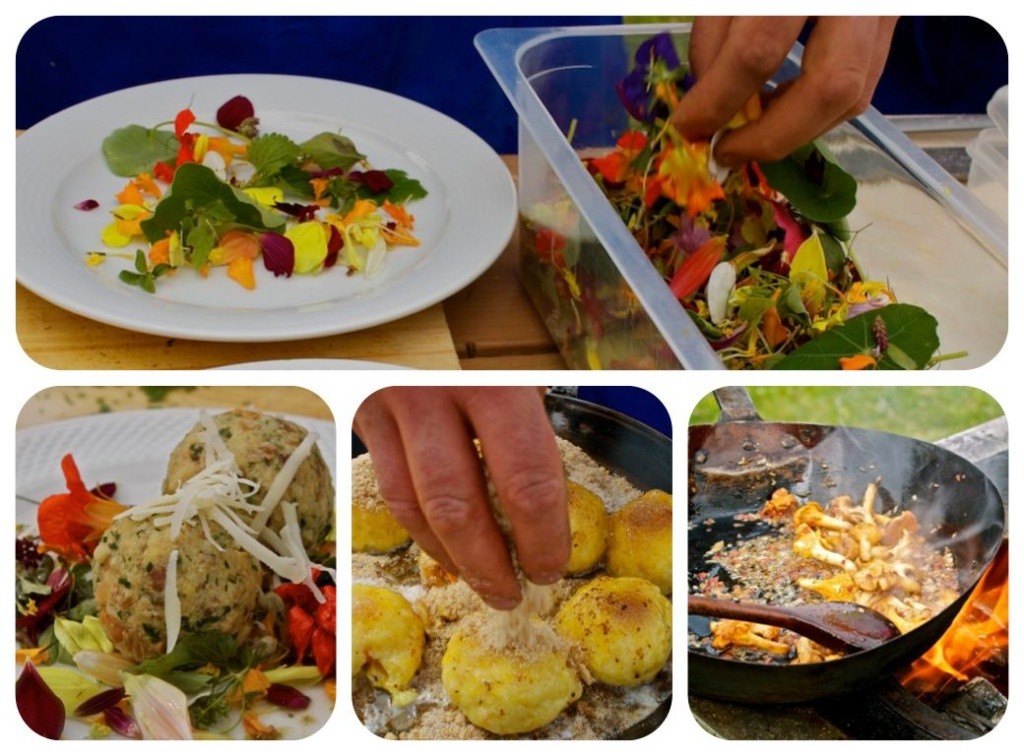 The main dish was complemented by a salad of fresh flowers, yes fresh flowers!
The best part of the experience was, of course, being able to eat the "fruits of our labors". I can honestly say that this meal was one of the best I've ever eaten! Thanks to Franz, I'm now a woman obsessed with dumplings.
If you're interested in learning how to make this at home, just come to Gosner Schwaige Mountain Hut and sign up to take this very same cooking class.
Have you been to this beautiful area of Alpi Di Suisi? Leave our readers with your best tips in the comments down below!
Location
Gosner Schwaige Mountain Hut
Via Saltria, Castelrotto BZ 39040 Italy
0039 0347 836 81 54
[email protected]
Good To Know
1) Classes are offered in German and Italian, and last three to five hours. and costs between 35 – 50 euros a person.
2) There are usually a minimum number of people required for the class. Make sure to book ahead and confirm the details in advance.
3) If you come to the restaurant in the evening, a reservation is almost always required.
4) Find a place to stay in Alpi Di Suisi with booking.com.
5) Do a tour of nearby Bolzano.
6) For more European travel inspiration, check out these articles.
*Disclosure – My stay in this beautiful almost unknown area of Italy was courtesy of Alpe di Siusi. Any opinions expressed about my dumpling obsession remain entirely my own. This post also contains some affiliate links. If you book a tour or hotel through any of these links, I'll earn a tiny commission at no extra cost to you. Thanks for your support!