Experience Latvia Through Riga Photos
When circumstances forced me to stay put in Berlin for several months, the usual feelings of wanderlust took a more powerful hold than they usually do. To say that I was excited to book my last trip would have been an understatement.
So when I finally got to do some trip planning (one of my very favourite things in the world to do), I looked for an easy weekend trip away from Berlin. Upon seeing a cheap flight to Riga, I booked the ticket right away and spent a pleasurable solo weekend in the Latvian capital.
As usual, I passed the hours by simply walking through the city streets. I skipped all of the tourist attractions and wandered around, stopping for a coffee now and then, admiring the renowned art nouveau architecture, and naturally, taking tons of Riga photos. I also hunted down some of the coolest places in Riga!
Experiencing Latvia: Riga Photos
I began my stay at the Tallink Hotel, not far from Old Town or the hipster street Miera iela.
Riga City Center
I checked in to my hotel, had a glass of wine, and then set about my wandering. I wouldn't venture into Old Town until the next day, but as expected from any Eastern European capital, the city beyond the main tourist area was stunning as well.
Riga Old Town
Due to a mix-up with my hotel booking (I'd booked Tallink for only one night when I thought I'd booked it for two), I needed to check in to another hotel the next day. While I could have extended my stay for another night, I chose to relocate to Old Town and into the Hotel Garden Palace instead.
This was the view from my window. You may not think much of it, but I found the old-world feeling of the hotel charming.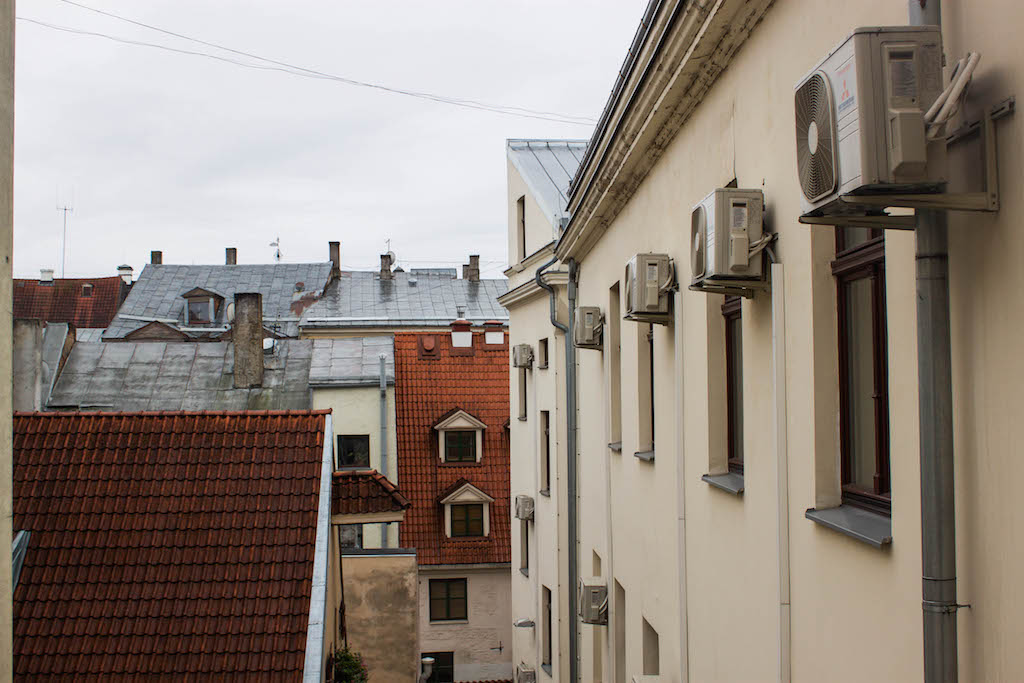 After several cups of coffee and watching the news for a while (the Paris attacks had taken place the night before, and I was glued to the TV), I finally set out to explore Old Town, where I went overboard taking Riga photos.
The weather in Riga that weekend was cold and wet, much like Berlin is all winter. I kept thinking how beautiful it would look covered in snow and how nice it would be to visit when the Christmas markets were happening.
The hotel was conveniently located close to St. Peter's Church.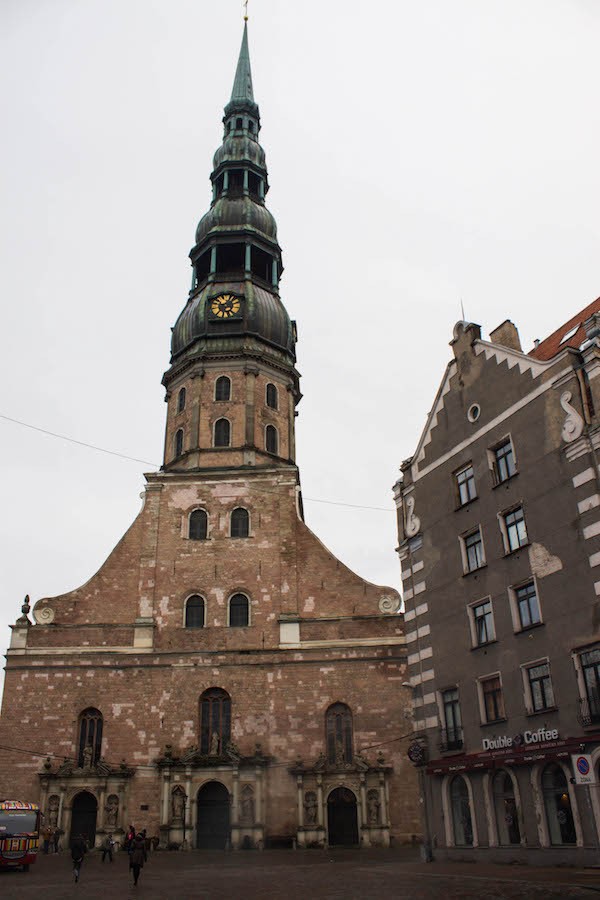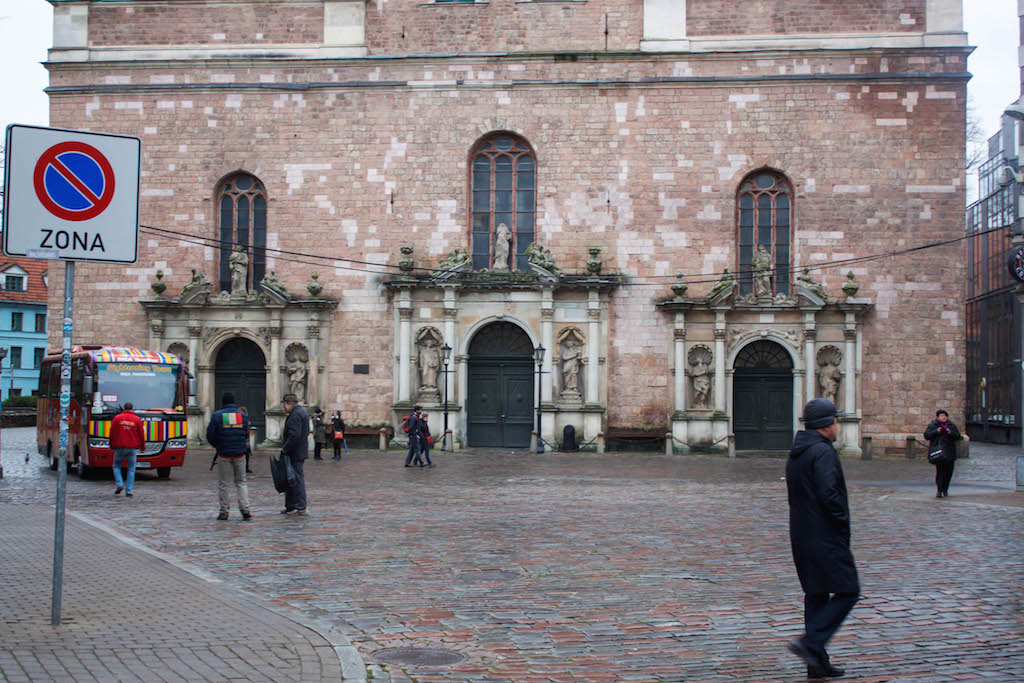 The pastel hues of the buildings' facades just added to the quaintness of Old Town.
Weird and Offbeat Art
Even with all my online searching (and I'm really good at researching things, especially stalking people on the Internet), I couldn't find anything about this rather weird and offbeat statue. What is happening here?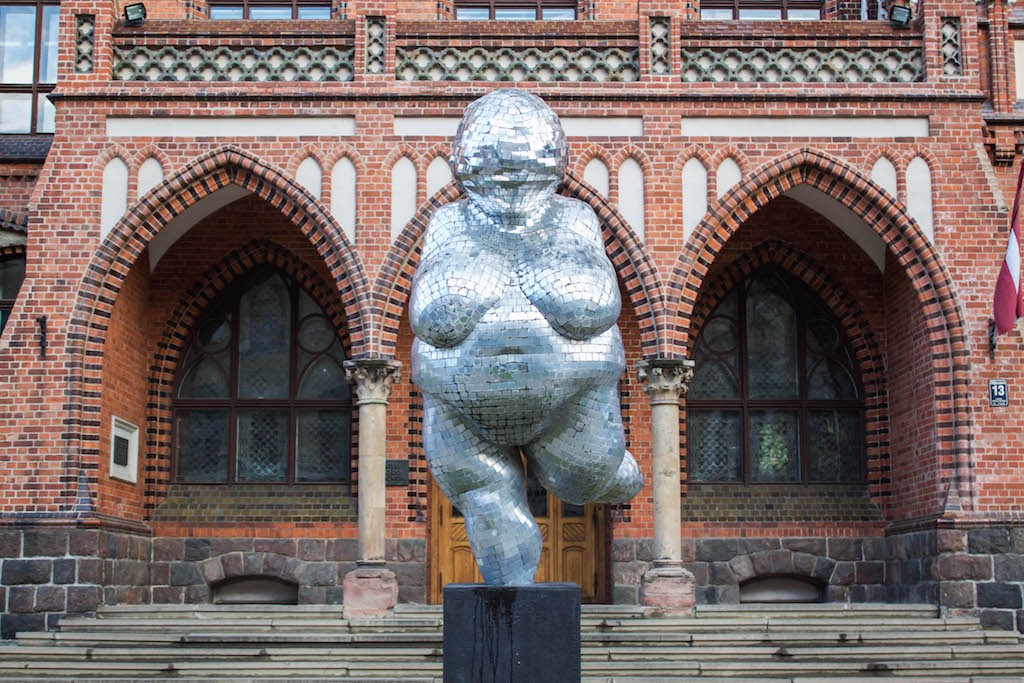 Latvian Ministry of Foreign Affairs
The Latvian Ministry of Foreign Affairs building was pretty impressive.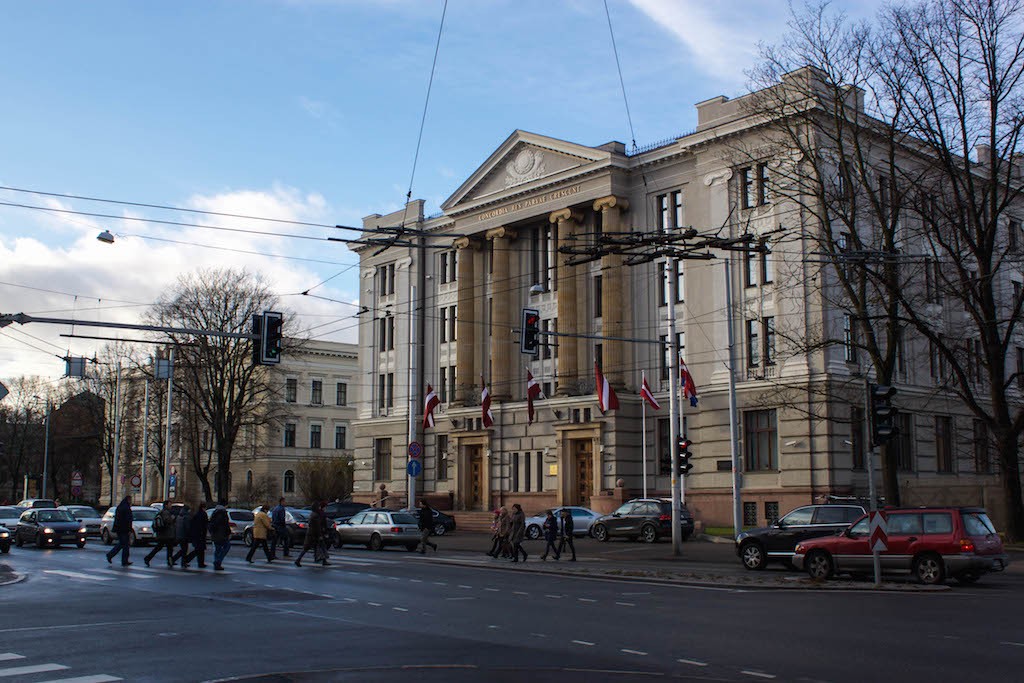 Nativity of Christ Cathedral
Equally impressive was the Nativity of Christ Cathedral. I went inside, but as with many religious institutions, you aren't permitted to take any photos. Entry is free, so it's definitely worth taking a few moments to check out the interior of this Russian Orthodox church.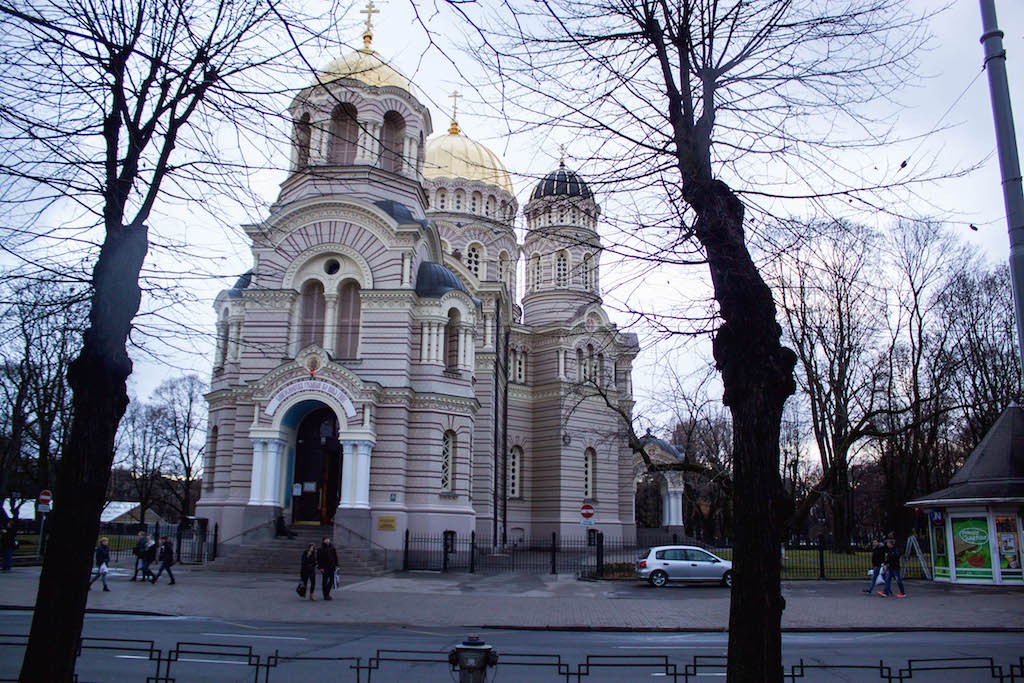 Freedom Monument
I walked through this rather lovely covered walkway to Freedom Monument.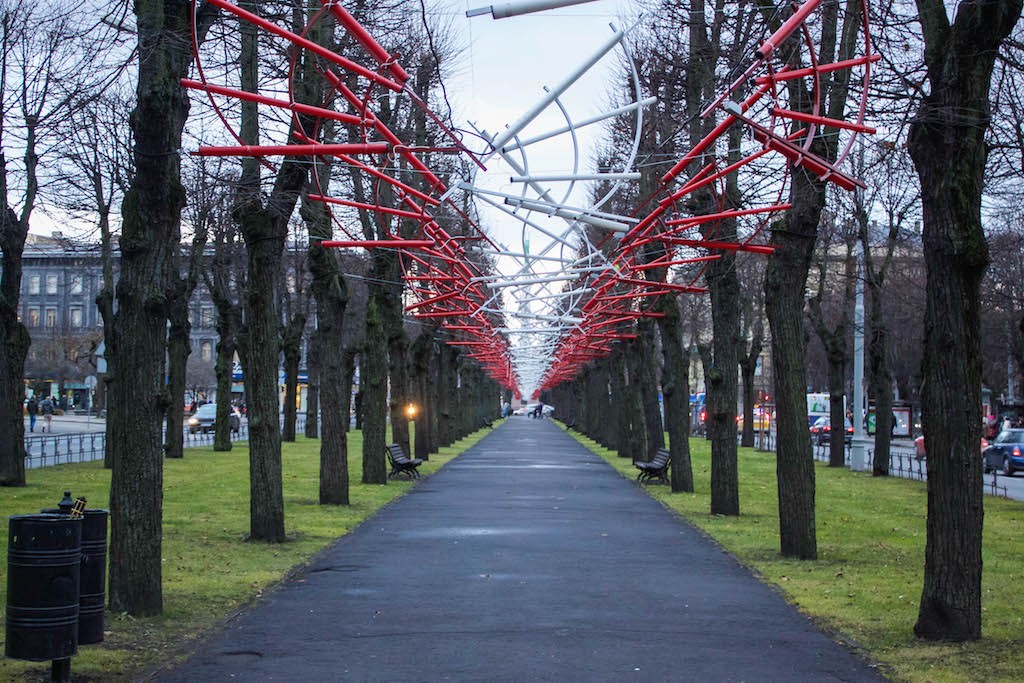 I took some time to admire Freedom Monument, especially poignant on a sad day, where so many innocent lives were lost in Paris.
Soldiers stand on guard at the base of the monument.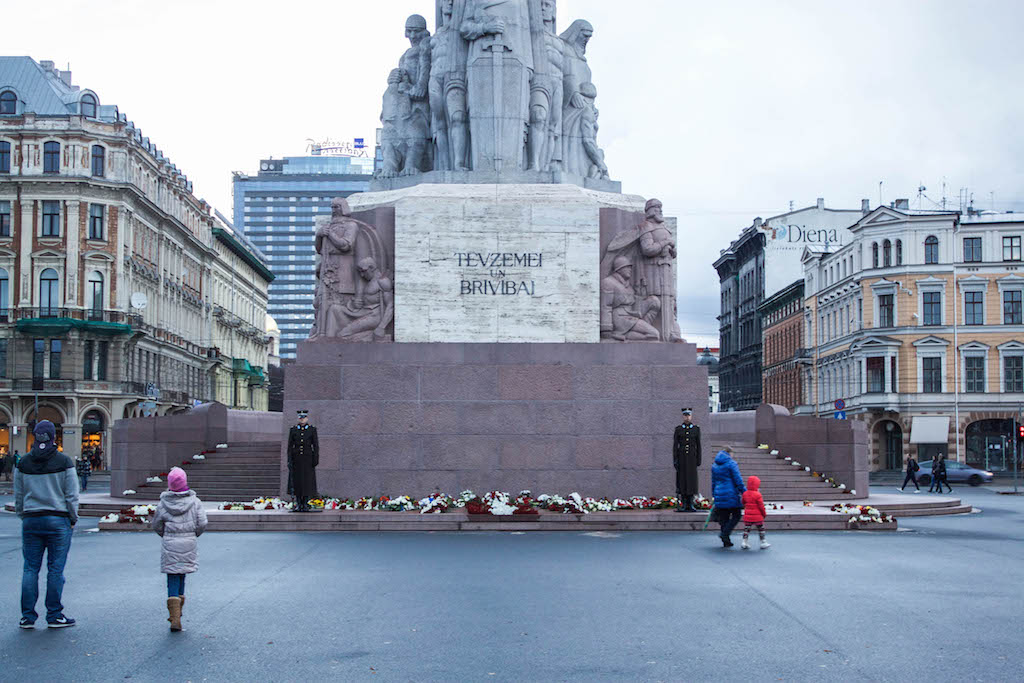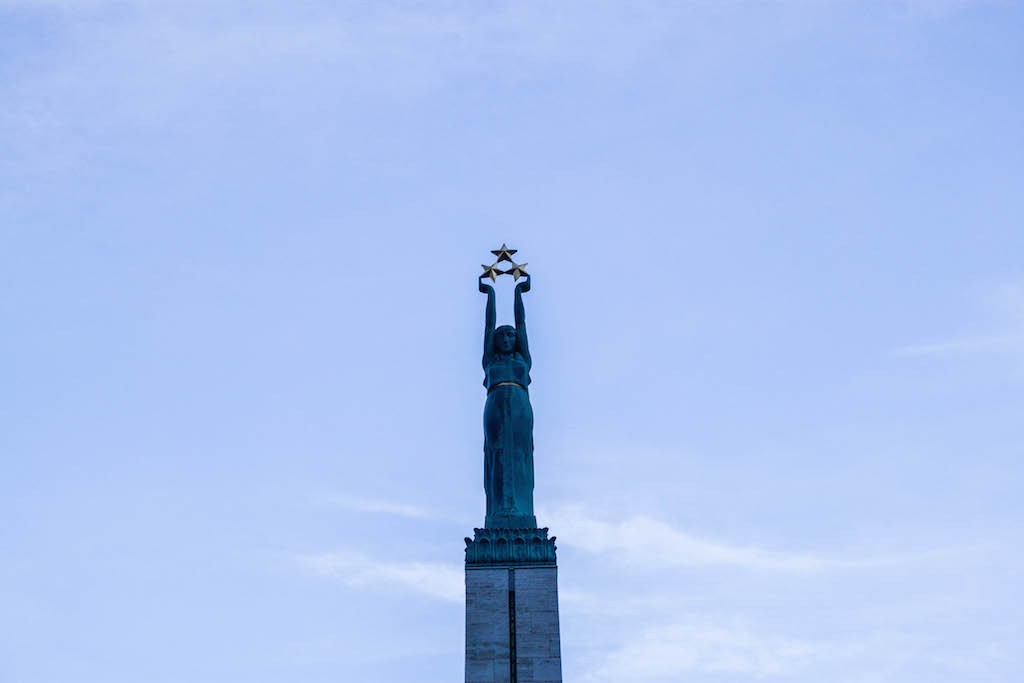 The trip to Riga was way too quick. I didn't see enough, and even with all of my Riga photos, I was hardly able to scratch the surface of what the city has to offer. However, as I just started a new job and have the responsibility of a pet again, only a weekend trip was possible this time round.
Good to Know
Riga is an easy weekend trip away from Berlin. You can book a cheap fare there through

Ryanair

, and the flight is just over an hour

When you arrive at the airport, you can opt to go into the city by bus, airport shuttle, or taxi. I prefer the airport shuttle, as it's only about €5 and will take you directly to your hotel or

Airbnb apartment

(click on the link to get a $27 CAD credit toward your stay).

A couple of hotel options to consider when staying in Riga are

Tallink Hotel

and

Hotel Garden Palace

. Tallink is appealing for those liking boutique hotels, with a contemporary, minimalist vibe, while Hotel Garden Palace will be more appealing for the romantic type, looking for a more old-world feeling in the center of Riga's Old Town.

Latvia uses the Euro, so there is no need to worry about exchanging currencies when you arrive at the airport.
For more local travel inspiration, check out these free things to do in Riga, consider visiting some of these Hanseatic cities or these beaches in Latvia.
Location
Need somewhere to stay in Riga? Check out hotel offerings on booking.com.
If you like this post, share it on Pinterest.